Are you looking for the best work from home jobs so you can avoid lousy commutes? According to recent research, 71% of Americans are currently working from home. The number of people working remotely is rising.
Life happens. Sometimes you need to find realistic ways to make money to pay rent or you're trying to save up for something you want. You don't want to fall behind on bills and are wondering about creative ways to make money with remote work. Sure, another 100 dollars earned today wouldn't hurt.
We've all been there, but what do you usually do when that happens?
This is an exhaustive list of things that anyone can do, today, in order to learn how to make money from home.
If you're in serious debt, then this list might not be best suited for you – but in case you are wondering how to make money with flexible online jobs — it's possible if you're ambitious.
Let's get started so you can start setting your own hours.
Popular Online Jobs Anyone Can Do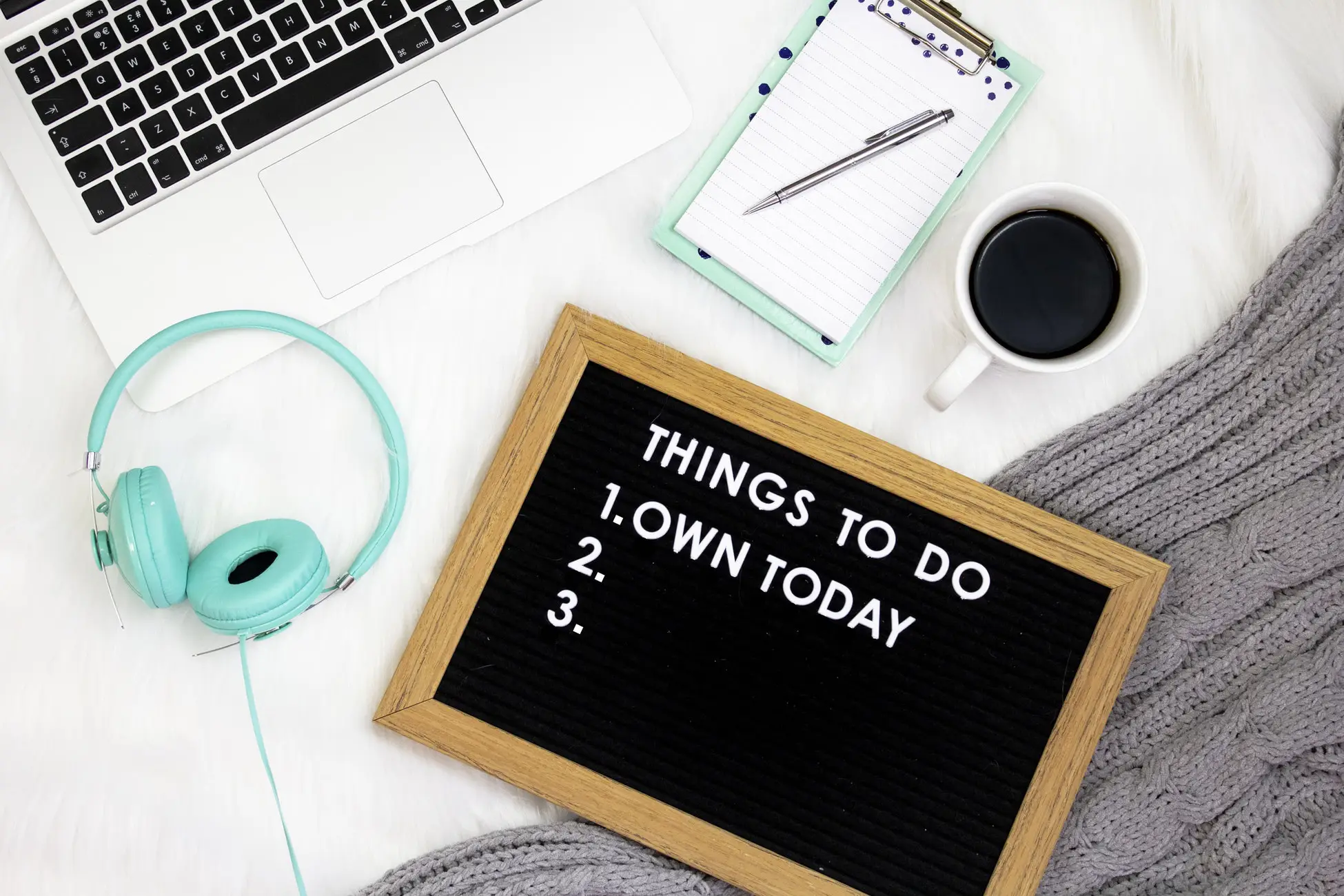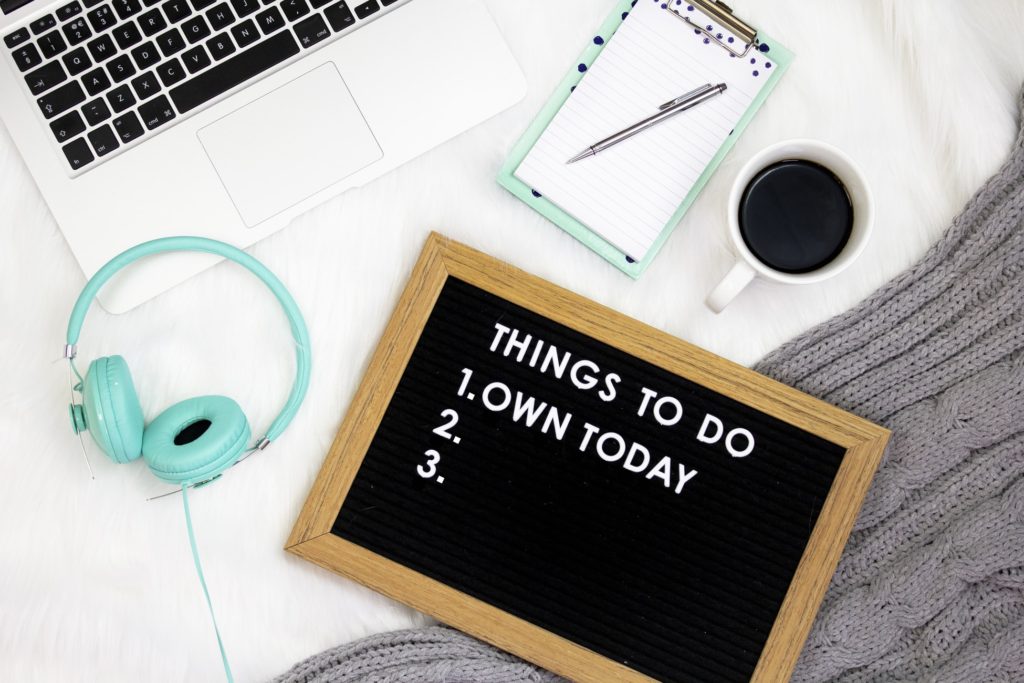 Virtual Assistant
A virtual assistant (VA) is someone who helps another person or business online perform various types of tasks. The tasks can be incredibly varied, from writing, proofreading, responding to emails, or managing social media accounts. Because the scope of the job is so varied, the income potential is varied too. The best way to find virtual assistant jobs is to email businesses to inquire about possible positions and to check the career section of businesses.
Blogging
As long as people search for things online, bloggers have a place in the online space to make money. A blog is a "personal" website where you create content based on a subject matter that people will find useful. With your blog, you get full control over what you say and how you make money. It's truly the ultimate online business that you can run entirely by yourself, work on your free time, and grow it over the years. The one thing I recommend is to pick a blog topic you love.
Product Tester
A product tester is someone who tests physical products (and digital products sometimes too). You evaluate them and give your feedback. The main purpose of product testers is to get the product into real peoples hands so they can assess the product and help the creator iron out bugs and make the product as good as possible before it goes to market.
Market Research Programs
You can make money online by filling out paid surveys. Many websites offer survey options that make you a few dollars or more per survey filled. It's super easy to do and you get rewarded quickly. You can do it while you're watching TV, eating dinner or anytime you're on your phone or computer.
Online Coach
If you're an expert in anything, chances are you can help someone by coaching them. There are all sorts of people looking for help and coaching, who want more success, better relationships, and more money.
Podcaster
Do you just love talking about stuff? Then maybe podcasting is for you. You can create your own show on just about any topic nowadays. There is a niche for everything. And as you gain listeners and followers, you'll build influencer and can make money by recommending them products and services that will help them.
Dropshipping
A dropshipper is someone who sell things online without ever needing to touch the product. You as the drop shipper "organize" everything and work with a company who will package and label the product and ship it out. The company could be half way around the world! A popular type of product that can be dropped shipped is vitamins and other health products.
With the likes of Shopify and Oberlo there's never been an easier – or better – time to take up drop shipping.
Affiliate Marketing
Affiliate marketing is when you promote a product/service for a commission. It's a great way to make money online because you don't need to create your own product. Affiliate marketing can be a full time online job or you can do it part time, and there are various ways to go about it. One of the most popular ways is to have your own website where you can recommend products/services for a commission.
Great Work from Home Jobs for Students
Freelance Writer
If you enjoy writing and are good at it, you will virtually never be out of an online job because writing is an incredibly in-demand skill. Business and websites need fresh content constantly and don't have time to create it themselves. That's where you can be of use.
Social Media Management
Virtually every business has an online presence today and they all need to get popular to attract traffic. The problem is, these people generally have no clue on how to get more traffic through online social media channels. That's where you can help a person or business manage their online presence.
Web Designer
A web designer is someone who has skills in creating and editing all types of code related to websites. Web designers are in high demand because websites consistently need to be updated, altered, and changed continually.
Amazon Mechanical Turk
This odd name is actually a great place to make a little bit of extra money online. You perform really simple tasks for Amazon and get paid for it. The pay is small but the tasks are incredibly simple and easy to perform.
Product Flipper
A product flipper is someone who buys things at a lower price, often at bulk, and then sells it online at a higher price. There are a lot of ways to go about this. But the main thing you need access to is the ability to buy things people want to buy at a very low price. If you can do this, then flipping online is a matter of finding a platform to sell it on. You could even use sites like Craigslist for a free place to sell online too!
Write Ebooks for Amazon
Amazon is the king of books online and writing for them is actually easier than you probably think. You can write ebooks on just about anything and upload and be paid when people buy it. You can create full-blown books but it may be better to create simple 20 page books on a subject matter that's important, like investing for example. You could charge a dollar for it and it really adds up if many people buy it.
Data Entry Gigs
Companies still need manual data entered into spreadsheets and that's where you can step in and do it online from the comfort of your own home. The pay isn't overly high compared to other online job ideas however it's an easy job to get and doesn't require a lot of skill.
Create Courses for Udemy
Udemy is an online marketplace where they host courses and classes on a ton of different topics, from investing to photography. It's a mature marketplace so you get their infrastructure and existing traffic to work with rather than creating your own. You'll find all sorts of courses on there when you look around. If you feel you can add something that fills in a hole, that could be a great way to earn extra income online.
Software Tester
Testing software and apps are not the first things you think about as a "job" but it is definitely a thing. Companies put out tons of apps and different software that need real users to use them to find any kinks and quirks so they can be improved before it goes to market.
Online Jobs for Teachers
Tutor Online
Did you know you can tutor students online? On a website like tutor.com, you can teach typical subjects like math and science to students online. You'll want to sign up and get interviewed to begin teaching. If are you considering becoming a tutor, be sure to put your heart into every session—a short tutoring session can easily turn into the highlight of your day. Not only can it advance your knowledge but you can also add it to your resume.
Teach English Online
One of the best online jobs is to teach English from the comfort of your own home, or anywhere in the world for that matter. Many countries want to learn English as a second language and students are going online to get the 1 on 1 experience. You don't need to go overseas anymore! You can expect to earn $15-$22 an hour working for companies like VIPKid.
Create an Online Course on Teachable
I touched on creating courses earlier but this one is more about creating an online course that you host yourself and fully control, rather than creating an online course to host on someone else's platform (like on Udemy). This way you get more control over how your course looks and feels, how it's delivered, and most importantly, what you want to charge for it.
Teach Music Online
Love the guitar or piano? Well, you're in luck if you're also into teaching music. Instead of going to someone's house or inviting people to yours, you can teach students how to be a better musician online. The money you make will vary widely depending on what website you sign up on and what skill level you are at.
Online Work from Home Jobs for Moms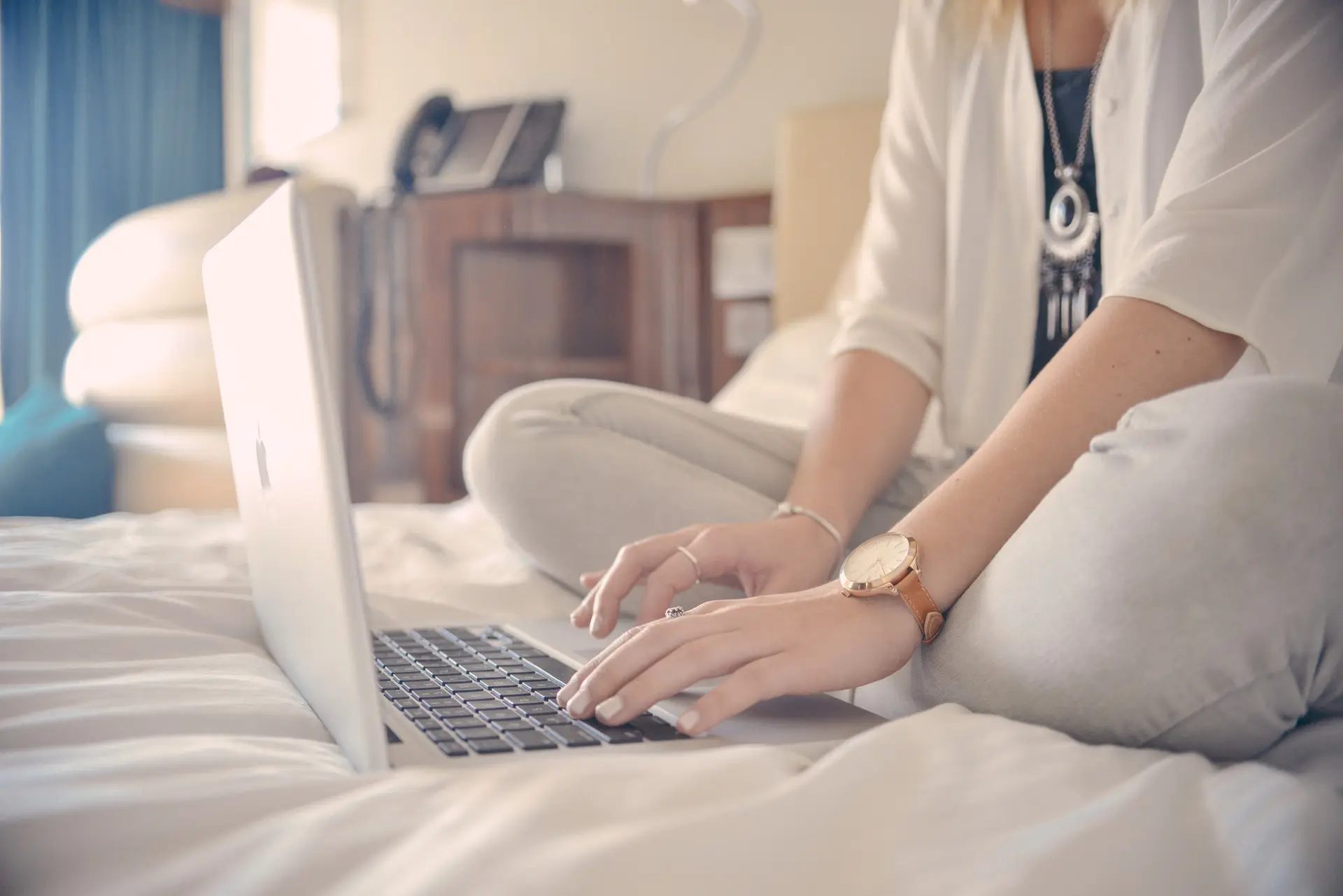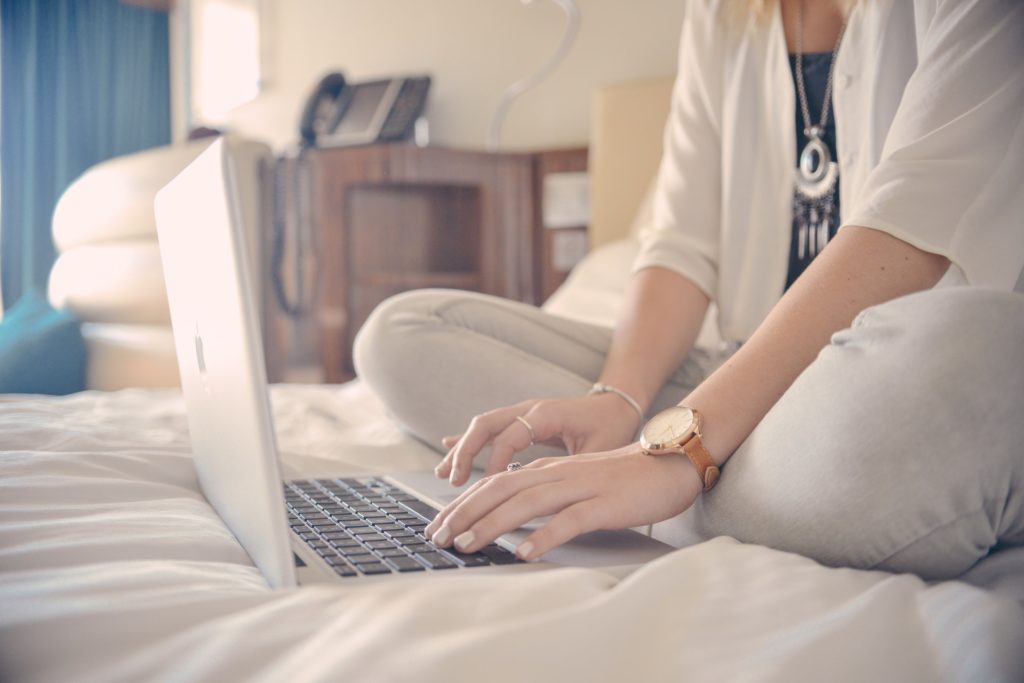 Online Travel Agent
A travel agent is someone who helps others plan their travels and holidays. Since this is mainly an online job, you can easily perform a job like this without ever need to get face to face with a client.
Graphics Designer
A graphics designer is someone who creates all sorts of graphics for people and businesses who need imagery for all sorts of business-related needs. To find these jobs, you can respond to ads online and also create your own website to advertise who you are and display your graphic designing skills. An example of something you can create is a logo for a company.
Sell on Etsy
Etsy is a very popular online marketplace most known for its cute arts and crafts people just like you and me can make and sell on it. It's really as simple as it sounds.
Tech Support
You can help companies provide tech support from the comfort of your own computer. Companies are doing away with offices and buildings and are outsourcing tech support to be done by people online. It's cheaper this way.
Online Jobs to Make Money as a Teenager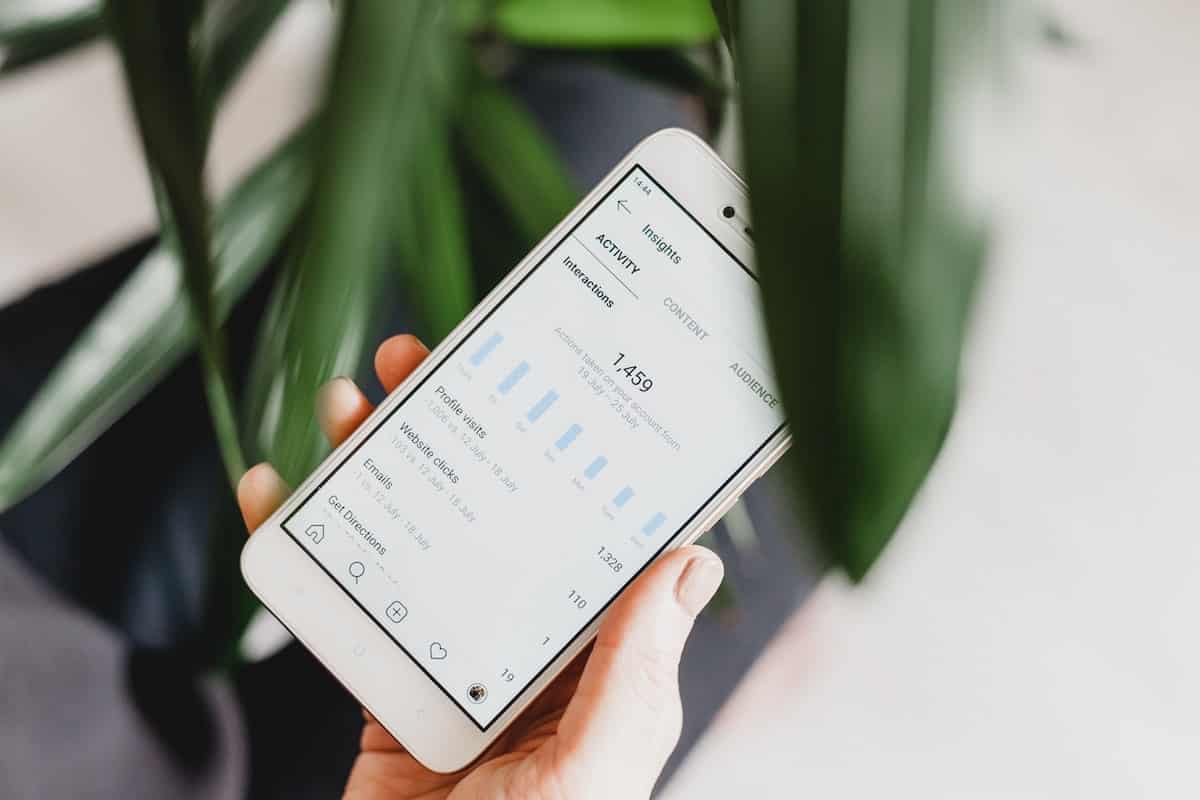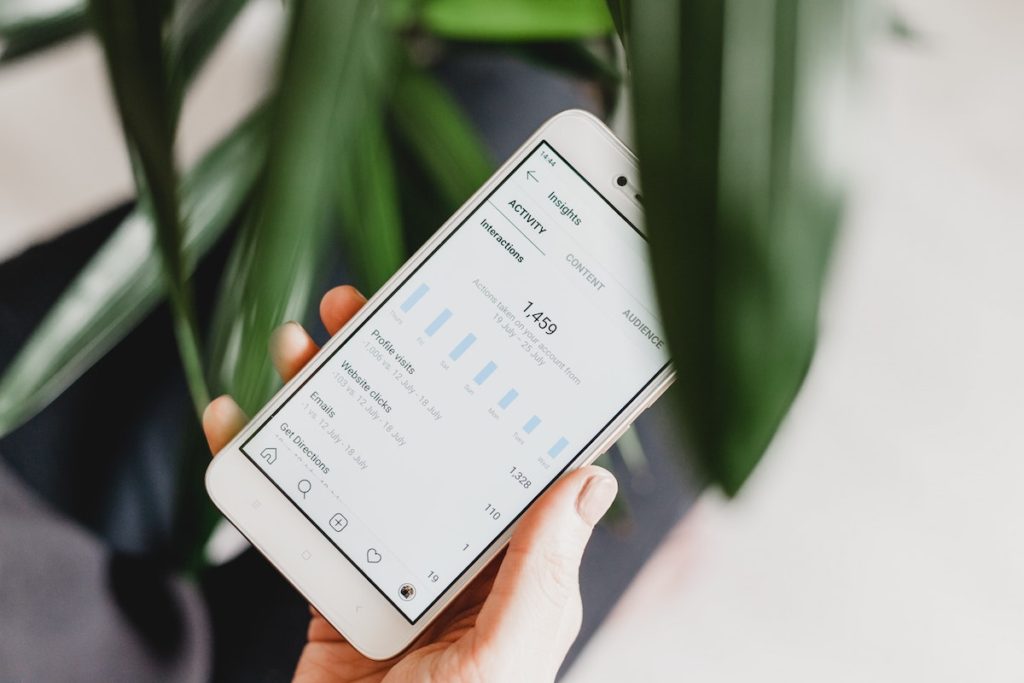 Provide a Service on Fiverr
Fiverr is one of the world's biggest online service marketplaces – with around a million purchases every month. Fiverr is a website where you offer "gigs" in exchange for money. Gigs are jobs people need to be done. A few common gigs are article writing, logo making, video editing, or transcribing a video. It's a very popular marketplace to make money because a ton of people need work done and will outsource that work by going to Fiverr to find someone who can do it for them.
Sell Photos Online
If you're a photographer then consider taking photos to sell on stock websites. You are paid in a number of ways that will depend on the website itself and what you choose. For example, you could be paid on a royalty base where you are paid every time your photo is downloaded or paid a flat fee for a photo you sell.
Instagram Influencer
Is there anything cooler than being your own boss on Instagram? Making money with brands and businesses by showing off their stuff? Traveling the world for free in exchange for showing off hotels and cities? That's the life of an Instagram influencer. It's a heavily competitive place to make money but it's the life everyone practically wants.
YouTuber
Youtube is the place to be if you love creating videos. A successful Youtube channel is all about creating content that people will engage with and want to see. It could be informational content or just plain entertaining content. As long as people want to watch it, they will click on ads. You can also perform affiliate marketing through your videos where you recommend products/services and also do sponsorships where you mention and talk about business products/services in exchange for money.
Fulfillment by Amazon (FBA)
We all know what Amazon is and know they sell just about everything under the sun. Selling on Amazon is a great way to earn extra income online because you have Amazon's incredibly optimized website to build trust and funnel those dollars into your bank account.
Easy Ways To Make Money Now Without a Job
The best way to start making extra money from home is to get some quick wins (in the form of free money). If you are looking for legitimate work from home jobs then check here. But if you are looking at how to live without a job, this list is for you:
Earn Cash by Participating in Market Research
You can earn cash by participating in market research through many survey sites. This is an easy way to earn some extra cash. While you will probably not make a living by completing surveys, it can help you reach your goal if you combine it with other money-making methods.
Here are some of the top-paying surveys sites that will pay you to complete online surveys:
Swagbucks is a popular rewards site that pays you to perform a variety of online activities, including participating in market research, or online surveys. Swagbucks is one of the best and highest-paying survey sites you can join to make money online by taking paid surveys. You can earn anywhere from $0.05 to $2.50 per survey with Swagbucks. Some surveys can pay as much as $25-$35.
Survey junkies is one of the best legitimate survey sites out there. You can earn virtual points by completing surveys with them. You can then redeem your points for PayPal cash or e-Gift Cards.
InboxDollars is a popular cash rewards and survey site that will pay you to perform various tasks online. One of the best ways to make money from InboxDollars is to complete online surveys. Once you accumulate $30 in your account, you can cash out your earnings with a check or gift card.
Do Freelance Work Online
If you have any marketable skill like writing, proofreading, graphic design, web design, video editing, virtual assistance, SEO, social media marketing, or any other skill you can sell online, then freelancing your skills online can be one of the best ways to work from home:
Clients usually hire freelancers for one-off or short-term projects. Here are some of the best freelancing sites to find freelance jobs online:
Upwork
PeoplePerHour
Freelancer
Guru
Fiverr
Outsourcely
Sign up for several freelancing sites as a freelancer and start bidding for jobs that match your skills and interests.
Freelancing is one of the fastest ways to make money from home, depending on the work you put into it and your skills.
Deliver Groceries and Takeout
Delivering groceries and takeout food is one of the best ways to make extra cash. There are some gig economy jobs such as DoorDash, Instacart and Postmates that will pay you to deliver groceries and food to customers' homes.
This job offers great flexibility, so you can work on your own schedule. Pay for this job varies based on the company.
DoorDash – You can make money delivering takeout meals with DoorDash as a Dasher. You can earn between $2 and $10 per delivery. You will also receive bonus during peak period and take any tips you receive.
Instacart – If you enjoy grocery shopping, then you can also get paid to shop for other people. Instacart is a grocery delivery service that allows you to earn money by grocery shopping for other people and delivering those groceries to customers' homes. Customers place orders through the Instacart app.
Postmates – Postmates is a food delivery service. They will pay you to deliver food in your area. You can use a car, motorcycle, scooter, bike, or even walk to deliver food to customers' doorsteps.
Sell Your Data for Cash
You can share your browsing history on the web with some companies to earn some extra cash. You can sell your data (browsing activity) for cash to the following sites:
Nielsen Mobile Panel – Nielsen Mobile Panel will pay you to collect your data while you use mobile internet. It will collect your surfing activity while you are using the internet as usual to understand the trends and behaviors of people in online search. You can earn credits that can be redeemed for gift cards to a great selection of retailers.
MobileXpression (iOS) – MobileXpression is another site that will pay you to collect your data as you surf the web. By collecting your surfing data, MobileXpression tries to understand the trends in online search, shopping, entertainment, and other website activities. Join MobileXpression today and earn a gift card after you've been an active member for only 1 week. It is only available for iOS devices currently.
Find Hidden Money
Finding hidden money is one of the best ways to make quick cash. There are several price drop apps and sites that help you lower your bills automatically and find hidden ways to save money on your everyday online purchases.
Here are the best online services (apps and sites) that help you lower your bills automatically and find hidden money:
Rocket Money – Are you overpaying on your ills? Then Rocket Money can help you save money by canceling your unwanted subscriptions and lowering your bills. You can use it to cancel your unwanted subscriptions and get better rates on your bill. Their fee is 40% of your savings.
Trim – Trim is another money-saving app that negotiates your cable, internet, phone and medical bills and cancels your old subscriptions and more. Also, Trim can negotiate with your bak and credit card provider to lower your credit card interest rates (APRs), waive interest charges, and get refunds on unfair bank fees.
Capital One Shopping – Capital One Shopping will help you get your money back by monitoring your online purchases. Capital One Shopping acts as a price drop app that will let you know if the price of something you bought online drops and will help you get refunded for the difference. Also, Capital One Shopping tracks your shipments from select online retailers like Amazon and can help you get you compensated for late deliveries. Capital One Shopping offers its services free of charge. Note: Capital One Shopping compensates us when you sign up for Capital One Shopping using the links we provided.
Use Game Apps to Win Real Money
Playing games on your smartphone is a fun way to make money in your spare time. You will not make a stable income with game apps to win real money, but if you enjoy playing games on your smartphone, this can be a nice way to earn real cash.
You can earn real money by playing games online via several game apps and sites.
Mistplay – Mistplay is an app that pays you to play games online on your Android and iOS devices. You earn points that can be redeemed for Amazon gift cards, iTunes, Nintendo, and Visa prepaid gift cards. You can earn anywhere from 20 to 200 points per game, depending on the amount of time spent playing and other factors. One thousand five hundred points are equivalent to around $5.
Solitaire Cube – If you are interested in only playing the classic Solitaire game online, then playing solo card games using Solitaire Cube is a fun way to earn real money. It is free to download the app and create an account. But you will have to make a minimum deposit of $10 into your account to play for real money.
InboxDollars – You can earn extra cash online by playing games on InboxDollars. When you sign up for InboxDollars, you get a $5 welcome bonus. Some Arcade games available on InboxDollars are Mahjong, Solitaire, Sudoku, and Word Chess.
Swagbucks – One of the ways you can make money on Swagbucks is to play games online. It is free to join Swagbucks. When you sign up and complete your profile, you get a $5 welcome bonus.
Earn Money from Cash Back Apps
Did you know that you can get some of the money you already spend back? That is where cash back apps come in. There are several reputable cash back apps out there that will give you cash back when you make a purchase using one of these apps.
Here are some popular apps that will help you get paid to shop:
Capital One Shopping – Capital One Shopping is a Chrome extension that automatically finds coupon codes while you are shopping online. It automatically applies the coupon at checkout, saving you money instantly. Capital One Shopping compensates us when you sign up for Capital One Shopping using the links provided.
Dosh – You can earn free cash by using Dosh which will give you cash back offers when you shop, dine or travel. Simply download the app, create a free account, and link your everyday card(s) to the app to start earning cash back from brands. No coupons or receipt scanning. Once you accumulate $25, you can withdraw your funds via bank transfer, PayPal or Venmo.
Rakuten – Rakuten is one of the most well-known apps that will let you earn cash back at more than 2,500 stores. Simply make your planned purchases at your favorite stores using the Rakuten app to earn some money back. You will earn a $5-$10 bonus when you sign up with them.
Fetch Rewards – Fetch Rewards is another money-making app that pays you to scan your receipts, no matter where you shop. Fetch Rewards works directly with hundreds of brands. When you shop with any of these brands through Fetch Rewards app, you will also earn points. You can redeem your points for rewards, including gift cards from the most popular stores and retailers.
Upside – This cash back gives you cash back whenever you shop using your linked debit or credit cards to Upside app. You will get a $5 bonus when you register your account.
Get Paid to Walk
Yes, you heard that right. If walking is something you enjoy everyday, then there are apps that will pay you to walk.
HealthyWage – HealthyWage will pay you to lose weight. Simply sign up with the app and make a bet on how much weight you want to lose, how long you will take to lose that weight, and how much you would like to bet. Then HealthyWage Prize Calculator will determine your winnings amount. If you then lose the weight, you will get paid to reach your weight loss goal.
Sweatcoin – Sweatcoin is an app that pays you to walk. They will pay you in cryptocurrency. Once you sign up for the app, you will be able to earn 5 Sweatcoins per day for 5,000 steps. But if you choose a higher membership level that is charged monthly in Sweatcoins, you can increase the number of Sweatcoins you can earn per month. You can use your Sweatcoins earned to buy goods and services from brands in the app's marketplace.
Achievement – Once you sign up for an account with Achievement, then you will have to connect your desired fitness apps to Achievement. Then you can start earning points and rewards by performing a variety of exercises, including walking that improve your health. The more active you are, the more you warn. Once you have earned 10,000 points, you can redeem your points for a $10 reward via PayPal or direct deposit to your bank account.
Get Free Stocks
There are several companies that offer free stocks online through their services and apps. You can then choose to hold for the long-term or sell for a quick profit. Some companies may even pay dividends. If you are looking for ways to make money fast from home, you can try to see how you can get free stocks from the best investment apps:
Charge Scooters
Are you looking for ways to make some extra money fast? Then you can earn hundreds of dollars per week by charging electric scooters. Electric scooter rental companies like Bird and Lime will pay you to charge their scooters.
This is an easy side hustle you can do because all you need to do is pick up scooters that need to be charged. No special skills or experience required.
Bird – Bird is an electric scooter service that offers electric scooters for low-cost rental used by people in high traffic areas to get around town. Bird will pay you to charge their electric scooters. You can apply to become a Charger through their app. Once you are approved to become a Charger, the company will provide you with a certain number of chargers. You will be paid for each Bird you pick up, charge and return it to the location specified by Bird. You will be required to drop them off by 7 a.m. Most Birds will pay you $5, but some Birds will pay more, depending on your location and how difficult it is to pick up, charge and drop off a Bird.
Lime – If you are looking for a side gig to make some extra cash fast, then you can make quick cash by charging Lime Scooters. Charging a Lime Scooter can anywhere from 1-5 hours, depending on how much battery is left. If you have extra chargers, and can charge 10 Lime Scooters a day, you can earn $50 per day, assuming you can make $5 per scooter. Simple download the app and sign up as a Juicer via the app or online. If your application is accepted, Lime will send you your electric scooter chargers.
Make Money on Social Media
If you are social media savvy you can get paid to manage one social media account or more social media accounts such as Facebook, Twitter, Pinterest, or other accounts of companies or people, depending on each client's needs.
As a social media manager, your responsibilities might include responding to comments, interacting with followers, creating social media graphics, building the audience size, monitoring and more, depending on your clients' needs and your skills.
Snapchat – Snapchat is one of the fastest growing social media platforms you can use to make money online. By creating Snapchat ads you can promote your own products or services. Or you can promote your products through content you post on Snapchat to generate income. You can share sponsored posts and visual images on Snapchat to promote your own products and services, direct your followers on Snapchat to your online store, promote other people's products and services via affiliate marketing on Snapchat, to make money on Snapchat. You can also make money with their referral program.
Twitch – Twitch is a social media platform for live streams where users play or watch other people play video games. It is a platform where you can turn your hobby into a little extra cash. As a gamer, you can build an audience and start making money on Twitch. You need to keep producing regular streams to attract more viewers. You can use your existing social media accounts like Facebook, Twitter, or Pinterest to promote your Twitch broadcasts. Once your audience grows, you can earn money in various ways, like accepting donations, making money with brand partnerships from companies, making money by promoting your own merchandise, and more ways.
Facebook – Facebook is a great place you can use to sell your products locally by joining Local Buy and Sell Groups. Or you can sell on Facebook Marketplace. You can share your affiliate, or referral links on Facebook Marketplace to make money. For example, you can earn some extra cash by sharing your favorite apps and websites on Facebook. You can create ads for other people's pages to earn money or you can create ads for your page to promote your own business. You can also make money as a social media manager where you will manage Facebook accounts of your clients.
YouTube – If you have a knack for creating videos and have video editing skills, then a perfect way to make money on social media is to make a YouTube channel to share interesting, educational or how-to videos, depending on your skills, on YouTube. Once you build a large enough audience required to join YouTube Partner Program (YPP), you can make money from ads displayed on your videos. You can also make money from your YouTube videos via affiliate marketing, sponsorships, selling your own products and services, and more ways. The more views your videos will get more income for you.
Get Paid to Take Pictures
Do you enjoy taking photos with your digital camera or smartphone? Then you can make money from your photos. You can sell them online to make money easily. Quality photos are in high demand, so if you can take high-quality photos, then you can make money by selling your images via stock photo sites. Typically, you will earn a certain percentage commission on each sale. Some of the reputable stock photo sites to sell your pictures are:
iStock – iStock is a reputable stock photography website where you can upload your photos for approval. You can then sell those photos that are accepted by the site. You can earn approximately 25-45 cents per stock photo, depending on the quality of the photo, whether the photo has been uploaded to any other stock photo site, and other factors.
Adobe Stock – If your photos are accepted on Adobe Stock, you can earn 33% of the amount someone pays to purchase your content. Once you have earned $25, you can request a payout via PayPal or Skrill.
PhotoMoolah – Instead of getting a percentage for your photos that are sold, you can enter your photos in contests. If you win, you will get cash prizes.
Shutterstock – Shutterstock is a popular stock photo site where you will earn royalties for each photo that gets purchased or downloaded. There are several different earnings levels for your photos, ranging from 15% up to 40%.The more photos customers buy from your portfolio, the faster you move up the higher levels.
Get Paid to Read Emails
You could get paid to read emails. It is one of the easiest ways to earn some extra cash online while doing something that you already do online. Many sites will pay anywhere from 1 to 5 cents for opening the email and reading it. Here are some sites that allow you to get paid to read emails.
InboxDollars – If you sign up for an account with InboxDollars, they will pay you just to read the emails they will send to your inbox. InboxDollars send special offers through these emails. All you have to do is to open these emails and read them to earn some extra cash.
Swagbucks – Swagbucks is a popular online rewards program that pays you cash and gift cards for doing a variety of tasks online, including reading emails. Swagbucks will send you promotional emails. If you simply click on those emails to read, you will earn SB points that can be redeemed for free gift cards to your favorite retailers like Amazon or Walmart, or PayPal cash.
InboxPays – InboxPays is another site that will pay you to read emails. When you sign up for InboxPays, you can earn through reading emails. The maximum amount you can request per payout is $25. All earnings are deposited to your PayPal account.
Vindale Research – Vindale Research is an online market research panel that allows you to sign up for a free account to become a member. There are a few ways to earn extra cash on Vindale Research site, including getting paid to read emails.
Claim Top Open Class Action Lawsuits
Millions of dollars go unclaimed every year. You may get free cash payments by submitting class action settlement claims through open class action lawsuits. It takes only a few minutes to submit your claim online.
In most cases you do not need proof of purchases to file a claim. But if you can submit receipts, credit or debit card statements to your claims, that is going to help you. Depending on your claim, you can get hundreds or even thousands of dollars by submitting claims
Get Paid to Test Apps
If you spend a lot of time on apps, then you can make money online by testing apps for usability errors and giving your feedback. Some of the top websites that will pay you to test apps include:
UserTesting – UserTesting will pay you $10 each time you test an app. You will receive your payment after 7 days of completing the test via PayPal.
Testbirds – When you are invited by Testbirds to test an app, you will give your honest opinion about it. The pay rate may vary per completed test, depending on the complexity of the test. If you can find serious technical bugs, you will earn more per test.
TryMyUI – TryMyUI will pay you $10 for each test you take. A typical test lasts around 20 minutes. You can take as many tests as you can do. Payments are made via PayPal.
Get Paid to Watch Ads
Watching ads online is an easy way to earn some extra cash. If you watch ads on a daily basis in your spare time, the earnings can add up over time. Here are some of the top sites that will pay you to watch ads:
Swagbucks – One of the ways to make money on Swagbucks is to watch ads. You can get paid to watch videos on Swagbucks. The types of videos you will be shown on Swagbucks can be varied.
InboxDollars – Like Swagbucks, InboxDollars is a popular rewards site that will also pay you to watch ads. It is an easy way to earn some extra cash in your spare time. You can earn anywhere from $0.05 to $30 or more, depending on the ad.
MyPoints – MyPoints is one of the first sites to offer payments for watching ads online. You can get paid to watch a wide range of interesting videos.
Donate Plasma
Donating plasma is a great way to make some extra money fast while also helping to save the lives of people in need of plasma. Generally, you have to be between 18 and 65 years old and be subject to a medical check at the plasma collection clinic before you can donate plasma.
You can earn anywhere from $20 to $50 per plasma donation, depending on how often you donate, the quantity of plasma donated, how much you weigh, and the donation center you choose. Each session only takes 60-90 minutes. If it is the first time donating, it can take a little longer.
You can earn $200 to $400 each month depending on the number of times you donate plasma. Generally you cannot donate more than twice a week.
Get Paid to Read Books
There has been a high demand for book reviewers, as many publishers and authors, especially up-and-coming authors are willing to pay you for writing an honest review of a book.
OnlineBookClub.org – Online Book Clubs will pay you to review books. You can earn anywhere from $5 to $60 per review, depending on the book being reviewed. You will also receive a copy of the book for you to keep. If you enjoy reading books, and have a knack for writing, then you could make $100-$200 a month by reviewing books.
Any Subject Books – Any Subject Books is a self-publishing service that hires book reviewers to review new books. You can choose to read books in your preferred genres and get paid for giving in-depth and honest review of each book that you are given to review.
The U.S. Review of Books – The U.S. Review of Books is a book review publication that hires freelance writers to review books of all kinds. If you want to get paid to review books for them, then you will have to contact the editor via email or through regular mail with a resume, sample work, and at least two professional references.
Get Paid to Chat Online
Do you enjoy chatting with strangers and helping people? Then you could get paid to chat online as a chat agent. As a chat agent, your work typically involves helping customers and answering inquiries online in the form of chat. Below are some of the best companies where you can get paid to chat online with customers:
Amazon Chat Support Representative – Amazon hires home based workers to work as an Amazon Chat Support Representative. If you are hired for this role, your duties will involve responding to customer queries relating to their deliveries, purchased products and more. This position can be available full-time, part-time or seasonal.
LiveWorld – If you enjoy spending time on social media while helping people, then you can choose to apply for a social media assistant position with LiveWorld. Your duties may include responding to customers' questions, moderating content, This company hires
The Chat Shop – You could make money working as a remote Live Chat Agent for The Chat Shop company where your work could involve responding to customers
JustAnswer – JustAnswer is a question and answer website where you can get paid to answer questions posted by users on the site. If you have expertise in a particular field or fields, you can join JustAnswer to get paid to chat, i.e. answer questions. You will get paid every month via PayPal.
Sell Your Ideas to Companies
If you have great ideas in mind you think companies and people can benefit from, then there are companies that will pay you for your ideas. Here are some companies that buy ideas:
3M – 3M is always looking to expand its product line, so if you can come up with ideas that this company may be interested in, then you can submit information about your idea to the company.
Domain Products, Inc. – Domain will pay you for your band new ideas to improve their existing product line that includes homeware, hardware and automotive products. They are always looking for new ideas in these areas.
Henkel – Henkel is always interested in new ideas for innovation in their product line which includes laundry and home care products. They are particularly interested in ideas from students and customers.
Sharper Image – You can get paid to submit your ideas to Sharper Image
Get Paid to Post Ads Online
You can make money posting ads online in two ways: you can post ads online for other companies or people on your own blog or website or social media pages on social media sites such as Facebook, Pinterest and YouTube or post ads online for your own business on your own blog or website or your social media pages.
For example, you can make money advertising for companies on Facebook, Pinterest, YouTube and more sites. For example, you can post affiliate ads on your site for other companies or you can sell ad spaces on your site to companies and individuals who want to advertise their products, services, etc. online. Depending on the company, companies can pay you to post links to their products or services or links to posts about those products/services.
On Pinterest, you can make money posting ads for companies on their Pinterest pages through sponsored pins.
Rent Out Your Car
Rates per hour vary depending on your car, location and the number of miles driven.
You can choose to have your car picked up by the driver in need of your car or you can deliver it to the driver to increase your rate.
If you rent your car out several hours a day, you can earn anywhere from $30 to $70 per day.
Turo – You can rent out your car whenever you are not using it via Turo which is the largest car sharing marketplace. Simply list your car for free on Turo. You can set your own daily price, or let Turo automatically adjust your price. When a guest books your car, you will earn 65% – 85% of the trip price, depending on the vehicle protection plan you choose.
Getaround – Getaround is another popular car sharing marketplace where you can list your car for free. Whenever a renter books your car, the Getaround Connect® device allows the renter to unlock your car with keyless entry. You can earn some extra money fast by renting out your car via Getaround if you live in a city.
Sell Your Stuff
Want to earn some extra cash right now? Then you can consider selling your unwanted stuff online and offline. There are numerous apps and sites that will allow you to sell your used or unwanted items online.
Check out selling apps like OfferUp, Poshmark, 5Miles, and sites like Decluttr, eBay, Craigslist, Facebook Marketplace, and Amazon to see how you can use them to sell your stuff.
Decluttr will give you a free instant evaluation of the items you want to sell. Then if you accept the price, just pack your items into a box and ship it for free to Decluttr. All of your items are fully insured during transit, so you are covered no matter what. You will get paid the day after they receive your items. Payments will be sent via Direct Deposit PayPal.
Rent Out Your Room
You can easily make a living each month by renting out your empty space in your home, depending on the size of your space and your location. If you have a spare room you can rent it out on Airbnb to make extra cash on the side. You can also rent out your entire place when you will be away on vacation.
Host on Airbnb – If you have a spare room, you can list your room on Airbnb for free. If you live in a place that gets lots of visitors, then one of the quickest ways to make $1,000 fast could be renting out your spare room or entire apartment/house via Airbnb.
Benefits of Work from Home Jobs
Working from home is booming ever since the coronavirus outbreak. It is very apparent this trend is not going away.
The way that most companies think about remote work has changed. Job seekers are looking for job types that pay highly but also flexible. These types of work from home gigs offer very unique that include:
You can set up a home office you truly desire
Your cubicle at work might not be your favorite place in the world but have you tried a standing desk at home? Pro tip: it's way better.
When you're working from home you can customize your workspace to your liking. Plus, you can work from home if that's what gets your creative juices flowing or on the patio with the sun shining.
Freedom to wave goodbye to office politics
Nobody likes the one office negative Nancy who always gossips at the water cooler. Another benefit of working from home is that you'll likely never have to talk to them again. Office politics can really put a damper on your mood and working from home gets rid of that stress. Plus, it's also a great environment for introverts since it frees them from the socializing that an office environment brings.
Your office can really be anywhere you want
One of the best things about working from home is that home can be anywhere. This means that as long as you have your computer — you can be at the beach or in an RV traveling the country. This is such a huge benefit that people sometimes downplay.
You'll manage to save money
Working from home has added benefits of saving you the wear of tear of daily commutes. Not to mention that you don't have to eat out daily and generally avoid unnecessarily spending or other bad financial habits. This can really help you reach your financial goals.
You will learn new skills
When you're working from home you have more time to build other skills. This can be from taking online courses in your free time or building new side hustles on the side. The possibilities are endless with what you do with your free time.
Are Online Jobs Legit for Making Money?
Yes, online jobs are a legit way of making an income. With the technology at our fingertips, remote work is the path forward and companies are getting on board.
You can make an income online by having an online job and sometimes can earn more than a regular 9 to 5 job.
How to Avoid Online Job Scams
When you're searching for online work it's important to avoid scams that will just waste your time. You'll likely never want to pay for a job and avoid pushy recruiters who offer an absurd high paying salary that doesn't match up the amount of work you'll have to do.
In most cases, your gut instinct will steer you right. If you have any doubts, you can usually search for the company in search engines and see if they are legit or a scammy company.
Ready to Make Money from Home?
With this list of 50+ ways to make money from home I hope you are able to find some profitable ways to earn a living. If you need more resources on working from home, Work From Home Adviser has some great guides and resources that can help.
Because let's face it, working from home will only continue into the next few years. Did you know that the online outsourcing market is projected to grow to $16 Billion by 2023? Millennials, especially those in the age group of 20-25 years, form a large part of this outsourcing market. So working from home will become more prevalent.
Hence, it comes as no surprise that nearly 80% of students work part-time and about 30% of working professionals make money by in ways that we like to call them, side hustles.
If you want to take complete advantage of the opportunities available to you, then the list above are some of the best ways on how to make money from home.
Like these types of lists? Here's an even bigger one for you:
Have you tried any of these creative ways to make money from home? Are there any other ways you've earned money online free fast and easy that we missed?
Best Bank Accounts for Freelancers