Best Business Checking Accounts
1. Found: Best for no fees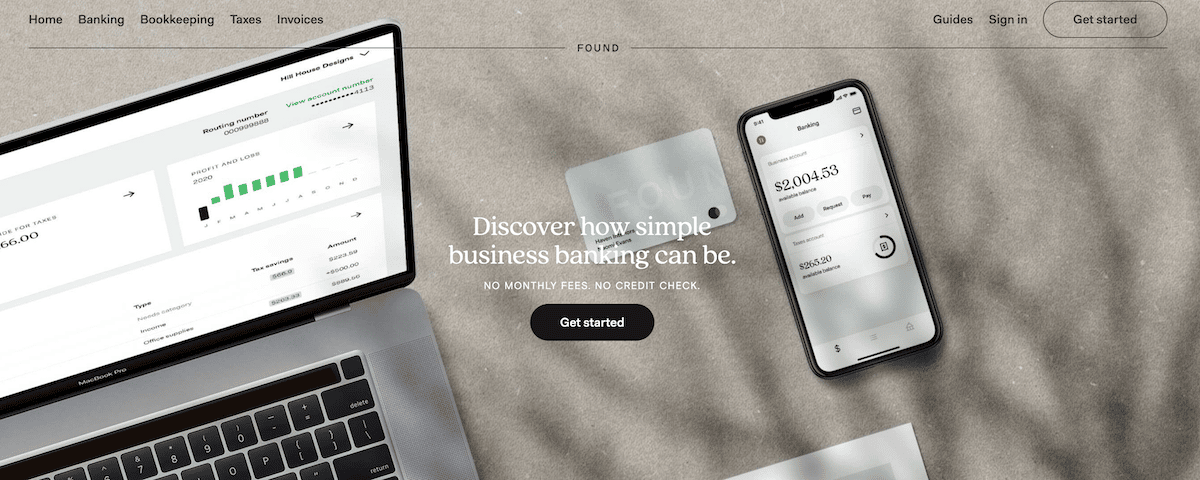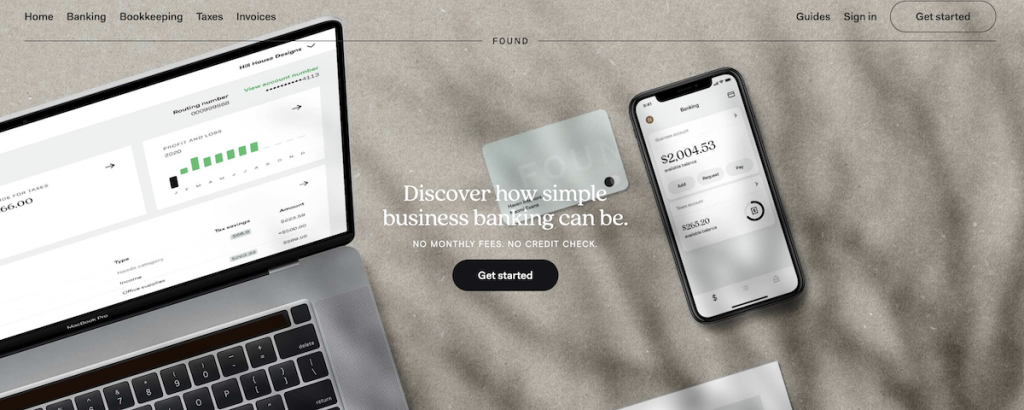 | | |
| --- | --- |
| Monthly fee: | $0 |
| Minimum opening deposit requirement: | $0 |
| APY: | None |
| Transactions: | Unlimited |
| Bonus: | None |
Found's free business banking is built for the self-employed. It stands out from the crowd thanks to smart tax and bookkeeping features. The Found business debit Mastercard automatically tracks and categorizes your expenses, helping you save on taxes. Found estimates your tax bill in real time—then sets aside the right amount so you'll have enough saved for taxes.
Send custom invoices, save receipts, run reports, even pay your taxes right in the app—all for free. Link Found to your payment apps or other bank accounts for seamless money movement. Found's features eliminate the need to toggle between platforms or pay for clunky financial tools. In all, Found offers reliable business banking and robust features, with no fees or minimums—saving you time and money.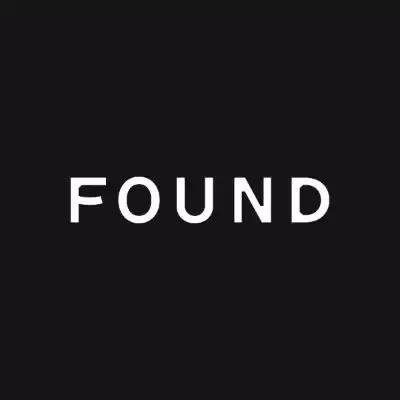 Found Business Checking
Found Business Checking offers a fully digital business checking account with no monthly fees, no credit checks, a free debit card, and built-in bookkeeping, invoicing, and tax tools.
Open Account
Found is a financial technology company, not a bank. Banking services are provided by Piermont Bank, Member FDIC. The Found Mastercard debit card is issued by Piermont Bank pursuant to a license from Mastercard Inc.
2. Novo: Best for integrations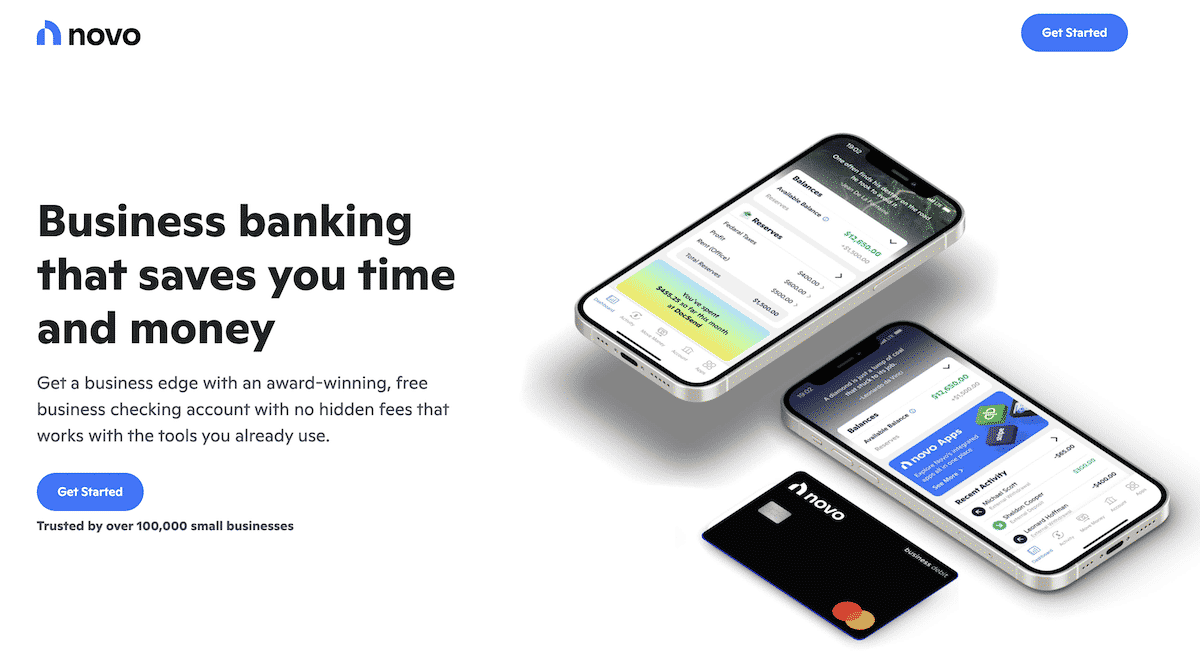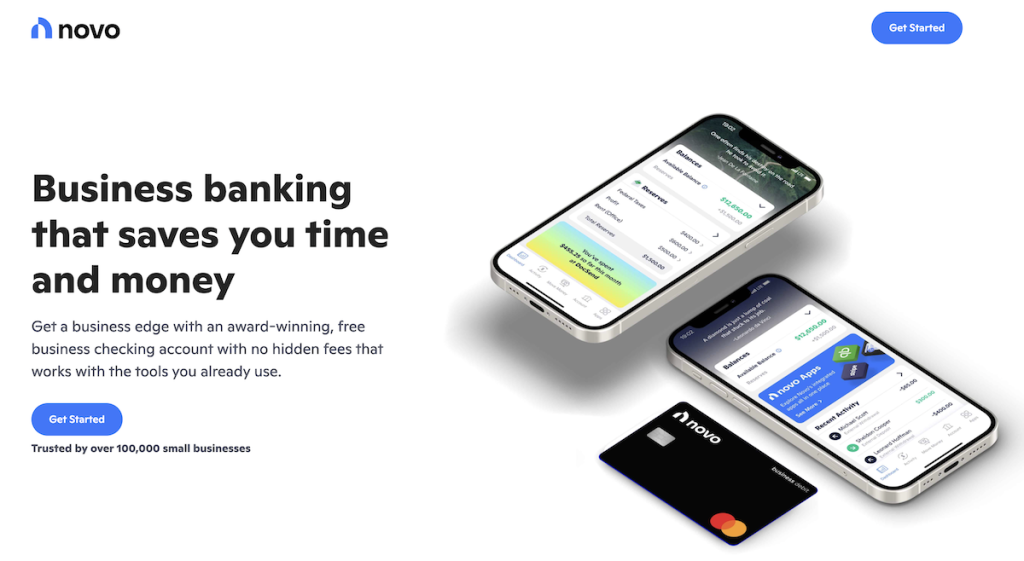 | | |
| --- | --- |
| Monthly fee: | $0 |
| Minimum opening deposit requirement: | $50 |
| APY: | None |
| Transactions: | Unlimited |
| Bonus: | None |
Novo is the powerfully simple small business checking platform that's resetting expectations of small business finances. Instead of the standard business account offered by the big banks, Novo's accounts are customized to their user's needs.
With integrations to tools small business owners are already using like Stripe, Shopify, Square, and Quickbooks Online and powerful features like Invoices and Reserves, Novo users can save time. There are no hidden fees or minimums which also saves Novo users money. It's one of the best free business checking accounts available.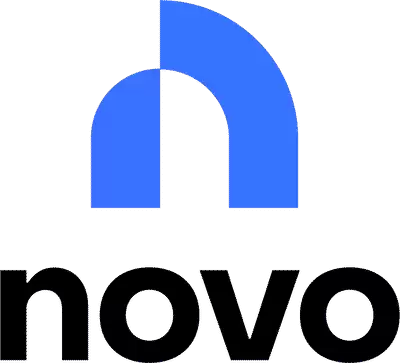 Novo
Get a business edge with an award-winning, free business checking account from Novo. With no monthly fees, unlimited refunds for ATM charges and a focus on digital banking, Novo business checking is a great option for small-business owners on the go.
Get Started
4. Lili: Best for freelancers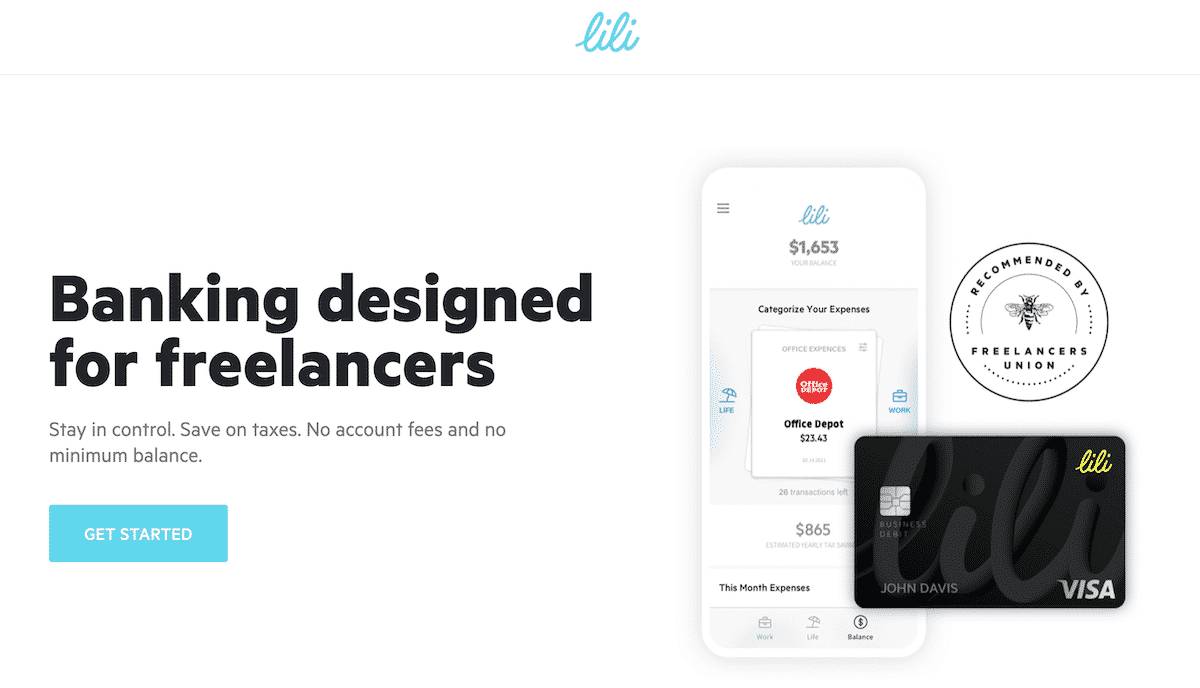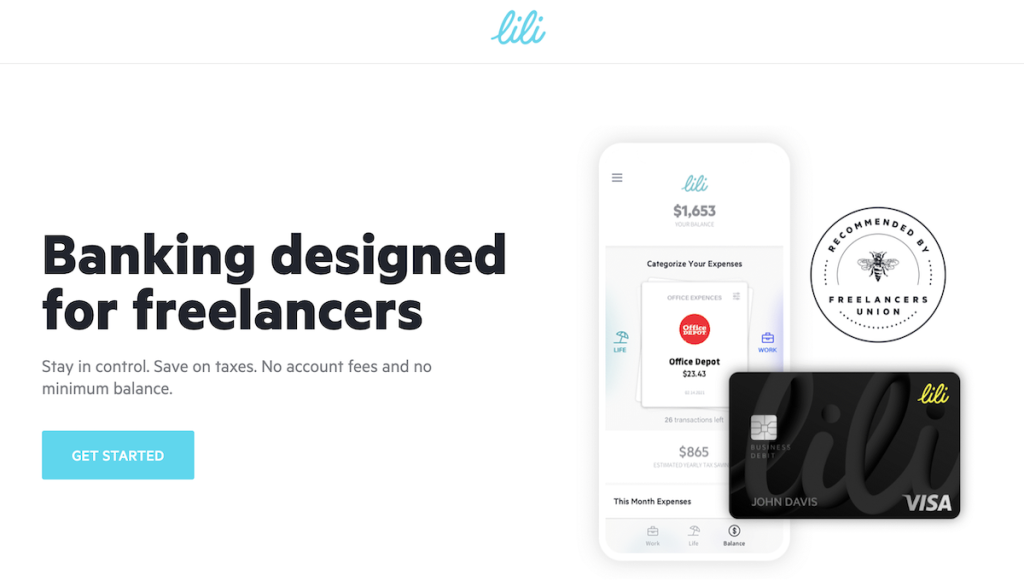 | | |
| --- | --- |
| Monthly fee: | $0 |
| Minimum opening deposit requirement: | $0 |
| APY: | None |
| Transactions: | Unlimited fee-free transactions |
| Bonus: | None |
Lili is a bank for freelancers that opens its business checking services to anyone who wants to join. Lili offers banking, expense management and other tax-saving tools designed to save you time and money.
There are no monthly fees with a Lili account, minimum balance requirements, or a minimum opening deposit. You can withdraw your money for free with ATM access through the MoneyPass network.
When you're paid via direct deposit, your money is available in your Lili account up to 2 days earlier than if you were banking with a traditional bank. And they have an app that makes it easy for you to check your balance and transfer funds from anywhere you are.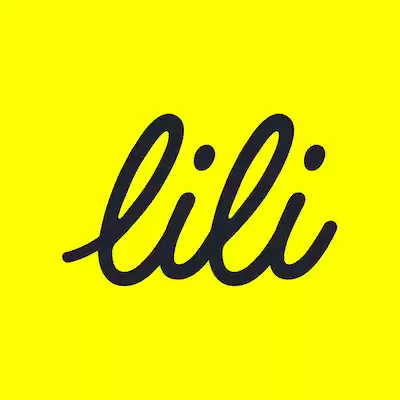 Lili Bank Account
Stay in control. Save on taxes. No account fees and no minimum balance. By combining banking with accounting software and technology to optimize tax liability, Lili is designed to save time, money and energy for anyone who runs a business on their own.
Open Account
5. NorthOne: Best for digital tools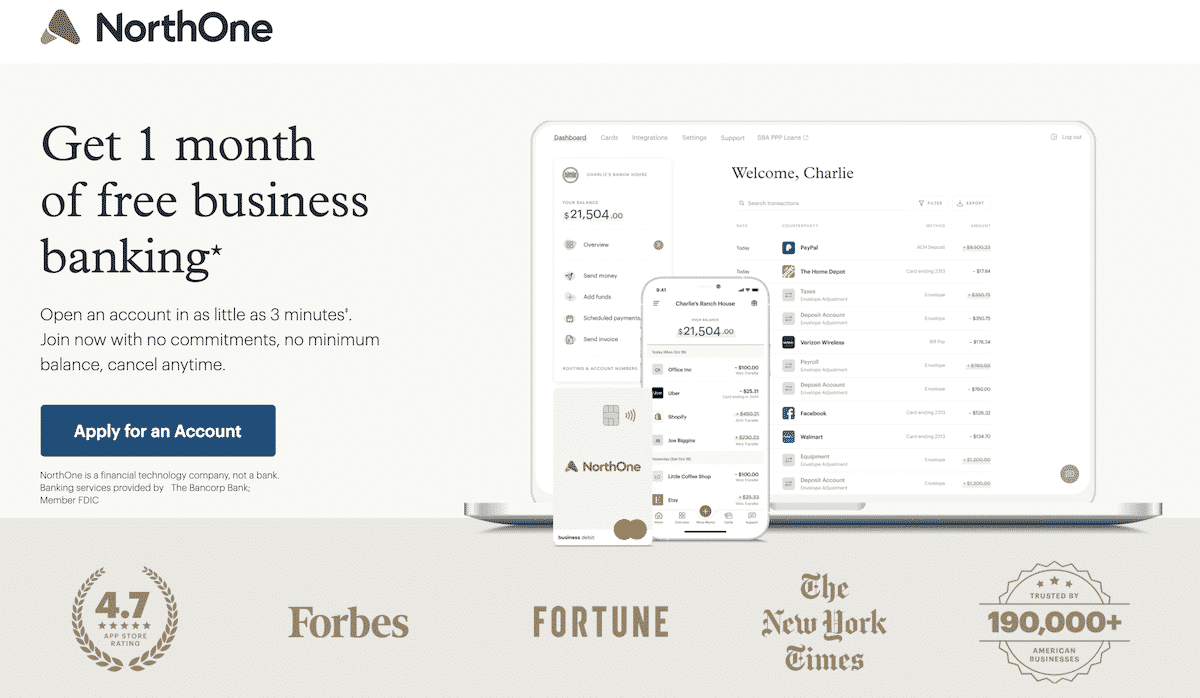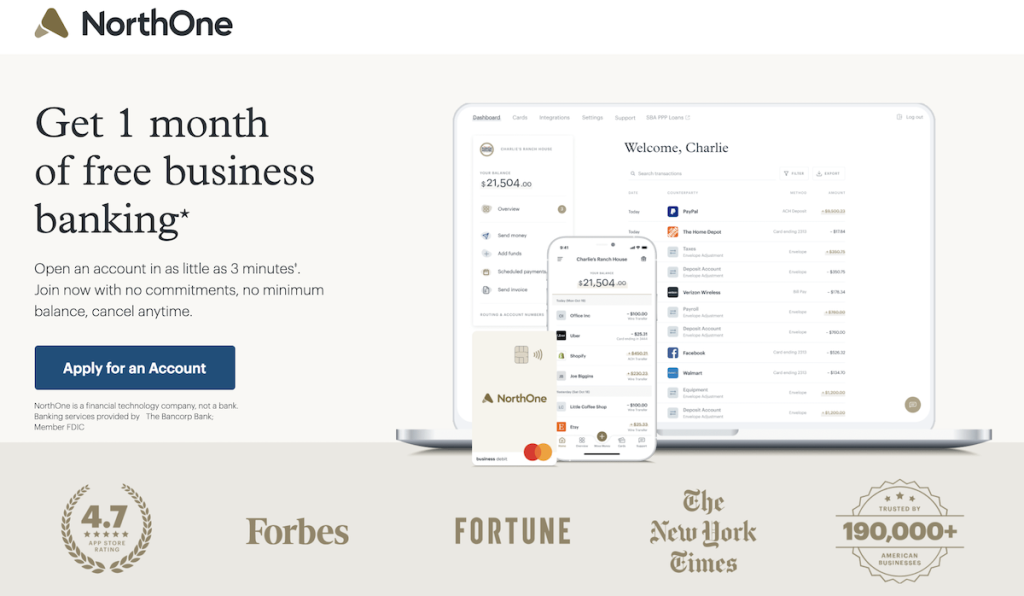 | | |
| --- | --- |
| Monthly fee: | $10 |
| Minimum opening deposit requirement: | $50 |
| APY: | None |
| Transactions: | Unlimited fee-free transactions |
| Bonus: | Get a $20 bonus when you open and fund a new NorthOne Account |
NorthOne is a great place for freelancers to start their business banking. It's a standout bank that takes just $50 to open an account. The bank has a low monthly maintenance fee of only $10 but doesn't have any monthly balance requirements or minimum deposits.
NorthOne has some of the best integration and features:
Works with billing systems like Stripe, Quickbooks, Shopify, and Square
Supports all modern payments types
Pay invoices
Simple and powerful insights into your cashflow
Interest-bearing accounts are not available, but you enjoy unlimited fee-free transactions and a ton of online tools to help you manage your business banking. You also don't need a branch to operate your account with NorthOne banks because mobile banking and mobile check deposit are available.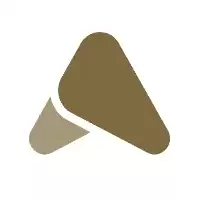 NorthOne Business Banking
NorthOne offers a variety of online and digital tools to manage your business banking. Open an account in as little as 3 minutes. Join now with no commitments, no minimum balance, and cancel anytime.
Open Account
Our Review
| | |
| --- | --- |
| Monthly fee: | $15. Waivable |
| Minimum opening deposit requirement: | $0 |
| APY: | None |
| Transactions: | Unlimited fee-free electronic transactions |
| Bonus: | Earn $300 for new business checking customers with qualifying activities. |
With its amazing features and services, Chase Business Complete Banking makes it easier for small business owners to keep track of their finances. The account is easy to open and grants a Chase promotion of up to $300 if you deposit $2,000 or more within the first month of opening the account.
Though Chase Business Complete Banking requires a $15 monthly service fee, it provides several options that you can use to avoid the charge and conditions that are easy to meet. The monthly fee can be waived if you:
Maintain a minimum of $2,000 daily
Use Chase QuickAccept or another Chase Payment Solution transaction to deposit a minimum of $2,000 into your account
Spend $2,000 or above using a Chase Ink Business Card
Link a Chase Private Client Checking account
Earn $500 bonus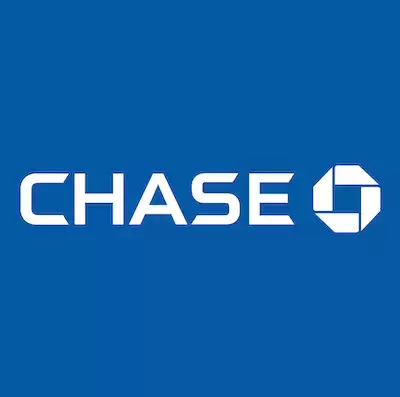 Chase Business Complete Banking℠
If it's a business bank account you're looking for, look no further than the Chase Business Complete Banking℠ account that allows you to earn up to $500 in free money for completing several key requirements.
Open Account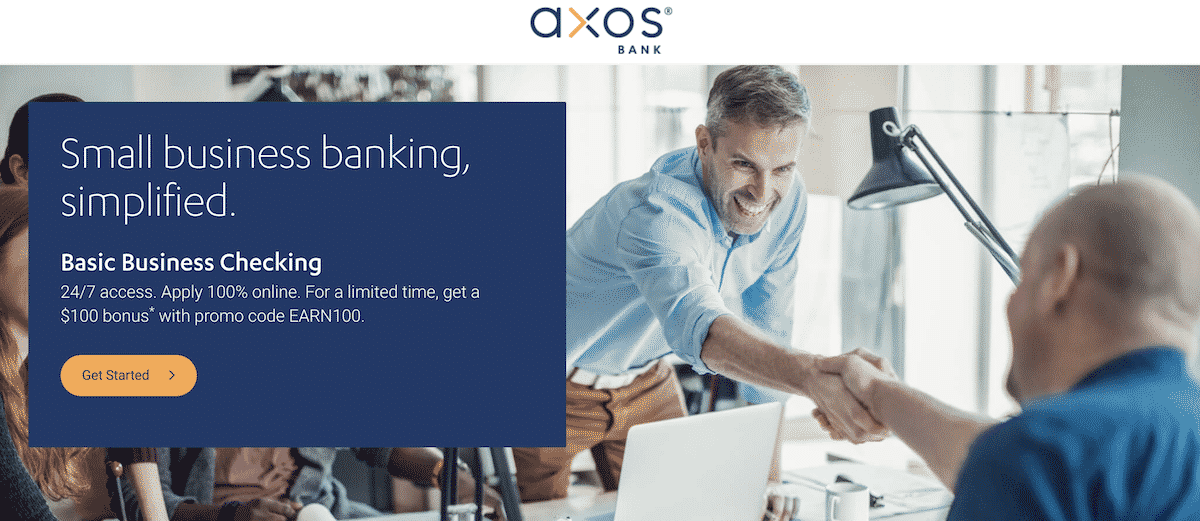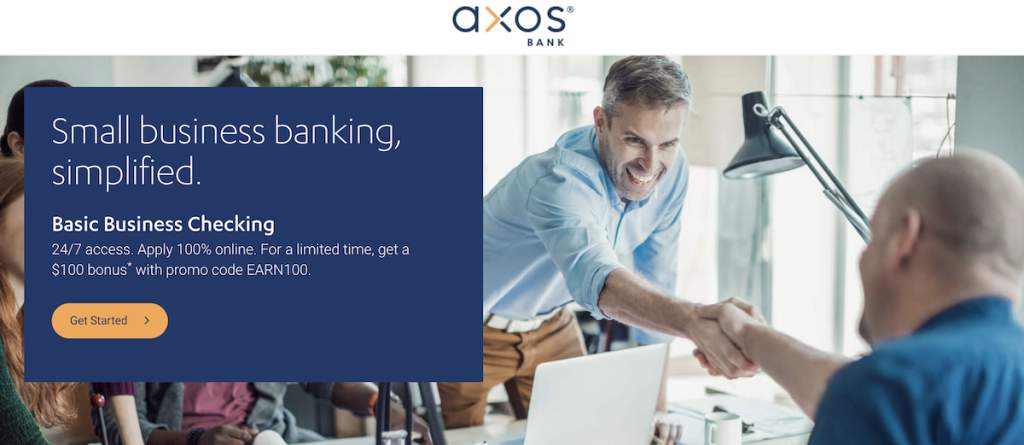 Monthly fee:
$0
Minimum opening deposit requirement:
$1,000
APY:
None
Transactions:
– Up to 200 fee-free items per month, 30 cents per item after
– Up to 60 fee-free remote deposits per month, 30 cents per deposit after
Bonus:
$200 welcome bonus
Axos Bank has a Basic Business Checking account designed for small businesses and freelancers with moderate account activity. The Axos Basic Business Banking account has no monthly maintenance fees and a low minimum deposit requirement of $1,000 to open an account.
If you want to have interest checking you can upgrade to Business Interest Checking (0.81%). Small business owners can also benefit from small business savings accounts with APY's starting at 0.20%. Axos has one of the best business bank accounts overall. For a limited time, get a $200 bonus with promo code NEWBIZ200 through this link.
$200 bonus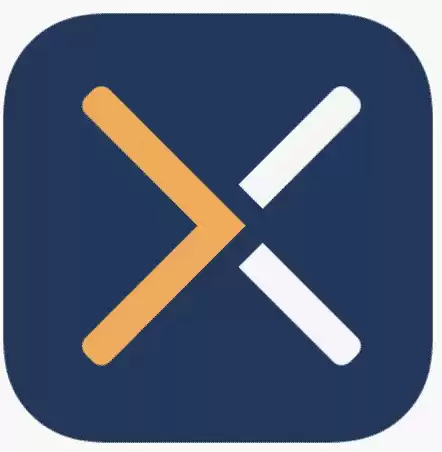 Axos Basic Business Checking
AXOS is an online bank that focuses on simple business banking online. It's free, and you get no monthly maintenance fees, a low minimum deposit requirement, and unlimited domestic ATM fee reimbursements.
Open Account
What Features Do You Need for a Business Checking Account?
Throughout the process of establishing and maintaining a small business, a common question business owners have is, "Should I have a small business account or can I just use my personal account for both?"
As the old saying goes, don't mix business with pleasure. While it may seem like a great idea to simplify your banking by combining your personal and business accounts, the reality is that doing so can cause a lot of complications and actually make it a lot harder to keep them organized.
Why Should I Open a Business Account?
There are many benefits to having a specific account just for your small business. Here are a small handful of those:
Having all your withdrawals together can make it tough to determine whether all bills have been paid in either circumstance.
Whether you are the sole member on staff or have employees, it can be difficult to determine exactly how much money you have available for business expenses when the two are mixed.
There are tax advantages for small businesses you can take advantage of with a business account.
If nothing else, a dedicated small business bank account will lend your business an air of professionalism.
Perhaps you have not started your own account because you are not sure what to look for in a business bank account. It can certainly be intimidating, but not to worry – we will help you narrow down your options by looking at account features you can find in the best small business banks.
Primarily, there are two major account options when determining what to look for when opening a business bank account: checkings and savings.
You're probably asking yourself, "What bank account should I have?" In short, your first option should be a small business checking account because you will be using that account to keep track of your small business transactions.
A checking account will allow you to pay your business expenses and deposit your company profits, which makes it easier to keep your books accurate and is invaluable for making sure your business is profitable. It will also make it easier to file your business taxes!
That being said, having a business savings account is also a great idea, and you can set one up at the same time as your checking account. There are plenty of benefits to having one as well, since you can earn interest on your money and it can actually help you boost your company's credit.
How Do I Know If My Small Business Bank is Right for Me?
The answer to this question mostly boils down to your small business needs. Take into account your business goals and consider what account options are available to you.
Here are ten questions you can ask yourself to determine if your chosen bank is right for you:
Does the bank provide the account features that my small business needs?
Do they offer protection for my account and finances?
Is there an option to have a savings account as well as a checking account?
Is this bank going to work for me long term as my business grows?
Are the fees, interest rates, and limits reasonable?
Is the customer service top notch and readily available as needed?
Is it easy to use the bank's account and services?
Are there options to view my account and statements online?
Does the bank provide any perks or rewards?
Are there suitable options for ATM access?
If you find yourself answering "no" to many of those questions, it might be best to start searching for something that is more suited for you.
7 Features to Look for in a Business Bank
The best advice when searching for your business bank account is to shop around. It may be tempting to go with the first decent looking option, but if you don't explore all of your options, you never know what you might miss!
There are many account features for comparison to help you find the best small business checking or even bank accounts specifically for freelancers and side hustlers. Also, you may want to keep a comparison chart or use an online template so that you can track your research and get a side-by-side comparison.
Below are the features that can make all the difference.
1. Service Fees
Your business earned your money, so it is important you are able to keep as much of it as possible when using banking services. A major point of interest is finding out whether your potential bank is going to try to bankrupt you with fees.
There are many different types and categories for fees, but here are a handful you should definitely investigate before making a final decision:
Monthly fees
Overdraft fees
Transaction fees
Wire transfer fees
ATM fees
Foreign Transaction fees
Some of those options may not apply to your small business, but keep in mind that as your small business grows, your needs may change.
2. Transaction and Balance Limitations
When you are investigating transaction fees, make sure to keep an eye out for whether there are any limits to the amount of transactions you can make on the account within a given time frame.
There may also be a minimum balance you must keep in the account in order to remain in good standing.
If the limitations are too limiting, you may want to consider a different option, especially taking into account future business growth. You need to have enough freedom to handle your business, especially when unexpected circumstances arise.
3. Loans and Liabilities
You may not need a loan right now, but down the line you might run into some trouble or decide you want to access additional money to take advantage of a situation that will grow your business exponentially. Check to see what options each bank offers and what requirements, loan amounts, and interest rates are available to you to finance your business.
Also, and this is pretty important, make sure that your potential bank offers liability protection. It will be invaluable in instances involving fraud or other situations where your money is at risk.
If the bank is FDIC insured, you know that in the event the bank goes under, your money will be safe. Nonetheless, check to make sure that the amount of money covered by this insurance is suitable for your business.
4. Payroll Services
If you're not outsourcing accounting then some banks offer payroll services that can make handling your employees considerably easier. If you do not employ others, this may not apply to you, but down the line you may decide you need extra help and having this option there for you when you need it can make all the difference.
5. Account Access
It may seem like a no-brainer, but if you can't view your account or get to your money when necessary, that's a problem.
Check to see what hours the bank keeps, what their procedures are for withdrawing and depositing money, what is required to perform transactions, how large their ATM network is, and whether they offer online account access. If your business grows, will you want to open another business brokerage account or go with a company that offers it all in-house? These are all the account features you'll want to examine.
6. Simplicity
Running a small business can be a time consuming activity, so anything that saves time and makes life easier is a plus. Here are a few conveniences to seek when you are doing your bank research:
Debit and Credit Card Options
A Mobile App
Bookkeeping Integration (updates QuickBooks or other bookkeeping software)
Savings Account Options
Nearby Locations
Express Deposit Options
No Hassle Rewards
7. Introductory Offers
Some banks will offer you great perks for doing business with them. These might include: depositing early access to direct deposits, cash back rewards, bank bonuses, or even free trials for various banking related software.
What is important to remember is that if it sounds too good to be true, it might be. Always read the fine print beneath the offer carefully. Because in some cases, there may be special requirements or some sort of catch.
Other Factors to Consider
While the above options are important, they are not the only factors to consider. Here are a few of those you will want to investigate:
Is the bank well known, with a solid reputation?

How is the bank's customer service? Does it seem like they value you as a member of their financial institution?

How easy is it to get assistance? Is there a 24-hour customer service line? Can you speak to an agent through online chat?
If the bank is a smaller bank, will they be able to handle my business's needs in the future as it grows?
Is the signup process easy?
Conclusion
Remember that in this situation, you are the customer and they are the business – a bank that does not seem interested in your business is a red flag. Your business bank should want to work with you and should make it feel as easy as possible to become a member of their institution.
Remember that finding the best small business bank means finding one that meets your needs and being confident that it will be able to handle and support your growing business. And don't be afraid to call the bank and hear them out in regards to pitching you their services.
Once you have a dedicated bank account for your small business, you will enjoy how much easier it is to handle your business without having to wade through your personal finances at the same time.
Open & Earn $750
$750 Bonus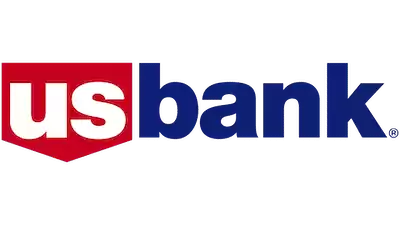 U.S. Bank Business Checking
Bonus: Earn up to $750 when you open a new business checking account and complete qualifying activities. Offer valid through June 30th, 2023.
U.S. Bank has three business checking accounts, Gold and Platinum — including a free option with its Silver Business Checking. You can apply for an account online, over the phone or in person at a branch (U.S. Bank has branches in 26 states).
Claim $750 Bonus
Get up to $250 today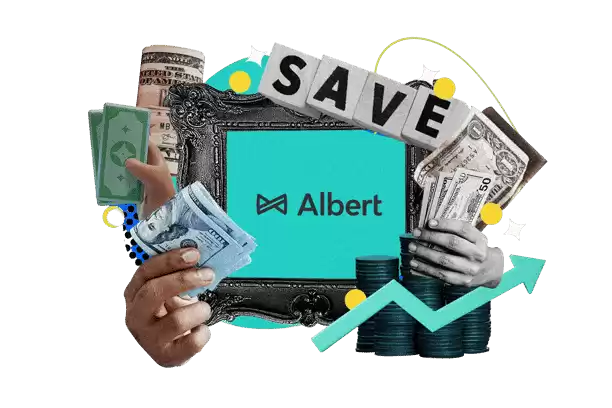 Albert
Get spotted up to $250 without fees
Join 10+ million people using the finance super app
Banking with instant discounts on gas, food delivery, groceries and more
Start investing, saving, and budgeting for free
JOIN ALBERT NOW