People only use social media to connect with others right?
Wrong!
While the primary use of social media is to make connections, it is also a lucrative avenue that you can use to smile all the way to the bank at the end of the month.
There are various online marketing opportunities that you can explore to make that extra money. The catch is that you must be willing to put in the effort to see the results.
Examples of tried and tested techniques that you can employ to make those much-needed extra dollars include:
Increase Social Media Presence
Although it is still possible to earn cash even with a few followers, it does not hurt to cement your social media presence with a larger following. This is extremely important if you are running a business in order to increase brand awareness.
Offer quality content that people like consistently, use videos, hashtags and create competitions so as to engage with people on your social media pages.
The good news is that you can use a social media management tool like SocialBee to automate your social media posting for all social networks in no time. One of the advantages of such a tool is that you no longer have to spend countless hours posting by hand, it's all easier and faster now.
Use analytics to track social signals to get a real picture of what the market prefers in relation to your products and services. This is essential because it will help you know the type of changes to implement so as to be more successful. You can also use paid social media in order to grow your following.
Related: 9 Proven Ways How to Make Money on Instagram
Promote Consulting and Coaching Services
Social media avails an ideal platform where you can generate leads for various consulting businesses. Whether you teach kids how to play musical instruments or offer expert services as a life coach, you are bound to get clients from your social media pages.
Let your friends and other connections know the services you offer. Be careful, however, not to over-advertise as people may get irritated and even un-follow you. Learn to strike a balance by mixing up things, so that people still remain interested in your pages.
Do not sell yourself cheap, you should always charge a fair rate for your effort and time. At times you may not even have to leave home since it is possible to conduct coaching sessions over Skype.
To increase your earning potential, sell your services and informational products. People who are interested in your advice may purchase courses and eBooks you create.
Just be sure to provide value; you may even have to quit your day job and live your dream.
Related: How to Grow Your Business on Instagram
Enroll For the YouTube Partner Program
Wondering how much money do YouTubers make? With at least 10,000 views on YouTube channel videos, you become eligible to become a member of the YouTube Partner Program.
This is something that you will have to put in loads of effort because building a successful channel that people are genuinely interested in is not a walk in the park.
Do not get tired of promoting your videos online using organic outreach to receive more views on the videos you post. Within no time, you should be making money on the ads that Google displays on your videos.
Once you have many views on your channel, you become a sort of "influencer". This implies that companies may want to advertise their products and services through your channel.
You can become a big-shot where brands approach and pay you to advertise their goods or services. For example, if you're in the beauty niche you can share ways to save money on makeup. Big cosmetic companies will send you free products to review and they'll pay you for doing so.
Related: 11 Steps to Starting Your Own Business
Become an Affiliate
This is probably one of the most popular methods of earning money from social media. It works out well even for the people who do not have large followings on the avenue. There are numerous affiliate programs you can benefit from such as Amazon, FlexOffers, ClickBank, and CJ Affiliate.
As an affiliate, your responsibility would be to conduct a brand promotion or advertise a company's goods on your social media channels.
Typically, this is done using an affiliate link. When people use the link to make a purchase, you get a commission from the sale.
To increase your earnings, try and do something different instead of only posting links. You can demonstrate how to use a certain product by writing up a review and placing the link.
Remember to be honest with your affiliate partnerships because your followers will most likely appreciate the openness.
Related: 5 Things I Wish I Knew Before Starting a Blog
The Bottom Line
Making money on social media may not be a walk in the park. This is not to say that it is impossible. Your efforts are bound to pay off making your bank account fatter to set you on the path of financial freedom.
Get up to $250 today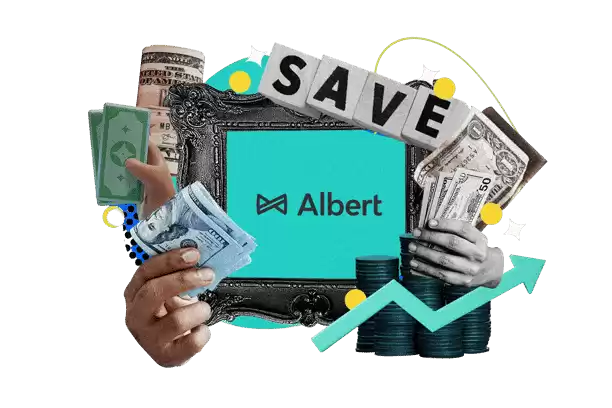 Albert
Get spotted up to $250 without fees
Join 10+ million people using the finance super app
Banking with instant discounts on gas, food delivery, groceries and more
Start investing, saving, and budgeting for free
JOIN ALBERT NOW