Investing is a great way to grow your wealth and secure your financial future. However, traditional investment methods such as stocks, bonds, and real estate may not be the best fit for everyone.
Alternative investments offer a diverse range of investment options beyond traditional methods, offering unique opportunities and potentially higher returns.
In this article, we'll explore some of the best alternative ways to invest your money and diversify your portfolio. From farmland investing to cryptocurrencies, we'll cover various options that can suit different risk appetites and investment goals.
Best Alternative Investments For Your Portfolio
Alternative investments are becoming increasingly popular among investors due to their potential for higher returns and diversification benefits.
In today's rapidly changing economic landscape, investors are looking beyond traditional investment options to protect and grow their wealth.
Alternative investments can provide an opportunity to invest in assets that are not correlated to the stock market, providing a hedge against market volatility.
Here is a list of alternative investments to consider:
1. Farmland
Investing in farmland has long been recognized as a high-performing investment with consistent returns and low volatility.
Investing in farmland provides consistent returns and low volatility due to high demand and limited supply.
Farmland generates income from annual rent and appreciation over time, averaging returns of over 10% in the past 30 years.
But how can you invest in farmland? You can invest in farmland with companies like FarmTogether.
FarmTogether's crowdfunding platform is one of the few ways accredited investors can get exposure to farmland as an asset class. With decent returns and low fees, it is a compelling choice for those looking to diversify their portfolios. The minimum investment amount is $15,000.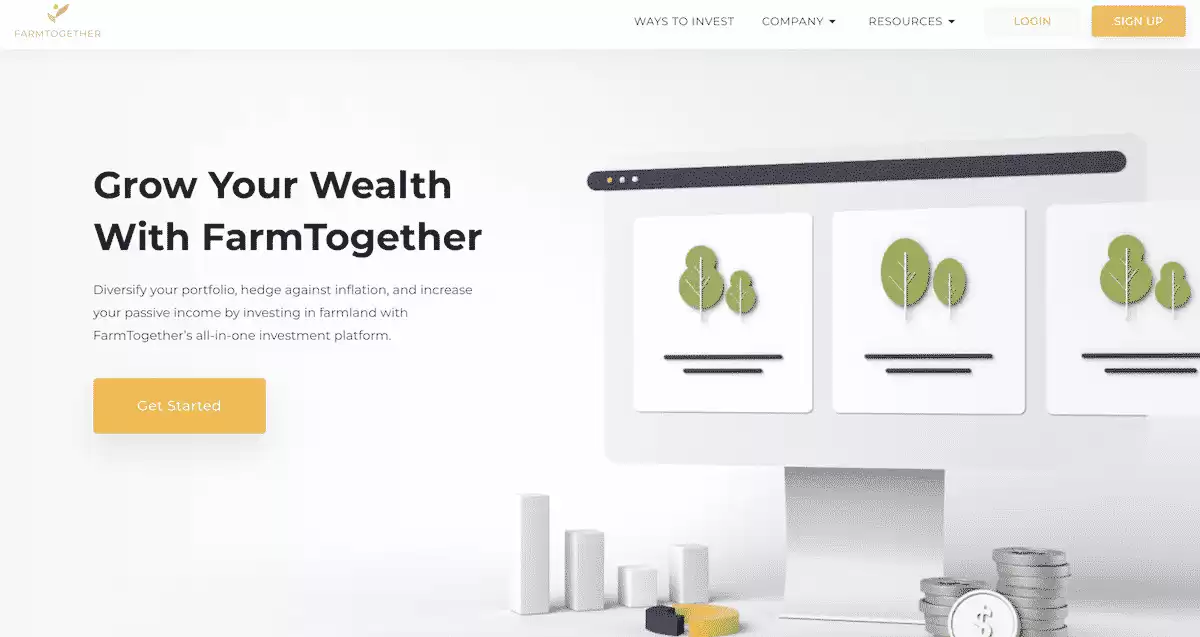 FarmTogether
FarmTogether's crowdfunding platform is one of the few ways accredited investors can get exposure to farmland as an asset class. With decent returns and low fees, it is a compelling choice for those looking to diversify their portfolios. The minimum investment amount is $15,000.
Start Investing Now
FarmTogether Review
2. Rental property
Wouldn't it be great if you could become a landlord of single-family rental properties without dealing with all the hassle of buying, improving, and re-selling real estate? You don't have to be a millionaire to invest in these types of properties. You can now find your inner property owner with Arrived.
Arrived lets you invest in the best properties for as low as $100. As such, it is a great option if you want to invest your income in rental units. It is a great way to earn passive income through quarterly dividend income on whatever property you decide to invest in.
There is a reason why the number of investors on its platform increased exponentially last year, the sector is booming with investors clamoring to get a return outside of stocks and bonds.
Best for low minimum investment

Arrived
Arrived is a very easy-to-use platform that allows individuals to invest in real properties for as little as $100. This option is best for users who want to make money consistently and let their money make them money.
Open Account
Arrived Review
3. Small businesses
Investing in small businesses online has become increasingly popular in recent years. One way to do this is through crowdfunding platforms such as Kickstarter or Indiegogo, where entrepreneurs can pitch their business ideas to a large pool of investors.
Another option is online marketplaces for private securities, such as AngelList or SeedInvest, which allow accredited investors to invest in early-stage companies. These platforms provide investors with opportunities to invest in small businesses without having to go through the traditional process of finding and negotiating with a private company.
It's important to note that investing in small businesses can be risky, so it's essential to do your due diligence and understand the potential risks and rewards before making any investments.
4. Private credit
Private credit is an alternative investment that grew from $500 million under management in 2015 to $1.4 trillion at the end of 2022 globally. For businesses and individuals who aren't able to obtain financing from traditional sources (such as banks), private credit can help.
With private credit becoming a more mainstream source of both financing and investment opportunities, Percent is currently the only online marketplace specifically focused on private credit, helping investors diversify their portfolios for almost five years now.
If you're curious about how to invest in private credit, you can with companies like Percent.
Our Percent review includes everything you need to know. In addition to explaining all the features of a Percent investment account, we'll also compare the marketplace to others so you can make the best choice.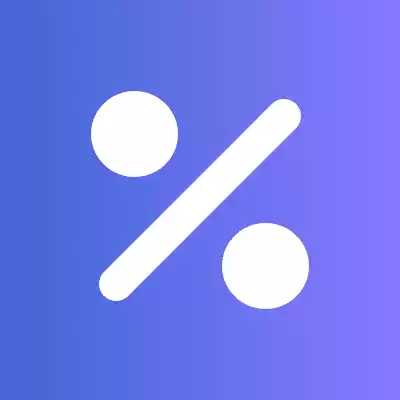 Percent — Private Credit. Simplified.
Precent allows accredited investors to have the opportunity to invest in short- and mid-term private credit investments. In most cases, the minimum investment required is $500. The investment platform also does not charge any fees, making it more accessible and attractive to investors. Their platform is powering the future of private markets, making it easier than ever before to find and invest in alternative investments.
Open Account
Percent Review
5. Real estate
One of the easiest ways to grow your money is to invest in real estate. In a recent post about the best personal finance books, we learned about Robert Kiyosaki, author of 'Rich Dad Poor Dad' who learned to quickly grow his money by making down payments for rental properties and gaining profit by selling the property later at a higher price. Unfortunately, this option does require some real estate knowledge that not everyone has.
Wouldn't it be great if you could invest in commercial real estate and apartments without dealing with all the hassle of buying, improving, and re-selling real estate? You don't have to be a millionaire to invest in these types of properties. You can now invest in large-scale real estate for as little as $10 with Fundrise.
Through their real estate investment products, investors earned an average of 8 – 11 percent on their money last year, and all without painting a wall or dealing with unruly tenants. There is a reason why they currently have over 200,000+ users, this real estate app really pays you!
Best for REITs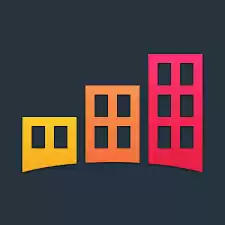 Fundrise
Fundrise is a very easy-to-use app that allows individuals to access crowd-funded real estate investing. This option is best for users who want to make money consistently and let their money make them money.
Open Account
Fundrise Review
Another way to invest in real estate is by buying a property and renting it out. With the ever-increasing inflation rate, rents will go up while your mortgage payments stay the same. This increases your cash flow and your rental yield as an investor.
Real estate investing not your thing? Other smart ways to invest include:
Acorns: Open a new Acorns account and earn a $10 credit. It's that simple — no minimum deposit or balance is required. You'll receive the sign-up bonus credit after completing your account registration.
Yieldstreet: Yieldstreet is a very easy-to-use app that allows individuals to access alternative investments to build passive income. This option is best for users who want to make money consistently and let their money make them money.
Masterworks: You own shares of Apple, Amazon, and Tesla. Why not Banksy or Andy Warhol? Their works' value doesn't rise and fall with the stock market. And they're a lot cooler than Jeff Bezos.
6. Wine
Investing in wine refers to the practice of buying and holding wine with the expectation of making a profit in the future. Wine investment can involve purchasing wine to drink and enjoy later or to hold as a collectible asset. The value of wine can increase over time due to factors such as scarcity, demand, vintage, and quality.
There are different ways to invest in wine, such as buying bottles or cases of wine directly from wineries or wine merchants, investing in wine funds, or opening an account with Vint.
When you invest in wine with Vint, you're joining a process that begins with sourcing fine wine collections, acquiring them, transporting and insuring those bottles, and then selling the entire collection once it reaches its maximum value. All you have to do is contribute capital to the endeavor and wait for your profits.
Vint uses the London International Vintners Exchange, known as Liv-Ex, as a source for trading data to inform both purchases and sales. This platform offered its first collection in 2021 and continues to aim toward offering a new collection every two weeks.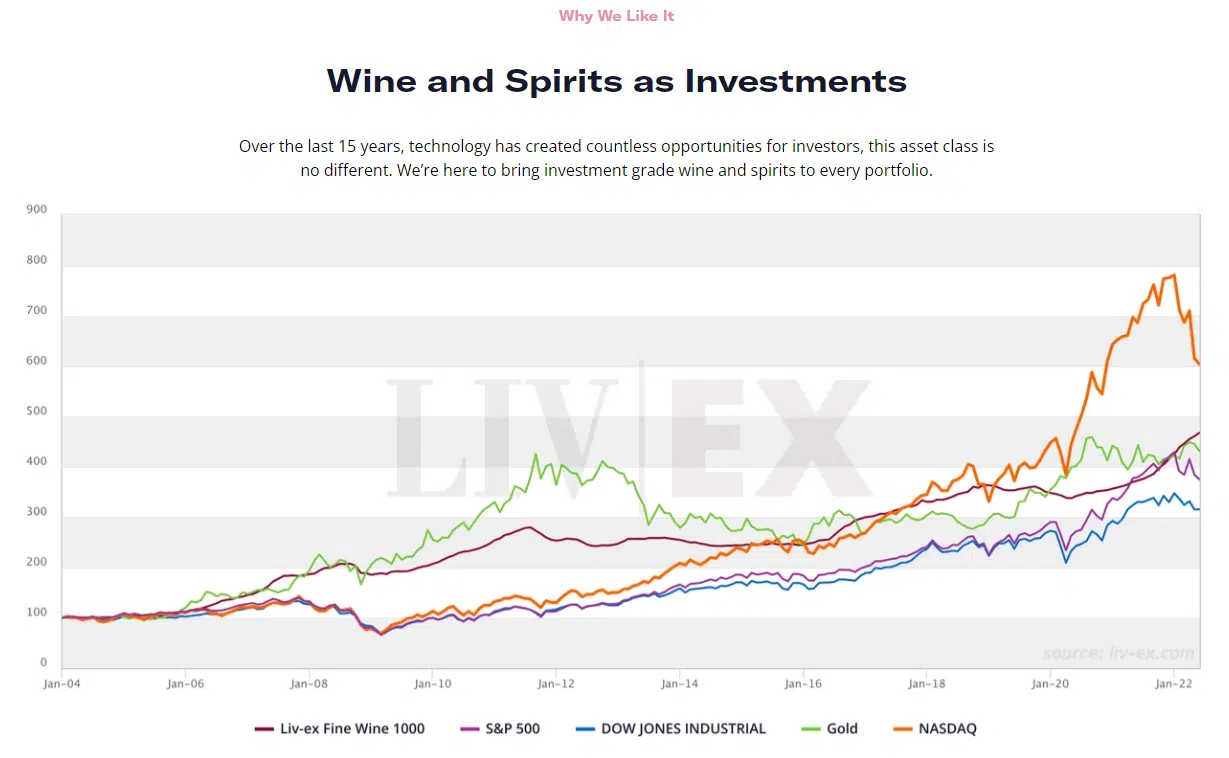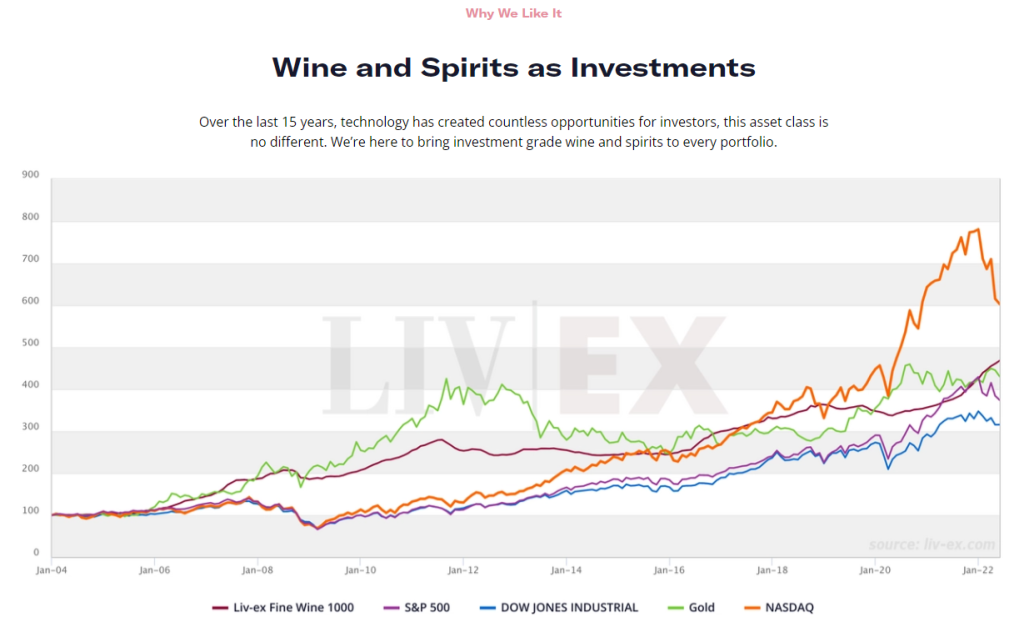 Wine is considered a non-correlated asset, meaning that even in the roughest economic conditions, it remains stable. The industry has historically returned over 9% annually, which rivals many investment types dependent upon the economy.
Our pick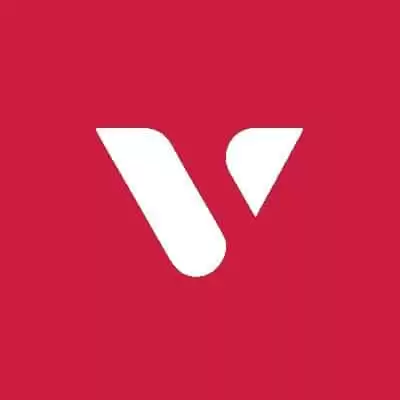 Vint
Vint offers a user-friendly investment platform for purchasing shares in high-quality wines, making it easy to build a diversified portfolio without extensive knowledge of the wine market. It is an ideal choice for newcomers to fine wine investment due to its simplicity and accessible interface.
Open Account
Vint Review
7. Peer to peer lending
Did you know that you could lend out money and earn passive income? Believe it or not, you can lend out money and get paid interest on your money at LendingClub. Recently, this has become known as great return on your money, investors have started putting their money into peer-to-peer lending companies like LendingClub.
How does it work? By lending out your own money to peers in the form of personal loans, you are able to earn interest – similar to the way that banks and other lenders produce income. This is a way to make a direct impact in the lives of people.
The best part? It's so easy to open an account and begin investing in this passive income venture.
But, think of it like this – if you put only $345 into an investment account at Lending Club and earned 14% year (pretty easy to do at Lending Club, you'd have $180,377 saved up in 30 years! Talk about a good return on your money.
8. Cryptocurrency
One alternative means of investment that has been rearing its head in economic discussions over the last few years is cryptocurrencies, like Bitcoin. Although, besides Bitcoin, there are actually several other varieties of this type of currency that exist online and continue to grow in popularity as the notion of cryptocurrency, in general, is starting to make more noise.
Although cryptocurrencies have been around since the late 2000s, it's only in recent years that recognition of digital currency has reached mainstream conversation. Financial experts have had mixed reactions to it, some labeling it risky and unreliable with its previously unstable market values. But others are starting to see it as a kind of revolution in the way currency can work, and over the years it has become a highly secure option for investment.
Cryptocurrencies have received particular renown on the net as a digital currency that's not owned by the government. This can sound either ominous or freeing, but many are calling it the "money of the future" that is rapidly gaining more popularity worldwide for painless digital transactions.
The best place to buy crypto currently is TradeStation Crypto, which allows you to buy, sell, and earn cryptocurrencies like Bitcoin, Cardano, Dogecoin, and Ethereum.
You can also trade equities, options, and futures with TradeStation. More people should be using the free app to start investing. Doesn't hurt to sign up, feel out the platform, and make a small investment that can pay off big.
Our Pick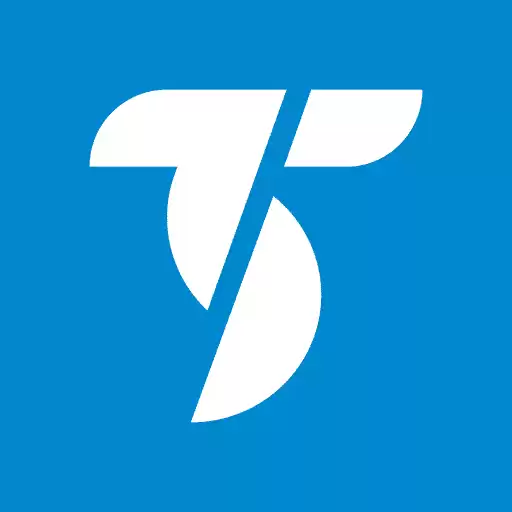 TradeStation Crypto
TradeStation is the top crypto destination to easily buy, sell, invest, trade, and earn cryptocurrencies. Open an account on an easy to use crypto trading platform.
Open Account
Safer Alternative Ways to Invest Your Money
Here is a list of safer ways to invest your money that allows you to be more liquid with your cash.
9. High-yield savings accounts
This is another way to invest your money beyond just stocks. It's much more profitable than a normal savings account. Your money can sit in there and accrue some interest until you are ready to invest in bigger and more profitable ventures.
If you are looking for a new savings account, check out our most updated list of the best high yield savings accounts available to you.
Pros:

Minimum to Earn APY: $1,000

Pros:

Minimum to Earn APY: $5,000

Pros:

Minimum to Earn APY: $100

Pros:

Minimum to Earn APY: $100
If you are looking for the best savings apps, you can find that here. Also, consider using crypto savings accounts which often offer higher returns than traditional savings accounts.
10. Short-term Investments
If you haven't already, starting a savings account with your bank, or creating a money market fund or short-term Certificate of Deposit (CD) can be a worthy investment suitable for any financial emergencies you could experience down the road.
In other words, they can serve as a sort of emergency fund, able to provide liquidity for any idle cash you have.
For any short-term troubles, experts state that the ideal goal would be to shoot for funds that would be able to cover living expenses and the like for at least three to six months. Provided you have at least $1,000 or so, there is no reason not to get a certificate of deposit.
Tip: CIT Bank CDs provide a safe, secure way to grow your savings with some of the best CD rates. With the CIT Bank No-Penalty CD, you get the security of an 11 month CD with no withdrawal penalty seven days or later after funds have been received.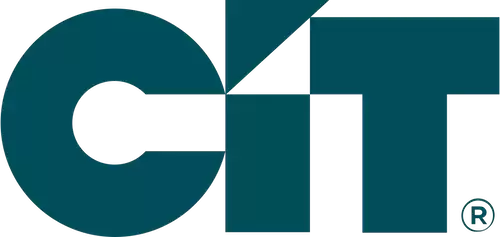 CDs from CIT Bank
CIT Bank CDs provide a safe, secure way to grow your savings. Choose from a selection of CD rates and terms to help you stay on target for your savings goals.
Open Account
11. Microsavings
Almost all of us would agree that setting aside savings is quintessential for our overall financial health. However, for most of us, the most difficult thing about saving money is figuring how to get started. Wouldn't it be easy to learn how to save money and get paid to do it? Believe it or not, there is.
Building your savings is simple with Digit. This innovative app saves your money without you having to lift a finger. Simply link it to your checking account, and its algorithms will determine small (and safe!) amounts of money to withdraw into a separate, FDIC-insured savings account.
Apps like Qapital and Digit can make investing in a cash account easier. This is necessary because it gives you access to your money and makes it easy for you to meet your financial obligations.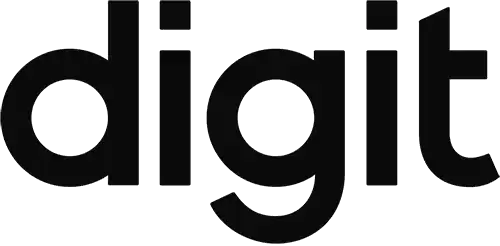 Digit
Offer: 30-day free trial (cancel anytime)
Digit is an app that helps you put money in a savings, investment, and/or retirement account.
Digit looks at your linked bank account balance to determine how much you can save each day.
The app chooses your investments based on how much risk you want to take.
Open Account
Digit Review
12. IRAs
Beginning to invest in an IRA is considered one of the best ways to get started on saving for your retirement. While you may be thinking, 'Huh? I'm young, why do I need to start saving for retirement NOW?'
The truth is, your twenties and thirties are actually the best time to start thinking about this. Got to start saving early if you want to have your golden years free of financial worry.
There are several types of IRA accounts you can choose from, even Gold IRAs, and the type you should choose may vary depending on your profession and financial history.
Many experts recommend a Roth IRA over a traditional IRA for younger people because as opposed to the latter, Roth IRAs offer tax-free withdrawals and often feature 401(k) plans. You can look at all the different types of IRAs here to see which one is best for your situation.
12. Short-term government bonds
Short term government bonds are low-risk fixed-income securities with a maturity of 1-5 years, backed by the government's creditworthiness. They offer lower interest rates than long-term bonds but provide a safe return on investment. Investors can buy individual bonds or invest in ETFs/mutual funds that focus on these bonds.
There are also derivative products such as futures and options for experienced investors. It's crucial to consider inflation and current interest rates while investing in short term government bonds.
13. Invest in yourself
Investing in yourself is one of the best investments you could ever make and it can take many forms: pursuing a creative project, nurturing a talent taking a course, or learning a new skill. Here are a couple of companies that offer online learning courses that you could take to jump-start your career:
App
At a glance
download
Udemy
★★★★★


Join over 24 Million students from around the world already learning on Udemy! Get lifetime access with a few clicks because your goals are worth it.

VISIT UDEMY

CreativeLive
★★★★

★




Master your craft, your passion, or something new with creative classes taught by the world's best.

START FOR FREE

Linkedin Learning
★★★★

★


Grow your skills and advance your career with LinkedIn Learning.

Learn business, creative, and technology skills to achieve your personal and professional goals.

FIRST MONTH FREE

Skillshare
★★★★★


Explore your creativity with classes in illustration, photography, design, and more.

START FOR FREE
If you find it difficult to find time to take online courses, you can download them onto your smartphone and study while you're on the go.
By working towards improving your skills and education with online courses, you get in the right habit and build your resume and fast-tracking your career.
14. Annuities
An annuity is a financial product that provides a stream of income in exchange for a lump sum payment. Annuities are typically sold by insurance companies and can be purchased through a financial advisor. There are several types of annuities, including fixed, variable, and indexed annuities.
Fixed annuities provide a fixed interest rate, while variable annuities allow investors to invest in a portfolio of stocks and bonds. Indexed annuities offer returns based on the performance of a specific stock market index.
To invest in an annuity, you would typically work with a financial advisor or purchase directly from an insurance company.
15. Donate to charity
Donating to a charity is a way to support a cause you believe in and positively impact the community. To donate to a charity, you can directly give money or volunteer your time and skills. Many charities also offer online platforms for donations, making it easy to give to your preferred cause.
One of the additional benefits of charitable donations is the potential to receive tax deductions. In the United States, taxpayers who donate to a qualified charitable organization can deduct their donations from their taxable income, reducing the amount of tax they owe. To claim this deduction, taxpayers must itemize their deductions on their tax return and provide documentation of their donations.
16. Invest in an emergency fund
One wise thing to do once you have money in hand is to set up an emergency fund or fund it if you already have one.
It will shield you from life's unpleasant surprises. One of the easiest ways to build an emergency fund is by using micro-investing apps like Acorns.
Acorns allows you to invest your spare change automatically. If you wanted to learn more about them click here and you can join almost 4,000,000 people saving and investing every day.
Sign up in no time to save and your money is invested in a portfolio based on your income and desired goals.
Earn $20 bonus

Acorns
With Acorns, you can easily invest your spare change. Anyone can "squirrel" away some money and become an investor with Acorns. Enjoy a $20 welcome bonus when you open a new Invest account and set up recurring investments.
Open Account
Related: 17 Acorns Competitors and Alternatives
Invest Safely
Investment fraud is a serious problem especially if you are considering alternative ways to invest. Fortunately, it is also something that anybody can help to combat. The better-educated investors are about what investment fraud is and how to combat it, the safer everyone is from these types of scams.
What is investment fraud? Investment fraud is a type of fraud that occurs when someone is convinced to make an investment under false pretenses. Preventing investment fraud relies on investors being able to watch out for and avoid the most common types of investor fraud.
Here are some of the simplest ways of preventing investment fraud.
There are ways to protect yourself from investment fraud scams and swindles. Here are some of the most effective ways to do it.
Ask questions
Fraudsters rely on people not doing their due diligence in order to be able to run scams and defraud investors. You can do a great deal to combat investment fraud just by making sure that you ask the right questions when you are making an investment. Make sure that you do independent research; fraudsters can easily falsify references and similar indicators of legitimacy.
Asking your own questions and doing your own research will enable you to root out any fraudsters quickly and avoid getting into business with them, to begin with.
Research before you invest
You should never go into business with anyone solely on the basis of information that they have given you. It is far too easy to scammers and fraudsters to present you with fake records and to lie to you. Make sure that you completely understand any business or product before you make a final decision on whether to invest or not.
You can use the SEC's EDGAR filing system to look up any company's financial statement. You should do this for any business that you are thinking about investing in so that you can conduct your own audit.
Check out the salesperson
You should always make extra sure that you carefully check out the salesperson who actually offers the investment to you. Do they seem legitimate or have offbeat tendencies during the conversation?
Go with your gut — even if you know this person in another context, you should still assume that they are a scammer and not think otherwise until you have proven to yourself that they are legit. If you don't do your due diligence now, your business will be exposed to greater losses later on.
Make sure that whoever contacts you about selling securities has the appropriate license to do so in the state that they are operating in. You should also look for any evidence of run-ins with the regulators that they might have had.
Be suspicious of unsolicited offers
You should always be extra careful when you are dealing with an unsolicited offer. Ask yourself why the offer is being presented to you.
An unsolicited offer is not necessarily illegitimate, but the majority of scams will take the form of unsolicited offers and so they should always be scrutinized.
There are numerous different types of investment fraud; some are very sophisticated, and others are designed to get quick money out of greedy people. Don't let your desire to make money blind you to an offer that seems too good to be true.
Alternative Investments Diversify Your Portfolio
Whether you're ready to invest now or later or flat out not interested in the stock market than one of these alternative ways to invest should be your answer.
The bottom line is that some of the most common ways that millennials are investing money beyond stocks include cryptocurrency investing, real estate investing or short-term investments like Certificates of Deposits (CDs) through CIT.
You can choose how much to invest on any basis of regularity in these alternative investments, but it doesn't hurt to save up any leftovers for later – and I imagine they'll be much appreciated should you find yourself in need of them.