Your choice of checking account can make or break your finances, whether you're using it to get your paychecks from your employer through direct deposits, everyday checking, paying off bills, or just a safe place to stash your savings.
In 2022, there are countless checking accounts to choose from. Some have a monthly charge, some come with additional benefits, and some just offer the most basic functions.
A great checking account won't have any hidden charges and will meet all your banking needs – offering online banking, great customer services, earning you interest on your cash and account benefits.
Today we're going to explore some of the best checking accounts available in 2022, including their pros, cons, and fees.
Best Checking Accounts for 2022
Acorns is the only checking account and heavy metal debit card that invests when you spend and automatically invests a portion of every paycheck.
An Acorns Personal account is $3 a month but you can get all-in-one investing, retirement, and checking—plus much more.
They even have a $75 bonus for new users when you set up an Acorns Checking account, set up and receive 2 direct deposits, and spend at least $500 within 3 months. You'll get your $75 bonus into your Acorns account within 45 days.
Get the checking account that saves and invests for your future, plus receive a $75 bonus!
2. Aspiration – Best sign up bonus of $150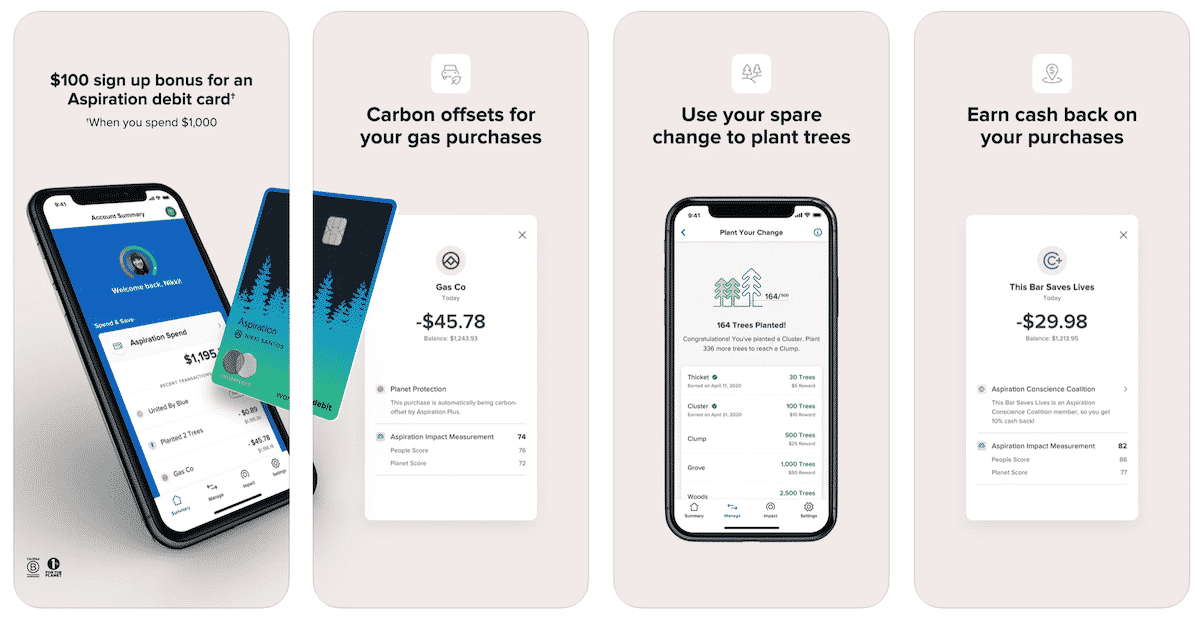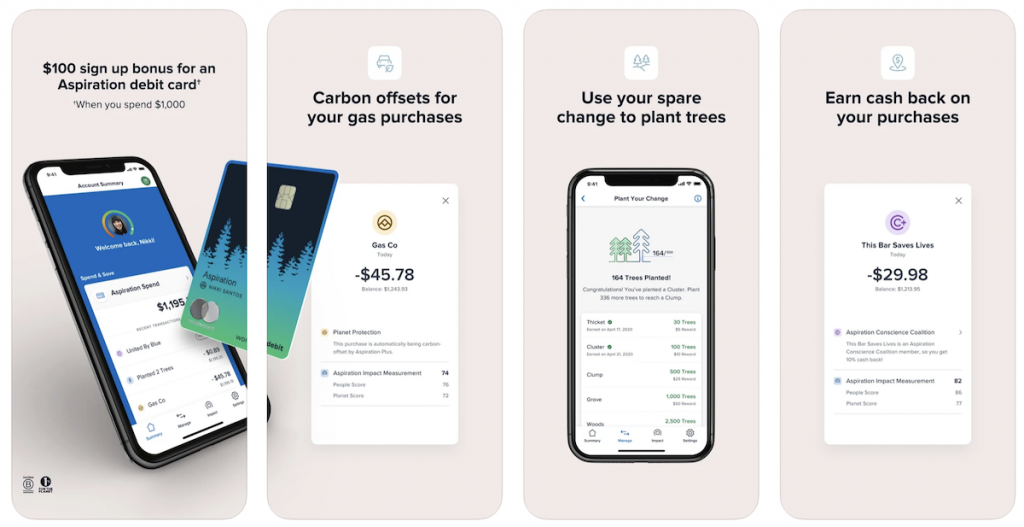 With so many checking accounts available, it can be difficult to decide which checking account is best for you. Thankfully, the Aspiration Spend & Save account is a versatile account that provides a positive impact on our planet and reduces your carbon footprint. And unlike a traditional checking account, the Aspiration account maintains separate checking and savings balances.
If you're hoping to save and spend, then this might just be the account for you. Not only is it easy and convenient to deposit and withdraw cash with an Aspiration bank account, but you can actually earn up to 10% cash back on debit card purchases and up to 1.00% APY on savings. It's usually the more expensive, premium accounts that offer this, but with this account, you can get it all for free.
Charges and fees can be overwhelming, especially if you're trying your hardest to save. If you're looking to avoid bank fees, you'll be delighted to hear that you'll get zero check deposit fees, zero overdraft fees, zero debit card fees and zero inactive and dormant account fees. Plus, if you sign up for a new account you can get a $150 welcome bonus when you spend $1,000 within 60 days of opening an account.
3. Current: Best checking account to get paid faster
At Current, they deliver paychecks up to two days faster than traditional banks when you sign up for direct deposit. Overdrive gives qualified premium members up to $200 in free overdrafts with no fees. Plus you can earn 15x points when you swipe your card at participating merchants, which can be redeemed for cash in your Current account.
Current is one of the best checking accounts for those who want:
Get paid up to 2 days faster
Free overdraft up to $200 with Overdrive
55,000 fee-free ATMs worldwide
No minimum balance or hidden fees
Get up 4.00% on up to $6,000 worth of savings
There are no minimum amount of money required to open or maintain an account and Current does not charge any hidden fees. You'll likely love it, it's easy to use, and super easy to sign up.
4. NorthOne: Best checking account for freelancers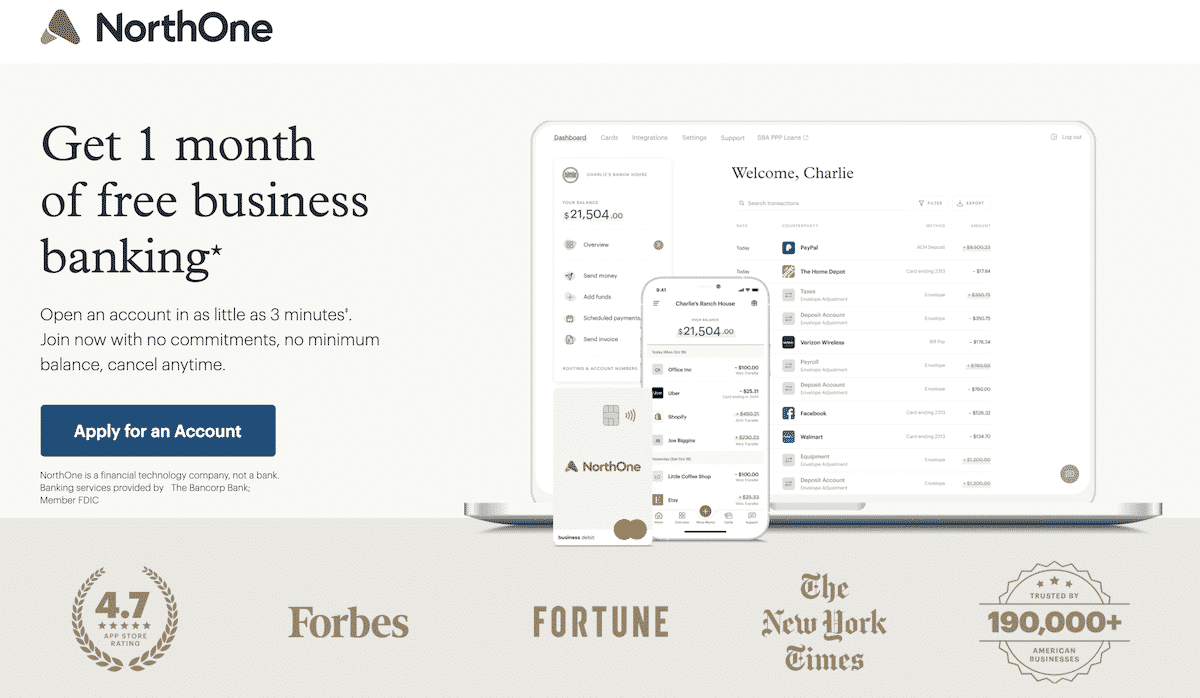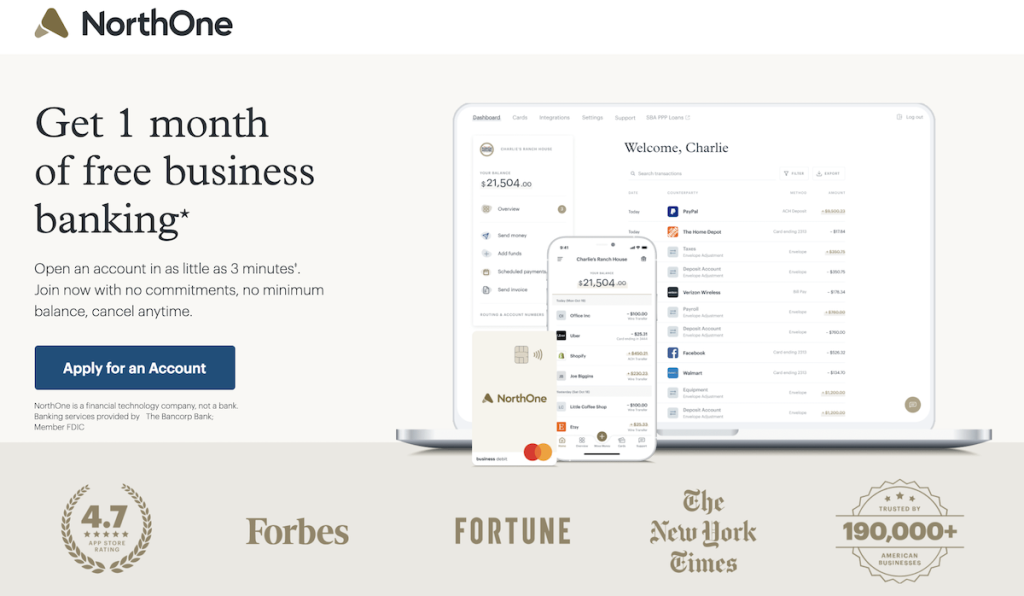 Looking for. a checking account to separate your personal and business expenses? NorthOne is a great place for freelancers to start their business banking. It's a standout bank that takes just $50 to open an account. The bank has a low monthly maintenance fee of only $10 but doesn't have any monthly balance requirements or minimum deposits.
NorthOne has some of the best integration and features:
Works with billing systems like Stripe, Quickbooks, Shopify, and Square
Supports all modern payments types
Pay invoices
Simple and powerful insights into your cashflow
Interest-bearing accounts are not available, but you enjoy unlimited fee-free transactions and a ton of online tools to help you manage your business banking. You also don't need a branch to operate your account with NorthOne banks because mobile banking and mobile check deposit are available. Overall, NorthOne is one of the best banks for freelancers.
5. CIT Bank: Best fee-free checking account
CIT Bank's products are perfect for preparing for unexpected emergencies, growing funds for a down-payment on a dream home, saving up for a loved one's future, or anything in between. CIT Bank has recently started a new online Checking Account that earns up to 0.25% APY. However, if you have a balance less than $25,000 you will earn an 0.10% APY.
Easy account management through the mobile app, including depositing checks and transferring funds. You'll need a minimum of $100 to open. But if you do open an account, you can use any ATM with an eChecking debit card without paying any CIT fees and receive up to $30 per month to offset other bank's ATM charges. Plus, you can make online payments from eChecking with Zelle, Bill Pay, Samsung Pay, and Apple Pay. And no opening or monthly fees.
6. Chime: Best for helpful savings options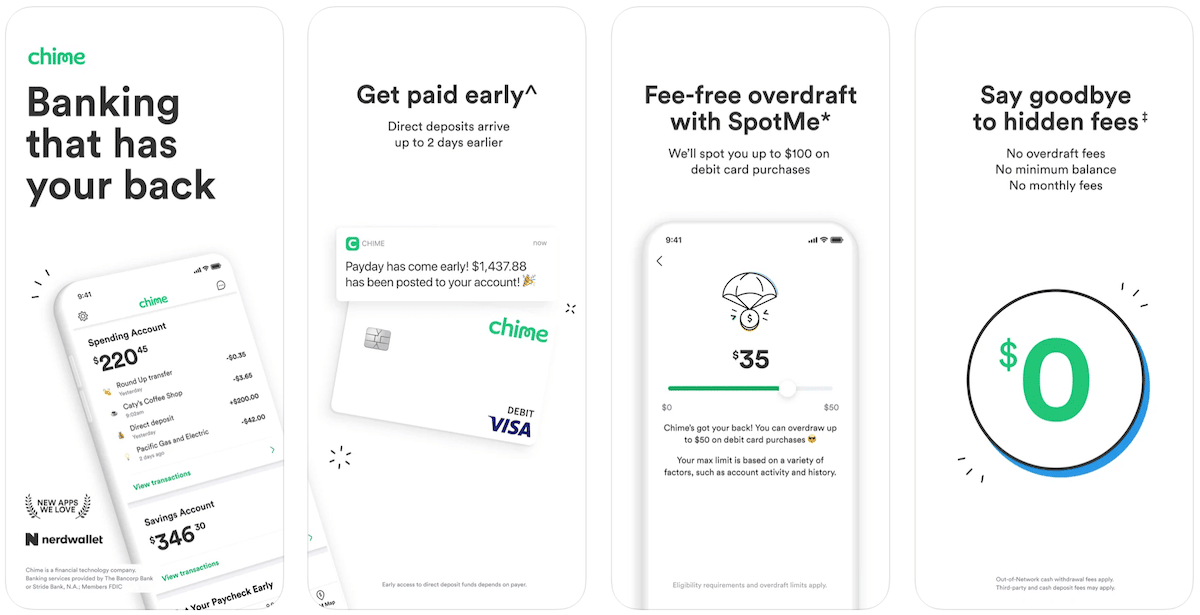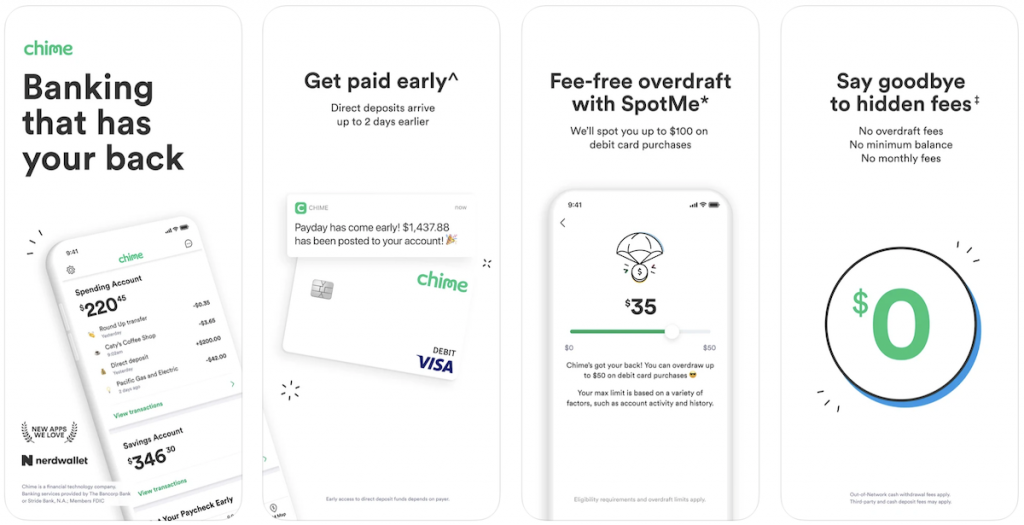 Hidden fees can be a nightmare – especially when they creep up on you the week before payday! Luckily, Chime offers an account that boasts no hidden fees and a zero-interest overdraft! There's not really much more you can ask for when browsing for checking accounts.
This is one of the more modern accounts available – in 2022, not many people actually do in-branch banking, so moving with the times, Chime doesn't actually have any branches or ATM's of their own.
It's surprisingly quick and easy to sign up, and unlike many other current accounts, you can have a starting balance of zero.
It's refreshing to see a bank that profits with you instead of profiting off you. For every transaction made on a Chime debit card, Chime earns a small amount from Visa, which is paid by the merchant – not by yourself or the account holder.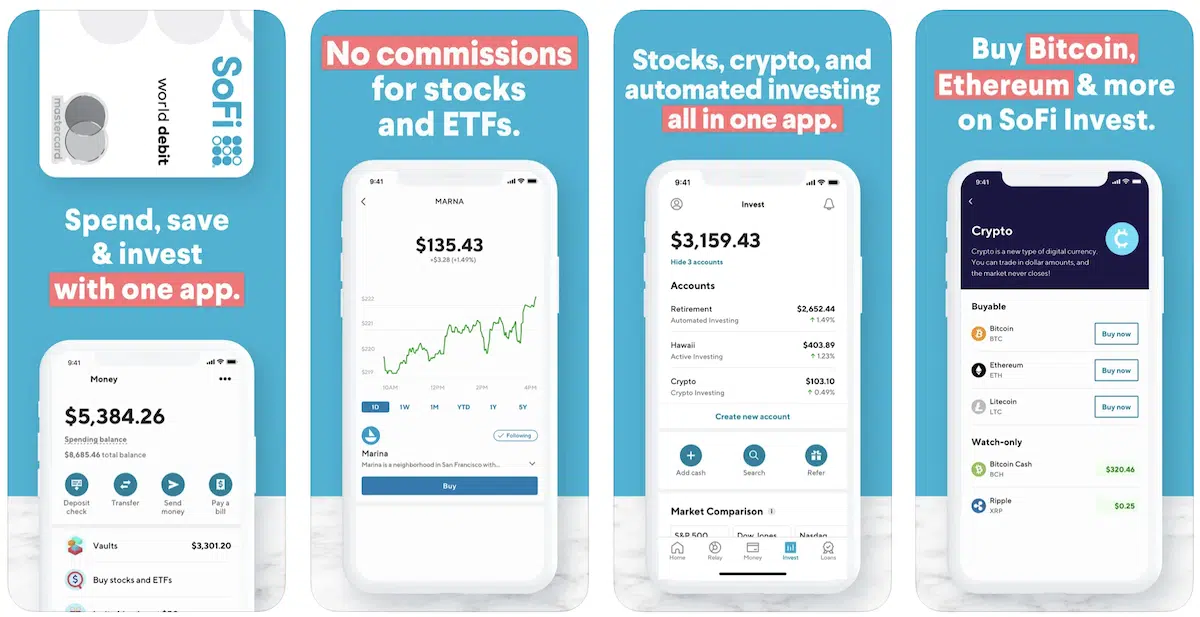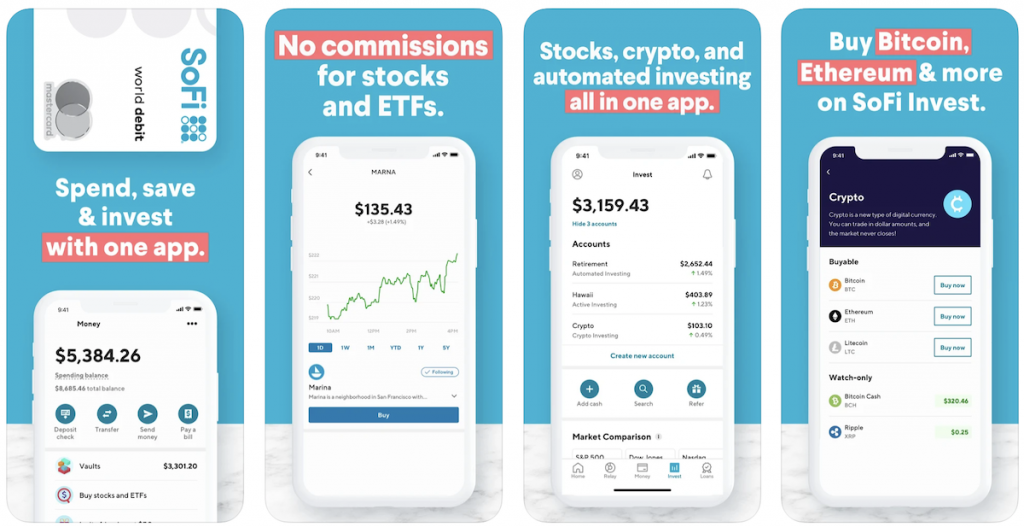 SoFi Bank is a checking and savings account that offers you so much. If you're looking for a free online bank where you can easily invest, save, with one app — this is it.
You can get paid up to 2 days early, earn 1.25% APY, no-free overdraft coverage and up to a $300 welcome bonus.
You can do it all from the app where you can deposit checks, get real-time alerts, freeze or unfreeze your card, change your pin, and more.
LendingClub offers 1+% cash back, ATM fee rebates and no monthly or hidden fees with it's Rewards Checking. It's a full service bank available at your fingertips with the beautifully made app where you can deposit checks, view real-time transactions, pay bill and transfer funds, manage your budget and track spending, and improve your financial health.
Keep your account active with at least $500 in it and you'll see the $50 reward in your Radius account within 90 days. Super easy. You can open an account online in under 3 minutes with as little as $100.
9. Ally Bank: Best for customer service + user friendly mobile app
If you're on the market for a simple account that offers easy money management features, quick and easy ways to bank, and a great customer service support system, then you're sure to love the Ally interest checking account.
This is a great bank if you're looking to manage your savings, but unfortunately, to get a meaningful interest rate, you'll need around $15,000 in the account.
The bank account allows you to set up automated savings, which is extremely useful for those more forgetful customers. You can set your regular payments into certain categories, such as bills and luxuries – and it automatically sorts your expenses for you.
Access a special savings booster when you have a checking and Online Savings Account with Ally Bank. They'll track transactions they can round up to the nearest dollar, then transfer to your savings.
10. Heritage: Best for all around banking experience
In 2022, there are bank accounts that pretty much offer everything, which can be more harmful than helpful. Sometimes, you just want a basic, no-frills account that can hold your money for you.
The checking accounts that Heritage offers are just that – simple accounts that will enable you to do your banking with ease.
Unfortunately, the most basic checking account that Heritage offers (The Base Checking Account) have a monthly fee of $7, which can be waived with a minimum balance of $100.
With this account, you can earn money as you spend money. You'll receive $0.10 for each signature transaction made with your VISA debit card, thanks to the Heritage Bank a Dime a Time Rewards Program.
How to Choose a Checking Account
You've settled on a bank or credit union, but which checking account will work best for you? Here are some things to consider.
Monthly maintenance fees. Remember that you are planning to do a lot of banking with your new checking account. Fees for checking accounts can range from $0 – $35 per month, depending on how you use the account. If you want an account without fees, or offer ATM fee reimbursements or overdraft protection, most banks offer free checking options or discounts for certain types of accounts.
Minimums. Some banks require a minimum balance to keep the account open or charge a fee for accounts that fall below a certain balance (minimum balance requirements). If you know you'll only have a small amount of money in your checking account at any given time, it might be best to find an account with a lower minimum like SoFi.
APY. APY stands for Annual Percentage Yield. You might want to earn interest on your cash, and if that's the case, you'll want an account with a high APY. Be sure to compare APYs between different banks, as they can vary significantly.
Customer service. You'll have to deal with customer service reps from time to time, so it's good to know what to expect. Consider whether you want to work with a person or an automated system when you call the bank, and then choose accordingly.
Digital experience. If you prefer to bank online, make sure the bank offers a site that meets your needs like online bill pay and is easy to navigate.
Retail locations. You might also want to consider whether there's a branch or ATM location near you if you plan on stopping by in person frequently.
Safety. This is one of the most important factors to consider when choosing a checking account. Make sure the bank is FDIC or NCUA insured and has a good reputation for security.
Brokerage accounts. If you're also looking for a place to invest your money, many banks offer brokerage accounts as well. This can be a convenient way to manage all of your finances in one place.
Choosing the right financial institution is the first step, and from there you need to decide what type of checking account is best for you.
Is Online Banking Safe?
Is online banking safe and secure? A ton of people believe that it isn't — you may have heard from a friend or family member that their card was skimmed or robbed at an ATM or you may have experienced it yourself.
But the short answer is yes. Banks that are online-only are safe, given that they have FDIC insurance. The Federal Deposit Insurance Corporation is an independent federal agency insuring deposits in U.S. banks and thrifts in the event of bank failures. So if you are a member of an online bank that has FDIC insurance, your money is insured up to $250,000.
So even in the event that a hacker steals your money, you will be safeguarded. Your online bank has to reimburse you for your losses if reported within 60 days. This is a reason why many people track their finances on a weekly basis by using free money management tools like Mint and Personal Capital.
However, this doesn't mean that you shouldn't be aware of the risks associated with online banking.
Best Checking Accounts for 2022
In summary, choosing the right checking account depends on your preferences and needs as a consumer.
Do you want a checking account where you can deposit cash whenever you want? Then an online checking account may be not for you.
But if you want extra features or a higher interest rate than national banks provide, a checking account from an online bank is quite favorable.
You also need to consider what you plan to use your checking account for. If you are a frequent traveler, it might be beneficial to find a checking account that does not charge foreign transaction fees.
Or if you tend to use your debit card more often than writing checks, make sure the account has a good ATM network.
Some banks offer benefits for students, seniors, or members of the military.
And some checking accounts are fee-free forever, while others waive the monthly fee only the first year.
Any one of these factors can make an account more or less favorable than another account. So there is no easy answer to 'What is the best checking account?'
The answer to that question depends on you.
Our Pick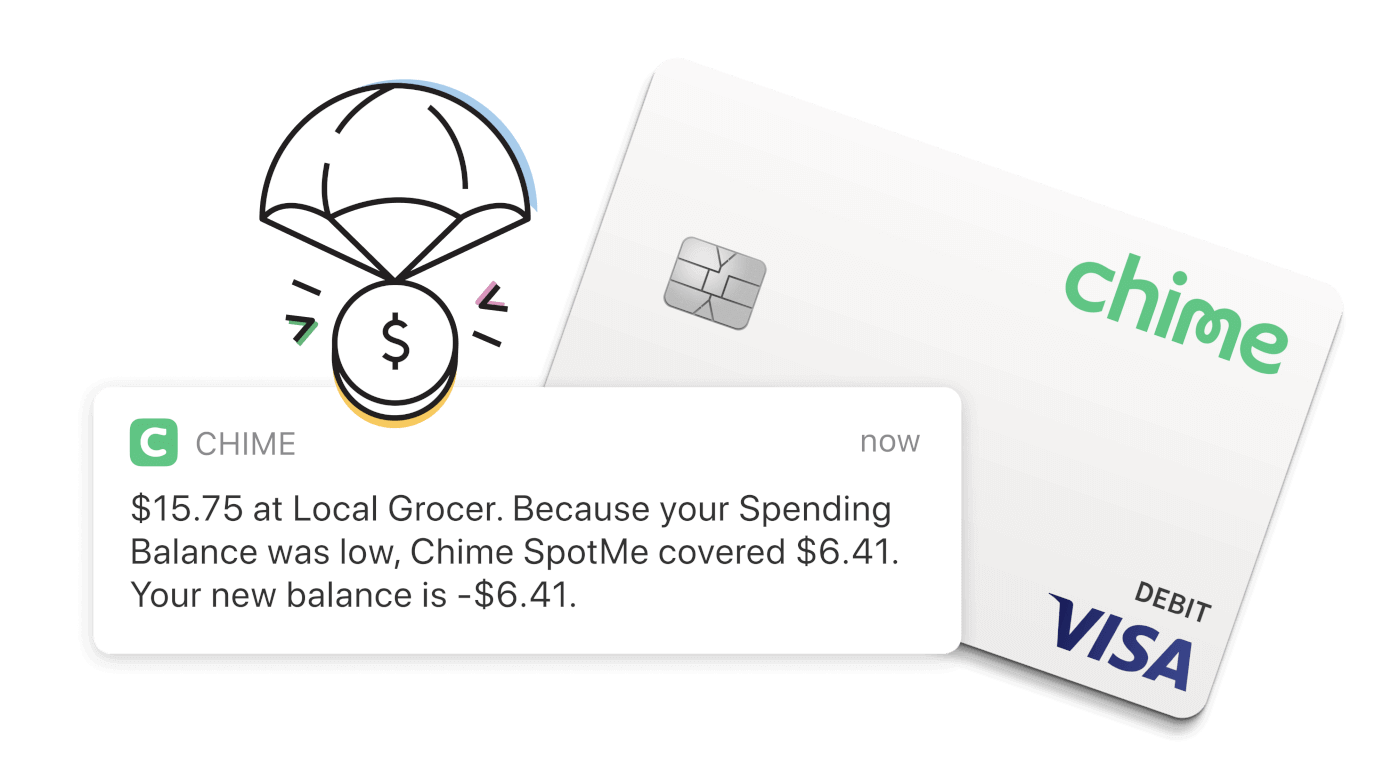 Chime Banking
Experience fee-free overdraft up to $200

*

when you set up direct deposit with SpotMe.
Let Chime spot you when you need that little extra cushion to cover an expense.
Join the millions and make the switch today!
SIGN UP FREE
*SpotMe eligibility requirements apply. Overdraft only applies to debit card purchases and cash withdrawals. Limits start at $20 and may be increased up to $200 by Chime.