While these game apps to win real money won't earn you enough to quit your day job, they can be a nice way to take a break and earn some extra money.
We're serious.
New research conducted by British psychologists shows that Millennials use their smartphones roughly twice as much as estimated.
In fact, the preliminary study found that they used their phones an average of 5 hours a day — that's roughly 1/3 of their total waking hours.
We are on our phones a lot, we get it.
Wouldn't it make sense to make money and have fun with your phone with games that pay real money?
Best Game Apps to Win Real Money Fast
If you are looking for real ways to win money from your phone then consider checking out my quick list of the best games to win real money instantly.
Don't worry, I've personally tested all of the recommended games that pay real cash and they are all legit and have great user reviews on the App Store and Google Play Store.
Download all or most of these free apps today to increase your odds of winning cash for playing games.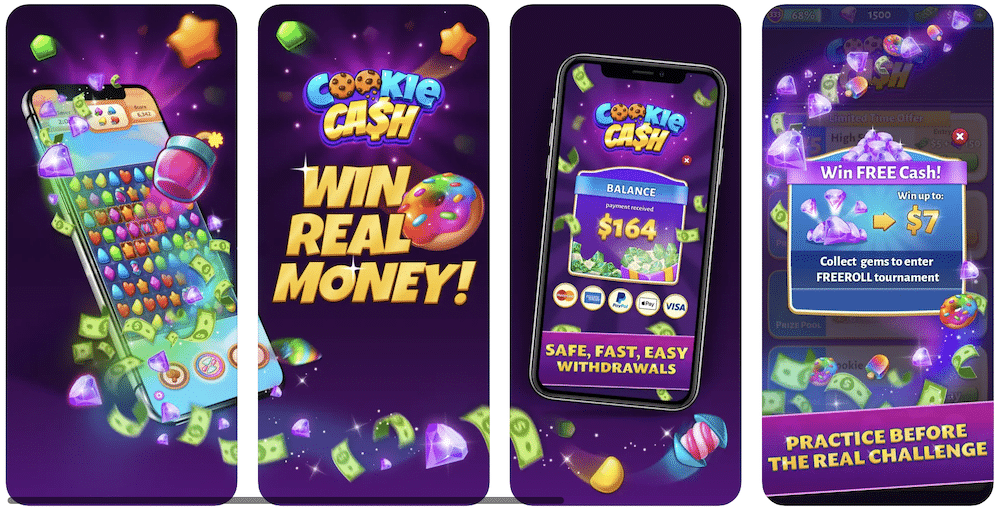 Cookie Cash is a new game from Papaya Gaming for those looking for puzzle games that pay real money.
Players can dive into the familiar world of Match 3, aligning pieces to clear them, setting the stage for high-scoring combos. But with Cookie Cash, there's a twist – users can earn cash prizes!
Infused with a fresh spin on a timeless classic, Cookie Cash boasts a player-friendly design, melding captivating graphics with a seamless interface, ensuring immersive gameplay.
One can opt to play for free, or up the ante by depositing money and competing against others for lucrative rewards.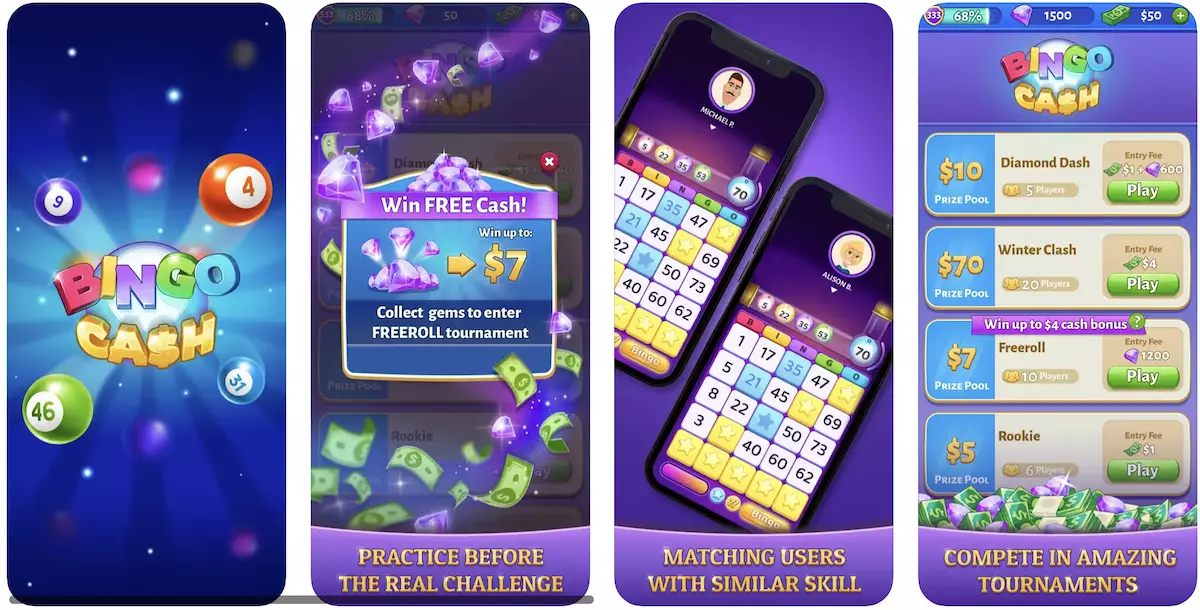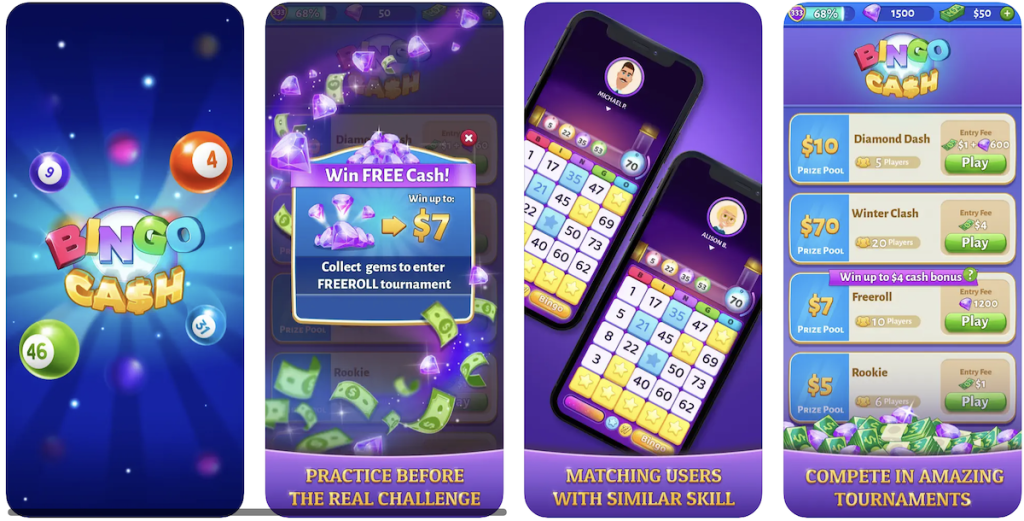 Dive into Bingo Cash! Engage in exhilarating head-to-head bingo duels against global players. Showcase your mastery and strategy, and race to the jackpot with every game.
Here, strategy doesn't just earn you bragging rights—it paves the way to tangible cash rewards.
Kickstart your journey with just $5, a small deposit unlocks a world brimming with thrilling cash games. With potential winnings of over $83 each time, every game feels like a grand finale.
You can always cash out with confidence through PayPal or Apple Pay. With over 100K positive ratings on the App Store, why wait? 🚀
Every moment's a chance to strategize, compete, and WIN. Download Bingo Cash through this link and let your winning saga unfold!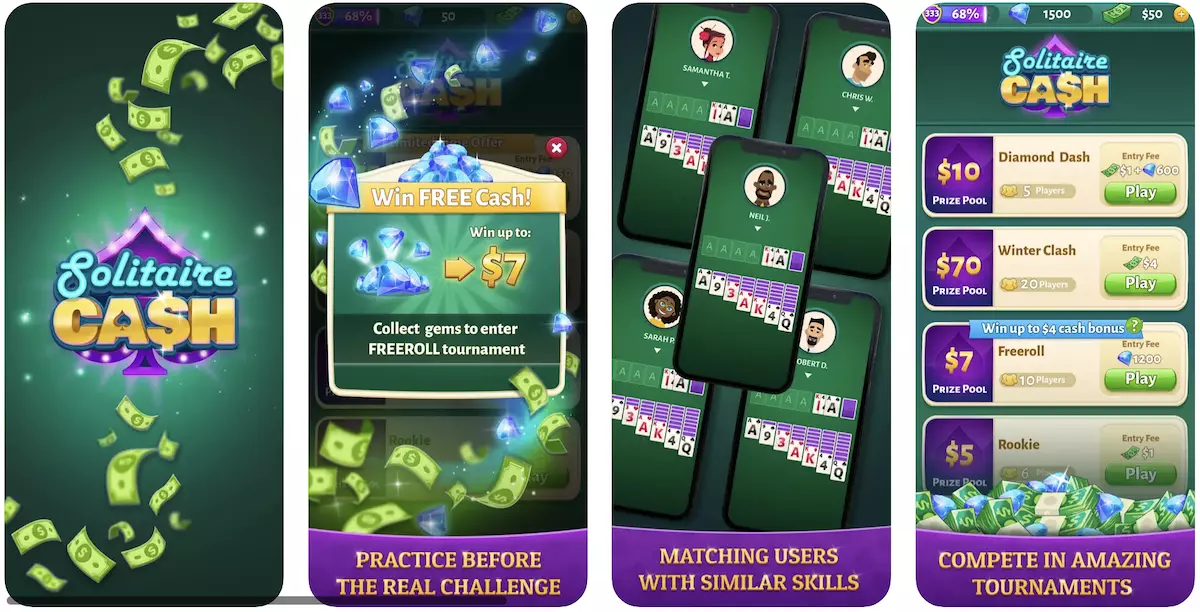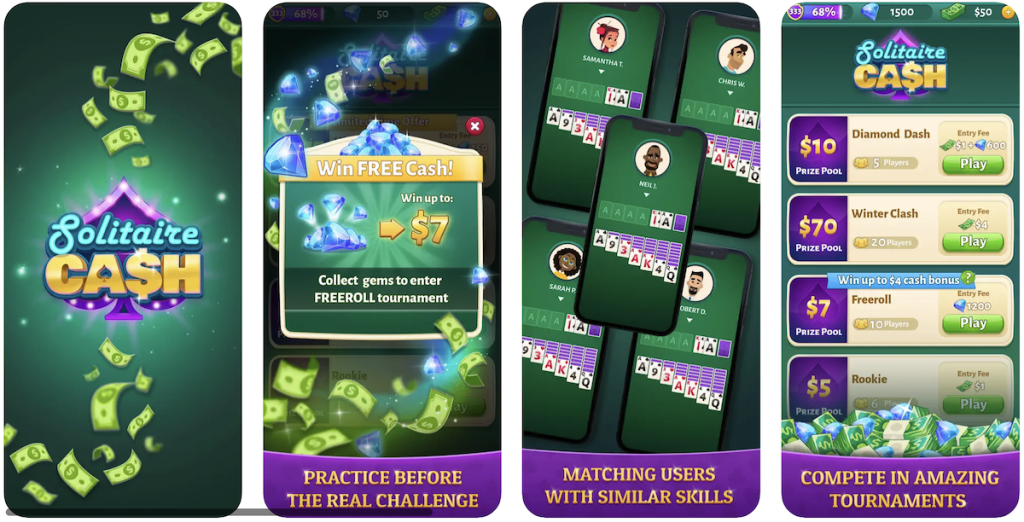 Solitaire Cash, created by Papaya Gaming, offers a competitive solitaire game that pairs you with players at your skill level, using the same deck, to vie for cash prizes.
Picture this: with a modest deposit of just $5, you could earn as much as $83 in a single game playing Solitaire!
It's not about luck—it's a test of your Solitaire skills in swift, 2-minute matchups. While $83 might not be the average earning, the rapid game speed means you have numerous opportunities to win.
And here's the cherry on top: the app is entirely free to download through here, and to date, they've paid out a staggering $1.5 million in prizes so far.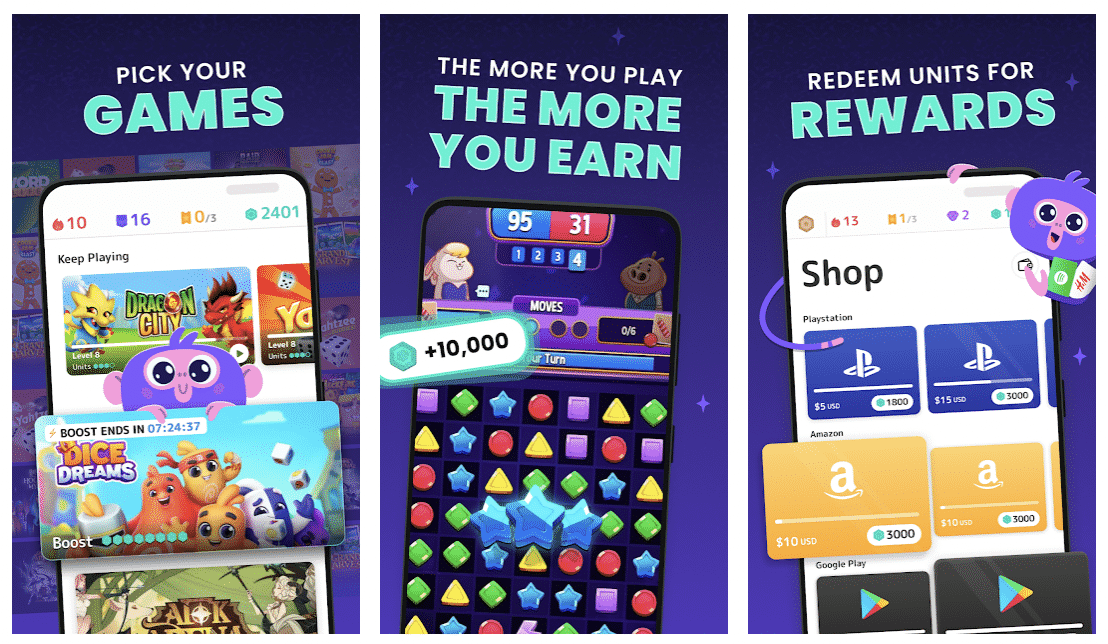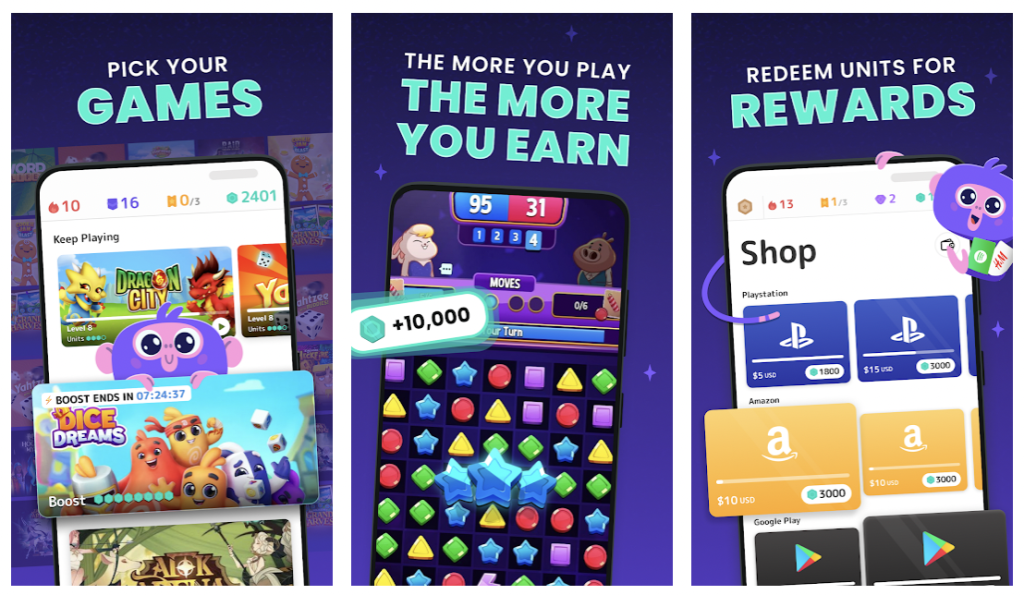 Mistplay pays you to play games, no really it does. While earning money playing games sounds like a dream, this app lets you do just that.
Once you download the app from the Play Store, you'll see a list of popular games you can play. Select a game such as Super Mario Run, Pokemon Go, Fruit Ninja, Chess or even Solitaire and start playing and you can start earning units, which you can redeem for gift cards.
How Mistplay works:
1. Install a game in your mixlist.
2. Play that game to start earning units.
3. Redeem your units for free gift cards.
That's it.
Here, you don't have to deposit any money and you can earn money for free just by playing games in your free time.
You can redeem 1,500 units for $5 worth of gift cards to places like Amazon or virtual Visa cards that can be cashed out. You can usually earn around $40 per month with active gameplay.
To get started you can download the Android app and start playing and earning.
Do you love classic Solitaire games like Klondike Solitaire? Dive into Solitaire Cube and elevate your card game experience!
Not only can you indulge in your favorite card game seamlessly, but you also have the chance to win real money.
Solitaire Cube makes it exciting with its solitaire tournaments and head-to-head competitions that come with real cash prizes.
For those eager to compete, simply deposit funds and challenge other players in cash games. Plus, with reliable cash outs through PayPal, depositing and withdrawing money is hassle-free.
Rated as one of the best PayPal games that pay real money, Solitaire Cube is not to be missed.
Playing is straightforward: Stack cards in piles by suit. Ready to give it a shot? Remember, to compete and win, a deposit is essential.


Rewarded Play is one of the best apps for those who want to get paid for playing new games.
Earn free gift cards for your favorite stores by playing popular games in the Google Play Store. You can earn Amazon gift cards, Walmart gift cards and more by getting paid to play games on your phone within 48 hours!
It may sound too good to be true, but after reading lots of positive reviews, Rewarded Play is dedicated to low cash-out minimums and always paying on time.
Overall, it is one of the best apps for casual games you'll love to play like Love Solitaire, Mahjong, Wheel of Fortune, Yahtzee, and other similar games. Play these free rewards games and earn points when you start playing, reach certain levels, see rewarded videos and make in-app purchases.
Playing games and earning gift cards really is that easy. Redeem rewards from name brand places and enjoy.
Download Rewarded Play and start earning rewards today.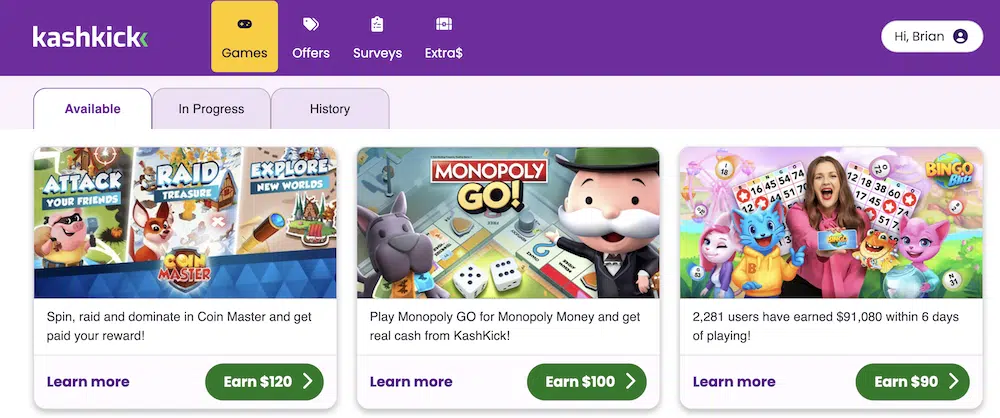 Want to make money playing games and earn up to $100 today?
KashKick will pay you $100s per app to play popular mobile games like Coin Master, Monopoly GO, and more!
Not just that, you can also make money fast by trying new products and services, watching videos, answering surveys, and even simply reading emails.
The best part? As soon as your balance hits $10, you can cash out through PayPal. Over 2M users are making money the easy way.
Ready to start earning real cash?
It's an easy sign up through here, just an email and password, and start earning for FREE!
Welcome to Blackout Bingo a brand new bingo-style game where you can win real money and prizes. This game boasts over 78K+ positive reviews in the App Store.
Dive fast and use fun boosts to take the Bingo world by storm. Travel the world and play in amazing and exotic places. A recent player left a Blackout Bingo review saying:
"Are you going to make $700 from this game? No, probably not possible! But the two days I've been playing this I've earned about $34.59! "
It takes concentration, speed, and strategy to become a bingo master. Do you have what it takes?
Real money tournaments aren't available in AR, CT, DE, IN, LA, ME and SD but residents can still play the free games for swag!
Just download the app here (it's free). Then, deposit at least $10 to compete and earn and cash out using PayPal whenever you want.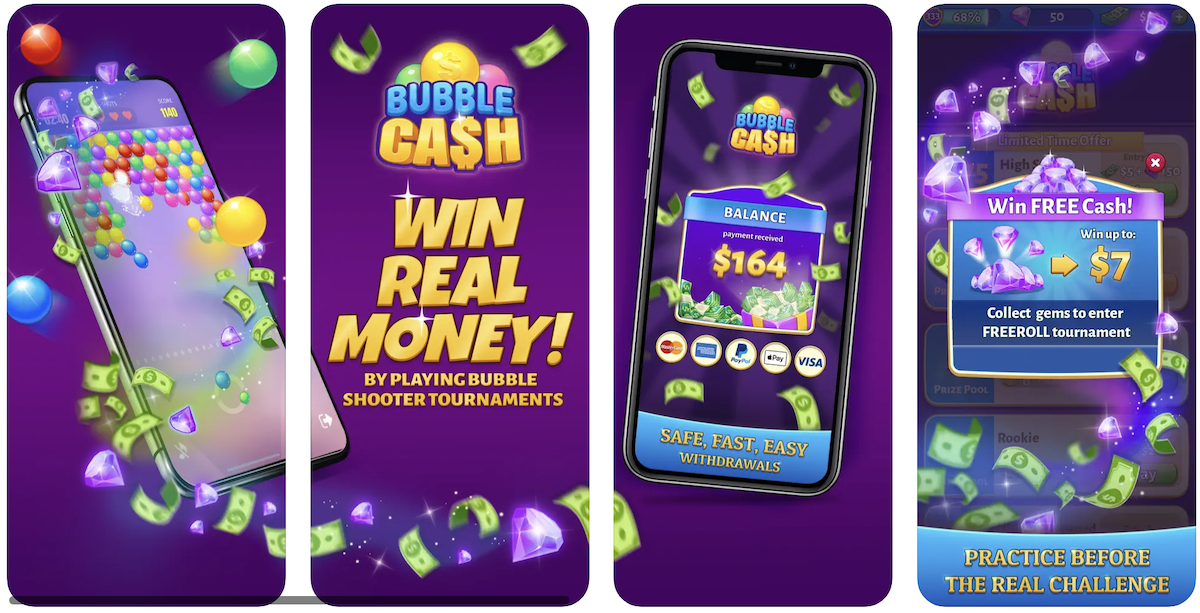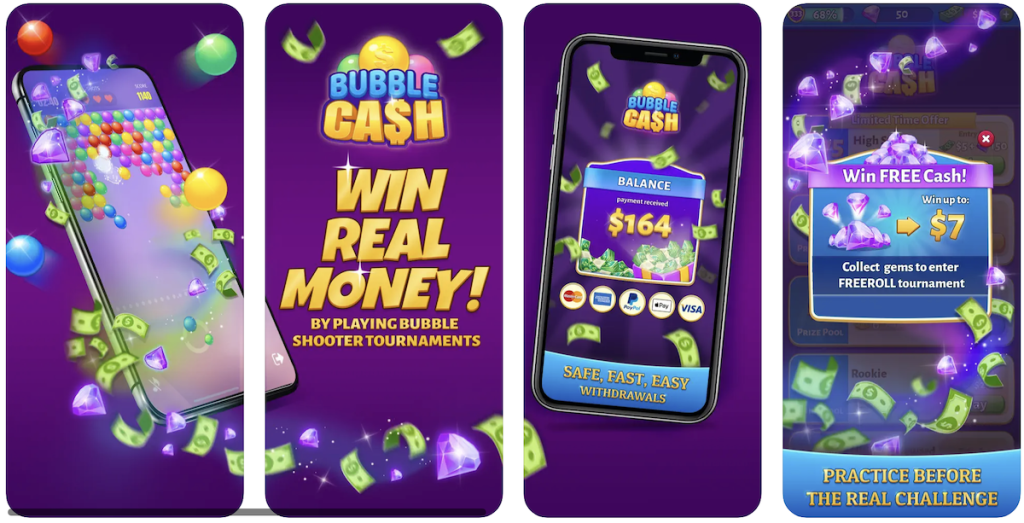 Step into the world of Bubble Cash and put your skills to the test! This exciting skill-based pop shooter game is available now on the App Store for all compatible iOS and Samsung devices.
With an impressive 4.6 rating out of 5 and 78,000+ positive reviews, it's no surprise that Bubble Cash is the #7 Casino game in the store.
Do you have what it takes to rise to the top and claim the prize pool? With the potential to win real money in your free time, this game is not only fun, but it also provides opportunities to make a little extra cash.
So why wait? Download Bubble Cash now and start shooting for the stars!
Welcome to Bingo Tour a brand new bingo-style game where you can win real money. This game boasts over 110+ positive reviews in the App Store.
Dive fast and use fun boosts to take the Bingo world by storm. Travel the world and play in amazing and exotic places. A recent player left a Bingo Tour review saying:
"Are you going to make $400 from this game? No, probably not possible! But the two days I've been playing this I've earned about $82.32! "
It takes concentration, speed, and strategy to become a bingo master. Do you have what it takes?
Just download the app here (it's free). Then, deposit at least $5 to compete and earn and cash out your winnings using PayPal whenever you want.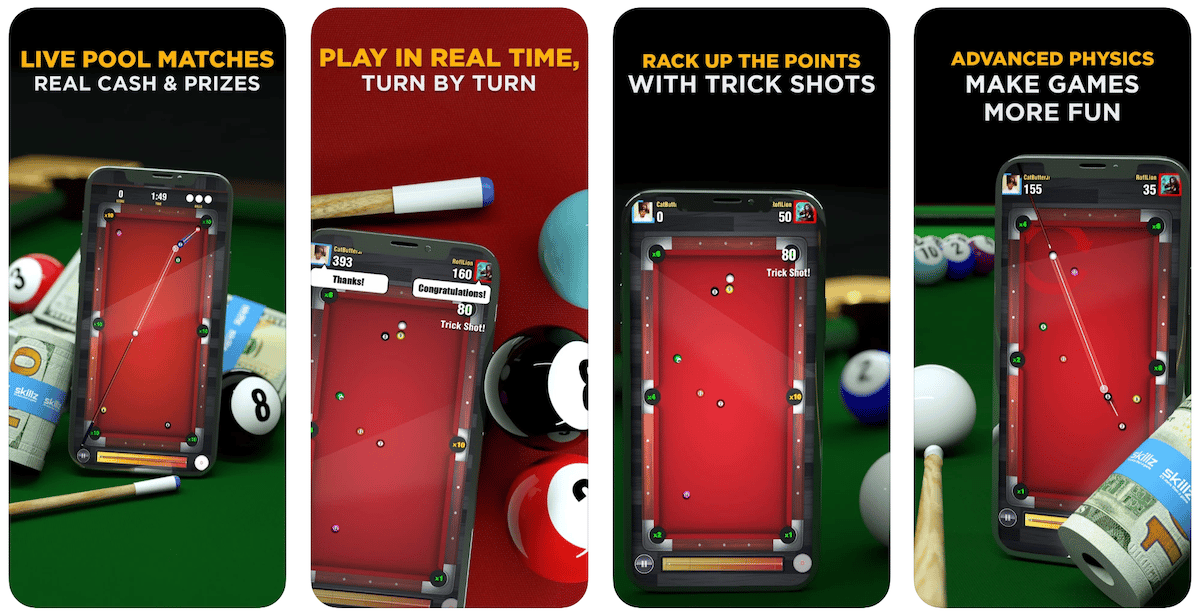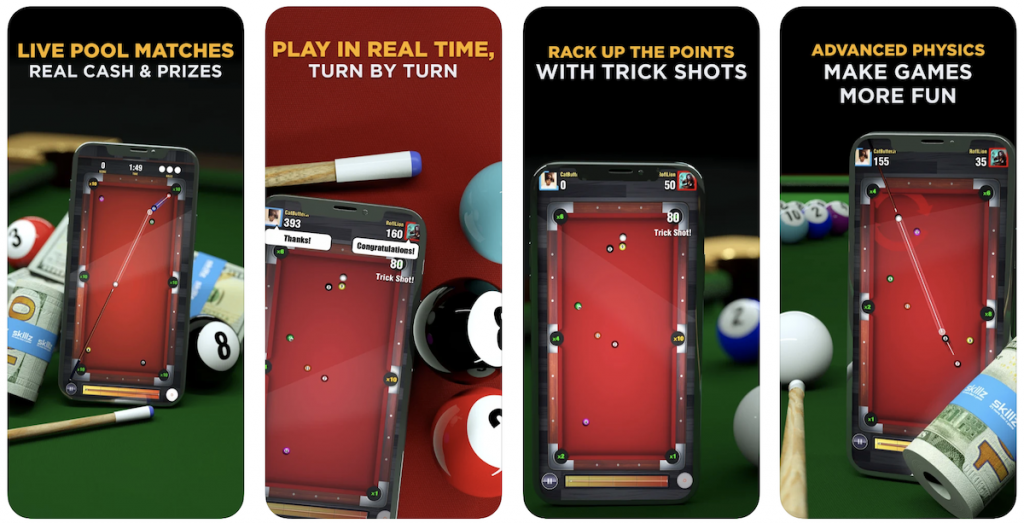 Install Pool Payday and play pool to win real money! This game is on the Skillz platform and lets you have fun while you earn.
Play against people from all over the world. Put a little money on the line if you want, or just play for fun. If you need some practice, there are free games to help you get better.
Lots of people like it! It has over 80,000 positive reviews on the App Store and a 4.6 out of 5 rating. On the Galaxy Store, it has a 4.5 out of 5 rating from 1,000 reviews.
The cool part? You can easily get your prize money through PayPal or Apple Pay. So, start playing, have fun, and you might win some cash too!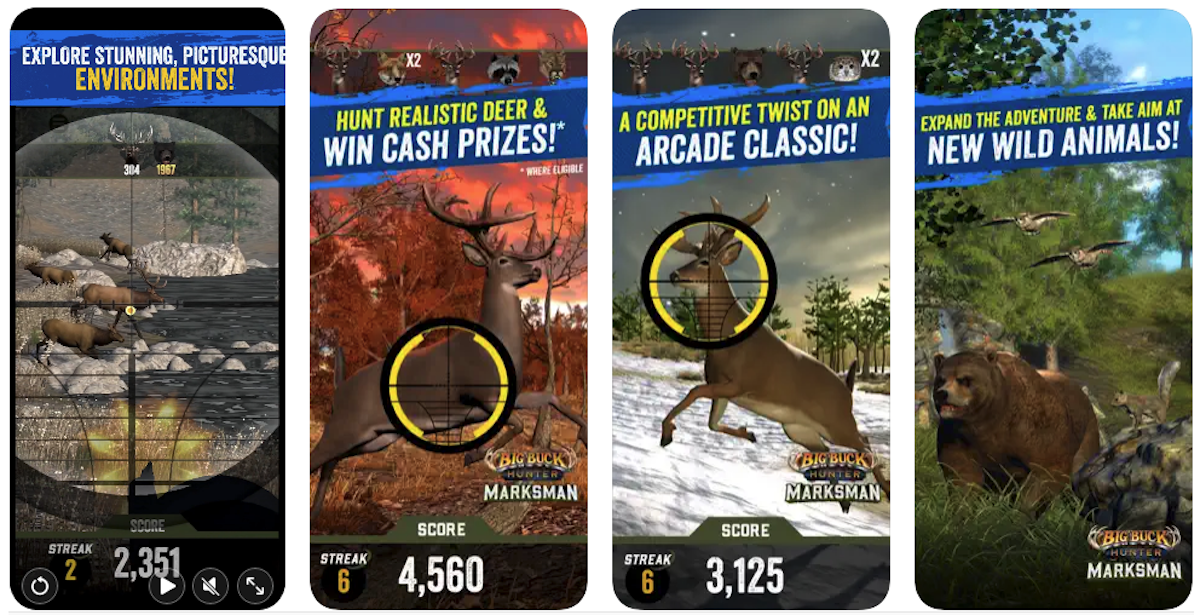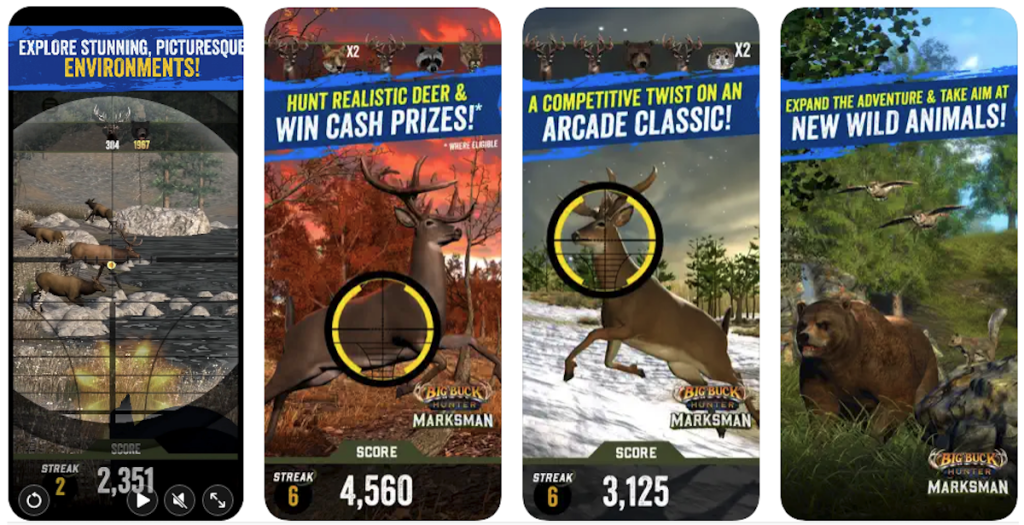 Big Buck Hunter, a beloved hunting game with over 20 years of history, has been a staple in bars, restaurants, and arcades worldwide. Its appeal?
A game that's easy to play yet challenging to master, captivating millions of players. Now, this legendary arcade franchise brings an exciting competitive twist, making it one of the best game apps available.
Compete to achieve the highest score by skillfully shooting bucks across various hunting landscapes. With intuitive game mechanics, players simply press, hold, and release the screen to aim and fire.
Not only is it one of my favorite gaming apps, but it's also a thrilling way to compete, have fun, and win money with Big Buck Hunter, anytime and anywhere.
To dive into the competition and stand a chance to win money, either deposit your funds or utilize in-game bonus cash. If you're in it purely for the thrill, there's a free game mode available – no deposit is required when you download through here.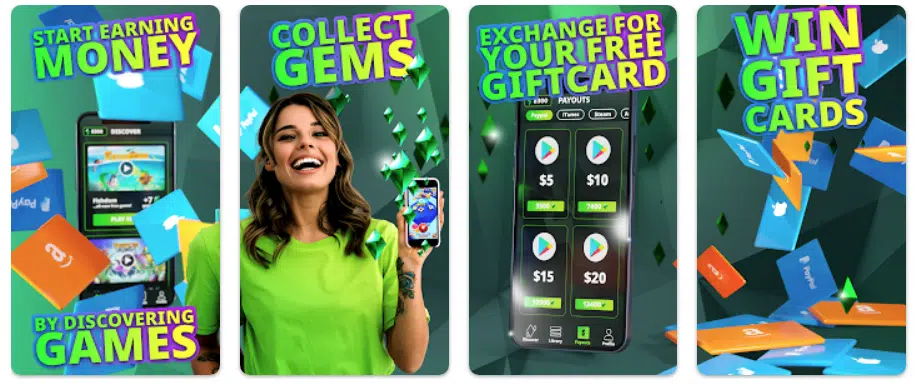 Looking for a fun way to earn rewards by trying out new free games? Look no further than Cash Giraffe!
Cash Giraffe is an Android-only app that allows you to win real money by downloading and playing mobile games.
The app lets you earn whenever you progress further in each game and reach higher levels. Then you can cash out through PayPal once you meet the low $0.20 threshold.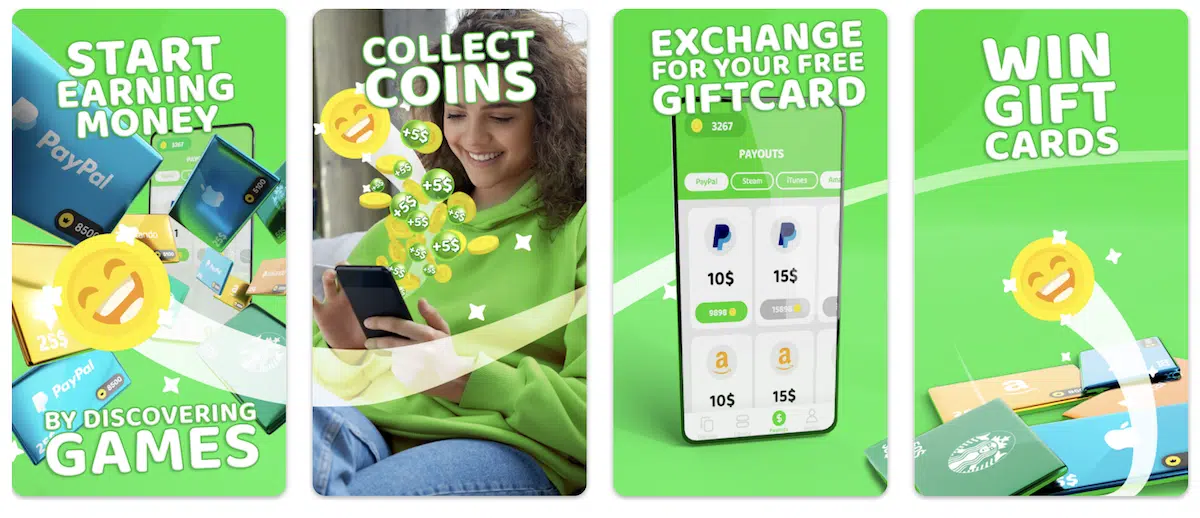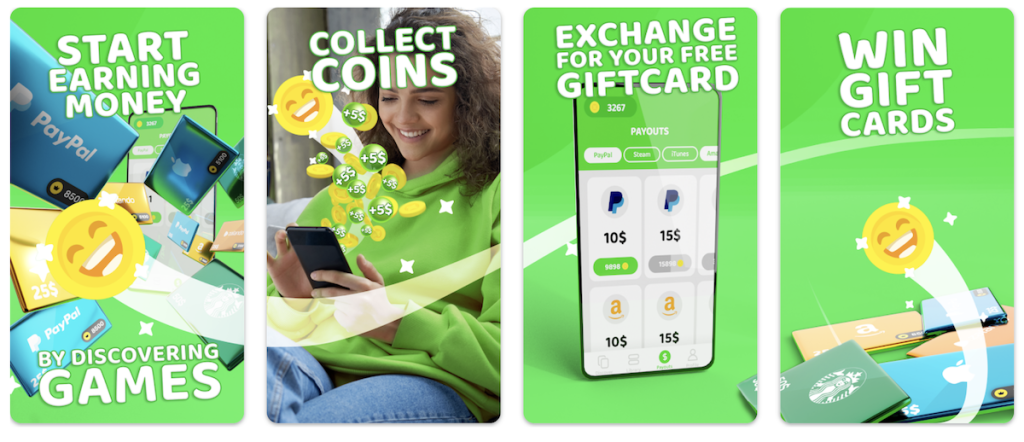 If you're looking for games that pay real money then Cash'em All should be up your alley. Cash'em All is a free app that pays you to play games.
You can earn coins for every second you play, which can be traded in for real gift cards.
There is a huge selection of different game types to choose from, so you're sure to find one that you enjoy. You can also invite friends to join and earn extra.
Cash'em All is a great way to earn some extra money by doing something you enjoy. Cash'em All is only available on Android through the Google Play store.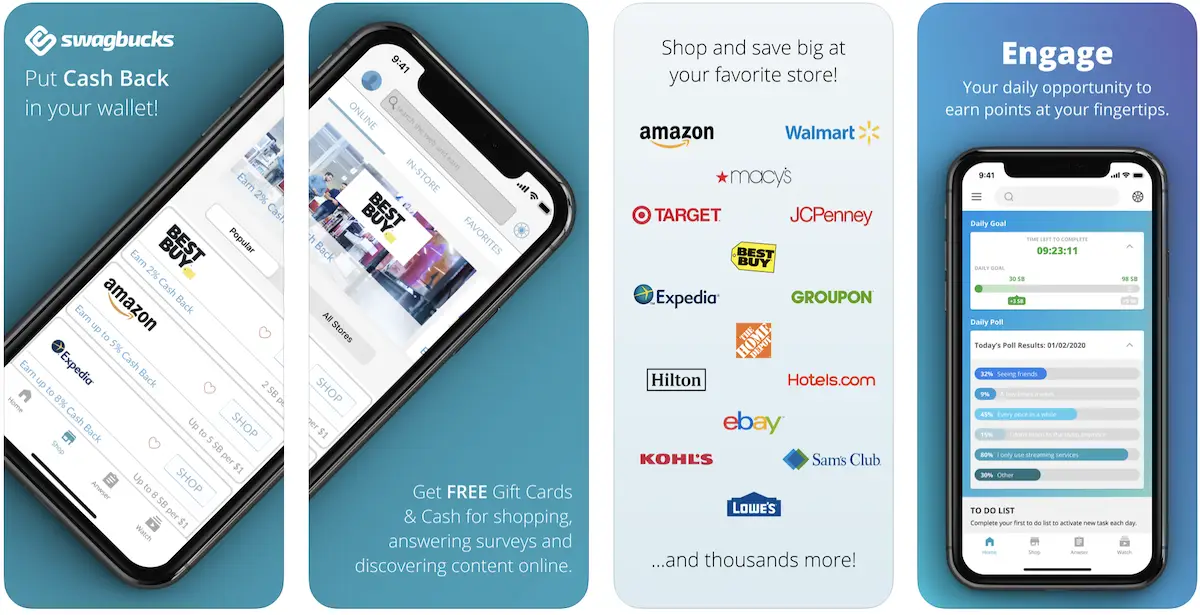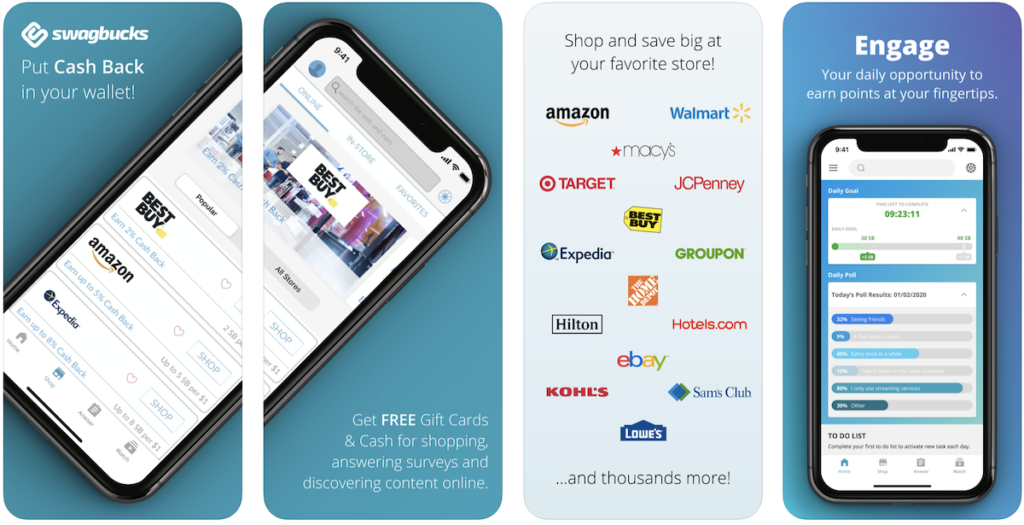 The next-best get paid to play games site is Swagbucks. There are a lot of sites like Swagbucks but nothing can beat the king of reward sites.
Here you can earn a special currency called Swagbucks for playing paid games, completing offers, answering surveys and logging online activity.
You can redeem the currency for gift cards or cash rewards once you've accumulated enough.
This is one of the best apps that pays you to play games through PayPal.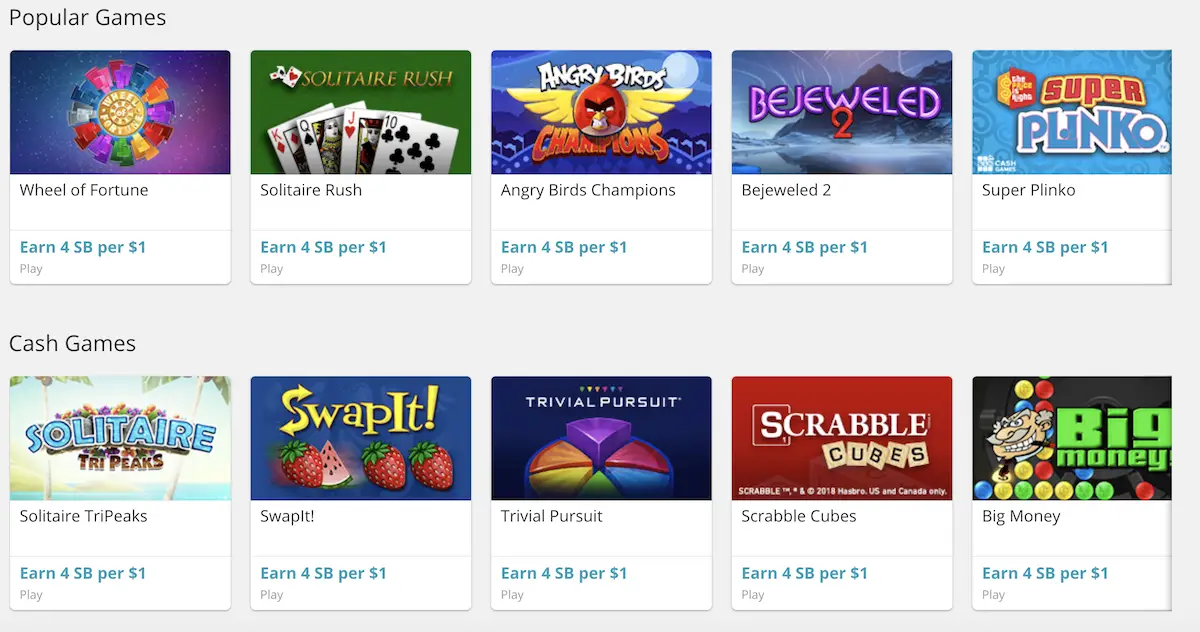 Plus, you can download the Swagbucks app to play fun games whenever you want to kill some time.
My current favorite games to play to earn money are Wheel of Fortune, Solitare Rush, Angry Birds, and Scrabble Cubes. You can even play solitaire for money in cash games on the platform with games like Solitaire Rush.
If you wanted to try it out, be sure to claim a $10 sign up bonus here.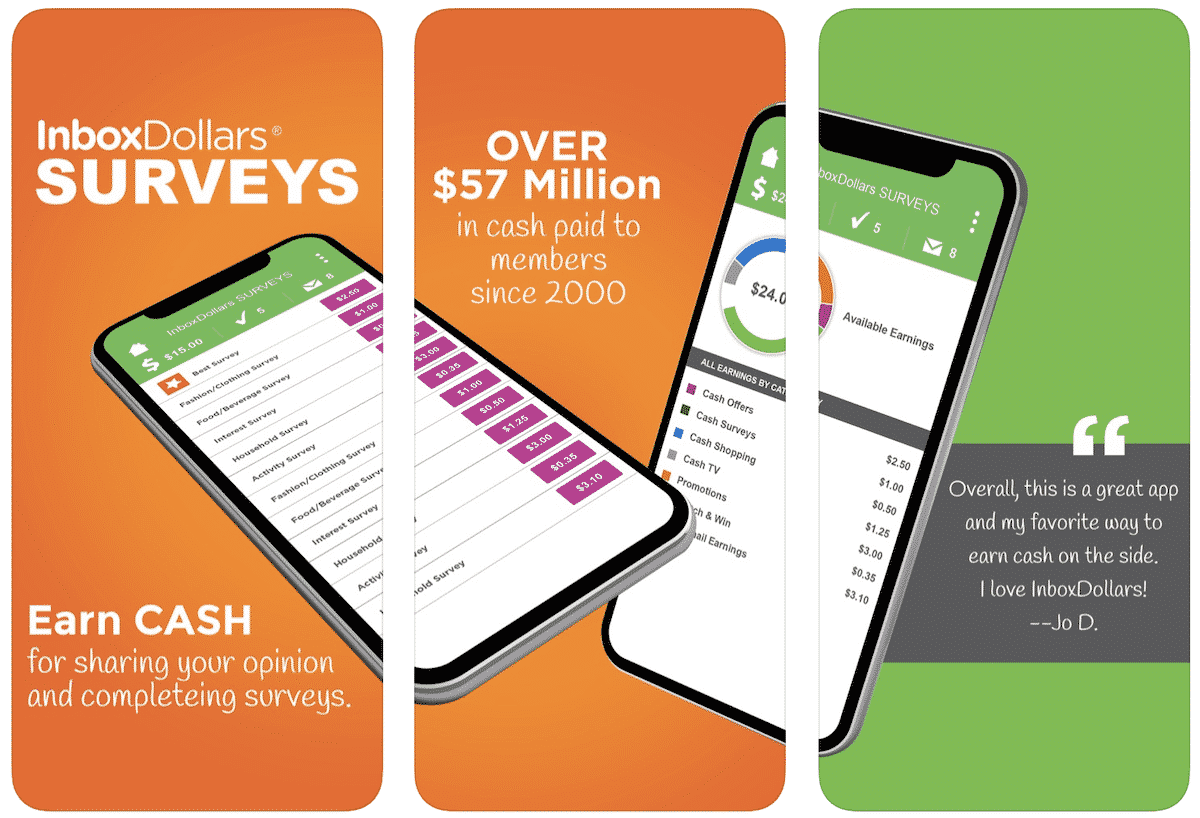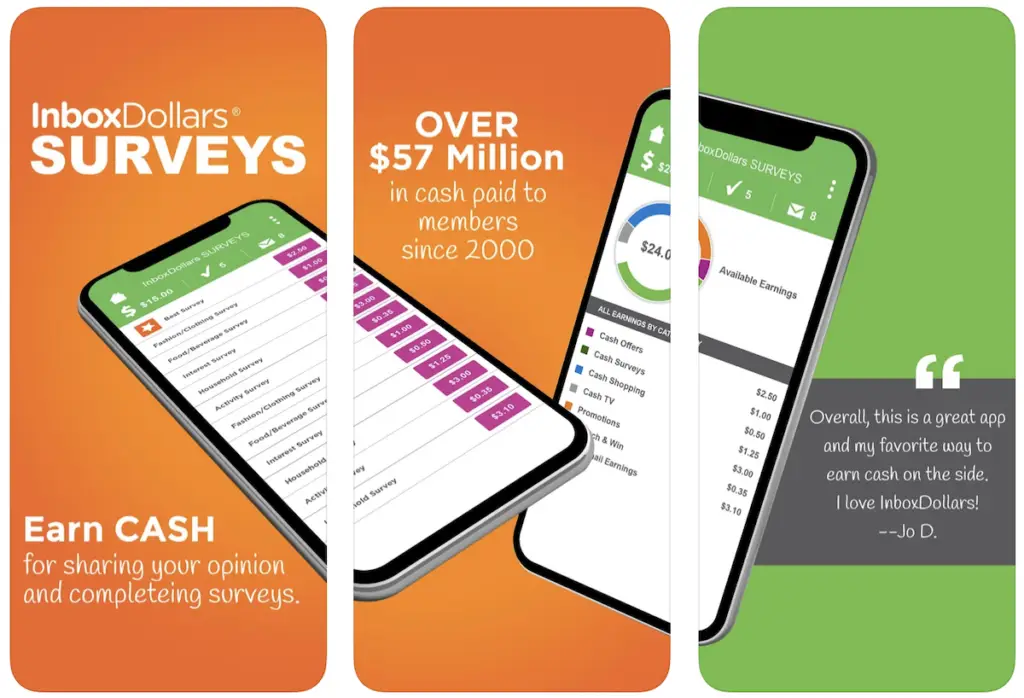 The next thing you can do is sign up for InboxDollars which pays you, in cash, to play games and watch videos.
If you sign up before the end of this month, they also give you a $5 free bonus just to give it a try.
They feature a wide array of games like Monkey Bubble Shooter, Mahjong Dimensions, Pyramid Solitare, WordWipe, PetHop, Outspell, and Candy Jam.
By spending just 5-10 minutes per day on sites like InboxDollars (either on your lunch break or during TV commercial breaks) you can earn an extra $50 a month.
More people should be using this game app to win real money.
If you're familiar with cash reward games, consider trying Money Well. It's a free app offering a variety of games, including bingo, arcade, and strategy. Here, playing can earn you points that turn into cash or gift cards.
Game creators use Money Well to gather player insights, rewarding you for your time and feedback. Boost your earnings by referring others and enjoy getting paid through PayPal or gift cards.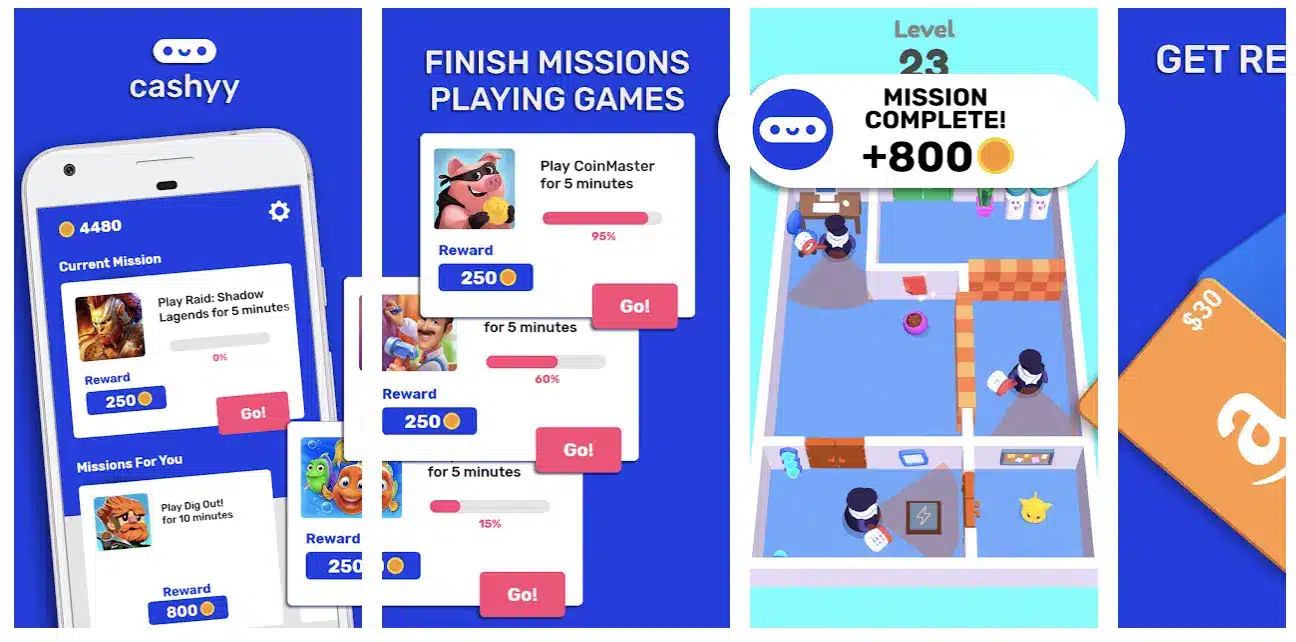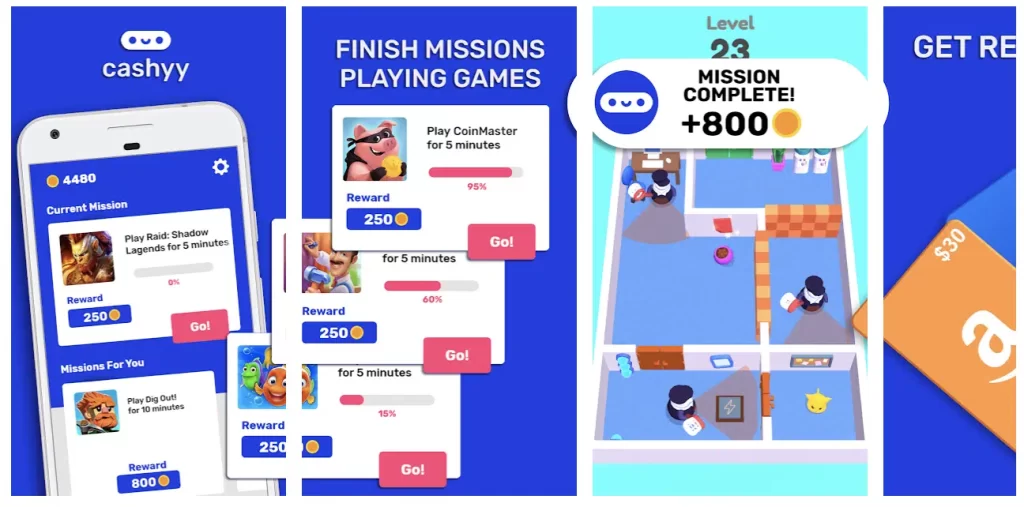 Cashyy is a completely free app that will help you earn free PayPal money into your account. Similar to Mistplay, you can discover free games, accomplish missions and win coins to exchange with gift cards.
All you have to do is play, complete missions and you will receive free money. The more you play the more money you earn.
You can always download Cashyy for free and this app doesn't have any advertising, no deposit, no in-app purchases which is nice. In order to get started earning, you can choose a mission and play your favorite game from the list of games.
If you are searching for cash games on Google Play to make extra money while having fun? With Cashyy you can play new games and win gift cards.
Solitaire Smash is a new twist on the classic solitaire card game that allows players to enjoy the game on their mobile phones and win real money.
The app can be easily downloaded from the App Store. If you are a fan of similar games such as Solitaire Cube, then you will surely enjoy Solitaire Smash.
With the potential to win significant amounts of money, Solitaire Smash has already paid out large sums to its players, with the top winner earning over $14,000.
So, if you're ready for a chance to win big, download Solitaire Smash today and start playing!
AppStation is an Android-only app that pays you for playing games and completing other tasks and has over 10 million downloads.
For every minute you play, you gain coins. These coins can be redeemed for gift cards starting at $10.
Overall, AppStation offers a variety of games and other earning opportunities and it's community has several million users. With a 4.3/5 rating with over 276K reviews on Google Play, it's worth trying out.
The PCH App is actually one of the most popular game apps to win real money. Publishers Clearing House has awarded over $384 Million in prizes since 1967 and they are still giving money away.
Don't let others do all the winning. They are even called the place "Where America Plays To Win®" and the PCH App makes it happen with winners every single day.
Right now, they are holding sweepstakes where you could win $10 Million dollars. You can enter for free through this link and winners will be announced on NBC!
Scrambly is a reward-based discovery platform that lets you earn real money by testing apps, games, and products. You can earn about $27 a day on this legitimate 'get-paid-to' site.
Just by doing the following:
Testing out new apps
Playing free mobile games
Referring friends
Discovering products
Scrambly helps ordinary people earn and save money in an easy way by checking out free products from brands that are willing to pay for them.
You can cash out starting from $1 via PayPal, Visa, or gift cards. Scrambly also offers a $.50 welcome bonus for registration.
It is only available in the United States and Canada and you can quickly sign up with a Google account.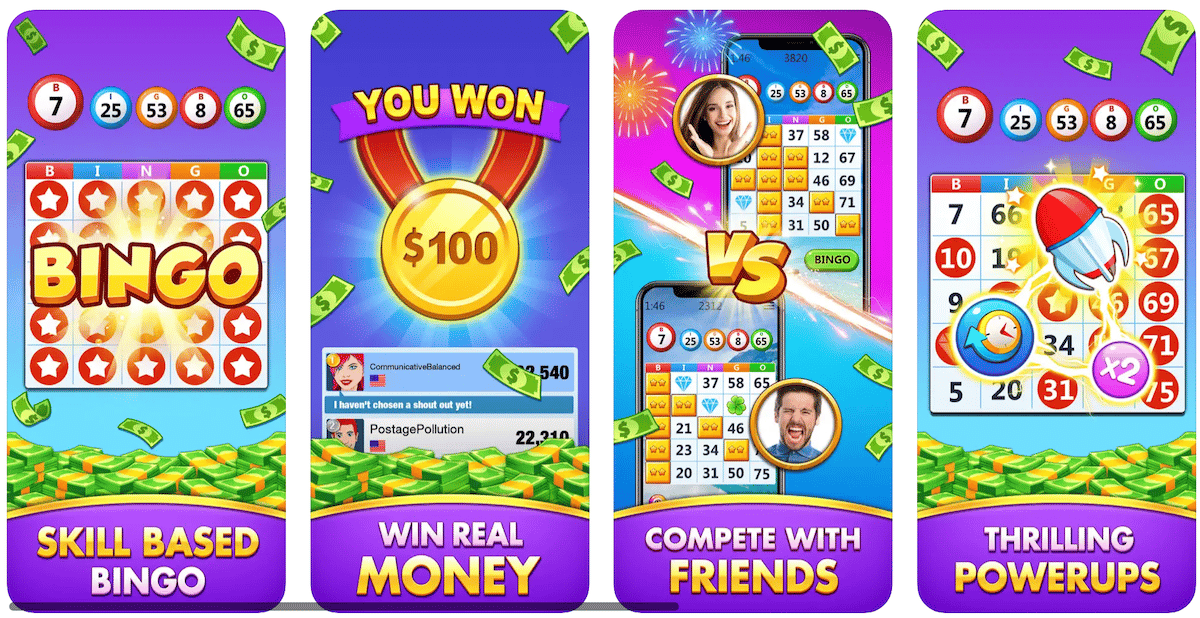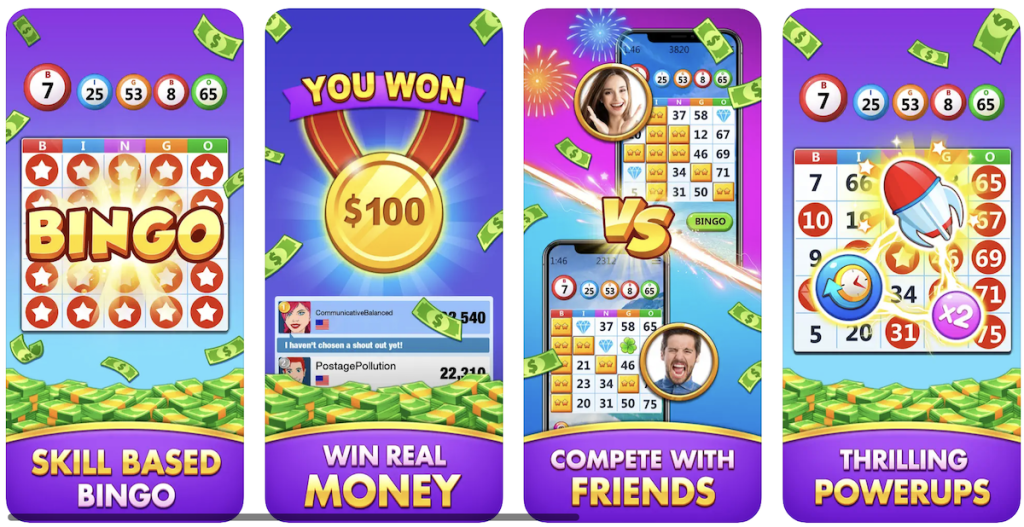 Bingo Win Cash is another one of the best skill-based bingo apps that pay real money.
The game is simple. You just have to match the numbers on your card with the numbers that are called out. If you match all the numbers, you win the game and the cash prize.
The great thing about playing Bingo Win Cash is that it's a very social game. You can play with friends and enjoy classic bingo and slot games to put real prizes up for stake and the winner takes all.
At any time, you may withdraw your money using PayPal or Apple Pay. You can always keep an eye on your funds and make a swift withdrawal if necessary!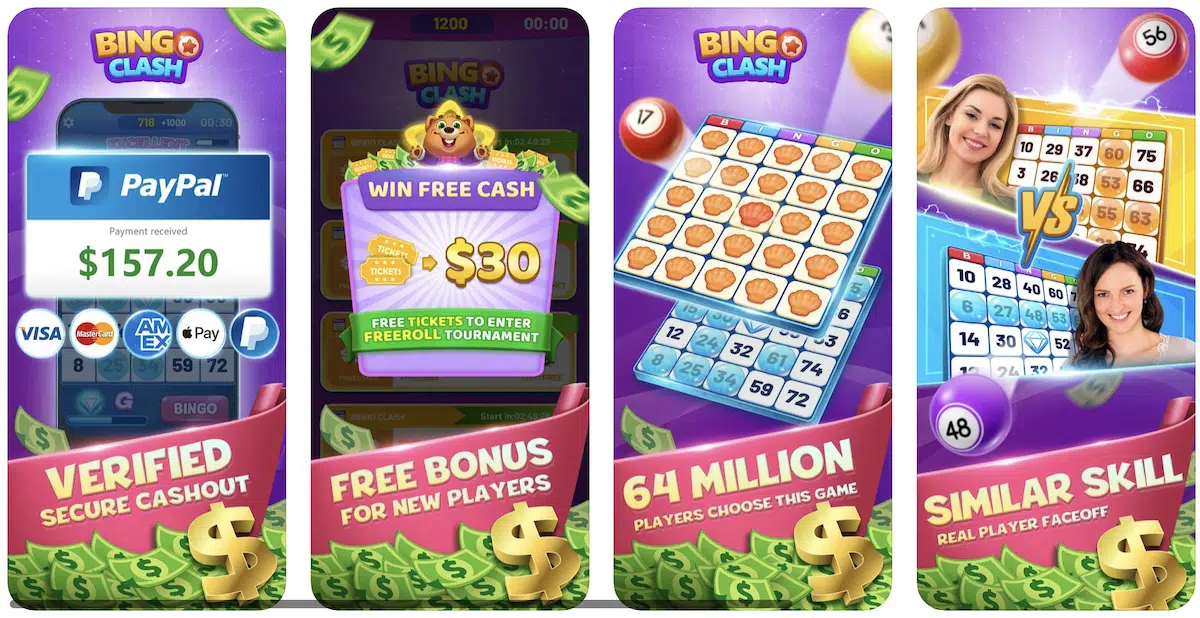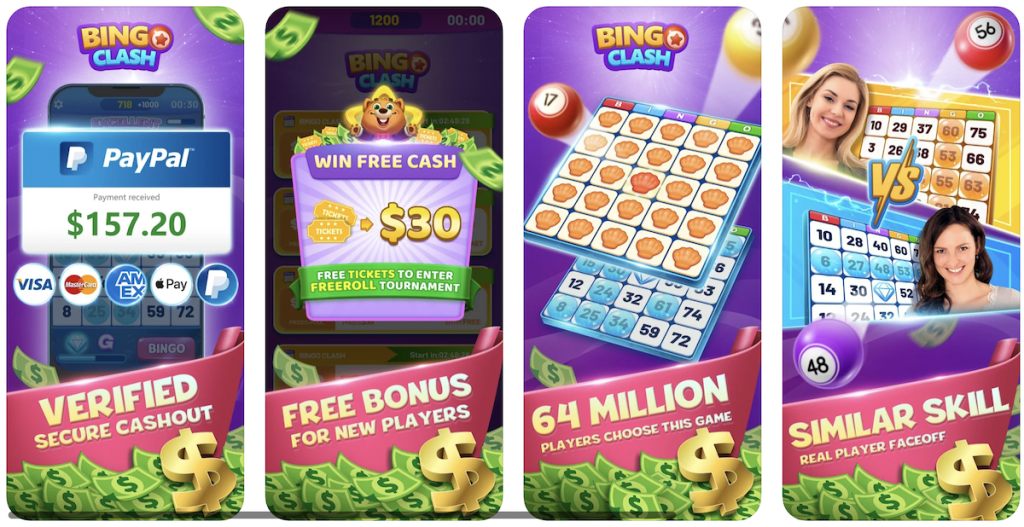 Bingo Clash elevates the classic bingo game, pairing you with equally skilled players to compete for the ultimate "BINGO!" shout.
Play for free and earn tickets, which can be used to enter cash tournaments, though you'll need a substantial amount.
If you're eager for larger prizes, jump directly to cash tournaments by depositing money. The top three often bag bigger rewards. Plus, there's a referral program to earn extra.
If bingo's your game and you'd love to earn, give Bingo Clash a go.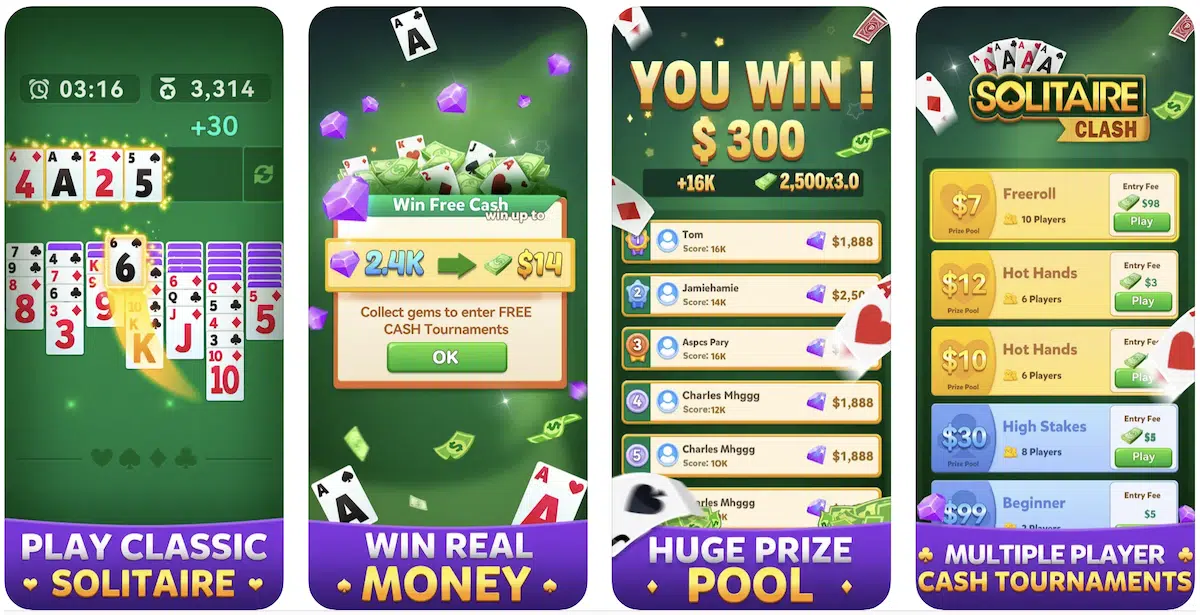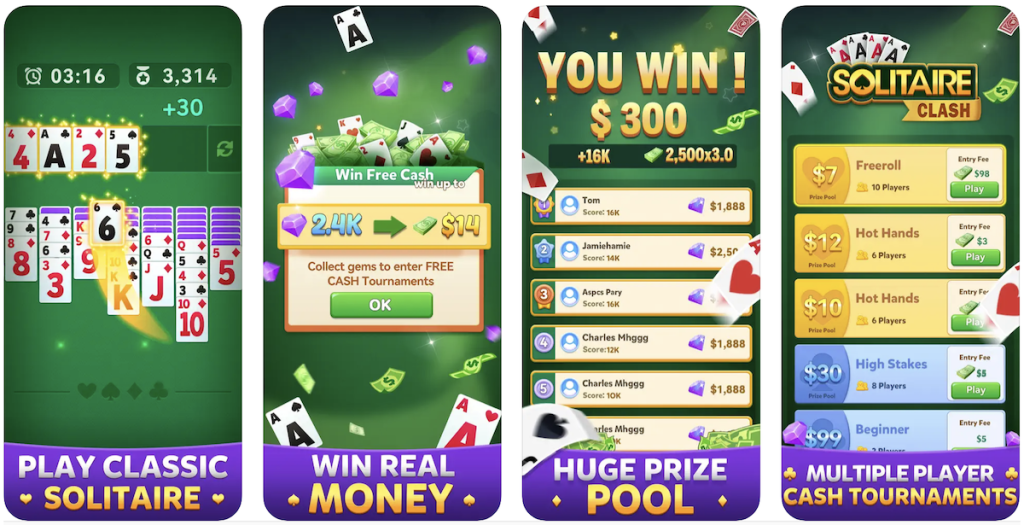 Unleash your solitaire skills and get rewarded for it with Solitaire Clash! Dive into time-bound challenges and earn sparkling gems or cash rewards.
While you can enjoy solo matches for free, the real thrill lies in the cash games. To enter these high-stake battles, simply deposit money and join multiplayer contests. Finish in the top three, and you'll pocket money.
But that's not all – Solitaire Clash spices things up with mini-games, offering you more avenues to win extra cash or enticing bonus prizes. If you're a solitaire enthusiast looking to monetize your mastery, Solitaire Clash is the game for you. Download now and play to win!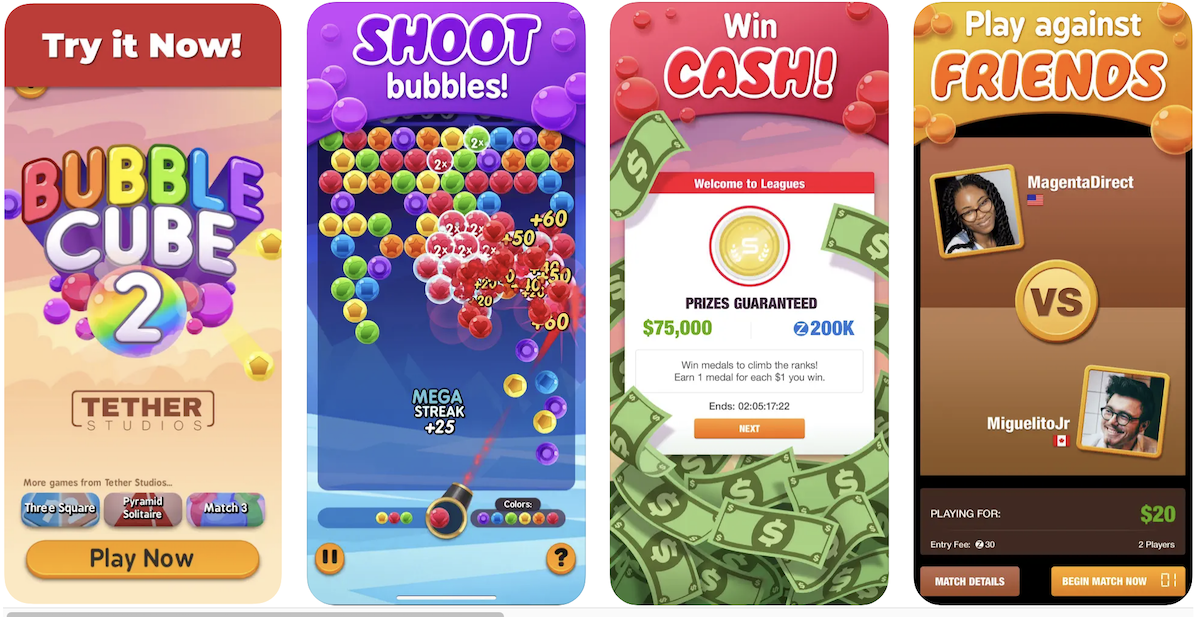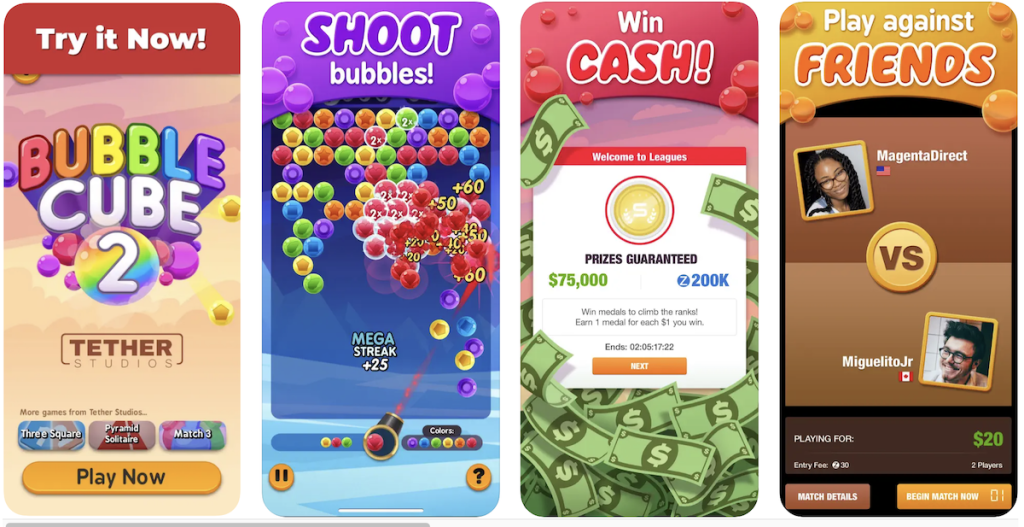 Bubble Cube 2 is a captivating bubble shooter puzzle game available on Android and iOS through the App Store and Galaxy Store.
Players can either join cash tournaments with deposits or enjoy free modes against competitors. The aim is to outscore your opponent to earn bigger rewards, though players typically receive incentives after each match.
Boost your balance by winning games, climbing league rankings, earning trophies, grabbing daily bonuses, or even referring friends. If you're a gaming enthusiast, Bubble Cube 2 might be right up your alley.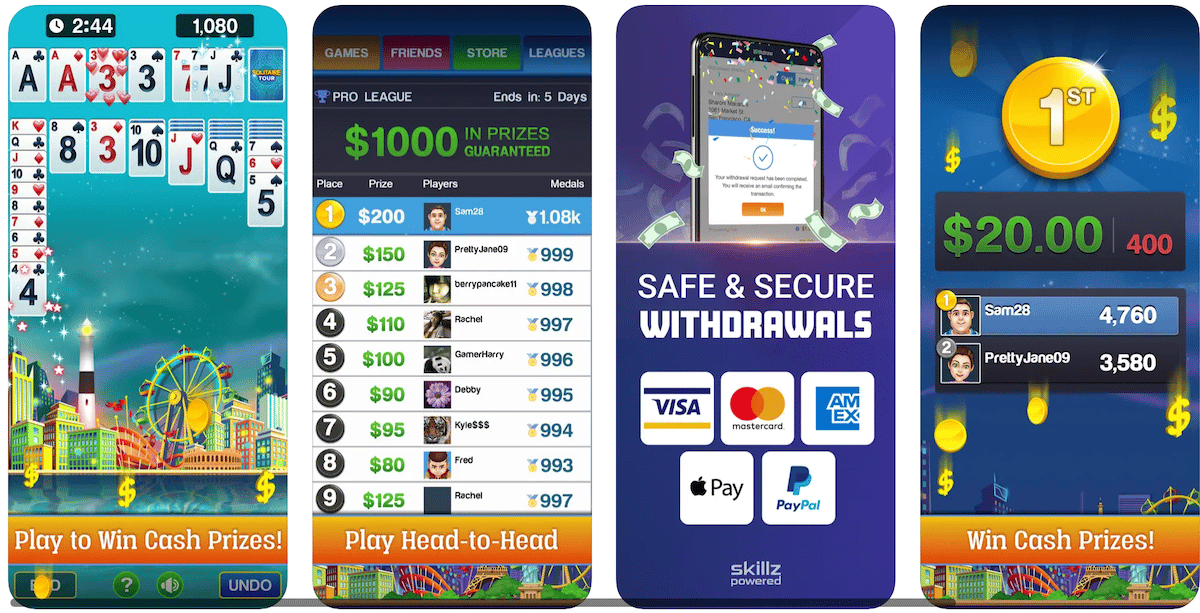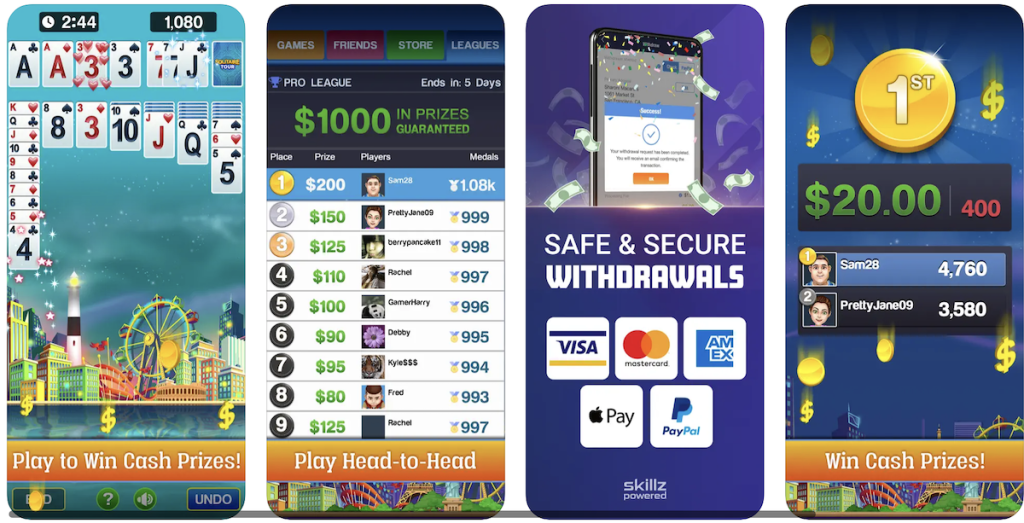 Still looking for iOS games for money or real money games? Get ready to win some cash by playing Klondike solitaire with Solitaire Tour. This solitaire for money app is one of the most popular online games that pay real money.
It is a classic game with some challenging fun twists. You can score big by finishing rounds early and earning bonus points. The smooth touch controls and beautiful graphics make it a great game to play on all devices.
You can challenge people from around the world to win cash. Climb the leaderboard, win cash, and earn many prizes! You'll need to deposit money to play cash games, but that makes it all the more thrilling.
28. Blitz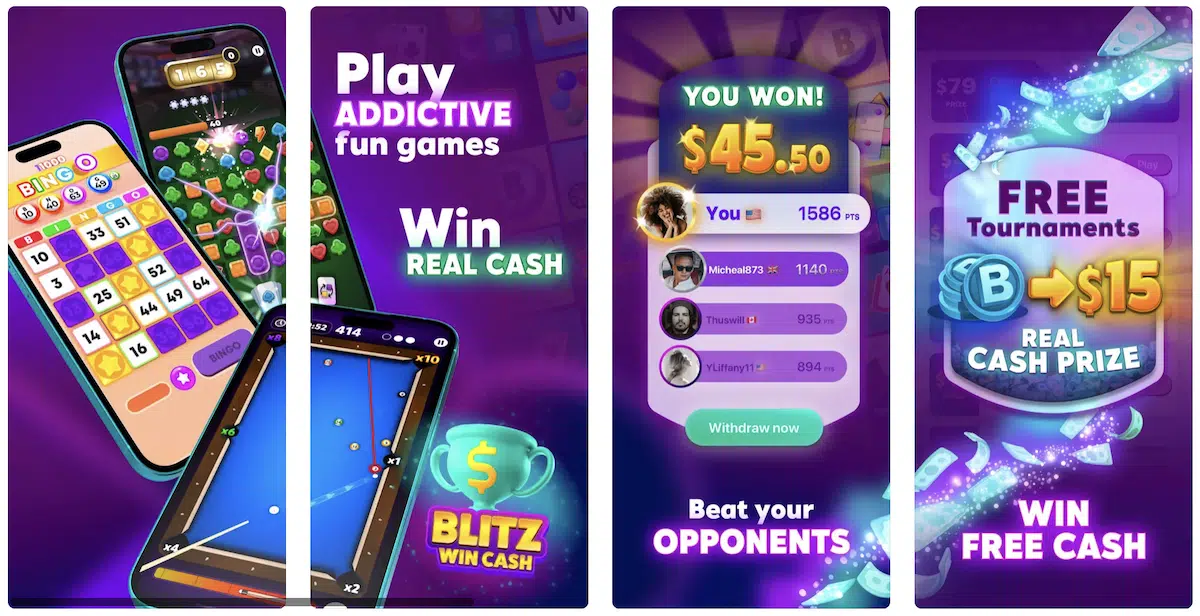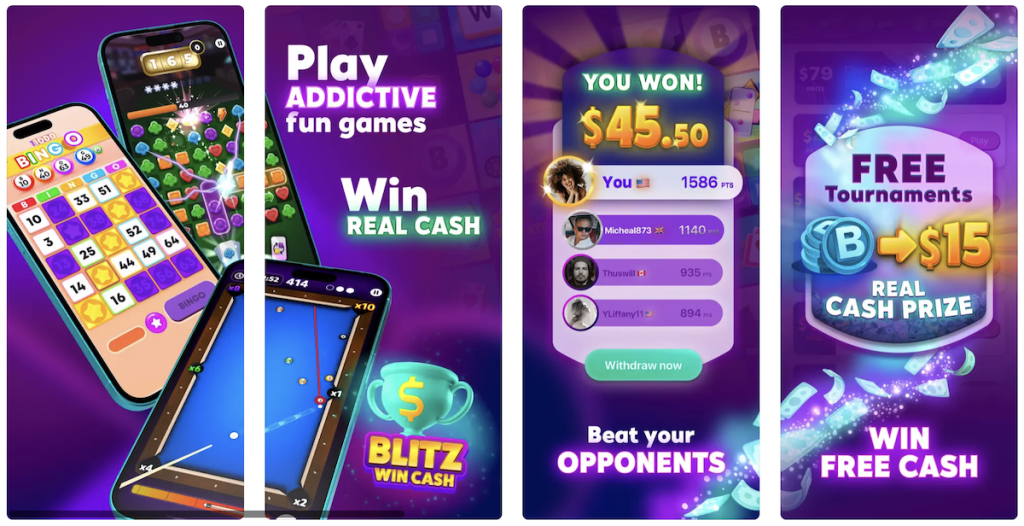 Introducing Blitz, the highly engaging gaming app that offers real cash. With a diverse range of popular game apps like Bingo, Solitaire, Match3, and Ball Blast, Blitz ensures endless entertainment and genuine competition against real players worldwide.
Climb the leaderboards, collect trophies, and become the ultimate gaming champion. When it's time to cash out, Blitz provides instant withdrawals to trusted platforms like Venmo, PayPal, Apple Pay, or directly to your bank account.
Experience the thrill of fair and skill-based competition by downloading Blitz today and unleash your gaming potential.
29. Match To Win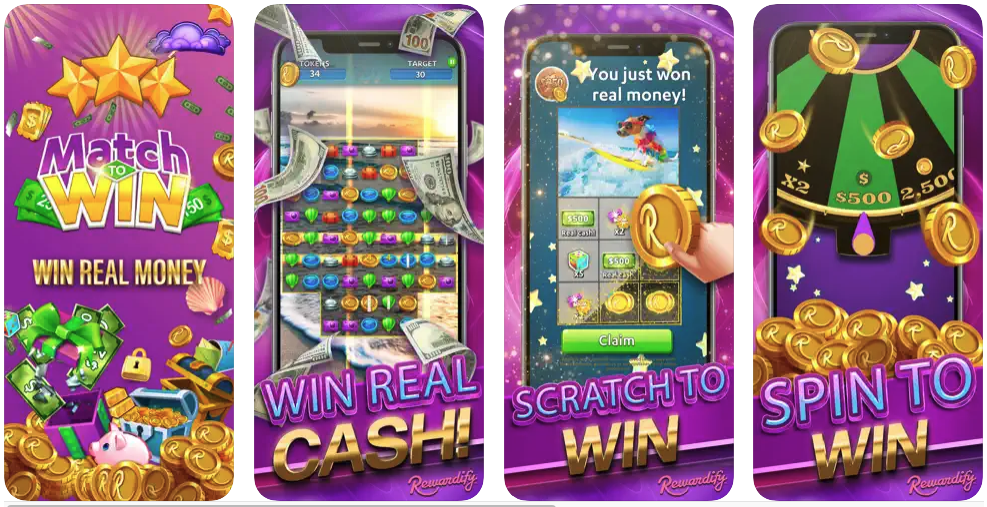 Match To Win is a captivating match-three puzzle game that offers a chance to win real money. It's one of those exciting real money earning games PayPal users love to play!
Players need to match colorful symbols in a grid to score points and collect tokens. These tokens can be redeemed for cash prizes, gift cards, and more, making it a fantastic option for those looking to earn real money through gaming.
With its vibrant graphics and addictive gameplay, Match To Win provides endless entertainment while giving you the opportunity to win big.
So, if you're searching for real money earning games PayPal, look no further than Match To Win.
What Are Other Apps That Pay You Money?
The above games that pay real money are legit cash paying games. You'll want to stay away from other apps that we haven't reviewed because we did our extensive due diligence.
However, the apps below are some of my favorite money-making apps. They don't necessarily pay you for playing games — but they are still legitimate ways to make money from your phone.
You can get quick cash through apps that pay instantly through Cash App, PayPal or bank transfer:
What Game Apps Pay You The Most?
There are several game apps that can pay you real money and real cash prizes for playing them. However, the amount you can earn can vary depending on the app and how much time you spend playing.
That being said, some of our favorite games to use to win real money:
KashKick – Earn free money at home or on the go. KashKick pays you for playing games, taking surveys, and more!
Solitaire Cash – Earning money by playing games on your phone sounds like a dream. But this app really lets you play solitaire for money.
Bingo Cash – Here you're paired to play in head-to-head bingo games against real people and whoever plays the fastest, wins real cash. You won't get rich, but earning $50+ per win can add up quickly.
Recap of Best Game Apps to Win Real Money
We are on our phones a lot, right? Wouldn't it make sense to make money and have fun with your phone and win real money through apps?
From game apps that offer real cash prizes to those that offer cash rewards for completing certain in-game tasks, there are plenty of options for those looking to earn a little extra cash.
However, it's important to remember that earning money through these apps typically won't be a significant source of income, and users should be cautious of any app that promises otherwise.
Additionally, it's essential to read the terms and conditions of each app carefully and to only use legitimate apps from reputable developers to ensure a safe and enjoyable experience.
Hope you were able to find an app that's right for you.
Good luck on your money-making journey. Next, you can check out ways to get free money… there are only 12 steps to collect $1,000+ in instant sign up bonuses from these companies.
FAQs
Earn up to $100 today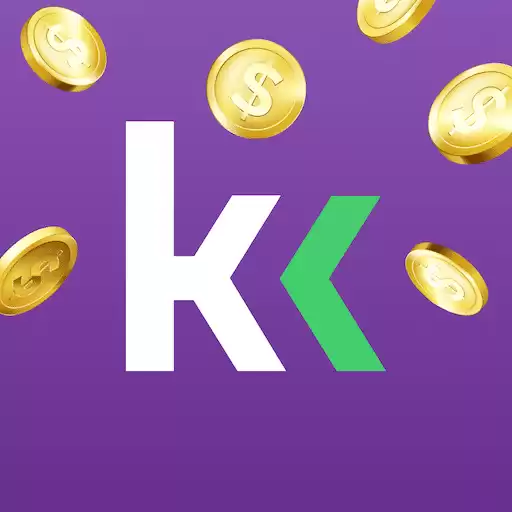 KashKick
Trusted by 2M+ users like you
This site pays you cash to play mobile games, save money, take surveys, and see offers — make $100 today. Over 2 million users agree that KashKick is a fresh and lucrative way to earn money and get paid directly to your PayPal!
SIGN UP & START EARNING NOW