Oh my word. You're going to love this list of the best brokerage bonuses that allow you to sign up for money and bonuses.
Just take a look at the list and see which ones interest you and you'll receive a free sign-up bonus ($50, $100, $5,000, $1,000, and even up to $10,000 in free money) when you complete qualifying activities or requirements.
Best Brokerage Account Bonuses
Learn how to get free money for signing up for these brokers with a bonus. Your wallet will thank me later.
Moomoo Promo Link – You could get up to 15 free shares of stock, each valued at $3-$2,000.
Moomoo is a free online investing app that enables users to make zero-commission stock trades and also provides them with many innovative research and technical tools.
Moomoo also offers a referral program, where if you sign up you can get up to 16 free stocks valued up to $2,000 each:
Sign up for a Moomoo account through a promo link.
Deposit $100 to get a chance to win a free stock worth between $3 and $2,000. Keep an average balance of $100 for 60 days to unlock the stocks.
Deposit $1,000 for more chances to win free stocks. Maintain an average balance of $1,000 for 60 days to unlock them.
Deposit $5,000 to receive a bonus share of either $TSLA or $GOOG. Keep an average balance of $5,000 for 60 days to unlock the stock.
Although selling your shares or cashing out is allowed at any time without fees or penalties, you must first keep the deposited bonus amount for 60 days.
In addition to stock trades, Moomoo allows users to trade options and ETFs with no commission fees.
3. Robinhood – Free Investing App – Free Stock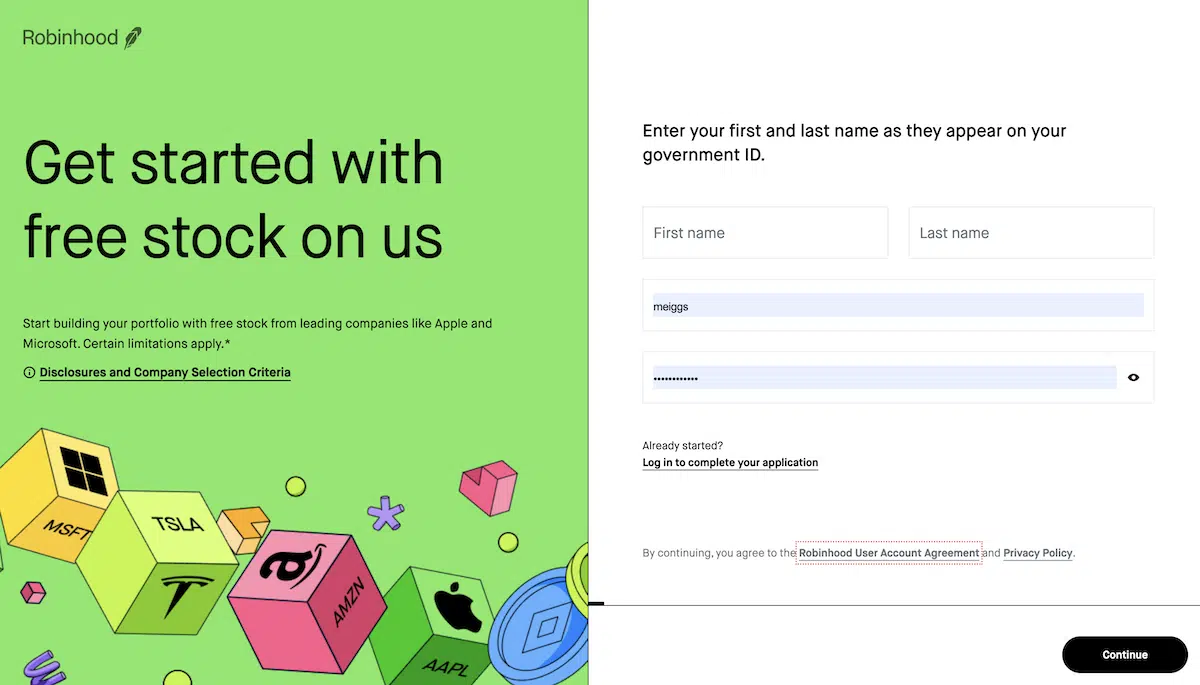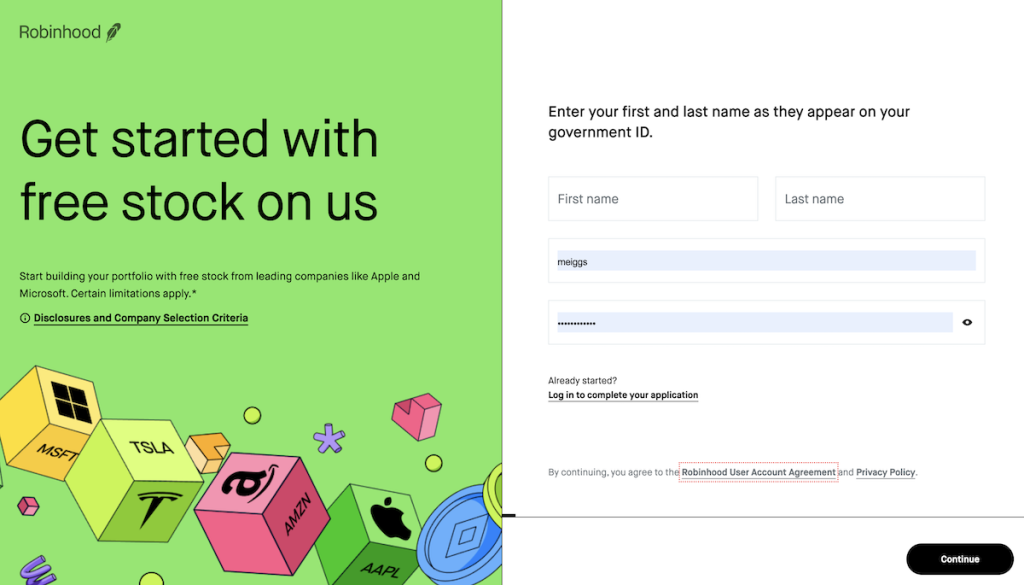 Robinhood Bonus Link – Get a Free Stock (worth between $5 and $200) after you submit your application.
Robinhood offers free investing for everyone with commission-free investing, plus the tools you need to put your money in motion. Sign up and get your first stock for free worth up to $200.
And more free stock (up to a $200 value) every time one of your friends opens a Robinhood account from your promotional link. That's up to $1,000 in free stock every year.
If you join through this link, you'll earn a specified dollar amount and be able to pick your gift stock from a list of 18 of America's leading companies.
The value of the fractional share may be anywhere between $5.00 and $200 and fluctuates based on market movements.
4. Titan Invest – Robo Advisor – $10 Bonus
Titan Bonus Link – This investing app lets you invest like a hedge fund and you can get $10 deposited into your account after investing $100.
Titan is one of the best robo advisers that offer a hedge-fund-like experience without investing in a hedge fund. Right now, you can sign up and get $10 deposited into your account after you investing at least $100.
This app focuses on giving you more control over your investments. You can choose from a wide range of investments including stocks, bonds, and ETFs. You can also set up automatic investing so that your money is invested smartly, by experts, for you.
Sign up and get $10 deposited into your account after you invest through this link.
5. Axos – Investing – $250 Bonus [Expired]
Axos Promo Link – Open an Axos Invest account, fund it with $2,000, make your first two trades, and earn $250 within 10 days.
With consumers self-directing their stock buying now more than ever, several large banks are looking to adapt and offer these services.
Given this, Axos is enhancing its investment platform: Axos Self-Directed. With this service, users can enjoy commission-free trades.
It competes with Chase, Charles Schwab, Fidelity, and TD Ameritrade, as well as online brokerages such as Robinhood.
Once your account is open, you've got 60 days to deposit as little as $2,000 and you must complete at least two trades.
The $250 bonus will be deposited into your account within 10 days following the 90-day waiting period.
Best Crypto Bonus Offers And Promotions
Another way to score free cash is through cryptocurrency bonuses. Some crypto exchanges are offering cash bonuses as a way to get customers to start using their services.
This is a great way to get started in the world of cryptocurrency without having to put any money down.
6. eToro – Crypto – $10 Bonus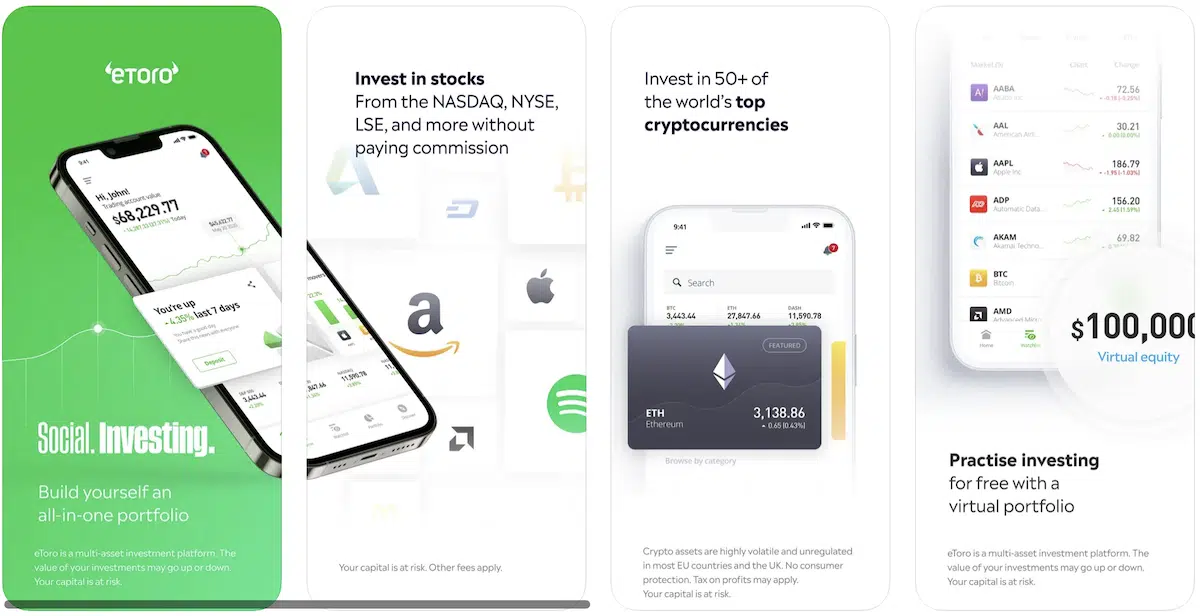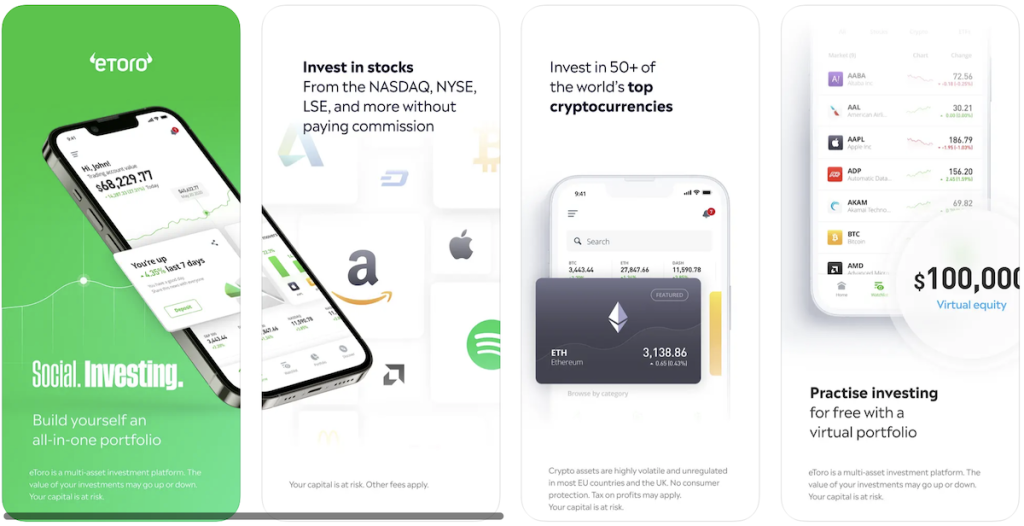 eToro Bonus Link – Buy $100 worth of crypto and get a bonus $10!
eToro allows you to create a diversified portfolio without paying any markup, ticketing or management fees. By doing so, you can build a diversified portfolio with over two dozen popular coins — or simply copy eToro's most popular crypto investors.
For a limited time, you can get $10 when you invest in $100 worth of crypto on eToro. Here's how:
Deposit funds
Invest in $100 worth of crypto
You'll automatically receive $10 directly to your account balance.
eToro USA LLC; Investments are subject to market risk, including the possible loss of principal. "Virtual currencies are highly volatile. Your capital is at risk.
Real Estate Bonuses
Many real estate investing apps are competing for your money, and one way they do so is by offering app bonuses that you can add to your account.
It's important to know the best offers so that you can decide whether it's a good time to open an account and take advantage of what is often risk-free cash.
7. Fundrise – Real Estate Investing – $25 Bonus
Fundrise Bonus Link – Sign up for Fundrise and start investing in real estate and get $10 in shares.
Fundrise is the first real estate investing app to create a simple, low-cost way for anyone to invest in real estate for solid returns. There is a reason why they have a 4.8/5.0 rating with over 20K positive reviews on the App Store — you can really make money.
Fundrise gives you a $25 bonus upon account approval. Testing this offer, I received $10 worth of shares instantly through this link after opening account and investing as little as $10. If you're interested, I recommend you sign up for more information from Fundrise by clicking here.
Best Stock Broker Promotions, Deals, & Bonuses
If you are looking for new investment opportunities or options, check out our most updated list of stock broker promotions, bonuses, and deals such as TD Ameritrade, E*Trade, Schwab, Merrill Edge, Fidelity, Capital One Investing, Motif, and many more.
We listed out all the cash bonuses, points & miles promotions, free commission trade deals, and many more. You will find all the terms and conditions with the latest update on the web.
Best Stock Broker Promotions, Deals, & Bonuses
There are several companies out there that will give you free money to invest in stocks or are currently offering stock broker promotions:
| Broker | Bonus | Terms | Expiration |
| --- | --- | --- | --- |
| Acorns | Free $20 Bonus | Create account and set up recurring investments | None |
| Betterment | Up to 12 Months Managed Free | $500K+ Deposit | None |
| Charles Schwab | Up To $1,000 | $1k+ Deposit | None |
| Charles Schwab | 500 Commission-Free Trades | $100k+ Deposit | None |
| ChoiceTrade | $5 base rate plus $0.15 per contact | No Minimum initial deposit | None |
| Coinbase | Up to $400 in free crypto | Use Coinbase Learn | None |
| Citibank | Up to $5,000 | $50K + Deposit | 12/31/2021 |
| E*Trade | Get $600 | Open account with qualifying deposit | None |
| Firstrade | $200 Transfer fee rebates | Account Transfer of $2,500 or more | None |
| Fundrise | $25 in Shares | $10 Minimum | None |
| Future Advisor | Free Service Sign Up | Many services are free to use. Premium service management fee is 0.50% | None |
| Groundfloor | $20 Toward First Investment | $10 Deposit | None |
| Public | $20 + Up to $500 | Fund w/ $10 for 30 days | None |
| MooMoo | Up to $3,350 | $100 Deposit | None |
| Robinhood | Free Share of Stock for New Users (Up to $225) | No Minimum | None |
| SogoTrade | 100 Free Trades & $100 Transfer Fee Reimbursement | $500+ Deposit for free trades. Transfer $10K+ for $100 Reimbursement. | None |
| SoFi Invest | $1,000 in free stocks | $1,000 Deposit | None |
| Tastyworks | 100 Shares Worth $1-$6 | $2,000 Deposit | 09/30/2021 |
| TD Ameritrade | $0 Commissions | N/A | None |
| TD Ameritrade IRA | $0 Commissions | N/A | None |
| TradeStation Crypto | $10 in BTC | Sign up | None |
| UNest | Matching Bonus with $25 initial deposit ($25 bonus) | $25 Deposit | None |
| Wealthfront | Get $25 bonus | Use the referral invitation link | None |
| Webull | Up to $1,600 | $100 Deposit | None |
| Yieldstreet | $50-$500 Bonus | $1K-$10K Deposit | None Listed |
| Zacks Trade | Low Margin Rates | $2,000 Deposit | None |
How does a bonus for opening a brokerage account work?
When you open a brokerage account, you may be eligible for a bonus. This bonus is typically awarded based on the amount of money you deposit into the account.
Some companies, like Robinhood and Webull, provide a one-time stock or deposit bonus. There are two types of bonuses that firms can offer: cash or stock. In order to qualify for the bonus, investors must keep their funds in the account for a specified period of time.
On the other hand, you may receive a bonus for opening an IRA account or by using a IRA rollover bonus. The bonus may be in the form of cash or in the form of free trades. The brokerage will typically have minimum requirements that must be met in order to qualify for the bonus.
For example, you may need to maintain a minimum balance in your account or make a certain number of trades per month. Be sure to read the fine print in order to understand the requirements and conditions of the bonus.
How to pick the best broker bonuses
Now that you know a little more about broker bonuses, let's discuss how to pick the best one.
There are a few things you should consider when evaluating broker bonuses. First, you need to decide what type of bonus is right for you. Do you want cash or free stocks?
Second, you need to make sure you understand the requirements and conditions of the bonus. Be sure to read the fine print so that you know how to qualify for the bonus and what you need to do to keep it.
Last, consider the overall value of the bonus. A bigger bonus isn't always better. You also need to look at things like account fees and the quality of the platform. A smaller bonus with a better overall value may be the better choice.
Bonus offers can vary greatly from one broker to another. By considering the factors above, you can be sure to pick the best bonus for your needs.
How should you use the brokerage bonus earned?
Once you've earned a brokerage bonus, it's up to you to decide how to use it.
Some people like to use the bonus to buy stocks or invest in mutual funds. Others may use the bonus to cover the costs of trading commissions. And still, others may simply withdraw the money and use it for other purposes.
It's up to you to decide how to use the bonus. Just be sure to consider the requirements and conditions of the bonus before making any decisions.
Why should you open a new brokerage account?
Let's face it. Interest rates on standard savings accounts are basically zero (less than 3%), so with inflation at 8.26% the value of your money declines in real terms which means you are actually losing money over the long term by leaving it in your personal savings account.
While it is important to make sure that you have access to cash when needed to pay for unforeseen expenses, you probably don't want to leave more than 3-6 months of living expenses in your personal savings account at one time.
That means that you need to find a way to invest your newly acquired savings.
Hooray for investing!
Life coach, author, and investing guru Tony Robbins has stated that the 3 most important investing steps everyone should take are:
Make use of compounding interest as early as possible
Diversify your investments
Automate your investments
So how can you get started?
When should you start investing?
It's a common misconception that when people hear about investing they believe that they need "wealth" in order to invest when actually the opposite is true.
You don't need millions of dollars or even tens of thousands of dollars in order to begin investing in your future.
The best time to start investing is when you are just starting out with modest savings. The reason for this is the magic of compound interest.
Compound interest is when you earn money on a deposit (a percentage that varies depending on the type of account), and then you earn more interest on that interest from the initial deposit, and then this process keeps continuing for 10, 20 or 30 years until your money has greatly increased in value!
Example of Compound Interest:
You invest $1,000 as an initial deposit into an account that pays a 6% interest rate (slightly lower than the average of the stock market), and then you deposit $300/month (About 10% of $50k/year salary). After 10 years you would have $50k, then $141k after 20 years and $307k after 30 years. And this is even without increasing your savings relative to your rising salary!
The best part is that you can start doing this right now with investment options available to the average person.
"SO YOU'RE TELLING ME THAT THERE IS AN ACCOUNT OUT THERE THAT WILL ALLOW ME TO GROW MY MONEY THAT MUCH?"
And my answer to this question is YES.
And the best part is that you don't have to buy expensive blue-chip stocks (Apple, Amazon, Google, etc.), a life insurance policy, or an expensive rental property to generate this extra income.
All you have to do is deposit your extra savings each month and be patient as time is your best friend.
When you only small deposits from your savings each month, over a 10, 20 or 30 year period you can grow your savings into multiple six figures.
Should iI buy stocks now amid such uncertainty?
The best way to do this is to get into the stock or bond market early in your life and keep your money there over the long term.
Some people might think that there are secrets to timing the stock market, or they are worried about recessions or market downturns, but the single most important factor to growing your savings is getting into the market early and keeping your money there over the long term.
A great way this can be done by the average investor is through index funds. An index fund is designed to track a specific group of investments, often stock or bond markets as a whole, and therefore is less dependent on an individual company, which decreases your risk and diversifies your money.
So if the U.S. stock market overall experiences 7% growth per year over a 10 year period, then it is likely that an index fund tracking the U.S. stock market would experience the same growth.
Note:
Note: Index funds are a specific type of mutual fund, and all mutual funds are NOT the same.
Investing shouldn't be expensive or complicated as it's so important to start early in order to maximize the value of compound interest.
There are plenty of useful investing guides right here on My Millennial Guide, free to use to dive more into the topic of how to start investing in the stock market or you can take a peek at the best stock research apps to stay informed.
Hopefully, you have learned a bit about investing and have gained the confidence to get out there and begin investing for yourself with a stock broker promotion or not!