Refinancing any loan can help you in several ways, whether it's for a house or a car. If your financial situation has improved since you qualified for your auto loan, it might be time to consider refinancing your auto loan.
Finding the right lender to work with that can also give you the best rates can be a difficult task. After all, if you've built up your credit, you probably don't want to hit it with a couple of hard pulls trying to find a better interest rate.
TransUnion, one of the three main credit bureaus, reported that the average monthly savings from refinancing an auto loan total $55. What could you do with an extra $55 in your pocket each month?
In addition to saving money on your monthly premium, there are several other perks to refinancing your auto loan. All it takes is finding a lender you want to work with.
Are you ready to find out who the best auto refinance lenders are? Let's get started!
How Does Refinancing a Car Loan Work
When you qualified for your current car loan, you likely submitted your credit to a dealership or third party and were given an offer based on your creditworthiness. The same concept applies to refinancing a car loan, just without all the waiting around in the dealership lounge.
Car refinancing loans are a specific type of loan where another lender evaluates your creditworthiness, the details of the vehicle you own, and the current balance on your auto loan. Taking these factors into account, they work to offer you better terms, whether it's a lower monthly payment, a lower interest rate, or a longer or shorter loan term.
Should you qualify for this newly refinanced auto loan, your new lender will buy out the loan from your previous lender and take it over based on the terms you agreed to. While there are some cases where you can use the same lender and renegotiate the terms of your loan, this isn't often the case.
Refinancing auto loans has similar benefits to refinancing student loans, car title loans, or any other type of loan for that matter. Unlike personal loans meant to build credit, refinanced auto loans can help you get right-side up on your auto loan so you don't owe more than the car is worth.
In some states, you may need to re-register your car if you switch lenders. Contact your local Department of Motor Vehicles (DMV) for more information.
Cash-Out Refinancing
As you peruse terms from the best auto refinance lenders below, you'll come across something called "cash-out refinancing." All this fancy term means is that the lender recognizes your car is worth more than you owe on it.
Lenders are in the business of making money from interest payments, and you can't have interest without a loan. If your car is worth more than the balance you owe, lenders use cash-out refinancing to give you a larger loan with lower interest rates because your car's value is the collateral.
Most lenders will spin this cash-out refinancing as a great way to pay off your auto loan and pocket the difference. However, the "profit" you received in addition to what you owed on your auto loan is still a loan and still brings with it interest payments.
Savvy borrowers could take this opportunity to leverage their vehicle as collateral to obtain a loan at a lower rate, perhaps to pay off credit card debt. However, it can be a gamble based on the current automotive market conditions, depending on what kind of vehicle you own.
Why You Should Refinance Your Auto Loan
With so much to consider, it can be difficult to know why it's a good idea to refinance and when you should stick with what you know. Here are a few reasons why it's a good idea to refinance your auto loan:
You want to lower your monthly rates (because you can't afford them)
Your credit score has improved
You want to get a better interest rate to pay less interest
Interest rates have dropped since you qualified for the first auto loan
You want shorter terms to pay off your auto loan faster with fewer interest payments
You want more agreeable terms in general
Rising interest rates can make it harder to figure out how to improve your credit score to get a better rate for your auto loan. However, if your score falls into one of the higher credit score ranges, you're still more likely to obtain better terms based on your credit history.
9 Best Auto Refinance Lenders
When it comes to refinancing auto loans, it pays to work smarter, not harder. Make a short list of the best auto refinance lenders below to see what terms you can qualify for to avoid hours of research and comparison.
1. Upstart: Best Overall 
We chose Upstart as the best auto refinance lender overall for the complete package it offers borrowers. Upstart works with a network of lenders to offer you the best rates given your situation.
Applying for refinancing through Upstart couldn't be easier. The online application takes just a few minutes and Upstart only does a soft credit check to give you the most accurate interest rates.
There's no loan origination fee, application fee, prepayment penalties, or downpayment required for an auto refinance loan from Upstart. Plus, customer service is available on Saturdays, and the website has a Spanish version you can access as well.
The best part is that Upstart considers not only your credit, income, and outstanding auto loan balance, but your education and employment status as well. As long as you have a credit score over 510 and a minimum adjusted gross income of $12,000, you shouldn't have many issues qualifying.
Upstart offers interest rates from 4.49% to 16.19%, with terms ranging from 24 to 84 months for loans of at least $9,000. Your vehicle cannot be older than 12 years, have more than 140,000 miles, or exceed the 185% LTV ratio.
Once you prequalify, Upstart will work with its network to offer you the best auto refinance loan terms. You'll have 14 days to accept or decline the offer and if you accept, Upstart will take about two weeks to do a hard credit check and verify the rest of your application details.
Should everything check out, Upstart will start transferring the title, which takes about 30-60 days. Unfortunately, Upstart does not offer cash-out refinancing or co-signers and is not available in some states.
You can check your rate with Upstart here
Best overall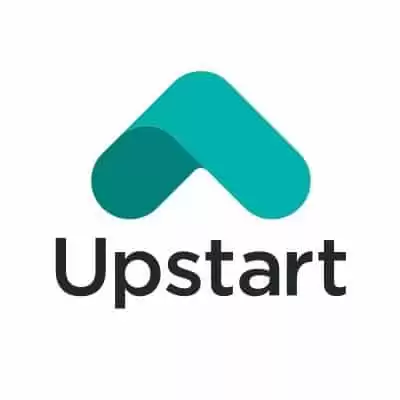 Upstart
Loan amount: $5,000-$60,000
Upstart offers auto loan refinancing, doesn't require a minimum credit history, and matches you to the best lender with multiple offers. Best for applicants who would benefit from a more holistic view of their creditworthiness, including criteria like highest level of education and occupation.
Check Your Rate
Auto refinance loans through Upgrade feature Annual Percentage Rates (APRs) of 4.49%-16.19%. Lowest rates require Autopay. The APR on your loan may be higher or lower and your loan offers may not have multiple term lengths available. Actual rate depends on credit score, credit usage history, loan term, and other factors. Late payments or subsequent charges and fees may increase the cost of your fixed rate loan. There is no fee or penalty for repaying a loan early. Eligible vehicles must be 10 years old or newer and have less than 130,000 miles (or less than 150,000 for trucks).
2. LightStream: Best Same-Day Funding
LightStream is one of the nation's premier online consumer lender where it is possible to get same-day funding for your refinanced auto loan. LightStream excels with strong customer service available on the weekend (on Saturdays) and a fast online application with no origination fee. 
It's simple to refinance your auto loan with LightStream. Plus, you can use a joint-application in order to qualify to improve your chances of being approved.
LightStream includes a 0.5% APR discount for signing up for autopay. The minimum loan amount is $5,000 but you can't refinance an existing LightStream auto loan. As one of the lending department of Truist Bank, LightStream offers favorable terms of with no vehicle restrictions or downpayments required. You'll receive your loan funds via direct deposit.
You can check your rate with LightStream here
3. Bank of America: Best Big Bank Lender
If you're looking to work with one of the largest banks in the U.S., Bank of America offers favorable terms with plenty of options to choose from. It's also available nationwide and offers several promotions throughout the year for its members.
Bank of America works with borrowers from all credit score ranges to offer transparent rates starting at 5.99% for terms of 48-72 months. Your vehicle cannot be valued at less than $6,000, must have fewer than 125,000 miles, and be less than 10 years old.
You can easily apply online, visit a branch, or speak to a representative over the phone. If you have an existing loan through Bank of America, you can resubmit your credit report for a lower interest rate.
Bank of America finances loans above $7,500 ($8,000 in Minnesota) and offers Preferred Rewards customers a 0.5% APR discount. Once you're approved for a refinance loan, Bank of America will work directly with your original lender to transfer the title.
4. OpenRoad Lending: Best Interest Rates 
If it's low interest rates you're looking for, OpenRoad Lending takes first place. With rates starting at 2.9% for well-qualified candidates, this auto refinance lender beats out the competition.
Taking out a loan with OpenRoad Lending requires a credit score above 500 and a vehicle that is newer than eight years old, has less than 140,000 miles, is still in production, is not a motorcycle, and is not a commercial or recreational vehicle. To qualify as a borrower, you need to have a gross monthly income of at least $1,500 but you can't be self-employed.
Apply completely online or over the phone and you'll have a decision in about five minutes or less. You may pay an origination fee of up to $199 and your social security number is required to do a hard credit pull.
OpenRoad Lending offers loan terms of up to 72 months. Cash-back refinancing is possible if your vehicle qualifies but the minimum refinance amount is $7,500.  
5. Digital Federal Credit Union: Best For Discounts
Like any other credit union, Digital Federal Credit Union (DFCU) requires its members to join once they are approved and accept their new refinance terms. However, you can discount your interest rate by up to 0.75% if you sign up for direct deposits and autopay with a DFCU checking account and if you own an energy-efficient vehicle.
DFCU interest rates start at 5.24% for those with an excellent credit score, but that doesn't mean you have to have an 800 to qualify. DFCU auto refinance loans are available nationwide and offer loan terms of 36 to 84 months, though a short term of six months is also available.
Accept a refinanced auto loan from DFCU and you'll receive your check within two or three business days. You also don't have to make a payment for the first 60 days of your new loan term.
DFCU also offers a 5% (or more) interest savings account you can take advantage of as well to increase your savings. See what DFCU can offer you by refinancing your auto loan.
We've highlighted Navy Federal Credit Union (NFCU) in the past for its superior debt consolidation program, and the auto refinance loan terms it offers are on par. NFCU auto refinance loans are available nationwide to members of the military, Department of Defense, and National Guard.
Refinance loans from NFCU start at $5,000 and have no maximum. You'll be able to choose between 12-96 month loan terms at 4.54% APR. However, you will have to join the credit union (if you're eligible) once you're approved.
With that said, NFCU will pay you up to $200 if you refinance from another lender. If you're looking to get a better rate and get paid for your trouble, NFCU is the best auto refinance lender to work with.
NFCU typically funds your loan within a week. There are no discounts for setting up autopay and you will be charged late fees for any late payments.
7. Alliant Credit Union: Best Lender with No Vehicle Restrictions
Both Alliant Credit Union and LightStream say anything goes when it comes to refinancing a vehicle, but with Alliant, you can get a 0.5% APR discount if you use the Alliant Car Buying service. Plus, you'll get same-day approval through the online application without worrying about a prepayment penalty. 
Interest rates at Alliant start at 6.12%, with loan terms of up to 84 months. Alliant will do a hard pull on your credit, but you can opt for cash-out refinancing without a maximum amount if your car qualifies.
Membership is required should you accept Alliant Credit Union's auto refinance loan terms. You can also use their free car loan calculator to build your ideal car loan.
8. LendingClub: Best Fee-Free Lender
LendingClub does not charge an origination fee and even lets you choose your loan payment due date. You can access interest rates of 3.99% to 24.99% with a minimum credit score of 660.
Vehicle restrictions require a car less than 10 years old, with fewer than 120,000 miles, and at least 24 months of payments left. The car must also be for personal use only and you cannot borrow more than 165% of the LTV ratio.
LendingClub lets you prequalify with a soft credit check, for loan amounts ranging from $4,000 to $55,000. Auto refinance loans from this lender are not available in several states, so be sure to check the fine print before you begin your application.
LendingClub offers fast funding without a minimum adjusted gross income requirement. Check out our LendingClub review to learn more about how you can tackle your finances with this particular lender.
9. PenFed Credit Union: Best Credit Union Lender
We've covered quite a few credit unions and banks so far, but with PenFed Credit Union, you'll have a chance at a wide range of auto refinance options, with rates starting at 5.24%. Loan terms fall anywhere between 36 and 84 months with loan amounts beginning at $500 and capping out at $500,000.
With PenFed, the longer your loan term length is, the higher the minimum loan amount and interest rate will be. Thus, it pays to choose shorter terms if possible.
Apply online to see what rate PenFed Credit Union can offer you. If you own a 2021 model or newer, you have the chance at a 4.44% APR for a 36-month loan of up to $150,000.
You can borrow up to 125% of the vehicle's value but you'll need to join the credit union to qualify. PenFed also requires that you open a share or savings account with at least $5.
PenFed Credit Union auto refinance loans are available nationwide.
What to Look For in an Auto Refinance Lender
The same tips on comparing auto loans apply to auto refinance lenders. Here are a few characteristics you should look for in a lender who can help you save on car expenses:
Vehicle restrictions: Lenders will require vehicles to be of a certain age, have a specific mileage, and be driven for personal use.
Credit score requirements: Some lenders are shy about giving away what their minimum credit score is for refinancing auto loans. Many advertise that they work with poor credit scores, though how low depends on the individual lender.
Credit check: The best auto refinance lenders do a soft credit pull to give you interest rate offers before submitting a final hard check to solidify your rate.
Interest rates: Auto refinance lenders either give a range of interest rates or advertise that they begin at a specific amount for those customers with excellent credit.
Loan amounts: The majority of auto refinance lenders specify the minimum and maximum loan amounts they offer.
Loan repayment terms: Auto refinance loan terms vary from one lender to the next but often range from 24 months (2 years) to upwards of 84 months (7 years).
You'll also come across the term "loan-to-value ratio" or LTV ratio. This ratio compares the loan amount to how much the vehicle is worth.
If you're upside-down on your loan (owe more than the car's worth), you'll need to find a lender that offers an LTV ratio over 100%. If the opposite is true, you may be eligible for cash-out refinancing.
With an auto refinance lender, you're not asking, "How much should I spend on a car?" or "How can I save money on car insurance?" Instead, it's about how you can renegotiate to get better terms that play nicely with your budget and financial plans.
FAQs
When should I refinance my auto loan? 
You should refinance your auto loan if your credit score has improved, if interest rates have dropped, or if you're having trouble paying your current monthly payment. If your credit score is worse or you've taken on more debt, it's probably not a good time to refinance. 
Does it cost anything to refinance an auto loan?
Many of the best auto refinance lenders do not charge an application fee. However, you may also be subject to paying prepayment penalties, late fees, and title transfer fees, depending on what terms the lender offers. 
Which are the best auto refinance lenders to work with? 
The best auto refinance lenders to work with are those that offer you the best terms. For example, Upstart doesn't charge an application fee or require a downpayment, but you can use their fully online application to prequalify with a soft credit check. 
Get on Better Terms with the Best Auto Refinance Lenders
Owning a car brings with it a ton of expenses, including paying your auto loan each month. If you're looking to refinance your auto loan with the best lenders, there are plenty of worthy candidates to choose from.
We hope this article has helped you to see that the best auto refinance lenders can be easy to work with, offer favorable terms, and help you take control of your auto loan and your finances. Sometimes all you need is a second chance.
Our Pick: Albert