"Get quick and easy cash… Whatever you would like it for, get cash online right away! Just fill in your personal details and get the loan application started now!"
Sounds familiar? If you require fast cash and nobody around has a money tree to help you at that moment of desperate need, it is obvious to look around on Google and get hundreds of such results for your search.
If you are thinking "I need cash now" then there are only two ways to get money: use a cash advance app or cash-in your belongings to make fast funds.
8 Options for Those "Uh-Oh, I Need Money Now!" Moments
Whether you need to make an extra 500 a month or looking for quick cash now — you have some options.
1. Use fee-free cash advance apps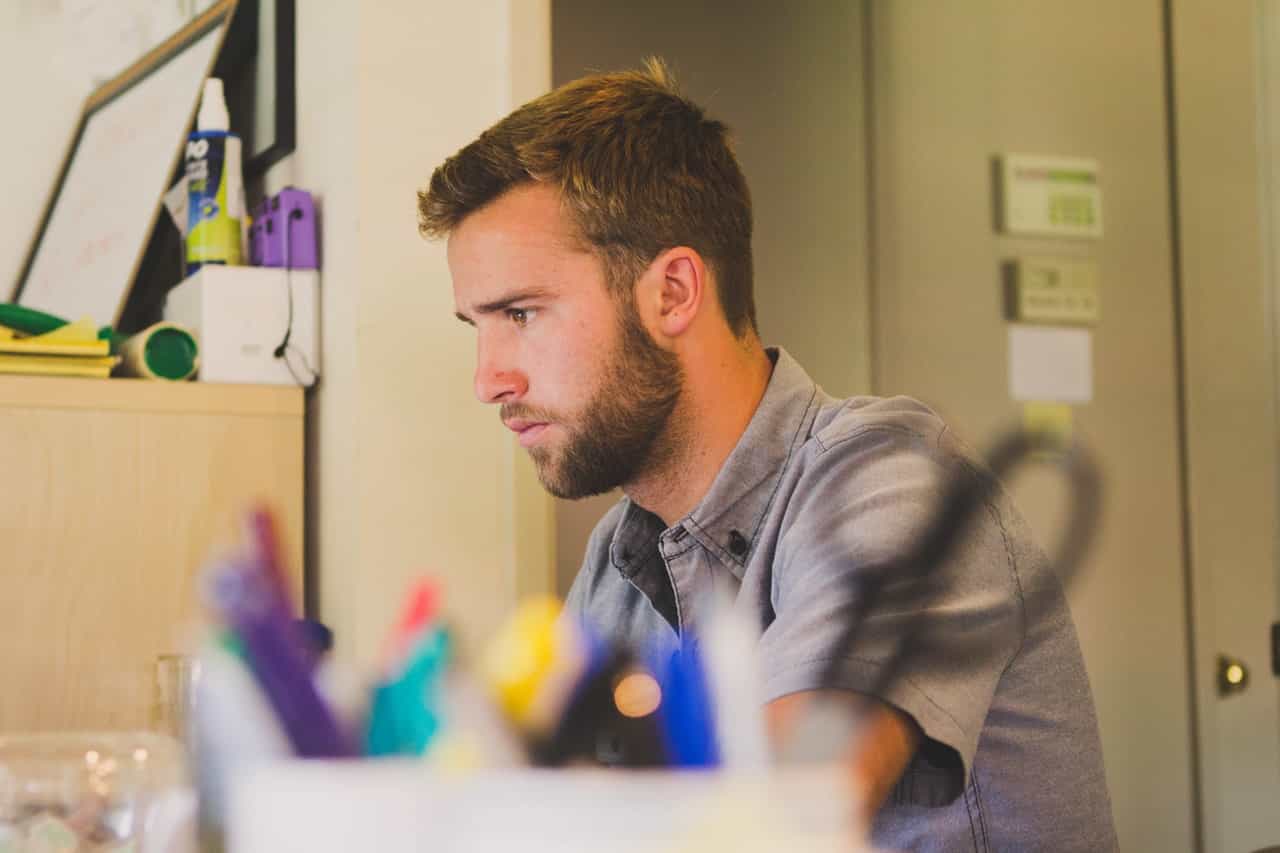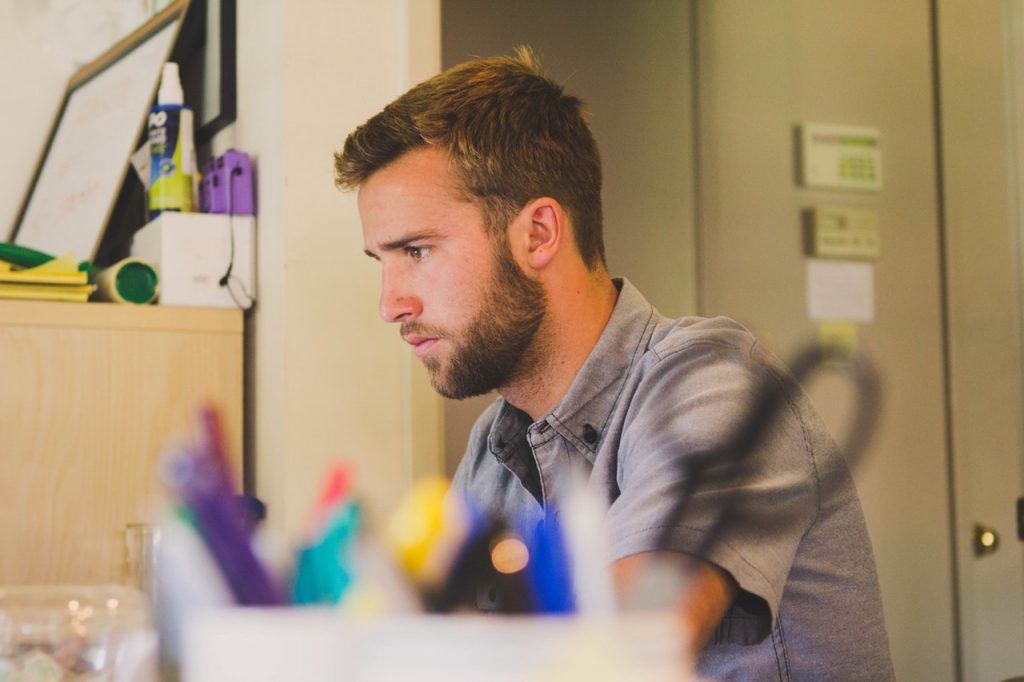 Cash advances on credit cards can be taxing. In order to avoid hefty credit card fees try the online cash advance options through cash advance apps. The best part of this option is that there is no hard copy paperwork or fax required as you can apply using a simple payday loan app.
Many times payday loans are confused with cash advance loans but payday loans are typically repaid on your next paycheck which is not true for a cash advance. Also, there is no obligation to accept any term that you find difficult to handle. All your queries will be taken care of and explained in a simple language. Soft credit checks and paybacks in a matter of weeks instead of months are typically attractive.
Here are the best payday loan apps that we've reviewed:
Our Pick: Get a $150 Welcome Bonus
Chime: Best Overall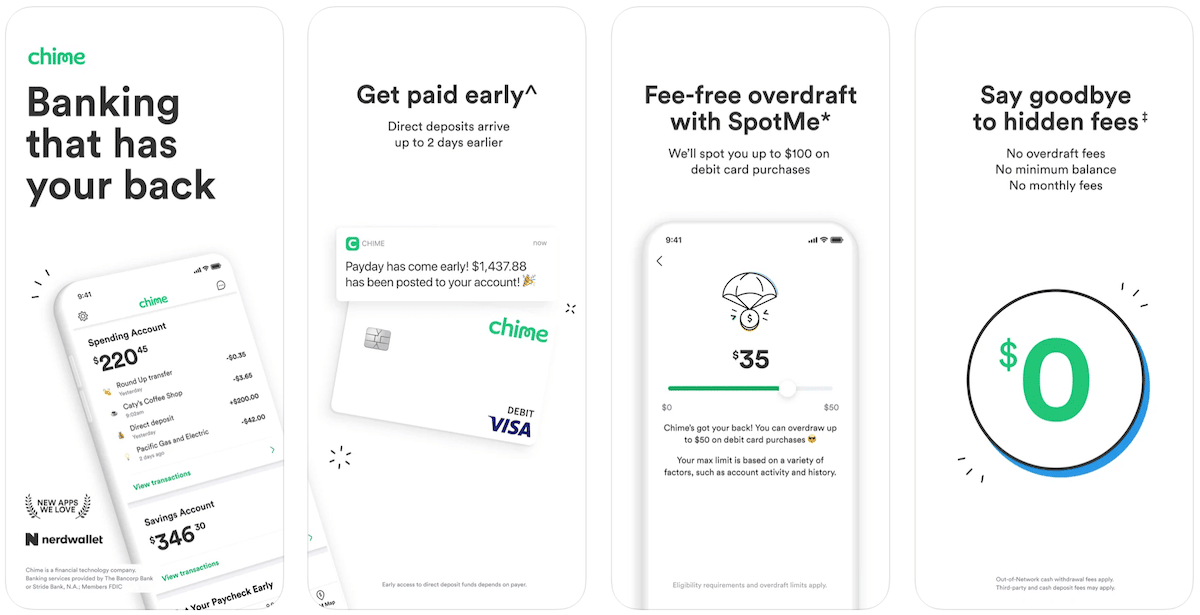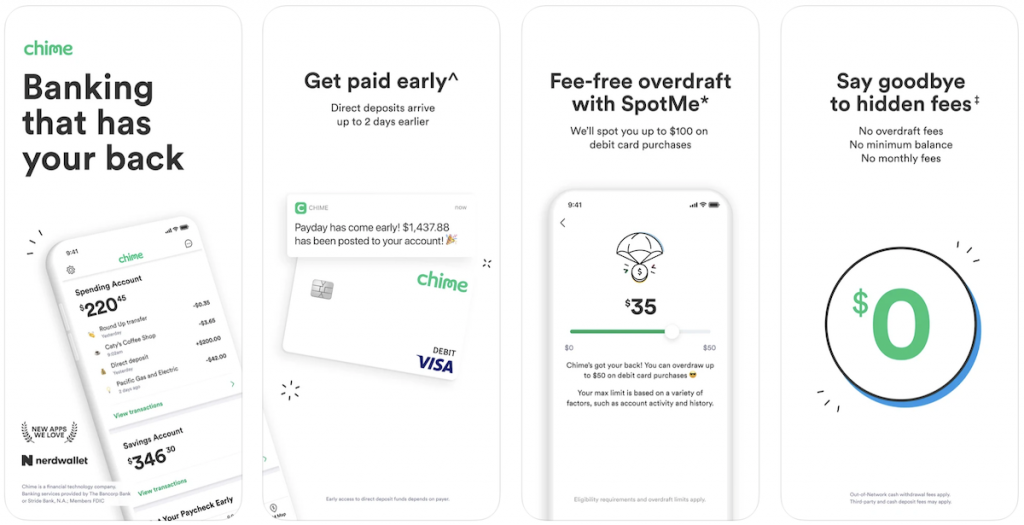 Chime is one of the best checking accounts we've reviewed and also offers up to $200 on debit card purchases with no overdraft fees.
If you set up a Chime account with direct deposit through them — you can get early access to your paycheck, up to 2 days earlier than some of your co-workers!
Plus, they don't charge any overdraft fees, no foreign transaction fees, no minimum balance fees, or no monthly fees at all.
Top that off with 60,000+ fee-free ATMs at stores you love, like Walgreens, CVS, and 7-Eleven.
This is the best app to get $200 spotted to you at any time. It's that simple.
Get up to $200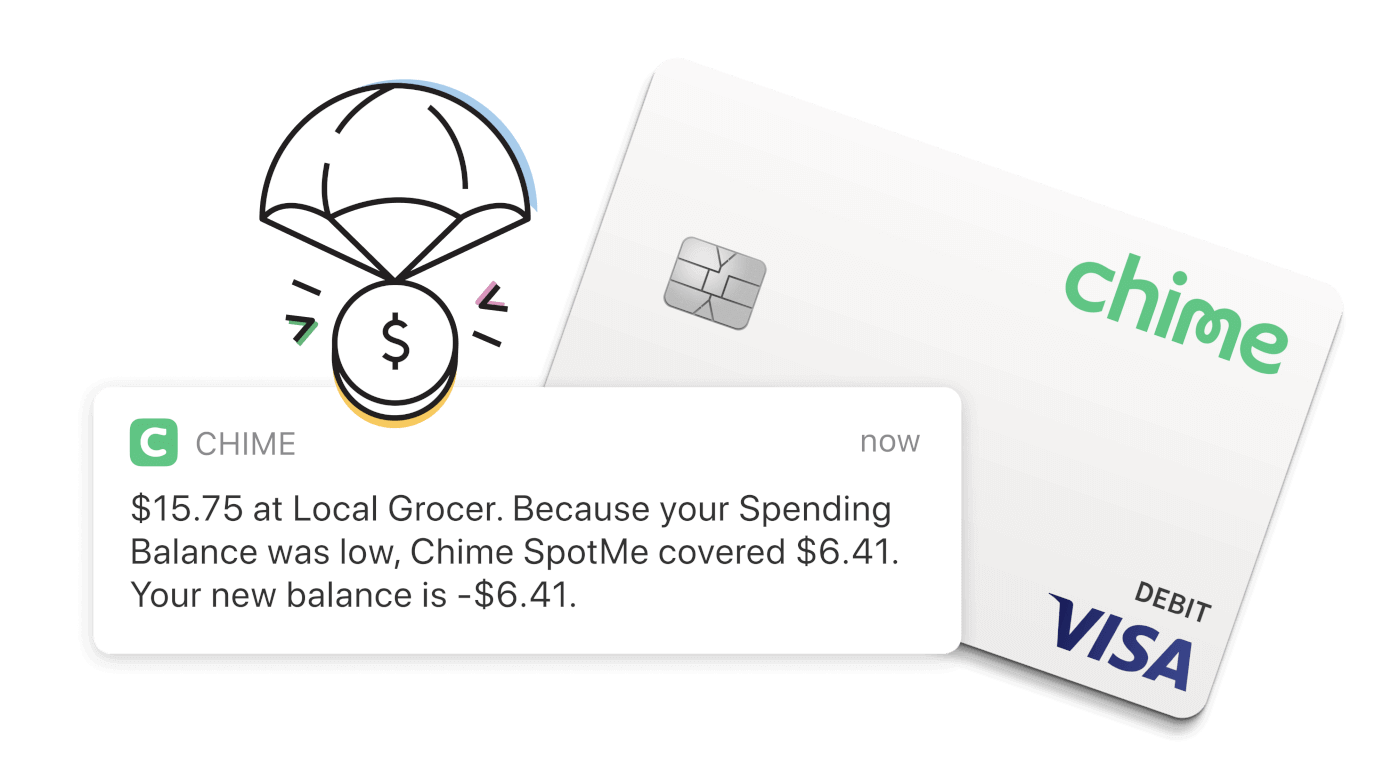 Chime Banking
Experience fee-free overdraft up to $200

*

when you set up direct deposit with SpotMe.
Let Chime spot you when you need that little extra cushion to cover an expense.
Join the millions and make the switch today!
SIGN UP FREE
*SpotMe eligibility requirements apply. Overdraft only applies to debit card purchases and cash withdrawals. Limits start at $20 and may be increased up to $200 by Chime.
Where to get it?
Albert: Best All in One App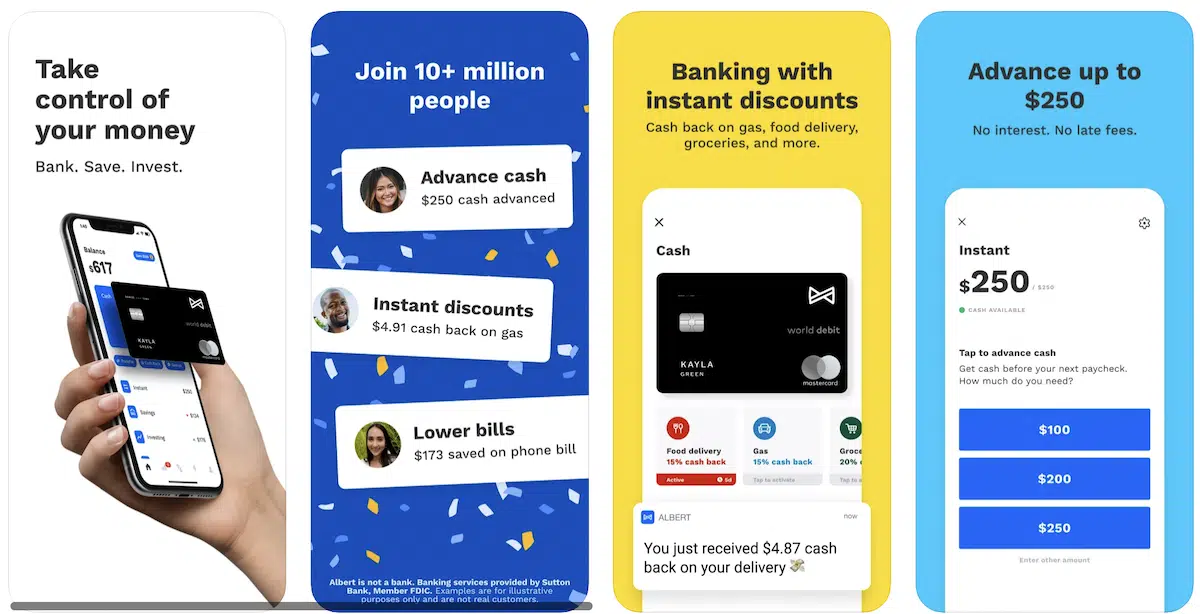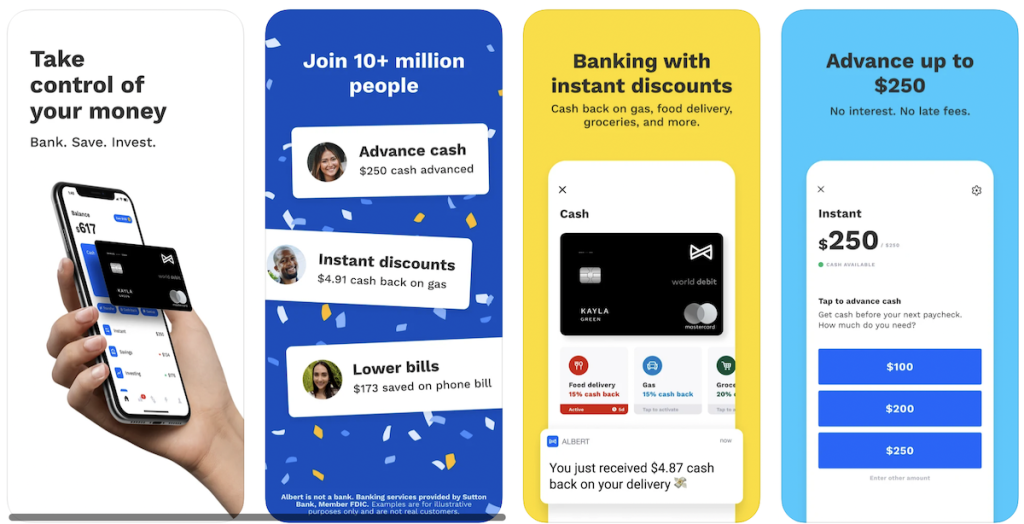 Albert can spot you up to $250 so you can make ends meet. No late fees, interest, credit check, or hidden hands in your pocket. As long as you have a paycheck and have repaid your past advances, you can request up to 3 cash advances per pay period.
Albert is a super app that offers:
Checking account with debit card: Offers one of the best sign up bonus offers currently ($150 for new users)
Savings account: Set your schedule or let Albert analyze your spending and automatically move money into your savings account. (On average, they save people $400 in the first six months.)
Cash advances: Up to $250
Investing: Invest yourself or enable Robo investing
Budgeting: AI-driven auto save feature is a big differentiator and very effective
Genius: Text with a certified financial advisor anytime for a $6/month fee
There's no catch. Albert is legit and is also giving away a $150 cash bonus to new members and another $150 bonus for every person you refer to the financial advisor service.
Get up to $250 and $150 welcome bonus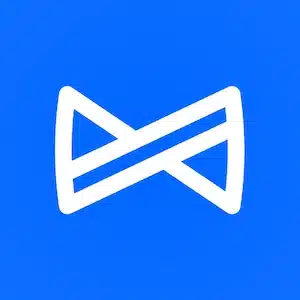 Albert
Get a no-fee and interest-free cash advance of up to $250
Pay a small fee to get your money instantly or get cash within 2–3 days for free
Costs $4 per month after a 30 day free-trial
Get Your Bonus
Where to get it?
Empower: Best for Cash Advances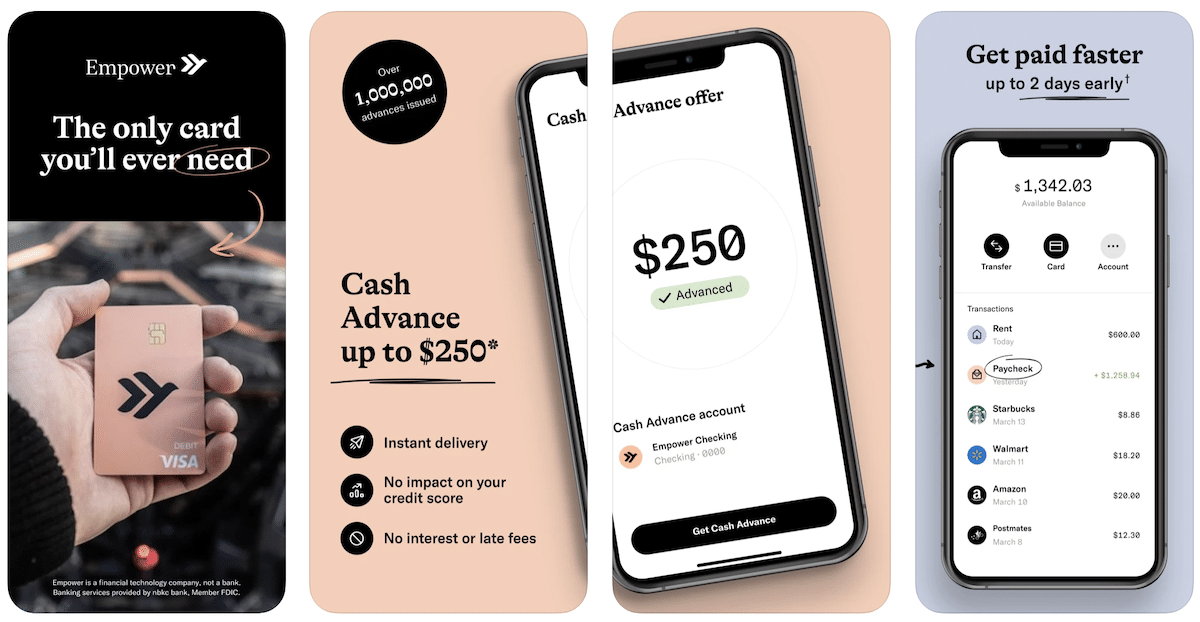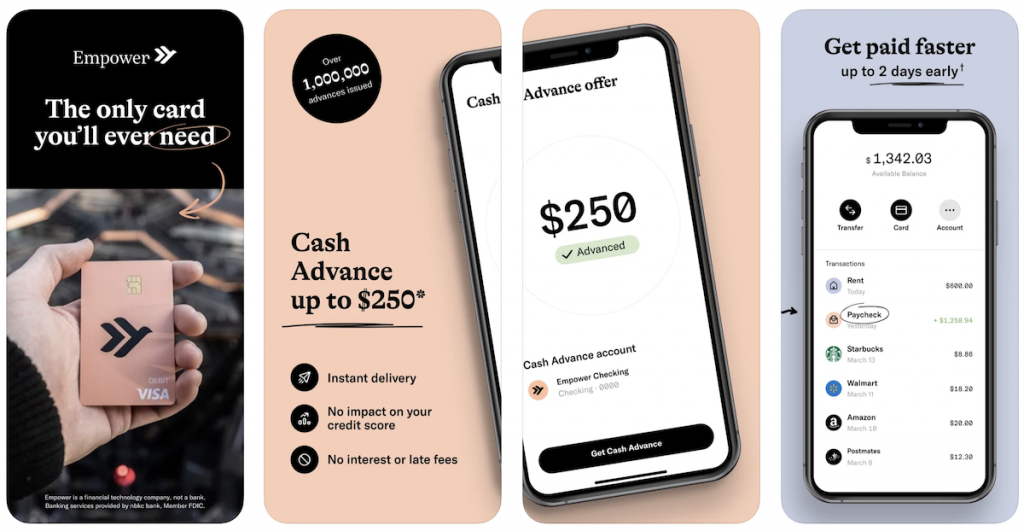 Empower is an application built for today's generation. They'll be there for you every step of the way, whatever comes your way. You may get a cash advance of up to $250 when you need it most by downloading the app, and save for your future.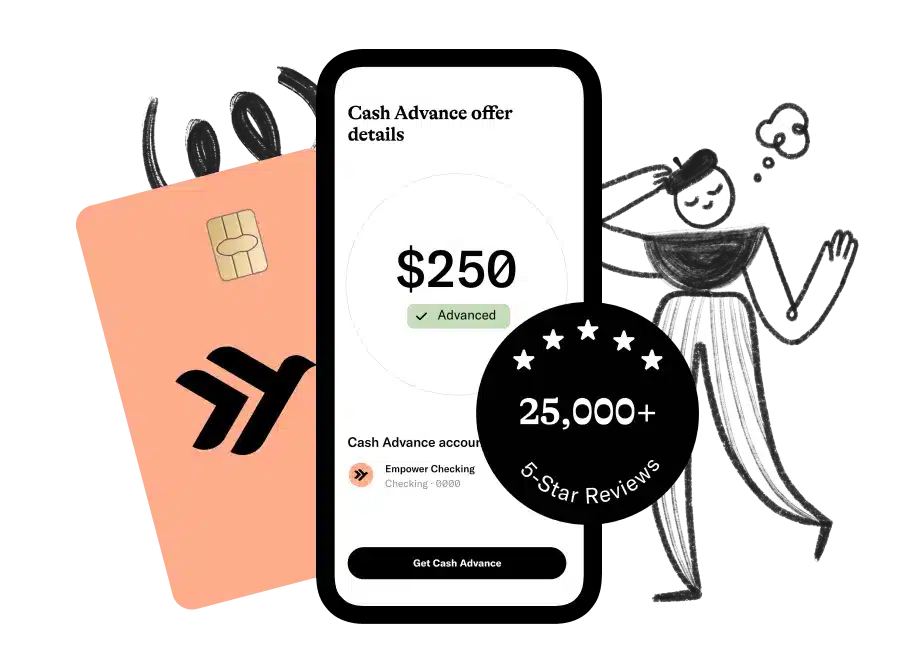 They're always there for you, and they'll get a cash advance up to $250 straight into your bank account. Free instant delivery is available for eligible Empower Checking Account customers with an activated debit card.
To determine if you're qualified to receive a Cash Advance, Empower calculates your bank account history and activity, recurring direct deposits, and average monthly direct deposits.
There are no applications, interest or late fees, or credit checks or risks involved. You simply reimburse them as soon as you receive your next payday. There's nothing hidden about it. It's that easy.
Get up to $250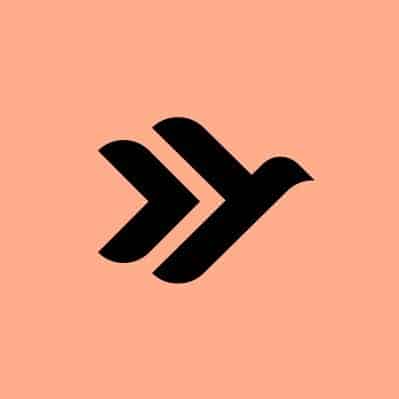 Empower
Get a no-fee and interest-free cash advance of up to $250
Use AutoSave to automatically set money aside every week
Costs $8 per month after a 14-day free trial
Open Account
Where to get it?
Earnin App: Best for Workers with Hourly Wages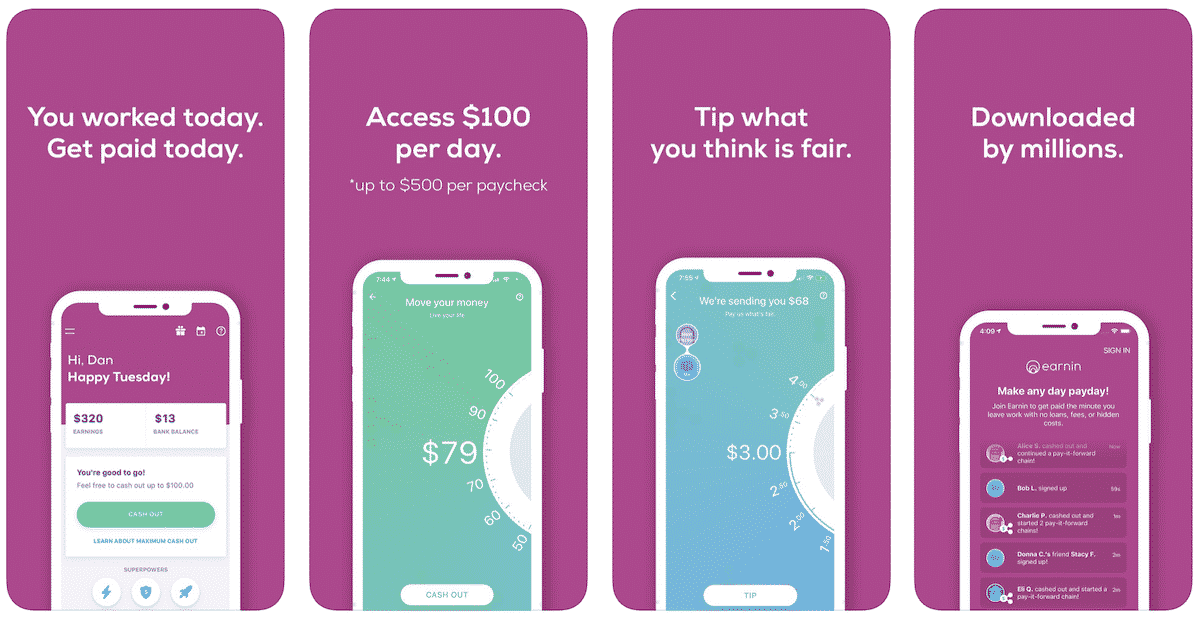 The Earnin app allows you get paid today and access $100 per day, up to $500 per paycheck. The app is free and you only have to pay what you think is fair and millions already use this app to get paid today.
How Earnin works:
Connect your bank and tell them where you work.
Earnin will confirm your hours worked, and you can cash out those hours instantly.
On payday, they will debit your account for the money you cashed out.
You can also set up Lightning Speed by connecting your debit card to your Earnin account and eliminate the wait time between your cash out and the money arriving in your bank account. The best part is that it is all 100% free and you can learn more here.
Get up to $500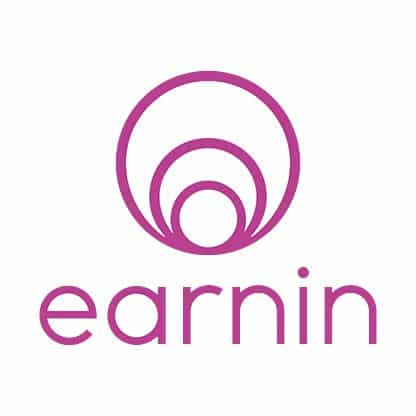 Earnin
Access to your hard-earned cash right when you need it
No hidden fees, no penalties, no waiting
Get up to $500 of your paycheck per pay period
Open Account
Where to get it?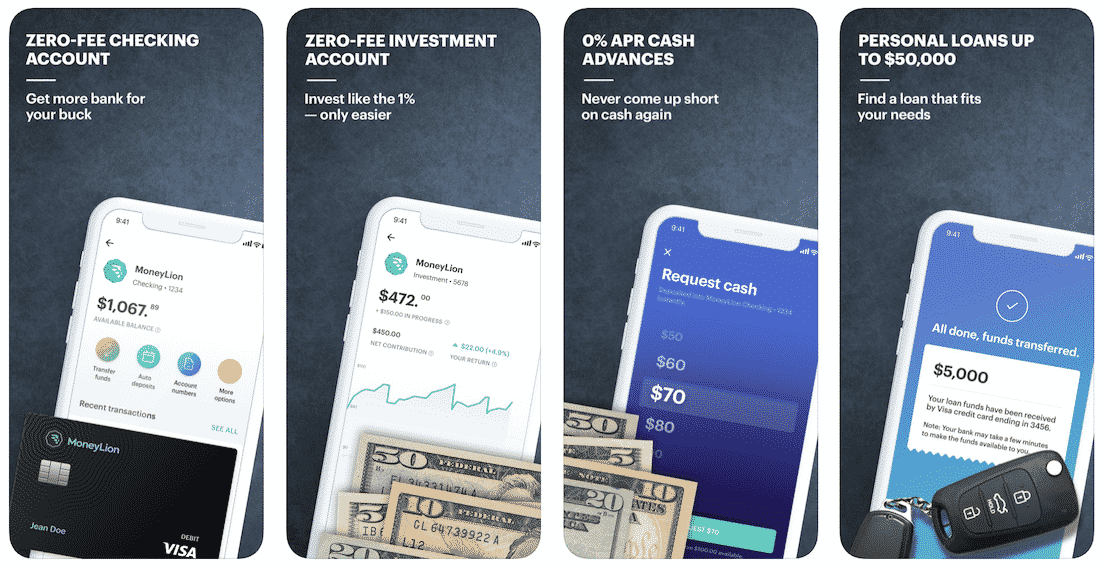 This payday loan app packs a big punch with a plethora of features that can help you. MoneyLion provides you with access to 0% APR cash advances, low-interest personal loans, helps track spending and savings.
The app also provides financial advice to help you improve and control your financial life. It is no surprise that the MoneyLion community has over 2,000,000 members.
How MoneyLion works:
Download the MoneyLion app and enroll in free MoneyLion Core. Receive your new black debit card in approximately 7 days.
Fund your MoneyLion Checking account with an instant transfer, and then use it everywhere you go with no fear of hidden fees, overdraft fees, or minimum balance fees!
Add direct deposit of just $250 or more to your MoneyLion checking account to unlock instant 0% APR cash advances.
Upgrade your membership to MoneyLion Plus to get any time access to a 5.99% APR credit-builder loan, $1 daily cashback, exclusive perks, and more.
Since this app has so many bells and whistles you can learn more in a comprehensive MoneyLion review that goes through each feature. MoneyLion is a wonderful choice for people who want to improve their financial situation, but cannot due to high-interest loan rates and many others. It helps them take control of their financial lives and improve their savings and can be downloaded for iOS or Android.
Get up to $250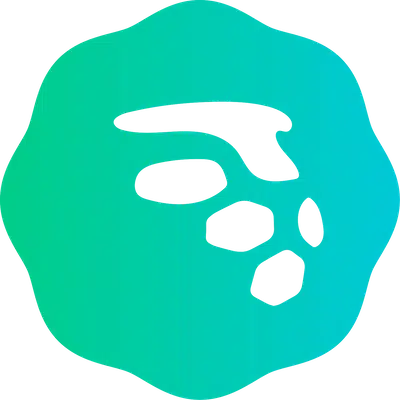 MoneyLion
The maximum advance is $250
No interest. No monthly fee. No credit check
Link your checking account to qualify for 0% APR cash advances
Open Account
Where to get it?
Brigit Loan App: Best for Saving on Overdraft Fees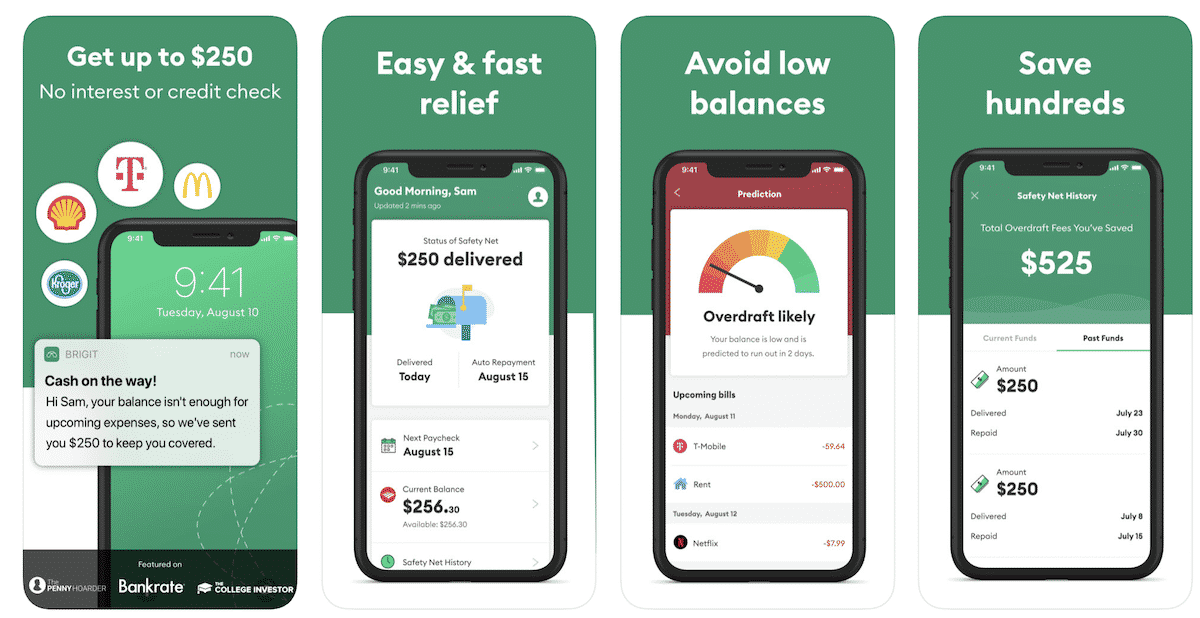 With the Bridgit app, you can get up to $250 with no interest or credit check quickly. It's easy and fast relief when you need it and helps you avoid low balances.
If you have a low balance in your checking account, Brigit will see that your balance isn't enough for upcoming expenses and send you up to $250 to cover your expenses. You can save hundreds by avoiding overdraft fees with this app.
How Brigit works:
No red tape. No hoops. Connect your bank account and that's it!
Brigit works with thousands of banks like Bank of America, Wells Fargo, TD Bank, Chase, Navy Federal Credit Union and 15,000+ more.
Get paid up to $250 instantly.
This is best for those users who keep low balances in banking accounts and are prone to overdraft. You can learn more here.
Get up to $250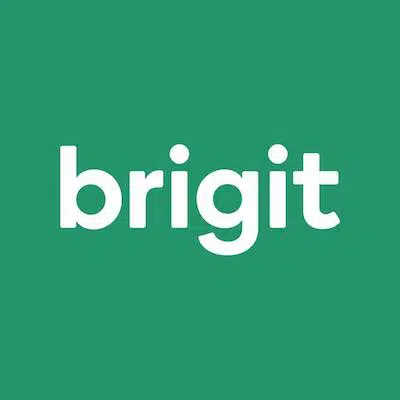 Brigit
Tap to get an advance within seconds
Get up to $250
No credit check is required and no interest
Pay it back without hidden fees or "tips"
Open Account
Where to get it?
2. Sell your junk for fast cash
Run a look through your house, arrange that cluttered cupboard/ bookshelf or take a glance at gifts you have received during the previous years.
You might find something to put on sale using selling apps like Craigslist, LetGo, Buffalo Exchange and many more. If you aren't using the stuff or books have dust on them, it means they are not needed.
Instead, pawn or sell those books, clothes, used furniture, utensils any other possession that's taking up space in your house so that you make room for that desperately needed cash.
You might come across unused gift cards that are lying and not expired yet. Of course, you cannot put them for sale online but you can reach your family and friends who are willing to buy them.
---
Aspiration Bank Bonus: $150 for New Customers in July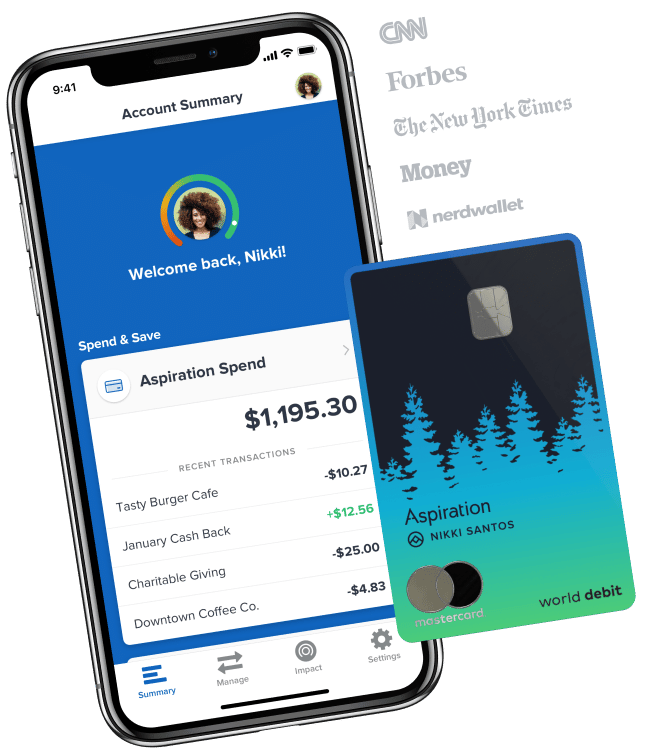 Follow these simple steps:
Open your Aspiration Spend & Save Account and fund your account with at least $10.
Use your Aspiration debit card to make at least $1,000 of cumulative transactions within the first 60 days of opening your account.
You're good to go!
Visit Aspiration and Claim $150
---
You can also check out our article detailing 14 Ways to Make $50 Fast.
3. Get your owed money
Put some strain on your memory and recall if you have lent cash to any of your friends, acquaintances or family members in the past.
If yes, it's time to pick up your phone and ask them to pay back! They can understand your situation and pay your cash back. Do the same to collect debts from others whom you have helped in need.
4. Get a salary advance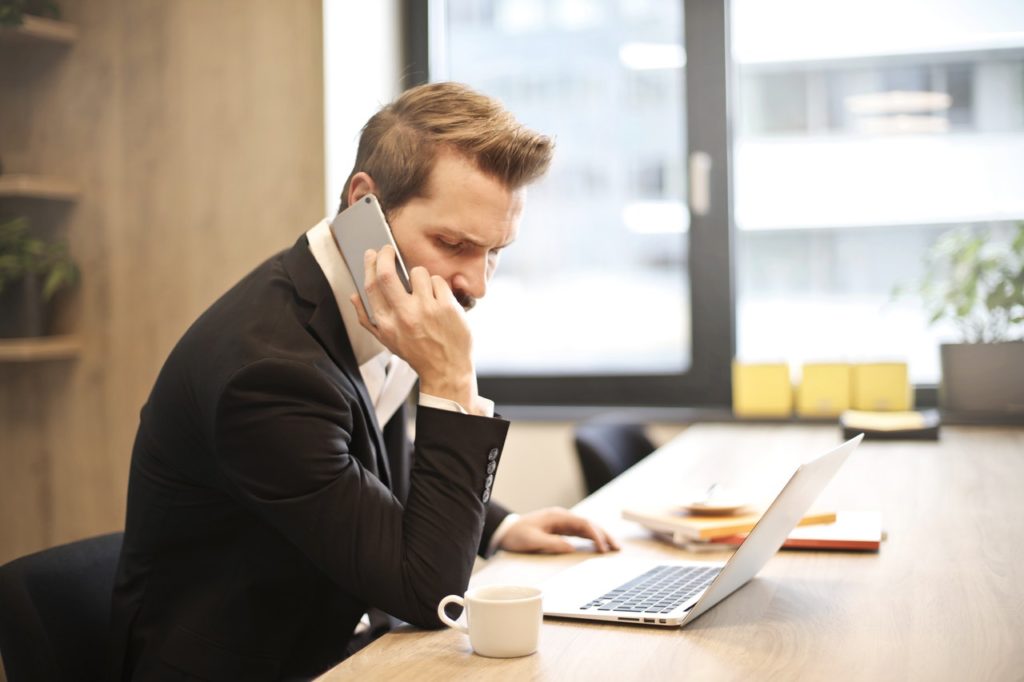 This might sound a little unusual but you won't know if you don't approach your employer. If you have built that rapport and trust just give it a try.
It might work for you and your boss or employer will probably grant you an advance on your paycheck.
If you get an advance of say $500 you can pay back $250 from the next two paychecks. Just make sure you pay back in time in whatever parts you can.
5. Get a credit card advance
It is basically a short-term loan taken on a credit card credit line. When you are short of cash this option seems tempting just to pay that odd bill or purchase something online.
It seems as simple and convenient as going to an ATM, swiping the credit card with the correct pin and get the cash withdrawal done.
The catch is heavy credit fees applied for such cash advances on credit cards. Also, this might work only if you have a good credit score. What if you don't have a credit card at all? Read on there are options better than this.
6. Get refunds for soda cans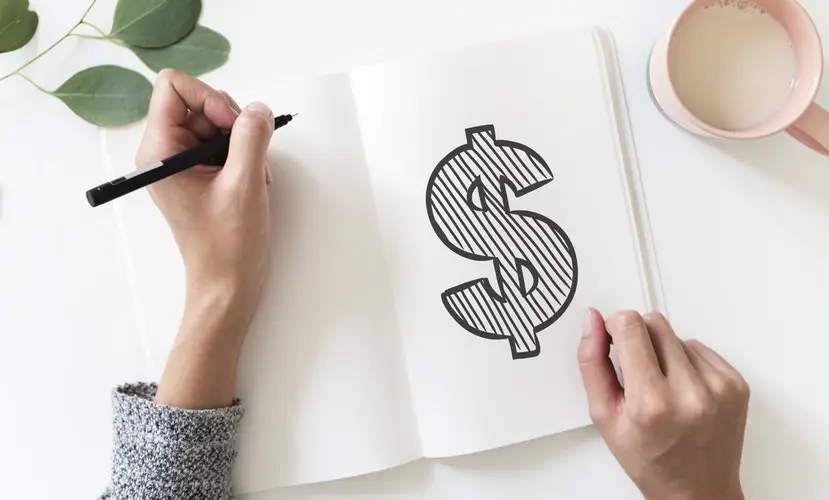 Many stores provide 30 days or 90 days return policy. So if you bought something new during the last few months and its unused return to the store and get some quick cash.
There are around 10 states with bottle bill, so if you reside in one collect empty soda cans at home, work and ask friends to donate it so that you can carry them to the store for the refund.
7. Get a personal loan even if you have bad credit
You can apply for online personal loans as they are convenient, safe, and secure without having to leave the comfort of your house. Personal loan lenders will usually help you bridge the gap between paychecks and keep you guarded against loan sharks. Proven that you won't pay a lot for short-termed payday loans, be careful that you do not miss even a single repayment.
Just remember that if you actually need money now, then you can opt for a personal loan. When you need money in a hurry ZippyLoan is where to go. You apply for a loan through the Zippy Loan site, if approved they send your loan application to one of many loan providers.
You review the loan details and e-sign if you like what you see. No risk in checking what offers you'll get. You can borrow between $100 and $15,000 as soon as tomorrow. Loans service up to 60 months.
ZippyLoan connects borrowers to lenders through their network of lenders. They'll find you the lowest interest rate and is one of the best no credit check loan. You can visit ZippyLoan here.
8. Go for a personal installment loan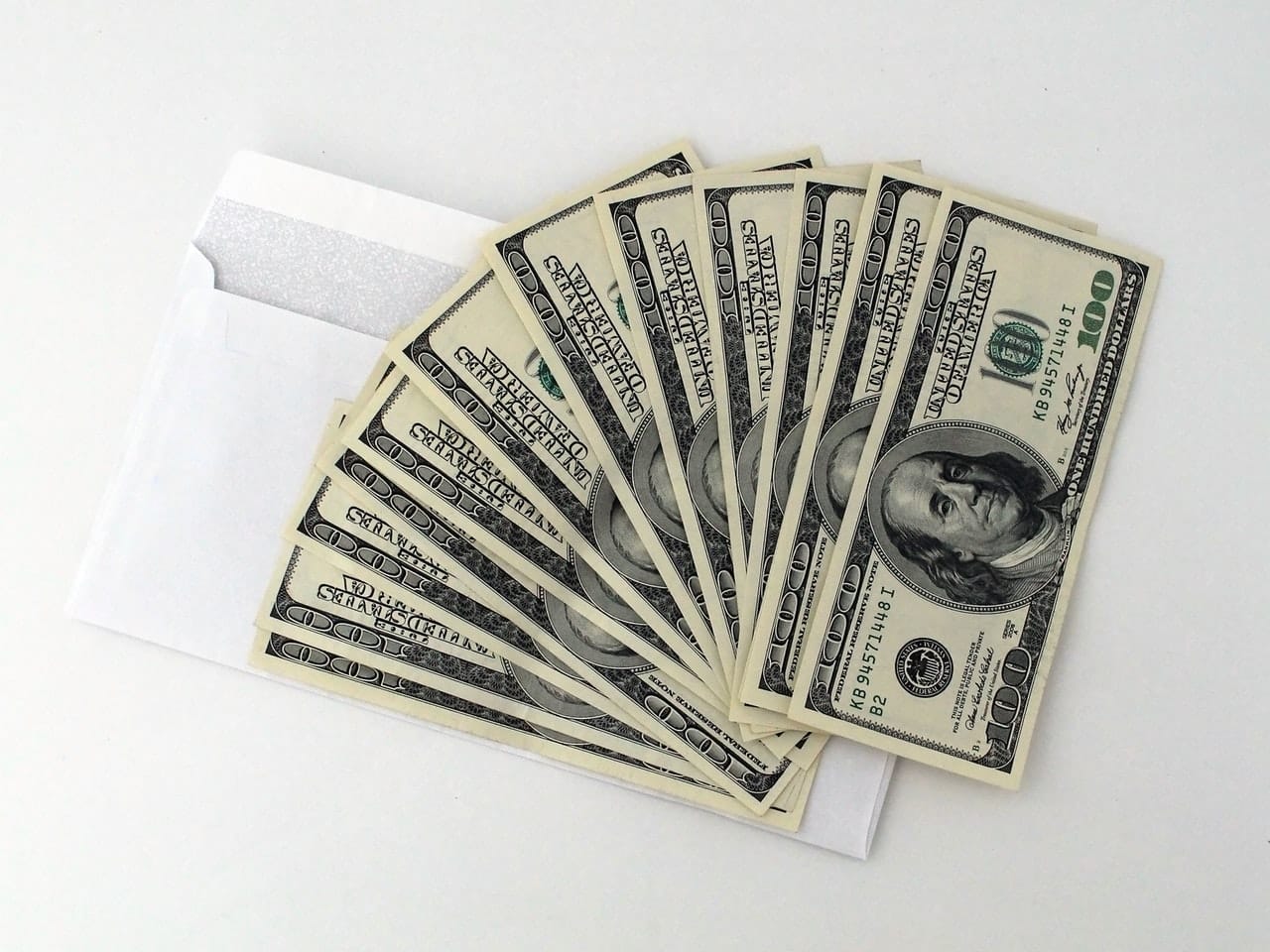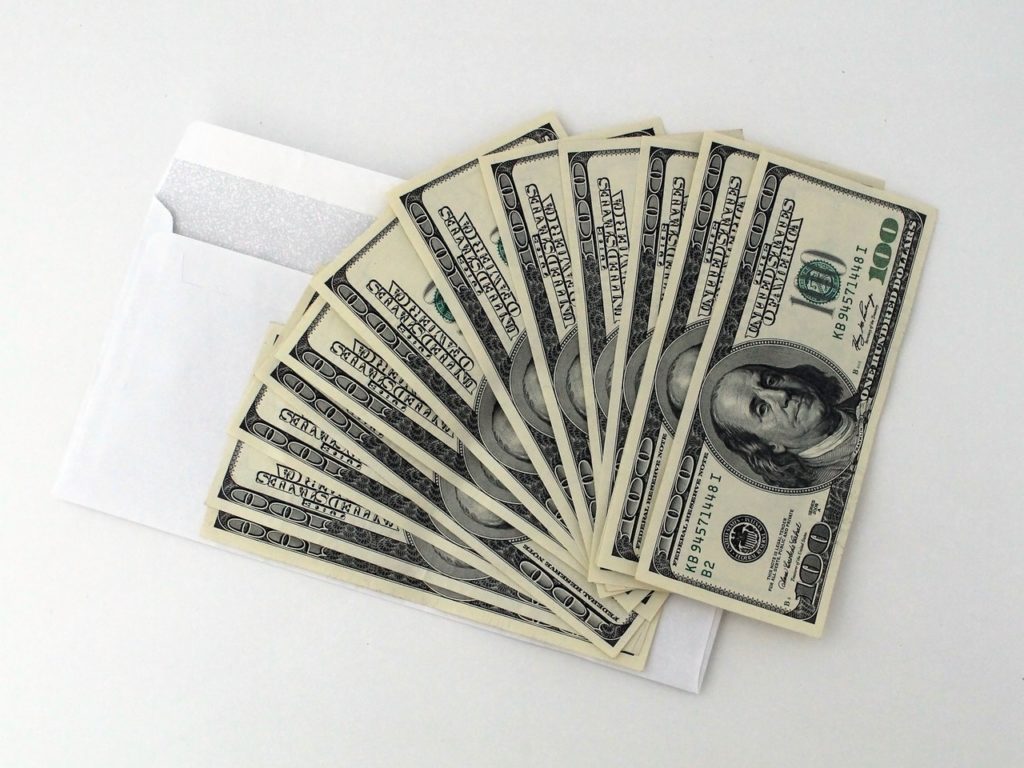 Sometimes you might be allowed a little longer to payback for a cash loan. Personal installment loans can be short term or long term depending on loan amount.
It can fulfill your financial need for today by allowing you to pay back one installment period at a time instead of lump-sum on next paycheck.
Remember it is a short-term lending solution for temporary financing needs, not a replacement for long-term financial arrangement.
Hence choose responsibly and apply for a loan that you would be able to repay. Follow the above tips and tricks, keep calm and let the latter take care of the rest!
Earn up to $100 today