My Millennial Guide – More Money in Your Pocket
About Brian Meiggs:

Founder and Editor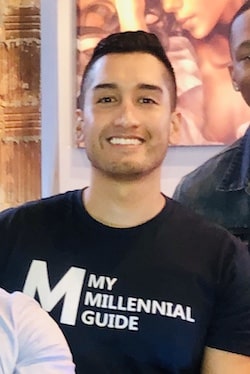 Brian founded My Millennial Guide after 6 years of Financial, Accounting, Mortgage, and Credit Lending experience in Virginia and Washington D.C. Brian has a Finance degree from Virginia Commonwealth University. He's spent the last 5+ years writing about personal finance and been quoted in several online publications, including Yahoo! Finance, NASDAQ, MSN Money, AOL, Discover Bank, GOBankingRates, Student Loan Hero, Fit Small Business, Cheapism, SmartAsset, Bankrate, RISE Credit, AllBusiness, Cheddar, Commonbond, Niche, Rewire, Credit Donkey, and more. You can read all of his posts here.
Our mission:
"My Millennial Guide is committed to helping our readers follow the smart money and increase their earning potential"
With our approachable style and clear, concise instructions, we hope to educate our readers and help them make the best financial decision for themselves and their families.
We pride ourselves on having the best finance reviews, promotions and personal finance products and services. We would never recommend something we haven't tried ourselves.
My Millennial Guide is designed to help people with their money and all the right money moves like the pros. The level of savings in the United States is terrible, and we have a student loan crisis and retirement crisis that needs to be dealt with.
Here are some statistics that'll illustrate this point:
Only one-third of Americans keep a monthly budget
Almost 70% of Americans would struggle with a $1,000 emergency
Total household debt is over $4 Trillion
The current savings rate is 5.6%
35% of people have at least one credit card or loan in collections
Median retirement savings for working families is only $5,000
You can continue to read the rest of the personal finance statistics.
We want to help people to become better at saving money and more importantly making more money.
Our way to combat this is by showing our readers smart ways to earn side income outside of their 9-5 job.
This will also be done by teaching people and informing them of resourceful money tools they can use to better manage their financial life.
We have segments on the blog relating to side hustles, jobs, investing, money management, home buying and budgeting that can help put more money back in American's pockets. This provides a different perspective to help people relate and learn.
Take away:
My Millennial Guide is a finance community empowering Millennials to take part in better money habits. Millennial Money made easy.
Our story:
In 2013, our founder Brian Meiggs graduated from college with a degree, as well as $30,000 worth of debt. Thanks to smart side hustles, budgeting, and receiving regular payments from his finance job, he was about to pay off his mountain of debt in just 12 months. Afterward, he created My Millennial Guide to help guide Millennials to become financially free in record time.
My Millennial Guide was born.
Our vision:
You work hard for your money and value your time. That's why we provide resources and guidance to help consumers with personal finance advice like reducing debt and making sound financial decisions. Read and get access to all our learning material and articles so you can continue to understand how to make better financial decisions.
Our business:
My Millennial Guide is focused on safeguarding people's hard-earned money. We are a consumer-centric personal finance website that aims to not only rectify financial mistakes but also prevent them from happening again in the future.
Brian Meiggs and My Millennial Guide have been seen on the following sites:
Why artificial intelligence is set to be a game changer for businesses in 2023, according to 7 founders – Insider
The lessons 14 entrepreneurs learned on their way to $1 million in revenue – Insider
How to Make Your First $1 Million Through a Side Hustle – Insider
Surprising Ways Gen Z and Millennials Are Worlds Apart Financially – Yahoo! News
The Best Financial Planning Software Programs – Yahoo! Finance
These Millennials Will Turn Your Money Into Magic – NASDAQ
7 Things You Should Never Carry in Your Wallet – Discover
These Millennials Will Turn Your Money Into Magic – GOBankingRates
12 experts share advice on maximizing cashback rewards – Finder
11 Pieces of Student Loan Advice From the Experts – Student Loan Hero
20 items to avoid at Walmart – MSN Money
Starting a Business with Brian Meiggs – Cheddar
You can find all of our press mentions here.