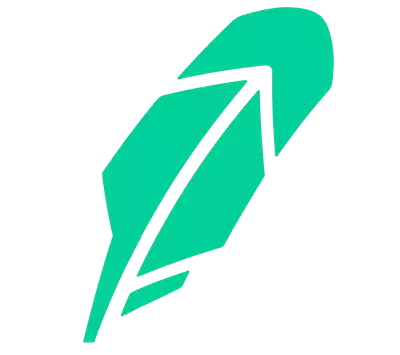 Robinhood
Robinhood has commission-free investing for stocks, options, ETFs, crypto, and tools to help shape your financial future. Sign up and get your first stock worth between $5 and $200, free.
Open Account
If you've ever researched commission-free brokerage accounts, you've probably heard of Robinhood. This popular stock trading and investing app has been the platform of choice for millions of retail investors, especially over the past few years.
Robinhood is popular because it makes it easy to invest, trade options, and buy various cryptocurrencies. And let's face it — investment is a big and scary word for a lot of people, especially Millennials.
It essentially boils down to swapping out a chunk of your money for a bigger piece of a pie later down the line, while funding the ideas and pursuits you believe in.
Of course, there's a big risk factor involved, and your investments don't always wind up being so simple and great at the end of the process.
The fact is if you're going to need small investment opportunities that are safe and smart, especially if you don't have much money to part ways with.
How can you do it?
What is Robinhood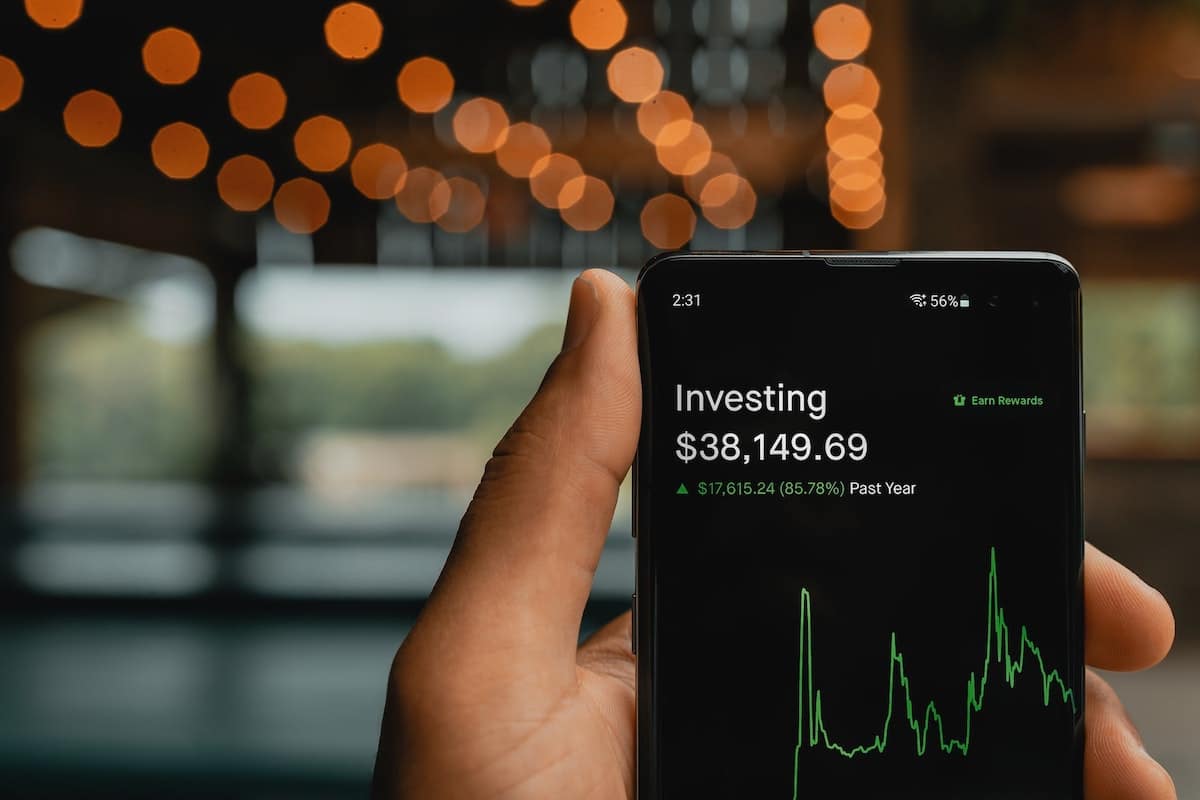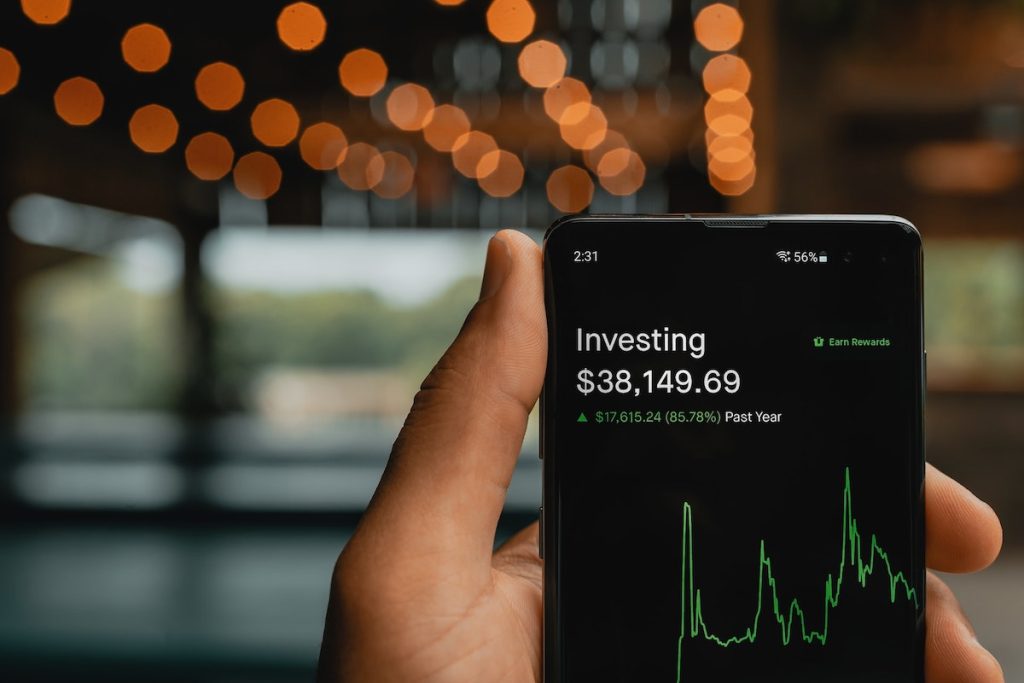 Vladimir Tenev and Baiju Bhatt created Robinhood in April of 2015, with the goal of democratizing investing and "providing everyone with access to the financial markets, not only the rich."
With its introduction in 2015, Robinhood pioneered the notion of zero-commission stock trading, allowing average individuals simple access to the financial markets. But Robinhood is now a lot more than simply free trading.
One of the earliest online brokerages to offer no-commission trading was Robinhood. Now that its innovation has reached the rest of the investment world, Robinhood is focusing on a new frontier: fractional stock shares.
With Robinhood, you can place fractional share orders in real-time. Trades placed during market hours are executed at that time, so you'll always know the share price. More than 60% of Robinhood customers have traded fractional shares.
Overall, the Robinhood investing app easily allows you to invest in companies you love, commission-free. And I really mean free, free to buy and sell stocks and no account minimums. You can get a share of stock like Apple, Ford, or Sprint for free when you join through this link.
You can invest with Robinhood even if you don't have a whole ton of money in your bank account.
It was rated number one in our best investment apps for being the best app for commission-free trades. As a Millennial, you're Roinbhood's target audience and they do a great job of gamifying the investing experience on the app, which we'll get into later.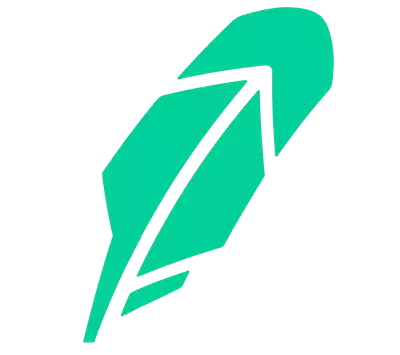 Robinhood
Robinhood has commission-free investing for stocks, options, ETFs, crypto, and tools to help shape your financial future. Sign up and get your first stock worth between $5 and $200, free.
Open Account
How Does Robinhood Work?
Robinhood allows users to make free stock trades with $0 transaction fees. I signed up through a friend and received a free stock through the Robinhood Free Stock Promo. It's totally legit and just by signing up, I got one share of SIRI absolutely free.
Signing up for Robinhood is similar to other investing apps. The sign up process was easy. You'll likely want to sign up and claim a free stock.
New account bonus
If you wanted to sign up to get a free stock here is what you have to do to get a free share:
Verify your email address
Install the Robinhood app on your phone
Claim your free share. You can do this in the Robinhood app.
Link your bank account to get the money out and fund your account
Share your referral link with friends to get more shares!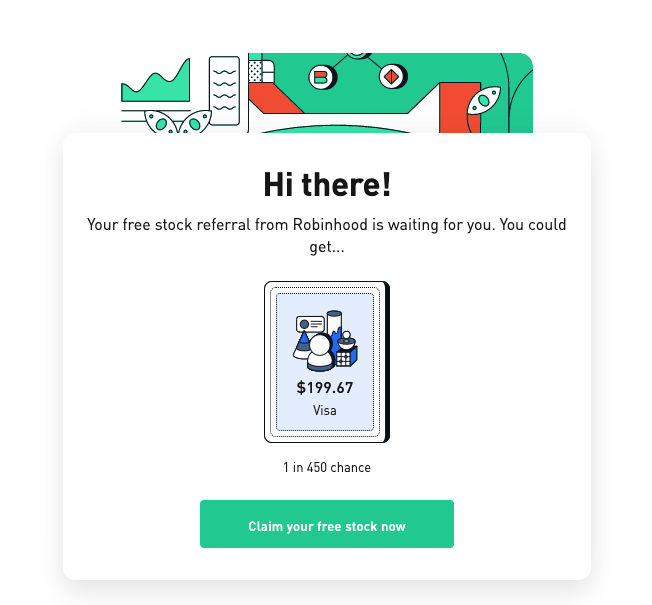 Once you click 'Claim your free stock now', you will simply fill a form with your name, your home address, email address, and phone number.
On the next screen, you'll have to provide your Social Security number that will verify your identity and then you can fund your account.
You don't have to fund your account to receive the free stock. But, if you want to use the app to actually invest, by using Robinhood you can start investing with little money.
If you have over $100,000 that you want to invest, then you should use an actual brokerage:
| Brokerage | Account Mimimum | Fees | |
| --- | --- | --- | --- |
| | $0 | $0 | |
| | $0 | $0 | |
| | $0 | $0 | |
| | $0 | $0 | |
| | $0 | $0 | |
Pricing for Robinhood
Investing with Robinhood is commission-free, now and forever. They don't charge you fees to open your account, to maintain your account, or to transfer funds to your account.
However, self-regulatory organizations (SROs) such as the Financial Industry Regulatory Authority (FINRA) charge them a small fee for sell orders:
SEC fees: $22.10 per $1,000,000 of principal for sells only.
FINRA trading activity fee: $0.000119 per share (equity sells) and $0.002 per share (options sells). Maximum fee: $5.95.
Additionally, if you choose to upgrade to Robinhood Gold, you gain access to premium features such as professional research and Level II market data, and instant transfers up to your Portfolio Value starting at $5,000 (up to a max of $50k), rather than just $1,000 with a standard instant account.
Additionally, if Robinhood approves your account for margin trading, you will be able to trade on margin with Gold.
If you upgrade to Robinhood Gold, you'll pay $5 every 30 days in addition to interest on your margin trades.
If you use more than $1,000 of margin, you'll pay 5% yearly interest on the amount you use above $1,000.
Robinhood Features
The reason why Robinhood is so great is that it offers an easy-to-use platform for beginners to start investing in the stock market.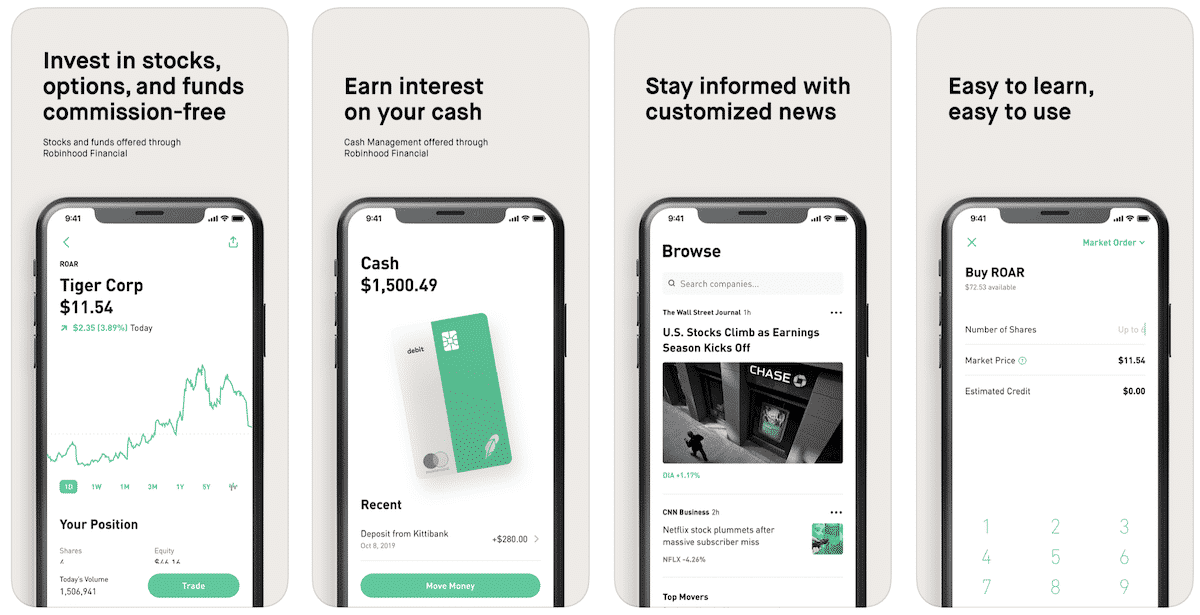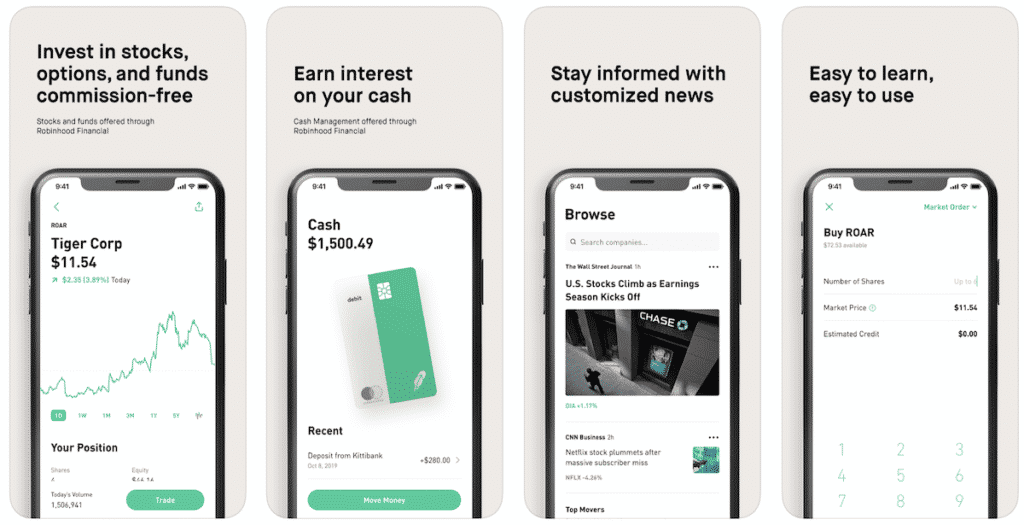 If you are aware of the Gamestop craze, you know that investing has become mainstream where anyone with $100 to their name wanted to get in on buying GME and AMC.
Usually, it would be a long and tedious process to join a brokerage and figure out how to buy GME.
Using Robinhood makes it simple to purchase stocks, buy options, buy cryptocurrency like Bitcoin, get news and alerts, create watchlists and all commission-free.
Cash Management
And, Robinhood also has a cash management account that lets you spend, invest, and earn interest with your cash.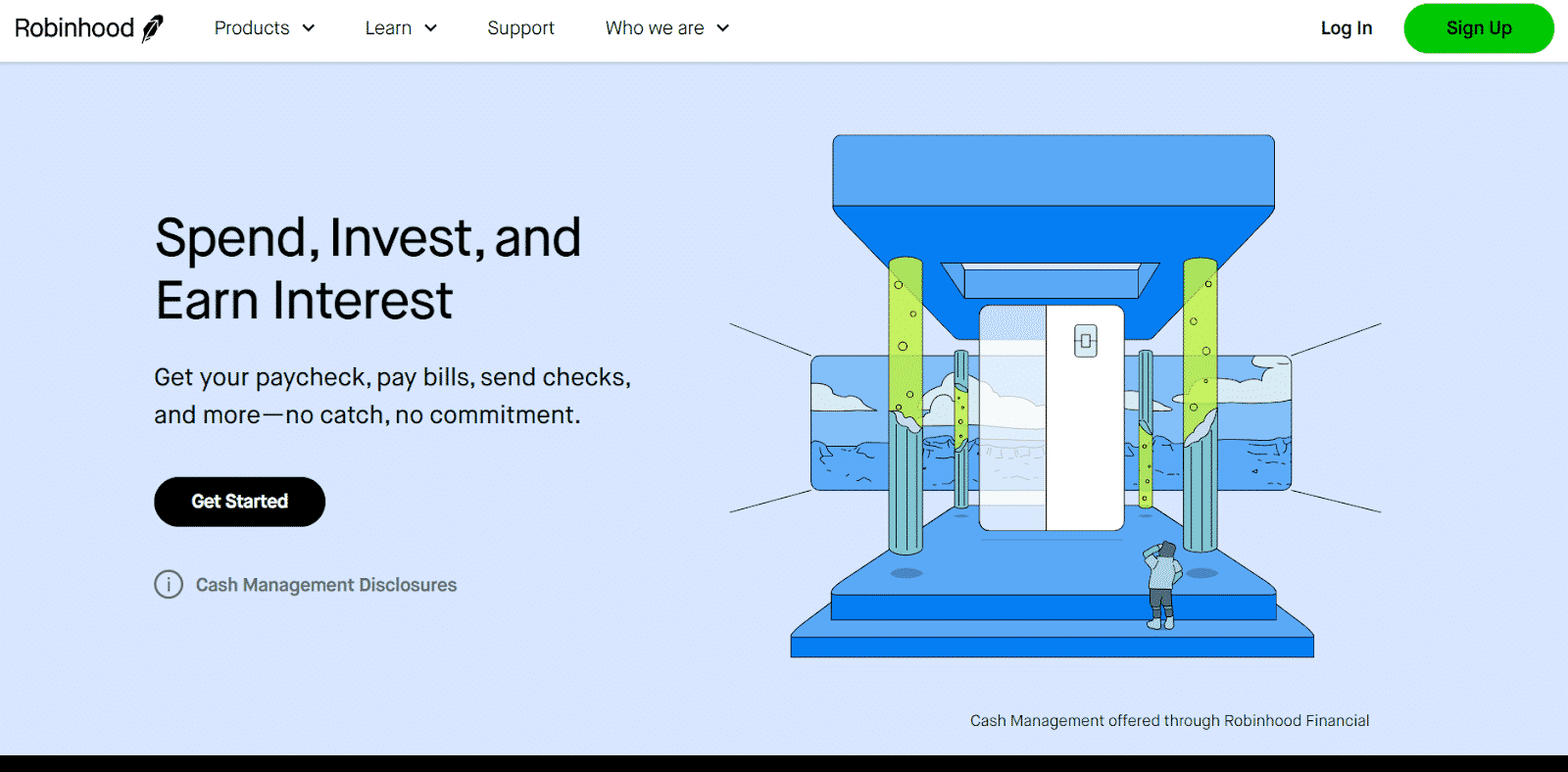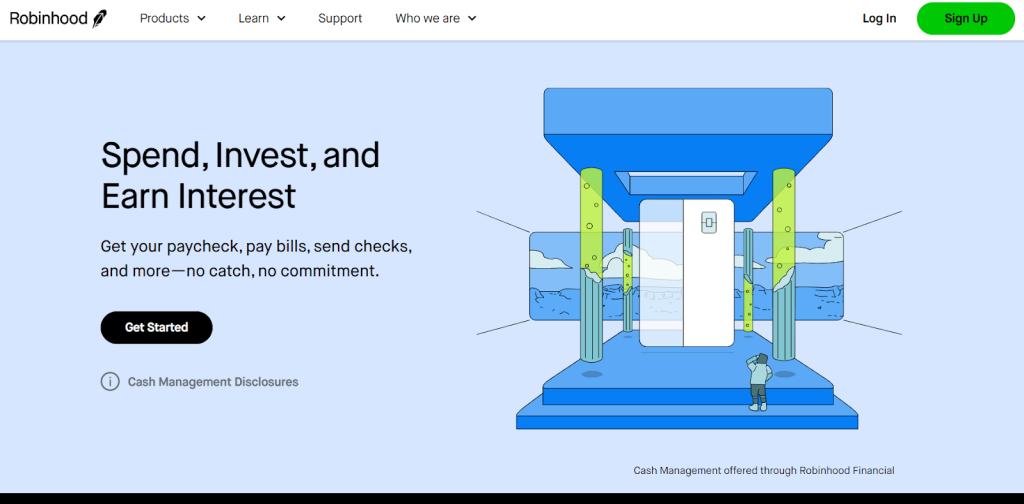 Benefits of Robinhood's cash management account include:
Earning 1.50% APY
You can earn 4.00
% APY if you're using Robinhood Gold ($5.00/month)
A debit card issues from Sutton Bank that lets you spend money from your CMA
75,000+ free ATMs
No account minimums, transfer fees, or foreign transaction fees
Up to $1.25 million in FDIC-insurance
Overall, Robinhood's cash management account provides a solid interest rate and makes spending and investing your money quite simple. If you currently use Robinhood for trading or investing, this is likely the best cash management account for you.
Advanced Charting (New)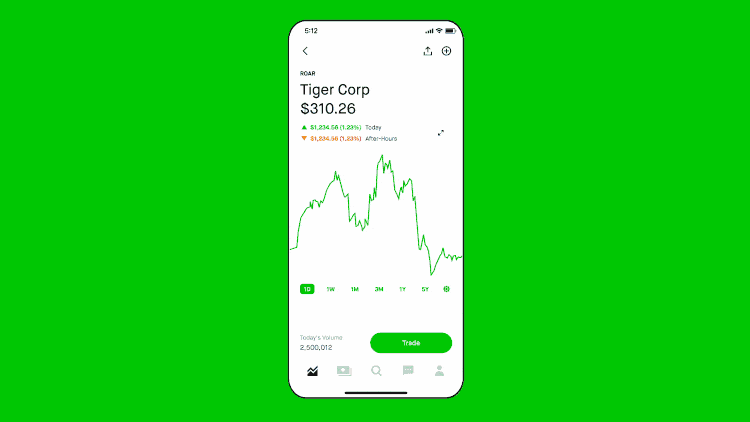 Advanced Charts is here. This feature gives all customers customizable, quick, simple and in-depth analysis right in the app.
Advanced Charts provide more information about different assets and help investors find opportunities to enter or exit positions. Advanced charts have begun to roll out with broad availability expected to come by early October 2022.
Advanced charts empower all customers to visualize, research, and analyze stock prices to better identify trends and improve trading confidence. More advanced and active traders have a specific need for features that help them make quantitative, analytical decisions rather than, at times, relying on gut feelings.
While advanced charts are the latest example of how Robinhood is committed to providing the best user experience for our more advanced customers, they can also be a valuable tool for novice investors to help them make more informed decisions on their investments.
24/7 Chat Support (New)
Robinhood now offers 24/7 chat support—the most convenient way yet to get help when you need it. Here's how it works:
Available to every customer: Available to all logged-in customers, no account minimums are required.
Get help on your own schedule: Just open the app or log into the website and start a chat with a Robinhood associate whenever you need support—day or night.
Easily share media: Share relevant screenshots, documents, and links to get your questions answered quickly.
How Does Robinhood Make Money?
So how can they offer free trading? According to Investopedia:
Robinhood Markets is a discount brokerage that offers commission-free trading through its website and mobile app. The company generates significant income from payments for order flow, a common although controversial practice whereby a broker receives compensation and other benefits for directing orders to different parties for trade execution. Robinhood refers to this revenue as "rebates from market makers and trading venues."
While the payments are negligible for small retail trades, a company that directs billions of dollars in trades to market makers can earn substantial amounts.
But, to the little guy that doesn't really matter. So let's move on.


Who Shouldn't Use Robinhood?
If you are an experienced investor then you probably shouldn't be using Robinhood. You should opt for a stable retirement account at Vanguard or Fidelity. Robinhood doesn't offer any retirement savings options nor can you invest in bonds or mutual funds.
You also won't be able to use Robinhood if it's not available in your country. Currently, Robinhood is only available in the United States.
Robinhood UK availability? Robinhood is not yet available in the UK. This is because of the global pandemic that forced the popular investment app to delay its release, first in the summer of 2020, and then indefinitely as the world coped with COVID-19 and its after-effects. As of the writing of this article, Robinhood has yet to announce a UK release date, so the answer remains open-ended. No one is sure when or even if Robinhood will make it to the UK.
Pros
---
Free trading
Robinhood's app has a beautiful interface design and easy to use for beginners
You can trade on the Robinhood app or desktop
You can buy options and cryptocurrencies (with no fees)
Access to level 2 data with Robinhood Gold
No account fees
Cons
---
An investing app geared towards millennials
No mutual fund investing or bonds
No bond investing
Online available in the US
Who is Robinhood Best For?
Robinhood is best for those who want to throw some money in the stock market to invest or swing trade. It's best for beginners to the stock market as both are possible.
However, I don't use Robinhood as my main brokerage. I'd rather use Fidelity, which is also where I have my retirement accounts. And lately, I've been using SoFi Invest, which has a lot of added benefits and I'm still testing out.
Get $25 bonus

SoFi Invest
SoFi Invest is one of the best investment apps, especially for beginners in the US. It offers an intuitive trading experience, active or automated investing, and options like cryptocurrencies. SoFi Invest offers a variety of investment options, including stocks, bonds, fractional shares, ETFs, options, IPOs, crypto trading, retirement accounts, and robo-advising.
Open Account
Robinhood vs. Competitors
Robinhood isn't the only micro-investing app on the block:
| Company | Cost | Minimum requirement | Investment types |
| --- | --- | --- | --- |
| Robinhood | Free | None | Stocks, ETFs, options, cryptocurrencies |
| Webull | Free | $0 | Stocks, options, futures, ETFs, mutual funds |
| M1 Finance | Free | None | Stock and ETFs |
Learn more about Robinhood vs Webull and Robinhood vs M1 Finance:
Webull
Webull offers commission-free online stock trading covering full extended hours trading, real-time market quotes, customizable quotes and more. Plus if you sign up you can get two free stocks, learn more here.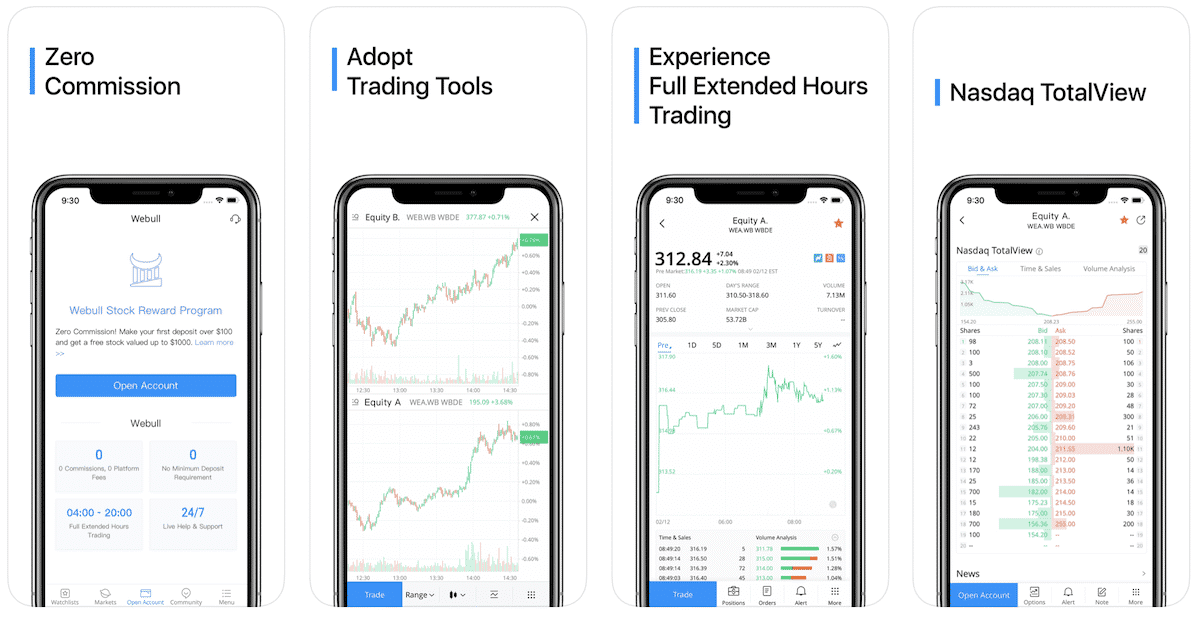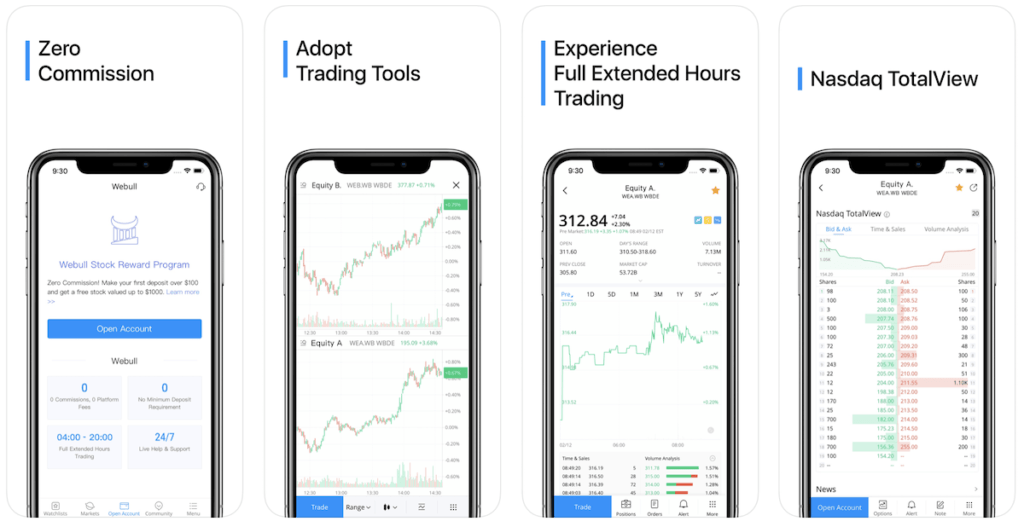 New York City-based Webull was founded in 2016. The platform has more than 10 million users and has been named one of the 'Best Investment Apps' by GOBankingRates.com (GBR).
The core focus of the Webull platform is to provide on-the-go mobile trading tools for tech-savvy everyday consumers to manage their own market portfolios for stocks, ETFs, American Depositary Receipts (ADRs), while Options trading will be available soon.
The platform features powerful technical indicators and this is possibly its target area, but customers also have access to a selection of fundamental analysis tools.
Webull charges zero commissions on trading accounts and no account minimum balances apply. However, if customers make use of the platform's margin trading options, or wish to go short any trades, then a minimum account balance of $2,000 applies, also certain fees.
Webull does not offer savings tools, advice, or education. Its niche market is, therefore, everyday users who already own savings. Brokers' recommendations and simulated paper trading tools are available to assist customers with their investment strategies and activities.
Webull app downloads are available for both Android and iOS mobile devices, also for Windows desktops and Apple Mac computers.
M1 Finance
The M1 Finance app is very easy to use just like Robinhood and is another free way to invest. Just pick your investments, and let M1's Intelligent Automation do the rest. No fees or commissions, ever. You can get started for free here.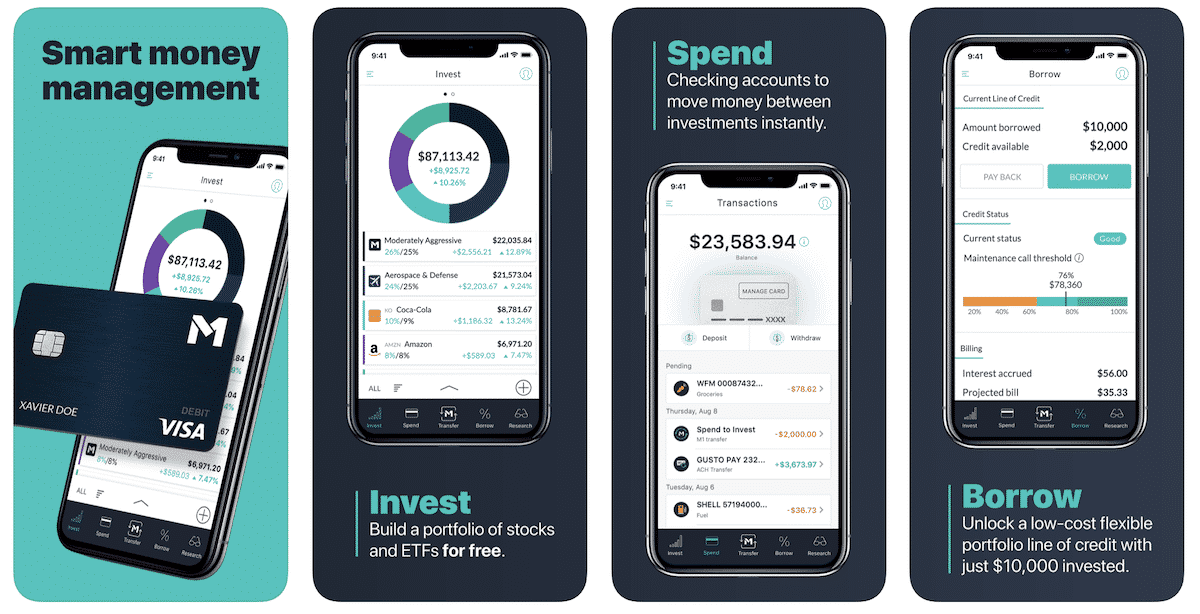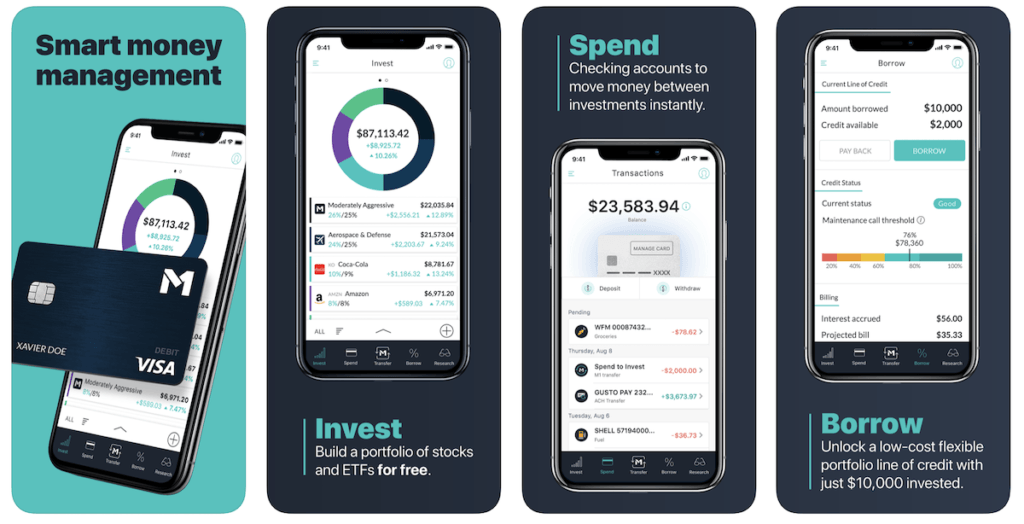 M1 Finance was founded in 2015 and has its headquarters in Chicago. It hosts in excess of 25,000 customer accounts currently.
The company's focus is on making users' financial activities extremely simple and cost-effective by combining spending, borrowing and investing facilities all on one platform.
M1 Spend features a debit card and transaction account that fully integrates with the other components of the platform for quick, seamless, and hassle-free cross activities. There are also no fees payable, and the debit card earns cashback rewards on total spend.
M1 Borrow allows you to take a loan for up to 35 percent of your investment balance on the platform. Repayments are programmed in line with your agreed loan schedule and include extremely low interest of 3.75%.
The loan facility is ideal for leveraging your investment portfolio, but may also be used for any other purpose. When applying for the loan, there is no paperwork, credit checks, or loan officers, and also no denials.
M1 Finance allows you to use the platform's investment tools for free. Fractional share options make diversification simple and ensure that customers can own stocks and ETFs regardless of price.
Users can also fully customize and automate their investment activities, or simply choose from more than 80 prebuilt expert portfolios.
The basic functionality of the M1 Finance app platform is entirely free. Customers can upgrade to the premium package called M1 Plus for a subscription fee of $125 per year, giving access to various features and benefits valued at $345.
The M1 Finance platform is more focused on finance savvy consumers and is therefore not ideal for beginners. Therefore it does not offer tools that help users plan and target their savings goals.
The M1 Finance app is available on Google Play and the Apple App Store.
My Experience Day Trading on Robinhood
After signup, I wanted to see how comfortable I could get daytrading with the platform. I'm starting this "$26k Challenge" thread with the following premise:
I'll swing trade different stocks, my goal is 30K by the end of summer
Each day, I'll report here with an update on my picks and overall portfolio progress
I'm hoping this will spark some interesting conversation about Robinhood, about my specific stock picks, general investment strategy, hot topics such as high-frequency trading.
I'm making this public because I think it will be fun for people to follow along. Please don't take my updates as advice or suggestions: I'm not a professional investor and this is just an experience for me.
The vast majority of investment professionals would tell you to invest for the long haul and that timing the market and riding the ups and downs is a coin toss at best unless you've got millions of dollars at your disposal.
I agree and it's a strategy to which I largely subscribe.
The $0 transaction fees offered by Robinhood do somewhat reduce the barriers that potential low volume day traders face, but I'm not suggesting it's a strategy you use yourself. Again, I'm doing this for fun.
I may update this first post with more information depending on the interest/response… but here goes nothing.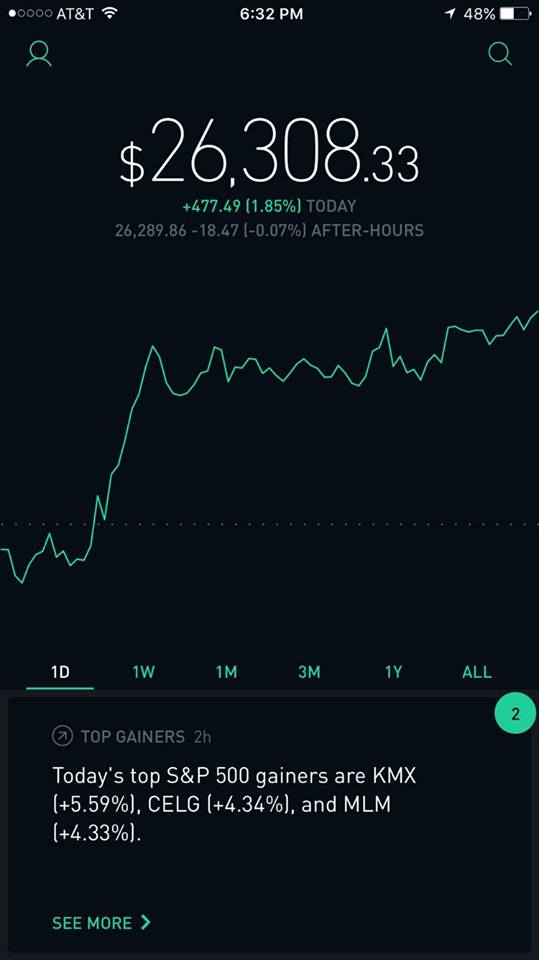 Current Portfolio
NOK – 400 Shares
OREX – 1047 Shares
NUGT – 8 Shares
BCS – 441 Shares
KMI – 30 Shares
F – 1382 Shares
Cash- $1,334.80
Total Value: $26,308.33
Total Investment: $26,000.00
Return on Investment:

1.18%
Next Update
Alright, honestly making trades daily is a little exhausting because of the market, at least today was very volatile. It is too easy to get stuck for no good reason. I took profits as the markets rallied this morning and sentiment rose. My account value was at $26,457.76 at one point today. As SPY peaked I went ahead sold all my positions and then did some trading around lunch hours which I could have done without as some trades did not go my way ($DWTI). I have a feeling that the economy may be at its tipping point. I did not want to hold any positions overnight and my account is all cash for now as tomorrow the Labor Department releases the June jobs report at 8:30 am E.T.
Sold: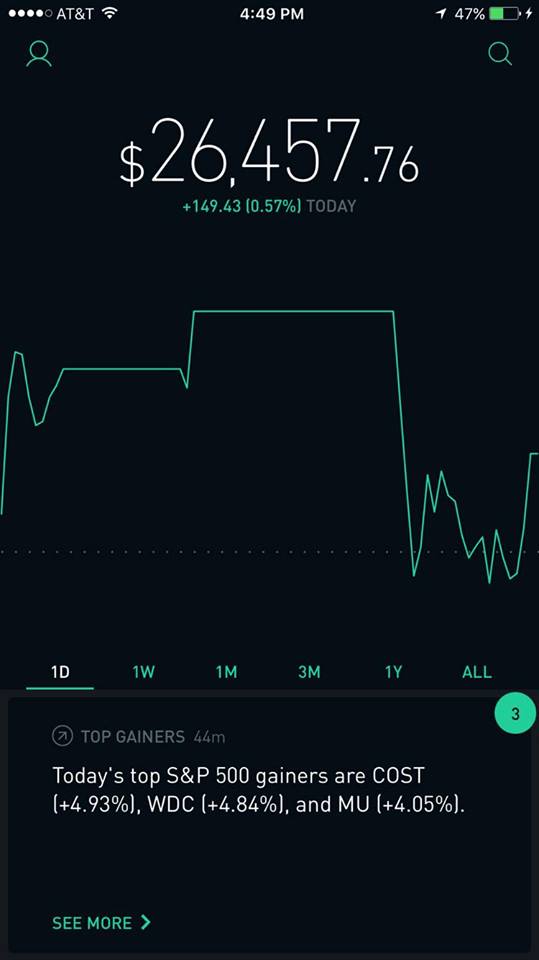 NOK – 400 Shares
OREX – 1047 Shares
NUGT – 8 Shares
BCS – 441 Shares
KMI – 30 Shares
F – 1382 Shares
Traded today:
Current Portfolio:
Total Value: $26,457.76
Total Investment: $26,000.00
Return on Investment:

1.76%
I'll continue to update this if people are interested.
Robinhood Review Summary
One last time – Join Robinhood & Receive a Free Random Share of Stock Worth up to $200 (+ Free Shares for Referrals).
It took me less than 5 minutes to create a new account and get approved. I got a free share of SIRI (Sirius XM, $5) for signing up, and so far I've gotten shares of F (Ford, $11.36), SPLS (Staples, $9.72), OPK (OPKO Health, $7.47), S (Sprint, $8.50), CHK (Chesapeake Energy, $5.53), and RAD (Rite Aid, $3.80) for referring other users – over $60 worth of stocks so far for referring friends.
One of my friends got a share of AAPL (Apple) worth $147! Shares can be cashed out 30 days after receipt.
If you want to try your luck, feel free to sign up using my referral link. You'll need to provide your name, address, date of birth, and social security number.
It looks like they do a soft pull of your Experian credit report to verify your identity.
You don't have to put any money in the account – when it asks for your bank information, just click on the link on the right that says "what if my bank's not listed?" and it will let you skip that part.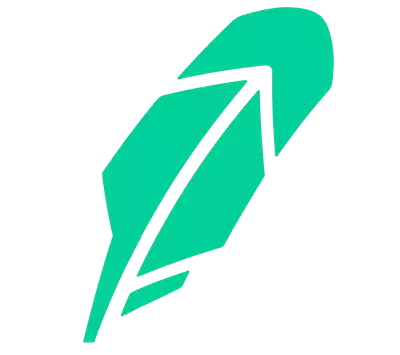 Robinhood
Robinhood has commission-free investing for stocks, options, ETFs, crypto, and tools to help shape your financial future. Sign up and get your first stock worth between $5 and $200, free.
Open Account
Related posts:
Our Pick