The coming of the Internet two decades ago brought with it countless online opportunities.
For instance, our 24/7 modern digital lifestyle and always-on mobile interconnectivity form the ideal backdrop for making investments on-the-go.
Taking the first step toward a secure retirement implies taking action right now.
Downloading a micro investing app, creating an account, and setting up recurring payments are all good first steps.
What Is Micro Investing?
Micro investment platforms aim to assist everyday consumers with making a habit of saving money in a 'painless' way, also to attempt getting the best returns on investment in the open market.
Typically, the platforms provide a combination of online budgeting tools and trackers, investment opportunities in financial and real estate markets with no or low minimum amount requirements, also investment education, support, and advice.
The rationale is that over time the smallest regular amounts can accumulate and build up to become larger sums. Also, as investors' market experience, skills, and confidence grow, it's possible for them to eventually evolve into becoming successful mainstream participants.
Micro investment platforms typically also aim to keep the costs to customers low so that their savings amounts can grow as quickly as possible.
Micro investment platforms are required to register with the Securities and Exchange Commission (SEC) as both a Registered Investment Advisor (RIA) and broker-dealer.
Can You Actually Make Money with Micro Investing Apps?
Yes, you can, and everyday users often do.
Because micro-investing platforms invest pooled funds on your behalf into the same open markets –e.g. stocks, bonds, and property- as conventional investors, your odds for profiting are the same as the mainstream players.
Further upside for micro investors –as discussed earlier- is the fact their costs are substantially lower, and typically a flat rate, when compared to the fees and brokerage payable on traditional trading accounts.
Given an identical investment type, micro investors are therefore likely to be 'in the money' before their mainstream counterparts.
A real-life micro-investment experiment by Business Insider – diversified across stocks and bonds- yielded 2.81% profit in 30 days, or 34.18% annualized.
While two other real-life experimental 3-month portfolios that we have observed, performed as follows:
Portfolio1 – profitable return on investment of 2.83% for the period (34.43% annualized)
Portfolio2 – loss of 0.73% over the measured period (-2.92% annualized)
The potential net upside from micro-investment participation is clear from the examples quoted in the preceding paragraphs. However, portfolio profitability, or the lack thereof, is, of course, subject to prevailing market conditions during the investment period.
By and large, global markets have been bullish over recent years, and participation therein was often handsomely rewarded.
What are the Best Micro Investing Apps for 2023?
In line with the skyrocketing trend of tech disruption over the past decade or two, we have also witnessed a proliferation of micro-investing apps.
However, amongst the wide choice available, four apps, in particular, have caught our eye: Acorns, Qapital, M1 Finance, and Webull.
1. Acorns: Best for Worryfree Savings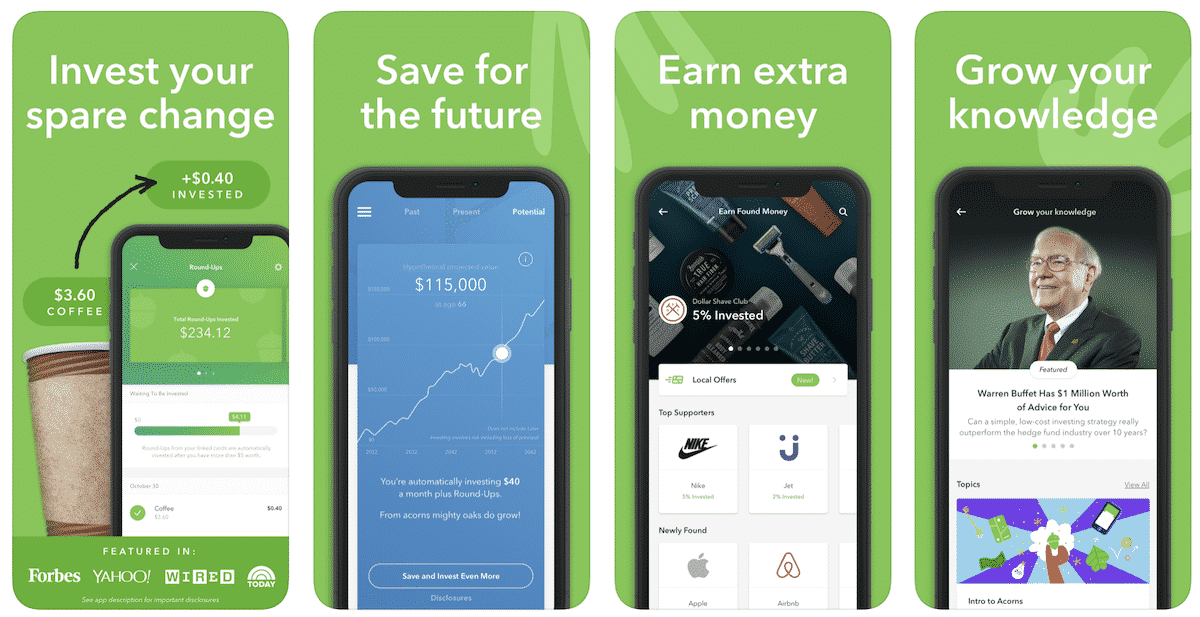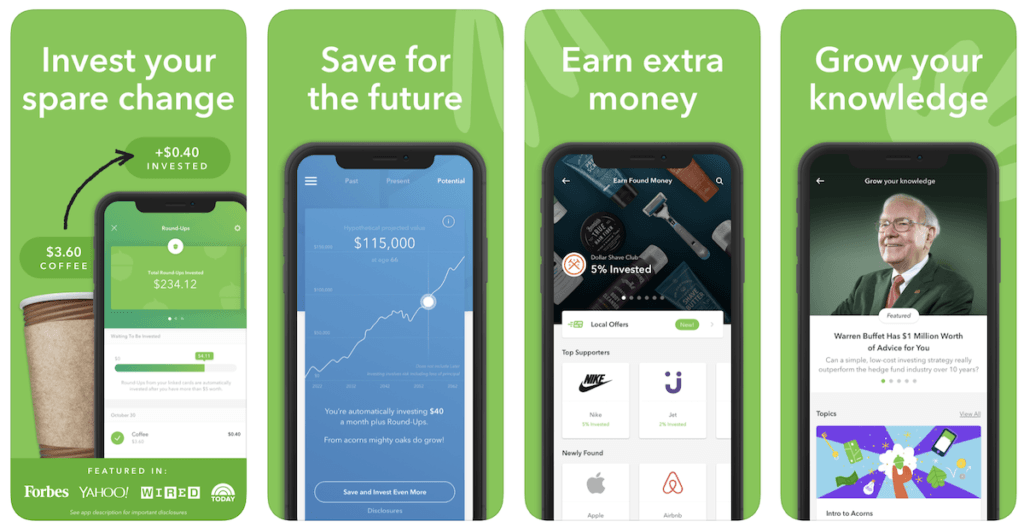 Acorns was founded in 2012 and is headquartered in California. Today it has more than 3.5 million customers worldwide.
At its most basic, the platform's Acorns Core module 'siphons' off the minuscule rounding amounts from payments made with your money cards and reinvests those savings on your behalf.
You can register your own, existing payment cards on the program, or even opt for the Acorns Spend debit card. And, also make your own rounding settings, e.g. rounding up to the nearest $1 is a popular choice.
Acorns pools your 'spare change' with other customers and automatically places the monies in low-cost, diversified portfolios of exchange-traded funds offered by reputable asset managers.
Customers can further also select their own risk profile on the platform, ranging through five levels from 'conservative' to 'aggressive'.
Key Features
The Acorns app easily allows you to invest your spare change automatically. The app is free for college students or if you are under 24 years old. Join almost 4,000,000 people saving and investing every day in a portfolio based on personalized income and goals.
Pricing
Price: $1-3 per month
For its services, Acorns follows a simple, low, flat-rate structure. For $1 you get Acorns Core, $2 adds Acorns Later (access to a tax-deductible IRA plan), and $3 adds the Acorns Spend debit card which features cash-back benefits on your everyday purchases.
Best For
The Acorns platform is focused on helping average consumers generate savings and obtain good returns. Not only is the whole approach therefore beginner-friendly, but Acorns further also invests substantially in the financial literacy of its user base.
Its popular online publication 'Grow' focuses on finance-related articles and how-to investment guides.
The idea is that customers' own market savvy grow in line with their savings amounts, and that, eventually, they can participate skilfully and hands-on in the management of their portfolios.
Acorns customers can start with as little as $5. And, in addition to the Acorns Core roundups that get credited to their savings pool on a continuous basis, they can also choose to register further, periodic payments that boost the growth of their funds.
Available
The Acorns app is compatible with both iOS and Android operating systems and is available on the Apple App Store and Google Play platform.
Apple App Store Rating: 4.7/5
Google Play Store Rating: 4.3/5
Earn $20 bonus

Acorns
With Acorns, you can easily invest your spare change. Anyone can "squirrel" away some money and become an investor with Acorns. Enjoy a $20 welcome bonus when you open a new Invest account and set up recurring investments.
Open Account
2. M1 Finance: Best for Expert Curated Portfolios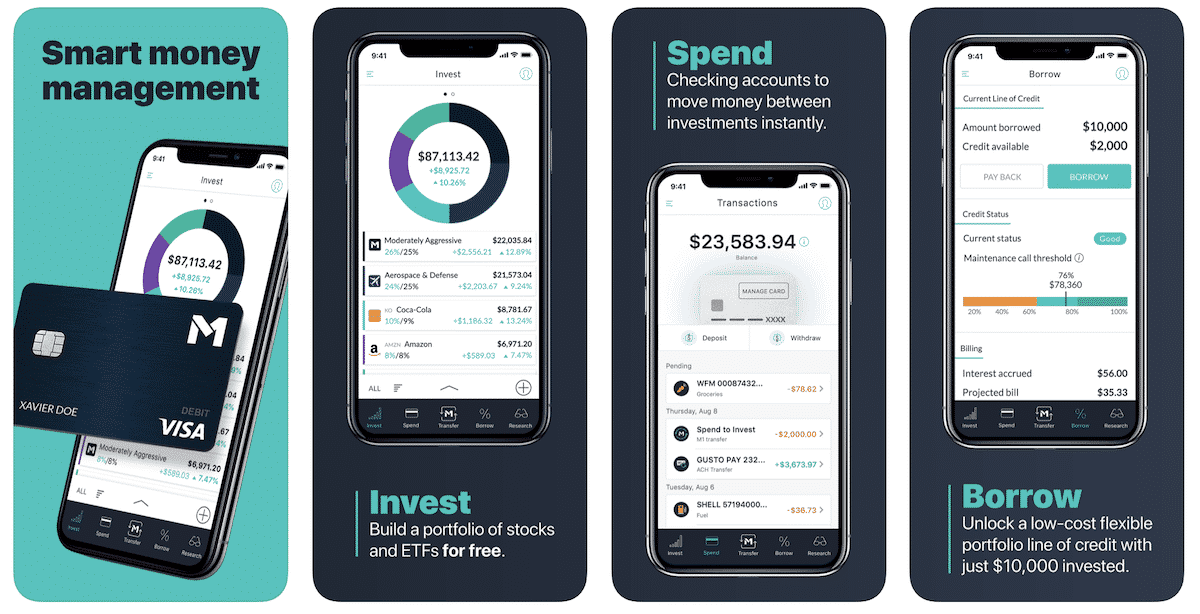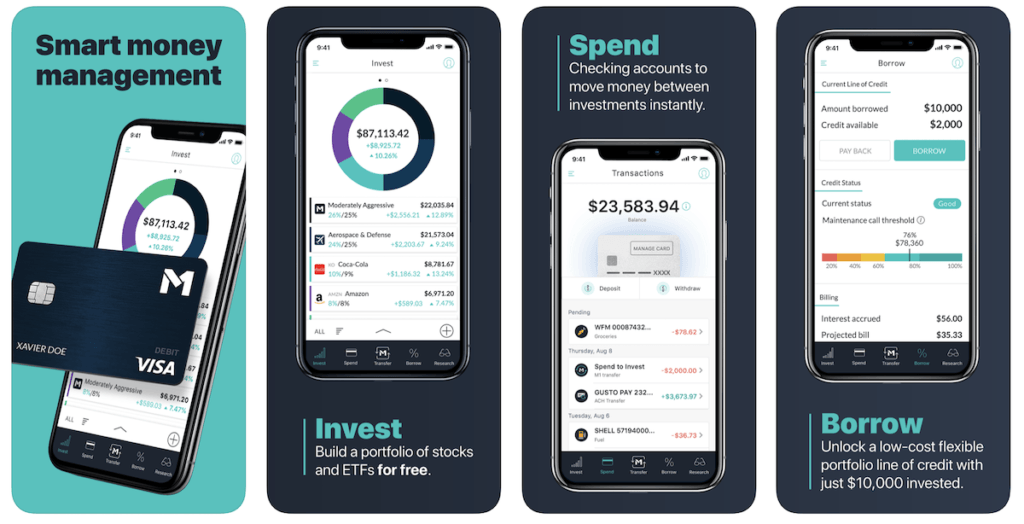 M1 Finance was founded in 2015 and has its headquarters in Chicago. It hosts in excess of 25,000 customer accounts currently.
The company's focus is on making users' financial activities extremely simple and cost-effective by combining spending, borrowing and investing facilities all on one platform.
M1 Spend features a debit card and transaction account that fully integrates with the other components of the platform for quick, seamless, and hassle-free cross activities. There are also no fees payable, and the debit card earns cashback rewards on total spend.
M1 Borrow allows you to take a loan for up to 35 percent of your investment balance on the platform. Repayments are programmed in line with your agreed loan schedule and include extremely low interest of 3.75%.
The loan facility is ideal for leveraging your investment portfolio, but may also be used for any other purpose. When applying for the loan, there is no paperwork, credit checks, or loan officers, and also no denials.
M1 Finance allows you to use the platform's investment tools for free. Fractional share options make diversification simple and ensure that customers can own stocks and ETFs regardless of price.
Users can also fully customize and automate their investment activities, or simply choose from more than 80 prebuilt expert portfolios.
Key Features
The M1 Finance app is very easy to use, and is a free way to invest. Just pick your investments, and let M1's Intelligent Automation do the rest. No fees or commissions, ever. You can get started for free here.
Pricing
The basic functionality of the M1 Finance app platform is entirely free. Customers can upgrade to the premium package called M1 Plus for a subscription fee of $125 per year, giving access to various features and benefits valued at $345.
Best For
The M1 Finance platform is more focused on finance savvy consumers and is therefore not ideal for beginners. Therefore it does not offer tools that help users plan and target their savings goals.
Available
The M1 Finance app is available on Google Play and the Apple App Store.
Apple App Store Rating: 4.7/5
Google Play Store Rating: 4.6/5
Best for automated investing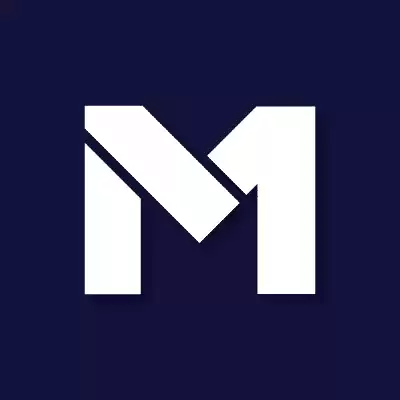 3. Fundrise: Best for Real Estate Investing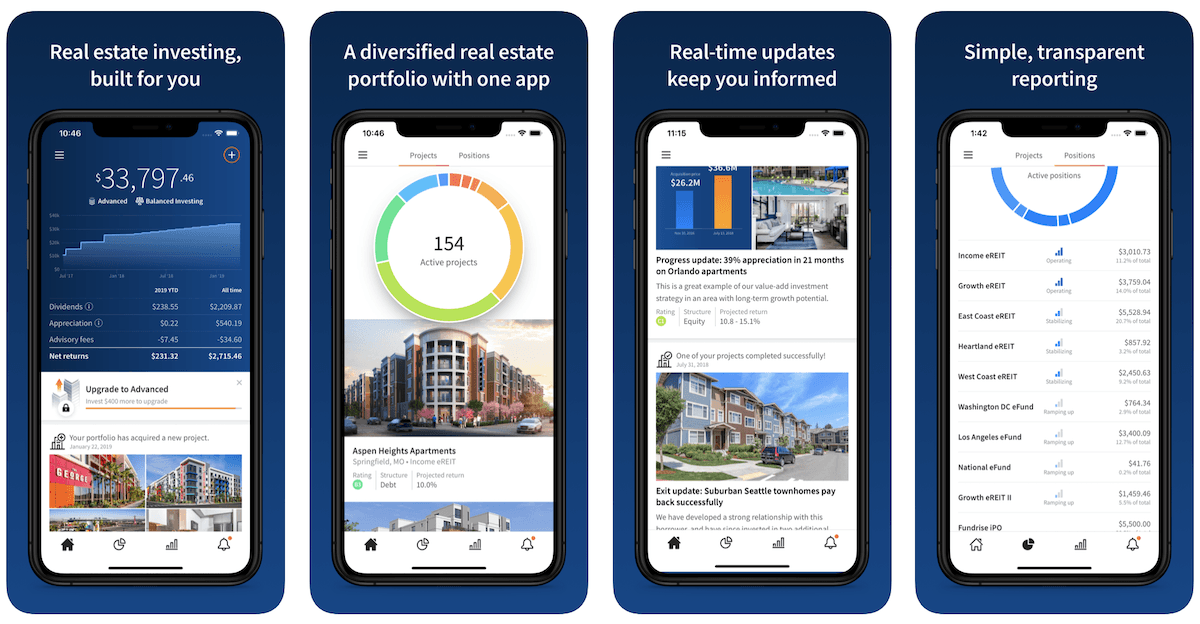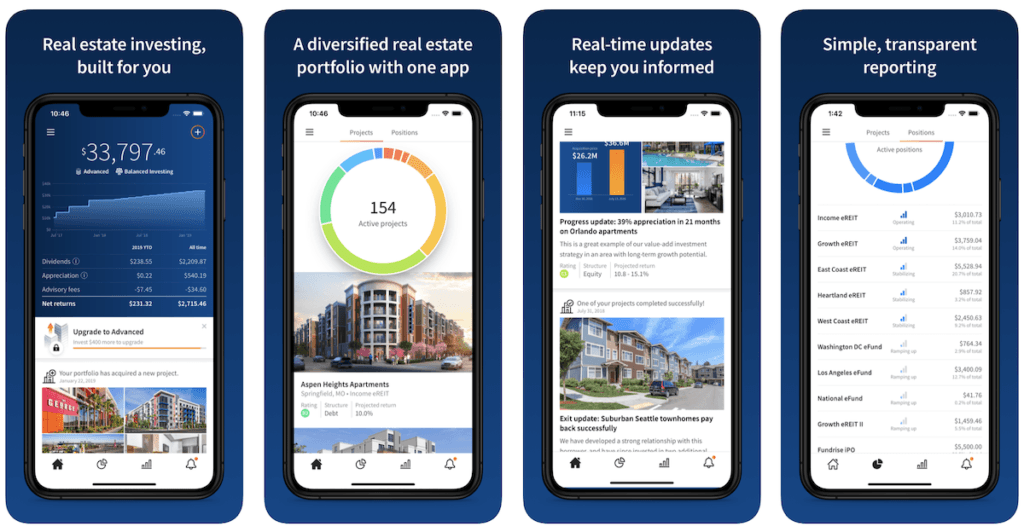 While the markets for participation in traditional financial instruments such as stocks, bonds, ETFs and so forth have been reasonably accommodating to both large and small investors, the same cannot be said for real estate and fixed property.
Thanks to the sheer magnitude of capital required for property investments, the market was traditionally mostly accessible by corporate investors only. Fundrise is a micro-investing real estate platform that enables everyday consumers to also claim their part of the action.
Fundrise was launched in 2012 and is headquartered in Washington, D.C. With its Starter Portfolio option, investors can get involved with as little as $10. The platform's average annualized returns over the past 5 years have been between 9 and 12 percent.
Fundrise follows the crowdfunding model to invest in approved real estate projects. Investors can easily diversify their portfolios by participating in a spread of portfolios aimed at creating supplemental income, balanced investing, and long-term growth opportunities.
Key Features
Fundrise is the first low-cost real estate investing app, that is simple and affordable. You can get returns of 8.7-12% annually by using it. You can now invest in large-scale real estate for as little as $10 with Fundrise.
Pricing
Fundrise does charge nominal annual fees to its customers, i.e. 0.15% for investment advice and 0.85% for asset management services.
Best For
The platform is great for beginners who want a real estate investing app to handle all the hard work for them easily. The Fundrise website features a dedicated Resources section with educational content, expert opinions, and FAQs. It's very easy to get started.
Available
The Fundrise app is compatible with iOS mobile operating systems and can be downloaded from the Apple App Store.
Apple App Store Rating: 4.8/5
Google Play Store Rating: 4.6/5
Best for REITs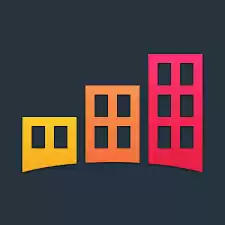 Fundrise
Fundrise is a very easy-to-use app that allows individuals to access crowd-funded real estate investing. This option is best for users who want to make money consistently and let their money make them money.
Open Account
Fundrise Review
3. Qapital: Best for Customizable Savings Rules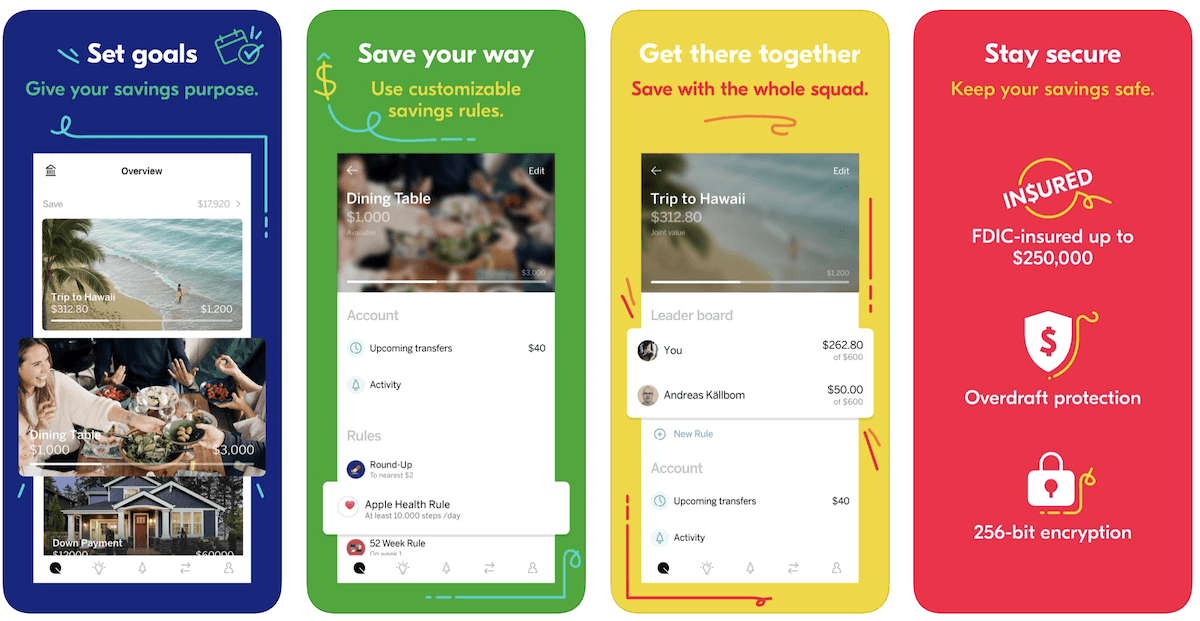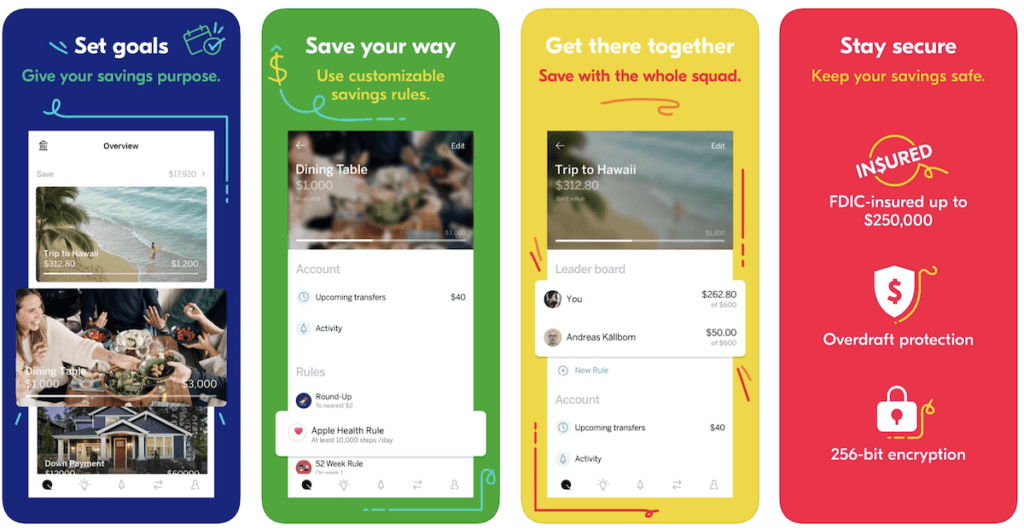 New York-based Qapital, originally a Swedish startup, was founded in 2012. It currently has 420,000 users and counting.
Simply put, Qapital focuses on getting everyday people into the savings mindset, helping them to set financial goals and targets, and to achieve the objectives quicker by investing for optimal returns in the open markets.
The Payday Divvy tool helps users to split their wages sensibly and also make dedicated, regular savings deposits.
Spending Tracker makes sure that things go according to plan, and Qapital Invest makes it easy to invest the savings with confidence into pre-built portfolios.
There are five risk levels to choose from, ranging between 'Very Conservative' and 'Very Aggressive'.
Key Features
Qapital is the only mobile banking app that lets you save smartly, spend happily, and invest comfortably with intuitive tools that make it easy to take control of your personal finances. You can get started here.
Pricing
Customers can choose from three subscription levels, Basic, Complete, and Master. For fees of $3, $6, or $12 per month, they can gain access to various components and features of Qapital's suite of savings tools, also a Qapital checking account and debit card.
Best For
Qapital is ideal for beginners who can, after starting with as little as $10, watch their investments grow, and get acquainted with the market at the same time.
Customers can also choose to boost their savings with small change roundups from everyday card purchases, and/or extra deposits when their month's spending comes in under budget.
Available
The Qapital app is available on Apple App Store and Google Play platform.
Apple App Store Rating: 4.8/5
Google Play Store Rating: 4.5/5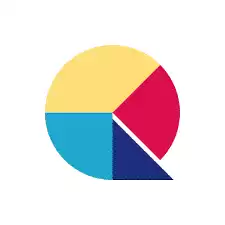 Qapital
Qapital is a personal finance mobile application for the iOS and Android operating systems. The app is designed to motivate users to save money through gamification of their spending behavior. Qapital is a full-service banking app that helps its members save smartly and invest confidently, all so they can spend happily.
Open Account
Qapital Review
4. Webull: Best Fee-Free Micro Investing App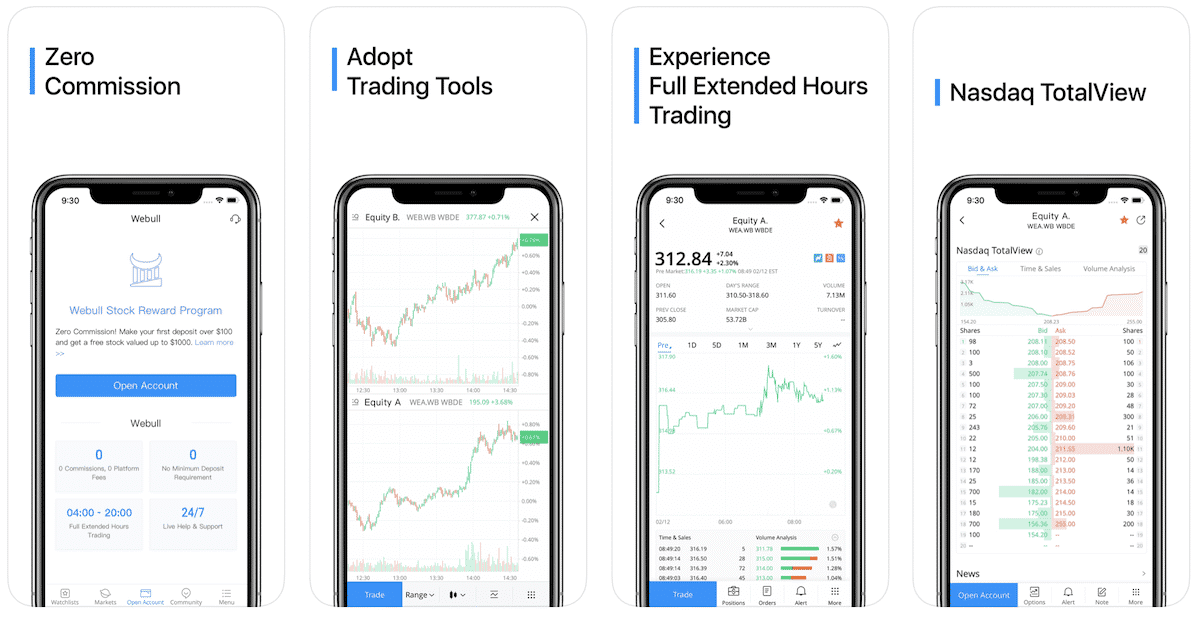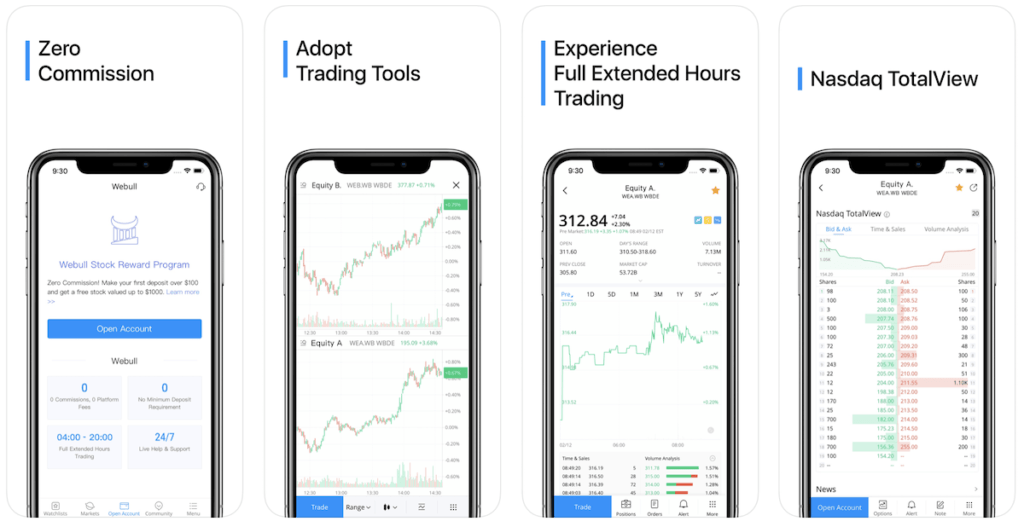 New York City-based Webull was founded in 2016. The platform has more than 10 million users and has been named one of the 'Best Investment Apps' by GOBankingRates.com (GBR).
The core focus of the Webull platform is to provide on-the-go mobile trading tools for tech-savvy everyday consumers to manage their own market portfolios for stocks, ETFs, American Depositary Receipts (ADRs), while Options trading will be available soon.
The platform features powerful technical indicators and this is possibly its target area, but customers also have access to a selection of fundamental analysis tools.
Key Features
Webull offers commission-free online stock trading covering full extended hours trading, real-time market quotes, customizable quotes and more. Plus if you sign up you can get two free stocks, learn more here.
Pricing
Webull charges zero commissions on trading accounts and no account minimum balances apply. However, if customers make use of the platform's margin trading options, or wish to go short any trades, then a minimum account balance of $2,000 applies, also certain fees.
Best For
Webull does not offer savings tools, advice, or education. Its niche market is, therefore, everyday users who already own savings. Brokers' recommendations and simulated paper trading tools are available to assist customers with their investment strategies and activities.
Available
Webull app downloads are available for both Android and iOS mobile devices, also for Windows desktops and Apple Mac computers.
Apple App Store Rating: 4.7/5
Google Play Store Rating: 4.5/5
Get up to 16 free stocks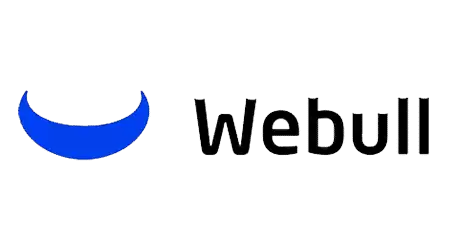 Webull
Expand your stock portfolio & own fractional shares of your favorite companies at a $5 min. Pay $0 in commission & management fees when you trade fractional shares with Webull.
Open Account
Is Micro Investing Worth it?
While most of the nation is dedicated and committed to working hard, a large percentage never reach financial independence or comfortable retirement simply because their money is not working hard for them too.
By simply leaving money in savings accounts where it earns between say 1-3 percent annual interest, which is in the same ballpark as the inflation rate, it is not hard to understand why the average citizen's financial situation does not improve and even goes backward.
Micro investing gives everyone –not only the well-to-do- an opportunity to participate directly in the engine of the economy, i.e. the financial and property markets, and share in solid portfolio growth, often upwards of 5% every year.
The Bottom Line
Micro Investment app platforms are a much needed and welcome addition to the always-on-the-go lifestyle of modern consumers.
Between them, the apps reviewed above offer a great balance of approaches, platform tools, education, and support to assist everyday consumers with adopting a savings mindset, creating goals and targets, achieving those targets, and also to engage confidently with the investment markets to make their savings work as hard as possible, even from a small start.
Not only are the best, high-tech and effective savings tools always only a click away, but everyday people can now also participate in investment markets to reach their own, specific financial goals in a confident, informed, and well-supported manner. These apps can help you reach your short-term and long-term investment goals.