Robinhood originally planned to launch Robinhood in the UK in 2020. A lot changed in the world in the first half of 2020, and so they made the difficult decision to postpone the UK launch indefinitely in July 2020.
Although Robinhood's global expansion plans are on hold for now, the company remains committed to opening access to financial markets for more people around the world. In its support article, they mention they look forward to the day when we can bring this mission to the UK.
For reference, Robinhood U.K. Ltd. ("Robinhood UK") had a limited amount of UK customer transactions in the calendar year 2020 as part of its pre-launch testing phase. In line with its applicable UK regulatory obligations, Robinhood UK has prepared its RTS 28 report for UK customer transactions in the calendar year 2020, published here (a machine-readable version is published here).
So what happened to the UK launch, exactly?
What Happened to the UK Launch?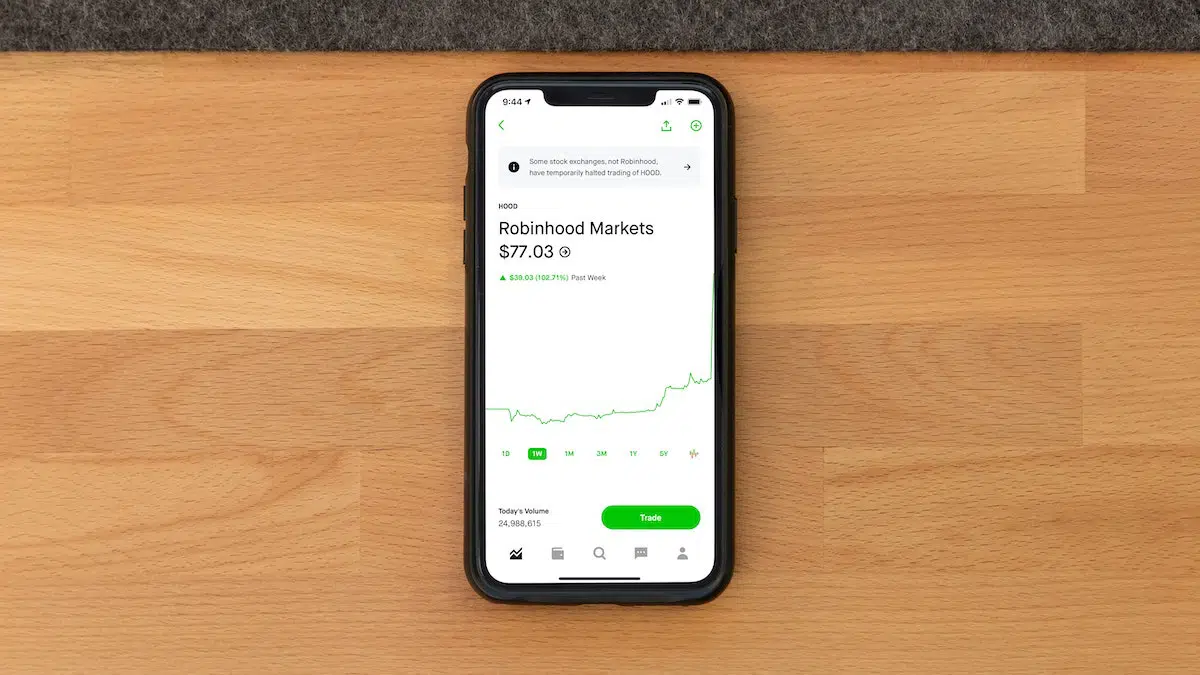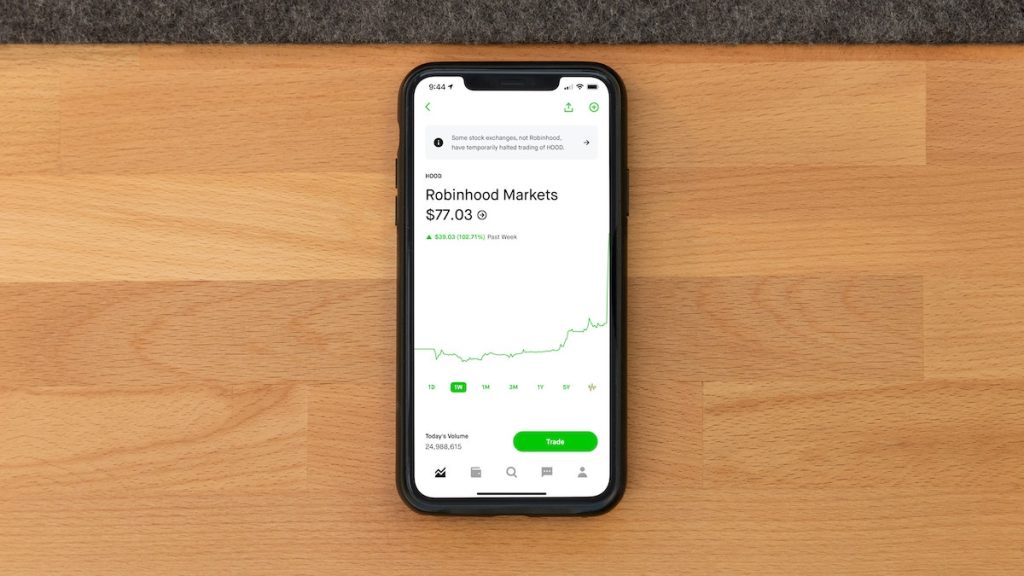 Robinhood is not yet available in the UK. This is because of the global pandemic that forced the popular investment app to delay its UK launch, first in the summer of 2020, and then indefinitely as the world coped with COVID-19 and its after-effects.
What happened to the UK Launch?
As of the writing of this article, Robinhood has yet to announce a UK release date, so the answer remains open-ended. No one is sure when or even if Robinhood will make it to the UK and so Robinhood has postponed its UK launch indefinitely.
If you're curious about Robinhood's UK release, you're not alone. There was a test pilot version of the app available to certain UK audiences, but with unforeseen circumstances, the final product has yet to be rolled out. New developments with the addition of Ziglu to the Robinhood portfolio provide hope, but it remains to be seen if Robinhood UK will ever get off the ground.
While UK investors wait to gain access to this popular investment platform, U.S. residents can still take advantage of its features to achieve their investment goals.
Read on to find out more about Robinhood's future plans in the UK, as well as how you can use Robinhood alternatives in the UK like eToro.
Join over 12M users worldwide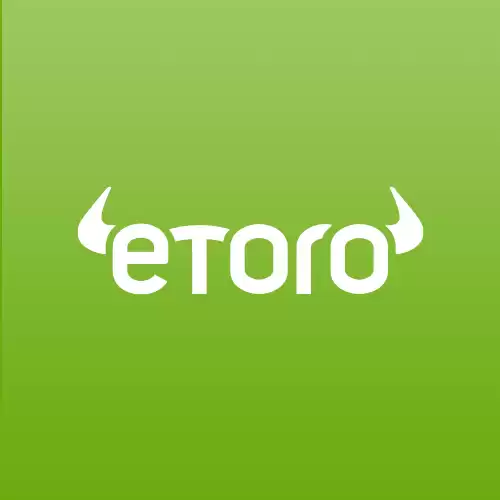 eToro
Trade popular crypto, stocks, and beyond. Explore professionally managed portfolios. Connect with over 20M traders. eToro is one of the world's leading social investment community that allows people to grow their knowledge
Open Account
eToro is a multi-asset investment platform. The value of your investments may go up or down. Your capital is at risk.
Alternatives to Robinhood in the UK
There are many Robinhood alternatives, a large number of which include commission-free trading as part of their features list.
eToro: You can trade commission-free using a variety of stock and ETFs. You may also follow other traders/investors. It's slick, modern, and simple to use for anybody. Over 25 million customers trust it worldwide.
DEGIRO: With a low-cost structure and a wide selection of instruments and markets covered, this is one of the most popular online brokers in Europe.
Interactive Brokers: IBKR is one of the world's most reputable brokers, having been founded in 1978. It provides a wide range of financial services (stocks, ETFs, options, and so on), as well as low currency conversion costs (FX fees). Interactive Brokers also introduced IBKR GlobalTrader, a cutting-edge mobile trading application that allows users to trade equities and ETFs.
Stake: With a 0.5% fee on deposits and withdrawals, Stake is an Australian broker that allows you to trade 6,000+ equities and ETFs for free.
Capital.com: The UK's #1 currency trader is offering a 0% commission service that offers low overnight costs, tight spreads, and no currency conversion expenses! You'll be able to access over 6,100 markets, including stocks and ETFs as well as CFD trading in indices, shares, cryptos commodities, and Forex.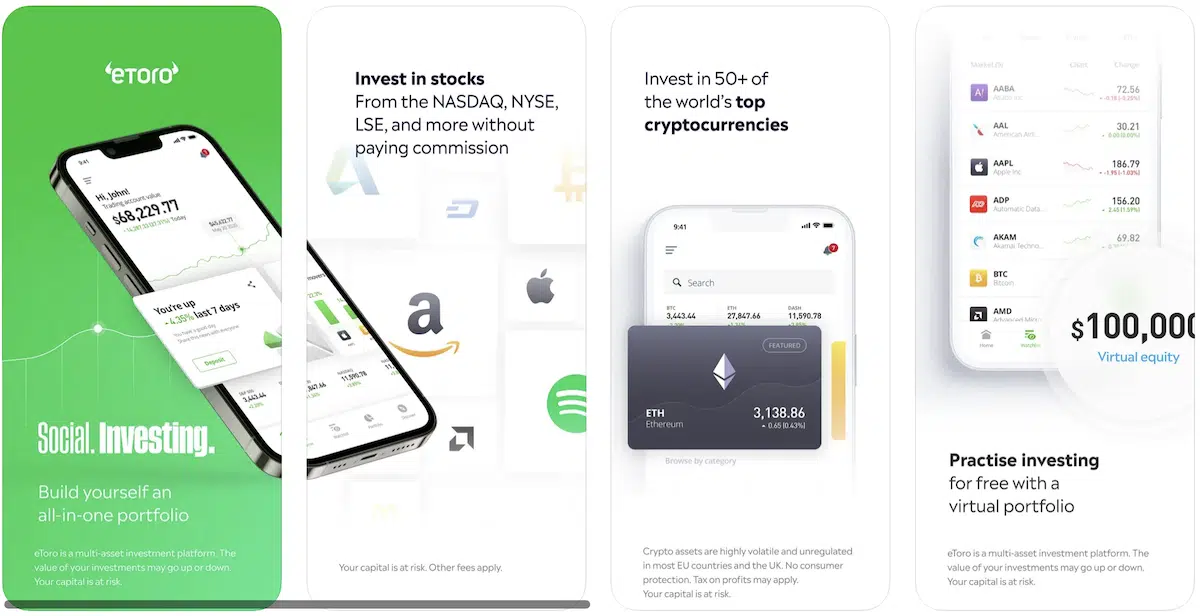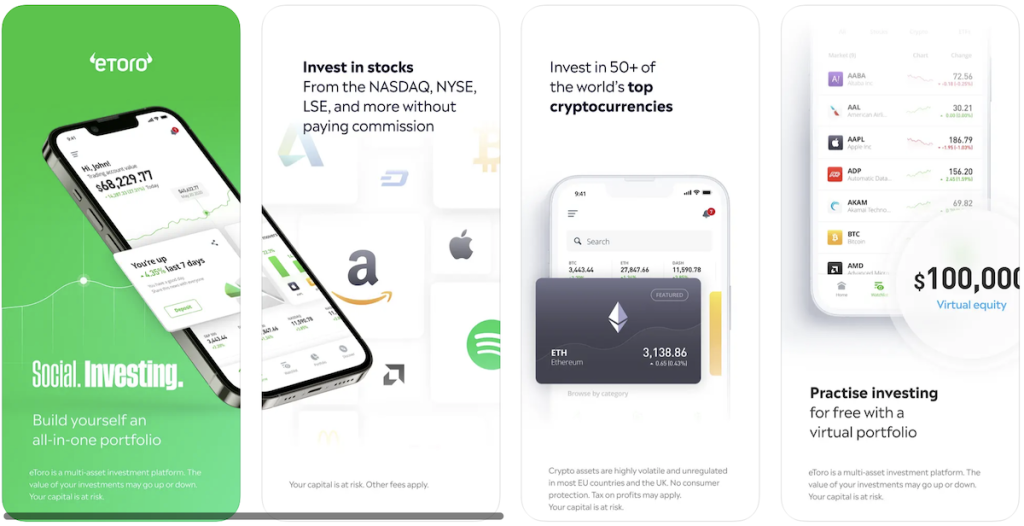 eToro details:
0% Commission: ✔️¹
Mobile App: ✔️
Products: CFDs, ETFs, Stocks, Commodities, Forex, and Cryptocurrencies
Minimum Deposit: $10
Regulators: CySEC, FCA, and ASIC
eToro is a well-known financial technology startup that was founded in 2006. They are the leader in social trading (following other people's trades) with over 25 million users worldwide.
Not only can you invest in other types of assets like CFDs, ETFs, stocks, commodities, Forex and cryptocurrencies – but you can do it through their easy to use platform.
Plus, they have started offering commission-free stock and ETF trading in the UK.
The app serves over 25 million customers worldwide with a sleek interface that's modern and easy to use. You can easily copy other investors to set up your own investments with eToro. All you need is £10 to start.
Join over 12M users worldwide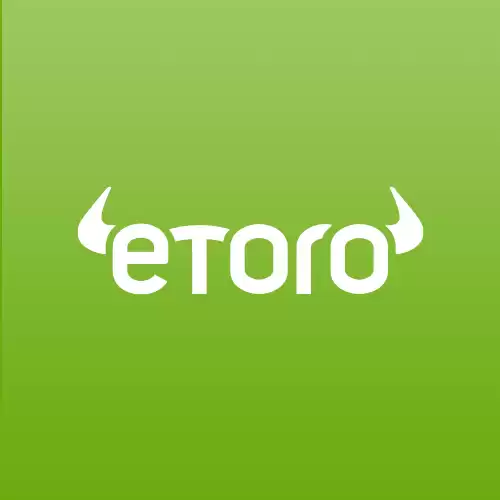 eToro
Trade popular crypto, stocks, and beyond. Explore professionally managed portfolios. Connect with over 20M traders. eToro is one of the world's leading social investment community that allows people to grow their knowledge
Open Account
eToro USA LLC; Investments are subject to market risk, including the possible loss of principal. Archived, "Virtual currencies are highly volatile. Your capital is at risk."
¹ On only non-leveraged stocks only.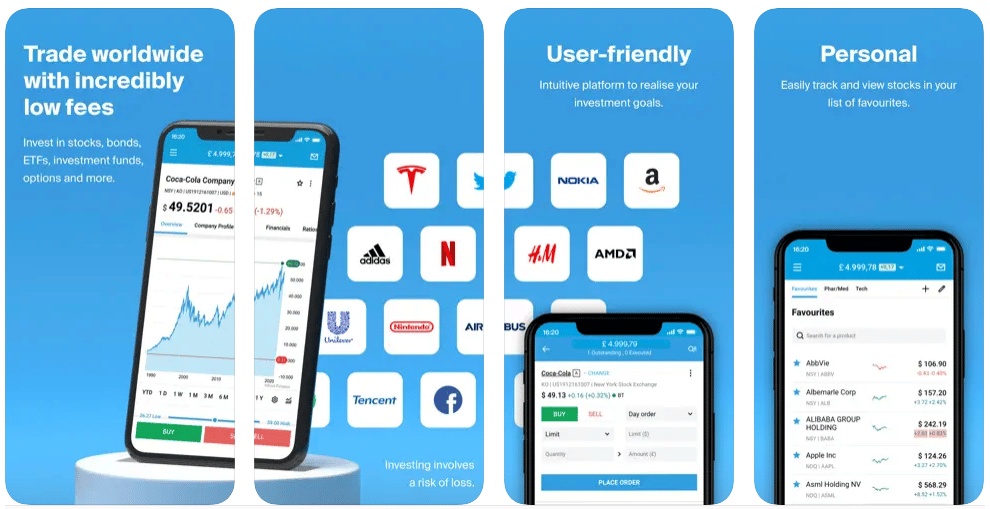 DEGIRO details:
0% Commission: ✖
Mobile App: ✔️
Products: Real Stocks, ETFs, Investment Funds, Futures, Leveraged Products, Bonds, and Warrants.
Minimum Deposit: £0
Regulators: AFM; DNB; FCA; FI
As one of the premier online brokers in Europe, DEGIRO offers low trading commissions. They offer their customer a low-cost structure for investments, with no minimum deposit required. Their wide range of products is built to suit investors of all needs, from high risk-high reward to those more conservative in their approach. 
Unlike some of the other competitors, DEGIRO does not charge an inactivity fee. You can easily open a DEGIRO account online, which is regulated by the Dutch Financial Supervisory Authority, as well as the British Financial Conduct Authority. Forex, CFDs, and crypto are not available as investments within the DEGIRO portfolio. Plus, you'll have to pay in order to see prices in real-time, as the standard quoted prices are delayed by 15 minutes.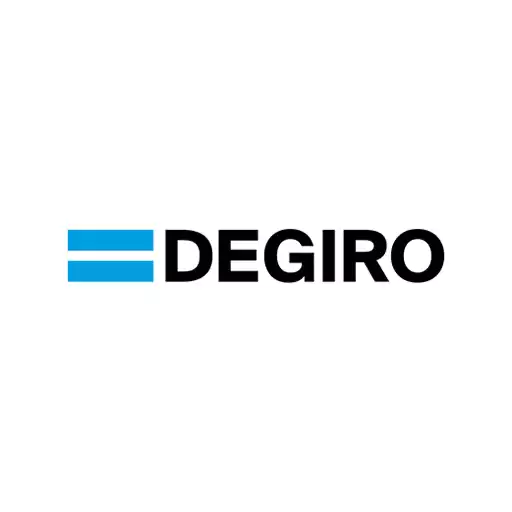 DEGIRO
DEGIRO has quickly become one of the largest brokers in Europe. What separates DEGIRO from the rest is that this platform offers a unique combination of a user-friendly and comprehensive platform with incredibly low fees.
Open Account
Disclaimer: Investing involves risk of loss.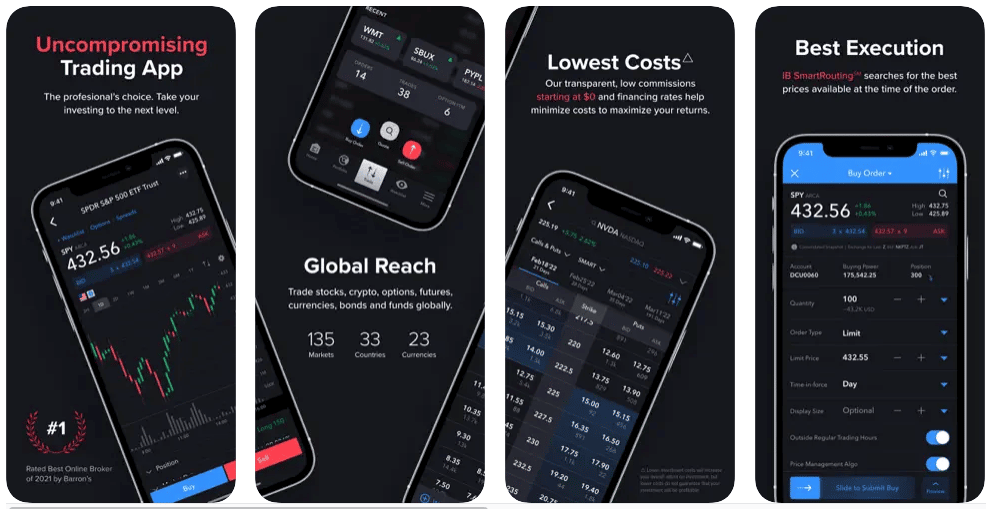 Interactive Brokers details:
0% Commission: ✖
Mobile App: ✔️
Products: Stocks, ETFs, Bonds, Forex, Funds, Commodities, Options, Futures and CFDs
Minimum Deposit: £0
Regulators: FINRA, SIPC, SEC, CFTC, IIROC, FCA, CBI, AFSL, SFC, SEBI, MAS, MNB
Interactive Brokers was founded in 1978 and continues to offer a wide range of financial products. These include stocks, bonds, commodities, futures, options, ETFs, forex, and CFDs. While there is no minimum deposit required for an Interactive Brokers account, they do charge currency conversion fees, albeit low.
If you are a beginner investor, you may want to check out the IBKR GlobalTrader. It's a stock and ETF trading app that allows you to learn as you manage your investments.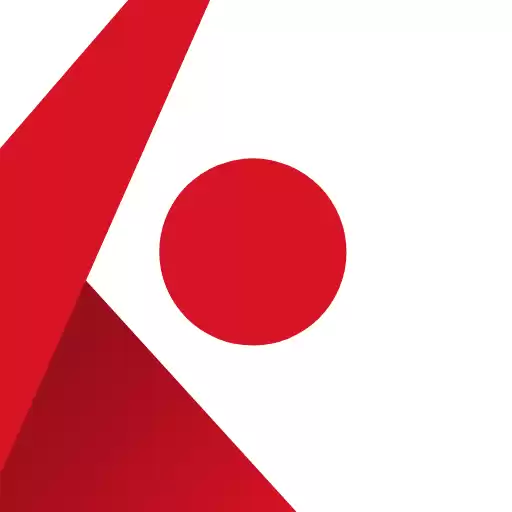 Interactive Brokers
Leading online trading solutions for traders, investors and advisors, with direct global access to stocks, options, futures, currencies, bonds and funds.
Open Account
Honorable Mentions
4. Capital.com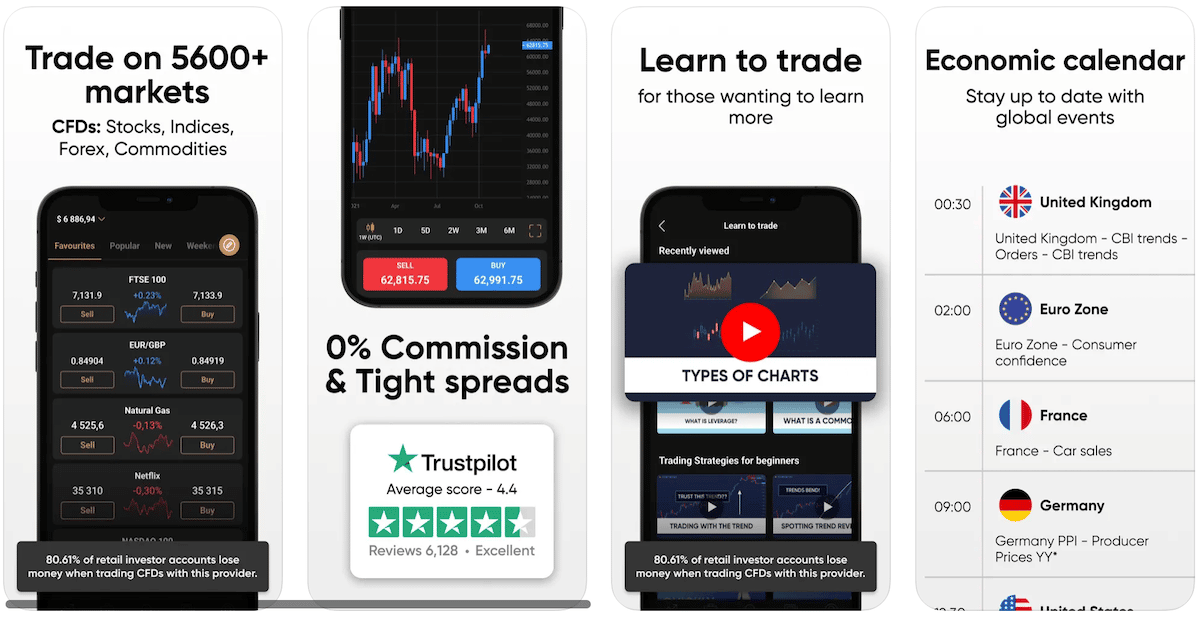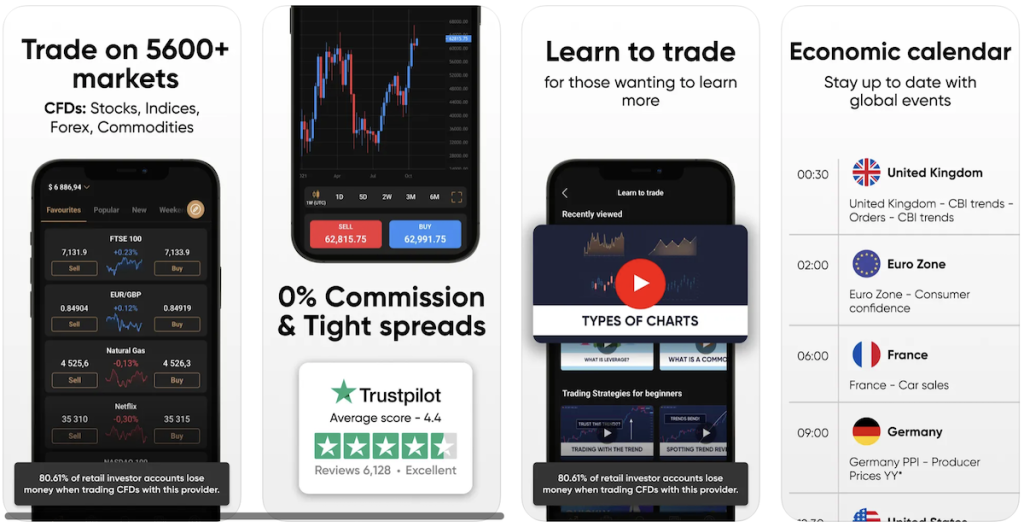 Capital.com details:
0% Commission: ✔️
Mobile App: ✔️
Products: Stocks, ETFs and CFDs in indices, shares, cryptos, commodities and Forex
Minimum Deposit: £20
Regulators: FCA, CySEC, ASIC and NBRB
Conversely, Capital.com offers access to over 6,000 markets, in financial products such as cryptocurrencies, commodities, indices, shares, forex, stocks, CFDs, and ETFs. You will need £20 in your account as a minimum deposit, but there are no currency conversion or commission fees.
If you prefer to test out your investment account before you sign up, you can easily demo Capital.com. In fact, the demo version doesn't expire and is free to try. It can introduce you to the many educational resources found on this app as well, which help you to make better-informed decisions when it comes to investing.
Capital.com provides tight spreads you can take advantage of on their mobile app. Low overnight fees make it a popular alternative, at least until Robinhood arrives on the scene. Capital.com accounts are subject to overnight fees, but you can easily contact customer support 24/7 if you ever run into any issues with your account.
5. Saxo Bank
A Danish bank founded in the early 1990s, Saxo Bank has a long track record as a superior bank that has continually been chosen as one of the best forex brokers, as well as the best training platform and app for stock trading. Regulated by the Danish Financial Services Agency (FSA) and UK's Financial Conduct Authority (FCA), Saxo Bank excels as an online trading and investment service.
Unfortunately, Saxo Bank does charge high fees for their accounts, including fees for inactivity. The high minimum deposit makes it harder for the majority of investors to justify using Saxo Bank, and a lack of customer support readily available can deter potential customers as well.
However, Saxo Bank does offer outstanding research that their customers can use to read up on various terms and concepts, as well as a vast product portfolio to choose from.
6. XTB
XTB is also regulated by the UK FCA. listed on the Warsaw Stock Exchange, it provides customers with low CFD fees and commission-free stocks and ETFs up to €100k monthly. You'll have the ability to choose between credit and debit cards, as well as electronic wallets when you sign up with XTB.
This company, founded in 2002, offers free deposits and withdrawals. You will have to pay an inactivity fee if your account sits for too long, but opening an account is easy enough. While others provide a wide range of investment opportunities, customers are limited to fundamental data and mostly CFDs with an XTB account.
What is Robinhood?
With a Robinhood brokerage account, you can make your money work for you. Robinhood offers a variety of assets that you can invest in, from stocks to options.
You can invest in over 5,000 stocks with Robinhood Financial, including most U.S. equities and exchange-traded funds (ETFs) listed on U.S. exchanges.
They also offer options trading and access to over 650 global stocks through American Depositary Receipts (ADRs).
Robinhood Financial currently supports the following assets:
U.S. Exchange-Listed Stocks and ETFs
Options Contracts for U.S. Exchange-Listed Stocks and ETFs
ADRs for over 650 Globally-Listed Companies
By offering commission free trading and brokerage accounts, Robinhood made a name for itself with many millennial investors alike.
In fact, you can take advantage of the Robinhood free stock promo to get free stocks to start your investment portfolio.
While the investment app started out by offering a number of cryptocurrencies, they are now focusing on fractional stock shares as a way to stay in the public eye.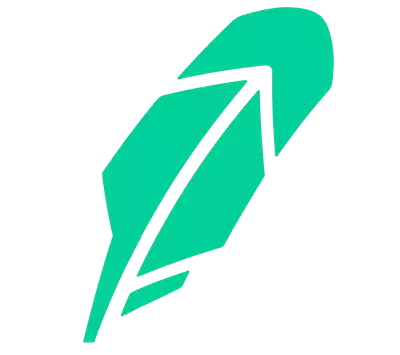 Robinhood
Robinhood has commission-free investing for stocks, options, ETFs, crypto, and tools to help shape your financial future. Sign up and get your first stock worth between $5 and $200, free.
Open Account
Robinhood Review
Founded in 2015, Robinhood stands as perhaps the best brokerage for fractional shares. Arguably, this investment app spurred many rival investment apps to offer commission-free trading to stay competitive.
With no trading fees to worry about, many investors saw Robinhood as one of many small investment ideas because it's easy to invest, trade, and buy cryptocurrencies
To learn more about how you can use Robinhood in your investment approach, check out our Robinhood review.
We cover everything you need to know about Robinhood, from pricing and structure to the pros and cons of the popular app. Keep reading to find out if and when Robinhood might be coming to the UK.
When is Robinhood Coming to the UK?
Robinhood's release date for the UK has yet to be announced and in fact, is delayed indefinitely. You can be sure that when it is available, the investment company will be sure to notify the world, especially with so many UK investors ready to take advantage of the platform.
An updated press release in April of 2021 advised users that the UK launch was delayed indefinitely as of July 2020. This decision was likely not made lightly, as Robinhood had just begun the pre-testing phase in March. While it lasted until September of that same year, the program has not yet moved beyond its beta testing phase.
While initial reports seem to link the global struggles with the pandemic to the delay in release, keen readers may remember the 9% loss of staff that Robinhood reported in the spring of 2022. CEO Vlad Tenev quotes the exponential growth of the company to be "accelerated by several factors including pandemic lockdowns, low interest rates, and fiscal stimulus." It seems that the company experienced some growing pains as a result of these economic conditions, which favored employees in the short term but perhaps contributed to their dismissal within the following years.
To say Robinhood is alone in experiencing the effects of the global pandemic is a gross understatement. Many companies pivoted to capitalize upon the at-home restrictions, including Robinhood. After all, if you couldn't spend your stimulus by going out with friends and family, why not try your hand at investing?
With many of these pandemic conditions now a thing of the past, those same companies that saw a high rate of growth have to pivot once again. Again, Robinhood is not the first or the last company to lose employees as a result of the changing economic conditions that remain unpredictable in many cases.
Ziglu Acquisition
Positive news often accompanies the negative, as with the ground-breaking press release from Robinhood in April of 2022. Within this press release, Robinhood's associates detail the acquisition of Ziglu, which formerly stood as an electronic money institution within the UK specializing in cryptocurrency assets. Mark Hipperson, founder and CEO of Ziglu, compared Robinhood and his company to equate their goals, noting, "we'll supercharge Robinhood's expansion across Europe and bring better access to crypto and its benefits to millions more customers."
This bodes well for Robinhood entering the UK market. With the infrastructures already set in place by Ziglu, Robinhood can expand its reach to markets already cornered by the foreign cryptocurrency app. It's possible that many of the barriers that prevented Robinhood from announcing its arrival in the UK market are lessened or even removed by acquiring Ziglu.
At the same time, Ziglu customers shouldn't fear that the services they've come to expect from the company will change drastically, at least in the near future. Robinhood has plans to integrate Ziglu slowly, working to utilize it as a launching pad for its own interests first before making any major changes.
How Can You Use Robinhood
There are many ways you can use the Robinhood app to your advantage. For example, this stock research app can help you learn how to invest on a small scale. Once you've built your confidence and knowledge base, you'll be able to invest in other opportunities as well.
Take advantage of the cash management account features provided by Robinhood to earn 1% interest on your investment funds, as well as access to over 75,000 free ATMs. Robinhood will even issue you a debit card from Sutton Bank to spend money. Your Robinhood account is also FDIC-insured up to $1.25 million, so why not invest 500 dollars and see where it takes you?
With that all said, Robinhood isn't the best app for every investor. There are many other competitors that are just as popular with more attractive features. For example, Robinhood doesn't let you reinvest your dividends. Plus, you won't be able to invest in mutual funds or bonds. Some investors even consider Robinhood to be too risky for retirement as well.
FAQs
When will Robinhood be available in the UK?
It is yet unknown when Robinhood will be available in the UK. The company is working towards it despite having to delay the launch due to unforeseen circumstances. That being said, the acquisition of Ziglu remains proof that Robinhood is attempting to enter the UK market as an investment force to be reckoned with. 
Is there a Robinhood waiting list?
While there did exist a waiting list for the Robinhood UK app at one time, it is no longer valid. Issues causing the delayed release of the investment app in the UK rendered the waiting list useless until further notice.
What alternatives are there to Robinhood?
There are many alternatives to Robinhood within the UK, such as Saxo Bank, XTB, Capital.com, eToro, and DEGIRO. SoFi Invest, Webull, and M1 Finance are popular alternatives as well. 
Robinhood's Future in the UK
We hope this article has helped you by clearing up when Robinhood will be available in the UK.
I just noticed a ton of people searching online for:
when is robinhood coming to the uk
is robinhood available in uk
use robinhood in uk
robinhood alternatives uk
robinhood investing uk
robinhood alternative uk
robinhood for uk
robinhood trading app uk
It is unfortunate that circumstances have prevented this investment app from allowing UK customers access to popular Robinhood features, but the company shows no signs of abandoning this market. With Ziglu at its side, Robinhood has a bright future ahead of it that very well could include the UK market.
Sources: