Investment is a big and scary word for a lot of people, especially Millennials.
It essentially boils down to swapping out a chunk of your money for a bigger piece of a pie later down the line, while funding the ideas and pursuits you believe in.
Of course, there's a big risk factor involved, and your investments don't always wind up being so simple and great at the end of the process.
The fact is if you're going to need small investment opportunities that are safe and smart, especially if you don't have much money to part ways with.
How can you do it?
How to Invest Money with Limited Funds
It's difficult to argue against the benefits of long-term investing.
Historically, most people who have taken a long-term view of investing have ended up making money.
The most important thing is to make sure that you are armed with the right information and the best possible investment options before making any decisions.
Here are a few ways to help you start investing with little money.
1. The Good Ol' Fashion Cookie Jar Approach
Saving and investing go hand-in-hand. Your first step before investing is making sure you have emergency savings built up. If you don't make that your first step before investing anything.
So just like you would save your money in a cookie jar as a child, you can now save it in a savings account that acts the same way.
It even pays to stash your cash in a savings account in 2021. A savings account gives you the opportunity to earn a certain amount of interest every month. Moreover, you do not risk losing your money at all.
The best savings accounts are those which grow your money, give you the freedom to do with it as you like and don't cost a lot to maintain.
Consider opening a new high yield savings account today and start maximizing your interest.
Here are the top savings accounts for 2021:
BANK
DETAILS
MIN. BALANCE FOR APY
APY

Impressive APY on savings

Earn cash back on purchases with ethical retailers

Deposits do not fund fossil fuel exploration or production

The impressive 1.0% APY is only available with the Aspiration Plus account, which has a $15 per month fee.

$0

Member, FDIC

1.00

OPEN ACCOUNT

No monthly maintenance fees

No minimum balance requirements

Interest compounded daily
24/7 online access with Online and Mobile Banking
FDIC Insured

$0

Member, FDIC

0.61%

OPEN ACCOUNT

Higher rates than traditional banks
24/7 Account Access
Secure banking features
FDIC Insured

$100

Member, FDIC

0.40%

OPEN ACCOUNT




Hybrid Checking and Savings Account

Pay no account fees or ATM fees worldwide

Open an account in minutes - all free

$0

Member, FDIC

0.20%

OPEN ACCOUNT
2. Dividend Stocks are Key
There are companies whose performance on the stock market is consistently good. These companies offer dividends to their shareholders.
You can start small by buying just one stock and reinvesting the dividend you earn to buy more.
This is a brilliant way to build your investment portfolio without crippling your bank account.
3. Peer to Peer Lending with Low Initial-Investment Amount
Companies such as Prosper and Lending Club offer automated programs where you can invest as little as $25.
You can lend to a number of people and earn a higher rate of returns from the interest. In addition, your risk is spread out.
4. Start a Business with Little Money
There are many small businesses you can start with as little as $50.
From online stores to working with animals, you can start earning money without any elaborate preparations.
Some businesses that you can begin immediately include:
Pet sitting
Cleaning Services
Arts
Virtual Assistant
5. Use a Robo Advisor and Invest with Only $100
We all heard the old saying "Make your money work for you" right? Investing can sound tough if you don't have a lot of money lying around. But investing can be for everyone — even if you only have $100.
Are you interested in learning about a new, free way to invest? Then you'll love this new investing app that allows you to start investing with only $100. Combining the best of both worlds – traditional investment brokerage accounts with robo advisors, M1 Finance is one of the best investment platforms we've reviewed.
Need more options? There are other investing apps similar to M1 Finance:
6. Sponsored Retirement Plan (401k)
This one is easy because it involves setting aside an amount of money on your paycheck that goes to your retirement plan.
It works best if you are employed and can, therefore, make this arrangement with your employer.
Your employer plan may dictate the terms to be applied but you can decide to add a small amount to your account with every paycheck.
7. Personal Retirement Plan (Traditional or Roth IRA)
You may not have an employer-sponsored plan because you run a business or your employer does not offer one.
Additionally, you may want an additional plan to ensure that your retirement years are well are taken care of adequately. You can see different types of IRAs that can help you build your retirement nest egg.
8. Buying low, Selling High
Another small investment opportunity can be buying low and selling high; this is also known as flipping.
You can get into real estate investing by flipping houses or flipping phones which is less risky.
You can invest your small capital in those products then sell them for a profit.
9. Treasury Securities
With treasury securities, your principal is protected from market upheavals.
You can make your short-term or long-term but beware that long-term ones involve a risk of principal should you sell before maturity.
10. Dividend Reinvestment
Also known as DRIPS, these plans make it possible for investors to invest small amounts of money into stocks that will pay dividends.
You are not required to pay any kind of investment fees. If you like certain companies, you can invest in their stocks directly.
When you earn your dividends, your money is reinvested right back into the company. You can build a large amount of money with time.
11. Buy Books
This is not an attempt to deal in stationery and bookstores.
There are many self-help books that can arm your skills to improve yourself and by extension, your financial state.
The best personal finance books that can help change your mindset for the better include:
12. Online Brokerage Firms
A brokerage firm provides you with a variety of investment choices that are also available through direct investments.
Online broker firms are great because they offer much-needed support and are also available around the clock.
Here are the best online brokerages for stock trading:
| Brokerage | Account Mimimum | Fees | |
| --- | --- | --- | --- |
| | $0 | $0 | |
| | $0 | $0 | |
| | $0 | $0 | |
| | $0 | $0 | |
| | $0 | $0 | |
13. Invest in Your Own Business
While it is great to invest in large conglomerates that can earn you dividends, nothing beats investing in your own ventures.
You can invest in your business by adding inventory or purchasing a much-needed item.
Moreover, you can invest that money into a website for your business and learn to sell your products or services online.
14. Get Broker Support for Smaller Investment Options
Investing can seem like a solitary exercise, but nothing could be further from the truth. It requires no short amount of advice from the experts, and there are many learning curves that will crop up along the way. To go it alone isn't brave, it's dangerous, so make sure that every decision you make in the investment arena is an informed one.
To make a strong headway, you should consider going to professional brokers for reliable guidance and financial advice. For example, Marcus Kitzmann of TopGraphs can provide you with help for smaller investment amounts. His site gives investors the fairest values for a safe and secure future return. In a matter of seconds, investors can examine the relationship between operating results and stock price performance. The TopGraphs charts will also contain the essential company information that could potentially sway stock values. Information that investors need to and should know in order to make the smartest and most informed investment decisions.
15. Take a Stab at Real Estate Investing with Fundrise
Fundrise is a real, much better and desirable alternative to stock market investment. With Fundrise, you deal in the private real estate market that allows you to invest just like the super successful institutions.
You don't have to be a millionaire to invest in these types of properties. You can now invest in large-scale real estate for as little as $500 with Fundrise.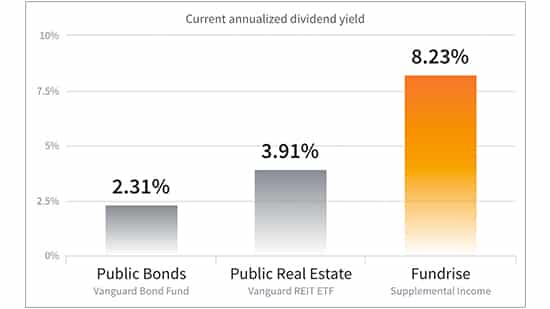 Through their real estate investment products, investors earned an average of 8 – 11 percent on their money last year, and all without painting a wall or dealing with unruly tenants.
There is a reason why they currently have over 200,000+ users, this is a great way to invest that really pays you even if you have modest funds.
If you're interested, I recommend you sign up for more information from Fundrise by clicking here.
Description
App

Fundrise



With Fundrise, you can invest your money in a portfolio filled with real estate investments with only $500.


Minimum Investment: $500
Fees: 0.85% asset management fee per year

START INVESTING



16. Invest Your Spare Change with Acorns
Acorns automatically invests your spare change and lets you invest as little as $5 any time or on a recurring basis into a portfolio of ETFs.
CNBC calls it "the new millennial investing strategy."
Once you connect the app to a debit or credit card, it rounds up your purchases to the nearest dollar and funnels your digital change into an investment account. Once you get the process automated, Acorns investments make your digital change work for you. Remember, you'll get a $5 bonus when you sign up and make your first investment!
The sooner you start investing, the sooner your money can start to grow toward your goals.
This is one of the best ways to start investing with little money. Sign up to try it risk-free with a $5 sign up bonus.
17. Play it Safe with Mutual Funds
The next useful tip is to be risk-averse with your investment capital (even if it's small) and consider investing in mutual funds. These allow you to invest in a professionally managed investment fund that pools money from many investors to purchase securities.
This is a safer method of investing, as you'll be part of a group of shareholders overseen by an expert rather than going it alone. As with anything, the first rule is to be safe and happy, and mutual funds help with that.
Find easy ways to make extra money in case your opportunities fall through and start here. The top investors suggest going this route too.
18. Put Your Money in Exchange-Traded Funds (ETFs)
Exchange Traded Funds are another straight and narrow investment method. Depending on which broker you choose, you can choose between high risk or low-risk investments, lump sums or a series of regular monthly investments. Also, you can even keep track of your performance daily. In the end, there's a bit more flexibility here, as well as something of a safety net in case things go wrong.
In the end, ETFs are used as safe investment vehicles and are a good way to invest small and large sums of money.
The Bottom Line
If you're investing with little money, then chances are you may not have much to spare. That's okay and there's no shame in that, and while there are still avenues to explore, it's important not to rush into anything.
It's important to be completely aware of the 'little money' side of things, because, in the world of investing, it can always be tempting to add that little bit of extra money when the mildest scent of a good deal drifts your way.
I hope you found this article helpful for those of you looking to start investing with little money. It's easy to find the world of stocks, bonds and mutual funds intimidating, but the sooner you start investing, the greater your ultimate benefit. See how you can start investing for beginners in our recent and easy to follow article.