Are you interested in learning about a new, free way to invest?
Then you'll love this M1 Finance review and we will also dive into the M1 Finance App.
Combining the best of both worlds – traditional investment brokerage accounts with Robo-advisors, M1 Finance is one of the best investment platforms we've reviewed. The only significant negatives are that it does not allow the option to invest in mutual funds or any tax-loss harvesting.
Short Description of M1 Finance

M1 Finance is a new, free way to invest.
Just pick your risk tolerance, and let M1's Intelligent Automation do the rest.
The new way to invest. No fees or commissions.
Highlights: Providing free automate investing, providing expert-curated portfolios.
In this M1 Finance review article, we'll learn more about the investing app and web application and you can see if it is right for you.
---
Want Free Money?
Aspiration: Want to get spotted a $150 for free? Simply sign up for Aspiration, and the free banking app will give you cash for free, you just relax while it gives you $150 just for opening a new debit card. There's no catch. This bank account is legit and only takes two minutes to sign up for an account.
---
Pro tip:
 Surveys are quick, easy, and can pay you cash from the comfort of your home. No wonder they are so popular.
Survey Junkie
,
Branded Surveys
,
Swagbucks
, and
InboxDollars
are just a few of the best survey sites to make money.
What is M1 Finance?
M1 is a free automated investing platform, charging no commissions or management fees. The platform allows users to create and automate a custom portfolio so they can invest exactly how they want and build wealth with ease. M1 empowers users to save time, earn more, and invest with confidence. You can check out the founder's story here.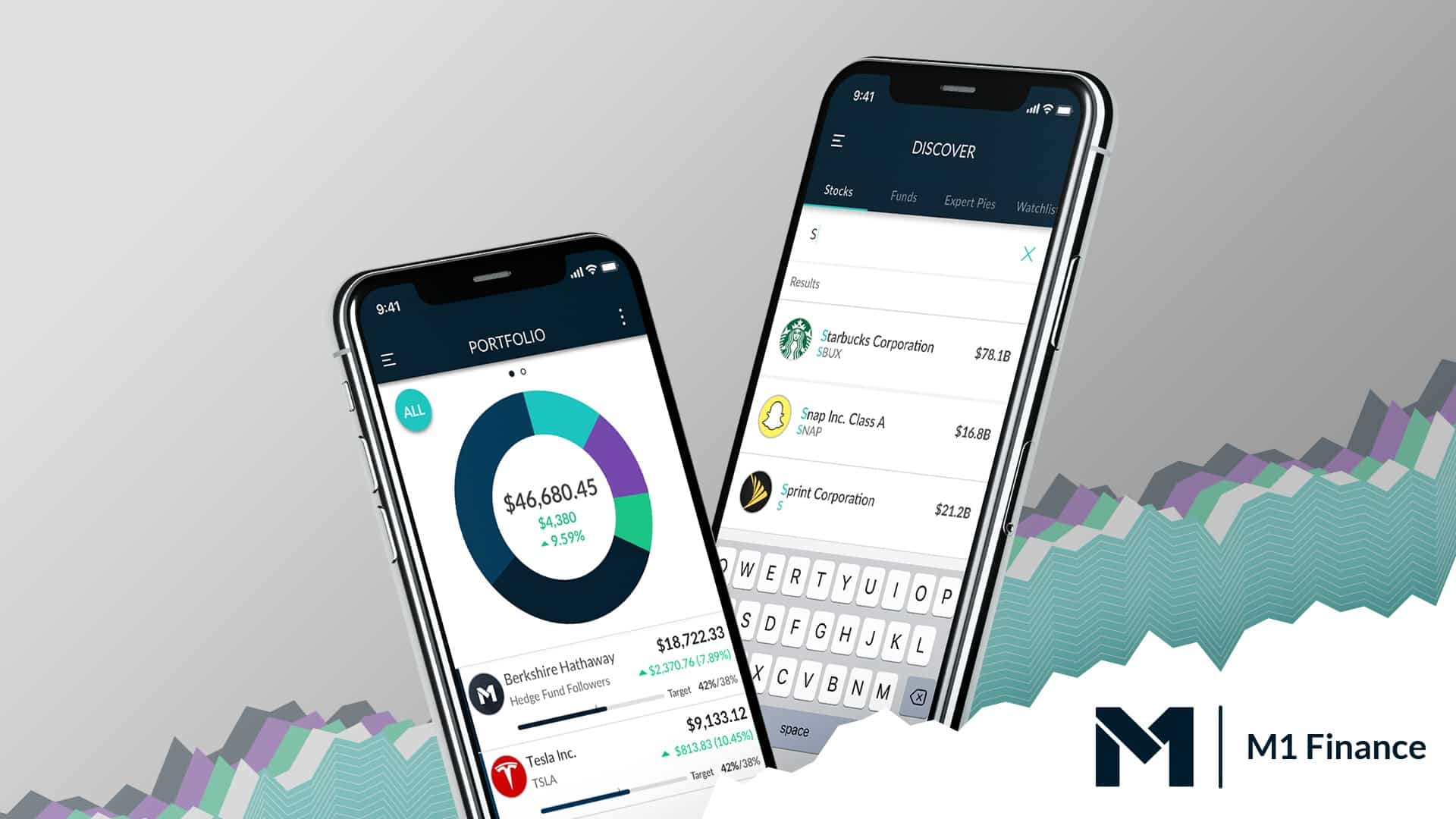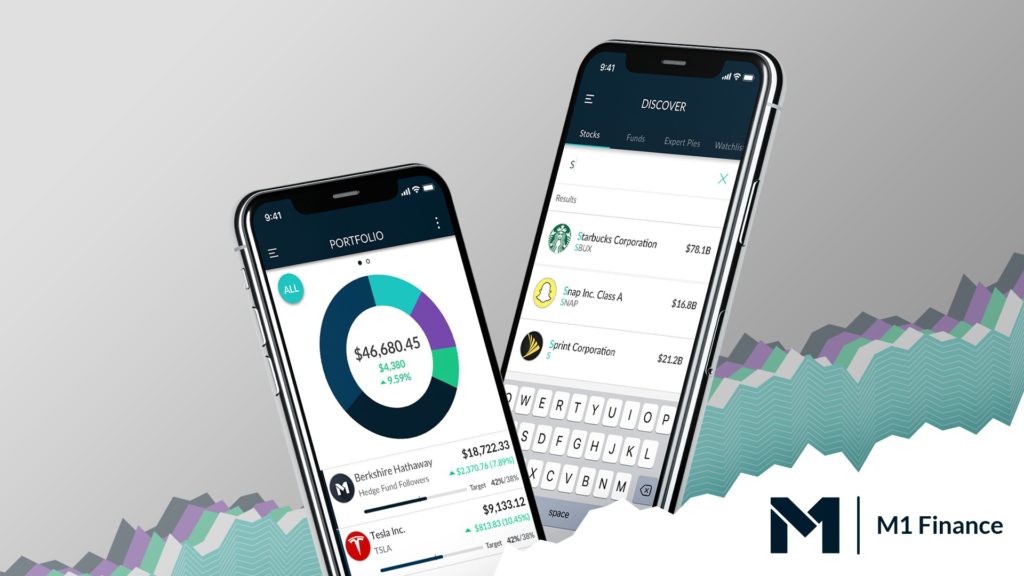 Users' portfolios can consist of stocks, funds, Expert Pies, My Pies or any combination of the four. Expert Pies are professionally designed by the team at M1 and are made up of several stocks or funds. My Pies are similar but crafted by the individual user. Think of it like a folder on your desktop, where the portfolio is the desktop, the Pie is the folder, and the individual stocks and funds within each Pie are the files within that folder. Check out this video tutorial to learn more:
Individual

Joint

Traditional IRA

Roth IRA
How Does M1 Finance Work?
M1 Finance empowers you to manage your money and build wealth with ease. Just create and automate your portfolio – they take care of the rest for free.
Create your portfolio
They allow you to build your portfolio of the stocks and ETFs you want, or select from dozens of expert-curated portfolios.
Automate your investing
Just add money and M1 will automatically and intelligently invest it in your personalized portfolio.
Available Investment Categories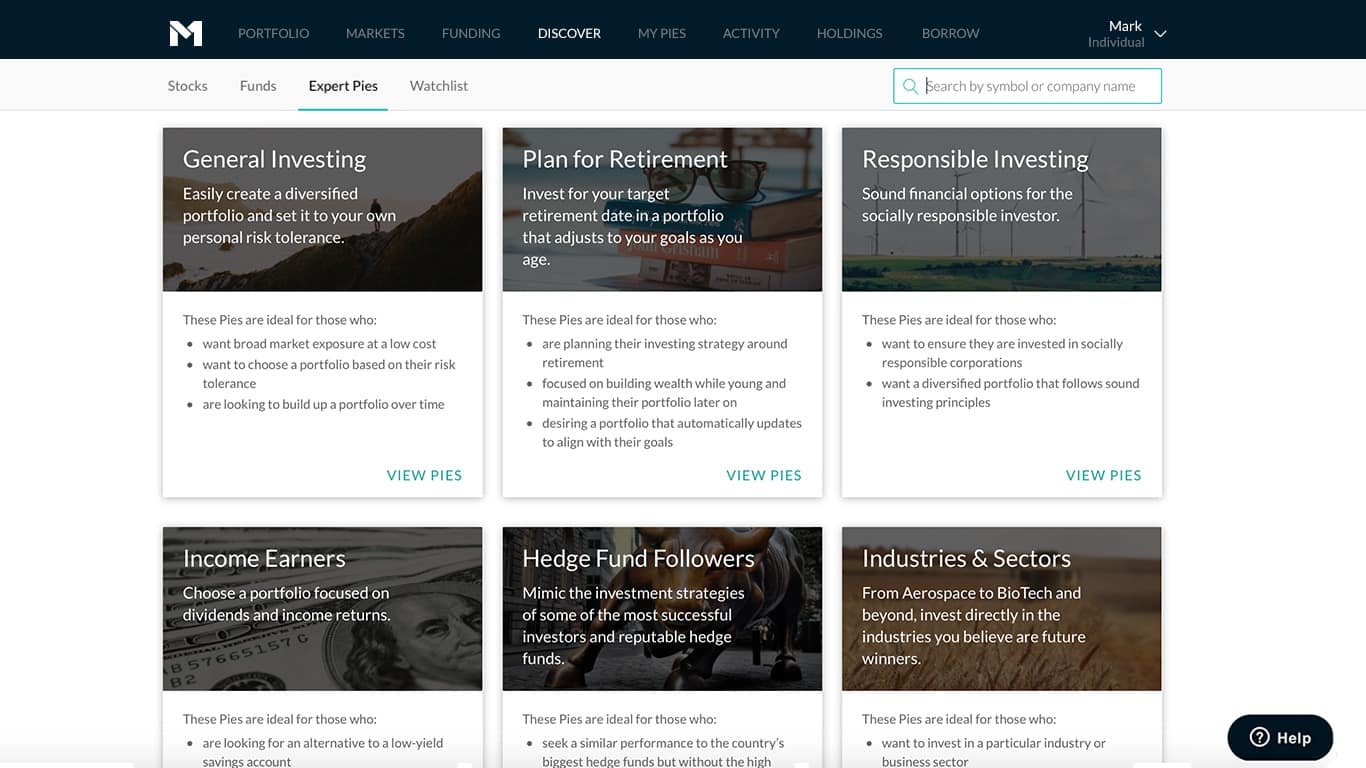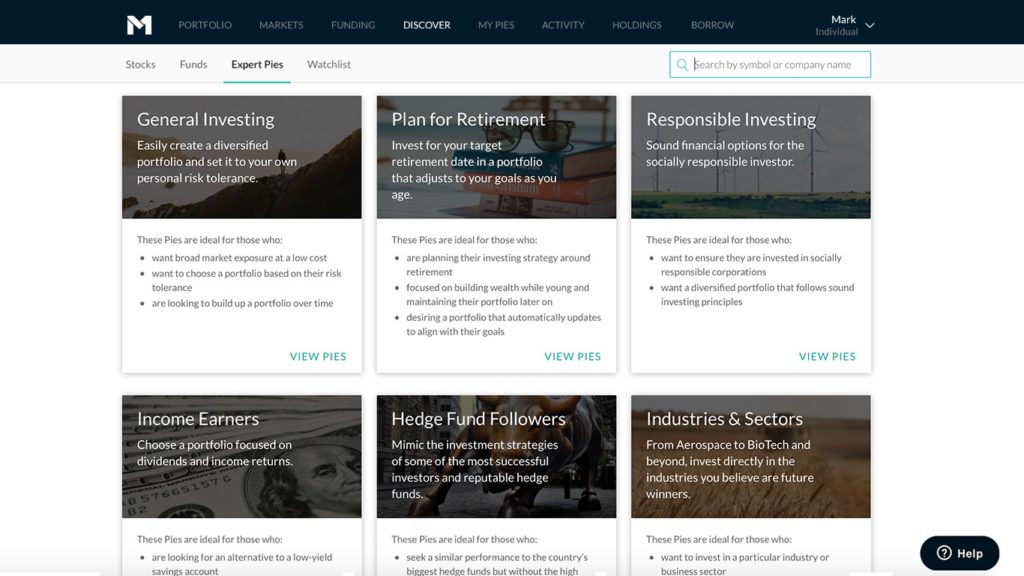 General Investing — This is a diversified portfolio based on your own risk tolerances.
Plan for Retirement — This category allows you to invest for your target retirement date.
Responsible Investing — This category provides options for the socially responsible investor.
Income Earners — Allows you to build a portfolio based on dividends and income returns.
Hedge Fund Followers — This actually mimics investment strategies from some of the most successful investors and reputable hedge funds.
Industries and Sectors — Gives you access to invest in specific sectors and industries.
Just Stocks and Bonds — Stay the course by building a diversified portfolio with two ETFs, focused on stocks and bonds.
Other Strategies — Offers additional investment strategies to help you find what works best for you.
Key Features of M1 Finance
M1 Finance has ETFs of over two thousand that you can choose from, as well as stocks in NASDAQ or NYSE. Since they belong to SIPC, the account is protected to up to $500,000 by SIPC.
Its Trading window
M1 Finance makes every trade daily when the NYSE is open at 9 AM Central Time. It doesn't allow any trading outside the specified trading window.
Dividends
Every dividend income gets reinvested immediately it reaches more than $10 in your portfolio.
Tax Reporting
M1 Finance allows tax reporting by being linked to TurboTax and H&R Block.
M1 Finance Referral – Promotion
M1 Finance has a great referral package that gives you $10 for every person you refer to M1 Finance. To benefit, you must have a funded account.
Free consultations
M1 Finance offers users free consultation with an expert, who shows them how M1 works, and how it can benefit them.
M1 Spend is a checking account and debit card that integrates seamlessly with M1 Invest and Borrow. It will launch later this year.
M1 Spend
M1 Spend is a checking account and debit card that integrates seamlessly with M1 Invest and Borrow. It will launch later this year.
Pie Investing
M1 Finance has been operational since 2015 and is known as a hybrid robot advisor while providing Pies (Investment Portfolio Templates) for its users.
The Pies are designed on the premise of MPT (Modern Portfolio Theory). In fact, a lot of other Robo-advisors (Betterment or Vanguard) use MPT in their algorithms. However, M1 Finance allows you to easily invest in any of its Pies or customize your investments however you choose.
M1 Finance is great for professional investors, as they can make use of pies to craft out intriguing strategies. Novices can also use the Expert Pies too to get to their investment goals.
The best part? M1 Finance automatically manages the account by maintaining the Pie's allocations via rebalancing, as well as allocating the new contributions.
Filling Your Pie
M1 allows you to choose what investments should be in the pies.
The Expert Pies can be used alone or used with custom Pies.
Recurring Investments
You can set recurring investments with M1 Finance. It allows you to place funds on your pies, while the platform works to get your portfolio rebalanced automatically.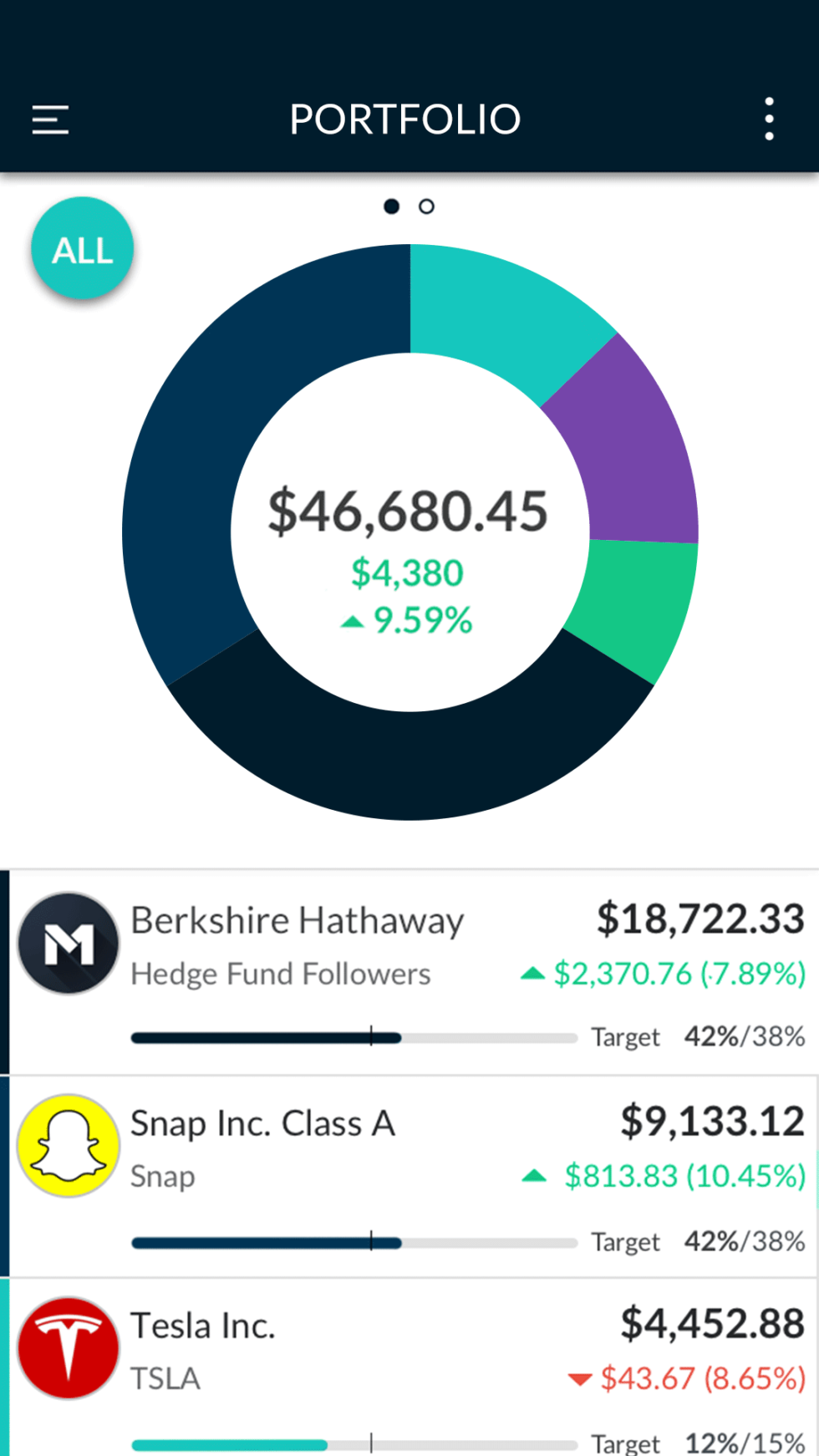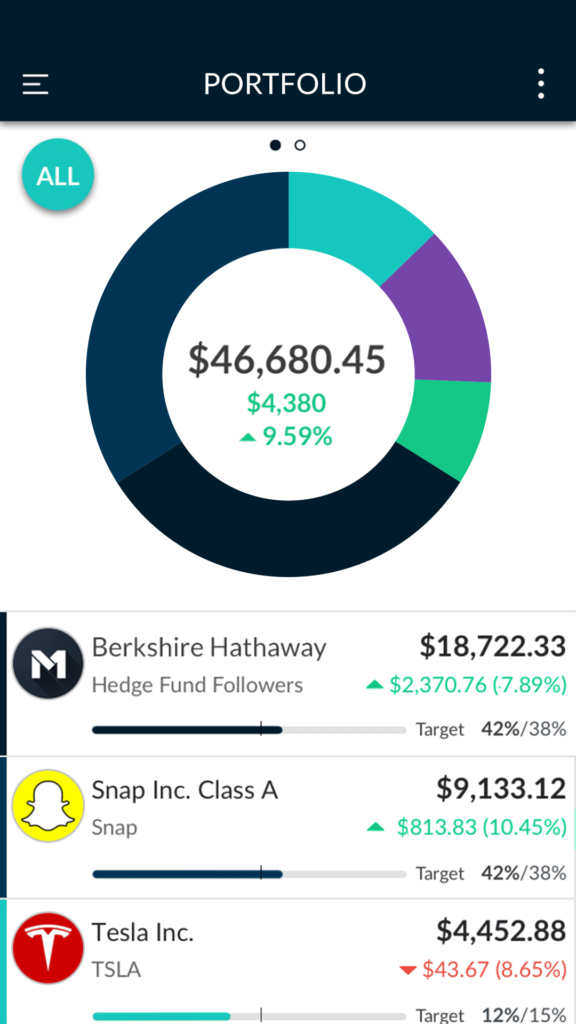 Borrowing Funds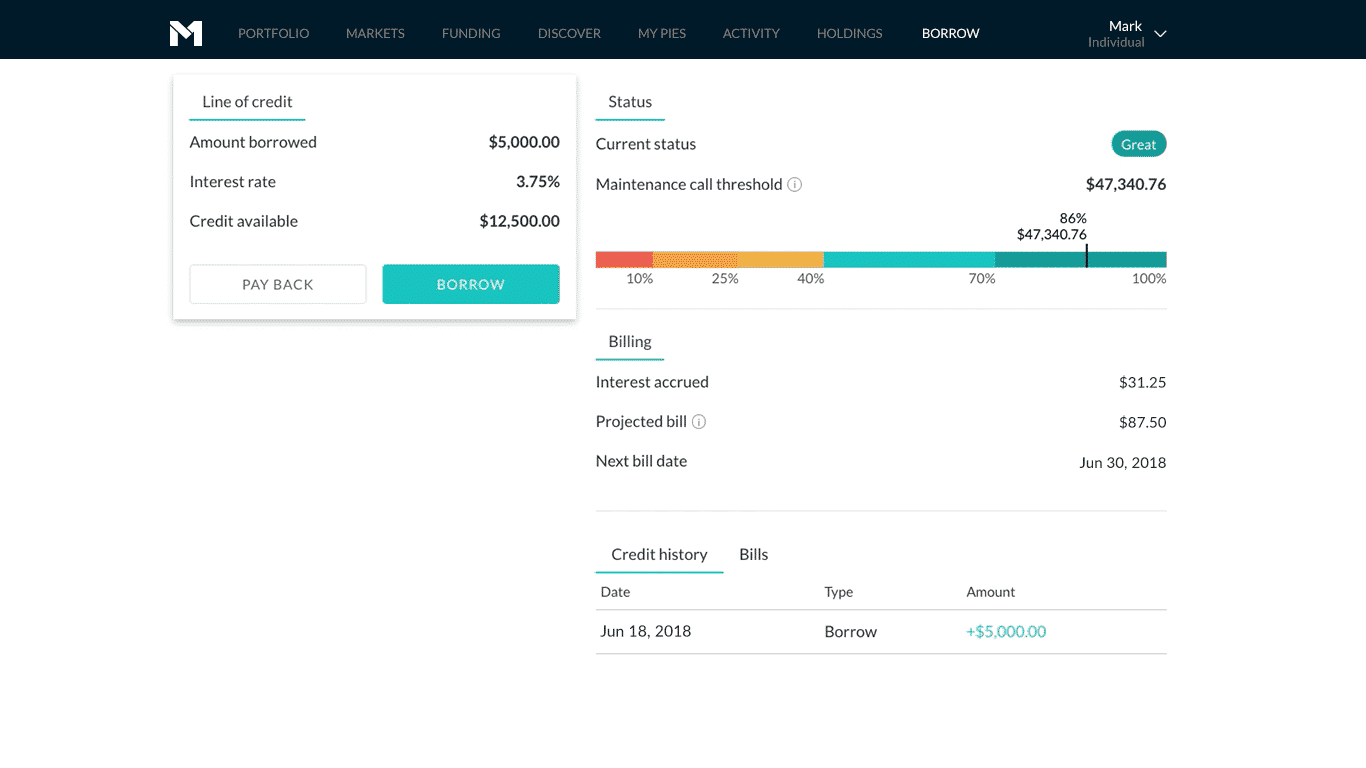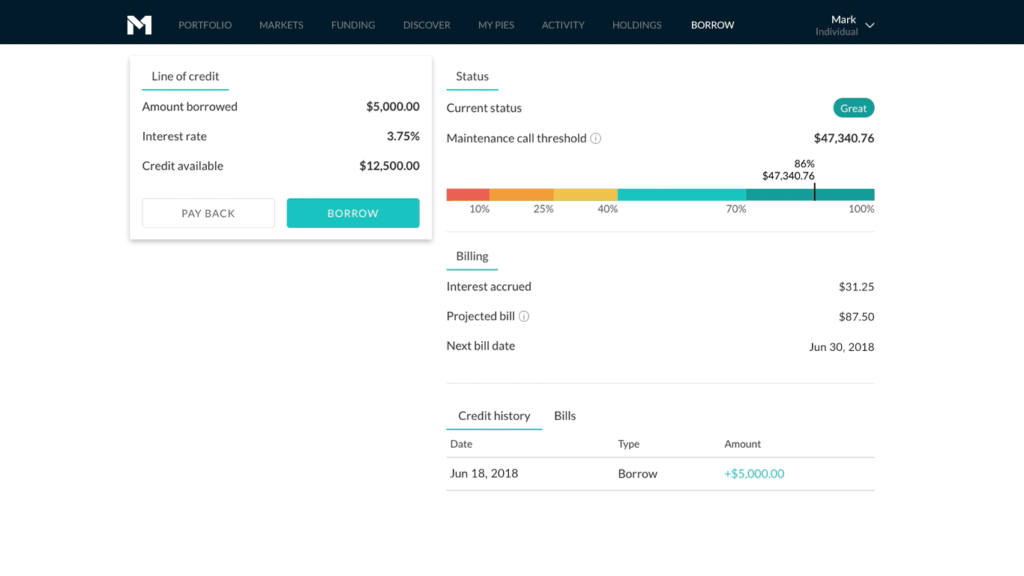 With M1 Finance, you can easily borrow funds using your portfolio. If you have the intention of investing more money than you have, you can easily borrow about thirty-five percent of the funds in your account on M1, with an interest rate of 4% per annum.
M1 Finance doesn't hold your portfolio as cash, meaning that your account is a margin account, once it has more than $2,000. With the margin account status, you can easily withdraw money without bothering with liquidating assets.
Pros and Cons of M1 Finance
Pros
On M1 Finance, there isn't any fees or commissions.
It can be used by Novices and Experts.
You can make your investing be automated
It can automatically help you clamp down on the amount you owe as taxes.
You can invest in a fractional amount of shares.
You can easily diversify small accounts with M1 Finance, as opposed to other brokerage firms. M1 Finance allows users to do fractional shares investing. You don't have to have the entire money to get a whole share before you can invest.
Cons
M1 Finance has default risk, just like any other brokerage or investing company.
Though, M1 Finance belongs to SIPC, which is known to protect clients of brokerage firms that fail, especially when the clients' accounts are missing with assets. There is a limit to which SIPC can cover. Any investor that invests more than that should be aware of default risk.
With M1 Finance, you can online invest in ETFs and stocks. If you are looking for where to invest in mutual funds, then you have to look for another broker.
Opening an M1 Finance Account
Head on over to this page and sign up for free.
All you need is an email address to sign up.
Get started by clicking here.
M1 Finance Alternatives
M1 Finance isn't the only one in this space. Many investing brokers, saving apps, and robo-advisors follow their concept too. Click below to see some reviews of M1 Finance's alternative options that you have available to you:
You can also find an article to popular stock broker promotions here.
Summary
M1 Finance seems to have a nice approach to the creation of portfolios since they claim they want to revolutionize how passive investing is done.
Combining the best of both of both worlds – traditional investment brokerage accounts with Robo advisors, M1 Finance is one of the best investment platforms we've reviewed. The only significant negatives are that it does not allow the option to invest in mutual funds or any tax-loss harvesting.
Where to invest $500 right now
| Logo | Description | go |
| --- | --- | --- |
| | Fundrise is a very easy-to-use app that allows individuals to access crowd-funded real estate investing. This option is best for users who want to make money consistently and let their money make them money. | |
| | Want to know which stock to buy next? Check out The Motley Fool advisor program and you can get recommended stock picks before the next market close. | |
| | SoFi Automated Investing's range of low-cost ETFs and free management make it an attractive option for cost-conscious investors. | |