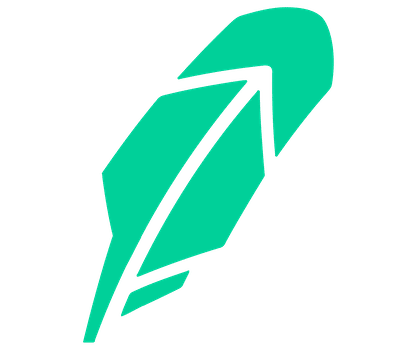 Robinhood
Robinhood has commission-free investing for stocks, options, ETFs, crypto, and tools to help shape your financial future. Sign up and get your first stock worth up to $225, free.
Open Account
Robinhood Review
Today you're going to learn how to get free shares of stock with the Robinhood free stock promotion.
Robinhood is a commission-free investing app for your phone.
You can get a share of stock like Apple, Ford, or Sprint for free when you join through this link.
Advertiser Disclosure: Please note that some of the links below are affiliate links and at no additional cost to you, I'll earn a commission. Know that I only recommend products and services I've personally used and stand behind.
What is Robinhood?
The Robinhood investing app easily allows you to invest in companies you love, ETFs and cryptos, all commission-free.
And I really mean free, free to buy and sell stocks and no account minimums. You can get a share of stock like Apple, Ford, or Sprint for free when you join through this link.
You can invest with Robinhood even if you don't have a whole ton of money in your bank account.
It was rated number one in our best investment apps for being the best app for commission-free trades. As a Millennial, you're Roinbhood's target audience and they do a great job of gamifying the trading experience on the app.
There's no fee to open your account and no account minimum requirement. Plus, it's one of the brokerages that allow you to buy Bitcoin if you want to diversify your own portfolios.
How Does Robinhood Work?
Robinhood allows users to make free stock trades with $0 transaction fees. I signed up through a friend and received a free stock through the Robinhood Free Stock Promo. It's totally legit and just by signing up, I got one share of SIRI absolutely free.
Signing up for Robinhood is similar to other investing apps. The sign up process was easy. You'll likely want to sign up and claim a free stock.
Is a Robinhood Free Stock Promotion Worth It?
Life is like a game of chess. You need to know which smart moves to make, especially with your personal finances.
For example, If you found a crisp 5 dollar bill on the ground, would it be worth your time to bend over and pick it up?
That same analogy can be applied here. To get a free reward stock (worth up to $225) all you would need to do is download the Robinhood app through this link and be a new user. It's 100% free and legit.
The value of the free share may be anywhere between $2.50 and $225, and fluctuates based on market movements. You've got nothing to lose. I told you this was easy! Sign up through here.
More information on the Robinhood free stock promo below: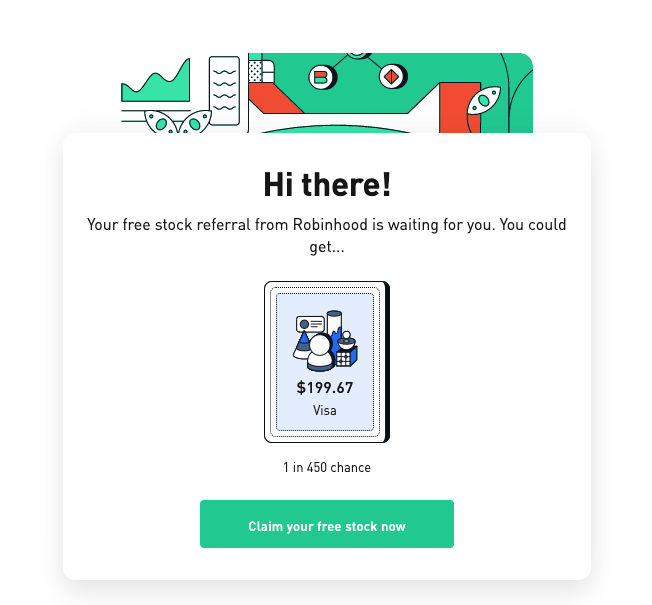 Robinhood Free Stock Promo Details
If you wanted to sign up to get a free stock here is what you have to do to get a free share.
Verify your email address
Install the Robinhood app on your phone
Claim your free share. You can do this in the Robinhood app.
Link your bank account to get the money out and fund your account
Share your referral link with friends to get more free shares!
I signed up and received my free share in less than 48 hours so you shouldn't have any problem with it.
The share will take a couple of days to settle so you need to wait a bit before you sell. Also, you need to keep the cash in your account for 30 days.
Let me know what stock you end up getting!
How Does Robinhood Choose Which Free Stock I Get?
To entice new users, Robinhood prioritizes the most well-known stocks bought on its platform to provide to new customers. The typical priorities include large market-cap names with a lot of trading volume.
Robinhood's "settled shares" are chosen at random from the company's stock holdings.
The system's unpredictability makes it hard to predict the average value of the share you will get. On its website, Robinhood offers a guess.
They do mention: Keep in mind there is an approximately 98% chance of the stock bonus having a value of $3-$10.00.
How Much Are Robinhood Free Stocks Worth?
The free stock can be worth anywhere from $2.50 to $225!
According to the website, Robinhood made a point about the worth of the free stock by stating that 98 percent of the stocks offered will be worth between $2.50 and $10.00.
According to the company's website, there's a 2% chance that the stock bonus will be worth $10 – $225.
It does not imply that obtaining the stock you desire is impossible.
Despite the fact that it is a poor probability, Robinhood's free stock trading service is a win-win situation for all investors who open an account with the investment app.
How Robinhood Promotions Work
Another benefit of Robinhood's offers is that your referral link is never altered. It's the same invite link you've been giving out for a while.
So you can invite friends and receive free stocks for doing so! You may send out your Robinhood referral program link by text, email, Facebook, Twitter, and other channels.
The only distinction is the incentive you receive, your friend's incentive, and withdrawal restrictions.
What you'll observe above is a list of all the current offers that they're running. Because they are a startup, they alter things up on a regular basis, so what you see will differ based on your account.
Best Free Stock Promotions
There are other free trading apps that have free stock promotions:
Currently, Webull offers the opportunity to get a free stock worth between $8 and $1,600 if you open your account and deposit at least $100. You can trade EFTs, stocks and options for free through the Webull app or their site.
M1 Finance offers the opportunity to get a free stock worth $30 when you sign up for an account. After creating an account for free and depositing money, you set your stock and index selections and have M1 Finance automate your investments on your behalf.
Acorns is a financial app available via iOS and Android phones. This app rounds up your purchases on linked credit cards to the nearest dollar and invests that amount for your future. You will get $5 when you sign up for a new account with Acorns. Acorns also allows you to earn cash back on your everyday purchases at select stores. You can set up your cash back earnings as recurring investments.
Public is another investment app that will give you a $10 free sign-up bonus for creating a new account.
Pricing for Robinhood
Investing with Robinhood is commission-free, now and forever. They don't charge you fees to open your account, to maintain your account, or to transfer funds to your account.
However, self-regulatory organizations (SROs) such as the Financial Industry Regulatory Authority (FINRA) charge them a small fee for sell orders:
SEC fees: $22.10 per $1,000,000 of principal for sells only.
FINRA trading activity fee: $0.000119 per share (equity sells) and $0.002 per share (options sells). Maximum fee: $5.95.
Additionally, if you choose to upgrade to Robinhood Gold, you gain access to premium features such as professional research and Level II market data, and instant transfers up to your Portfolio Value starting at $5,000 (up to a max of $50k), rather than just $1,000 with a standard instant account.
Additionally, if Robinhood approves your account for margin trading, you will be able to trade on margin with Gold.
If you upgrade to Robinhood Gold, you'll pay $5 every 30 days in addition to interest on your margin trades.
If you use more than $1,000 of margin, you'll pay 5% yearly interest on the amount you use above $1,000.
Robinhood Features
The reason why Robinhood is so great is that it offers an easy-to-use platform for beginners to start investing in the stock market.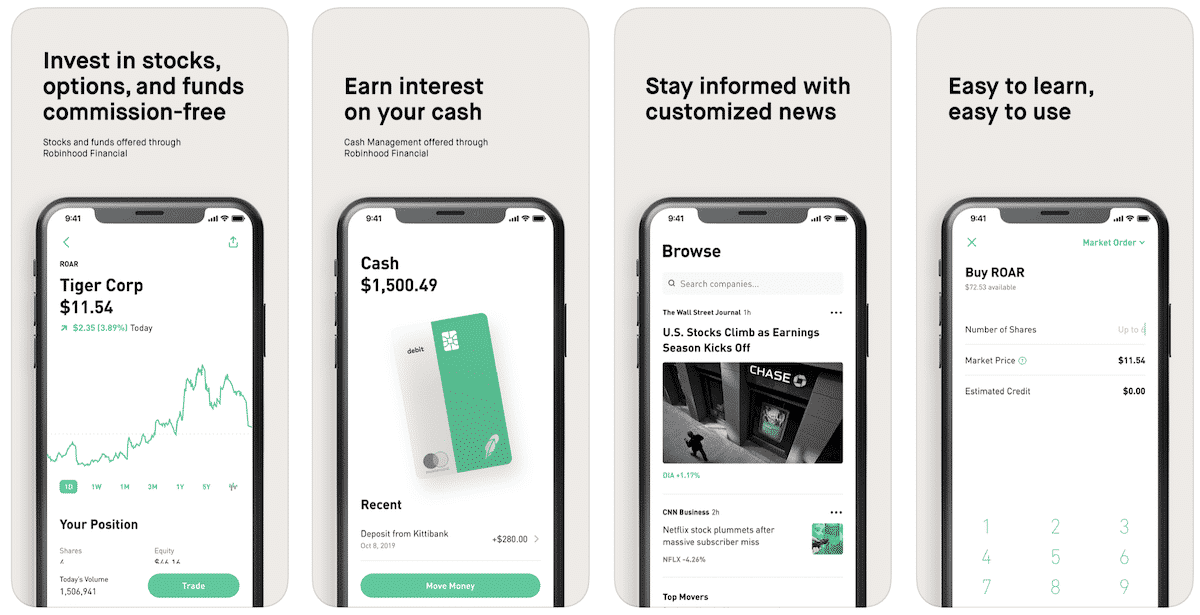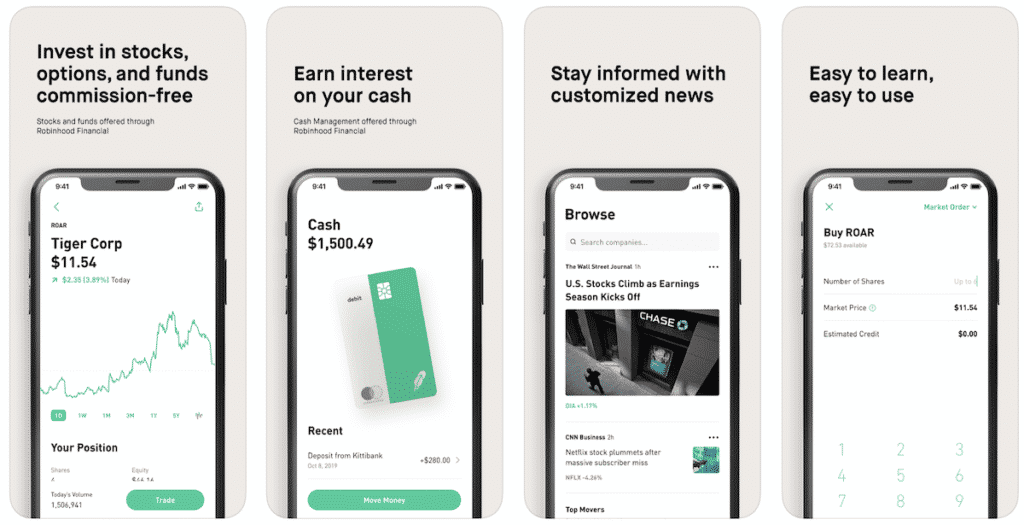 If you are aware of the Gamestop craze, you know that investing has become mainstream where anyone with $100 to their name wanted to get in on buying GME and AMC.
Usually, it would be a long and tedious process to join a brokerage and figure out how to buy GME.
Using Robinhood makes it simple to purchase stocks, buy options, buy cryptocurrency like Bitcoin, get news and alerts, create watchlists and all commission-free.
How Does Robinhood Make Money?
So how can they offer free trading? According to Investopedia:
Robinhood Markets is a discount brokerage that offers commission-free trading through its website and mobile app. The company generates significant income from payments for order flow, a common although controversial practice whereby a broker receives compensation and other benefits for directing orders to different parties for trade execution. Robinhood refers to this revenue as "rebates from market makers and trading venues."
While the payments are negligible for small retail trades, a company that directs billions of dollars in trades to market makers can earn substantial amounts.
But, to the little guy that doesn't really matter. So let's move on.


Robinhood's Free Stock Promotion FAQs
Can I open a second Robinhood account to get a free stock?
No, each person is only allowed one Robinhood brokerage account.
It didn't work for me?
If you signed up after tapping on the free stock link but didn't receive a stock, please contact Robinhood here to see why you did not receive your Robinhood bonuses.
What are the terms?
Robinhood will add 1 share of free stock to your account when you link your bank account and fulfill the conditions in your promotion. You do not need a referral code, just a valid referral link. You'll be able to keep the stock or sell it after 2 trading days. The shares of free stock are chosen randomly from its inventory of settled shares. Because the shares are chosen randomly, you may not receive the same stock as others. The value of the share at the time of purchase may be anywhere between $2.50 and $225, and fluctuates based on market movements.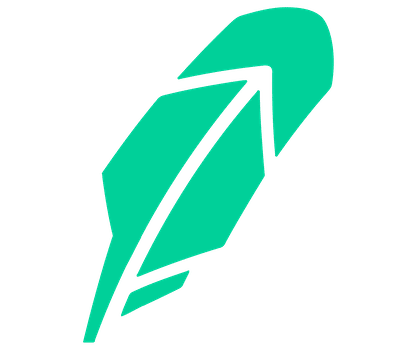 Robinhood
Robinhood has commission-free investing for stocks, options, ETFs, crypto, and tools to help shape your financial future. Sign up and get your first stock worth up to $225, free.
Open Account
Robinhood Review
If you wanted more ways to make money online besides Robinhood, here's my list of the best ways to make money online:
Robinhood Free Stock Terms & Conditions
Offer only valid for selected individuals who have not completed their Robinhood application, individuals who have an approved account with no activity, and individuals who do not have a Robinhood account, who fulfill the conditions in their promotion. Individual must sign up through promotional page (or advertisement) to be eligible. Stock bonus will be credited to the enrolled account within approximately one week.
Robinhood reserves the right to change the offer terms or terminate the offer at any time without notice. The offer is limited to one per account, with no more than one account enrolled per customer. The stock bonus, when combined with the value received from all other offers in the current calendar year, may not exceed $500 per household. The offer is not transferable, saleable, or valid in conjunction with certain other offers and is available to U.S. residents only. Employees, contractors, or persons similarly associated with Robinhood or a Robinhood affiliate; members of their household; and employees of any securities regulatory organization or exchange are not eligible. Robinhood may decline requests to enroll in the offer at its discretion. Other restrictions may apply.
The stock bonus is one share selected randomly, when the bonus criteria are met, from Robinhood's inventory of settled shares held for this program. When shares are purchased into this inventory, Robinhood purchases shares from the three to four companies representing the highest market capitalization in various ranges of share prices between approximately $2.50 and $225, limited to those companies that are widely held among Robinhood accounts. There is an approximately 98% chance of the stock bonus having a value of $2.50-$10, an approximately 1% chance of the stock bonus having a value of $10-$50, and an approximately 1% chance of the stock bonus having a value of $50-$200, based on the price of shares at the time of purchase. The Robinhood platform displays approximate odds of receiving shares from particular companies at the time the screen is generated. These odds do not necessarily reflect the odds of receiving stock in those companies at the time the stock bonus is awarded.
Neither receipt of a share of stock through this program nor identification of a particular security in communications related to this program constitutes a solicitation of the security or a recommendation to buy, sell, or hold the security. Robinhood does not provide investment advice and does not hereby recommend any security or transaction.
Consult with your tax advisor about the appropriate tax treatment for this offer and any tax implications associated with receipt of a stock bonus before enrolling. For taxable accounts, the value of all Robinhood offers received may be reported as Other Income on a Form 1099-MISC where required by applicable rules and regulations. Robinhood does not take responsibility for any tax related to this Stock bonus.
Best Online Brokers Of September 2022
| | | |
| --- | --- | --- |
| Best for commission-free trades | Best for automatic investing | |
| | | |
| | | |
| Promotion: free stock worth up to $225 | Promotion: $20 sign up bonus | Promotion: $10 sign up bonus |
| | | |
Best for commission-free trades
Promotion: free stock worth up to $225
Best for automatic investing
Promotion: $20 sign up bonus
Best micro-investing app
Promotion: $10 sign up bonus