Like most Millennials, you probably use your credit card to pay for everything. But do you know the latest credit card safety tips?
Our bank data and our money are more susceptible than ever to being stolen. Online, offline, over the web or through the ATM machine – there are scammers everywhere. An Oregan woman is currently suing BOA after losing $13K in a scam.
Don't be that woman.
These six tips are here to help you double down on security and prevent fraud.
How to Keep Your Credit Cards Safe During Everyday Use
If you're like everyone else you use your credit card on a daily basis, here is how it keep it safe.
1. Check the Machine
One common way scammers try to gain access to anyone's bank account is through the ATM. This is generally done by fixing a "skimmer" right over the card reader, which then captures the information on a card once it has been placed into the machine. The scammer then uses this information to create a replica card which is then used to gain access to your account.
It can be tough to detect skimmers since most of them are built to perfectly blend in with the specific ATMs at banks or credit unions the scammers are targeting. As such it is essential that you actively be on the lookout to see if you notice anything wrong. And, since you will still be having access to your funds even after your card has passed through one, there are still a couple of warning signs that should let you know that your account has been compromised.
So, before placing your card into any ATM card ready, make sure that you always check the ATM for:
Any signs that it has been tampered with, and that includes marks and scratches
Anything that looks suspicious or out of place such as a piece of plastic with a different color around the ATM's card slot
Parts that move when pushed (automated teller machines are well-built and usually do not have any loose parts)
If anything looks suspicious, report the matter to the bank that owns the ATM, and use another ATM.
Related: How to Pay Off $5,000 in Credit Card Debt Quickly
2. Cover Your Pin
Capturing your credit cards data is just part of the greater picture. But for scammers to have an easier time stealing your money, they will want to know your PIN too.
As such, most scammers ensure that their skimmers have a camera that is designed to capture you as you enter your PIN on the machine's keypad. Again, detecting these cameras can be quite hard considering that a majority of them are no bigger than a pinhead.
To ensure that your PIN is not secretly recorded, use your other hand to cover the hand you are using to key in your PIN. This alone should go a long way in ensuring that the scammer's camera doesn't capture anything.
Related: How To Overcome Credit Card Debt Faster, and Save Money with Tally
3. Always Make Sure You Know Where Your Card Is
Not all credit card-related scams take place at an ATM. Another place that scammers target to steal your card information is at a shop or restaurant. In some cases, these scams involve the waiters, where they take your card away from you when you are paying a bill, and in the process, they run it through a skimmer. Alternatively, store attendants may skim your card details while it is behind their desk.
The lesson to learn here is never to let anyone, doesn't matter who he or she is, take your card away from you or out of your sight.
Scammers often target people when they least expect it or when they are distracted.
Related: How to Financially Plan to Pay Off Credit Card Debt
4. Ask Questions
Some scammers will even try to defraud you in broad daylight.
For example, A cab driver may request to take your card at the end of your ride and swipe it before telling you that his card reader is not working. If you ever hear that, it is highly likely that they just ran it through their skimmer instead of the terminal.
So, it is vital that you always trust your instincts. If anything looks suspicious, do not be afraid to ask questions. Ask to see their card reader or ask for the transaction receipt, if it failed, it should produce a receipt. If you are in doubt, tell the cab driver that you would like to call your bank to ensure that the payment did not go through.
Also, make sure that you note the driver's license and registration details as a precautionary measure.
Related: 6 Credit Card Safety Tips You Shouldn't Ignore
How to Keep Your Credit Card Safe Online
These are ways that you keep your credit card information safe while online.
5. Know Who You Are Speaking To
You do not have to physically hand over your card to somebody else for it to be compromised; especially, considering that we are often being asked to give out our card details over the telephone.
In most cases, this is fine. However, there are times when scammers will pose as legitimate organizations just to obtain your banking details from you. For instance, scammers may pretend to be representatives of a telecommunications or utilities company or any other reputable business.
As such, it is essential that you never give your card details to someone who's called you. Instead, call the company or organization back – and make sure that you use the numbers they have provided on their website rather than those you've been given just to be on the safe side.
Related: The Uphill Battle of Millennial Credit Delinquency
6. Shop securely
When you are shopping online make sure that the website you are visiting begins with "https:" web address. Credit card safety applies to online transactions as well. If you are in doubt, do not enter your card or account details, even if you have clicked on a web link that claims to be from a reputable organization/business. Instead, visit the organization's/business' website and log in.
Related: Can You Get Cash Back From a Visa Gift Card?
Always Keep Your Credit Card Safe
You don't have to cut up your credit cards to keep them safe but it's easy to forget basic credit card safety tips, even for long-term credit card users.
It's better to be safe than sorry when using your credit cards online or in person. By protecting your cards, you are ensuring your information is safe and your identity.
For you: What are some ways that you keep your credit card safe online? What are some credit card safety tips that we missed?
Best for luxury benefits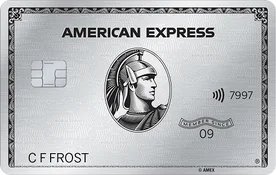 The Platinum Card® from American Express
INTRO OFFER: Earn 80,000 points (worth $1,600)
Earn 5X Membership Rewards® Points for flights booked directly with airlines or with American Express Travel up to $500,000 on these purchases per calendar year.
Earn 5X Membership Rewards® Points on prepaid hotels booked with American Express Travel.
Apply Now