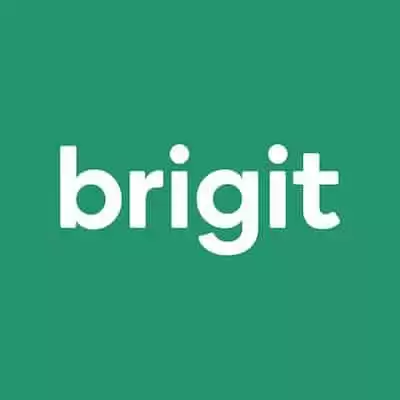 Brigit
Tap to get an advance within seconds
Get up to $250
No credit check is required and no interest
Pay it back without hidden fees or "tips"
Open Account
According to a recent Credit Karma study, nearly 70% of Americans reported their finances didn't improve or stayed the same in 2022. With so many people struggling to make ends meet, it's easy to see why cash advances apps like Brigit are becoming so popular.
Cash advances are often associated with steep fees and damaging credit checks. They're often more of a hassle than they're worth, especially when money is tight.
With Brigit, you don't have to worry about a credit check or looming interest fees. Brigit makes it easy to obtain the money you need when you need it so you can get through those rough financial patches in life.
In this Brigit review, we'll cover how this cash advance app works, from qualifying for the cash advance to repaying it. We'll also compare Brigit to other cash advances on the market.
You'll walk away from this article having more tools in your pocket for those rainy days. If you need cash for emergency expenses, Brigit and cash advance apps like it are invaluable.
Are you ready to dig deeper into the specifics of our Brigit review? Let's get started!
What is Brigit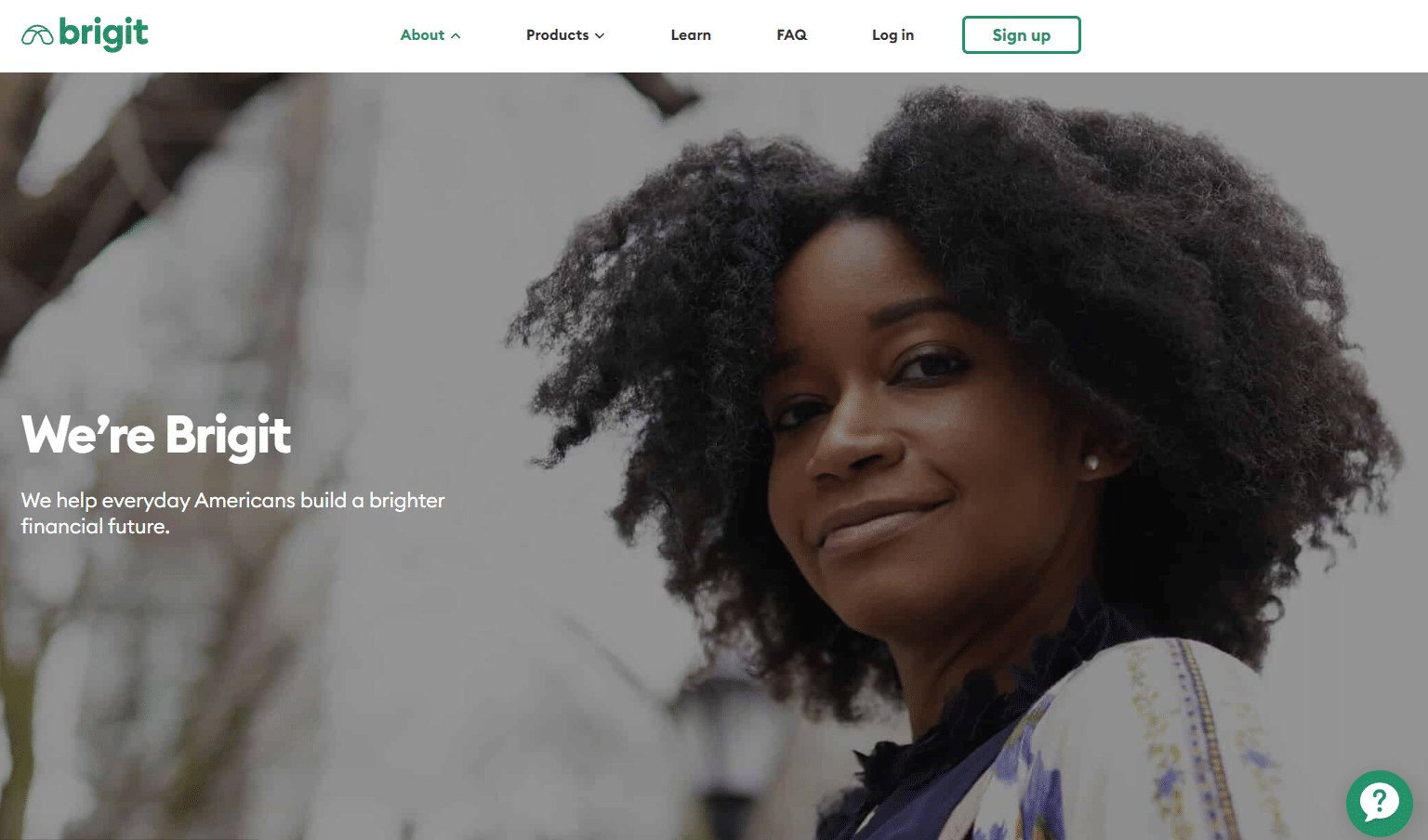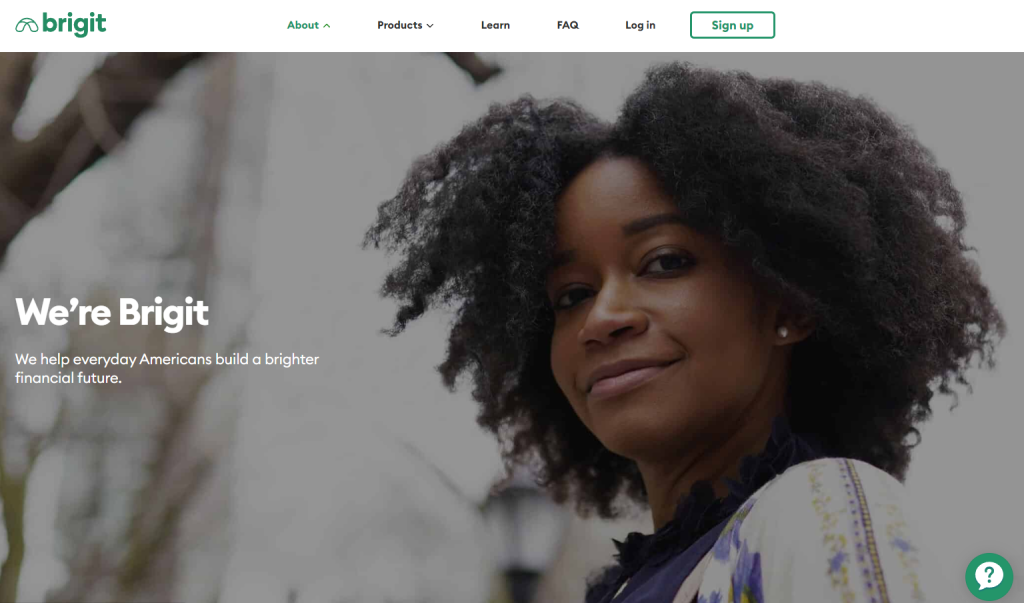 One of many personal finance apps that offer cash advances, Brigit works with consumers like you and me to make ends meet. In addition to lending money to those in a pinch, Brigit also incorporates financial management tools to help you budget and monitor your bank account balance.
If you're struggling with how to get free money and get paid today, Brigit can help. Choose between a free and paid version to get the features you need.
Brigit was founded by Zuben Mathews and Hamel Kothari in late 2017 and is headquartered in New York City. This cash advance app serves customers nationwide regardless of their credit score.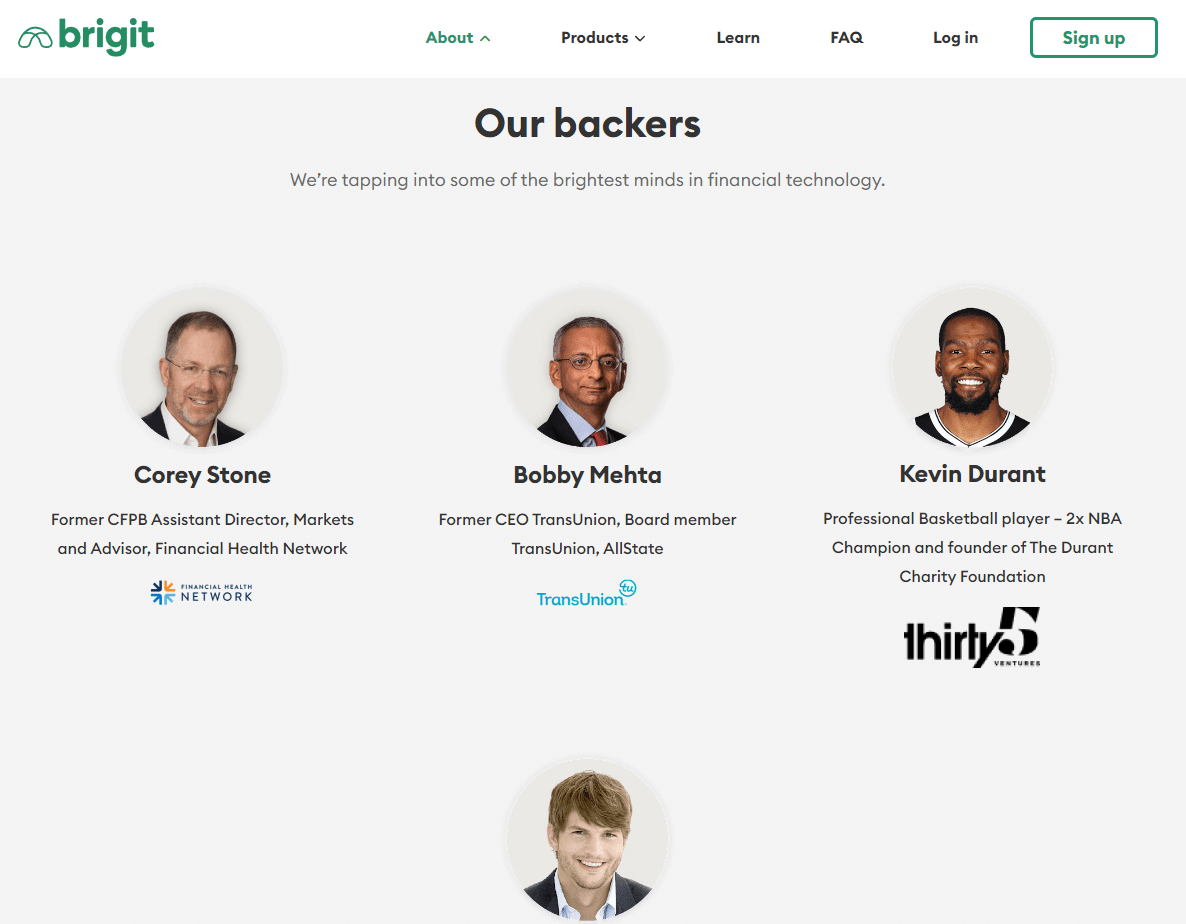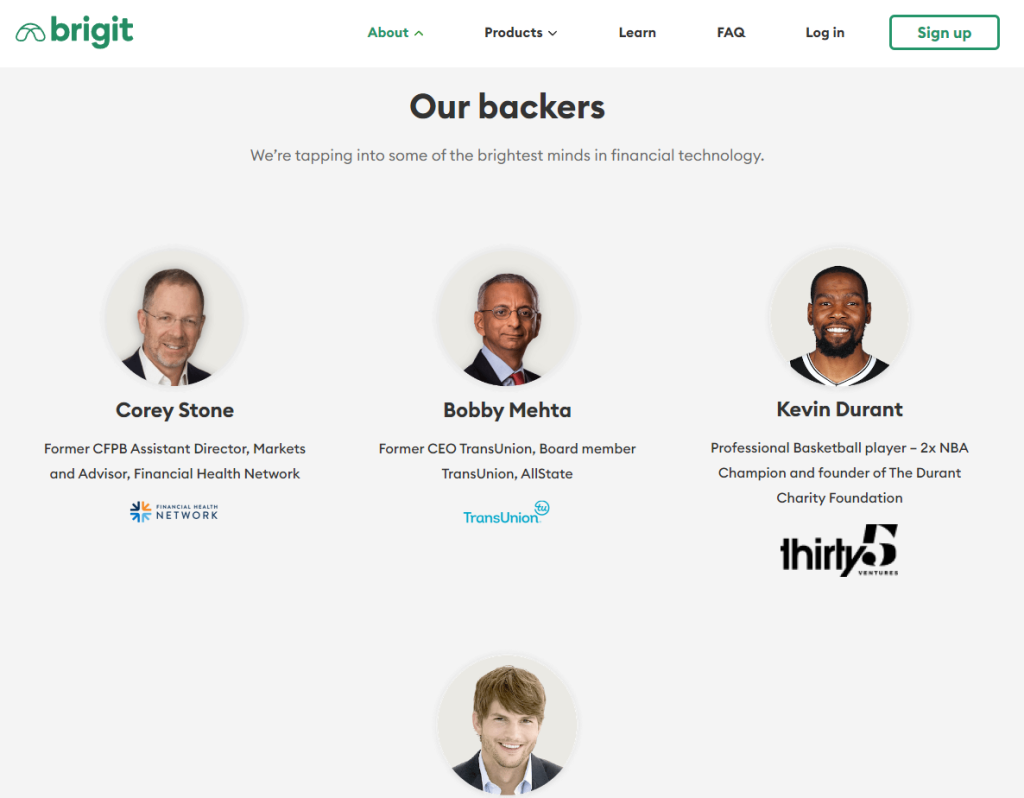 In addition to avoiding the loss of a few points from a credit check, Brigit doesn't require a minimum credit score to apply. You can reach their customer service team via chat or email only.
How Does Brigit Work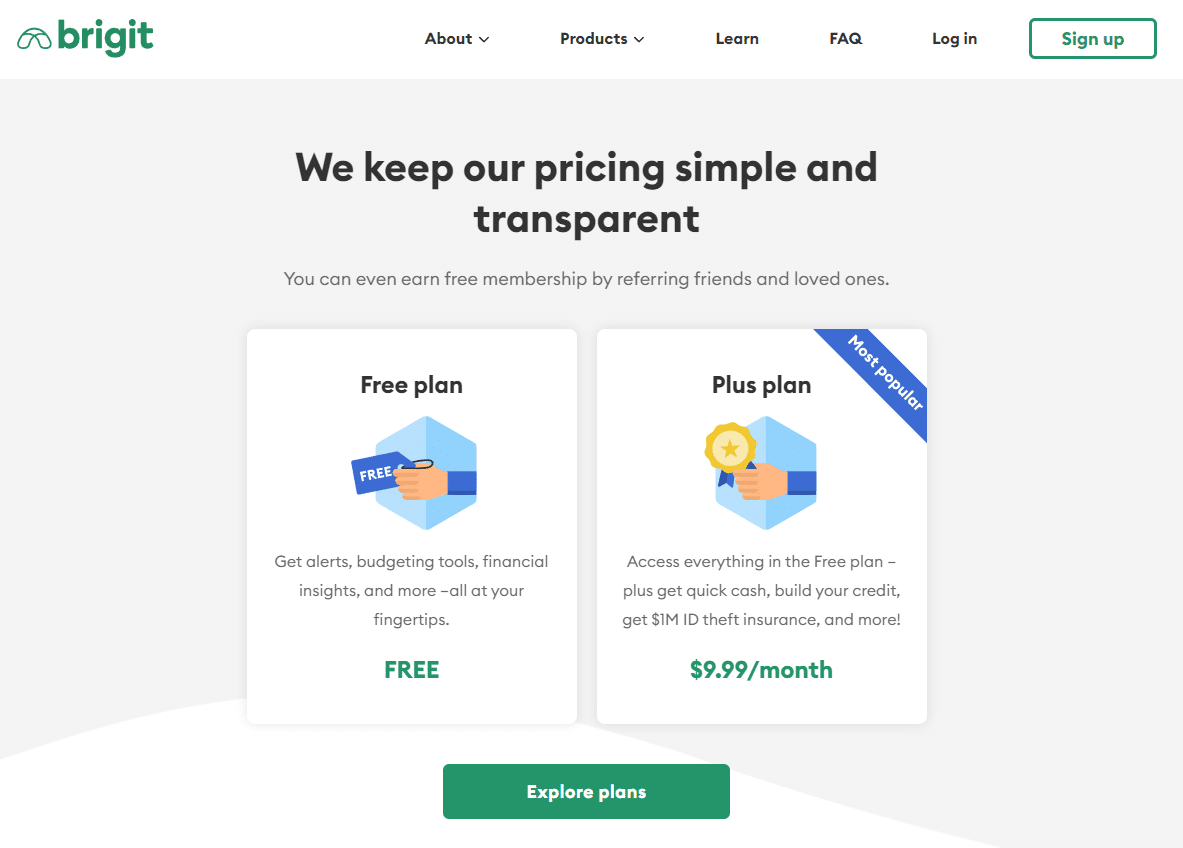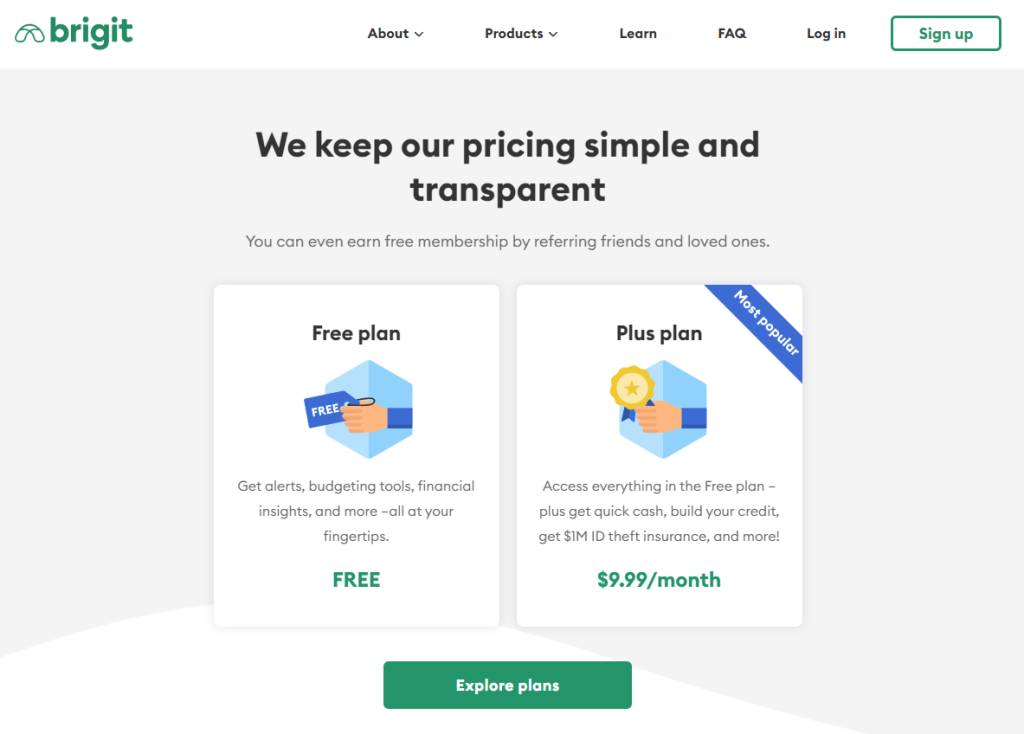 Some of the best credit-building apps and best credit score apps will guide you in how to improve your credit score. But if you're not sure how to pay off credit card debt and need funds to tide you over until your next paycheck, Brigit is one of many cash advance apps that can help.
Brigit links to your checking account and gives you up to $250 in cash if you qualify. While you can use the free version's financial management tools to your heart's content, you'll need to pay for the Plus version to get that cash advance.
Brigit Plus is $9.99 per month and features an automatic cash advance loan of up to $250. Brigit monitors your checking account to step in should an expense threaten to overdraft your account.
Even paying $10 per month can be less than some of the overdraft fees national banks charge. At anywhere from $34 to $36 a pop, overdraft fees can add up quickly and put you even further into debt.
With Brigit, you pay $10 per month and get the $250 advance automatically, as well as credit monitoring and up to $1 million in identity theft protection. You can also choose from flexible repayment options and find side hustles you can use to get out of debt.
Brigit does not require that you link your bank account for some features, but you'll need it if you want the $250 cash advance through the Instant Cash service. It's also required for Finance Helper, a service that gives you financial insights you can act on to improve your financial habits.
At the time of writing, Brigit does not work with Chime, Varo, or Net Spend bank accounts. Brigit lets you cancel your account at any time, but you'll need to repay any remaining cash advance funds or they will be deducted from your linked bank account.
Related: Do you bank with Varo or Chime? Here's a list of cash advance apps that work with Varo and cash advance apps that work with Chime.
Brigit Features
Brigit's free account gives you access to Finance Helper and Earn & Save. However, you'll need to pay for Brigit Plus if you want access to most of the features listed below.
Brigit Score
You might look at the title of this paragraph and wonder, "Why do I need another score if I already have to worry about my credit score?" The reason why is that your Brigit Score dictates whether or not you qualify for the $250 cash advance.
Your Brigit Score can range from 40 to 100, with 70-80 ranking as fair, 80-90 ranking as good, and anything above 90 qualifying as excellent. You'll need a Brigit Score of at least 70 or more to qualify for the cash advance.
Brigit determines your Score by analyzing your Earnings Profile, Bank Account Health, and Spending Behavior. It's not an official score by any means, but it can help you identify areas where you can improve your finances for a potentially better credit score, too.
Your Brigit Score is commonly informed twice a day through updates from your bank. Depending on your financial behaviors, Brigit can also suggest how to improve your spending habits and your credit score.
Instant Cash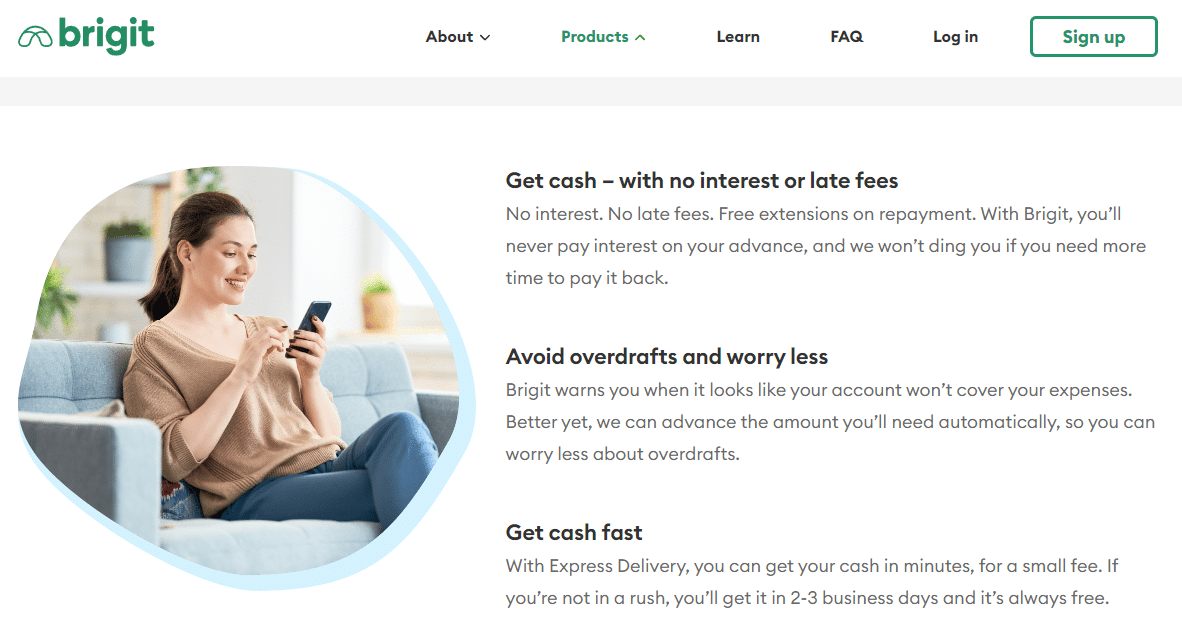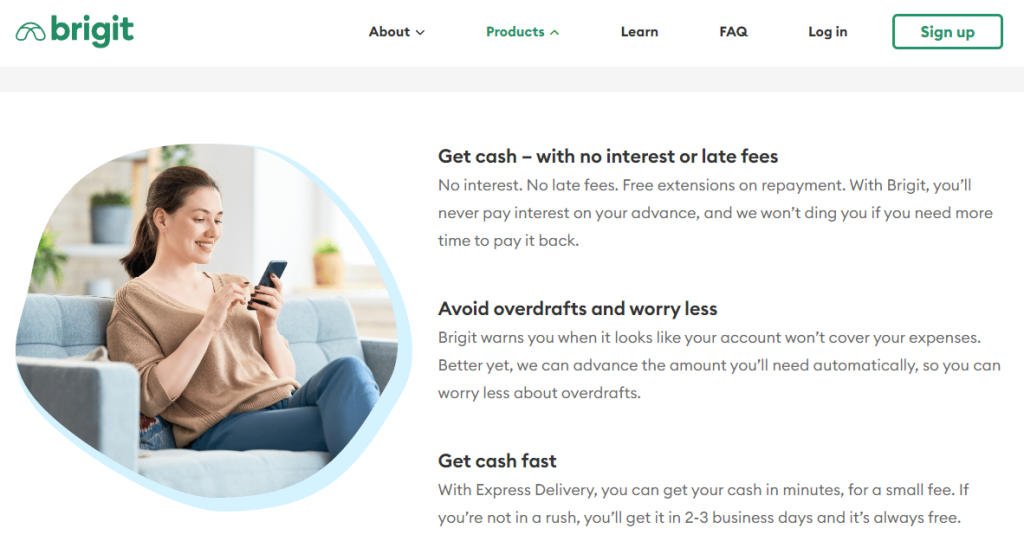 Should your Brigit Score qualify you for the $250 cash advance, you'll have access to the Instant Cash feature. This service is responsible for doling out the $250 advance that comes with no interest and no hidden fees.
In addition to your Brigit Score, this cash advance app also requires that you have a primary checking account that you regularly use and link to your Brigit account. The account must have a greater balance than $0, be open for at least two months, have a cash cushion when you receive your paycheck (both the day of and the day after), and have at least three recurring deposits from the same source, such as an employer.
Remember, you'll also need to be a paying Plus member to qualify for the $250 advance, which you can have delivered fast for a small fee through Express Delivery or free within two to three business days. You can only have one outstanding advance at a time, so you'll need to pay back the $250 before you can borrow it again.
Brigit will send you a reminder two business days before your due date. However, you can repay the loan early without any penalties.
If you find you need extra time to pay back your cash advance, you can use Brigit's flexible repayment options. There's no fee but these repayments are also not reported to any of the three credit bureaus.
Related: Tired of the money lies and false promises? Learn more about how to pay off debt and how to avoid bank fees so you can save more and pay less.
Credit Builder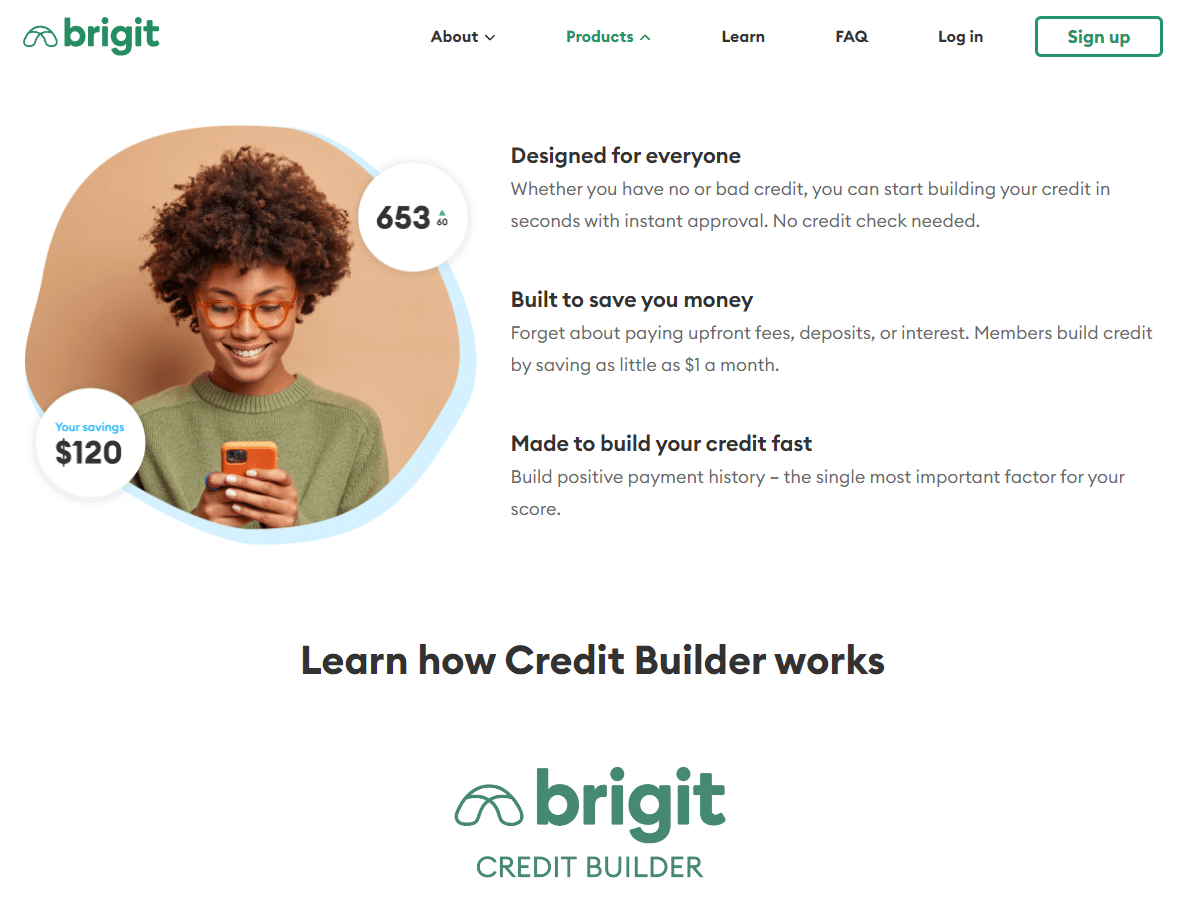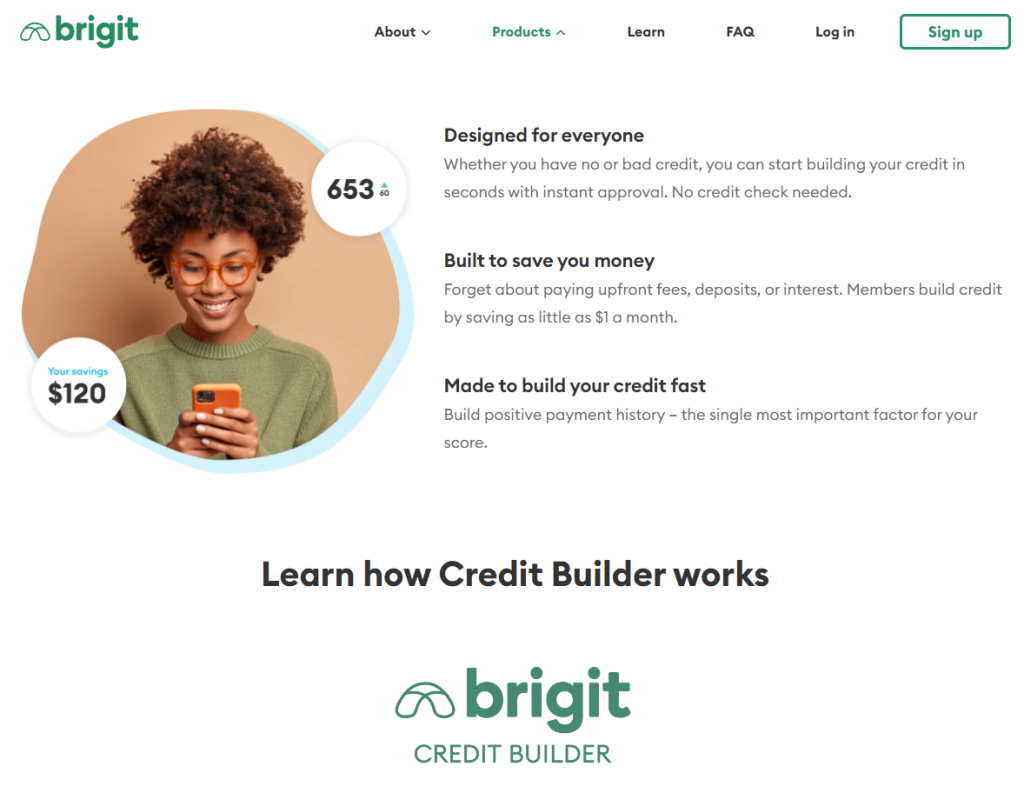 Commit to the $9.99 monthly fee for Brigit Plus and you'll have access to Credit Builder, a service that lets you save money and get credit for it, too. Brigit will report your payments to all three credit bureaus so you can establish a positive payment history.
So how does this credit-builder loan work? You'll simply need to choose a monthly contribution amount (can be $1) and put that away in an FDIC-insured savings account.
Brigit reports a $600 installment loan to the credit bureaus on your behalf with this service. Contribute between $1 and $50 for 12 months or choose payments between $1 and $25 for 24 months.
At the end of the loan term, your contributions will come back to you as savings. Brigit also offers your free TransUnion report to download as well as a score simulator.
Finance Helper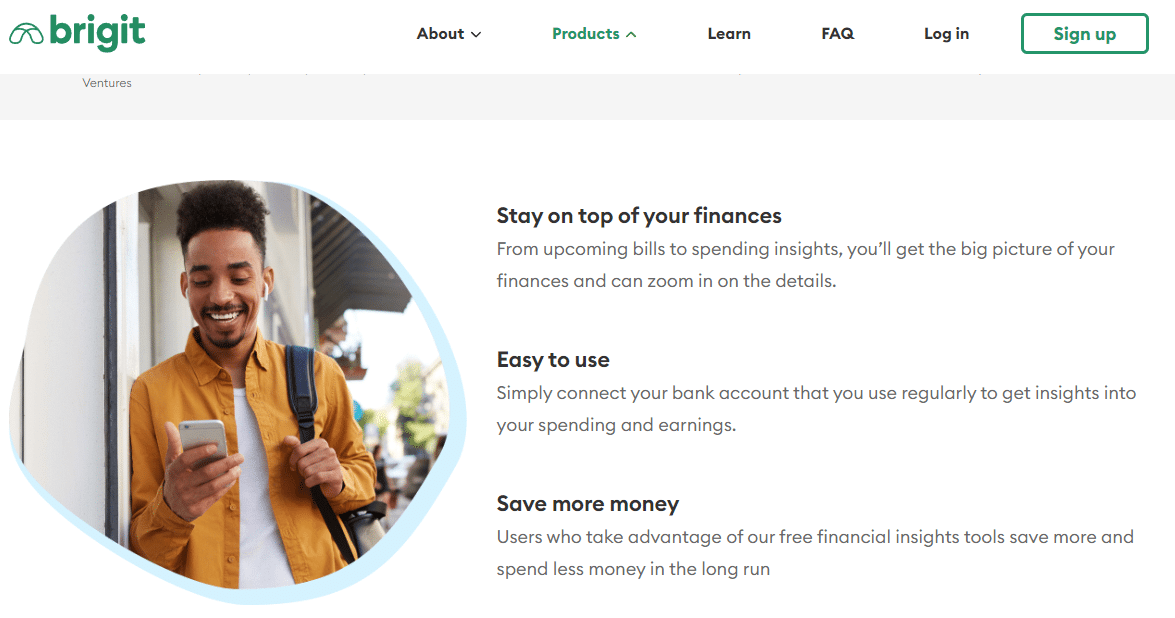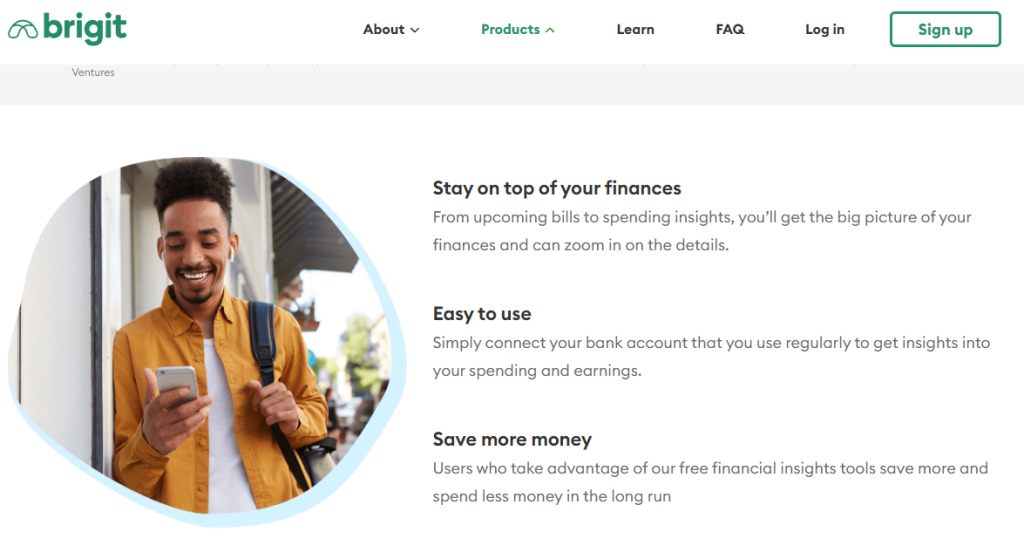 Brigit offers Finance Helper to both free and paid accounts. This service helps you create a budget by analyzing your bank account history.
Finance Helper will also identify areas where you're spending more than your budget allows. Focusing on these areas can help you avoid overdraft fees and build better financial habits.
In addition to analyzing your finances, Finance Helper can also provide tips on how to spend money wisely to achieve your financial goals. This personalized content can help you put real financial habits into action for even more rewarding results.
Earn & Save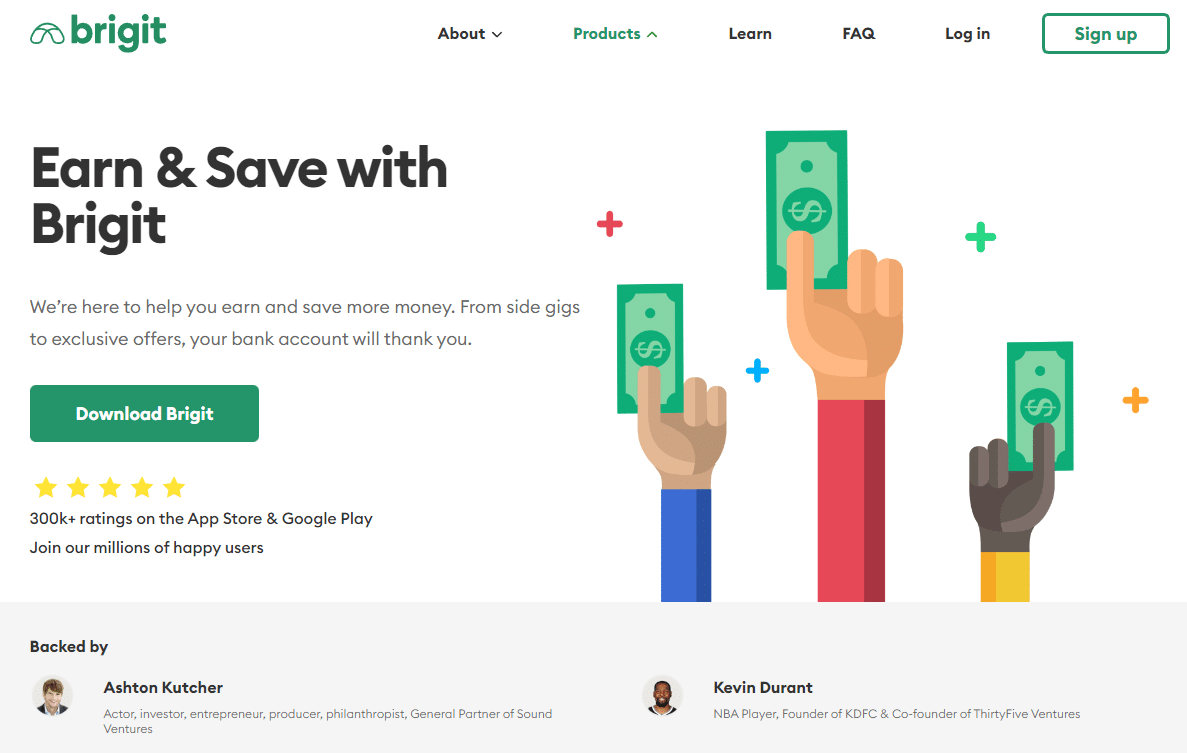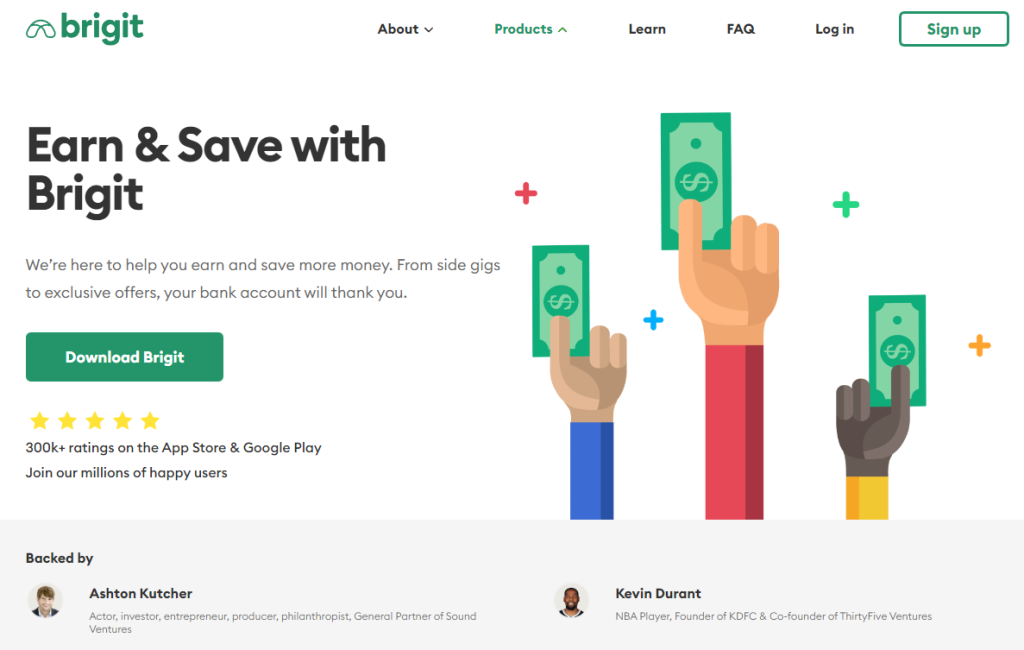 Improving your finances can often be about opening up new streams of income rather than managing your money down to the last cent. That's why Brigit offers an in-app function that connects you to side gigs and other exclusive offers.
This built-in job board is available for Plus members only and features both part- and full-time jobs. You can also take surveys and play games to earn money as well.
Brigit: Pros and Cons
If you're looking for an app bonus, you won't find one with Brigit. All the same, this cash advance app does offer some great services.
Pros:
Cheaper than some overdraft fees, depending on where you bank
Identity theft protection
No minimum credit score or credit check required
In-app job board for finding side hustles
Budget-tracking tools
Free version
Cons:
Plus membership required for most lucrative features
Requires access to your bank account for most features
Not available for joint checking accounts
Auto advances may come when you don't need them
Low limit of $250 on cash advance funds
Brigit Competitors
While you can certainly take out personal loans to build credit and pay your bills, there are many other cash advance apps like Brigit out there, including:
1. Albert: Best All in One App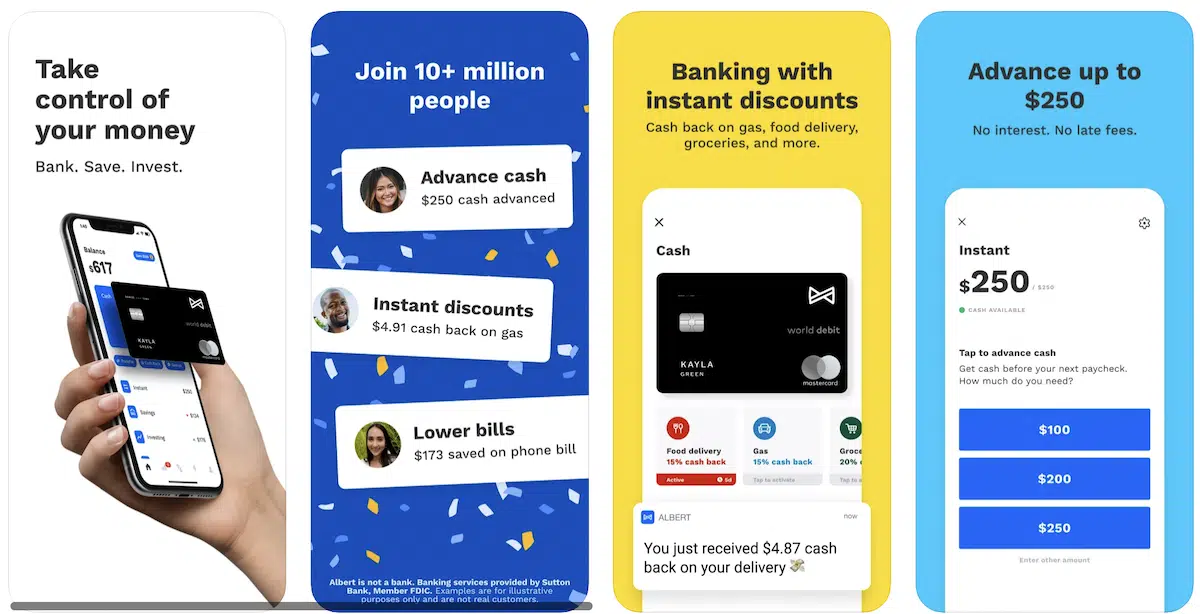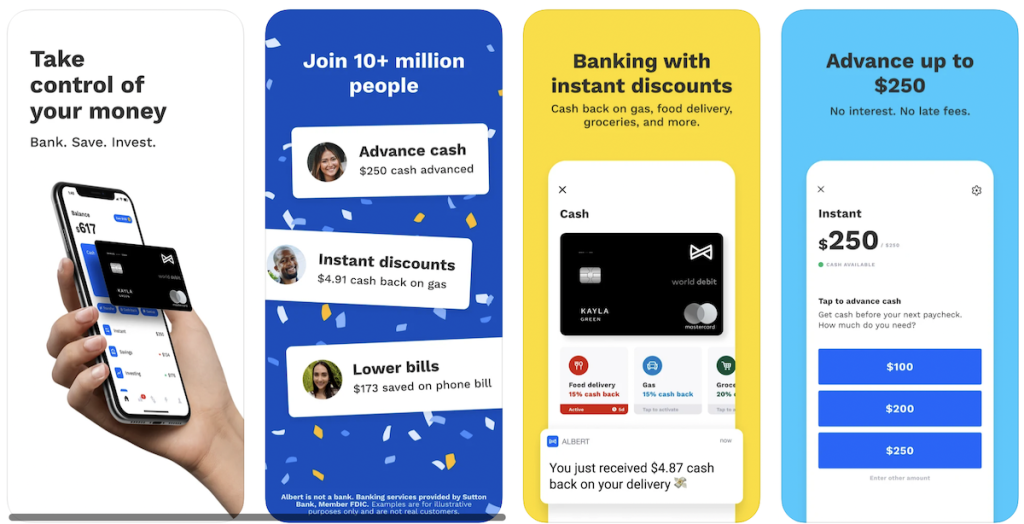 Albert can spot you up to $250 so you can make ends meet. No late fees, interest, credit check, or hidden hands in your pocket. As long as you have a paycheck and have repaid your past advances, you can request up to 3 cash advances per pay period.
Albert is a super app that offers:
Checking account with debit card: Offers one of the best sign up bonus offers currently ($150 for new users)
Savings account: Set your schedule or let Albert analyze your spending and automatically move money into your savings account. (On average, they save people $400 in the first six months.)
Cash advances: Up to $250
Investing: Invest yourself or enable Robo investing
Budgeting: AI-driven auto save feature is a big differentiator and very effective
Genius: Text with a certified financial advisor anytime for a $6/month fee
There's no catch. Albert is legit.
Get up to $250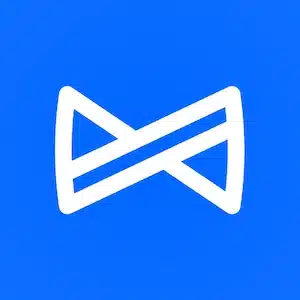 Albert
Get a no-fee and interest-free cash advance of up to $250
Pay a small fee to get your money instantly or get cash within 2–3 days for free
Costs $8 per month after a 30 day free-trial
Open Account
Albert Review
Where to get it?
2. Empower: Best for Cash Advances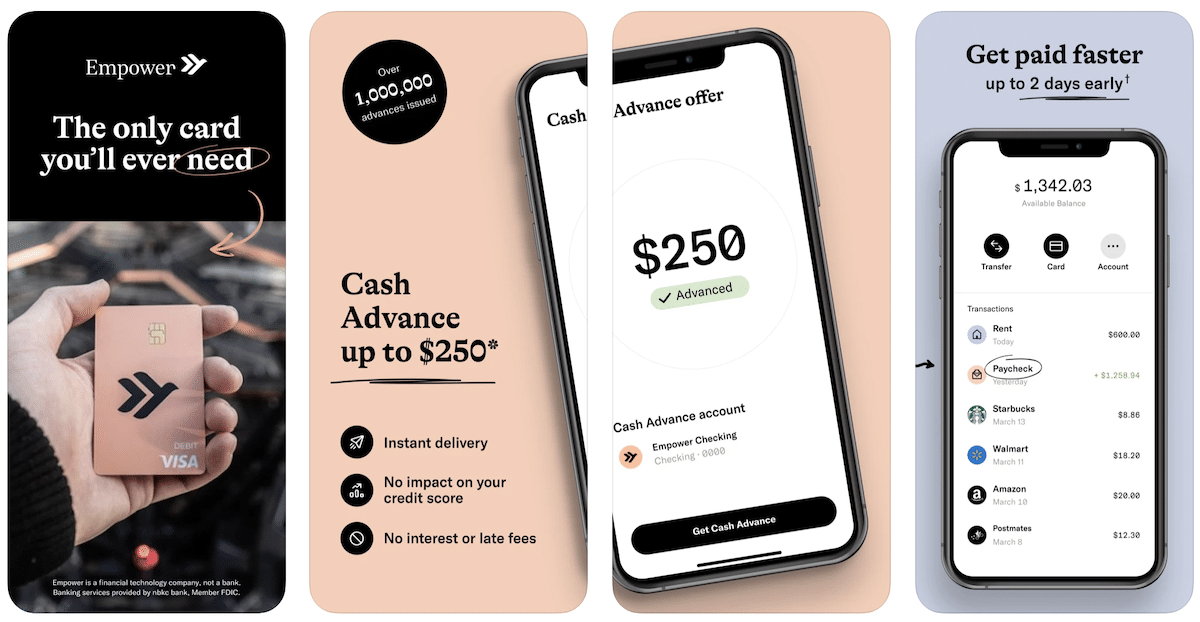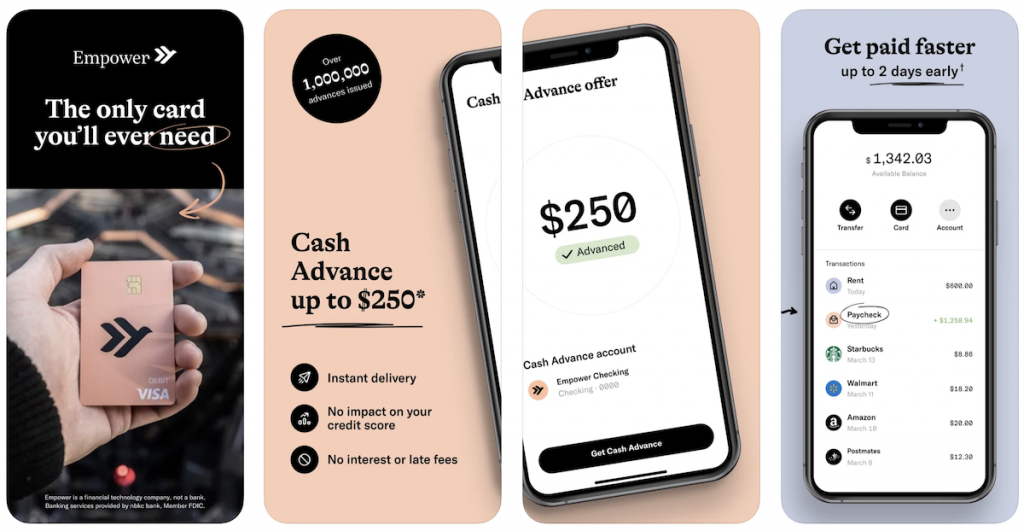 Empower is an application built for today's generation. They'll be there for you every step of the way, whatever comes your way. You may get a cash advance of up to $250 when you need it most by downloading the app, and save for your future.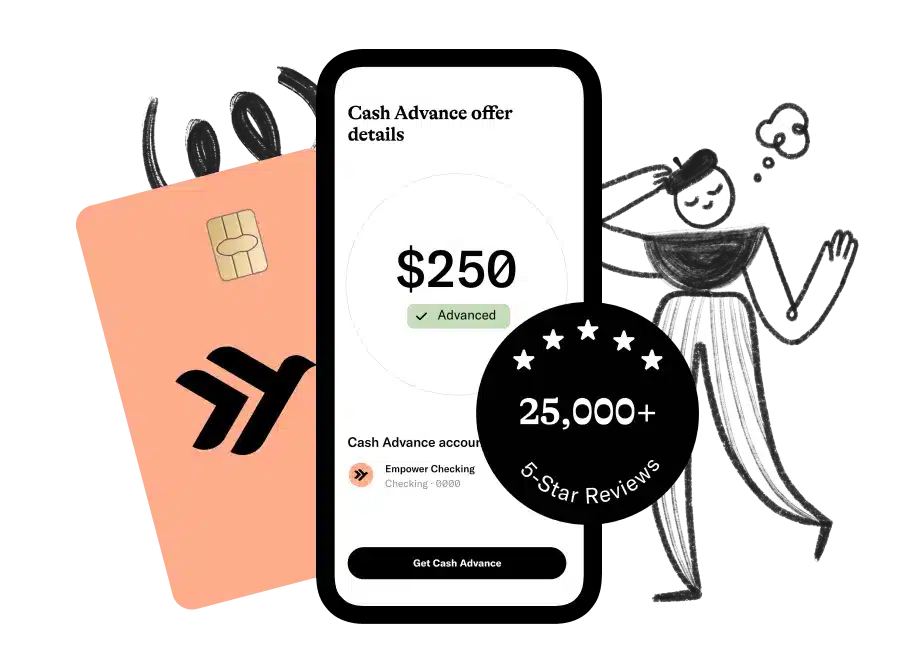 They're always there for you, and they'll get a cash advance up to $250 straight into your bank account. Free instant delivery is available for eligible Empower Checking Account customers with an activated debit card.
To determine if you're qualified to receive a Cash Advance, Empower calculates your bank account history and activity, recurring direct deposits, and average monthly direct deposits.
There are no applications, interest or late fees, or credit checks or risks involved. You simply reimburse them as soon as you receive your next payday. There's nothing hidden about it. It's that easy.
Get up to $250
Empower
Get a no-fee and interest-free cash advance of up to $250
Use AutoSave to automatically set money aside every week
Costs $8 per month after a 14-day free trial
Open Account
Where to get it?
3. MoneyLion: Best Payday Membership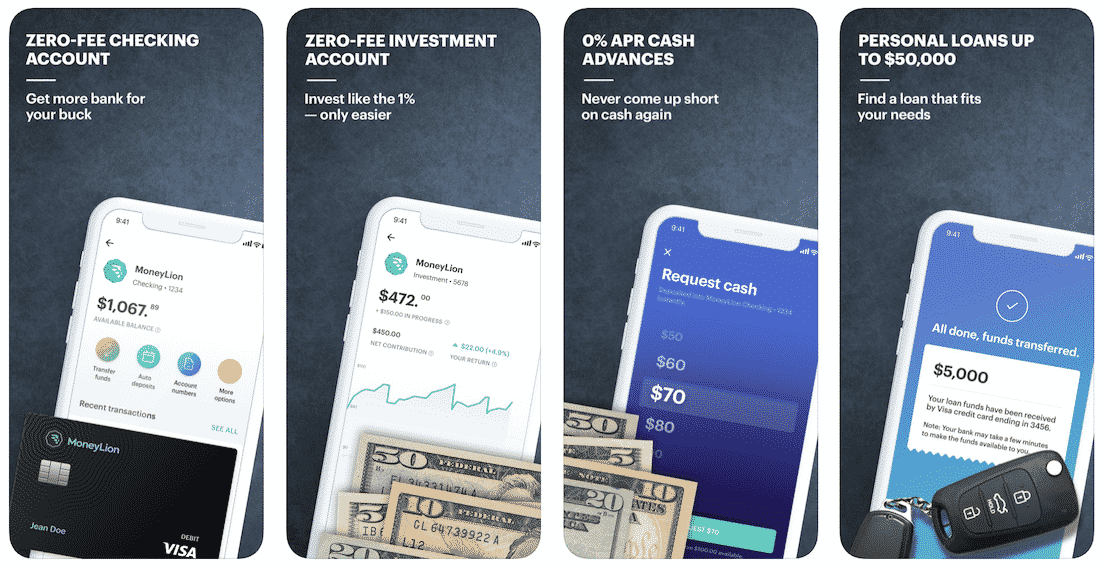 This payday loan app packs a big punch with a plethora of features that can help you. MoneyLion provides you with access to 0% APR cash advances, low-interest personal loans, helps track spending and savings.
The app also provides financial advice to help you improve and control your financial life. It is no surprise that the MoneyLion community has over 2,000,000 members.
How MoneyLion works:
Download the MoneyLion app and enroll in free MoneyLion Core. Receive your new black debit card in approximately 7 days.
Fund your MoneyLion Checking account with an instant transfer, and then use it everywhere you go with no fear of hidden fees, overdraft fees, or minimum balance fees!
Add direct deposit of just $250 or more to your MoneyLion checking account to unlock instant 0% APR cash advances.
Upgrade your membership to MoneyLion Plus to get any time access to a 5.99% APR credit-builder loan, $1 daily cashback, exclusive perks, and more.
Since this app has so many bells and whistles you can learn more in a comprehensive MoneyLion review that goes through each feature. MoneyLion is a wonderful choice for people who want to improve their financial situation, but cannot due to high-interest loan rates and many others. It helps them take control of their financial lives and improve their savings and can be downloaded for iOS or Android.
Get up to $250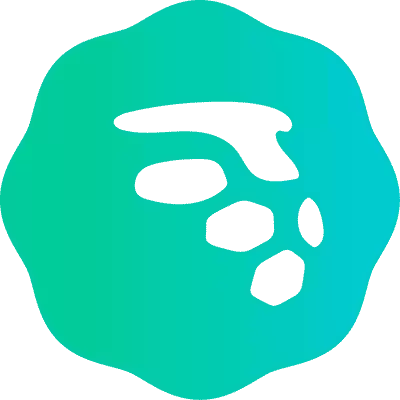 Where to get it?
4. Dave: Best Option for Instant Money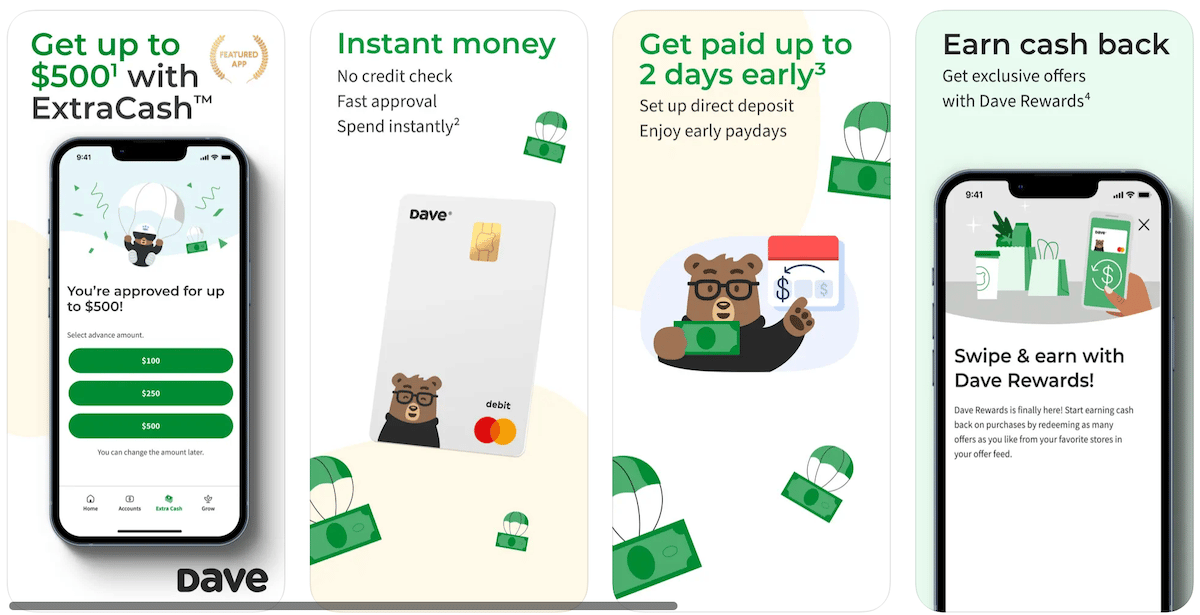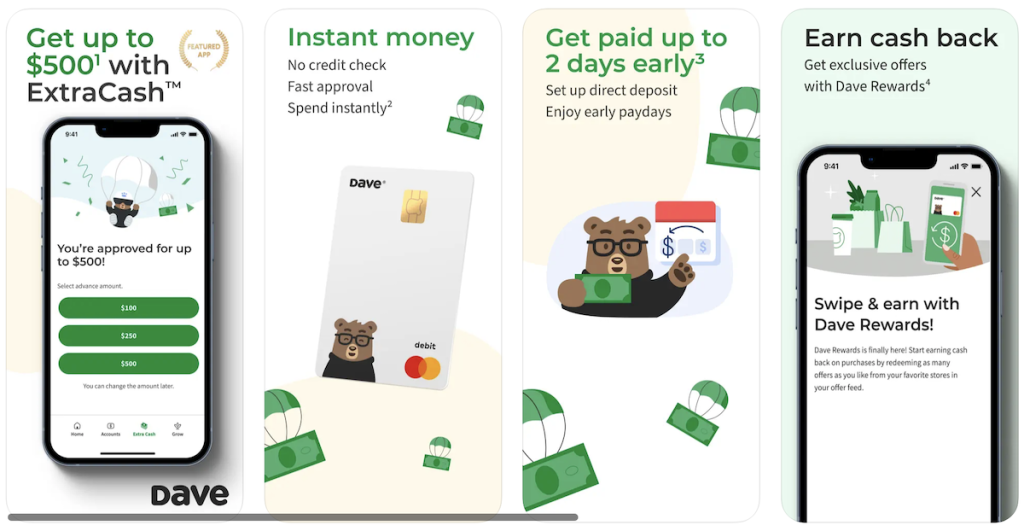 This friendly bear allows you to get up to $500 as an advance with no interest or credit check. With Dave, you can budget your upcoming expenses and be protected from bank fees for only $1/month. Dave can help you budget your personal expenses and avoid overdrafts with friendly announcements. Automatic payments for things like Netflix and insurance can make budgeting tricky, but he can help there too!
How Dave works:
Instantly advance up to $500 from your next paycheck.
No interest. No credit checks. Just pay your advance back on payday.
Connect directly to your bank account to borrow money fast.
Dave saves the average American an average of $500 a year.
Whether you're hit by sudden expenses or need a little extra to make it to the next paycheck, Dave is here to help. Download Dave now for iOS or Android and to stay ahead of overdrafts and get a payday advance when you need it.
Where to get it?
Get up to $500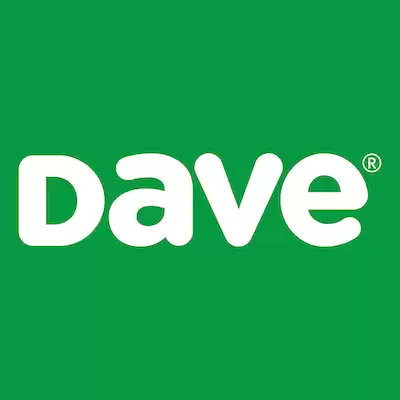 Dave
Meet the banking app on a mission to build products that level the financial playing field
Get paid up to 2 days early, earn cash back with Dave Rewards, and get up to $500 with ExtraCash™ without paying interest or late fees
Join millions of members building a better financial future
Open Account
Dave Review
If you're looking into cash advance apps, it pays to compare your options and see which app might offer the best deal for your situation. Take a few minutes to do your homework and it will pay off in spades down the road.
FAQs
Is Brigit legitimate?
Yes, Brigit is legitimate. It's an affordable cash advance app you can use to make ends meet in an emergency without having to worry about costly interest fees or credit checks.
How long does it take Brigit to verify my account?
Brigit typically verifies your account in three business days. The cash advance app will send you microtransactions that you'll need to confirm to complete verification.
Does Brigit require a credit check?
No, Brigit does not require a credit check or even a minimum credit score. You'll only need to submit your personal information so that Brigit can verify your identity before granting you an account.
How often can you get a cash advance from Brigit?
You can get a cash advance from Brigit as often as you like, as long as you qualify. However, you'll need to pay your existing cash advance off before you can request another one.
Advance Your Finances with Brigit
Sometimes making ends meet in hard economic times can be difficult, especially if you're struggling to come up with funds for your bills. With cash advance apps like Brigit, you can rest easy knowing you'll make your bill payments without risking the loss of a few credit points in the process.
We hope this article has helped you to see how Brigit can save your finances in a pinch. This cash advance app offers several features even beyond a cash advance that can help you get your finances back on track.
Financial habits are something many of us struggle with, so you're not alone. Once you've got the resources you need at hand, it's only a matter of time before you achieve your financial goals.
Get up to $250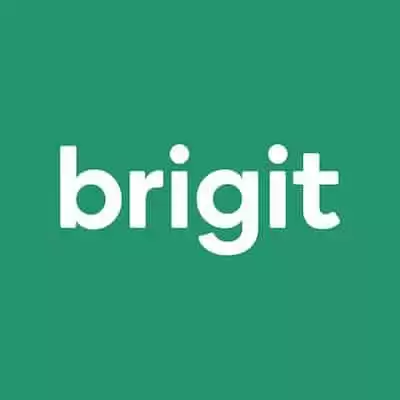 Brigit
Tap to get an advance within seconds
Get up to $250
No credit check is required and no interest
Pay it back without hidden fees or "tips"
Open Account
Our Pick: Albert