When I was in college I would always find new side hustles to make money quickly. One that I tried for a semester was flipping furniture.
It was pretty easy, I would find free furniture or cheaply priced furniture (couches, dining room tables, chairs, etc) on sites like Craigslist and use a variety of selling apps to flip it for some quick cash. During the process, I found some great ways to unload furniture quickly to earn some extra cash.
In this article, I will share the best apps for selling furniture and other sneaky ways that you can sell your used furniture in your city for lucrative returns.
Best Places to Sell Used Furniture
One thing that I want to mention is when selling anything online or locally, just be prepared to deal with lowballers, no shows, window shoppers and people who are trying to trade instead of purchase with cash. With that out of the way, if you are looking to sell used furniture to make extra money, here's the scoop.
1. OfferUp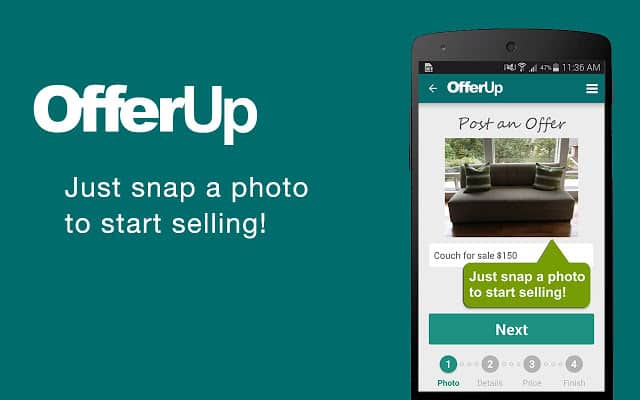 OfferUp instantly connects with local buyers and sellers all within the app. Users can buy and sell everything from cars and trucks, electronics, furniture, and more.
To sell your furniture simply list it directly on the app's marketplace and within a few clicks, your listing will be live. Just snap a photo to start selling. This app lets you negotiate with potential buyers and receive offers and send counteroffers until you agree on a price for your furniture. All the contact is made within the app, which makes things easy.
It's free to use and list any items (not just furniture) without any fees if you meet the buyer locally and get paid in cash, which is recommended.
Sellers are required to pay a service fee if you want to ship the items. The fee is either a minimum of $1.99, or 12.9% of the sale price. However, shipping furniture will definitely eat at your earnings so you should likely pass and opt to sell locally to not incur any selling fees.
If you want to promote your furniture within the app you can also pay for Promote Plus, but it's not required. You can easily just relist the furniture every few days so the listing can see many different eyes.
Overall, it is probably your best bet for selling new or used furniture within your city. You can sell from people you trust based on the user's profile and ratings and set your own selling prices.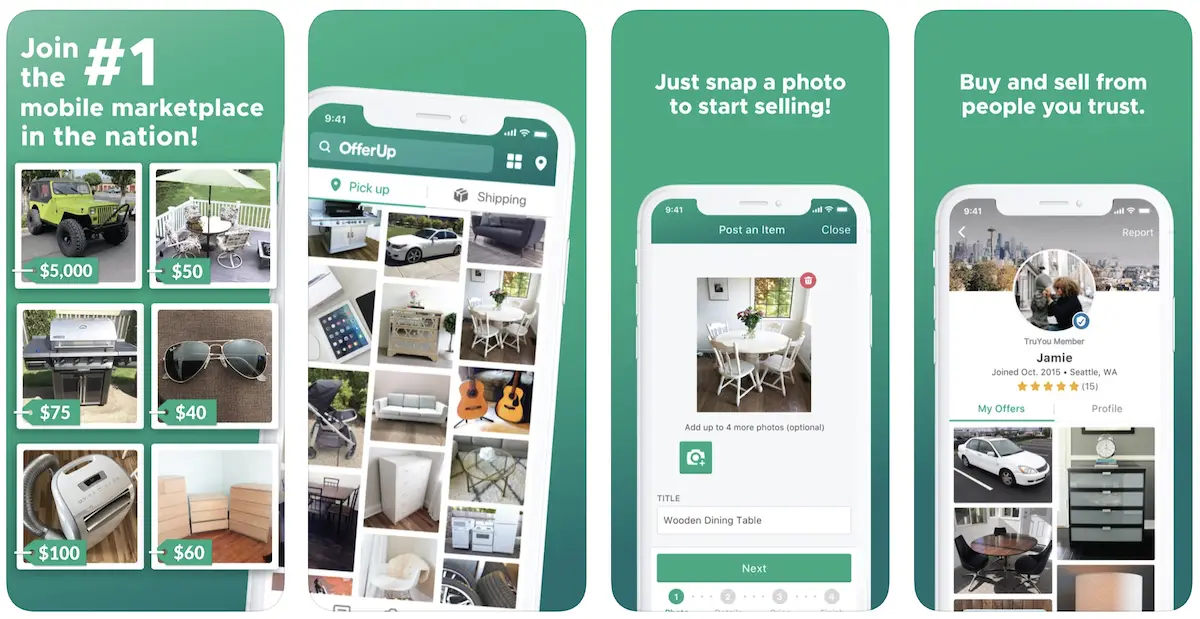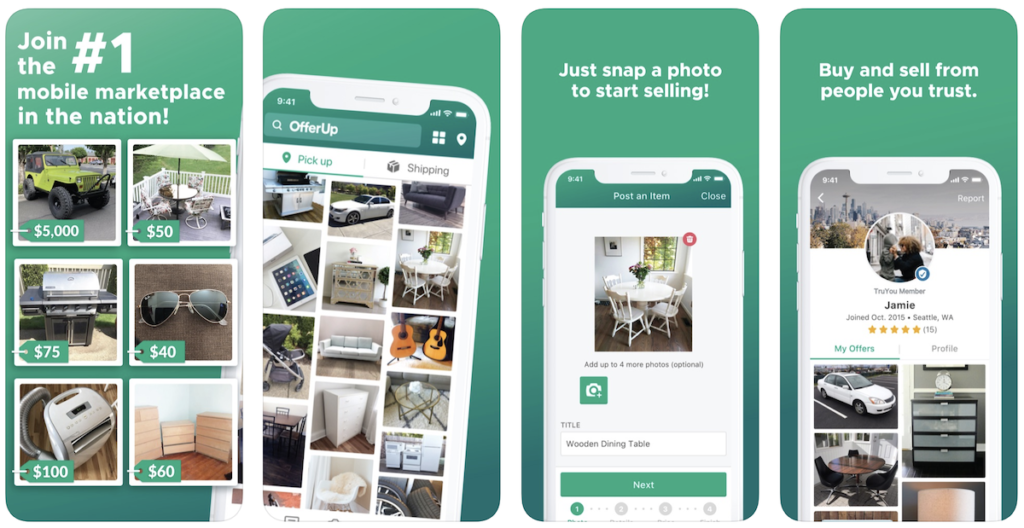 2. Craigslist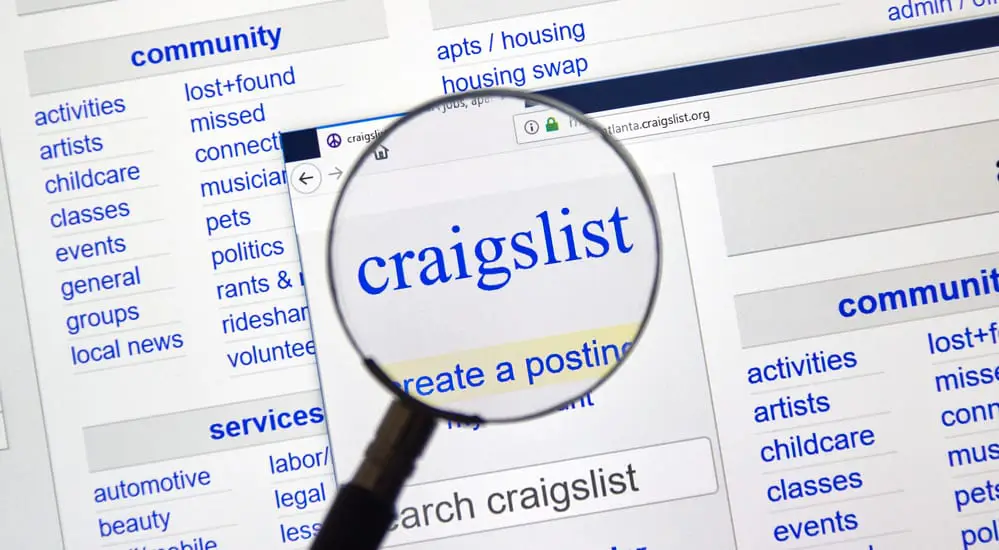 While OfferUp is a great choice for listing your furniture you might not always find an interested buyer. That's where Craigslist can come in handy in order to broaden your reach. It is an online classifieds site where you can list and sell used furniture locally.
According to Forbes, Craigslist has over 55 million monthly visitors with US, Japan, Canada, and Australia being their top 10 users by geological location. So it's another option for you to create a free account, take some photos of your furniture, and list them along with a description and selling price.
You can include your phone number within your listing in order to get interested buyers call you or text you directly. You can also include 'for pick up only' within your listing so buyers know they will have to make arrangements to pick it up. Craigslist is entirely free to use and as long as your description and pictures are presented professionally you can get interested parties.
One thing you should keep in mind is to be wary of scams. When I sold on Craigslist, I would usually get a few scammy messages from random numbers who offered to buy my furniture if I would ship it to them. Ignore these, you only want to get paid in cash and locally. (follow these two rules and avoid 99% of scam attempts.)
3. Facebook Marketplace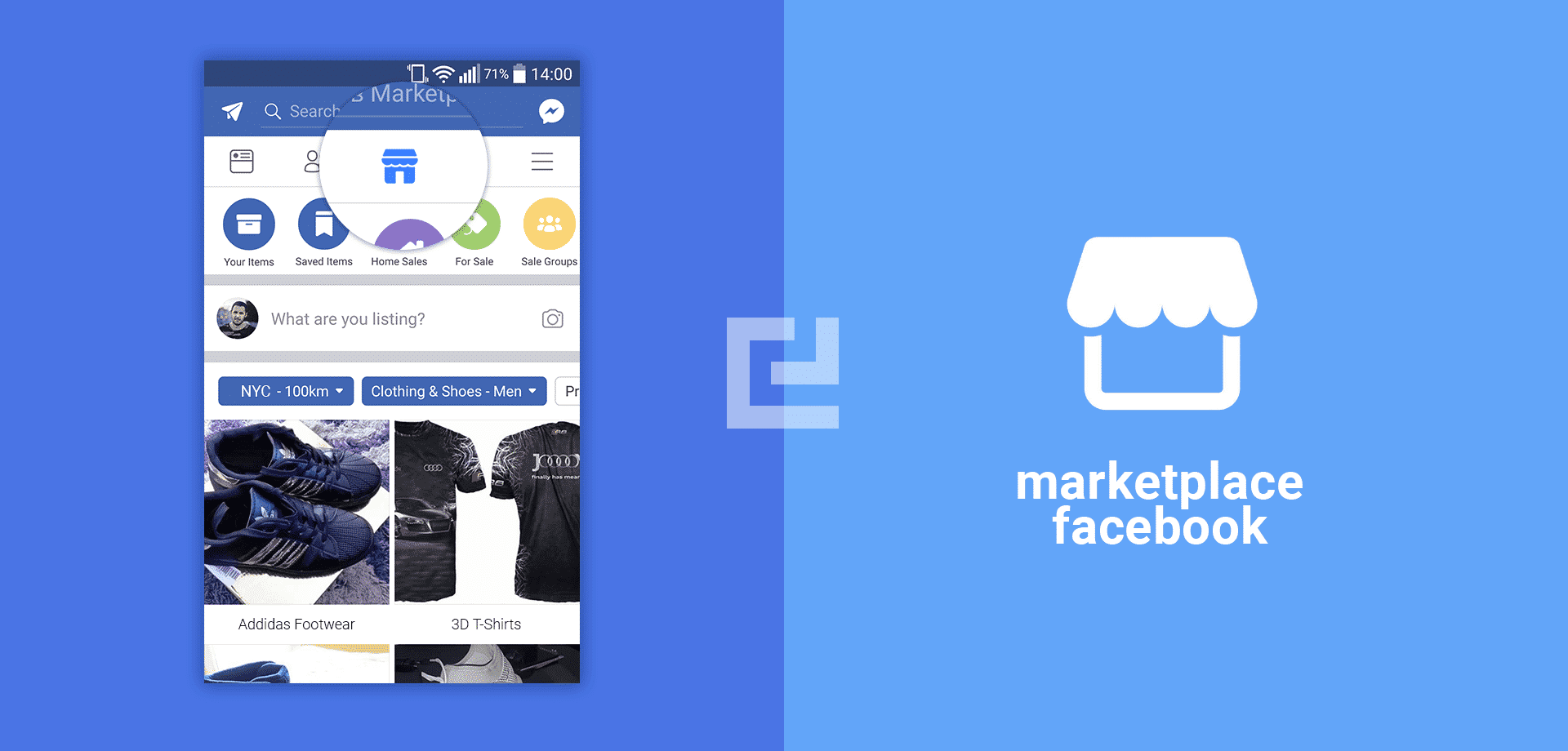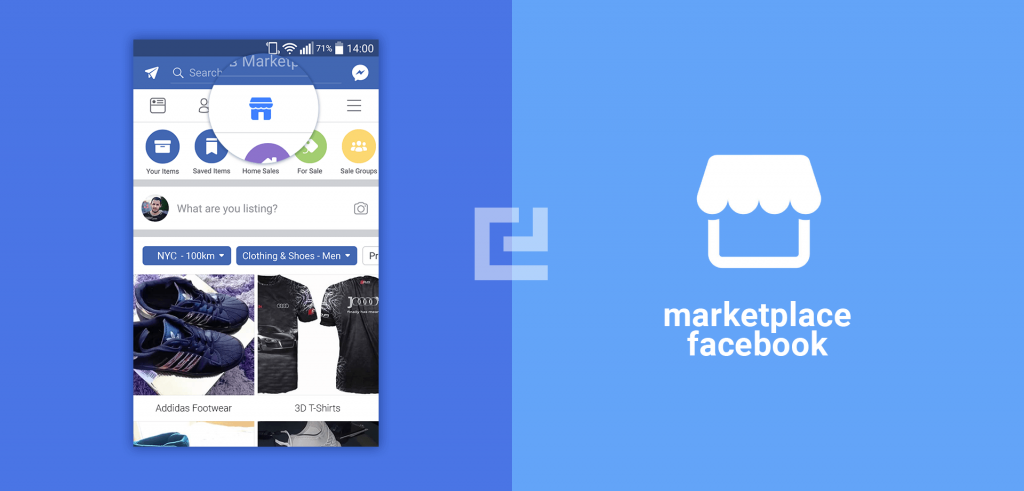 Facebook Marketplace was introduced in 2016 and boy has it made things easier for sellers like you. You may have a Facebook addiction like me but if you didn't know they now have a classifieds section where users can list items for sale. It's really easy and free to create a listing and snap photos just like the other options we've discussed already.
Since Facebook is a social media website, it also benefits to search for local buy and sell groups in your area. You can easily find them by just searching for your city + buy and sell group. You'll want to try and list them here as well to find potential buyers who want to buy your furniture close to your asking price.
I like selling on Facebook because there are so many users and it's easy to communicate with potential buyers. Plus, you can easily scope out someone's profile to see if they seem shady before meeting up.
4. Chairish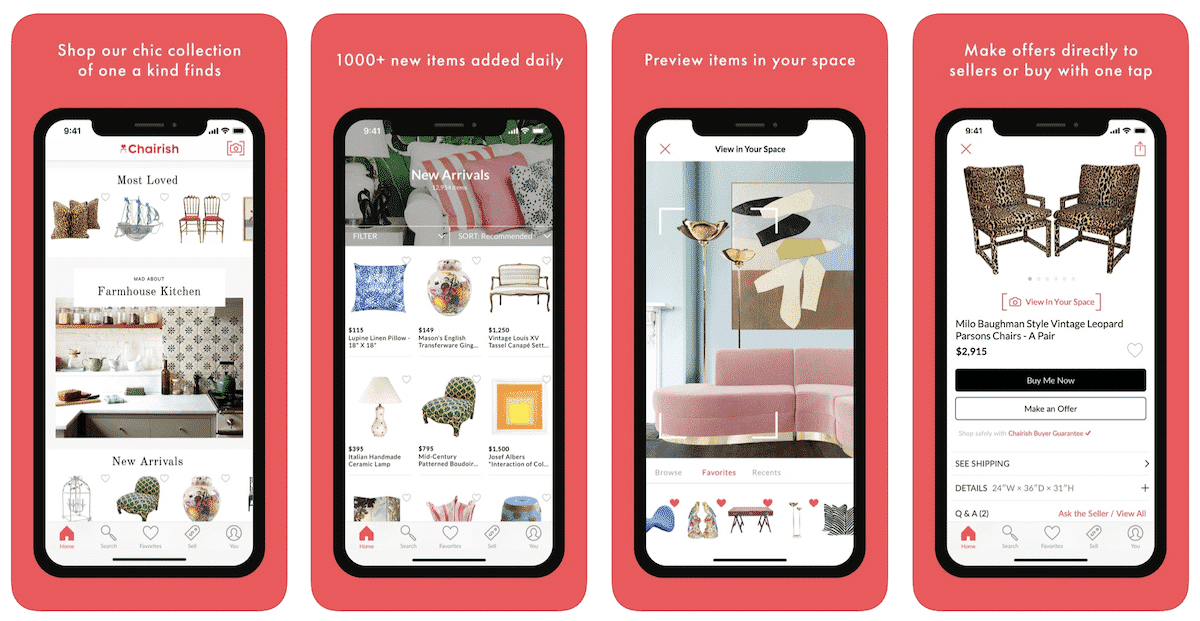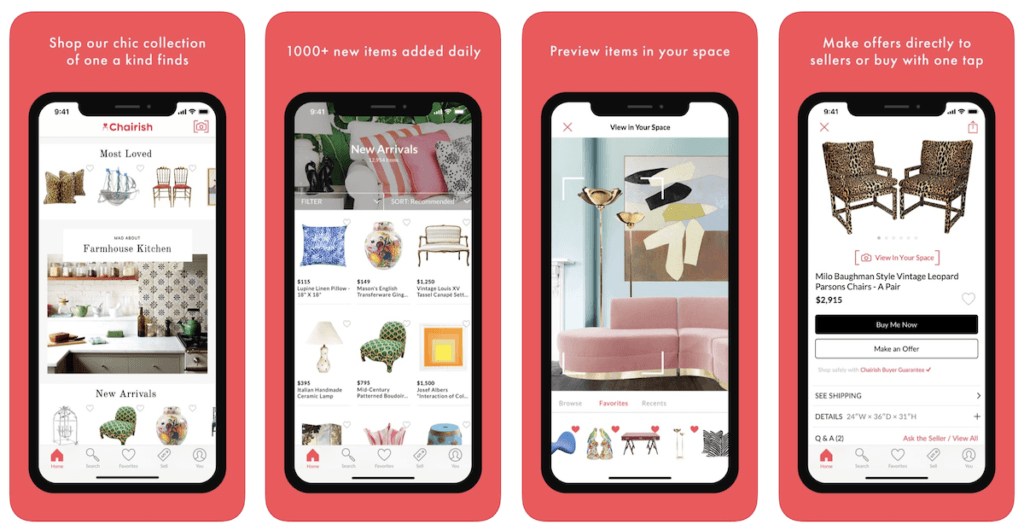 Chairish app is good if you are looking to sell cool furniture and home decor items. Chairish verifies all offers on your items, and then sends them over to you. You can get great prices for your used items here.
Chairish may be the ideal app for you if you want to get rid of your current office furnishings or even vintage furnishings. Its back-end editors' work as they pick which pieces of furniture (and other items) will be listed on the app distinguishes it from its competitors.
Because of this, it's fairly certain that your potential buyer will expect a high-quality furniture item, even if you're selling second-hand furniture.
What I appreciate about the app is that it allows you to run limited-time sales. This means you have a chance to pique people's interest in your listing by lowering your furniture prices temporarily.
5. eBay


eBay is a good option if you want to sell nice antique furniture online, for example. The thing with eBay is that it has a massive audience (there are 182 million eBay users worldwide) so you can sell antiques quickly and almost guarantee that the item will be sold.
An auction format would be recommended, but fixed prices can also be used if you know what you want for it and won't take any less. Fixed prices may take longer to sell, and it may be necessary to negotiate prices with buyers.
For example, if you sell antique furniture with a minimum price of $200, someone would have to offer that amount to sell it. If no minimum price is set, the same piece of furniture can be sold for one dollar.
Every month, you get up to 200 zero insertion fee listings so you can list your furniture for free. However, once your item sells you'll pay a flat 10% 'final value fee' in most categories. If you get paid via PayPal the fee is 2.9% + $0.30 of the total selling price including the sales tax (yikes).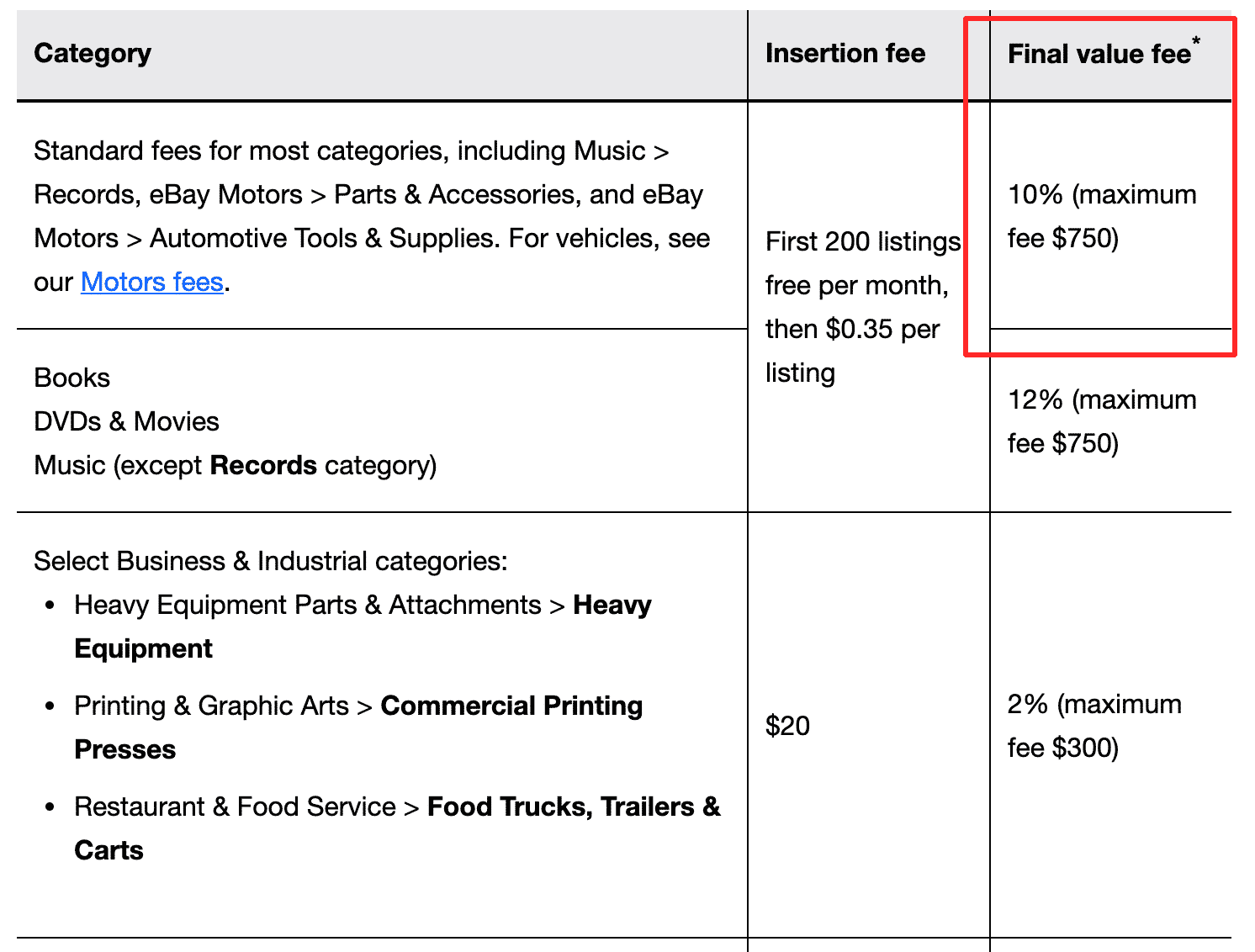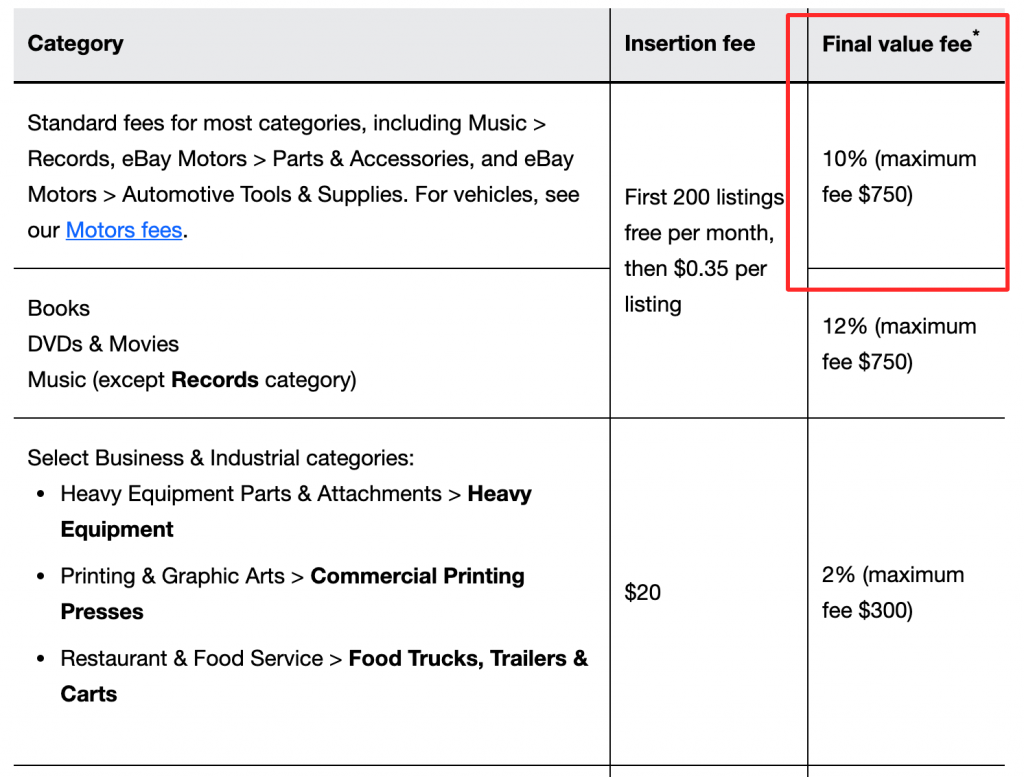 Yep, the fees stink but you have access to a larger pool of potential buyers.
One thing to mention is that eBay is not just for buying and selling things that need to be shipped across the world. It can be a very handy tool if you are looking to sell large furniture locally as well. Simply post the item, along with your details, and have the buyer pick up the item locally. But you'll still have to pay the Final Value Fee once it's sold.
6. VarageSale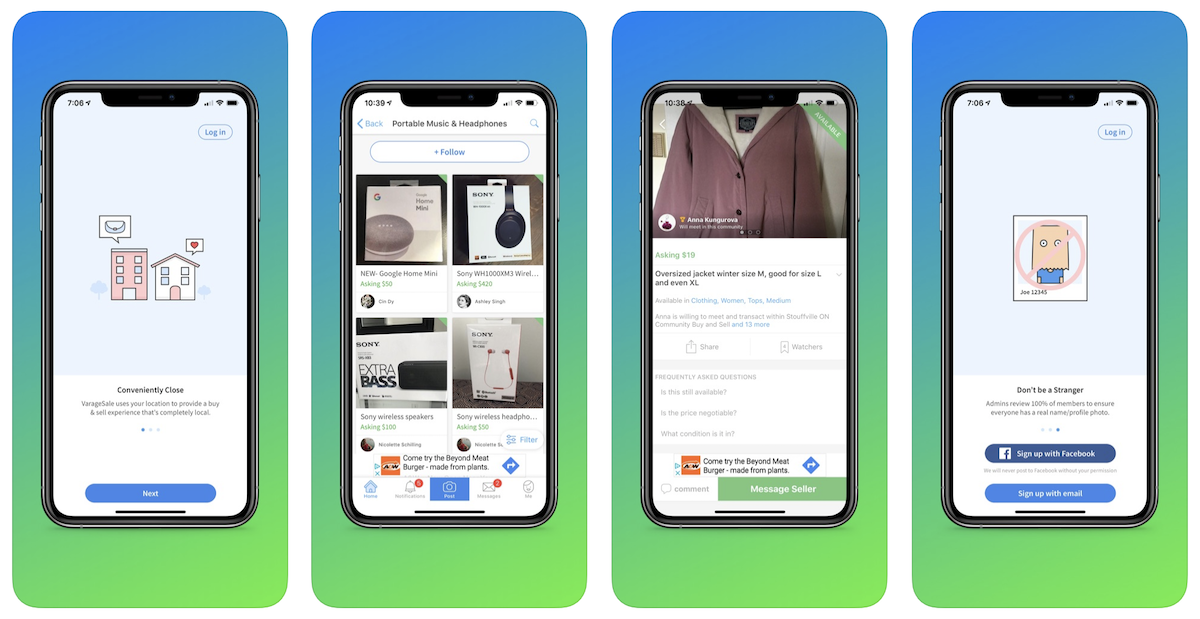 VarageSale app has a cool name that plays on "Garage Sale" with the V standing for verification. VarageSale verifies the identity of both the seller and the buyer using Facebook to make sure that they are real people.
This app also makes it very easy for you to post your listing to your social media page, increasing its visibility. It is completely free to buy, sell, browse and bump your furniture listings to the top of the listings feed as well. The only downside is that it isn't as popular as Upside or Letgo, but it's worth a shot if you have the time to list it here.
7. Letgo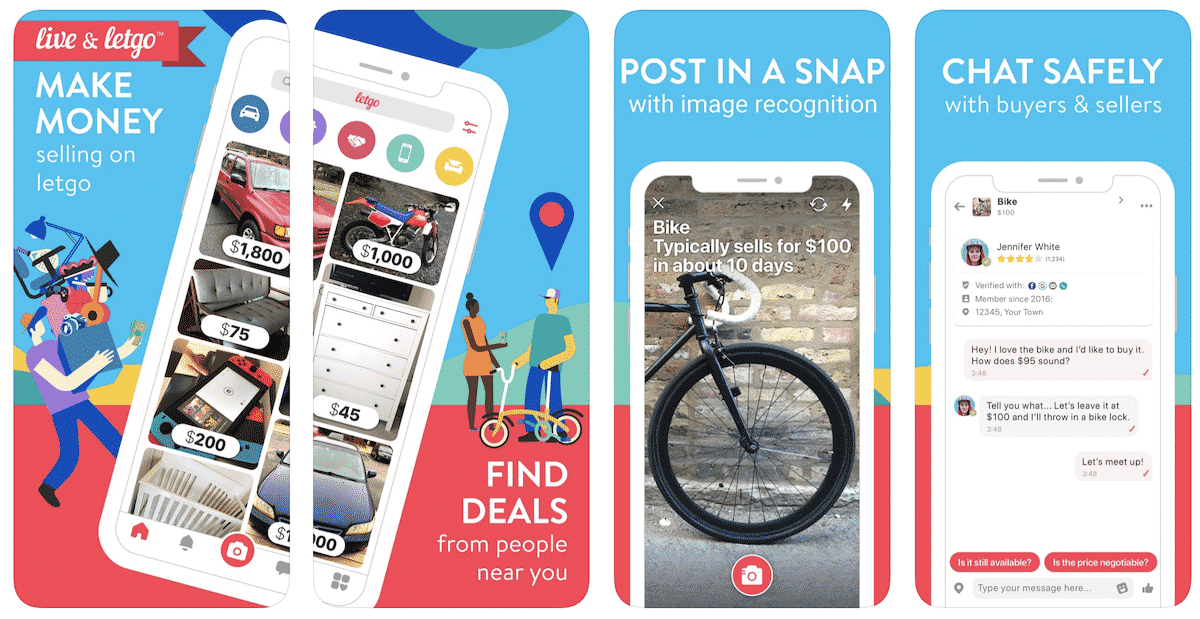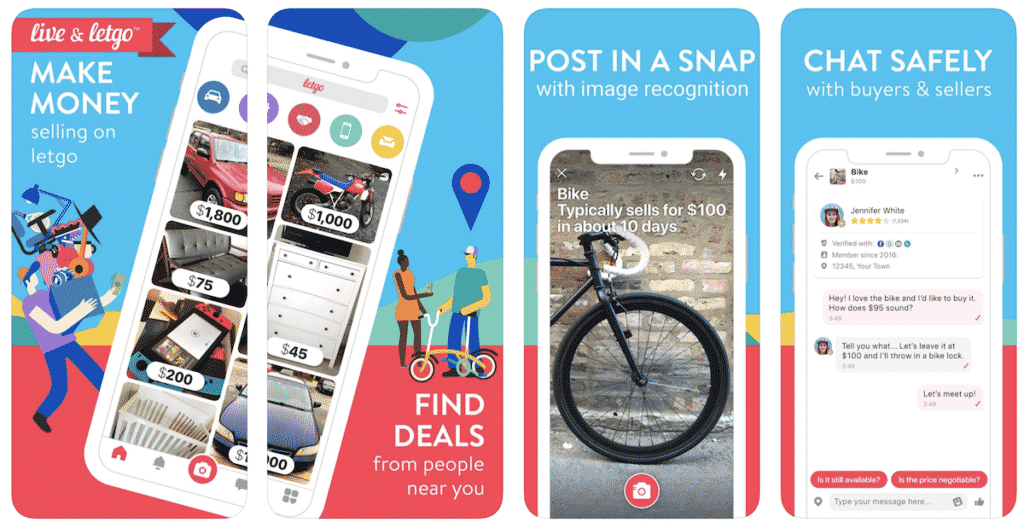 Letgo is also a great app if you are looking to sell furniture locally. All transactions happen on the app, and listings are populated by zip code, which makes it easier especially for rural buyers and sellers.
It's very similar to OfferUp but I prefer the customer service that Letgo provides. However, out of the two — OfferUp is a more popular app with more downloads in the App Store and Google Play Store.
I only mention it because if you want to get sell your furniture quickly, you will benefit from listings on as many different apps as possible (duh). Overall, if you're looking for an alternative to Craigslist, both LetGo and OfferUp are great alternatives.
Notable Mentions
The apps above should do the trick — but if you're in a city where they don't have much exposure you can check out the follow apps to get your furniture sold.
8. Wallapop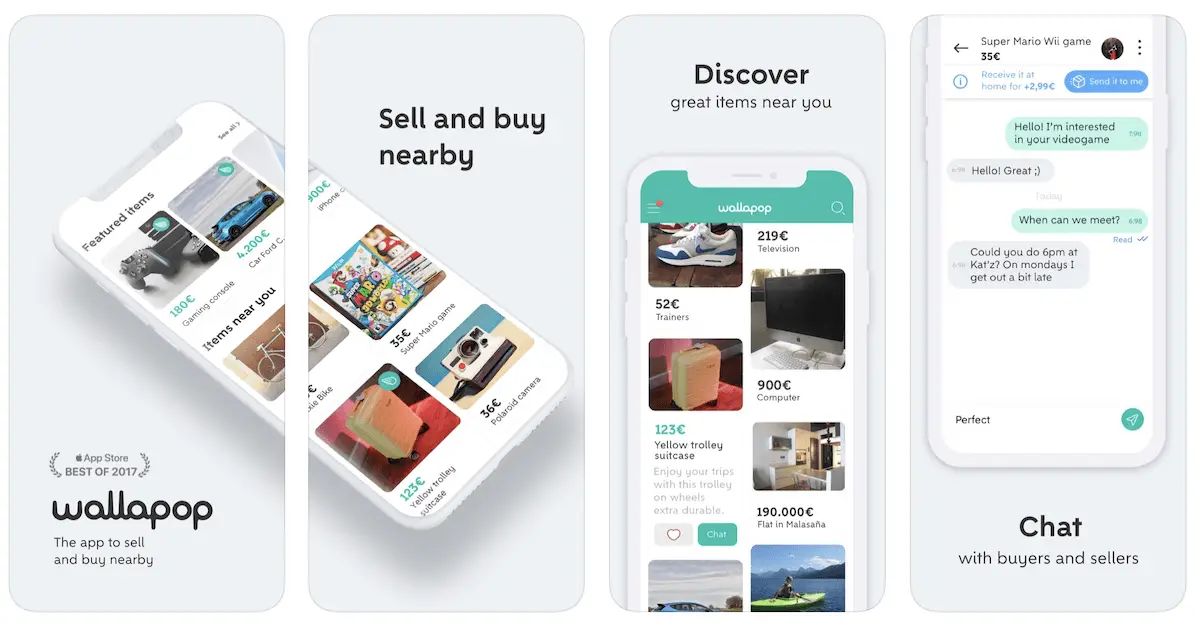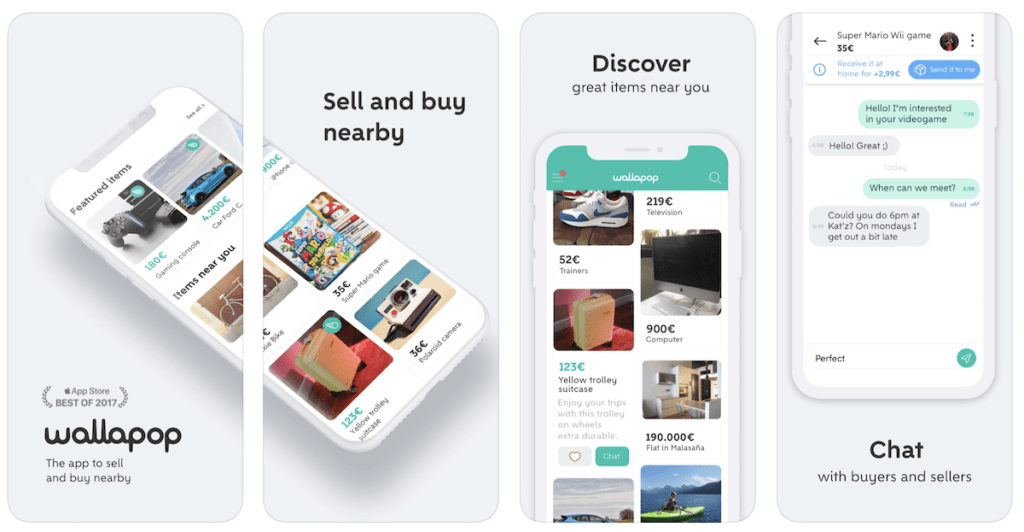 Wallapop allows you to sell just about anything on this app. It also gives you the option to pay for your listings if you want to prominently feature it and get more visibility.
9. Social Sell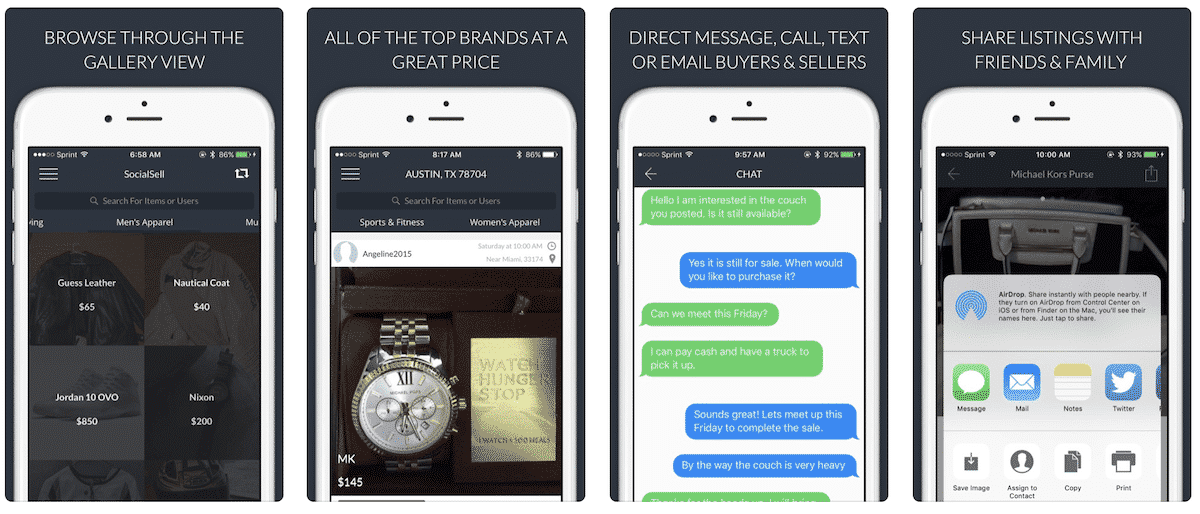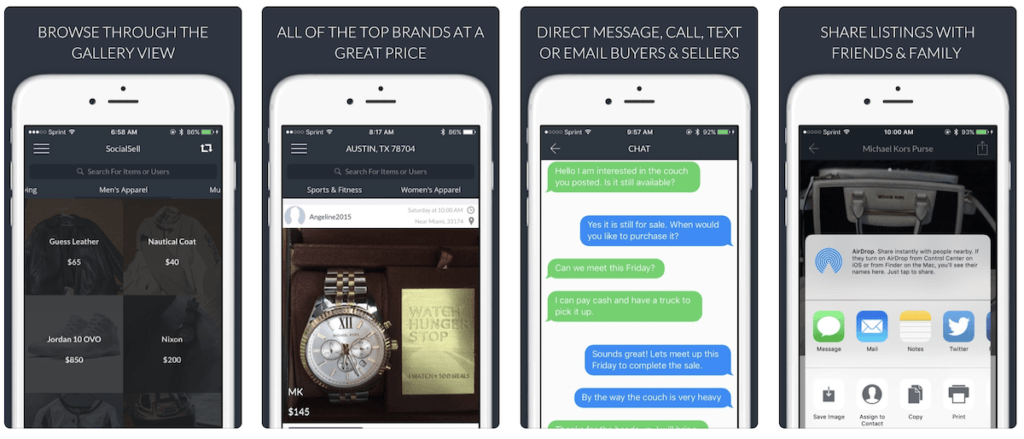 Social Sell (iOS only) allows you to sell almost anything on this app as well. Has great chat features and in-app payment options.
10. Tradyo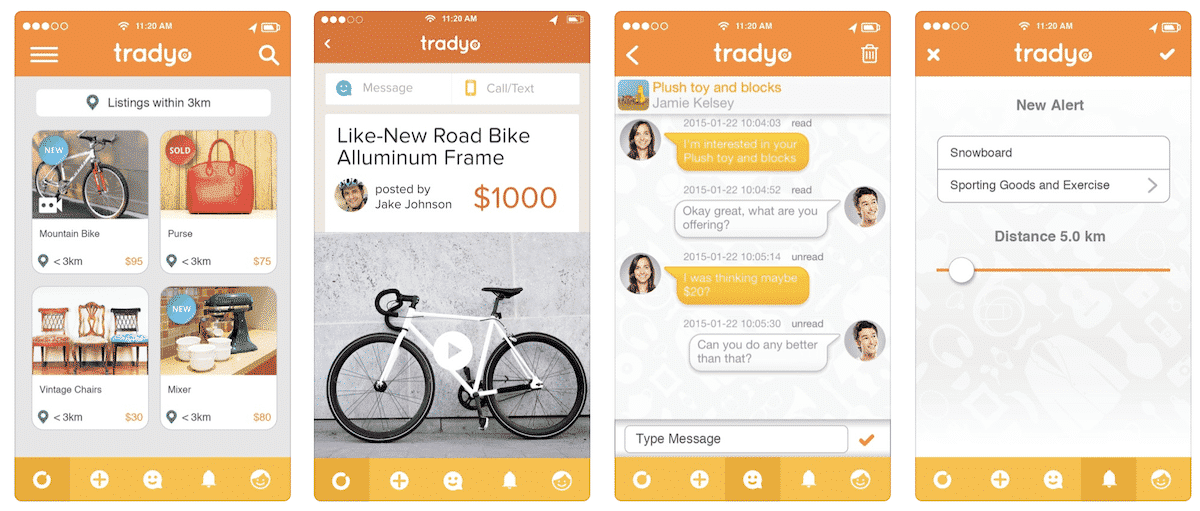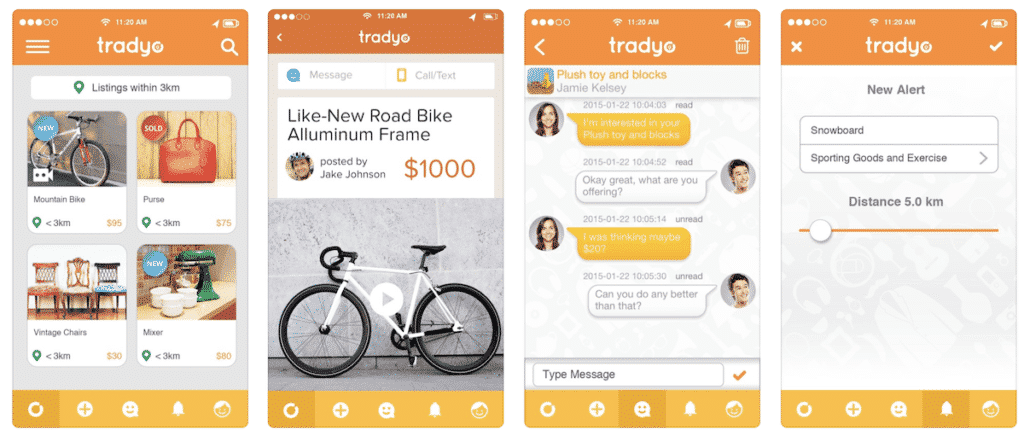 Tradyo app allows you to sell individual items locally in your neighborhood. Items are listed by pin code, and the buyer contacts you via the chat feature in the app.
Furniture Selling Tips
Remember I said I'm a pro at selling furniture (or basically anything)? I've learned a few tips and tricks of the trade over the years.
So if you're in a tight financial spot and need money quickly then the websites and apps listed in this article can get the job done.
Before trying the selling apps listed here to sell your furniture, you should follow these furniture selling tips to make the most money and not waste your time.
Follow these tips to sell your items successfully on these apps and websites.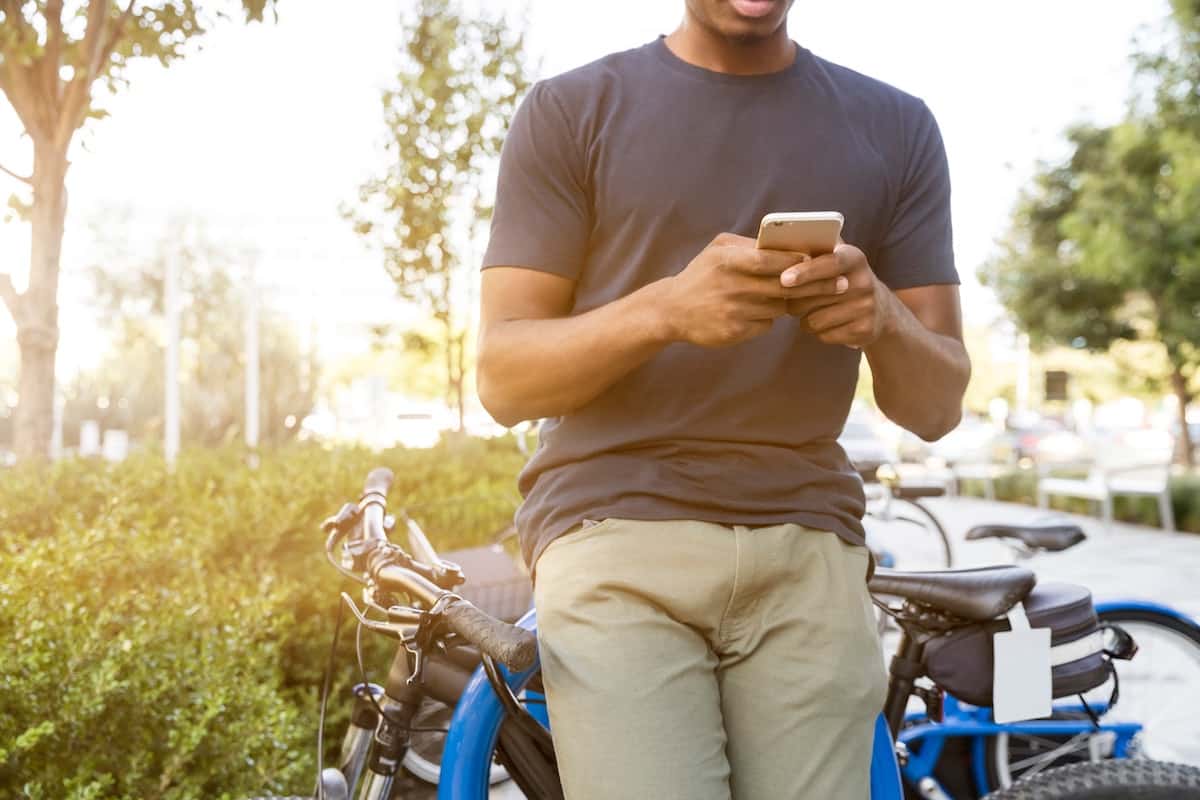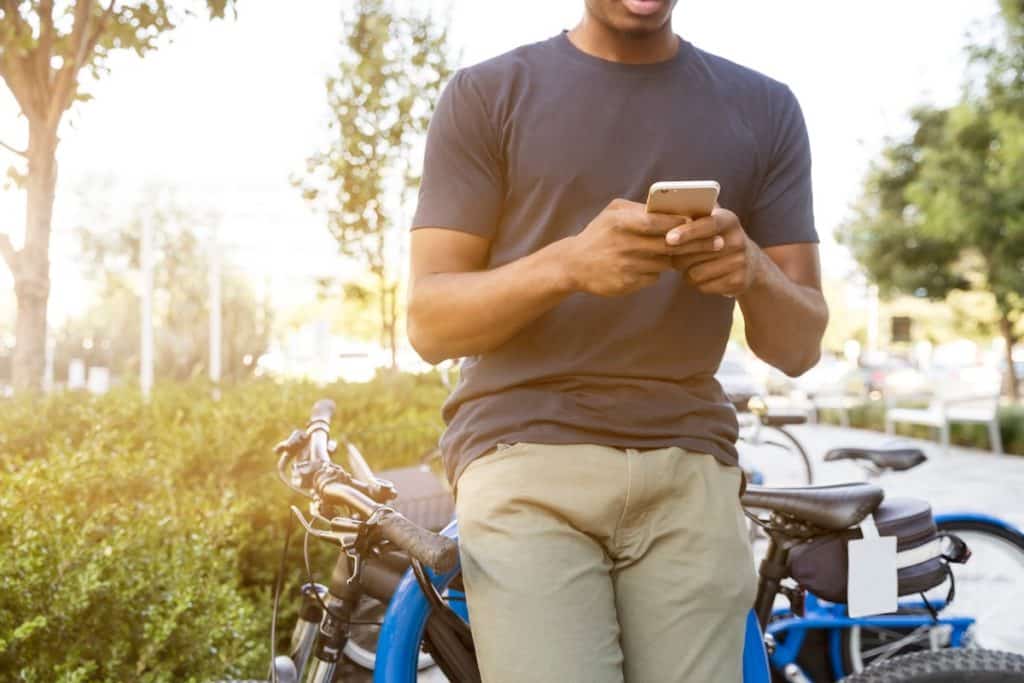 Be Honest: I am always upfront about the condition of the furniture I am selling and honest about each product or item I've listed. If you aren't honest, when you meet the buyer in person they may not want it if it wasn't in the stated condition and it'll waste time for both parties.
Use Google Voice: I use a free Google Voice phone number whenever a buyer asks for my number, which makes potential customers feel more at ease knowing they can contact me. I don't like disclosing my personal cell phone number or have someone calling my real phone number, 3 months after I selling them an older dining room set.
Create a Craigslist Email Address: Having a selling app or Craigslist-only email address keeps all your selling activity separated from day-to-day life.
Be assertive, yet friendly: My time is probably the most expensive thing I have. I let the buyers know I won't stand for low ball offers, and that they will be simply ignored. I post that in all my ads. Just don't be a pushover.
No Trades: Trying to make money here, and I only deal with cash. In fact, I made $500 fast by using these exact tips.
Use a brief and accurate headline: I use a concise headline, for example, it would be- "Andrew Dark Brown Wood Dining Table (Used)"
Pricing: I price my items so I have a little wiggle room to price haggle. You'll almost never get your asking price, keep that in mind.
Where Can I Buy Furniture Near Me?
Once you sell your used furniture many people often want to get an upgrade. Here are some options for you if that is the case.
CrateAndBarrel
CrateAndBarrel of one of the largest furniture stores in the United States. If you have ever visited a Crate and Barrel store, then you know everything that this business has to offer its customers.
Unfortunately, it is often too difficult for people to visit the store busy life is crazy busy. That is why I advise you to shop on the company's website, where you can search much faster than in the store.
Once you have find some furniture that is to your liking, you can order it online or wherever you are. If you call before you go to the store, you can often find out if they have the item you are looking for and you can put it on hold if they do so.
Neman Marcus
Neman Marcus is another choice for some people who want to buy furniture near them. Many people do not realize that this manufacturer of luxury clothing sells furniture and that is because not all stores offer their furniture selection in the store.
Neman Marcus sells a lot of great pieces, and by looking online, you can find all the items that they may not have on display at your local Neiman Marcus store. This is a great place to look for elegant furniture items for your home.
Local Newspaper
Is print dying? Maybe, but you can still find furniture for sale on your local newspaper circulation — which might not precisely be growing these days. However, there is a steady audience of readers that shop locally for furniture using this option and it works.
But before you go off and sell your furniture using one of these apps listed, here are some tips I've learned over the years of selling furniture near me.
The Bottom Line
The internet has grown drastically over the last decade and has become one of the first places customers look to buy all kinds of items. After all, almost all major retailers in the United States sell their products online and in their stores.
Selling your used furniture shouldn't be any different.
That being said, selling used furniture can be one of the most challenging products to flip, since it's often bulky and heavy. But if we learned anything today it is that it is possible to sell used furniture locally and online with dozens of options.
Hopefully, this can help you decide where you want to sell your used or new furniture products. Have fun selling your next piece of furniture using selling apps or the sites listed above.
Earn up to $100 today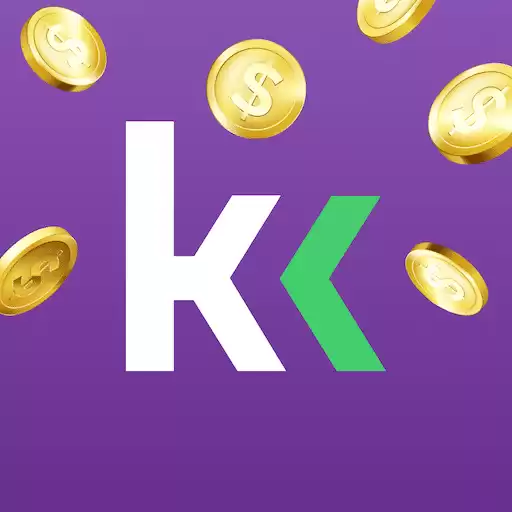 KashKick
Trusted by 2M+ users like you
This site pays you cash to play mobile games, save money, take surveys, and see offers — make $100 today. Over 2 million users agree that KashKick is a fresh and lucrative way to earn money and get paid directly to your PayPal!
SIGN UP & START EARNING NOW