Want to learn how to make money or are you looking to make $2,000 fast (or more) today?
Life happens. Sometimes you need some extra cash to pay a bill or you're trying to save up for something you want. You don't want to fall behind on bills and are wondering how to make money online fast. Sure, another 2000 dollars earned today wouldn't hurt.
We've all been there, but what do you usually do when that happens?
This is an exhaustive list of things that anyone can do, today, in order to make $2000 of fast cash today.
If you're in serious debt, then this list might not be best suited for you – but in case you need to learn how to make $100 fast, $500 fast, $1000 fast, or even $2000 fast in one day, it's possible if you're ambitious.
Let's get started.
15 Best Ways to Make Money Fast
The best way to start making $2,000 fast is to get some quick wins (in the form of free money).
1. Survey Junkie
Taking online surveys to make extra money is a no-brainer. You definitely won't get rich or make hundreds of dollars per day with survey alone, but you won't waste much time, and you can make some money the easy way.
Survey Junkie pays between $.50 and $20 per survey, and many of them take less than 5 minutes to complete.
So if you took 10 surveys per day, every day for a month, you could make $375 per month. If you took more surveys a day… the possibilities are endless.
If you wanted to sign up for Survey Junkie to make extra money you can get started here.
For more details on how to earn money with Survey Junkie, check out our complete Survey Junkie review.
2. Ark7
Wouldn't it be great if you could become a landlord of rental properties without dealing with all the hassle of buying, improving, and re-selling real estate?
You don't have to be a millionaire to invest in these types of properties. You can now find your inner property owner with Ark7.
As with any other rental property, investors earn returns from the rental cash flow and any appreciation in the property value when it's sold, and all without painting a wall or getting your hands dirty.
There is a reason why the number of investors on its platform increased last year, the sector is booming with investors clamoring to get a return outside of stocks and bonds.
If you're interested, I recommend you sign up for more information from Ark7 by clicking here.
Read more: 15 Best Real Estate Investing Apps
3. Swagbucks
Swagbucks is another great survey site to make some extra money. It's similar to Survey Junkie, but there are also a few other ways you can earn money as a member (including a $10 bonus just for signing up).
While you likely won't make $2,000 fast this month by using Swagbucks, you can still get paid daily and up earn up to $35 per paid survey at times.
Other ways you can make money with Swagbucks outside of surveys:
Cash back program for online shopping (includes $10 bonus).
Get paid for searching the web (includes $10 bonus)
Watching videos (includes $10 bonus)
For more details on how to earn money with Swagbucks, check out our complete Swagbucks review.
Read more: 9 Best Sites Like Swagbucks That Can Skyrocket Your Income
4. Nielsen Mobile Panel
By using the internet as you do every day, Nielsen invites you to make a difference – and you can make money too. You don't even have to do anything other than registering your computer or phone.
Nielsen will pay you $50 a year to keep their app on your favorite internet browsing device and they also give away $10,000 each month. So you can possibly make more than $100.
For more details on how to earn $50 with Nielsen, check out our complete Nielsen review.
5. Trim
Trim lets you save money with automation and within a few days, I saved an extra $100. I linked my financial accounts and Trim went to work. It found ways to lower my bills and cancel subscriptions; negotiate my cable, internet, and cell phone bill, and found subscriptions to cancel. It even helped analyze my spending habits.
Trim analyzes your spending patterns to find ways that the bot can take action and save you money. Trim negotiates cable, internet, phone, and medical bills, cancels old subscriptions, and more. It can easily find ways to save you money and Trim offers a 14-day free trial with a paid annual subscription after that. On average, the company saves members over $600 in their first year!
For more details on how to stop getting ripped off, check out our complete Trim review.
6. Food Delivery
If you're free on nights and weekends, you can earn passive income delivering food for fellow citizens around your city. It's easy to deliver food with DoorDash or Instacart – if you have a car, it's a perfect way to make a good amount of extra cash whenever it's convenient for you.
A lot of people do this full time, so you can imagine that's it definitely possible to do this on the side and make extra money by delivering food with food delivery apps, and be on your own schedule. Or you can check other gig economy jobs if delivering food is not your cup of tea.
These gig economy apps can boost your income and are the fastest ways to start a legit side hustle:
7. Capital One Shopping
Sign up for Capital One Shopping and find out if stores owe you a refund – effortlessly! Capital One Shopping tracks your confirmation emails and watches for price changes so you don't have to. When they detect potential savings, they let you know and help you get your money back.
For example, if the price of a cardigan you bought online drops, they'll help you get the money back effortlessly. You don't do much other than having to sign up for Capital One Shopping!
This free app will scan your emails for any purchase receipts from dozens of online retailers. You don't even have to know about the price drop in order to get your refund.
For more details on how to get effortless refunds with Capital One Shopping, check out our complete Capital One Shopping review.
Capital One Shopping compensates us when you sign up for Capital One Shopping using the links we provided.
8. Ibotta
With Ibotta, you'll get paid to shop by receiving lucrative cash back offers.
Here's how it works:
Download the app and start a free account to browse deals in your area.
Get cash back at any bar and liquor store, retail, grocery store and more.
Save time and earn cash, even get a $10 new user bonus.
Get paid and cash out cash via PayPal.
Yep, Ibotta pays you real money on your everyday purchases. Download the free app to receive offers and earn real cash back in stores and online. You simply choose specific items that you will buy at the grocery store, them buy them, and then scan your receipt to the app. You'll get cash back which shows up in your Ibotta account.
For more details on how to earn money with Ibotta, check out our complete Ibotta review.
9. Rakuten
Get cash-back for items you would have bought anyway. You can do this by shopping online with Rakuten. Rakuten is my favorite way to make money when I shop online and right now they are offering a $10 sign up bonus through this link.
Every time I shop online, I start at Rakuten and then I get cash back deposited into my PayPal account. Hello, free money!
For more details on how to earn money with Rakuten, check out our complete Rakuten review.
10. LoanDepot
This advice cannot be taken lightly. With interest rates continuing to rise and 3 or 4 hikes likely this year, you should look into refinancing your mortgage immediately.
The savings and cash you would get can be huge.
This may be the most sound advice any homeowner can hear. Even if you recently refinanced, it might be worth looking into another quote as they take only a few minutes to check.
LoanDepot could help you refinance your mortgage at a significantly lower interest rate.
Let's say your interest rate decreased by 1% — you can save more than $100 a month on a $200,000 mortgage.
That comes out to $1,200 in extra cash for you at the end of the year and $6,000 every 5 years!
11. MyPoints
MyPoints has been featured on so many publications like The New York Times, TechCrunch, Yahoo! and more (and for good reason).
You can earn money with MyPoints for shopping online, playing addicting games, taking surveys, and reading emails. This company has been around since 1996 and has already paid out $236 million to its 10 million members.
Plus you can get a $10 Amazon or Visa gift card just for being a new user. Just spend $20 or more using its shopping portal to redeem the bonus.
12. Fetch Rewards
Yup, it's true! There are several companies out there that will give you free money just for signing up. Fetch Rewards is a mobile rewards app that pays you for shopping (from any store). This is a great way to make money, the easy way, and can add up to a large wad of cash with time.
Here are the steps:
Click here to download Fetch and use referral code C1JAV to get your $2 referral bonus!
Scan any receipt from any stores that you use daily.
Get cash (via PayPal)
Enjoy your free money! And there is no minimum amount you need to withdraw to your PayPal account either.
For more details on how to earn money with Fetch, check out our complete Fetch Rewards review.
13. Branded Surveys
Branded Surveys is one of the world's leading market research communities – rewarding you for your opinion. Branded Surveys asks for information about you so that they can match you with fitting surveys.
At up to $5-10 a pop for some surveys and a free 100 points for signing up, it pays to check in daily to see which ones are available to you.
Cashouts are through PayPal or gift cards. You'll earn money just for signing up and they pay you straight cash via PayPal.
14. Drop
Looking for an easy way to make money? The Drop app tracks your purchases when you link up your credit card and debit cards to the free app. Then, it automatically adds Drop points to your account when you spend at certain merchants you've picked from their list. It's simple.
When you reach a certain threshold, you can redeem Drop points for gift cards to popular retailers, like Amazon, Dunkin Donuts, Whole Foods, JC Penney, and many more! But Drop also helps you by giving you a 1000 points ($1.00) for signing up.
For more details on how to earn rewards for everyday spending, check out our complete Drop app review.
15. Swagbucks LIVE
What is the most popular drink in the world that does not contain alcohol? What the official national anthem of the United States of America? What is the Capital of Australia?
If you answered coffee, star-spangled banner, and Canberra, then you may want to look into the NEW Trivia App that pays you huge cash prizes for your smarts.
Today's prize is worth over $1,000! I'll be playing, will you?
Click here to download the free trivia app and start winning cash daily!
How to Make Money Fast Today
If you did sign up for some these apps and sites listed above you could have earned over $1,000:
*Sign up through the links above to receive the sign-up bonuses to make over 1000 dollars today.
How to Get a Hold of Money When You Urgently Need It
These free cash advance apps help you get your paycheck early and can help you borrow money instantly. I mean you worked today, get paid today.
Try these free mobile applications available in the App Store and Google Play Store — so you can get paid today and earn money fast.
These apps will pay you so you can make it to your next payday:
a. Albert – Albert can spot you up to $250 so you can make ends meet. No late fees, interest, credit check, or hidden hands in your pocket.
b. Empower – With Empower, you get paid today and can access up to $250 from the pay you've already earned, without hidden fees or interest.
If you're not in an "Uh-Oh, I Need Money Now!" situation and wanted to make even more money this weekend then these side hustles require a bit more work.
4 Weekend Side Hustles to Make 2000 Dollars Fast
No excuses here. If you want to learn how to make money fast, you'll need to hustle on the weekends.
16. DoorDash
DoorDash, a food-delivery service, is looking for people who want to start delivering food to earn extra money and work on their own schedule.
You choose the hours you work and get paid cash per order (once you have access to fast pay). Rates will vary by location.
Once you sign up to become a dasher, DoorDash will reach out about an orientation. Complete the orientation, and you're on your way towards getting paid for every completed delivery PLUS 100% of tips received.
This is such an easy way to make money $2,000 fast by delivering on your free time while making extra cash and funding your personal goals.
17.

Turo
Did you know that you can rent out your car when you're not using it? And that you can bring in a lot of extra cash in your wallet by doing so?
Do you plan on heading on a vacation soon while your car sits unused at your home? Do you sometimes not use your car on the weekends? If so, renting out your car while you're not using it could be an easy way to make passive income. A well-known company, Turo, which has signed up nearly 5 million users to its website, according to Bloomberg, lets you do just that.
It's also really simple to do (and free). Listing your car is quick and easy and takes less than 10 minutes to set up. According to a recent Turo review, somebody listed their car for 5 days every month and made $3,496 in a year. Sounds pretty good to me. Oh, and they also protect your car against physical damage, so you're fully covered. You can sign up here and start making money with your car.
18. Airbnb
Yup, it's true! There is a company out there called Airbnb that can net you over $1,500+ a month just by listing your spare room just a few nights out of the month.
Are you interested in seeing what your income potential could be by listing a spare room on Airbnb?
It's easy to use…
Sign up for Airbnb (you just need to give them a name and email address).
List your spare space in under 5 minutes.
You can get paid when somebody books your spare room and you can charge whatever you want.
Remember, is a free room booking app for your phone. I really mean free all around – free to join and they don't charge any fees for you to list your spare room.
See how much people are making from listings in your area, then make your own!
19. Uber
If you're free nights and weekends, you can earn extra cash driving your fellow citizens around. You can earn money by driving with Uber – if you have a car, it's a perfect way to make a good amount of extra cash whenever it's convenient for you.
A lot of people do this full time, so you can imagine that's it definitely possible to do this on the side and make extra money and be your own boss.
If you have a car but don't want to drive people around, your other option is to deliver food with Uber Eats.
6 Ways to Make Money Passively
Let your money make you money with these passive income ideas that will teach you how to make money in no time.
20.

Earn rental income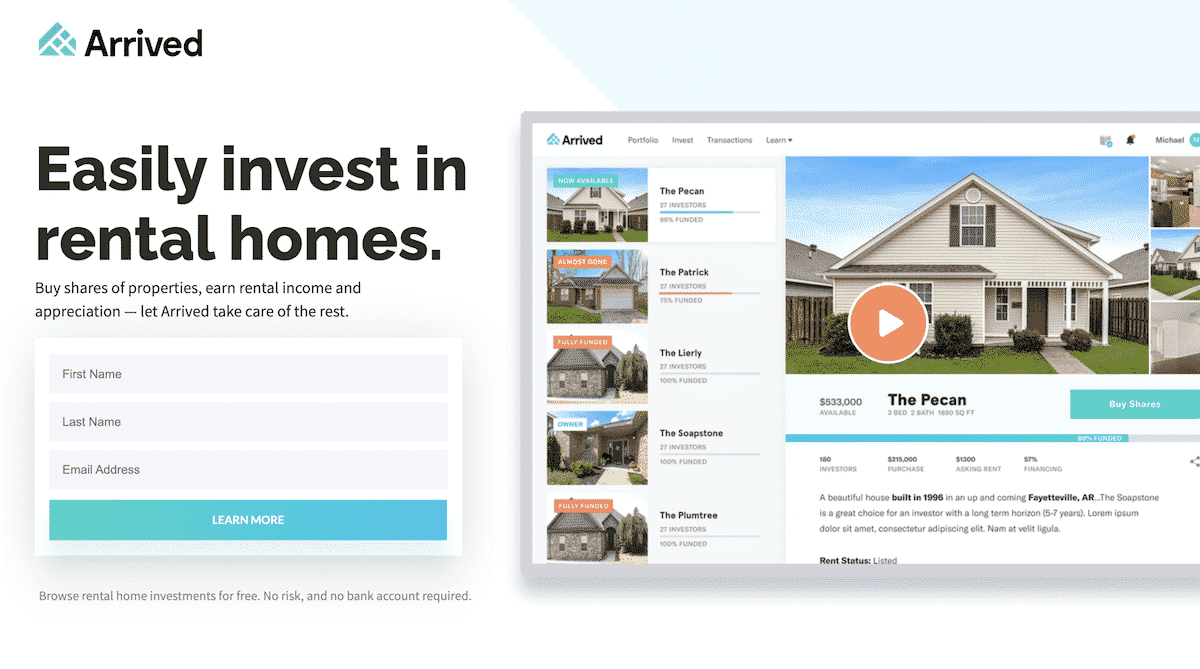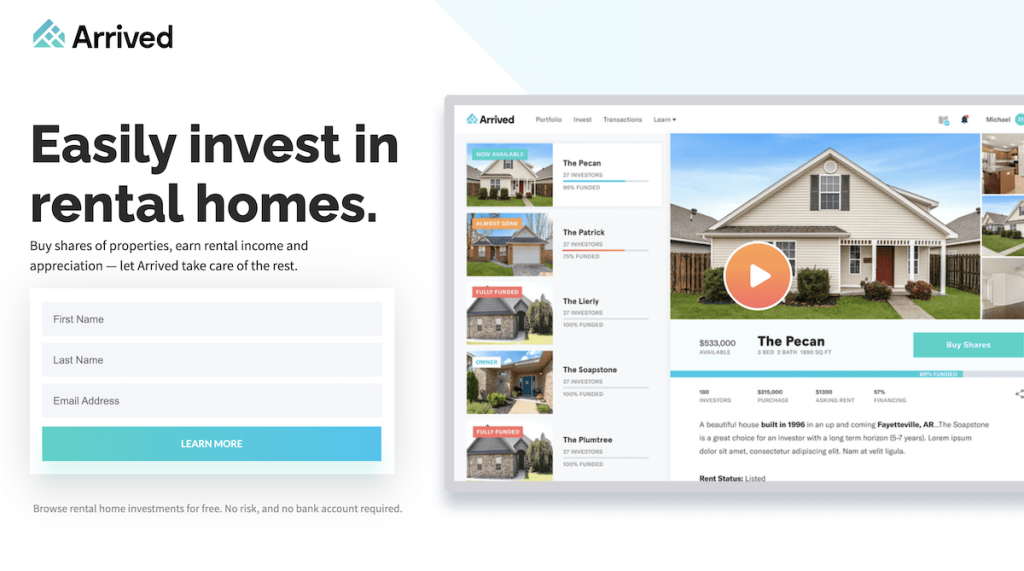 Want quick money? Arrived Homes lets you easily invest in rental homes. Testing this offer, I was able to buy shares of properties, earn rental income and appreciation — and Arrived took care of everything.
With Arrived, you can get started with as little as $100.
It's an especially useful tool to use if you want to diversify your portfolio and have someone else handle all the work that comes with being a landlord. All you really need to do is sign up, and collect your rental income each quarter.
If you're interested, I recommend you sign up for more information from Arrived Homes by clicking here.
Real estate investing not your thing? Other smart ways to invest include:
Acorns: Open a new Acorns account and earn a $10 credit. It's that simple — no minimum deposit or balance is required. You'll receive the sign-up bonus credit after completing your account registration.
Vint: Vint provides an investment platform that offers a simple and accessible way to invest in high-quality wines. Building a diversified portfolio of excellent wines and spirits has never been easier.
Masterworks: You own shares of Apple, Amazon, and Tesla. Why not Banksy or Andy Warhol? Their works' value doesn't rise and fall with the stock market. And they're a lot cooler than Jeff Bezos.
21.

SoFi Invest
The app you should know about is SoFi Invest. It's easy, it's fee-free, and it's a bright idea.
Not-so-newsflash: fees are frustrating and they can keep people from investing. It's why SoFi charges $0 in SoFi transaction and management fees. So there's no reason not to start investing.
If you get started with SoFi, they'll give you $25 to start investing.
You don't have to be a pro to invest like one, so get trading. Get $25 when you sign up through this link.
22. Mistplay
We all heard the old saying "Time is money" right? Instead of playing games on your phone like everyone else and feeling bad for wasting your time — now you can get paid for it.
Getting paid for playing games sounds like a dream. But if you download a free new app, and then download games from it and play, you earn money. As you level up you can earn more money for cash rewards or gift cards.
This is a great opportunity for those looking to get paid for something they enjoy, like winning free gift cards and cash for playing games. I use it and it is legit and has over 35,404 positive reviews in the Google Play store.
If you're interested, I recommend you download the app from the Google Play store for free by clicking here.
23. B

ank bonuses
One option for you if you are looking to make some extra cash is to collect some of the best bank account bonuses. Many banks offer sign-up bonuses and other incentives to attract new customers.
By taking advantage of these offers, you can earn extra money without having to commit to a full-time job or invest a lot of time.
In this era of easy access to information and technology, it has become easier than ever to learn about these bank bonuses and how to maximize them. You can see some of my favorite banking offers currently live below:
24. Ark7
Wouldn't it be great if you could become a landlord of rental properties without dealing with all the hassle of buying, improving, and re-selling real estate?
You don't have to be a millionaire to invest in these types of properties. You can now find your inner property owner with Ark7.
As with any other rental property, investors earn returns from the rental cash flow and any appreciation in the property value when it's sold, and all without painting a wall or getting your hands dirty.
There is a reason why the number of investors on its platform increased last year, the sector is booming with investors clamoring to get a return outside of stocks and bonds.
If you're interested, I recommend you sign up for more information from Ark7 by clicking here.
25. Coinbase
Bitcoin has been in the news a lot recently, as El Salvador becomes the first country to approve Bitcoin as legal tender. My personal opinion is that more countries will follow and at some point, Bitcoin surpasses $100k.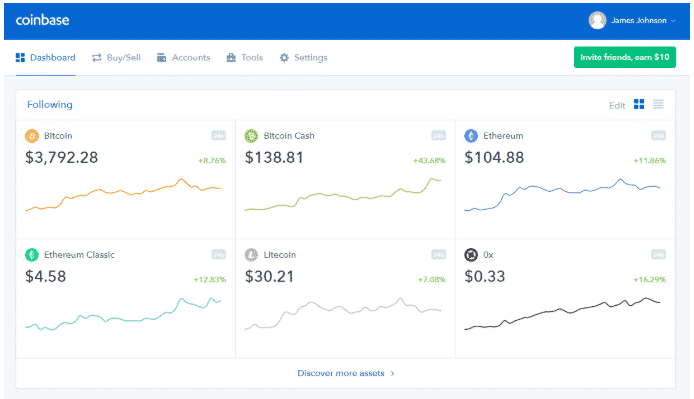 Investing in digital currency is not new, and this passive income idea is one that a lot of people have already done. In fact, I was in my Uber the other day and my driver was talking about Bitcoin. He told me he deposited $50 into Coinbase and it's now at $150 in a few weeks. That's a 33% return!
If you wanted to try something this volatile, it's at your own risk but only put up money your willing to lose. The risk is high, but the reward is high too. But there is a chance to literally make double your money while you sleep as the markets are 24/7.
If you wanted to get in on the action, you can do it with Coinbase. If you sign up through this link you can earn up to $28 in free crypto with Coinbase Earn.
Get Paid More at Your Job
If you want to get a raise at work you will have to take some bold steps to get what you desire. Here are the steps you need to take:
26. Ask Your Colleagues How Much They Make
Ask your colleagues how much they make. Talking about what we make is taboo in our society, but it gives employers all the leverage when we don't know what our co-workers make. So ask them. The fear here is that your colleagues will say no. But so what? Even if they judge you and think you're weird and inappropriate, who cares?
You cannot possibly know if you're being paid what you're worth if you don't know what others in your field are making. Sure, you can do some blind research on websites like Glassdoor and Payscale, but nothing is going to light a fire under you like learning that Ned who sits in the cubicle right next to you and works half as hard as you is making $5,000 more than you.
If you do this strategically, you'll likely get positive results. Pick five to six people you know who have positions similar to yours, whether they work for the same company or a different one. Invite them to lunch or coffee, and make the ask in person, since email and text message will be much easier to dodge than face-to-face. And explain why you're asking. Say something like, "I'm in the job market/I'm conducting research to ask for a raise/I'm applying for a promotion, and I'm polling several colleagues who have jobs like ours so I can calculate a realistic salary range when I negotiate my pay. I would really appreciate if you could disclose your salary to me, since you're in a role similar to mine, and I really respect you as a professional in this industry." If they say no, tell them that you understand and that if they happen to change their mind to reach out. If they say yes, thank them profusely, and then follow up with them afterwards to let them know the result. Especially if you get a positive result, they'll likely be happy to know that disclosing their salary helped a colleague advance in their career.
Will it be uncomfortable? Absolutely. You know what's more uncomfortable, though? Wasting your life away at a job where you're devalued because you're too scared to find out what you could or should be earning.
27. Ask your Employer if they Disclose Employees' Salaries Company-Wide
Ask your employer if they disclose employees' salaries company-wide. Why not? Sure, it'll ruffle some feathers. But again, the more tight-lipped employers and employees are about what everyone at the company makes, the more power and leverage employers maintain over their workers.
So shake things up. Go to HR and tell them you've heard about a lot of innovative companies that are disclosing the salaries of their employees and ask if the company will be publishing salaries. The fear here is retaliation. Employers want to retain their power and control and prevent employees from learning what those sitting right next to them are making—again, learning that lazy Ned makes more than you will undoubtedly inspire you to demand a raise or quit—so it's in their best interest to shut you up and make you go away. However, it's been unlawful since 1935 for private employers to prevent their employees from discussing their salaries. So you've broken no laws by merely asking HR about pay data, and actually, if your company then retaliates against you for doing so, you could potentially have a lawsuit against the employer.
Yes, it's uncomfortable and scary, but the more we start making these bold moves and start having these awkward conversations, the more we take back our power from employers and force them to be more transparent about what they pay their employees and how they make those decisions.
28. Ask for a Raise
Ask for a raise. Once you've done your homework, if you find that you're being underpaid, develop a strategy to ask for more pay. Use the information you've gathered to defend your position. Make a list of the contributions you've made in your role, especially any that lead directly to company profits or company growth.
Brainstorm and anticipate any possible arguments that your employer might make against giving you a raise so that you're prepared to address them. Ask your manager or the person who determines your pay for a meeting dedicated specifically to this issue, ideally during a time that things aren't too hectic at work. If you approach a supervisor during a time that they're already stressed out, you're less likely to get a positive response.
Make sure you're fully prepared for the meeting. Dress the part. Do a power pose right before the meeting starts. Show up armed with a thousand others things you want (specialized training, more paid leave, funding to attend a job-related event or conference, better benefits…you get the idea) to ask for if they are not budging on the salary issue.
The fear here is that they'll say no. But is that really so scary? If they do say no, after you've provided them with evidence demonstrating your value to the company, and they're not willing to give you a raise or contribute to your career growth in some other manner, that sends a pretty loud message that your career growth is not a priority to the company and that it might be time to find a firm that does value you and your career development.
29. Ask Yourself if More Money is Really What you Want Most from Your Job Right Now
Ask yourself if more money is really what you want most from your job right now. So often, we place so much emphasis on salary when we're job searching that we fail to recognize or acknowledge how tremendously valuable many other job perks are, perks like shorter commute, flexible hours, more paid leave, and telework. So if you're satisfied with your current salary but haven't gotten a raise in a while, or you researched and you're already at or above the pay cap for your position, try to negotiate for more time off or specialized training or some other benefit that has value to you but won't cost your company as much as a pay raise would.
The job market took a major hit in the 2008 recession when the unemployment rate skyrocketed to 10%. With employees scrambling for jobs, employers definitely gained the upper hand at that time, and they've kept it since. However, the unemployment rate has steadily declined since about 2010, and last month it dropped to the lowest point it's been since December 2000. We're now in a job seekers market, and the time is right for employees to take back their power. These four steps will give you a strong push in the right direction.
10 Best Gig Economy Jobs to Make $2000 Fast
Use this gig economy jobs to help you make $2,000 fast.
30. Amazon Flex
Amazon Flex is the latest entry to this market space, Flex launched in Amazon's home market of Seattle and has since expanded to two dozen other markets. You can earn up to $25/hour delivering packages to Prime customers in under one hour. You cover gas, maintenance, and any other car expenses.
31. Mechanical Turk
Mechanical Turk is another Amazon service, Mechanical Turk lets you do "human intelligence tasks" online for a variety of pay points. One man earned $20,000 doing these small jobs from home while he still had a full-time job!
32. Task Rabbit
TaskRabbit (iOS) offers cleaning, shopping, and delivery, handyman, moving help, general help and summer tasks are a few of the categories that you can hire yourself out in.
33. CheckPoints
CheckPoints is an app that offers manufacturer deals while you're in the store. You earn points for simply scanning the barcode on an item in a store. No purchase of the product is necessary. You can redeem the points you collect for free gift cards, airline miles, and other perks.
34. EasyShift
EasyShift lets you become an on-demand secret shopper. You're assigned "shifts" by product manufacturers who want people on the ground to go into stores and confirm that their merchandise is being displayed properly. The pay rate for a shift is between $3 and $8 and the money is remitted to you via PayPal.
35. Yelp
Yelp lets you write a review and earn anything between $1 and $50 per review according to the requirement. Yelp can give you some special invites. Earning $2,00 fast will take a while, but it may be worth it once you build your review profile.
36.

Zaarly
Zaarly is a website that connects those offering random services (like walking a dog, being a personal assistant for a day, giving guitar lessons, etc.) with buyers who are looking for those services. I would suggest checking out some of the ideas listed on the site and sign up and offer those services as they are in demand.
37. Foap
Foap lets you make money by taking photos. Plus, you can charge as much as you want per photo. While earning $2,000 fast may take some time, you can use it in conjunction with other sites to maximize your earnings.
38. Field Agent
Field Agent lets you find local jobs in your area and complete them within two hours for cash. You can easily find ways to make $2,000 fast by using this site.
39. Fiverr
Fiverr.com is another way to make $2,000 fast. Are you an expert at reviewing resumes? Designing websites? Improving PowerPoint presentations? Developing marketing materials? If you can do any of these things or more, there's a market for your talents on Fiverr.
Make 2000 Dollars Gives You Freedom
With this list of 39 ways to make money fast I hope you are able to make much more than 2000 dollars. It's no wonder why Millennials seem to love side hustles. In fact, 44% of workers aged 25-34 and 39% aged 18-24 also have side gigs, according to a recent CareerBuilder survey of 3,244 people. Almost half of Millennials work on top of their full-time jobs! But why?
Did you know that the online outsourcing market is projected to grow to $16 Billion by 2020? Millennials, especially those in the age group of 20-25 years, form a large part of this outsourcing market.
Hence, it comes as no surprise that nearly 80% of students work part-time and about 30% of working professionals make money by in ways that we like to call them, side hustles.
If you want to take complete advantage of the opportunities available to you, then the list above are some of the best ways on how to make money fast. Like these types of lists?
Have you tried any of these ways to make 2000 fast? Are there any other ways you've learned when you need 2000 dollars fast?
Unlock $100 rewards by exploring new apps!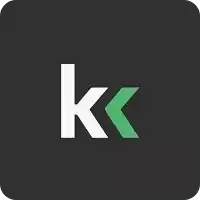 KashKick
Over 2M users are making money the easy way!
Earn $100+ rewards just by trying out new apps! Get money for playing games from the App Store or Google Play. Plus, make cash from surveys and special offers. Whether you're at home or on the go, turn spare moments into cash. Your rewards are waiting at KashKick!
Earn Now