Find scrap yards in your city that will pay you cash for your scrap metal by using our junkyard local tool below.
Scrap Yard Near Me Tool
Finding a scrap yard near you is easier than ever thanks to our junkyard location tool.
Stop wondering 'how can I find a car junkyard near me?' – Simply put in your zip code and find the best local scrap yards in your area according to real Google reviews.
Get the Most Cash at Your Local Scrap Yard
A wrecking yard, scrapyard or junkyard is the place where you can buy and sell metal, cars, or scrap metal parts and sell them for money. Basically, you're getting cash for scrap metal. Wondering how to get the best bang for your metals, here are some tips for you scrappers.
1. Do Your Research
Before your next trip to the scrap yard do your research. Be sure to know what the value of your metal is or appliance is worth. For example here are some the average prices for common appliances:
| | | |
| --- | --- | --- |
| Appliance | Average Price | Average Weight |
| Washing Machine | $18 – $22 | 200 lbs |
| Dryer | $8 – $10 | 100 lbs |
| Refrigerator with Top Freezer | $16 – $18 | 175 lbs |
| Side by Side Refrigerator | $24 – $28 | 250 lbs |
| Ovens and Ranges | $11 – $18 | 125 lbs |
| Full-Size Gas BBQ | $16 – $20 | 180 lbs |
| Cast Iron Bathtub | $30 – $40 | 300 lbs |
2. More Scrap, More Bargaining Power
Essentially, the more appliances, scrap metal, or material that you bring to your local scrap yard the more bargaining power you will have.
If you bring more than the regular Joe with a pickup truck full of scrap than the scrap yard owner will definitely want your business (and pay you more).
Next time you go to the scrap yard, make sure, you're bringing enough ammo so that you can get the best bang for your buck.
Keep in mind, there is no minimum or maximum amount of metal you can bring in, the scrap yards near you will buy any amount.
3. Separate Metals by Type
Sort aluminum, steel, copper, etc. into separate boxes.
You'll make more money by separating the metal by types. Here is an example of how avid scrappers separate their metals:
4. I Call a Scrap Yard Near Me to Check Prices Before
Don't assume that the biggest scrap yard will have the best prices.
Sometimes the larger scrap yards have more expenses and that is shown in their payout prices.
You may benefit from a smaller scrap yard who receives less business, as you can make more money.
Just do your research, and take 30 minutes to call different scrap yards near you to check scale prices.
5. Copper and Aluminum Makes it Worth it
Your best bet is bringing copper and aluminum to your local scrap yard.
Take a look at this scrap yard scale pricing at a Scrap Yard in Pittsburgh, PA:
6. Use a Truck
If you don't have a pickup truck, I wouldn't use your personal vehicle if it's newer or nice.
I wouldn't use a nice car unless you are just taking in high-value copper wire and other more expensive metals, and even then you don't want to scratch up your car.
You should save up a decent sized load and then borrow a friends truck, or…get a small tow hitch and smaller trailer to pull behind your car to take the metal in.
But that's just a temporary solution. Long run you want to get a little pickup truck to do the hauling.
Selling Scrap Metal for Cash is Easy!
I respect this hustle!
So there is money to be made. I would suggest starting selling appliances as well and you won't have any problem paying for that truck!
Once you get the truck and you're doing this daily, weekly or even monthly you'll be able to earn some money on the side.
It's a great side gig to earn money.
If you're looking for other ideas to make money check out our list of 39 proven strategies to make money fast.
Get up to $250 today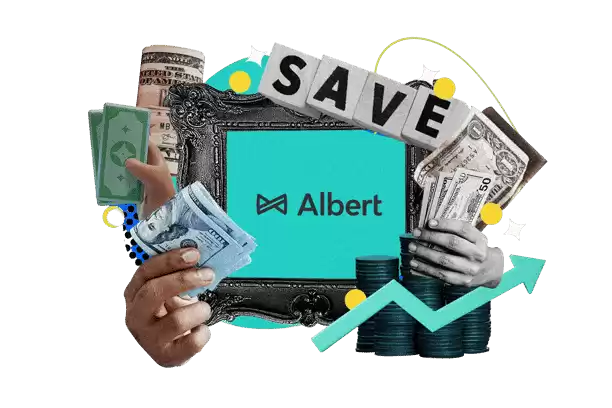 Albert
Get spotted up to $250 without fees
Join 10+ million people using the finance super app
Banking with instant discounts on gas, food delivery, groceries and more
Start investing, saving, and budgeting for free
JOIN ALBERT NOW