Investing in real estate can supplement your full-time income as a passive way to earn some extra money. Some investors prefer rental properties as their investment of choice, specifically for the diversity it brings to their portfolio. At the same time, achieving success through rental property investments can take a lot of time, effort, and a whole lot of learning along the way.
That's why the founders of Arrived Homes created a platform backed by world-class investors, where people like you can invest in rental properties without ever having to set foot on actual soil. Investors of all financial backgrounds can purchase shares of rental properties (including vacation rentals) to further their investment portfolio with Arrived Homes. Best of all, you aren't responsible for the hassle of property management.
You might be wondering if Arrived Homes is really too good to be true. Our guide will show you how legitimate this platform is, from laying out the sign-up process to discussing the pros and cons of Arrived Homes' unique set of features. If you've wanted to invest in vacation rentals, Arrived Homes offers a new program to cater to your needs. Plus, we'll talk about a few alternatives to see just how Arrived Homes compares.
Are you ready to invest with Arrived Homes? Let's get started.
What is Arrived Homes
As one of the premier real estate crowdfunding platforms to offer rental home shares to non-accredited investors, Arrived Homes gives the average person a chance to invest in one or more single-family residential rental properties. All you need to get started is $100 and an Arrived Homes account.
With Arrived Homes, you can easily start collecting dividends almost immediately. Over 10,000 investors have already signed up with Arrived Homes, including Amazon giant Jeff Bezos. Properties within the Arrived Homes portfolio span 17 different cities in several states, mostly centralized to the south.
Arrived Homes' mission is to help everyday investors get into real estate investing without having to worry about finding quality tenants or maintaining the properties they invest in. With Arrived Homes, all the work is taken care of for you. All you have to do is pick a property to invest in and collect your dividends.
How Does Arrived Homes Work
Once you've created and funded your Arrived Homes account, you can begin investing in the many rental properties available. Arrived Homes consistently increases the number of investment properties available, so it pays to check back often if you don't see a property that strikes your fancy right away.
Investors earn money through Arrived Homes through two avenues: rental income and property appreciation. The most successful investors typically invest in more than one property to diversify their real estate portfolio. Many of the investment properties are located in southern states such as Georgia, Alabama, Tennessee, and the Carolinas, but span across the U.S. as the platform grows.
When it comes to choosing properties, you can rest assured Arrived Homes does its due diligence. Each potential acquisition undergoes extensive research focused on cash flow, appreciation, and specific physical attributes. If the property is deemed profitable by the investment review committee, it then becomes an asset of a series LLC. This buffer protects you from any liability directly tied to the property.
In addition to securing assets in a separate LLC, Arrived Homes maintains a 2% cash reserve for each rental home investment property. These funds are earmarked for unexpected expenses and any rental vacancies that might occur. Tenants are also pre-screened and required to commit to a 2-year lease to decrease turnover rates.
Creating An Account
To sign up for an Arrived Homes account, you must be at least 18 years old and have $100 to invest. You should also have a bank account to link to your account to both fund investments and receive payments. Note that you can only have one bank account linked to your Arrived Homes account.
When you're ready to sign up, head over to Arrived Homes. You'll be prompted to enter some personal information, as well as how you heard about the company.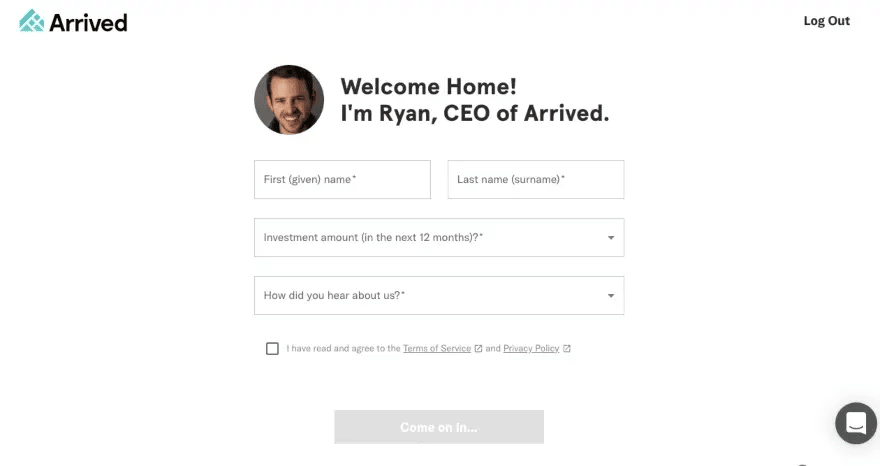 The next step in the sign-up process requires you to verify your identity and then choose your account type. In most cases, you'll choose "Individual," unless the other account types fit your individual situation.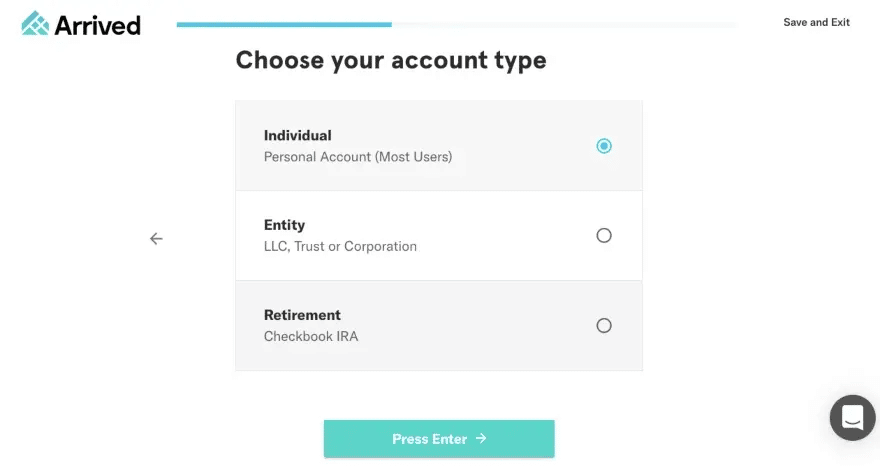 You don't have to link your bank account right away to invest. Instead, you can take a look at the types of investment properties available first and see what opportunities are on the market. Then, once you're ready to invest in a specific property, you can link your bank account and invest anywhere from $100 to $20,000 across as many properties as (a) are available and (b) fit into your investment budget.
Listings
Rental properties listed on Arrived Homes will either say "Trending," "Coming Soon," or "Sold Out" on the upper left-hand corner of the listing. This indicates the availability status of that investment. Each listing also has a name and a location. You'll also see a bar below pictures of the property that shows how much has already been invested.
Once you click on the property listing itself, you'll come to a page containing nearly every itty-bitty detail about it, including:
Purchase price
Monthly rental rate and status
Independent reports from Zillow regarding the property's value
Financing and equity deals
Share price and count
Associated fees
Financials breakdown
Key details regarding the local economy
Amount and date of first dividend payment, along with the first-year dividend yield
From this listing, you can determine how many shares you'd like to purchase. You can invest in many properties, as long as the opportunity is still available and you've got the funds to back it up.
Here's an example listing for The Winston, which is a 3-bedroom, 2-bathroom rental property located in Huntsville, Alabama.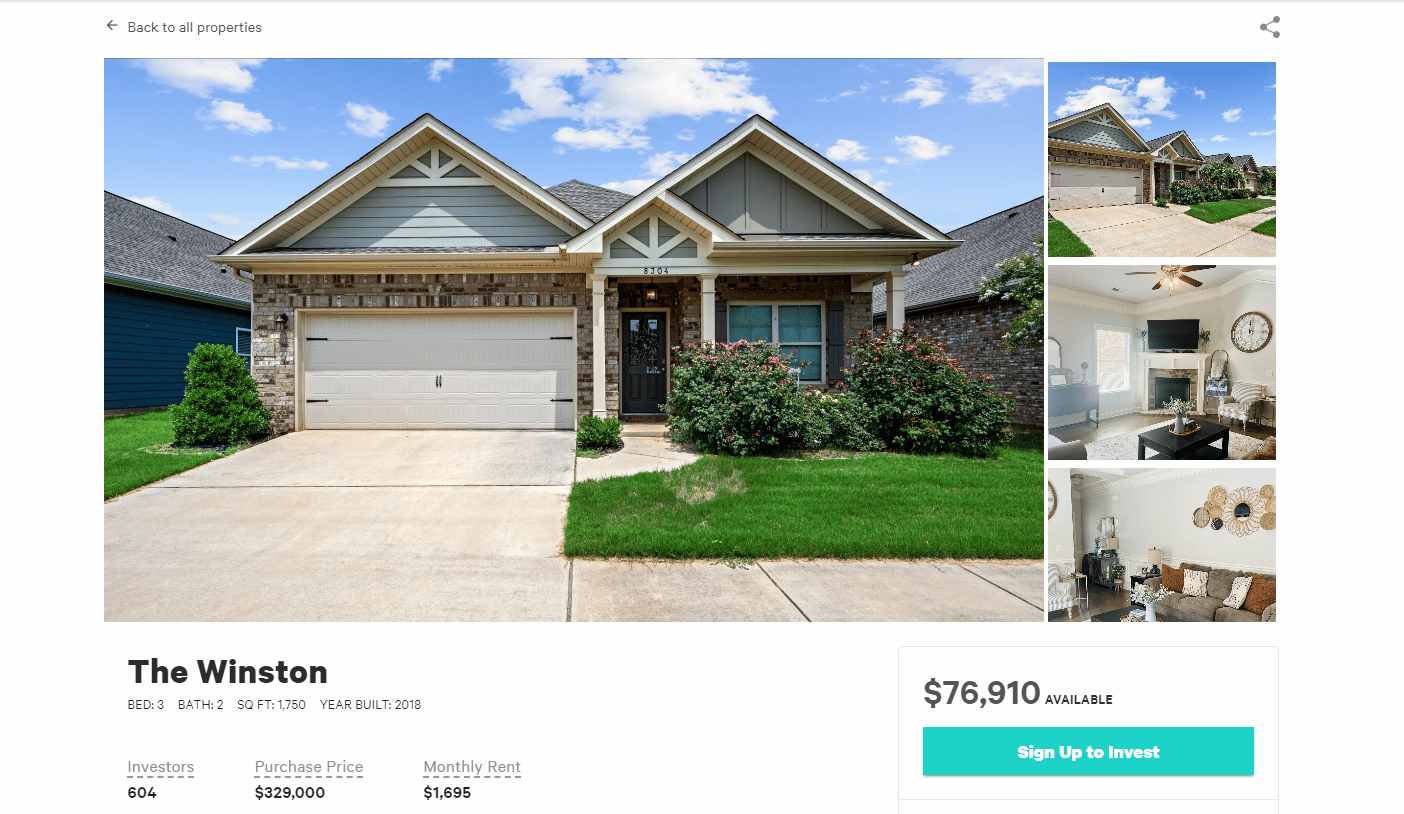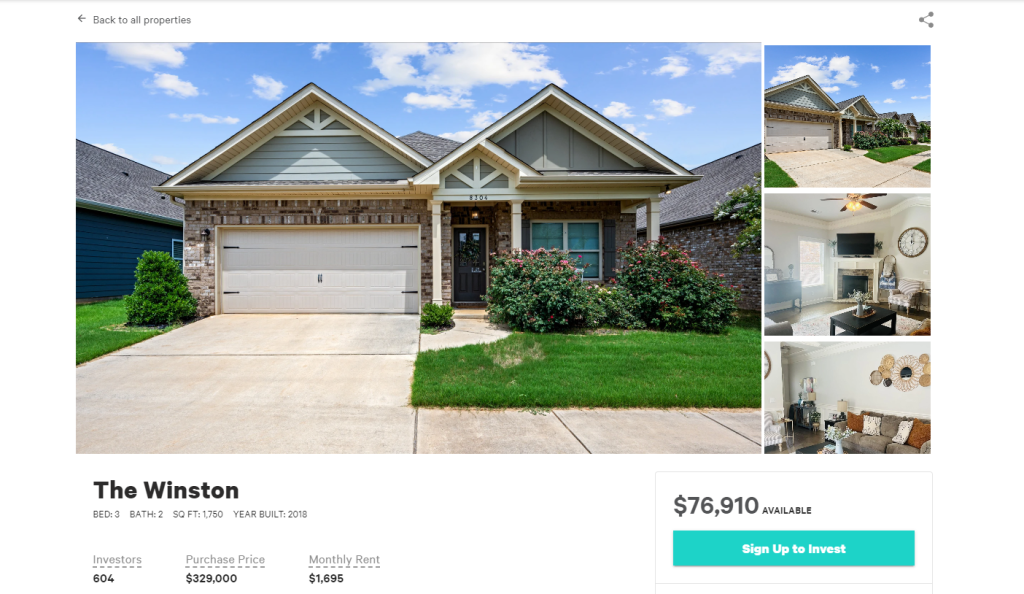 Scrolling through the listing, you'll find all kinds of information about the property as we discussed above. Most investors, however, will want to scroll down to the "Historical Returns in the Market" section that details what annual rate of return you can expect from this property specifically.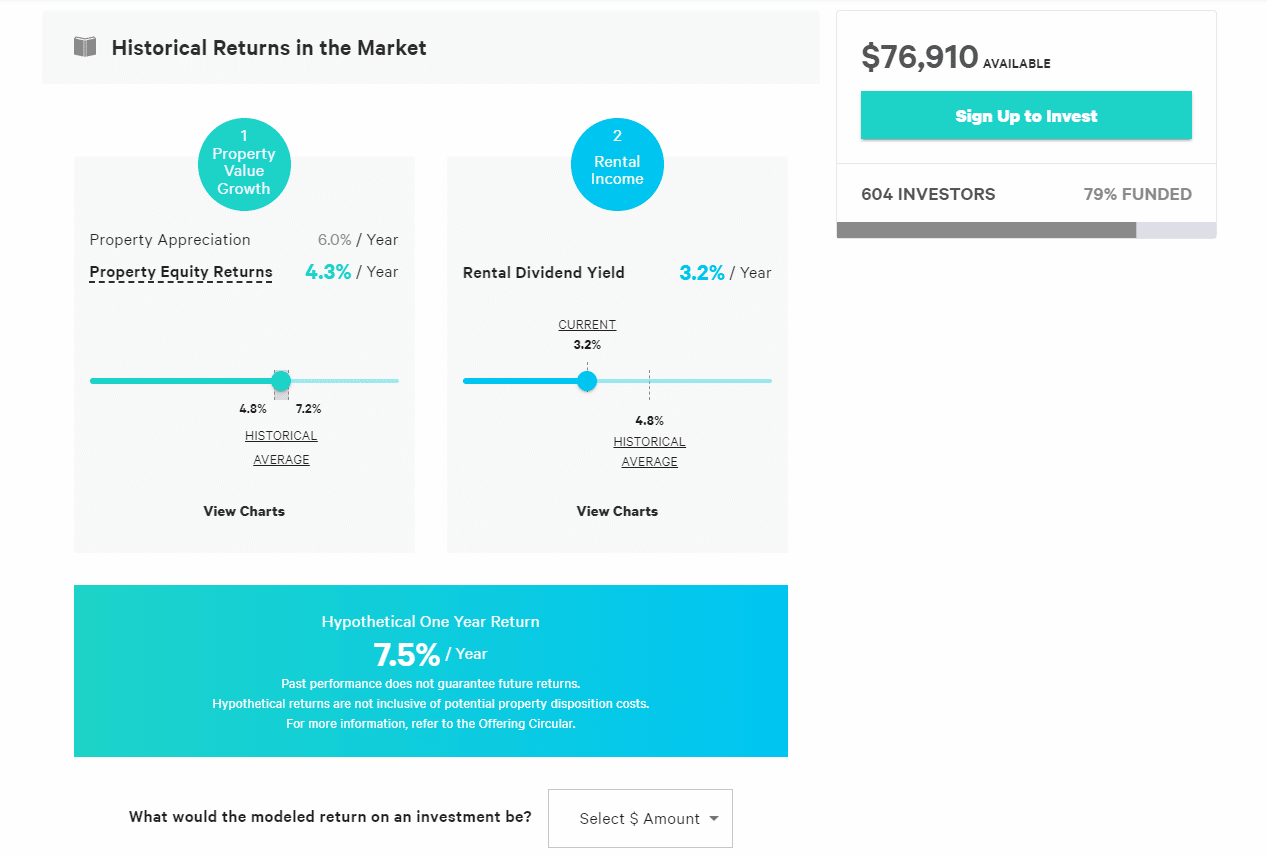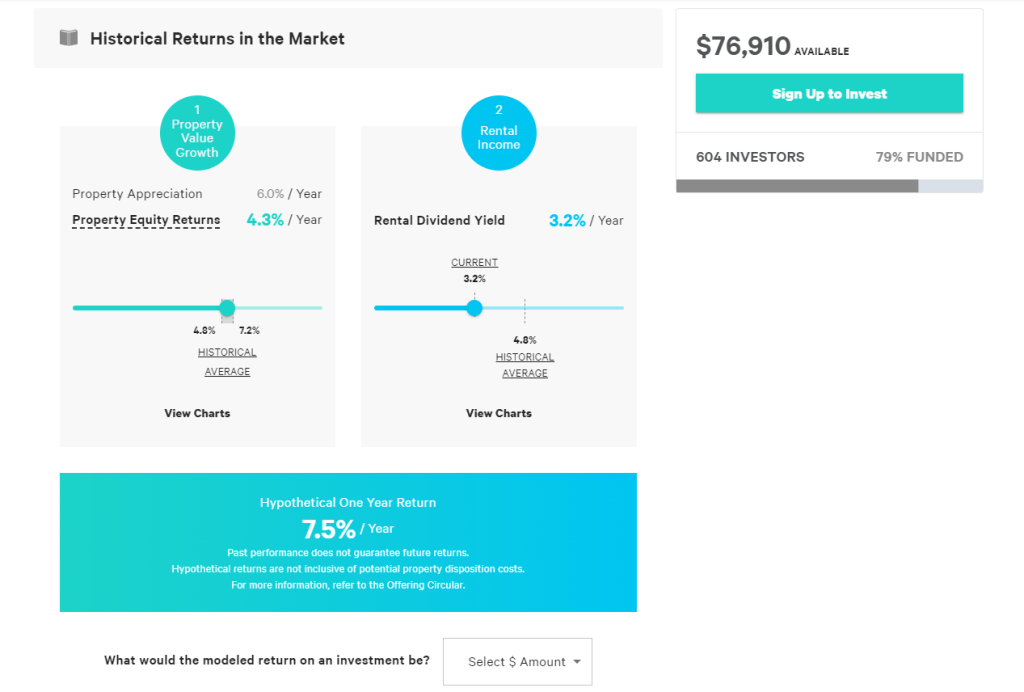 Choosing between properties can be easier once you look at both investment opportunities through this lens. Compare your investment opportunities to maximize your profits as a way to reinvest into the next one and continue that profitable cycle to build wealth.
Rate of Return
The rate of return for each property listed on Arrived Homes varies anywhere from 5.5% to 12.1%, according to Arrived Homes' Help Center. On average, most return rates are at least 10%. Arrived Homes distributes dividends quarterly through the 1099-DIV form. Between Quarter 3 and Quarter 4 of 2021, Arrived Homes cited annual returns of 5-7%. These real-world returns are consistent with what the company reports overall.
In addition, you can also profit from the sale of the properties based on how many shares you own. With that said, very few if any properties qualify for this type of return.
Arrived Homes allows you to request liquidation after holding your shares for 6 months. However, they do not guarantee that your request will be granted, or that there is a market for selling your shares once you decide you don't want them.
Pros
Open to non-accredited investors
Minimum investment is only $100
Viable real estate side hustle
Vacation rental properties are available
Choose as many or as few investment properties as you'd like
Access support through live chat, email, phone, or connect on social media
Cons
Low liquidity potential, especially compared to stocks and ETFs
5-7 years average hold time
Limited secondary market for selling shares if you want out
Investment property holdings still growing, especially vacation rentals
Arrived Home Vacation Rentals
First on the scene once more, Arrived Homes offers investors the opportunity to purchase shares of short-term vacation rentals as well. These beautiful homes leverage location, amenities, and furnishings to take advantage of one of the fastest-growing segments in the real estate market.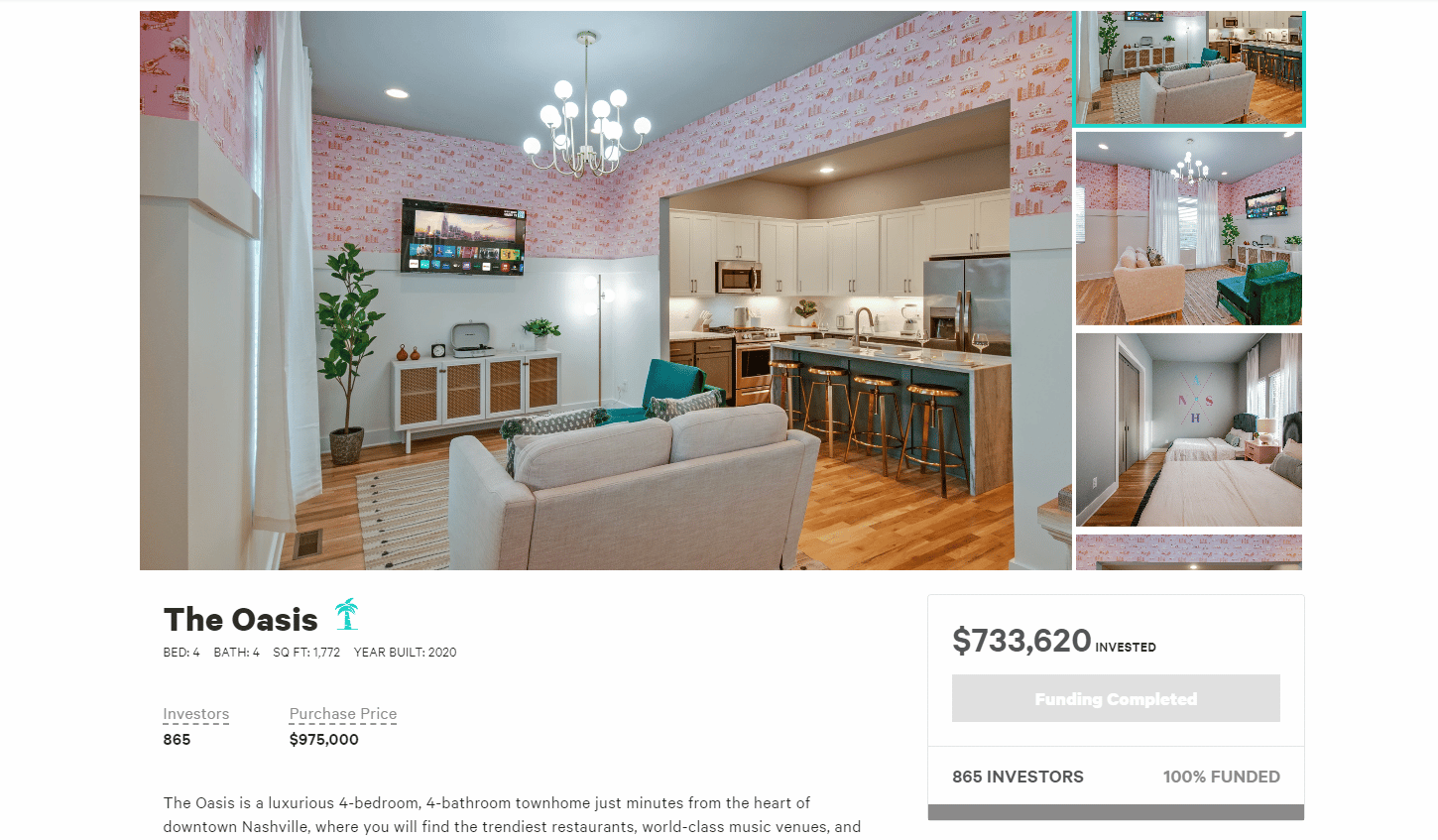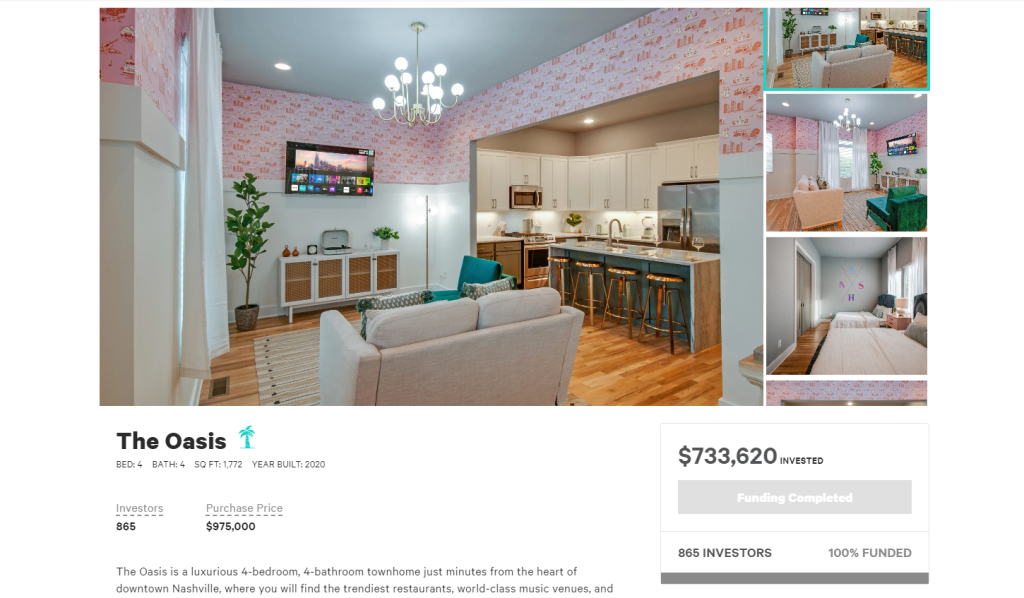 Arrived Homes closed investing in their first 7 vacation rentals, but plans on adding more as they are acquired. With over $5 million invested across vacation rental properties alone, it's not hard to see why these properties are quickly becoming the investment of choice for serious investors eager to turn profits. Vacation rentals, like the rest of Arrived Homes' investments, are available to non-accredited investors looking for ways to invest in their future.
Arrived Home Fees
Investments made with Arrived Homes are subject to a 1% annual management fee. You'll also pay a sourcing fee that varies from one property to the next but is integrated with the share price you see on the listing itself. In addition, Arrived Homes pays for property management services with a monthly fee of 8%.
The only other fee associated with the properties Arrived Homes purchases is the Agent Rebate. This is a fee paid by the seller to Arrived Homes for selling the property. It's similar to a fee you would pay a real estate agent. However, you're not responsible for this fee as an investor.
Alternatives to Arrived Homes
Not sure Arrived Homes is the right investment opportunity for you? Both Roofstock and Fundrise are leading competitors, with both similar and contrasting services.
Roofstock offers real estate investors the opportunity to access similar investments to Arrived Homes through their Roofstock One program. However, Roofstock typically only works with accredited investors, and the program is currently closed to new investors. You'll need at least $5,000 to open an account with Roofstock and there is a 0.5% annual management fee.
Roofstock doesn't provide direct property management but does offer vacancy protection on all Roofstock-certified properties. Plus, you can take advantage of the 30-day money-back guarantee if you're not satisfied.
We've reviewed Fundrise in the past as one of the best apps to use for investing in real estate. While Fundrise doesn't allow you to pick and choose the properties you invest in, this can be useful for investors who don't want the hassle of having to compare properties.
With Fundrise, you can start investing with only $10 in your account. There is a 1% annual management fee, but Fundrise does accept non-accredited investors as well. Plus, there are 5 different plans you can choose from based on your appetite for risk.
FAQs
Build Your Wealth with Arrived Homes
Investing in real estate can be much more complicated than it seems. When you invest with Arrived Homes, all the hard work is done for you. The option to choose which properties you want to invest in, coupled with a minimum investment of only $100, makes Arrived Home a viable investment opportunity for non-accredited investors especially.
Now that you know more about Arrived Homes, take a look at which opportunities you can invest in to grow your wealth. Some day, your $100 could easily turn into enough profit to buy a house of your own. Which real estate properties will you use to invest in your future?
Our Pick