Are you looking for a Nielsen Mobile Panel review to learn if this company is right for you? At Nielsen, they claim you can register your devices and earn rewards with the Nielsen Mobile.
I'm always on my phone – at work, in the subway, in the bathroom. If I ever won real money for everything I ever harvested on Farmville, I'd be rich by now.
But there is one app that actually does pay me with real money for the time I spent on my phone: the Nielsen Mobile Panel. A friend of mine recommended it to me, and though I normally review gaming apps, I thought it was worth a try. I had nothing to lose, and dollars to gain. So here's my honest Nielson Mobile Panel Review.
Yep, Nielsen is that company that tracks TV ratings, and they want to hear from you and they give you rewards! But is it worth downloading for you?
Description
Go
Nielsen Mobile Panel
Price: FREE



This company will pay you $50 a year to keep their app on your favorite internet browsing device and they also give away $10,000 each month. You don't have to do anything other than initially registering your computer or phone.





JOIN, GET $50



What Is Nielsen Mobile Panel?
The Nielsen Company is the world's leading provider of marketing information, audience measurement and business media products and services. Through the Mobile Panel and other information services, they help the mobile industry build content, services and applications that consumers want by providing the industry with the best information on consumers.
Nielson's a research group that studies how people use media. They're the same people behind the Nielson ratings, which used to measure what TV shows people would watch. Except now, they're trying to figure out how people use the Internet – the sites we use, what kind of ads we'll click.
So they developed this app, the Nielson Mobile Panel, that will quietly track what you surf with your phone. Now, before you start freaking out, let's be realistic: a lot of websites and apps do that already, which is why you get the "customized content" or product recommendations.
The only difference is that:
Nielson Mobile Panel asks for your permission to participate in the survey
You get paid $50 to be part of the panel.
You might say $50 isn't a lot, but it's basically free cash for doing nothing except download an app. And you're contributing to important research questions on how people live, learn and buy in the digital age.
Nielson's been doing this for decades, and I must admit, that's a big factor in why I agreed to sign up. I can trust this company – it's not a fly-by-night operation that's just out to get my data.
You can make $50+ yearly in passive income. You just have to set it up.
How Does Nielsen Mobile Panel Work?
After installing the Nielsen mobile app on either your phone or PC, the app monitors things like the terms you use to find sites, what time of day you use them, and even how long you browse.
By participating in Nielsen research, you can improve products and services you use online today. Nielsen Computer and Mobile Panel combines your unique internet usage with people like you to build a picture of internet behavior.
By using the internet as you do every day, Nielsen invites you to make a difference – and you can win prizes! You don't even have to do anything other than registering your computer or phone.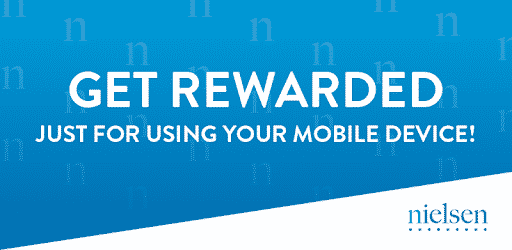 What Kind of Information Does Nielsen Use?
From the moment you sign up, Nielson tells you what data they'll get and how they keep that information private. Yes, full legal disclosure – I like that level of transparency.
So some info includes GPS and IP address, the URLs you visit and the names of the files you download (but they won't actually read the content), info on your phone hardware and software and your device settings, etc.
You have to fill in a general survey but it doesn't involve any private or sensitive information (you probably tell more about yourself to a total stranger on a first date).
Does Nielsen Protect My Information?
Yes. Nielson guarantees that the data is encrypted and it is never sold to third parties or used for anything except the purpose of the survey.
You're also listed as an anonymous user – you're just a number in their analyzed demographics.
That's a lot more protection you get from some Android applications or even those stupid Facebook quizzes.
Is Nielsen Easy To Use?
Some Nielsen Mobile Panel Review will complain that the app crashed or slowed down the phone, but honestly, I had absolutely no problems with it. In my experience with apps, sometimes you're the unlucky user and you just happen to have a bad download.
The negative reviews tend to get all the attention, but the majority of people who get the app are absolutely fine with it – they just don't bother to make a Nielson Mobile Panel Review.
But I can vouch that the whole download process was painless and did not affect my phone speed or battery use. It just sits in the background, and frankly, I sometimes forget it's there.
And for doing nothing at all, I get cash. I wish the rest of adulting were this easy.
What is the Purpose of the Mobile Panel?
The Mobile Panel is designed to help the mobile industry understand how consumers use their mobile devices, services and content. The panel produces usage information that the industry uses to build, plan and manage their mobile offerings to consumers.
The panel gathers this information through an application that runs silently and transparently in the background of your mobile phone.
This application allows us to measure how you use the phone, including your usage of websites, applications, calling, messaging and other phone utilities.
They claim they do not listen to or record your communications and will not release your personal information to third parties for marketing purposes (click here for complete details on the Membership Agreement; click here for complete details on the Privacy Policy).
How Much Can You Make with Nielsen?
At Nielsen Mobile, they are all about understanding mobile trends – the types of applications you use, the content you view and listen to, as well as the websites you visit on your phone, tablet, e-reader, or other registered mobile devices. Your everyday activities as a panelist will help Nielsen understand how people use their mobile devices.
It doesn't matter if you use your mobile device a lot or a little or how you use it, the information on your usage is important to Nielsen Mobile and a valuable contribution to their research!
Plus, you will be rewarded for your participation! All active members will receive up to $50 per year in Nielsen Mobile Rewards points for participating in the panel! Please see the Rewards section for more details.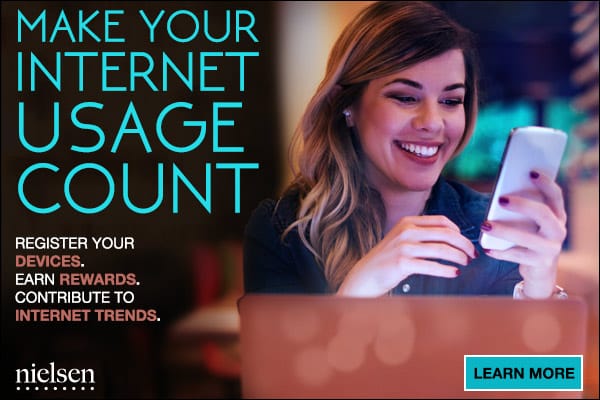 Nielsen Mobile Panel Rewards Offered
Member Opportunities
| | |
| --- | --- |
| | Mobile surveys |
| | Mobile app |
Nielsen Mobile Panel Summary
By using the internet as you do every day, Nielsen invites you to make a difference – and you can make money too. I downloaded this app and make around $50-100 passively, it's a legit app. You don't really have to do anything other than initially registering your computer or phone.
Nielsen also gives away $10,000 each month. You can opt to sign up just for the chance of 10k!
Bottom line: They take their reputation seriously because they are the major source of tv ratings. It's worth a download as it's basically passive income and you can earn over $50/annually by doing what you normally do.
Description
Go
Nielsen Mobile Panel
Price: FREE



This company will pay you $50 a year to keep their app on your favorite internet browsing device and they also give away $10,000 each month. You don't have to do anything other than initially registering your computer or phone.





JOIN, GET $50