Pros
Savings - You can get major savings as Trim cancels unwanted subscriptions on your behalf.
Usability - Easy to use interface.
Price - It's free to use and you'll only charged if Trim can save you money. A true win-win.
Cons
Integration - Bill negotiation currently only works with cable and internet providers.
Our Trim review has found that users saved over $1,000,000 in the last month and you can get your saving results in less than a minute. But is it worth using over other budgeting tools? Short answer: Yes.
Why? Well, saving money should be easy. You can now automate it with Trim.
In fact, Trim users saved over $1,000,000 in the last month. Users may enjoy that you can get savings results in less than a minute.
For example, I effortlessly linked my financial accounts and Trim went to work and this bot saved me $100 easily by trimming my cable bill!
Bottom line: It was able to save me some money. If you are at all interested in saving money, you should be using Trim.
This little bot really found ways to lower my bills and cancel subscriptions. Can Trim work for you? Let's find out in this detailed Trim review.
What is Trim?
Trim, available online at AskTrim.com, is a money-saving application that promises people a convenient and straightforward way to gain control over your finances and improve your financial health.
Trim helps you save money on autopilot by:
Canceling subscriptions. Trim sends you a list of your current subscriptions and you can cancel the ones you don't use.
Save on your internet and utility bills. Trim bot negotiates your bill on your behalf and gives you money back in your account in the event of an error.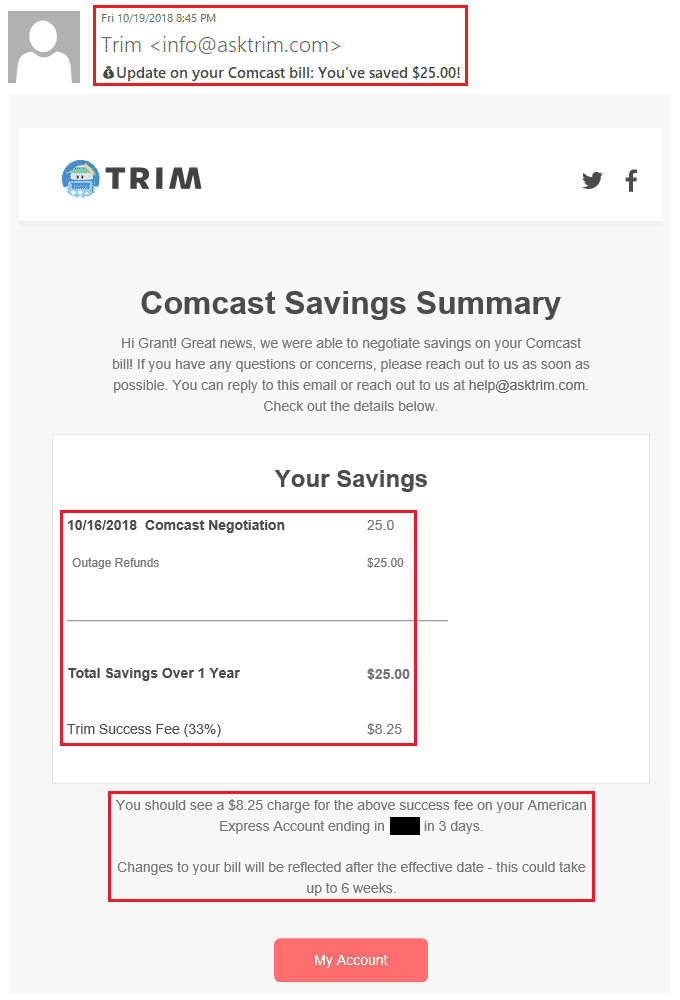 Track your expenses. Easily find out how much you spent this month by asking Trim.
Pay down your debt (new). Now you can pay down your debt faster with TrimPay! It's the easiest way to make additional payments to your credit card—saving money on interest and getting out of debt faster.
Negotiate your bank fees + credit card APR. Trim can negotiate credit card APR and reduce bank fees. They can negotiate interest payments, overdraft fees, minimum fees, and more.
Using the Trim Dashboard
You get started with Trim by signing up and connecting your Messenger account and then linking your credit card accounts.
Once you log in, there are a lot of useful features for you on the Trim dashboard.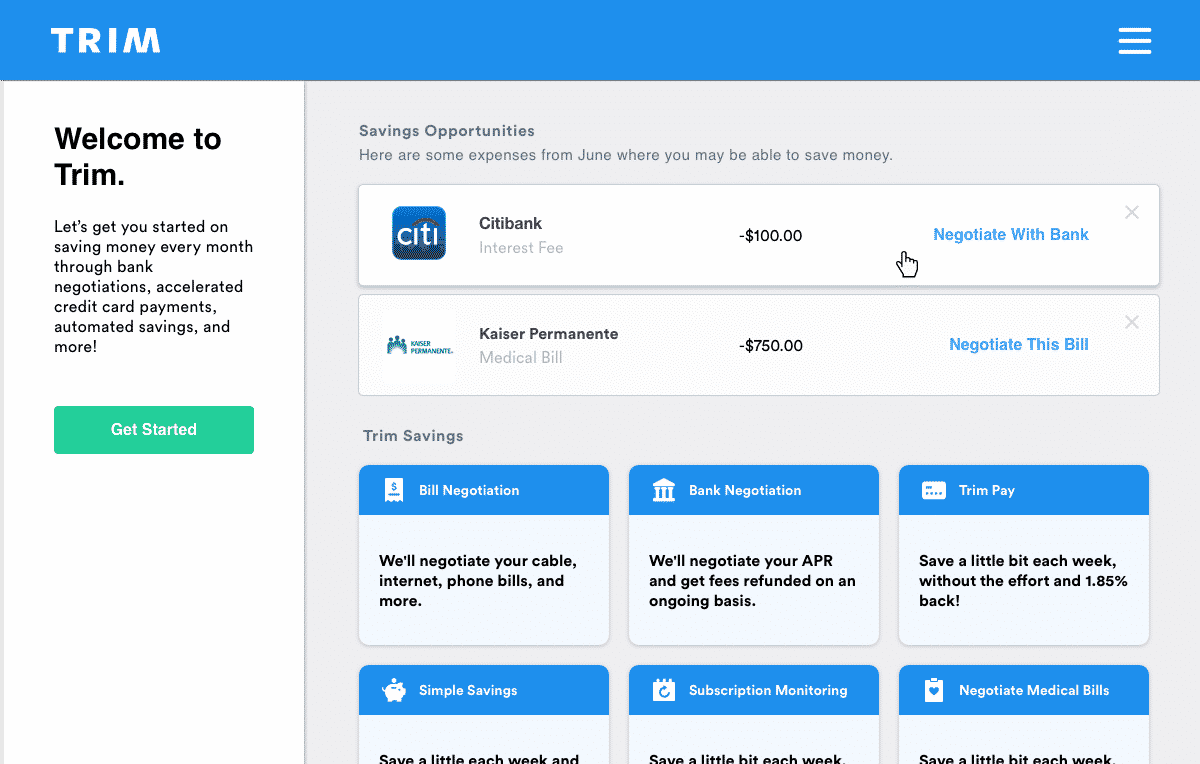 The Trim dashboard highlights simple opportunities they've identified that can save you money.
Just click on the transactions you'd like to take action on and let Trim do the rest!
They can: Identify credit card and bank fees and help you negotiate them, negotiate your cable, internet, phone bills and save up to 30%, and even autopay your credit card bill to get out of debt faster.
All of these actions can help you make better financial decisions and realize why personal finance is important.
Pros & Cons of Trim
Benefits
For the most part, Trim is a free service
You can get major savings as Trim cancels unwanted subscriptions on your behalf
Easy to use interface
It's free to use and you'll only be charged if Trim can save you money (win/win)
Downsides
There is no mobile app, however, the website is mobile-friendly
The 15% fee for a successful bill negotiation is charged upfront
Trim Money Savers Include
Here's what's inside:
Spending analysis. Trim's spending analysis lets you compare your spending month-by-month, by exact date, and even by category. I found the exact date feature pretty useful to see if I have any significant one-time expenses coming up.
Simple savings. A recent feature implemented by Trim was their own FDIC savings account. Trim pays 1.5% interest. However, Trim charges $2 a month for the account.
Budget your spending. You can even set a budget with Trim, which Trim will then keep you informed throughout the month of your progress.
Lower student loan payments. The average borrower saves hundreds per month when they enroll.
Update: Due to changes to FB Messenger policies, Trim will be discontinuing the messaging services via FB Messenger on January 15, 2020.
That means you'll no longer receive messages like Large Transaction Notifications, Overdraft Warnings, or Bill Payment Reminders.
How Does Trim Work?
Trim integrates securely with 15,000 financial institutions to collect credit card or bank card information. This covers about 98% of the credit/debt market.
You start by creating a profile and then link a credit or debit card account, and you can add as many accounts as you need. Trim analyzes the history of your transactions during the last 90 days to determine all your subscriptions. They then send you a list of current subscriptions and you can cancel ones that you don't want to use anymore. Here's a quick video on how Trim can save you money on your cable bill:
The way it works is fascinating
:
Trim technicians and designers have been working on creating an artificial intelligence assistant that automatically arranges the financial life for you in some important ways.
Trim carefully contacts the company on your behalf. They do all the hard work (for free).
In general, this means that they will send an email template, or will make a phone call, or even a certified email on your behalf, to cancel things like old gym memberships that are notoriously difficult to escape.
Pro-Tip:
Did I mention there's no fee for this? Because there's no fee for this! Getting started with Trim is pretty straightforward: Sign up and connect your Messenger account.
Monitor your spending pattern
One of the benefits of Trim's transaction history analysis is that you can closely track your consumption behavior. With Trim, you keep an eye on your transactions, and you can quickly and easily understand where you spend your money.
Custom recommendations
Trim can also help you ensure that you have the best credit and savings account for your needs. Trim can offer you credit card recommendations to help you get the best rewards for your credit score.
Lower student loan payments
Did you know that Trim can now analyze your student loans and see if you can pay less each month? The average borrower saves hundreds per month when they enroll. Review your student loan for free and see if you can lower your student loan payments in 3 minutes.
How it works:
Connect your student loans from the Federal Student Aid (FSA) website.
We'll analyze the optimal way to pay off your loans.
Get notified if we find a better repayment plan, and choose if you'd like to be enrolled.
Best of all, the service is free with Trim's 14-day free trial.
Frequently Asked Questions
Is Trim Free?
Signing up for a Trim account is completely free. Your free account gives you a personal finance dashboard, personalized spend alerts and reminders, detection and fighting of overdraft fees, finding and cancelling old subscriptions, and more.
Trim offers additional paid features such as Bill Negotiation, Debt Payoff, and Trim Simple Savings. Payment for these features varies and will be explained before you sign up for the specific feature. Trim is also compensated by third-party partners, such as credit card issuers, for referring customers to them.
Is Trim secure?
Yes — extremely. They use 256-bit SSL encryption on it's website, encrypted databases and two-factor authentication or OAuth when you sign in. You can read more here.
What does trim do with your data?
Your data is only used for you — they never sell it. They safeguard your data using bank-level security at all times. They don't ever share your data with third parties.
Does Trim support your bank?
Most likely! They support more than 15,000 U.S. financial institutions.
How does bill negotiation work?
First, you provide them with the information they need about your service provider account and current bill by either uploading or sending them a bill, or logging in through the platform. Once they have that information, they get to work on finding better plans and promotions. Don't be alarmed if you are notified that someone is calling about your account—that's most likely Trim's specialists.
If they save you money, they take 15% of your total yearly savings (e.g., if they save you $10/month for 12 months, they will only take $18).
Once you provide them with your bills or service provider credentials, they will negotiate savings on your behalf on an ongoing basis. If you have recently negotiated your own bill or you are about to cancel your existing service plan, please let them know so we can remove you from its bill negotiation system.
What is Trim Simple Savings?
Trim Simple Savings is an automated savings account that provides a 1.5% annual reward on your balance. Simple Savings allows you to set it and forget it with automated weekly transfers of an amount specified by you from your selected checking account.
You still have questions. How can you contact Trim?
Email them anytime: [email protected].
Is Trim Legit?
It has been proven by myself that Trim is legitimate. Trim's mission to save people money by helping them identify and cancel unwanted subscriptions, discussing cheaper recurring invoices and setting a more efficient budget is a praiseworthy goal. It is particularly admirable that they offer their services for free.
Trim App Reviews
Here are some top-rated reviews of the Trim bot:
Forbes: "At AskTrim.com, you sign up for an account. Then you enter your credit card number, and presto: The free service automatically reviews your last 90 days' worth of charges and finds those niggling little recurring subscription fees for you."
Tech Crunch: "Trim first launched seven months ago, with a focus on identifying and canceling unwanted subscriptions. The team estimates they have saved users $6 million so far."
CNET: "Trim is a little more transparent with its security — it uses the same Plaid API to connect your bank account, but it also boasts the same 256-bit encryption used by leading financial technology firms. Also, if you don't feel comfortable adding your bank accounts or credit cards, you can email the statements to [email protected] which, if you ask me, seems a bit more risky."
Other Money Saving Apps Like Trim
If you find it difficult to save money, using money saving apps to help you automatically save can get you on the right track. By saving money regularly you get in the right habit and start building wealth. You can see the full list of money-saving apps here or take a look at our favorites below:
Pros:

One-time fee versus a percentage or portion of savings each year
Pros:
One-time fee versus a percentage or portion of savings each year
There are also similar services that help you get money through bill negotiation such as Capital One Shopping, BillShark, and Rocket Money.
Trim Review Summary
Trim is a holistic financial management service that enables you to achieve your financial goals through personalized recommendations and savings opportunities. Trim can:
Negotiate your cable, internet and/or phone bill with ANY provider like AT&T, lowering your bill by up to 30%.
Analyze your transactions so you can quickly and easily understand where your money goes.
Recognize recurring charges to make sure you don't have any forgotten or unwanted subscriptions.
Provide personalized recommendations for the right financial accounts for you.
Plus, they are quickly building out additional features to help users better understand their finances, make informed decisions and save more money. Stay tuned for new features rolling out every month.
Bottom line: It was able to save me some money. If you are at all interested in saving money, you should be using Trim.
Tip: Did I mention there's no fee for this? Because there's no fee for this! Getting started with Trim is pretty straightforward: Sign up and connect your Messenger account.