Truebill has identified a ton of money in potential savings for their users to date!
It's as easy as signing up and getting free money for nothing. In this Truebill review, you'll learn if it's too good to be true.
Managing finances can be hard. Truebill makes it easy to optimize your spending, manage subscriptions, lower your monthly bills, and stay on top of your financial life.
To date, Truebill has actually helped countless people save over $14 million dollars by helping them identify and cancel unwanted subscriptions, lower their bills, and get them refunds on fees and outages. It is now available in the App Store for iPhones and Google Play for Android devices.
In this Truebill review article, I wanted to determine if the Truebill app IS safe and should we use it?
What is Truebill?
Truebill aims to offer financial control at your fingertips. In minutes you'll see they have a near 5-star rating.
Truebill magically gives you a complete picture of your finances.
From there, they can cancel unwanted subscriptions, lower your bills, and help you reach your savings goals!
Truebill
Managing money can be hard. Don't do it alone. Truebill empowers you to save more, spend less, see everything, and take back control of your financial life.
Lower Your Bills
How Truebill Works?
When you sign up for a Truebill account, you want to first connect your bank accounts and credit cards so that our software can analyze your transactions.  Once you do that, they automatically find all your subscriptions and recurring bills, which appear in the "Recurring" tab of the app.
 From there, you can click on any Subscription to see details and cancel unneeded ones.  You can cancel yourself, or, if you choose to join Truebill Premium, their concierges will do it for you!
You can also use Truebill to lower your bills. To do this, you want to click on the "TrueProtect" card on your Simple dashboard, then add the various bills that you'd like to lower.  Premium users can also turn on Fee Refunds, to have our concierges automatically request refunds when you get bank fees.
Truebill is constantly adding new features and their aim is to be your central hub to running all your finances.
Let's face it, financial automation can really make your life easier, but there are some downsides. For examples, you can keep getting billed automatically even when you no longer use a service that you subscribed to. Truebill can help combat this. By using personalized data they can help you manage your finances better. The Truebill app uses various ways to save money. Let's dive deep into them…
CLICK TO DOWNLOAD TRUEBILL FOR FREE
Truebill Features
Truebill offers the following features:
#1. Lowering Bills
By using Lower My Bills, Truebill negotiates with a lot of service providers such as AT&T, Verizon, Charter, Comcast and DirecTV to cut your bill down. To do this, you will have to upload a recent bill from any service provider or connect to your account. Provide info regarding the service and allow the app to negotiate a reduced rate by getting a promotional plan, cutting back on any bogus fees, and just reducing the rate. Truebill takes a 40% commission of the yearly savings to do this.
#2. Monitoring Your Subscriptions
When you enter your account info into the Truebill app, it conducts a review and then flags all your recurring bills and bill changes. It then tries to ascertain if the bill can be lowered. It will also help you know when you will get billed by mapping your bills using a calendar. This can help you to alter your behavior, stop subscriptions, etc. with the premium version; you can cancel services in-app. The app can also request for refunds.
#3. Outage Monitoring
Truebill can monitor the internet & cable providers around your area and request that your account is credited if an outage exists.
#4. Electric Economy
Although accessible for only some areas, the app can run a search to help you save on electric bill by locating the lowest price for every kilowatt.
#5. Pay Advance
Truebill Pay Advance is a free feature. Upon repaying your pay advance you may voluntarily elect to tip Truebill any amount between 0% and 24% of the advance size for the Pay Advance service. This tip is completely optional and will in no way affect your Truebill service or eligibility for future Pay Advance usage.
Premium Membership
Truebill lets you choose your own price for Premium services, from between $3 / month and $12 / month. You can also choose an annual cost at either $36 or $48 per year.
Truebill Premium subscription offers several additional features to help you save money and manage your finances:
Concierge Services
Truebill automatically identifies your subscriptions, bills, and other recurring payments.  As a Premium member, you can have its concierge cancel these service on your behalf. We will also attempt to get you fee refunds automatically.
Premium Chat
Premium members receive priority support, and access to live chat with our experienced customer advocates.
Unlimited Budgets
Truebill Premium offers the ability to create unlimited budgets, a feature that is especially useful if you're managing a personal, family, and/or business budget and prefer to keep them separate.
Custom Categories
While the Truebill app comes with predetermined budgeting categories, Premium lets you add to and/or delete them, customizing your budget to be as simple or as detailed as you would like.
Smart Savings Accounts
Smart Savings is a feature that allows you to transfer money from your checking account to a FDIC insured bank account in order to reach your savings goals. You can choose to arrange automatic transfers, set thresholds to avoid overdrafting, and can withdraw from your savings accounts at any time.
Realtime Balance Syncing
Premium members will see their account balances updated in realtime in the app–no more waiting for daily or weekly synching!
My Favorite Feature
Truebill can negotiate your bills lower for you on your behalf saving you money and time.  They support most major cell phone, cable, and security bills and are successful up to 85% of the time!  Here's how it works:
Step 1: Submit a bill
Open your Truebill app and on the dashboard, tap on the "TrueProtect" option
Step 2: Choose a bill listed there or tap on "Add a bill"
Step 3: Connect your bill by either entering your credentials or uploading a photo of it.  Note: if you don't have a paper bill you can load your bill up on your computer and take a photo of your computer screen
Step 4: Enter your details and negotiation preferences on the next screen
Step 5: Confirm Payment Method – they charge 40% of the first year's savings.  You can pay with any major credit or debit card.  If they don't save you anything, you aren't charged!
Truebill Cost
Although free to download, the premium version of Truebill requires an upgrade fee of $35.99 or you pay $4.99 monthly. They claim that by using the app to lower bills, on average it will result in a 40% charge of your savings yearly.
Pros & Cons of Truebill
Benefits
A plethora of features for a new financial app such as lowering bills, monitoring your subscriptions, cancellations concierge, outage monitoring, and even saving you money on your electricity (in some areas)
Free to download
Compared to most of the apps in this category, Truebill is a good contender
Downsides
They take 40% of the total refunded amount for the first years savings. This figure is high. However, if they don't save you anything, you aren't charged.
Truebill Security
Your information is safe with Truebill. There are credit card adverts, as well as, insurance adverts and your info will only be given to these firms if you decide to deal with them. Apart from that, the Truebill application is very safe to use with no privacy issues.
Is Truebill Safe?
Truebill uses bank-level security with 256-bit SSL encryption and read-only access.
Truebill uses the Plaid service to connect with financial institutions, so you aren't giving your banking credentials directly to Truebill.
It should be noted that Truebill does not sell your data to third parties; in fact, they store their own data on Amazon Web Services (used by the Department of Defense). Rest assured, they take security very seriously.
Who is Behind Truebill?
Truebill is backed by COTA Capital, Social Capital, Sherpa Capital, Day One Ventures, Y Combinator, and Cross. The founders are:
Haroon Mokhtarzada
Co-Founder & CEO
Haroon is a Harvard Law grad turned serial entrepreneur and angel investor. He was the CEO and Chief Product Officer of Webs.com, a popular website creation platform that grew to 50 million users before being acquired by Vistaprint where Haroon led digital product strategy. Haroon has a passion for technology startups, innovation, global change, and elegant problem solving.
Yahya Mokhtarzada
Co-Founder & CRO
Prior to Truebill Yahya served as VP of Business Development at Nanigans where he helped grow the company from less than $1mm to a $20mm+ runrate. Yahya mentors at the startup incubator 500 Startups, helping early stage startups determine sales strategy, find product/market fit, and scale their businesses.
Idris Mokhtarzada
Co-Founder & CTO
Idris spent over a decade co-founding and growing Webs.com, leading to its eventual acquisition by Vistaprint in 2011. He holds several patents around graphical user interfaces. In his spare time, Idris is an active angel investor and is passionate about using technology for social good.
Competitors and Alternatives?
Actually, this is not the only mobile application whose goal is to provide people with an effortless way to get money back. There are other alternatives, including Paribus and Trim, who offers the same service to their mobile customers.
Truebill vs Paribus
The winner is Paribus — a free tool that can help you get money back for your online purchases just for signing up for free.
Paribus keeps your information safe just like Truebill, but Truebill is only 3 months old so they have a lot of catching up to do. You also don't have to do anything other than originally sign up for Paribus.
It's as simple as that.
Our Winner: Paribus
This free app
 will scan your emails for any purchase receipts from dozens of online retailers. You don't even have to know about the price drop in order to get your refund. It's 100% free and will save you a lot of money. 
I actually pocketed around $83.23 in the first few weeks of signing up. 
Remember, it's 
100% free!
Paribus compensates us when you sign up for Paribus using the links we provided.
Truebill vs Trim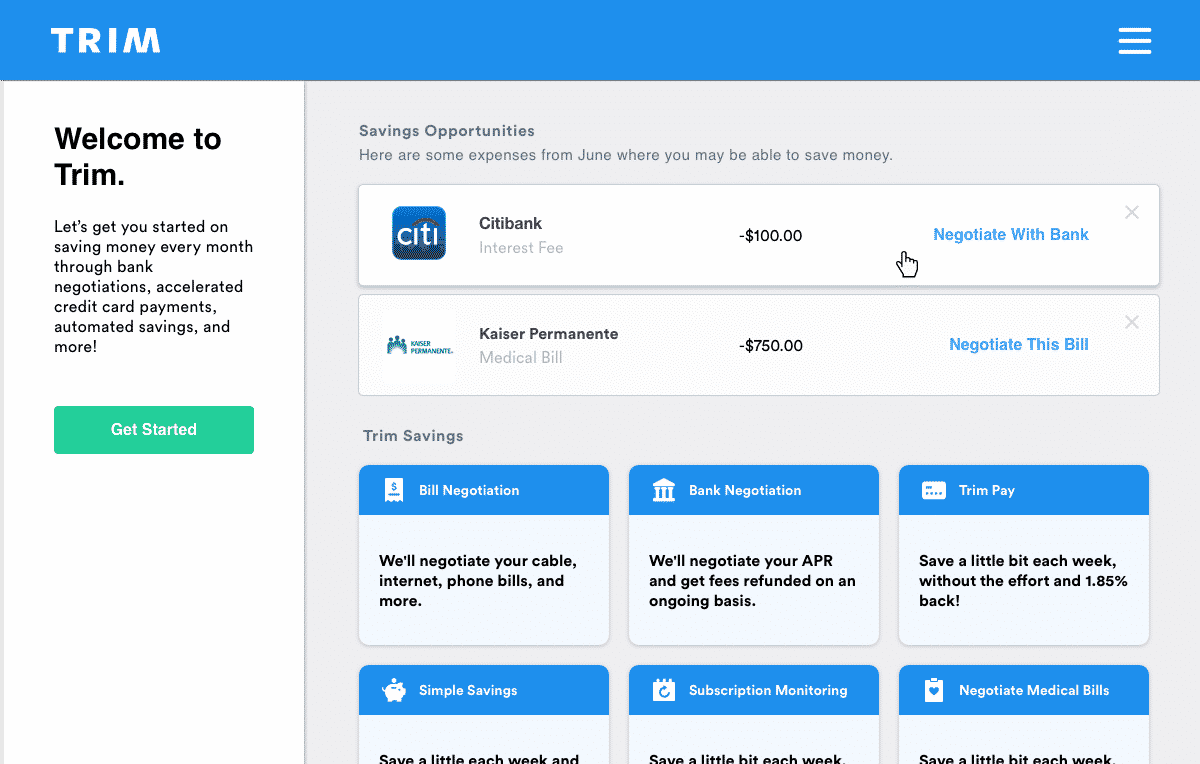 It is hard to say which option, Trim or Truebill, will better suit your needs as they are both great for managing your money. Both apps offer features to help you create a monthly budget, lower your bills, and track any subscriptions.
Still, Trim offers unique features like medical bill negotiation or bank negotiation. Truebill provides many benefits, including a mobile app and international accessibility. Truebill and Trim have different features for people with different spending habits and needs.
Our Winner: Tied
Both of these
money-saving apps
are some of the best available. It can be hard to choose between them. If you want to learn more about Trim, you can check out our detailed
Trim Review
to learn more.
Is Truebill Legit?
A lot of money is spent on subscriptions annually, and apps like Truebill can help to provide insights that will help you manage your spending more efficiently so that you can get the best deals every time.
Truebill has a larger scope than other service cancellation apps and upgrading to the premium version for a month to try the app out might be what you need to decide if to upgrade or go back to the free mode.
This Truebill review article helps to make it clear that Truebill can actually help you to make some savings on the number of dollars that you spend every year. Give it a try today as it is totally legitimate.
Truebill
Managing money can be hard. Don't do it alone. Truebill empowers you to save more, spend less, see everything, and take back control of your financial life.
Lower Your Bills