When budgets just aren't working and you've got more money going out than coming in, sometimes it takes a good look at your monthly expenses. Going from "in the red" to "in the black" can mean putting effort into reducing what monthly bills you do have, in addition to changing your other financial habits, so you can start saving for the future.
With financial tools such as Hiatus, those savings can increase with the ability to negotiate your monthly bills for a better rate. Hiatus gives you this opportunity without having to sit on hold for hours at a time. They do the leg work for you while you go about your daily business, all for a minor fee.
In this article, we'll introduce you to Hiatus, the app that allows you to synchronize your finances and potentially lower your monthly bills. Hiatus' team works to get you a better rate on your recurring expenses to keep more money in your pocket, all for a small fee. But there's much more to this savings app than just bill negotiation.
Are you ready to see if Hiatus can make a difference in your finances? Keep reading to find out more in our Hiatus app review.
What is Hiatus?
Hiatus is your automated financial assistant that works with you to create a bigger picture of your financial status, among many other things. Beginning with bill tracking and negotiation, Hiatus links all of your financial accounts to one dashboard, where you can better manage where your money is going.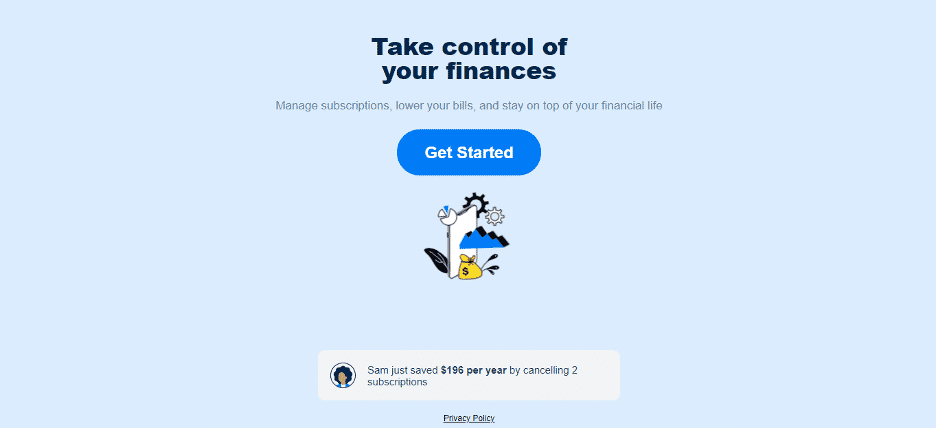 According to their website, David and Todd founded Hiatus in 2016 to address the issue of subscriptions. Specifically, their goal was to target those subscriptions that consumers may have forgotten about, and/or no longer want. It's easy to sign up for monthly subscriptions, but sometimes unsubscribing is much harder than simply clicking a link.
How Does Hiatus Work?
Hiatus partners with over 10,000 financial institutions. This includes credit unions as well as small banks. The financial app works to analyze many common financial rates for you, from mortgage and student loans to insurance, savings, and utilities. For me, I found ways to lower my AT&T bill but it works for all major wireless carriers like Sprint, T-Mobile and Verizon.

Among the many financial tools Hiatus offers, most users find the bill tracking and negotiation to be the most useful. You can also take advantage of the budgeting advice provided, along with the overdraft fee control. And given the nature of Hiatus in terms of linking your financial accounts, privacy and security are of utmost importance.

Downloading Hiatus
Integrating Hiatus into your financial plan is actually fairly simple. Available for download for both Android and iOS users, Hiatus can also be accessed via the Hiatus web app.
Once you've downloaded the app, creating a Hiatus account is no different than signing up for Facebook or Instagram. Input a few bits of personal information such as name and email address, and choose a password.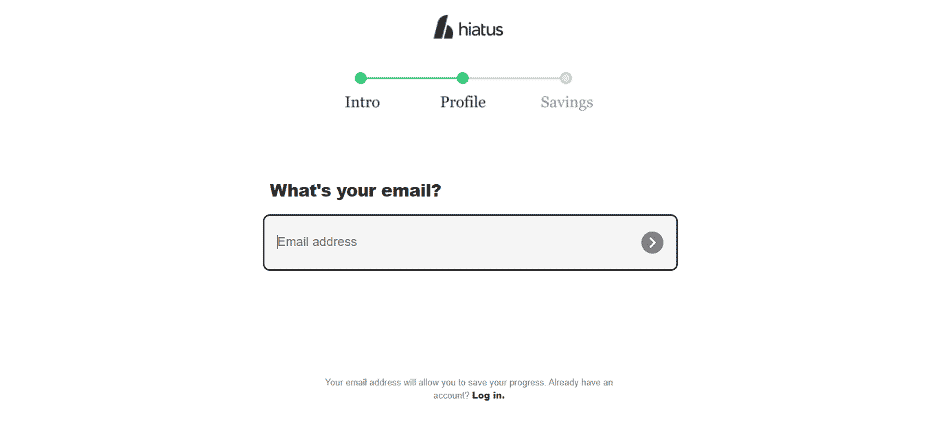 After you've created your basic profile, you'll then need to link your bank accounts. Before you do that, however, Hiatus will ask you what your money goals are.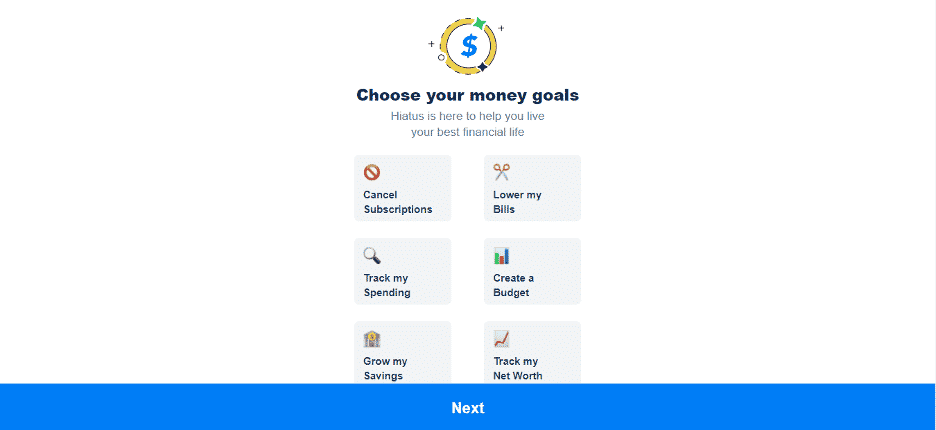 Don't worry about narrowing your choices down to one; you can pick more than one goal. Just know that for most of the goals, you'll need to subscribe to the Hiatus Premium account to achieve them with Hiatus.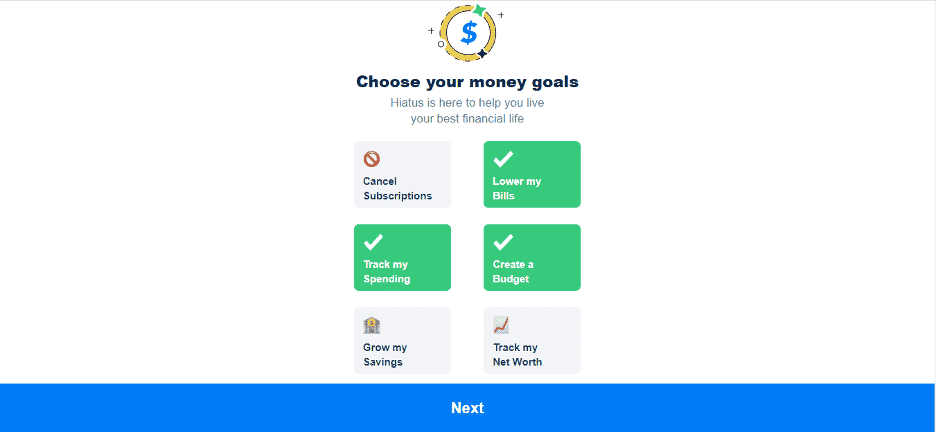 Link Your Financial Account(s)
Adding your bank account to your Hiatus dashboard is easy. In fact, the process to link Hiatus and your financial institution is the same as if you were simply logging in to check your balances.
However, to keep things safe, Hiatus works with Plaid to keep your connection as well as your login information secure at all times. You'll see a prompt like the one below that introduces you to Plaid and requires you to agree to their terms before linking your accounts.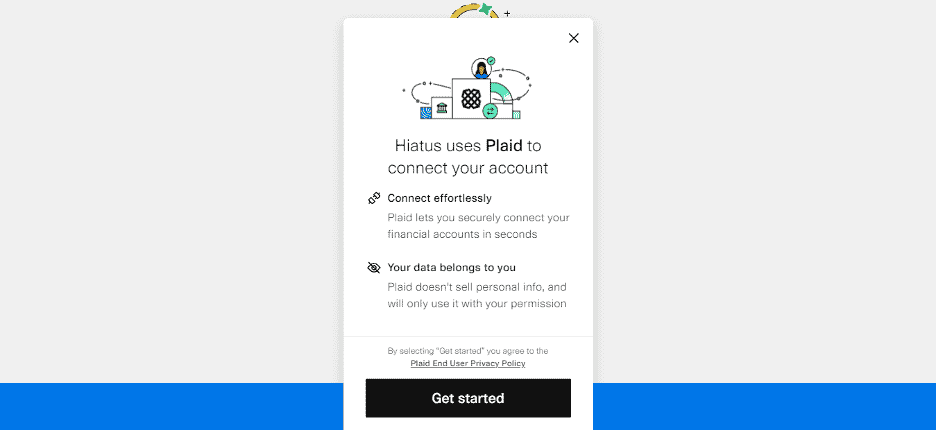 Once you click "Get started," you'll be prompted to enter your bank's name. Many of the most popular banks are listed, such as Wells Fargo, Chase, FirstBank, USAA, and Navy Federal Credit Union, to name a few.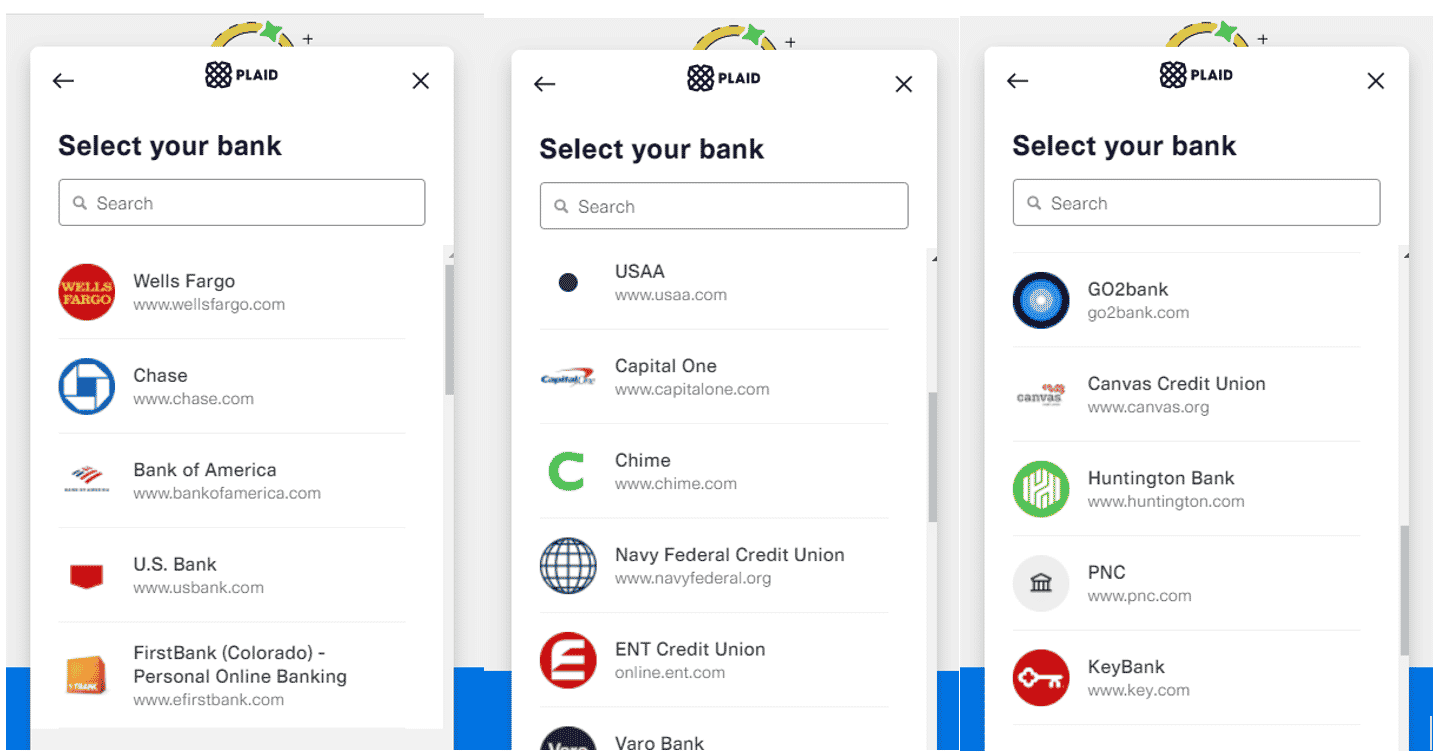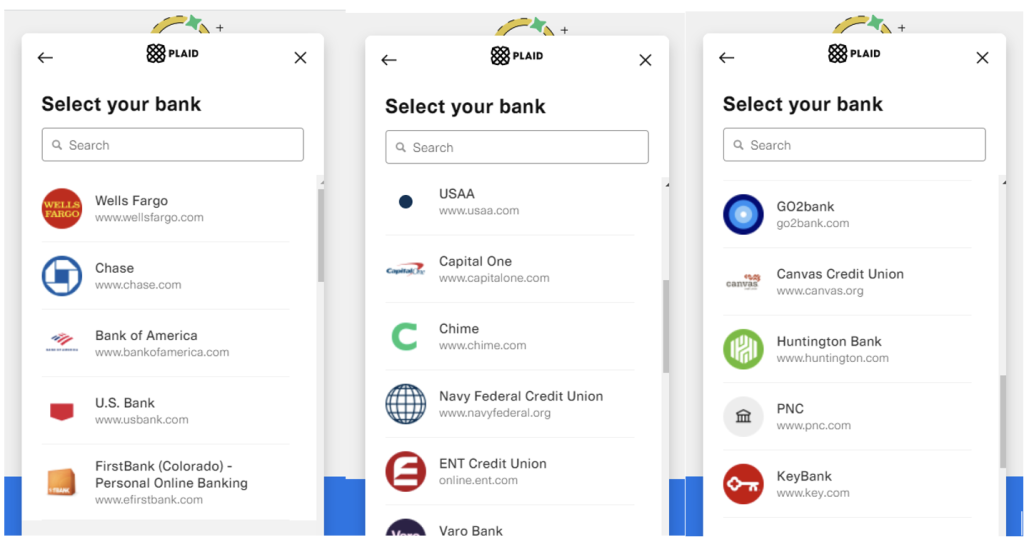 If you don't see your bank right away, or just want to navigate to it right away, you can also type it into the "Search" bar at the top. For instance, if you have a checking account with Discover, you can type it in like so: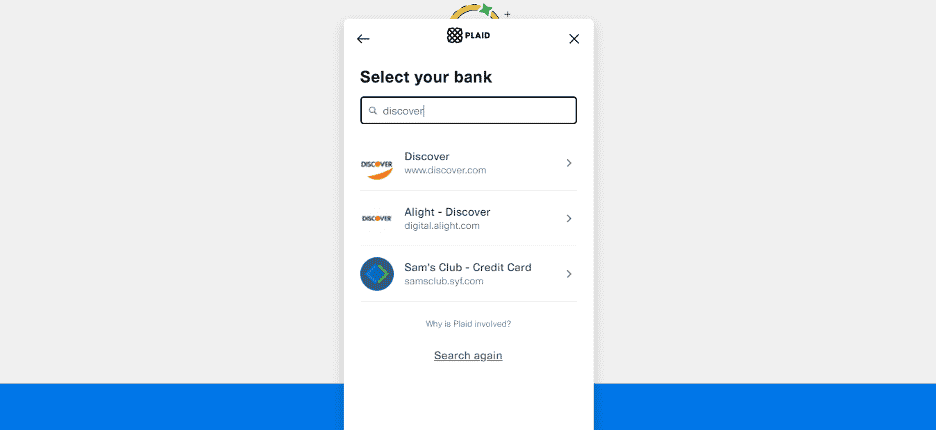 After selecting your institution, you'll be brought to a screen where you'll need to log in with your credentials for that site.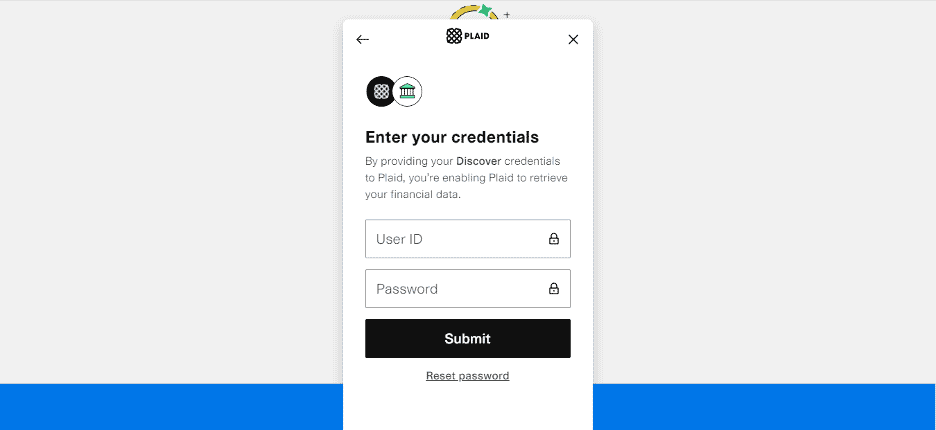 This is where Plaid stands guard, keeping your login information secure.
You can link all your financial accounts here to include them on your Hiatus dashboard. These accounts include checking, savings, as well as credit cards, too.
Basic and Premium Accounts
Using the basic features of Hiatus won't cost you anything more than your time. However, you'll only be able to work with budgeting tools, calculate your net worth, and track your subscriptions. If you're looking to act upon the advice Hiatus offers you, you'll have to ante up for the $9.99 per month fee or $39.99 annual rate.
Premium features include access to plenty more financial tools, along with a team of experts ready for consultations. These financial experts are able to negotiate and cancel your subscriptions on your behalf. Plus, you'll also be able to set a smart budget and receive personalized tips on how you individually can save money. Who wouldn't want to save an extra $400 a month?
Who Benefits From Using Hiatus?
Potentially anyone can benefit from using Hiatus. For instance, if you've done away with cable and subscribed to a handful of streaming services over the past year, Hiatus can help reduce those various recurring fees. Are you ready to cancel Netflix or music streaming services? Given a closer look, you may even find you're paying a fee for a service you don't typically use that much. In this case, Hiatus can help you cancel that subscription to keep more money in your bank account.
Hiatus is also an app that's for folks who want to have a bit of say in their bill negotiations. Instead of simply calling up your phone service provider and "reducing" your rate by demoting your plan to the most basic one out there, Hiatus requires authorization in order to even begin the process. In fact, they'll even ask you for a bit more information in order to be ready when it comes time to negotiate.

Even if you subscribe to Hiatus Premium (yes, it is another subscription to add to the list), and only keep the subscription for two months, you could potentially score better rates on your monthly expenses that add up to $20 or more. The decreased rates don't go away if you cancel your Hiatus subscription either.
Other Apps like Hiatus?
There are other Hiatus app alternatives out there for download. Rocket Money, Trim, and BillTrBim are just a few of the most popular apps available to help consumers like you take better control of their finances.
Hiatus vs Rocket Money
Like Hiatus, Rocket Money is a downloadable app that syncs to your banking account(s) in order to monitor and analyze your spending habits. Rocket Money also helps to lower your monthly bills and manage your subscriptions as well.
Where Hiatus and Rocket Money diverge most is plainly seen in terms of fees. Both apps have a free version, which allows you to take advantage of a few basic features. Rocket Money offers a seven-day free trial but the Premium version costs $4.99 per month or $35.99 annually. Alternatively, you can also choose a sliding scale between $3-$12 per month to access various features.
On top of the monthly fee for the paid version, Rocket Money will also charge you 40% of the savings you earn in the first year. This can be a pretty hefty sum depending on how much you are able to save with Rocket Money. However, the Premium version does give you access to credit score activity, shared accounts, unlimited budgets, smart savings, and premium chat.
Hiatus vs Trim
Another alternative to Hiatus is Trim. This particular service doesn't use an app, but rather text messages or Facebook Messenger to communicate with you. If you need to access certain features, there is a web-based version as well.
You'll need to navigate to the Trim website in order to sign up, but the basic version is free. Trim will negotiate your monthly bills and credit card interest rates, provide bill reminders, calculate your debt, as well as provide basic advice, all at no cost to you. Like Rocket Money, Trim will not charge you if they're not able to save you money, but you will have to share the wealth if the opposite is true.
Specifically, Trim requires a 33% stake of the savings they negotiate for you each year. This is separate from the $99 annual fee that unlocks Premium features. The list includes bank and bill negotiation, a simple, high-yield savings account, unlimited email access to financial coaches, subscription cancellation, automated credit card payments, and negotiation of your medical bills.
For some folks, the medical bills negotiation feature makes all the difference. This is typically not included in most bill negotiation services from other apps, which can make it well worth the $100 per year fee. If you find yourself already in debt, you can opt into the Debt Payoff program, too, which costs an extra $10 per month. In addition to enrolling in the program, you'll gain access to a financial coach who can help you negotiate lower interest rates for credit cards, advise you on any financial plans, and help you build a budget to continue your good financial behavior.
Pros/Cons
Like any other downloadable app out there, Hiatus has its strengths and weaknesses. As we've mentioned previously, Hiatus itself is another subscription service you could potentially sign up for and forget about. And remember, even if you just delete the app on your phone or computer, your subscription plan is not canceled.
That said, Hiatus doesn't charge a percentage fee like most other subscription-geared apps. Instead, you'll pay the $9.99/month fee for bill negotiation, regardless of how much you end up saving. Plus, the budgeting component of Hiatus analyzes your particular spending habits to come up with advice you can actually implement.
One of the biggest complaints customers have about Hiatus is that you can only contact the Hiatus customer service team through email. Perhaps they figure you don't want to spend time on the phone with them, since you're paying them to do that very same thing with your subscription services. Either way, they're also not accredited by the Better Business Bureau, though they are responsive to claims filed on the BBB website.
FAQs about Hiatus
How safe is Hiatus?
Hiatus claims they never store your login information and rely on a 256-bit encryption in order to keep your financial credentials secure. This is the same level of security most banks use for their online platforms.
How much can I save with Hiatus?
Putting a number to your savings really depends on how much you're willing to negotiate and/or relinquish when it comes to your subscriptions. Theoretically, you could authorize Hiatus to cancel all your subscriptions and save that money immediately, but you could also sign up for Hiatus and learn that you're getting the best rates already. Either way, it's free to sign up and check.
Know Where Your Money Goes
For some folks, paying someone else to reduce their own monthly bills might seem like something they can do on their own without spending any money. For the rest of us, a penny saved is a penny kept tucked away for a rainy day, because, let's face it, time is money. No one wants to be on hold for hours to potentially just be told, "No."
We hope with our review of Hiatus, you can see that saving money on your monthly bills is possible, all without having to have a degree in negotiating. You can still have control over your finances and even make changes to your money-spending habits to put yourself on a road to success. You never know, the savings you earn from lowering your monthly bills could one day become investments you retire on at an early age.
Our Pick

Rocket Money
Navigating your finances can be challenging. Why tackle it solo? A staggering 80% of individuals have discovered savings by utilizing Rocket Money to identify and eliminate unnecessary subscriptions. More than just subscription management, Rocket Money equips you with the tools to maximize savings, minimize spending, gain a comprehensive view of your finances, and reclaim mastery over your financial well-being.
Start Saving Now
Read Review