Need a debt payoff planner or looking for the best ways to pay off debt? There's an app for that! Discover the best debt payoff apps so you can pay off debt quickly.
Debt.
It is almost a universal circumstance. We have student loans; we have auto loans; we have credit card debt; we may even have some personal loans that were the result of past emergencies or other needs.
Now, we find ourselves making several payments every month, hoping we don't forget them, and wondering how we can ever see an end to these minimum payments and high-interest rates.
If this is you, then you need to organize the management of your debt. After all, the goal is to make your debt disappear as quickly as possible.
There is lots of debt management advice out there. For example, one universal piece of advice is to dump as much as possible on the credit card with the lowest balance.
Then, when that is paid off, move on to the next one and dump what you were paying on the previous one on this one. The beauty of this advice is that you will be making more than the minimum payment, and all of that extra reduces the principal balance.
Get Out of Debt with These Debt Pay Off Apps
Ah, the most common expression we digital junkies hear today. And, yes, there are debt snowball apps for virtually anything you want to do. That includes managing and paying down your debt.
Here are some of the most popular mobile apps that should help.
1. Tally
Cost: Free to download, then monthly interest rate based on creditworthiness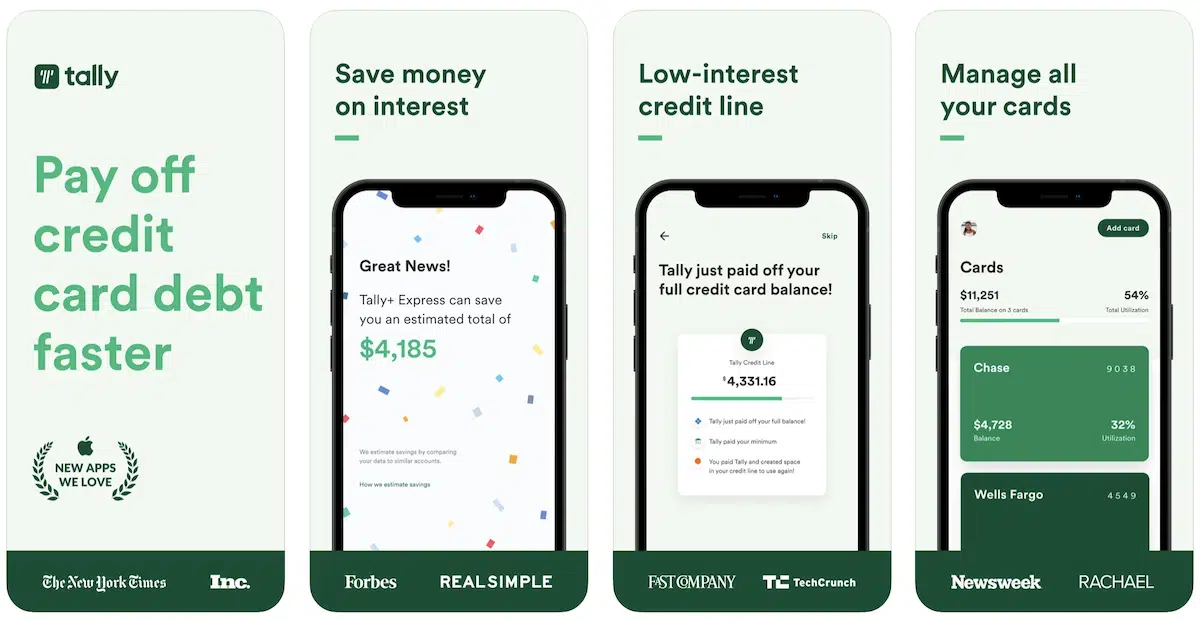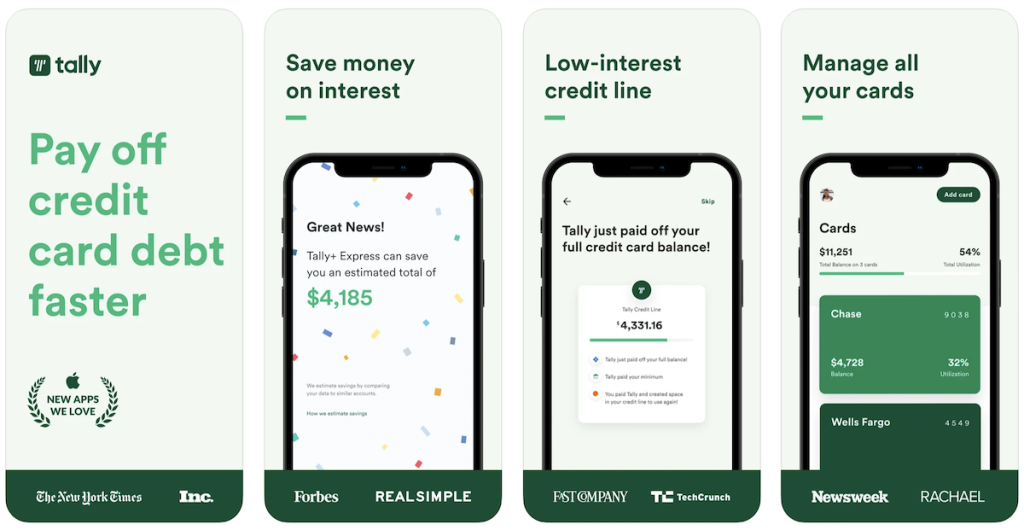 Tally works a bit differently than most debt payoff apps — in a refreshing way. Tally is the first automated debt manager. Tally makes it easier to save money, manage credit cards and pay down balances faster. Tally's low-interest credit line has helped thousands of people consolidate credit card payments into a single bill and save on interest and late fees.
It really offers a line of credit for you to pay down your debt. Basically, you scan in your credit cards. Tally then sets up the best repayment plans, usually beginning with the highest interest rate card and making minimum payments on all others. Thus, you do not have to worry about missing payment and only have one bill – the payment into your line of credit with Tally.
If you fail to put enough money into your Tally account, the payments are still made. But you then pay interest to Tally on the unpaid balance. You must have a credit score of 675 to qualify for use of Tally but think of the peace of mind. You make a single payment, and payments are made on time, with the largest one being made to a single creditor until that is paid off, and so on.
And in terms of security? Not to worry. Tally uses bank-level security to protect your personal and card information. You can learn more by visiting Tally or in our Tally review.
Our Pick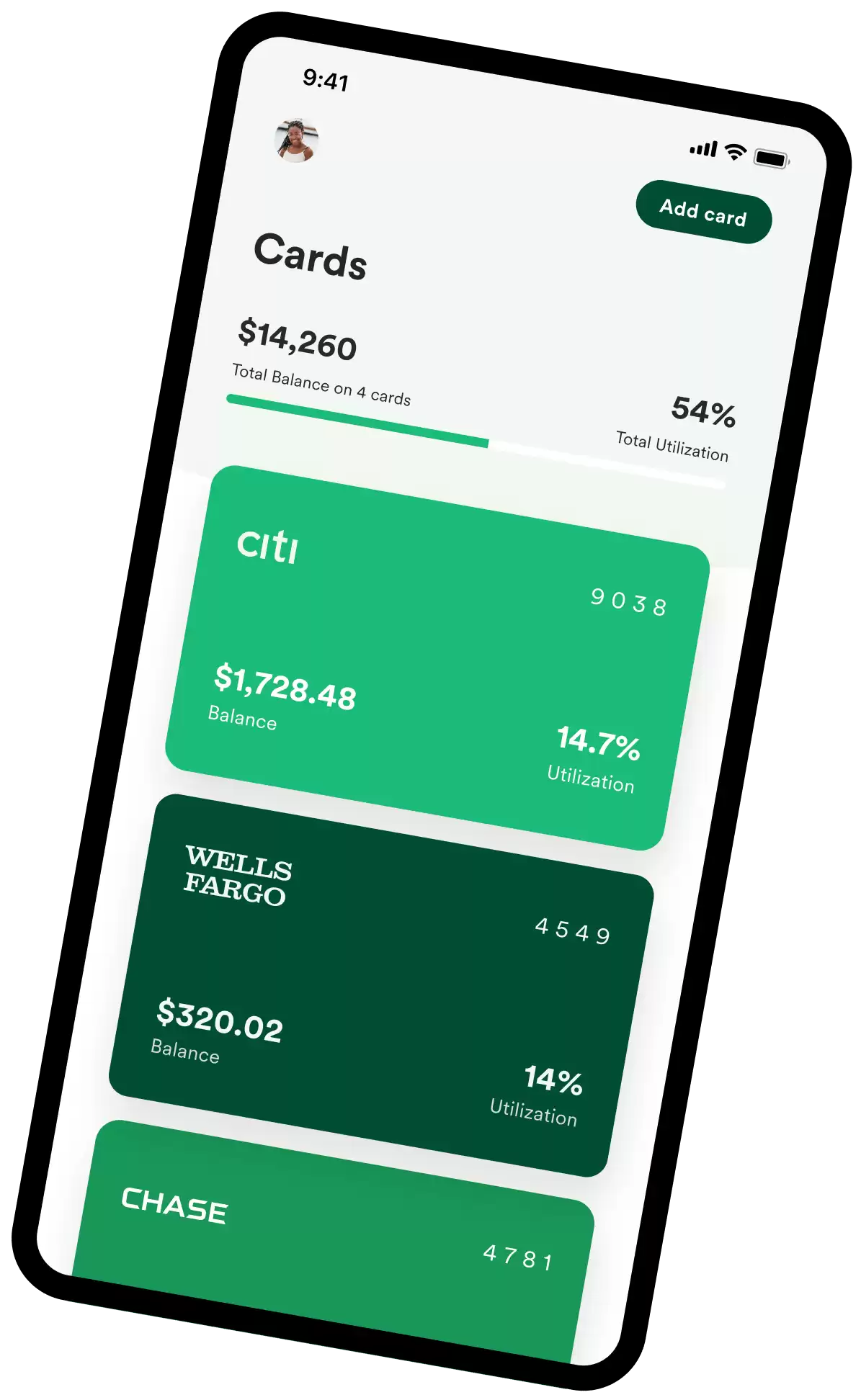 2. ChangEd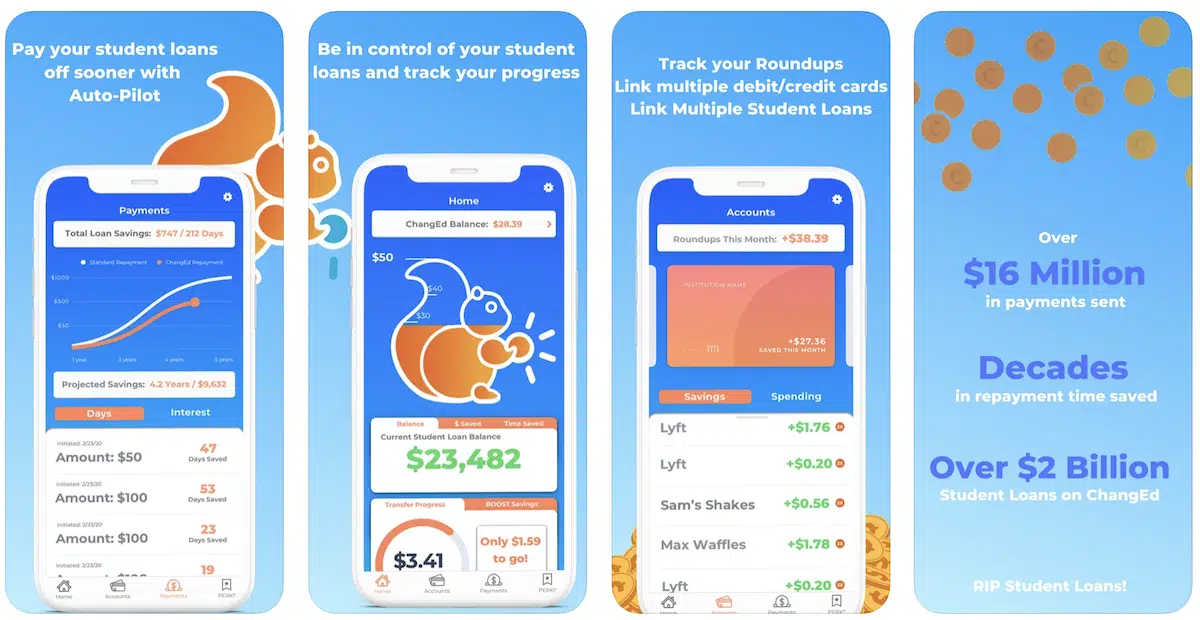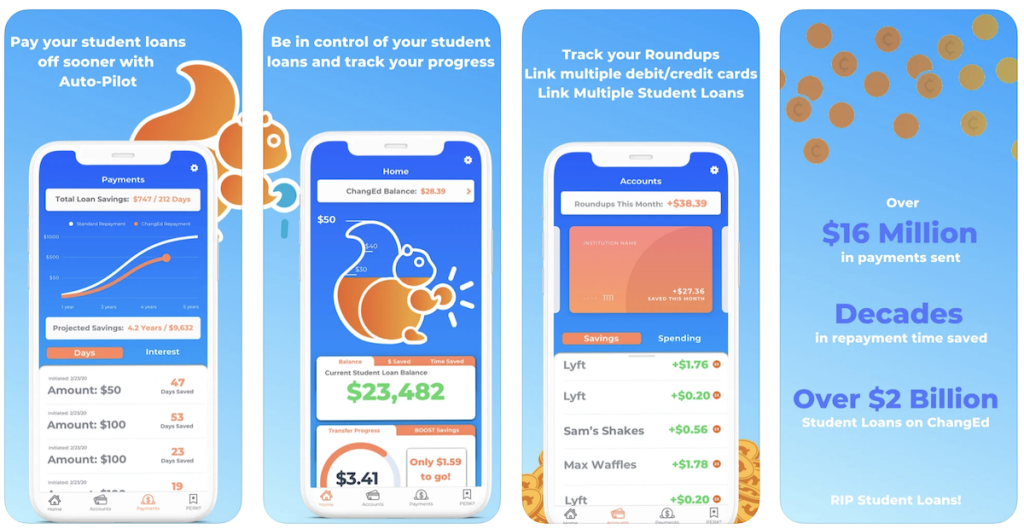 ChangEd helps student loan borrowers eliminate their student loans sooner and can help save thousands in potential interest costs. ChangEd does this by giving borrowers the ability to link all of their student loans in one easy-to-use app and then builds an effective repayment strategy based on their debt and spending habits.
Once accounts are securely linked, ChangEd helps save in small increments and applies those savings toward your debt automatically helping borrowers pay off their debt and save.
Users have access to features like rounding up everyday purchases and sending nickels and dimes toward their debt without feeling it. They'll be able to pay off their loans sooner and become student loan-free. RIP student loans.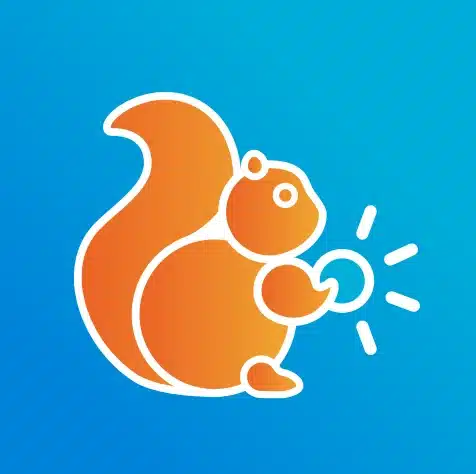 ChangEd
ChangeEd collects your spare change to pay off your student loans. You can easily save money, save time, and manage all of your loans in one place with ChangEd.
Pay Off Student Loans
3. Qoins
Cost: $2.99/month for one goal, or $4.99 if you upgrade to Qoins Bundle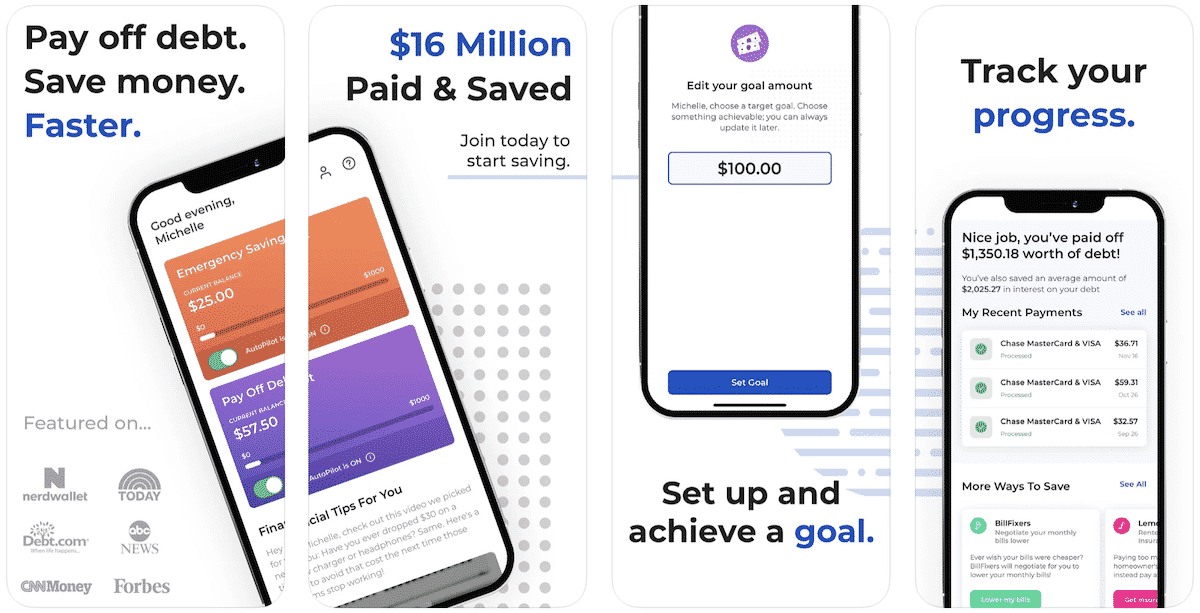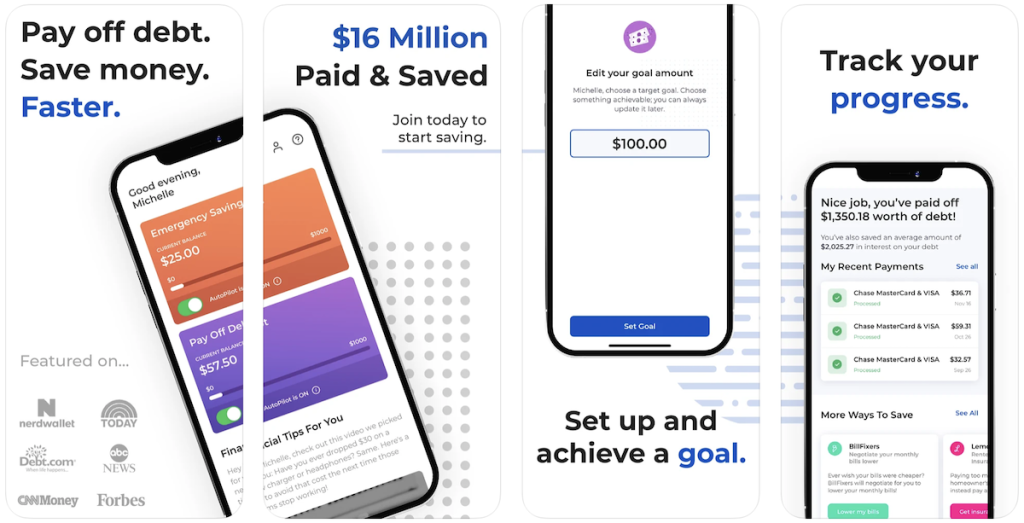 The best way to become debt-free, faster than ever is by using Qoins which is available on iOS and Android devices. Qoins is the first financial app that makes extra monthly payments towards your debt for you.
Select from round ups, smart-savings and more so you can pay off credit cards, student loans, auto loans, or mortgages using only your spare change. Many people that use the app contribute an average of an additional $60/month towards their loans, and are on track to get out of debt a minimum of two years early and save thousands of dollars on interest payments.
The Qoins app is amazing at what it does. It uses the change from your purchases to towards your debt. It's a great way to pay off debts quicker and works well to pay off debt 10x faster. When you pay off your debt faster, you raise your credit score as well. Whenever Qoins sends out a payment to your lender, they deduct a flat convenience fee of $2.99 off the top. No confusing percentage fees to worry about.
4. Debt Payoff Assistant
Availability: iPhone
Cost: Free, or $0.99 for the ad-free Debt Payoff Pro version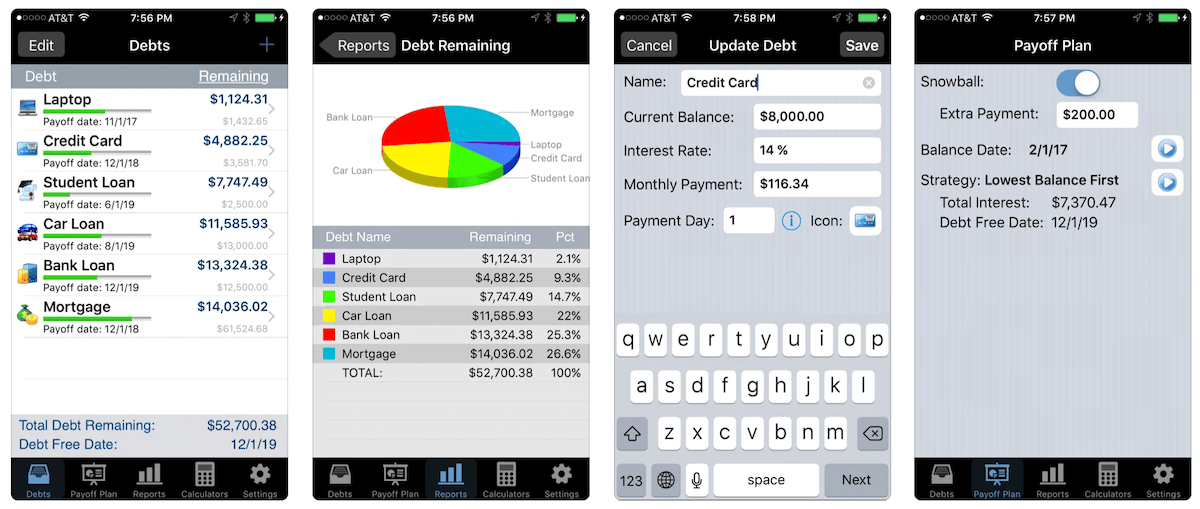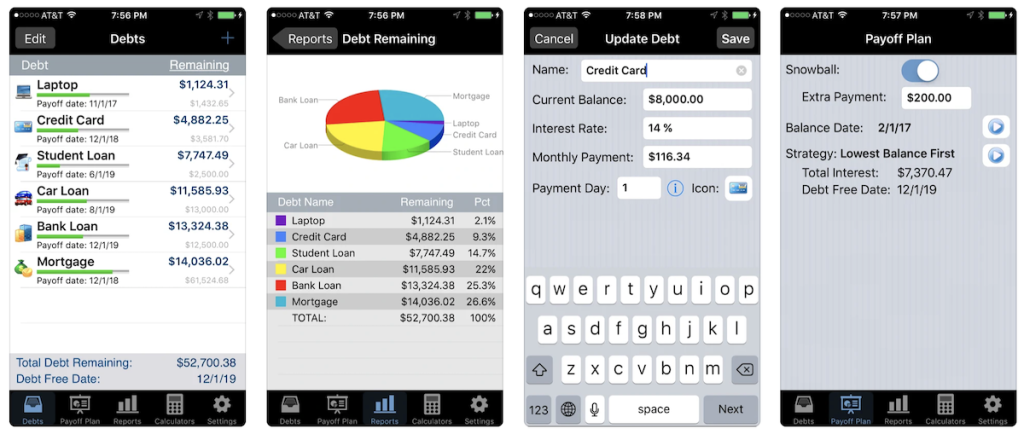 The Debt Payoff Assistant iOS app focuses on the snowball method – paying off the highest interest and/or lowest balances first and then moving on to the next.
You enter all of your debt information, and the app will show you the best strategy for paying it all off. You also have multiple options for payoff strategies – options that can be presented to you. You'll receive charts, built-in calculators, so you can see progress and stay motivated.
5. Debt Free App
Availability: iPhone
Cost: $0.99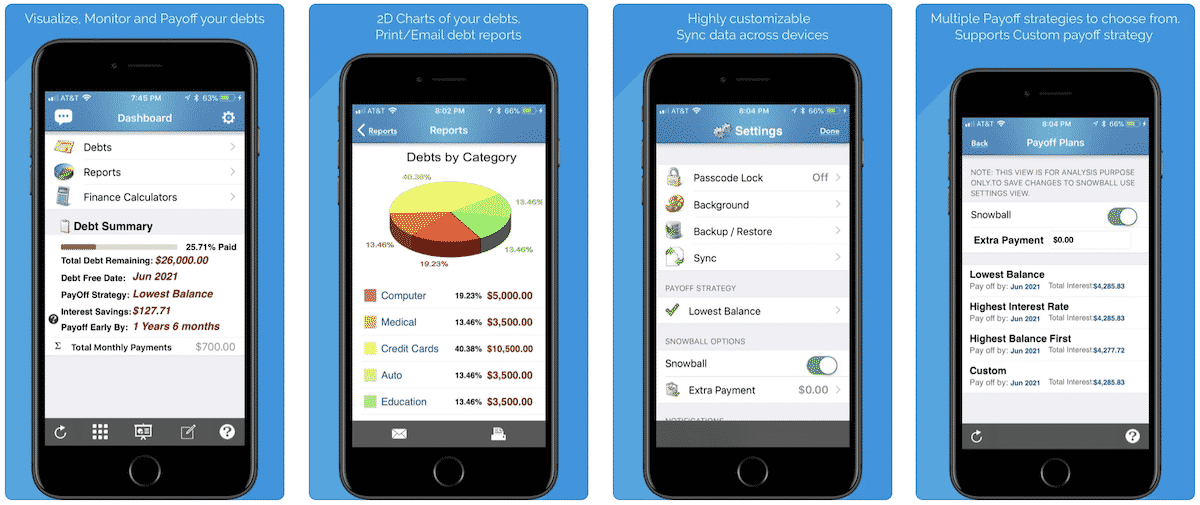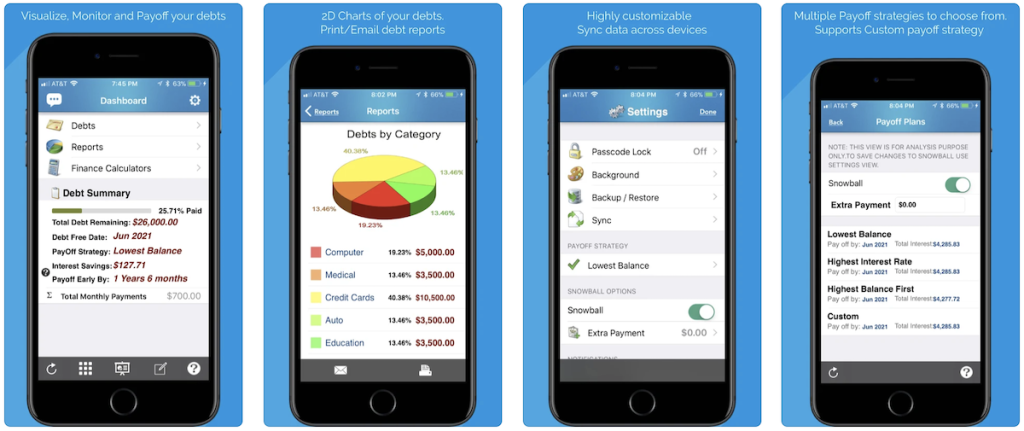 Debt Free App is another iOS app that costs $0.99, though it is a bit restricted when compared with other apps as you can only add one debt at a time.
But, if you have a large student loan or a mortgage, it's a great way to keep track of payments, balances, and place focus on getting rid of one debt at a time, with a provided payoff date. You can thus view your progress and stay motivated to keep at it. If you need a long-term strategy for a large debt, this app will provide it.
6. Debt Manager
Availability: iPhone
Cost: $0.99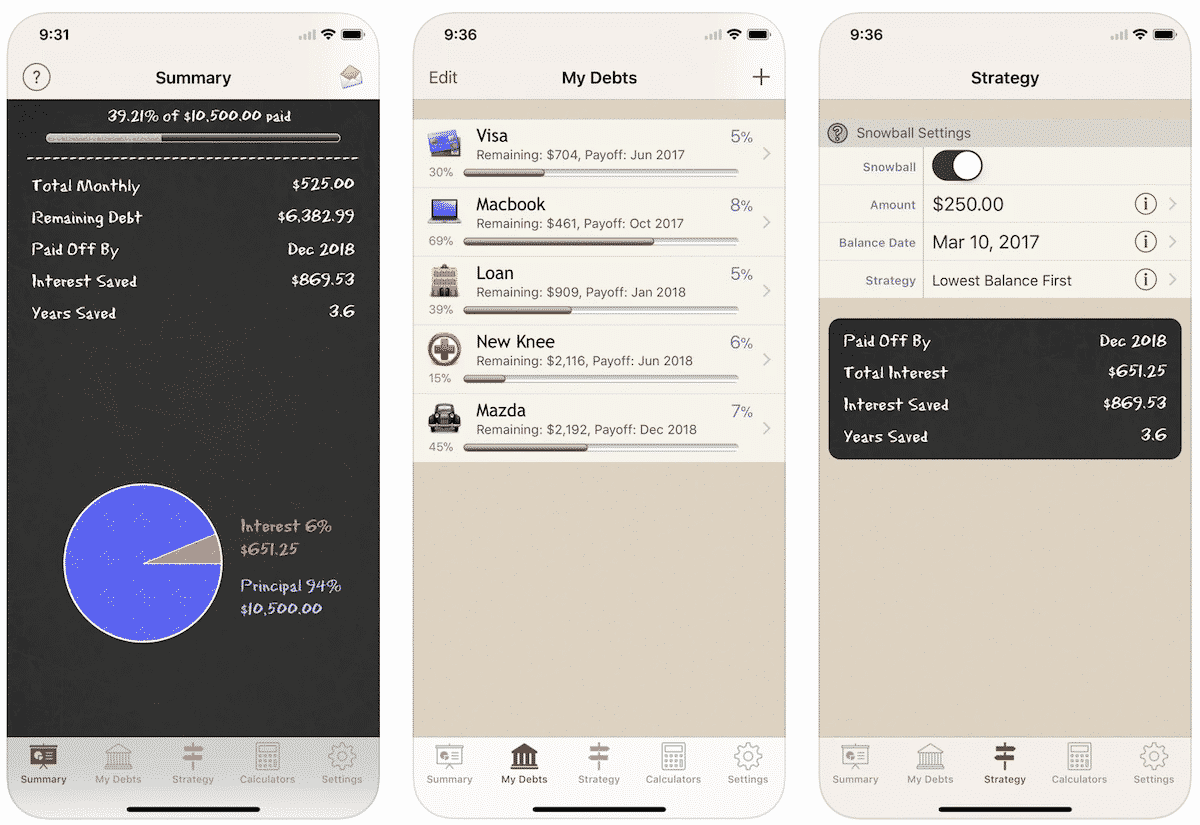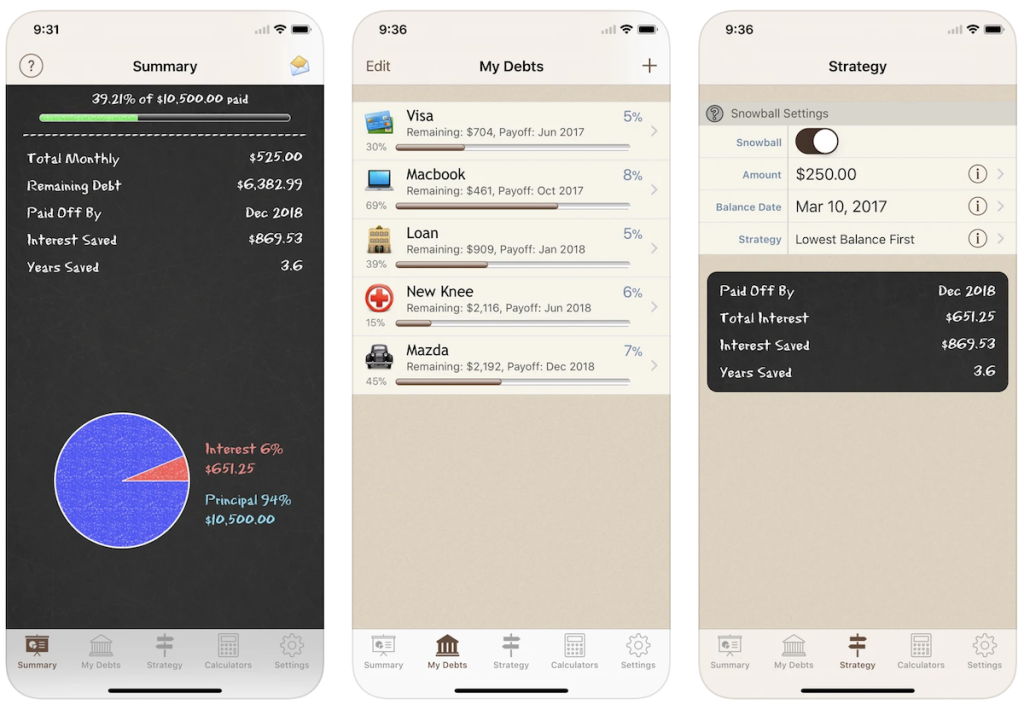 Debt Manager iOS app is not free, but you can probably afford the $0.99 that it costs.
Once you enter all of your debt, the app will suggest the best payoff method, through the snowball strategy, saving you the hassle of trying to figure out just where to begin. It will churn your numbers and provide the fastest and cheapest way to pay it all off.
You also get a "progress bar," your debt-free date, and the total in interest savings if you follow the suggested plan.
7. Debt Manager and Tracker Pro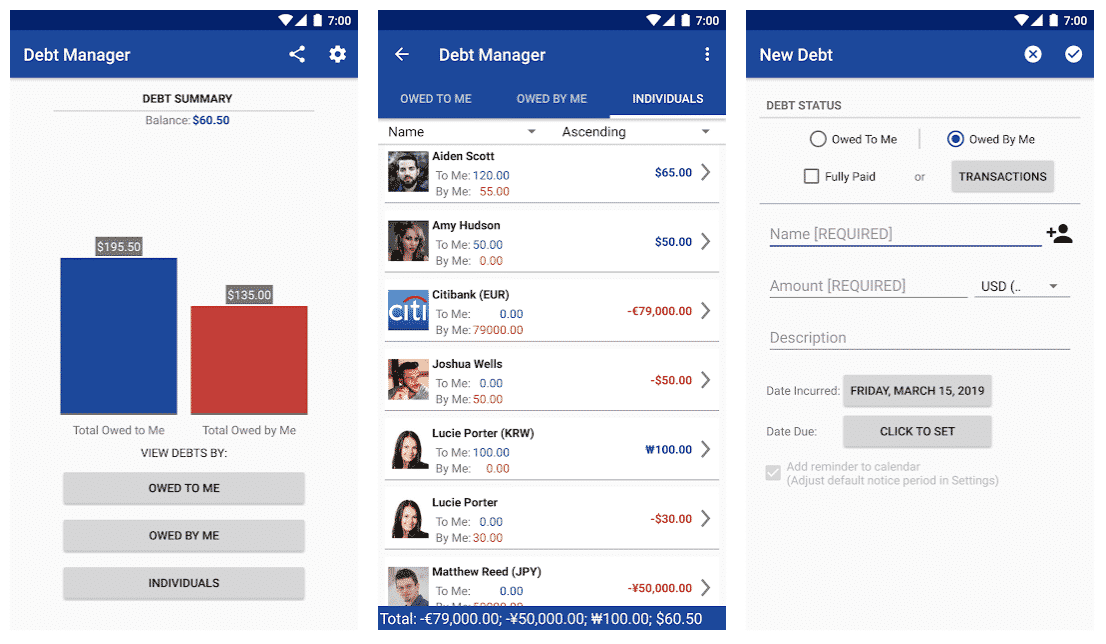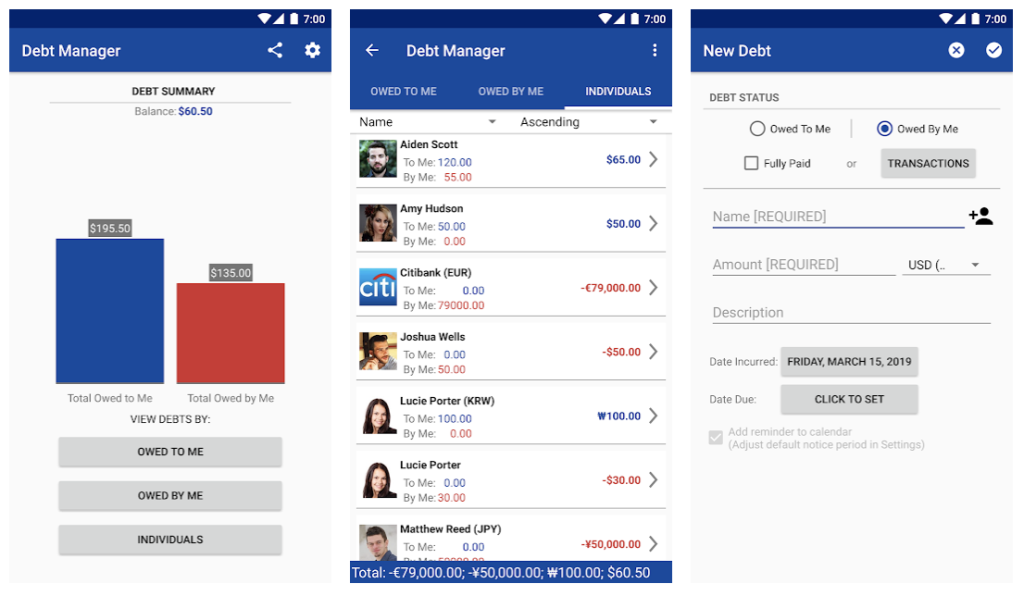 Debt Manager is not free, but at $2.49 it won't break your bank. This is an amazingly simple app that will allow you to stay on top of all of your accounts. Once you enter all of your accounts, you will get the big picture, so you can see all of your debt at once.
The default repayment method is a snowball, and you can just let that suggested method determine your payments. Or, you can set up other types of repayment methods, based on your own decisions.
Once you enter your information, the app will give you a recommended repayment plan for each account. You will also see the interest you are paying. And you'll receive pop-up reminders when each bill is due, so you are never late again.
8. Debt Strategy
Availability: iPhone
Cost: $0.99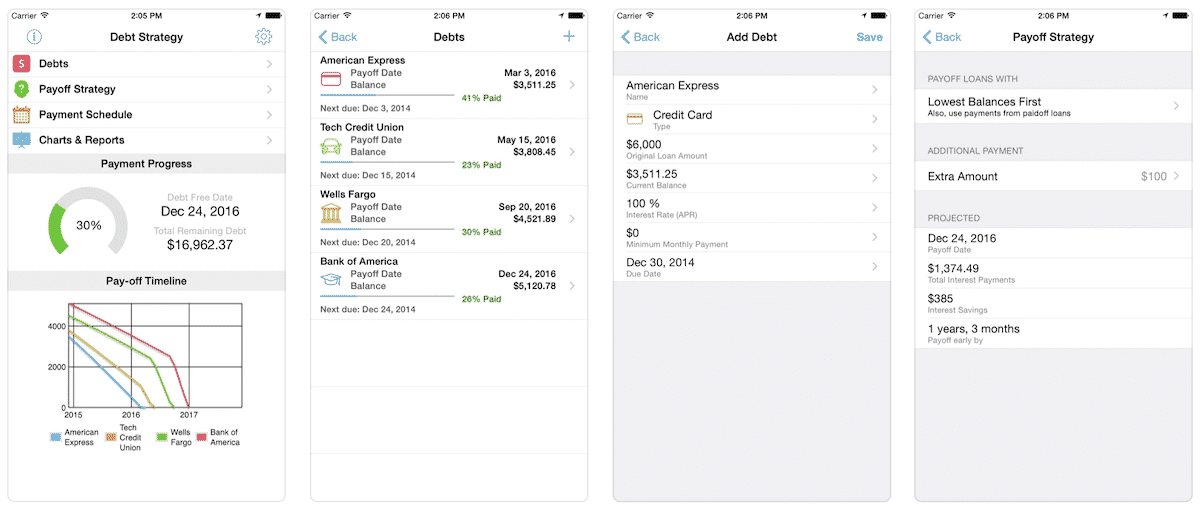 Debt Strategy app was created by an actual debtor who was tired of trying to manage her accounts, remember when to make payments, and figure out the best strategy for doing so. The cost is $0.99 – still a bargain.
You have a lot of input with this app. You will determine your own debt-free date, the priorities for repayments of accounts, and the app will then churn that information and provide you with your customized repayment plan, including how much you need to pay each creditor.
As you make payments, you record each of them manually into the app. You will also receive payment reminders. This debt payoff app helps you make your long-term debt payoff by providing lots of methods and strategies, as you consider your options.
9. Debitize
Update: Debitize has been acquired by Trim. As part of the acquisition, Debitize will be no longer operate as a separate product, and will be shut down in its current form.
Debitize app is integrated with its full website and both provide the same features. In a nutshell, you'll love racking up travel rewards without worrying about credit card debt. Say goodbye to interest and late fees with Debitize!
Use your credit card like a debit card to avoid debt and get peace of mind when paying with plastic. This is the perfect tool for everyone, but especially anyone with a history or fear of abusing their credit cards!
Debitize is committed to offering their users a great experience so their service is free. To keep the lights on, however, they do offer a (totally optional) premium feature which pays your credit card bills more frequently with Credit Optimizer which you can learn more in our comprehensive Debitize review.
The Bottom Line
You want to get out of debt. You have multiple payments form multiple creditors, all due at different times; you are not sure of the best strategy to get yourself out of debt as quickly as possible with as little interest cost as possible.
You're not alone.
How about an app that will manage this for you? Look at the list above, and you will find one that works for you. Next, you can learn about how to budget properly in the new year and different ways to earn money fast.
The path to relief: conquer your debt
Credit card debt can feel like a relentless weight pressing down on your every thought, an invisible force that dictates the choices you make day in and day out. 
This burden is more than just financial; it has a profound emotional and even physical impact, leaving you exhausted and disheartened. 
Despite your commitment to making regular payments, it can feel like you're trapped in a never-ending struggle, with interest gnawing away at your hopes for a debt-free future. 
Unlock financial relief with National Debt Relief.
Their affordable plans are tailored to your needs. Share your situation, and discover your personalized debt relief options today. 
Ready to tackle your debt head-on with National Debt Relief? 
It all starts with a free debt assessment. 
Don't miss this crucial first step – sign up using the button below to get started!