Is online banking safe and secure? A ton of people believe that it isn't — you may have heard from a friend or family member that their card was skimmed or robbed at an ATM or you may have experienced it yourself.
Online bank account safety should naturally be a concern for most Americans.
So if you wanted to learn how to boost your banking safety. We'll share ways to boost your banking security in this post.
Do Hackers Hack Banks?
Online banks are growing at a steady pace as 51% of U.S. adults bank online. This means a steady pace of hackers is flocking to find ways to penetrate the system. Large financial banks have to defend against thousands of cyberattacks every day.
A recent Capital One Breach this year shows a bank hacker needs just one gap to wreak havoc. They were the victim of a cyberattack where over 100 million people's information was captured. A single weak spot was all the hacker needed to capture all this sensitive data. Just this year, there have been 3,494 successful cyberattacks against financial banks, according to reports filed with the Treasury Department's Financial Crimes Enforcement Network.
These figures would concern anyone that banks online — including you and me. But does that mean you should completely stop banking online?
Related: Best Checking Accounts
Are Online Banks Safe to Use?
The short answer is yes. Banks that are online-only are safe, given that they have FDIC insurance. The Federal Deposit Insurance Corporation is an independent federal agency insuring deposits in U.S. banks and thrifts in the event of bank failures. So if you are a member of an online bank that has FDIC insurance, your money is insured up to $250,000.
So even in the event that a hacker steals your money, you will be safeguarded. Your online bank has to reimburse you for your losses if reported within 60 days. This is a reason why many people track their finances on a weekly basis by using free money management tools like Mint and Empower.
However, this doesn't mean that you shouldn't be aware of the risks associated with online banking.
Related: Understanding Infinite Banking: Does It Make Sense For You?
Best Online Banks to Use
These digital banks offer customers security and peace of mind when it comes to banking online. Some of them even offer bank promotions without direct deposit requirements, which is rare. Check out the offers below to see how you might be able to benefit from a partnership with a digital bank.
Axos Bank
Axos Bank is fully chartered, meaning it's as equipped as a traditional bank, just in digital space. There are no monthly fees associated with an Axos Essential Checking account, or any minimum balances to meet. If you want to open a new account, you'll have to meet an initial deposit to fund it, but you can choose from checking, savings, and money market accounts, as well as CDs and choose from several ongoing promotions.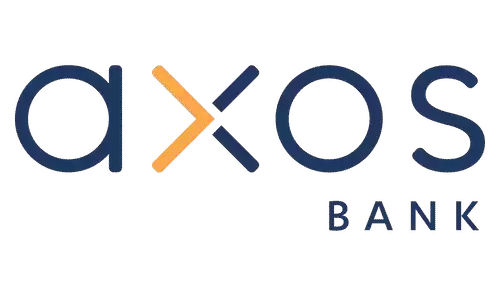 Axos Essential Checking
Open a free account and get paid two days earlier with direct deposit. You don't have to worry about keeping a minimum balance. As with the bank's other checking accounts, there are no monthly fees, and all fees charged by domestic ATM operators are reimbursed. Axos doesn't charge any ATM fees itself.
Open Account
Read Review
Pick between the two following checking accounts if you want to bank with Axos Bank:
Essential Checking: This standard checking account has no fees and unlimited ATM fee reimbursement, as well as express direct deposit.
Rewards Checking: Choose this account for up to 1.25% APY if you enroll in direct deposit, use your debit card, invest in managed and self-directed trading, or take out a loan.
Axos does charge wire transfer fees and offers an Axos Basic Business Checking. You can also open a High Yield Savings account for up to 0.61% APY. This requires $250 to start but the account is fee-free.
$200 bonus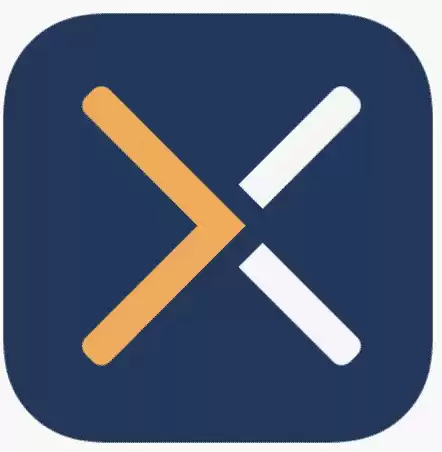 Axos Basic Business Checking
AXOS is an online bank that focuses on simple business banking online. It's free, and you get no monthly maintenance fees, a low minimum deposit requirement, and unlimited domestic ATM fee reimbursements.
Open Account
Read Review
Current
Current is a mobile banking app with a Visa debit card that gets you paid up to two days faster with direct deposit and gives you free overdraft up to $200 with no hidden fees.
Earn up to 15x points on purchases that are redeemable for cash back, 55,000 fee-free in-network ATMs, and instant gas hold refunds.
Open a Current Account or Teen Account to gain access to these perks and more. Spending Insights will help you get ahold of your budgeting and you can even use three Savings Pods to earn up to 4% APY with your new savings account.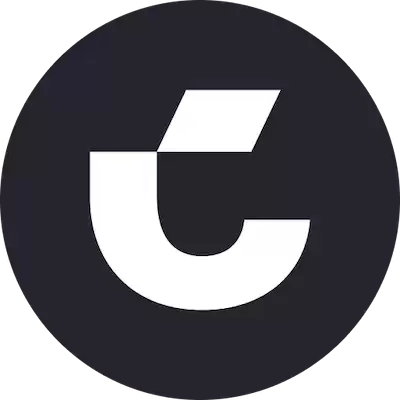 Current
Current is a mobile banking app with a Visa debit card that lets you build your credit, gets you paid up to two days faster with direct deposit and gives you free overdraft up to $200 with no hidden fees. Earn up to 15x points on purchases that are redeemable for cash back, 55,000 fee-free in-network ATMs, and instant gas hold refunds.
Open Account
Quontic
Quontic is a government-designated community development financial institution (CDFI), meaning it can lend money to borrowers other banks might push away. This digital bank recently eliminated a ton of fees, making it easier and cheaper to hold an account.
Quontic's High Yield Savings Account far outpaces the national average and is one of the highest APY's we've come across with no monthly fees. Features include remote check deposit, bill pay, account transfers, the ability to send money to friends and family, and receipt tracking to make managing your finances easy. Quontic offers a debit card connected to your Quontic savings account as well as access to over 90,000 surcharge-free ATMs.

Quontic High Yield Savings
Quontic's APY of 4.50% far outpaces the national average and is one of the highest APY's we've come across with no monthly fees. Features include remote check deposit, bill pay, account transfers, the ability to send money to friends and family, and receipt tracking to make managing your finances easy.
Open Account
Revolut
Founded in 2015, Revolut allows you to transfer and receive money in over 30 currencies. Accounts come with a linked debit card that converts money when you pay overseas. Choose from Standard, Plus, Premium, and Metal accounts that cost anywhere from nothing to 12.99 pounds per month.
Revolut also offers savings vaults for rounding up purchases, with rates as high as 1.95% APY for the Metal account, which is the top-tier account. You'll also get early paycheck access and the ability to invest in crypto with this bank. Many consider Revolut to be one of the best banks for freelancers who want to invest in cryptocurrency.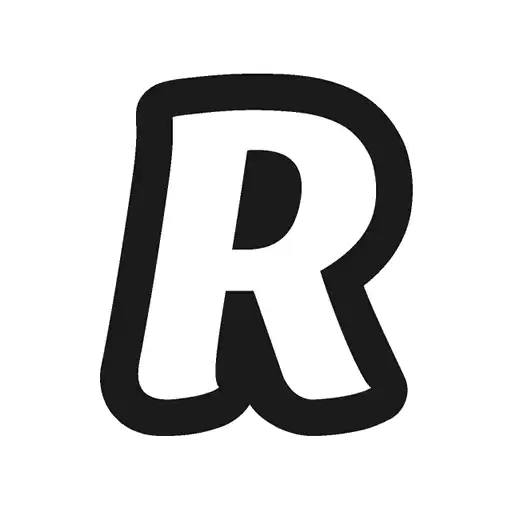 Revolut
Revolut offers a prepaid card for spending, along with "savings vaults" that can earn interest as well as bonus money. Plus you can send and request money with a tap, split bills easily with anyone in 200+ countries. From easy money management, to travel perks and investments. Open your account in a flash.
Open Account
SoFi
Newly launched, SoFi offers a single checking-and-savings account without monthly maintenance fees. With direct deposit set up, you can earn a high interest rate of 3.25% APY on Savings & Vaults accounts. Checking balances earn 2.5% APY when set up with a direct deposit. SoFi offers members access to up to 55,000 free ATMs as well as bonus cash when you set up direct deposit.
SoFi is also one of the best banks with early direct deposit allowing you to get paid up to two days early, without requiring a minimum balance. The user-friendly app helps you check your balances. Even if you don't set up a direct deposit, you can still earn 1.2% APY. Plus, you can take advantage of SoFi loans and SoFi Invest as well.
Earn $250 bonus

SoFi Checking & Savings
Earn more on your money with up to a 4.50% APY on all your savings balances and .50% APY on all your checking balances, too. Plus, pay no account or overdraft fees, get 2-day-early-paycheck, and more.
Open Account
Pros of Online Banking
---
Online banking is convenient because you can access your account from anywhere with an internet connection, which is great for when you're traveling. You can also typically check your account balance, view transaction history, and transfer money without having to go into a branch.
But there's an allure for online banking that goes beyond the 24/7 convenience.
Highest APYs Nationwide
You can earn the best interest rates on your money by using an online bank. That's because online banks don't have the same overhead costs as brick-and-mortar banks, so they can pass those savings on to their customers in the form of higher interest rates.
No Maintenance Fees
Another benefit of banking online is that you won't have to pay monthly maintenance fees. This can save you a significant amount of money over time, especially if you have multiple accounts.
Better Budgeting Tools
Many online banks offer budgeting and tracking tools that can help you stay on top of your finances. These tools can be helpful if you're trying to get out of debt or save for a major purchase.
Some online banks also offer features that can help you avoid overdraft fees, such as balance alerts or automatic transfers from a savings account.
FDIC-Insured
All banks, regardless of whether they're online or brick-and-mortar, are FDIC-insured, so you can rest assured that your money is safe in the event of a bank failure.
Fee-Free Access to ATMs
Many digital bank accounts provide free ATM access via a large network of ATMs, making it easier to locate free ATMs than visiting your physical bank's ATM.
Cons of Online Banking
---
Anyone who banks online faces these common risks. Learn more about them so you can protect your information — and money.
Poor Customer Service
Poor customer service is one of the most common risks associated with online banking. While banks are required to provide customer service, the quality of that service can vary greatly. In some cases, customers have had difficulty getting their questions answered or resolving problems in a timely manner compared to traditional banks. Digital banks offer lots of benefits but fall short of customer service.
There are many online banks with poor customer care. This includes someone you can contact if something goes wrong. Instead, most provide only a chatbox or email address, with no assurance that anyone will reply. As a result, consumers are frequently unable to resolve billing or account issues—or even access their own money.
Phishing
Phishing is a fraudulent attempt to steal your personal email and is usually done through emails. People who phish create fake websites that look real but are designed to steal your information. The goal of the phisher is to have you click the link in the email and get sent to the fraudulent website, and once you enter your credit card, password, or other account data, the phisher then has it.
Odds are that if you check your spam folder you'll see tons of phishing emails. See if you can identify why the phishing email below is malicious: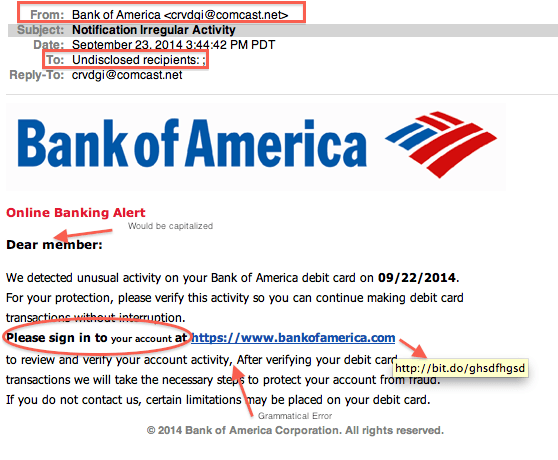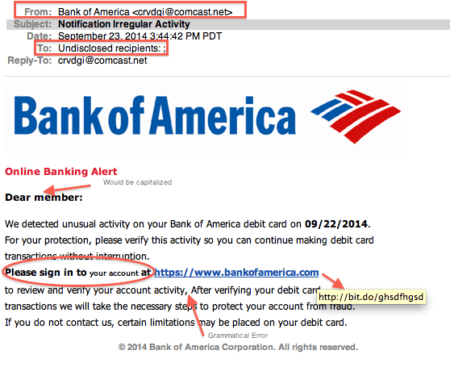 You might have spotted a few mistakes — it is from a Comcast email (not Bank of America), it not sent directly to the recipient, grammatical errors, the text does not match, and the hyperlink is to a different site. How alarming is that?
Related: 11 Best International Money Transfer Apps to Use
Identity Theft
According to Experian, Identity theft is when someone steals your personal information and uses it without your permission. There are several forms of identity theft, and each one can affect you in a different way. The most common forms of identity theft are:
Driver's license ID Theft
Social Security ID Theft
Medical ID Theft
Character/Criminal ID Theft
Financial ID Theft
The goal of the criminal is to get as much information from you as possible. According to CreditKarma, identity theft is hard to protect against because hackers can obtain your information in a data breach. So it can happen to anyone and the effects can be damaging.
Related: What are Overdraft Fees and How Can You Avoid Them?
Keylogging
A keylogger (short for keystroke logger) is software that tracks or logs the keys struck on your keyboard, typically in a covert manner so that you don't know that your actions are being monitored. So if you click a suspicious link or visit a shady website you can have a keylogger installed on your device — which will record your keystrokes to steal passwords and other sensitive information.
Lack of Personal Interaction
Another risk of online banking is the lack of personal interaction. Unlike traditional banks where customers can go into a branch and speak to a teller or banker face-to-face, most online banks offer very little in the way of personal interaction. This can be frustrating for customers who prefer to have that type of interaction when managing their finances.
Online Banks Can Go Offline
While online banks are convenient, one of the risks is that they can go offline. This can happen for a variety of reasons, including technical difficulties, power outages, or even cyberattacks. When this happens, customers may not be able to access their accounts or conduct transactions.
This can be a major problem if you need to access your account urgently or if you're in the middle of a transaction when the bank goes offline. In some cases, you may not be able to get your money back if the transaction doesn't go through. However, It seems no bank is immune to these problems. Technical outages happen to financial institutions – online-only and brick-and-mortar alike — worldwide.
Related: What Happens When a Bank Fails?
How to Protect Yourself
As you can see online banking has some risks so we've outlined some tips to make sure you're protected.
Choose an Account with Two-Factor Verification
Try to use an online bank account that offers two-factor authentication (2FA) for added security. In 2022 a lot of, but not all, online banks offer this service which is an extra layer of protection used to ensure the security of online accounts beyond just a username and password.
More websites and online banks are using this to provide additional layers of security. If you're not using it, you should check to see if your online bank offers it and turn it on.
Related: Never Pay a Bank Fee Again: How to Avoid Extra Charges and Keep More of Your Money
Create a Strong Password
Make sure that you create a secure password and that your password is strong. Using a password manager helps here since it can create strong passwords but also remember them for you. If you don't have a password manager, making sure you use a mix of upper and lower case letters, numbers, and special characters are key.
Always keep away from using any ordinary words or phrases and on no account create a password that holds your name, initials, or your date of birth. If your online bank permits it, then be sure to change your passwords every few months.
Use Security Software
Security software is necessary these days, no matter what you are using your computer for. At the very least, make sure you are running antivirus software that scans your device weekly.
This will make sure you are protected from trojans, keyloggers and other types of malware that could be used to gain entrance to your financial data. In addition, make sure that you are updating the antivirus software so there aren't any security holes that you are missing.
Avoid Clicking Phishing Emails
Pay attention to your emails before clicking on anything. Phishing emails can look very real if done correctly. As discussed earlier, this is a common practice by hackers who want to get your password credentials and information from you for malicious reasons.
When using any digital bank and you log in to 'your account' — they will take your username and password and, ultimately, your cash. So it is always safer to enter your online bank account by typing the address into your browser instead of visiting the site through a link.
Also, be attentive to unwanted phone calls that claim to be from your bank. Your bank generally will want you to answer a safety question and they never ask for passwords or PINs (they may ask about for some letters or numbers from them but in no way the entire thing).
Monitor Your Banking Accounts Regularly
It should go without saying that checking your bank report every month is a good routine to get into as any unauthorized transactions will be there to monitor. Also, make sure you are up to date on the best credit card safety tips.
You have the due diligence to monitor your online banking accounts and take advantage of the fact that you can check from your phone or laptop in seconds to see if your accounts remain safe.
Is an Online Bank Right for You?
Now that you know the pros and cons of online banking, you can decide if it's the right choice for you.
If you're comfortable managing your finances electronically and don't mind doing it without personal interaction, then an online bank could be a good option. Just be sure to research the different banks to find one that fits your needs and offers the features you're looking for.
You should also keep in mind that online banks are subject to the same risks as any other financial institution, so it's important to choose a bank that is FDIC-insured and has a good reputation.
While there are some risks to consider, online banking can be a convenient and easy way to manage your finances. Just be sure to do your research and choose a reputable bank.
Have you ever used online banking? What was your experience? Let us know in the comments below.
Earn $200 bonus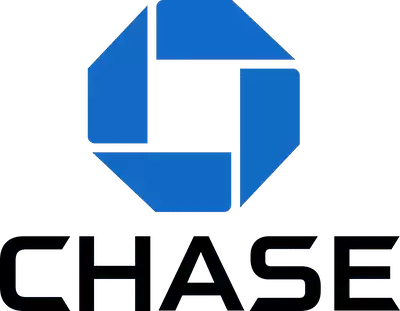 Chase Total Checking®
Secure a $200 bonus in a mere 15 business days when you establish your direct deposit within 90 days. Dive into unparalleled convenience with access to over 15,000 ATMs, 4,700+ branches nationwide, intuitive online banking, and a top-rated app. Offer expires 10/18/2023, so act fast!
Redeem your $200 here