Mint is a popular financial app you can use to link your bank accounts in one place. However, some people may be wondering if Mint is safe to use? That's a good concern, especially with all your financial information brought together in a single platform that could potentially be incredibly easy to hack.
If you're not sure if Mint has enough security measures in place to keep your information safe, you're not alone.
In this article, we'll discuss how secure Mint really is. From identifying the security features set in place to keep you safe to understanding how Mint deals with your personal financial data, our guide will satisfy your curiosity about the safety of creating and maintaining a Mint account. You might even feel secure enough to take advantage of the many features this popular app offers for free.
Are you ready to get to the bottom of Mint's security and find out how secure this financial app really is? Let's get started.
What is Mint?
Mint is a free personal finance tool you can use, and perhaps one of the best money-saving apps out there. You can download the app or use the website version for free. Mint was launched in 2007 and has been providing plenty of useful personal finance features to users free of charge ever since.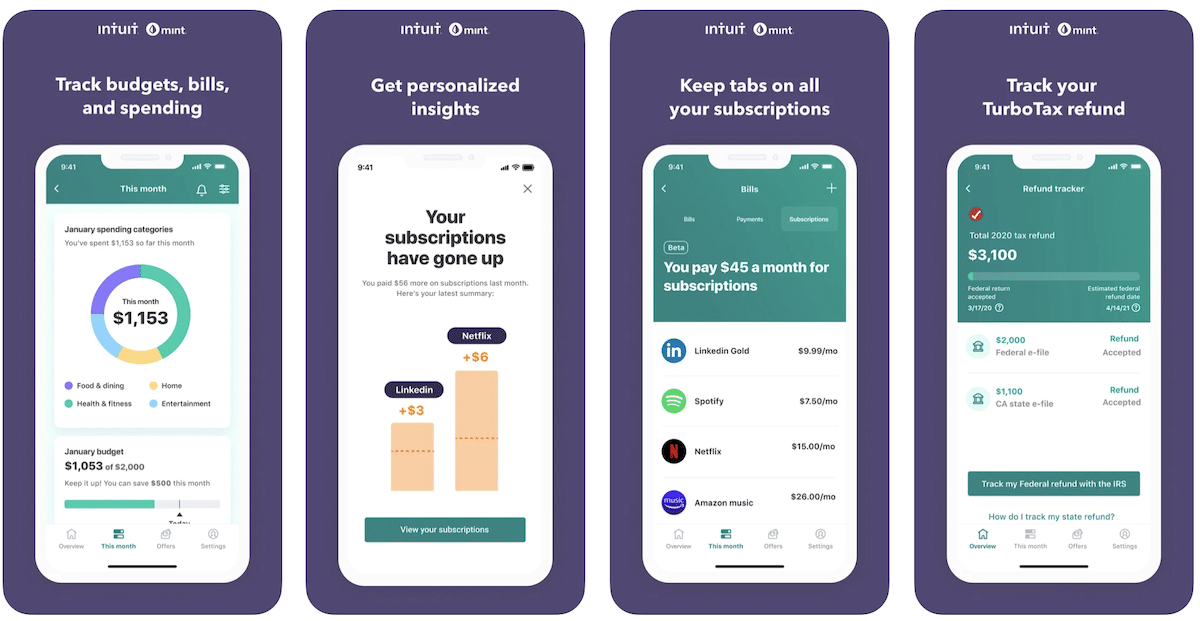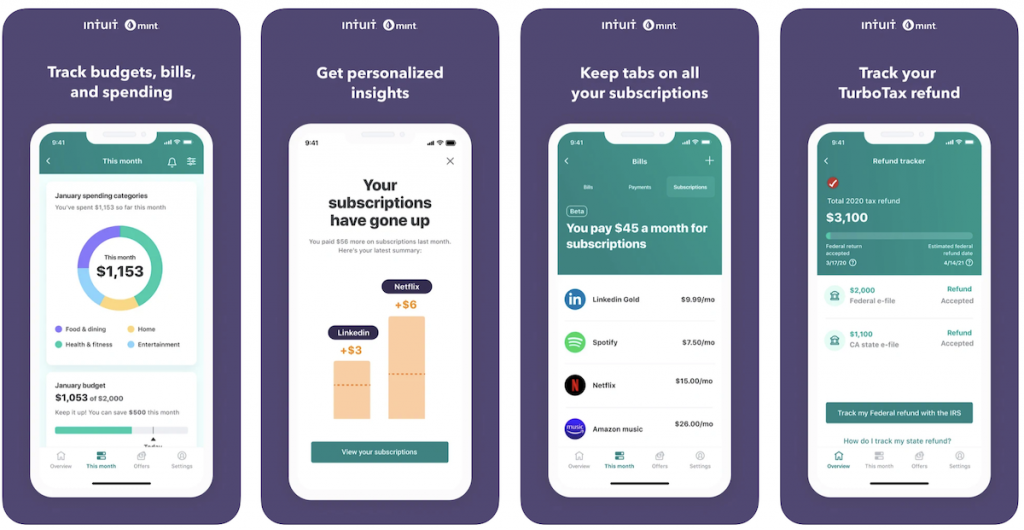 Purchased by Intuit (maker of Quickbooks and TurboTax), Mint can be used in addition to your online banking accounts. Signing up is as simple as entering your email, phone number, and creating a username and password.
Besides linking all your financial accounts in one place, Mint features a bill payment tracker, credit score alerts and summaries, the ability to track investments, and even a net worth tracker.
You can easily check your TransUnion credit score and use it to help you improve your credit score overall. You won't get penalized for checking your score with Mint, so you can keep tabs on what's happening in near real-time.
If you're struggling to figure out how to pay off debt, Mint is one of the top budgeting tools. You can customize your budgets to include personalized categories so your budget speaks to you specifically.
In fact, it's one of the best for budgeting in college for students because it allows you to keep everything in one place, similar to platforms that keep your classes organized and easily accessible. 
For more on how Mint compares to other apps like it, check out our Rocket Money vs. Mint comparison. You might be surprised to find out how much this free resource offers you.
Is Mint Safe to Use?
Since its inception in 2007, Mint has yet to be hacked. The security of this application stems from the function it provides, mainly as a read-only service.
In short, this means Mint can only read the balances on your financial accounts and report them. It cannot change or otherwise manipulate any of the data therein.  
In fact, beyond this simple structure, Mint also stores its customer routing and account numbers in a separate location from the rest of the company's information. The only way this system could be hacked is through physical theft, which would not only require knowing where this information is stored specifically but accessing it as well.
The bottom line is that even if someone was able to hack your Mint account, they would only be able to see your account balances. Even your account and routing numbers are not shown in full on your Mint account. Plus, you can't actively manage your investments on Mint, so those are protected as well.
Mint Security Features
Mint incorporates many security features. For example, Mint will track your devices and monitor them to ensure they're still active. You may be prompted to verify these devices as a way to ensure access to your Mint account is secure.
There are additional features that establish Mint as a secure platform you can use for your finances, which we've detailed below.
Login and Password
As with anything, the stronger your password and login information, the harder it will be to hack. At the same time, you'll want to make it something unique that you can also remember. We recommend using an entirely different login and password than any other app you access. This helps keep your financial accounts secure.
Multi-Factor Authentication
Mint also requires multi-factor authentication for each login. This includes one of the following:
A four-digit code (PIN)
Face ID
Touch ID
You will have to provide this information in addition to logging in. While this can lengthen the login process overall, it does help to keep your Mint account secure. Plus, the biometric authentication procedures do provide that extra layer of security since they're harder to hack than a string of four numbers.
Encryption
The industry standard for encryption is 128-bit, which is exactly what Mint uses. Mint has security monitoring through TRUSTe as well as an SSL certificate from VeriSign.
How Does Mint Make Money?
As you might expect with any free service, Mint does sell your data. However, they do place a caveat upon this statement. Your account information, if shared, will be made anonymous. To even be eligible for sharing/selling, your account also requires a certain number of transactions and data points.
Mint also makes money from affiliate links like credit card offers, along with the many ads and promotions you'll see as you navigate your Mint account. While they might be annoying in some cases, they're necessary for offering you the free services from Mint.
How to Keep Your Mint and Financial Accounts Safe
Generally speaking, online banking is safe and Mint is no different. With all this in mind, you might be wondering how you can keep your Mint account safe.
Here are some best practices we recommend:
Never use Mint over unknown WiFi
Don't share your password with anyone, especially over the internet/email
Install a firewall and/or virus protection (always a good idea anyway)
Don't use the same email and/or password as other apps that are more susceptible to being hacked
Don't share your information over the phone unless you've verified you're speaking with a Mint agent
These basic practices can go a long way in keeping your financial information safe.
What to Do if Your Mint Account Gets Hacked
If for some reason your Mint account were to get hacked, there are ways you can minimize the damage. For example, if your phone gets lost or stolen, you can remotely access your account online. This allows you to change the password to get in or delete your account entirely.
The fact of the matter is that anyone with your phone or log-in information will still need to complete the multi-factor authentication. This provides that extra barrier that can truly make a difference between someone getting into your account with little effort and keeping your Mint account from being hacked.
Apps like Mint
Mint is just one of the many budgeting apps out there. Other popular apps include Simplifi, Tiller Miller, Empower, and Qube Money.
Empower is another free money management tool that focuses on tracking your savings, assets, and investments. You do have access to budgeting tools and the ability to manage your financial accounts in one place. Empower can help you set up daily, weekly, and monthly spending targets, so that you're staying on top of using your money wisely.
One of the most useful features offered by Empower is the Allocation Checkup feature, which reviews your investment portfolio to save you on mutual fund fees. This app also integrates with Apple Watch so you can keep track of your finances no matter where you are. All your accounts are updated in real-time, so you'll know exactly how you're doing in terms of goals.
While most people use Empower as a free resource, you also have the option of adding personalized investment and wealth management advice for a fee. All investments under $1 million incur an annual 0.89% management fee, but depending on the advice you get, it could definitely be worth it.
Tiller Miller offers a free 30-day trial to see how their budgeting tools and savings trackers can help you achieve your financial goals. After your free trial is up, the service costs $79 per year, with no pesky ads to distract you from spending wisely and saving to meet your goals.
With the ability to group assets and expenses so you can better understand them, Tiller Miller's tools also include the Foundation Template. This resource gives you pre-made financial documents that help you track your expenses, establish and maintain a budget, track your income, monitor your account balances, and review your net worth. Free Community Templates supplement these documents as well.
Tiller Miller also provides a morning email that reviews the balances in your account, as well as any transactions that cleared. This can be very useful, especially for catching fraudulent charges or even making sure legitimate charges go through correctly.
Like Mint, Simplif by Quicken allows you to customize your budgets and track your spending. This money management tool connects your accounts in one place without ads, so you can focus on what's most important.
Simplifi offers a 30-day free trial to test-drive customizable budgets, as well as the ability to see your savings goal progress. You can even use Simplifi to find subscriptions you don't use to increase those savings even more. If you want to continue using Simplifi after your free trial, it will cost you $5.99 a month, or $47.88 for the entire year.
By partnering with Choice Financial Group, an FDIC-insured bank, Qube Money offers digital cash envelopes for members so they can take advantage of the envelope system to achieve their budgeting and savings goals. All you need is an account and corresponding debit card with Choice Financial Group.
Qube Money makes the envelope budgeting system easy. Qubes represent the budgeting "buckets" that you put money into for specific categories. For example, you might have a Grocery Qube, a Fast Food Qube, and a Utility Bills Qube.
When you're ready to use this money, simply open the app and select the Qube you want to draw money from. The funds within that Qube will transfer immediately to the debit card so you can make that purchase. Once the purchase is complete, any remaining funds will return to that Qube.
While each of these apps includes some of the same features you can find on Mint, only a few of them can match the value of this free money management tool.
FAQs
Secure Your Financial Future With Mint
Though it might seem counterintuitive, Mint provides a free and secure way to incorporate all your finances into one convenient app. There are many other budgeting apps available, but Mint is the only free app that provides a large number of features without a subscription plan.
We hope this article has helped you determine whether or not Mint is secure enough for you, as it can certainly positively impact your financial future. How will you use Mint to achieve your financial goals?
Get Out of $30,000 or More of Credit Card Debt