The need for money transfer services is increasing as more and more people send money abroad. Especially for students who are studying overseas, money transfer services can help them receive money from their parents and relatives in order to sustain their education. Because of that, a number of money transfer providers are developing their own apps to offer a more convenient way of sending money across borders.
However, the choice can be confusing and overwhelming, considering the plethora of mobile money transfer apps available on the internet. So, which one should you pick? Which one can give you the best user experience and convenience? Which one can you trust?
Want free money?
Simply sign up for Aspiration, and the free banking app will give you cash for free, you just relax while it gives you $150 just for opening a new debit card. There's no catch. This bank account is legit and only takes two minutes to sign up for an account.


Below is a list of the best international money transfer apps that are available right now, as well as why you should use them.
WorldRemit (Best Money Transfer Service)
WorldRemit is another online money transfer provider that allows people to send money from over 50 countries to over 140 countries. The app is also very secure as it is backed by Norton, a reputed antivirus and anti-malware software, which ensures that your account is completely safe and secure. This app is also simple to use.

With WorldRemit, you no longer have to rely on traditional money transfer services that are usually expensive. With affordable fees, young people, especially students, will find this app really useful as it allows them to send and receive money from any point in the world, anytime, making it highly convenient for everyone.
You can learn more about WorldRemit here
MoneyGram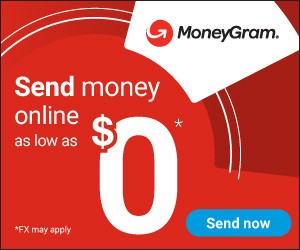 MoneyGram is one of the largest money transfer providers in the world. You can send money using the MoneyGram app to over 200 countries and territories around the world. You can also pick up money from 350,000 different agent locations worldwide.
The company's large number of agent locations makes MoneyGram a very convenient international money transfer provider, which can be helpful to millennials wherever they're located. Whether they're at school or on vacation, young people can still send and receive money through the various agent locations. MoneyGram also has reasonable transaction fees and a long track record in the money transfer industry, which will guarantee you that your money is safe when you use their app.
Click here use MoneyGram to send money
TransferWise
Established in 2011, TransferWise has become the leading international money transfer provider in the world. The company focuses on making money transfers more affordable by charging their clients with low and transparent fees. Another good thing about using TransferWise is that they transfer money by converting it into another currency at the true mid-market exchange rate.
TransferWise is an ideal international money transfer service for young people or students since they rely mostly on remittance to continue their education. The app's cheap transaction fees and fast money remittances can, therefore, be beneficial to them.
Aside from that, TransferWise also has no minimum transfer amount so you can transfer as much money as you have. The app now supports sending money to 71 countries and receiving money from 43 countries.
Western Union
Western Union is one of the first companies to provide international wire transfers. You can use Western Union to transfer and receive money from more than 200 countries worldwide.
By using their app, you'll also be able to send and receive money in over 125 different currencies. Western Union makes a name for itself by having one of the fastest money transfer services in the industry wherein only a couple of minutes are needed for the transaction to be completed, unlike banks, where your money transfer can take 2 to 3 days or even a week before the recipient can receive the money. This feature can be crucial to students who may need to immediately receive funds during emergencies.
Their app also supports bill payment services in some countries, which is another reason why you should download their mobile app.
OFX
OFX's app is another great alternative to traditional money transfer services. Their mobile app allows you to send money from more than 80 countries worldwide. But perhaps the best thing about using the OFX app is its cost, as it offers one of the cheapest international money transfer services in the world, and there's no limit to how much money you can send.
Want free money?
Robinhood is a free investing app for your phone. I really mean free all around – free to join and they don't charge any fees to buy or sell the stock. You can get a share of stock like Apple, Ford, or Sprint for free when you join through this link (must complete application). The value of the free share may be anywhere between $2.50 and $200 and fluctuates based on market movements. You've got nothing to lose.
However, take note that the minimum transfer amount is $250. You also have to keep in mind that same-day delivery of your money is not usually possible. But if you are looking for a money transfer service that is superbly affordable, OFX will help you save plenty of money because of their low transaction fees. The affordability of OFX's money transfer services is great for parents who are looking to save a few extra dollars.
CurrencyFair
Out of all the international money transfer apps listed here, CurrencyFair has probably the most unique approach when it comes to their services. Instead of exchanging your money into different currencies with a bank or a money transfer company, you actually get to exchange directly with other users of the app.
This peer-to-peer money transfer service allows users to choose what exchange rate they would like. But if you don't want to wait for another user to agree with your rate, you can always choose to convert your money using the best exchange rate provided by CurrencyFair. As of now, the app supports 18 different currencies and allows you to send money back and forth in over 150 countries.
Square Cash
Another free and easy-to-use app that you can also utilize to pay your bills and send money internationally is Square Cash. You just have to download the app and sign up for an account. After that, you just have to enter the details of the person that you're sending the money to and choose the amount you want to send.
Its interface is very clean and straightforward, and you'll be able to send and receive money in no time. This is perfect for young people who are not tech-savvy or for those who are just simply looking for a money transfer app that allows them to send and receive money without a hassle. The simplicity of the app can be also perfect for non-techie parents or older relatives who may just want to use an app with no frills.
Venmo
Making the list of the best international money transfer apps to use is Venmo, which also happens to be owned by PayPal. However, the Venmo app is completely different from PayPal's money transfer services. The Venmo app was designed to help users send money to their friends and family easily and in a more interactive way, thanks to its built-in social media features such as the Venmo newsfeed and the ability to use it as a messaging app.
Along with its mobile app, Venmo has become one of the most popular money transfer services for young people because of its features. The app also allows you to reimburse your friends or family members when paying for a meal or for making purchases.
Azimo
The Azimo app, which is available in both Google and Apple's app store, allows you to send money conveniently. Once you hit that send button, the Azimo app will keep you fully aware of the status of the money that you sent. Azimo even has location-specific instructions for collecting the money that you sent, which can be very helpful, especially for countries that have different laws regarding collecting bank and cash payments.
Azimo also prides itself for their very reasonable transaction fees. At present, they have over 200,000 collection points around the world, which means you can send and receive money anytime and anywhere. The incentives they offer are also very ideal for young people, as Azimo will reward them with dollars on their next money transfer transaction if they get to invite their friends and others to use the app.
PayPal
Even though it is not the best international money transfer app to use, PayPal still remains to be one of the most popular money transfer solutions in the world despite its high transaction fees when it comes to international money transfers. However, this is understandable since PayPal's focus is more on the e-commerce industry.
When you look at the PayPal app, you will see that it still maintains a corporate user interface. It still has security measures that require every user to enter their password every time they open the app. These protocols may be an inconvenience to some users, but this is to ensure the security of your account.
When it comes to transfer speeds, PayPal doesn't disappoint. If you want to send money using the app, all you have to do is to enter the email address or phone number of the person you're sending it to.
Conclusion
What makes these international money transfer apps great is that they allow you to transfer money from one place to another within minutes. Of course, not all of them are the same, so weigh their pros and cons, and see which app has the features you need. Keep in mind as well that the transaction fees will depend on the app you will use.
The Best Apps to Save You Real Money
We are on our phone a lot, right? Wouldn't it make sense to save money with the best money saving apps?
App
At a glance
download
Aspiration
★★★★★


Get a $100 bonus at Aspiration when you open and fund an account with $10 or more. Then use your Aspiration debit card to make at least $1,000 worth of cumulative transactions within 60 days of account opening.

CLAIM $100 BONUS

Robinhood
★★★★★


Open a new account in the next 24 hours and you could get up $200 in free stock.

CLAIM FREE STOCK

Truebill
★★★★★


This free app delivers on its promise to save you money effortlessly. You can use it to lower your bills, cancel unwanted subscriptions and bill negotiations.

SLASH YOUR BILLS

Bestow
★★★★★


Leave your family $1M. Who doesn't want to be a millionaire? While we don't all have trust funds waiting for us, there is still a way to provide protection for your loved ones with up to $1 million in term life insurance. You could do this for as little as $8 a month by getting a free quote from Bestow.

GET ESTIMATE