Banks help us manage our money and even save for the future. There are tons of banks out there to choose from but the majority of them come with a banking app you can use to support your account management. Each app is built differently so you can choose an app that works well for you. However, figuring out which app is best can be a bit tricky.
Our guide to the best banking apps includes many of the most popular banks, as well as a few lesser-known names. Most of them include the same features such as managing your money, transferring funds, and even saving for the future. However, there are minute differences between them all that can trip you up if you're not careful. This guide will help you in finding legitimate apps as well, so you don't have to worry about security.
Are you ready to find out what the best banking apps are? Let's get started!
9 Best Banking Apps to Download
Chances are you'll probably download the app that matches who you bank with. At the same time, you can always download the app for a prospective bank to see what they might be able to offer. Depending on the app, you may or may not get very far.
You've probably heard of Ally through Ally Invest, which is a separate service associated with Ally Bank. However, the Ally Mobile app allows you to access your Ally account, no matter which features you unlock. Plus, it's all secured by 256-bit encryption and Ally's refusal to store any personal information on your phone.
Ally Bank is also known as one of the best money transfer apps. When you transfer money with Ally, you can create a Zelle account and send money that way. You can also manage both one-time and recurring transfers directly from your account. However you transfer funds, Ally Mobile makes it easy.
If you're a fan of the future, you'll enjoy Ally Assist. This programming allows Ally to respond to voice commands to navigate your account and perform various actions. That said, this feature is only available on iPhones. You can download Ally Mobile on your Android phone as well as your desktop, but Ally won't respond to any voice commands. The web version is also where you'll have to go to find ATMs in your area. Ally Mobile also includes features such as depositing checks, viewing all balances on your Ally accounts, and bill pay.
Owning an account with one of the best private banks out there is easy with Bank of America. BofA runs several promotions throughout the year that you can take advantage of to earn more. Plus, if you're looking to save money, Bank of America is one of the best money-saving apps that includes a Keep the Change feature that allows you to round up purchases to increase your savings.
In addition to these perks, Bank of America accounts include custom alerts and the ability to make payments, transfer money, deposit checks, and pay bills. Using Zelle, you can send and receive money. Plus, you'll get access to your FICO score any time you want to reference it. Bank of America gives you the option to lock or unlock your debit card, though they monitor fraud for you. The Goals tool also makes Bank of America one of the best banking apps on our list.
If your smartphone allows you to unlock it or log in with your fingerprint, you can use that same technique on the Capital One Mobile app. Capital One is known for its 360 account which doesn't require a deposit to open and the Spark Business Basic Checking account. We've named Capital One on our list of the best banks for freelancers as well.
Don't feel like searching for Capital One Mobile on the App Store or Google Play? Simply text "GET" to 80101 for a link you can use to download the app. This mobile app includes the potential to view your statements and activity as they occur, in addition to linking to Apple Pay, Google Pay, and Samsung Play. You'll get a notification every time you make a purchase, but you can also turn this feature off if you like.
Capital One Mobile allows you to deposit checks, pay bills, and check your balances. You can also make payments with Zelle. CreditWise and Capital One have partnered to bring you your free credit score. You can also redeem cashback reward points with this account, which also allows you to instantly lock your card if you lose it.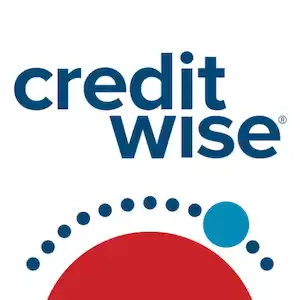 CreditWise
Use CreditWise to get your free credit score. Explore the potential impact of your financial decisions before you make them. Use the CreditWise Simulator to see how actions, like paying down your balance or increasing your credit limit, may affect your score. Monitor your credit health for free–it won't hurt your credit score.
Get Your FREE Credit Score Now
CreditWise Review
CreditWise compensates us when you sign up for CreditWise using the links we provided.
Related: Capital One Promotions
Built for Apple and Android products, the Chase Mobile app advertises many bank promotions and bank account bonuses from this nationwide financial institution. Like many of the other banking apps on our list, Chase allows you to unlock your account with your fingerprint or Face ID.
Many Chase customers enjoy Chase Credit Journey, which allows you to check your credit score twice per month. While updates can lag slightly compared to what shows up on your credit report, this credit score is for the most part fairly accurate. A Chase account also gives you the chance to transfer savings automatically with Autosave and customize a view of your spending.
Additional Chase Mobile app features include the ability to deposit checks, pay bills, and set up recurring payments. To send and receive money with Zelle, you'll need to enroll in Chase Quickpay. However, you can also instantly block your card if you ever lose it. There are also plenty of video tutorials to reference if you have questions.
We reviewed Chime as one of the best banks with early direct deposit, but there are plenty of perks to downloading the Chime app as well. This online-only bank offers customers the ability to connect all their accounts and credit cards into one dashboard to better manage their money. It's also a great way to learn how to avoid bank fees.
Chime integrates well with Apple Pay, Google Pay, and Samsung Pay. You can also use the Pay Friends feature to transfer money for free between Chime users. A Chime account also gives you access to depositing and ordering checks, as well as receiving alerts each time your debit card is swiped. Chime allows you to block your debit card in case of fraud threats, too.
Built for both Android and Apple smartphones, Discover Mobile incorporates Quick View, which allows you to check certain details of your account without actually logging in. You can also view your FICO credit score. Simply text "APP" to 347268 to retrieve a downloadable link for this app.
Discover is one of the best credit-building apps you can download because it allows you to see your FICO score. You can also manage your account and set up alerts from the dashboard. Make payments and view transactions as you please. You can even use the Freeze It feature to lock your card. Discover Mobile is available on Amazon devices as well, including Amazon Wear smartwatches.
Did you know that you can search the Mobile Apps Directory on the PNC Mobile app to find the best app for you? This could include some of the best money-making apps out there. There are plenty of other reasons to download PNC Mobile, no matter if you have an Android phone or iPhone.
With the PNC Mobile app, you can deposit checks, pay people, transfer funds, and even pay bills. Plus it links you to one of the best business checking account promotions, namely PNC's Business Checking account which allows you to earn up to $500 in promotional funds. You'll have to enroll in online banking before you get too far with the mobile app. Once you do that, however, you can check your balance and easily connect with customer service any time you need to.
Using Schwab Assistant with voice recognition makes it easy to navigate your Charles Schwab account(s). Use your fingerprint or Face ID to unlock your account and view a customizable summary of your funds. You can also deposit checks, set up alerts, and execute trades with the Schwab Mobile app. In addition, as long as you deposit funds before 2 p.m., they're processed the same day.
Those researching how to start investing for beginners should check out Charles Schwab's investment options. These include ETFs, mutual funds, options, and stocks. In fact, you can use your Schwab Mobile app to manage these investments on the go. Data transfers get full encryption with this app, which extends the bank's promise of covering 100% of your losses for any unauthorized activities.
Use your biometric log-in to get into your new Wells Fargo Mobile app, which relies on encrypted information to access your account details. With fraud monitoring 24/7, you never have to worry about unauthorized charges either. Plus you can set up account alerts, make payments, and transfer money with Wells Fargo Mobile.
Wells Fargo offers some of the best credit cards you can choose from, as well as the ability to unlock and lock both debit and credit cards in case of a threat. In fact, Wells Fargo will automatically sign you out to keep your account secure. Speaking of which, if you don't feel secure downloading the app from the App Store or Google Play, simply text "IPH" (for iPhone users) or "AND" (for Android users) to 93557 to get a link to download the app.
Related: How to Find your Wells Fargo Routing Number
What to Look For in a Mobile Banking App
Since most mobile banking apps entered the scene after in-person banking, they're not always as intuitive as we'd like them to be. However, here are a few characteristics you can keep an eye out for if you're looking at mobile banking apps:
View account balances: Most banking app dashboards let you see balances for every account with that financial institution. The best banking apps make it easy to navigate between accounts to perform various actions.
Make transfers: No matter if the banking app uses Zelle or Venmo, the best banking apps let you make transfers outside of that particular bank.
Direct deposit: Having a direct deposit can help if you're employed, but the best banking apps (and some of the best banks) are those that don't require a direct deposit to open an account.
Make bill payments: Paying bills directly from your banking app can help you keep everything in one place. It can also help improve the security of your transactions as well.
Lock and unlock card(s): The ability to lock and unlock your card if you lose it can help prevent identity theft and fraud.
Deposit checks: The majority of banks allow you to deposit checks through a drive-up window or ATM, but the best banking apps integrate check depositing software for convenience and ease of use.
Integrates well: Most banks create apps to serve their customers in more than one way. For example, you may want to look for a banking app that allows you to see your checking account, savings account, and investments on one dashboard.
Notifications and alerts:
Security:
The best banking apps are those that balance each of these features to give you the best experience possible. While it might not always make sense to change banks simply because of their mobile app, it can certainly influence your decision to continue with that bank in the future.
FAQs
Do all banks have mobile banking apps?
The majority of banks have mobile banking apps. However, there are still some banks without mobile banking apps that instead rely on web-based platforms. 
Which mobile banking apps are the best? 
Some of the best mobile banking apps include those apps on our list above. Apps such as Chase, Capital One, Discover, and PNC Mobile characterize the best banking apps you can download. 
Is mobile banking safe?
Yes, mobile banking is safe. Similar to the security of online banking, mobile banking incorporates several safety features to protect your identity and personal information. This includes Face ID and fingerprint technology, as well as 256-bit encryption for any data transfers. 
You Can Bank on the Best Banking Apps
Managing your money is hard enough without having to fight the mobile banking app of your favorite financial institution. We've put together this list of the best banking apps to help you decide which one to download. You may simply download the one that matches who you bank with. However, knowing what other banks offer on their mobile apps can potentially help you figure out the best place to store your money.
Like every other free-market company today, banks still have to earn your business, or risk that you'll take it elsewhere. With this in mind, which banking app will you download?
Earn $200 bonus