When you're working as a freelancer or entrepreneur, it can be difficult to keep your finances in order. A business checking account will help you stay organized and make managing your money easier.
If you're looking for a new business checking account, there are several banks that offer accounts designed specifically for freelancers and entrepreneurs. Some of the banks below even offer bank bonuses or incentives that'll make your freelancing life a lot easier.
In a hurry? Our pick is NorthOne as the best bank for freelancers in 2024.
Best Business Bank Accounts for Freelancers and Self-Employed Workers
Self-employment refers to a wide range of occupations, from running your own retail store to freelancing as a side hustle.
It's critical to keep your business income separate from your personal checking account by using a business checking account, regardless of where you fall on the spectrum.
This will simplify your bookkeeping and enable you to calculate self-employment taxes more easily come year-end.
Depending on your specific requirements, one business account may be better suited for you over another. However, most small business checking accounts should be simple to set up, get access to, and charge low fees.
Here are some of the best business checking accounts for freelancers and the self-employed.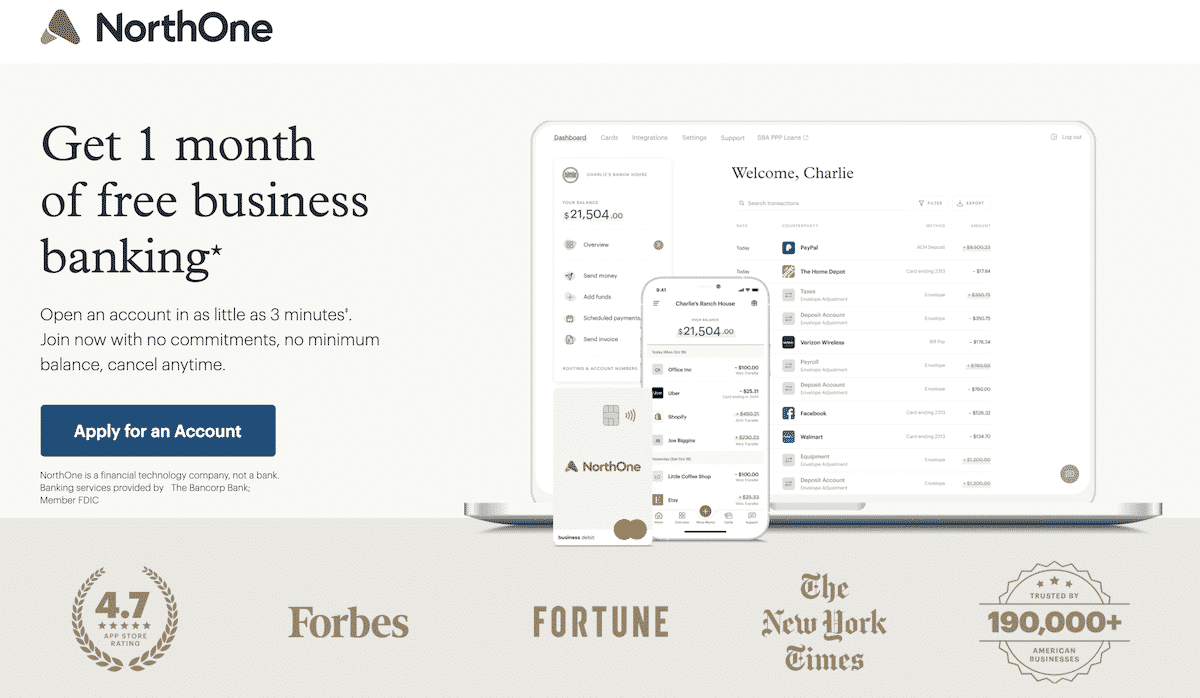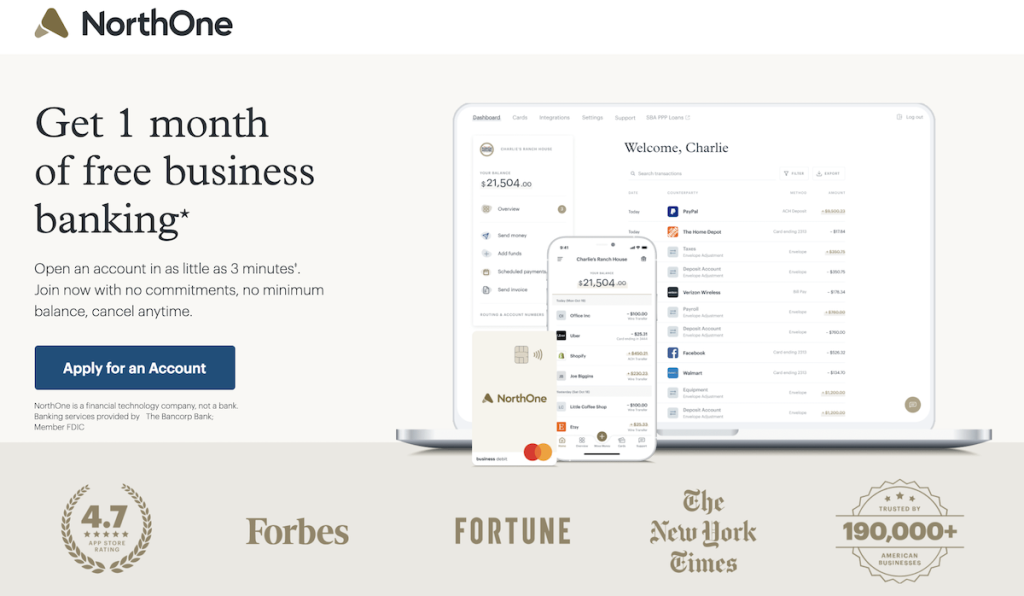 NorthOne is a great place for freelancers to start their business banking. It's a standout bank that takes just $50 to open an account. The bank has a low monthly maintenance fee of only $10 but doesn't have any monthly balance requirements or minimum deposits.
NorthOne has some of the best integration and features:
Works with billing systems like Stripe, Quickbooks, Shopify, and Square
Supports all modern payments types
Pay invoices
Simple and powerful insights into your cashflow
Interest-bearing accounts are not available, but you enjoy unlimited fee-free transactions and a ton of online tools to help you manage your business banking. You also don't need a branch to operate your account with NorthOne banks because mobile banking and mobile check deposit are available.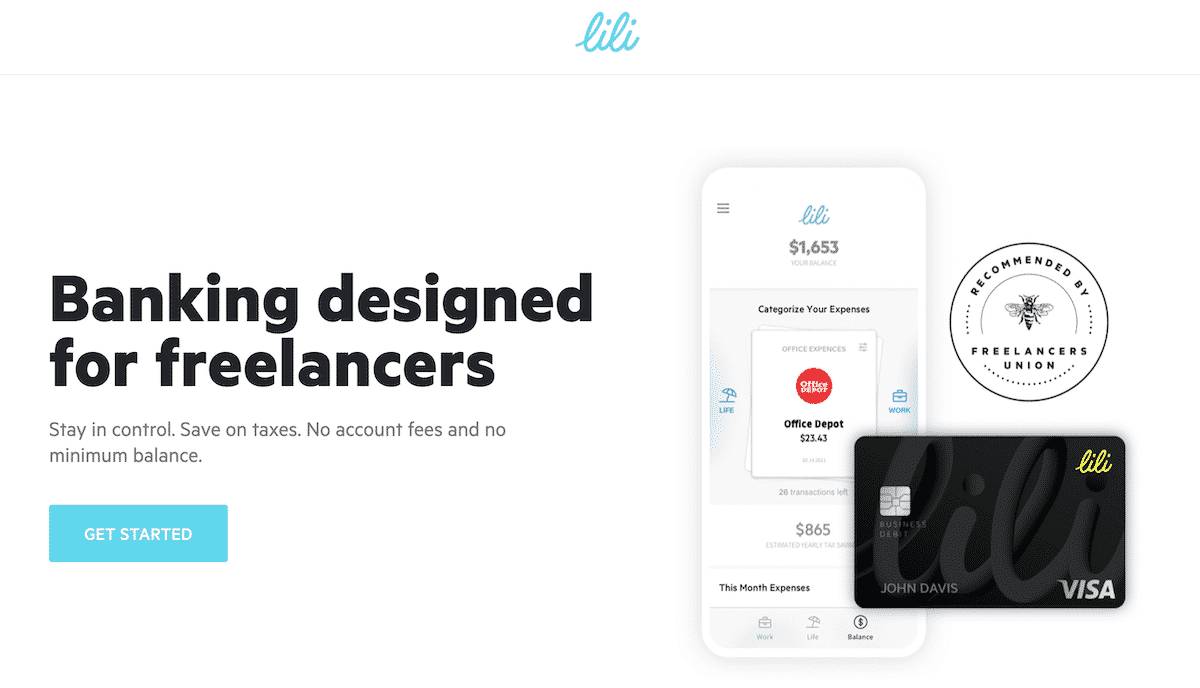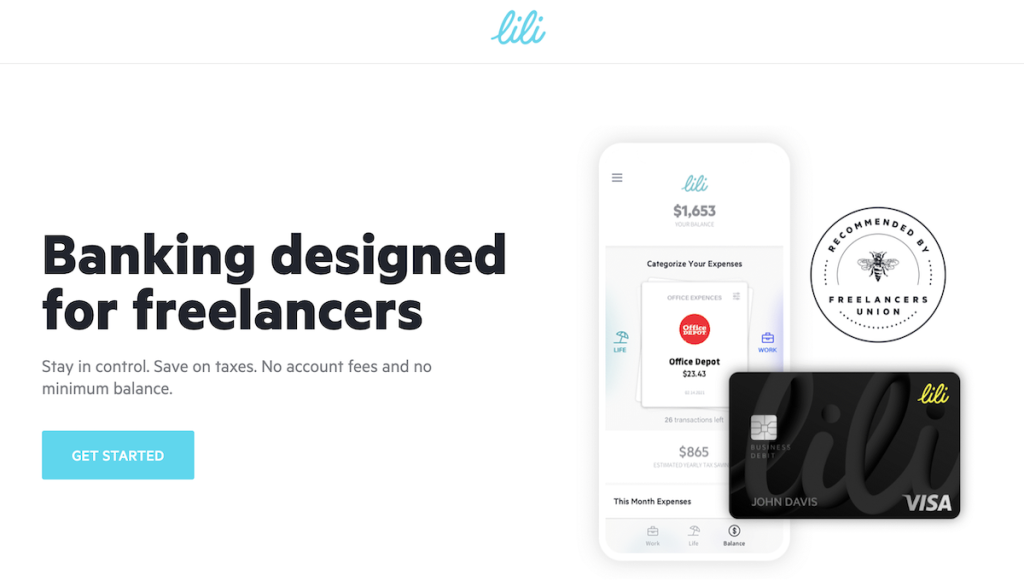 Lili is a bank for freelancers that opens its business checking services to anyone who wants to join. Lili offers banking, expense management and other tax-saving tools designed to save you time and money.
There are no monthly fees with a Lili account, minimum balance requirements, or a minimum opening deposit. You can withdraw your money for free with ATM access through the MoneyPass network.
When you're paid via direct deposit, your money is available in your Lili account up to 2 days earlier than if you were banking with a traditional bank. And they have an app that makes it easy for you to check your balance and transfer funds from anywhere you are.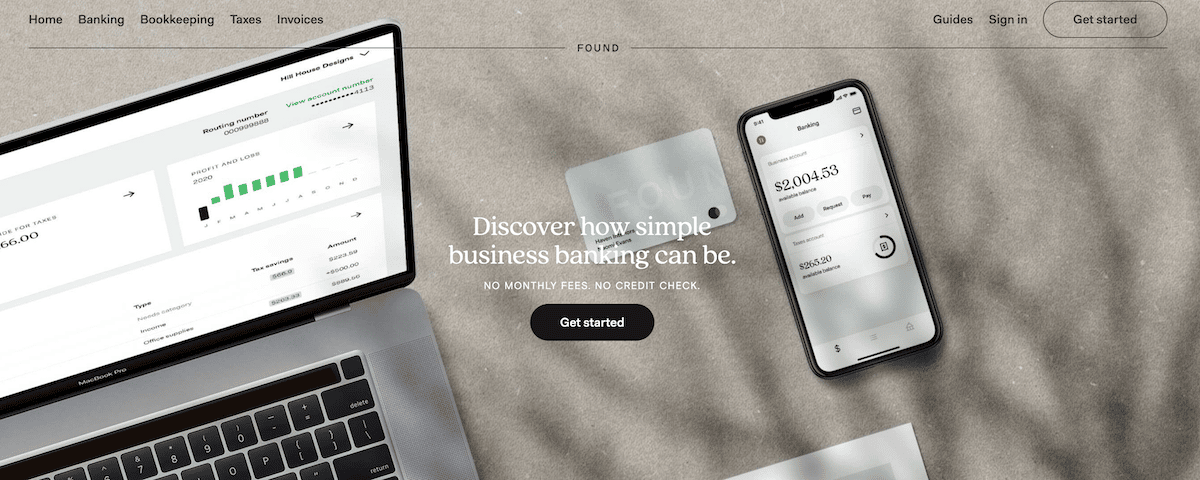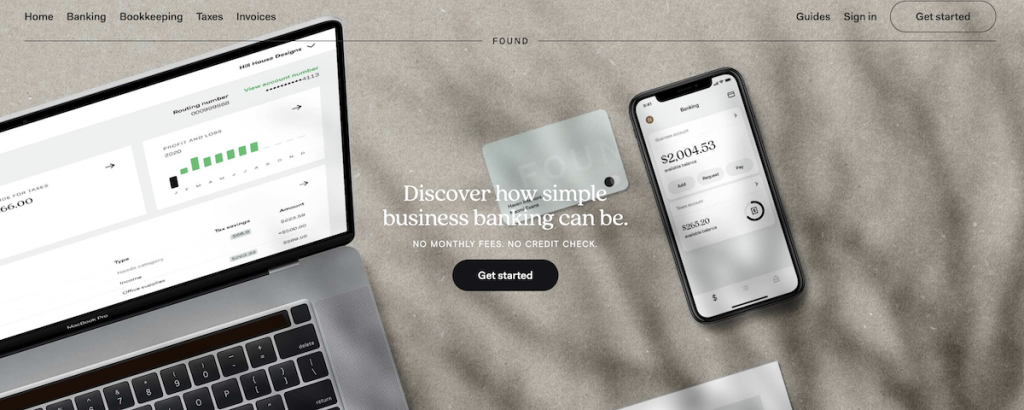 Found's free business banking is built for the self-employed. It stands out from the crowd thanks to smart tax and bookkeeping features. The Found business debit Mastercard automatically tracks and categorizes your expenses, helping you save on taxes. Found estimates your tax bill in real time—then sets aside the right amount so you'll have enough saved for taxes.
Send custom invoices, save receipts, run reports, even pay your taxes right in the app—all for free. Link Found to your payment apps or other bank accounts for seamless money movement. Found's features eliminate the need to toggle between platforms or pay for clunky financial tools. In all, Found offers reliable business banking and robust features, with no fees or minimums—saving you time and money.
Found is a financial technology company, not a bank. Banking services are provided by Piermont Bank, Member FDIC. The Found Mastercard debit card is issued by Piermont Bank pursuant to a license from Mastercard Inc. While Found's core services are free, Found also offers an optional premium paid solution, Found Plus.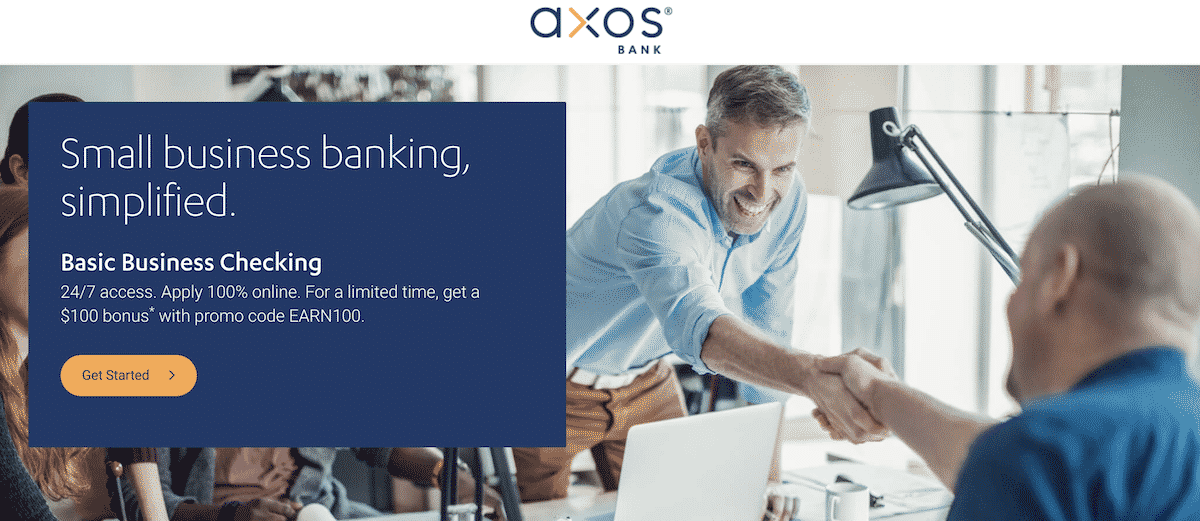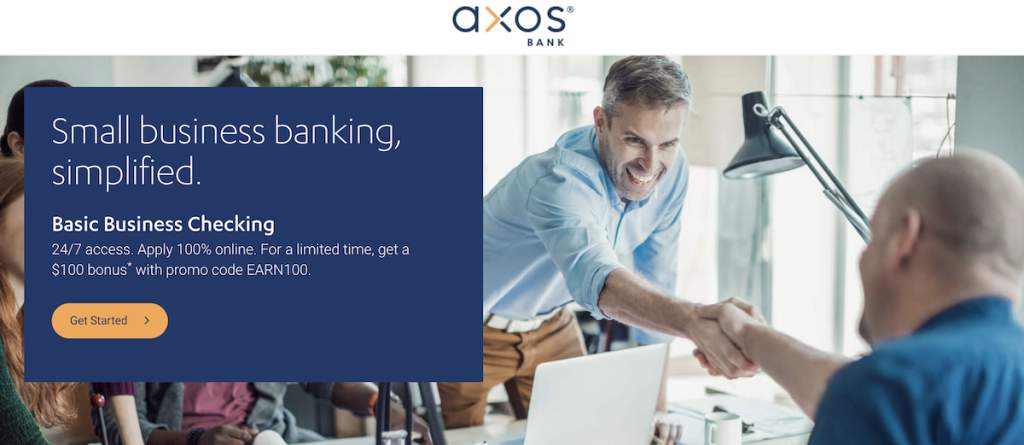 Axos Bank has a Basic Business Checking account designed for small businesses and freelancers with moderate account activity. The Axos Basic Business Banking account has no monthly maintenance fees and a low minimum deposit requirement of $1,000 to open an account.
If you want to have interest checking you can upgrade to Business Interest Checking (0.81%). Small business owners can also benefit from small business savings accounts with APY's starting at 0.20%. Axos has one of the best business bank accounts overall. For a limited time, get a $100 bonus with promo code EARN100 through this link.
Related: Axos Bank Promotions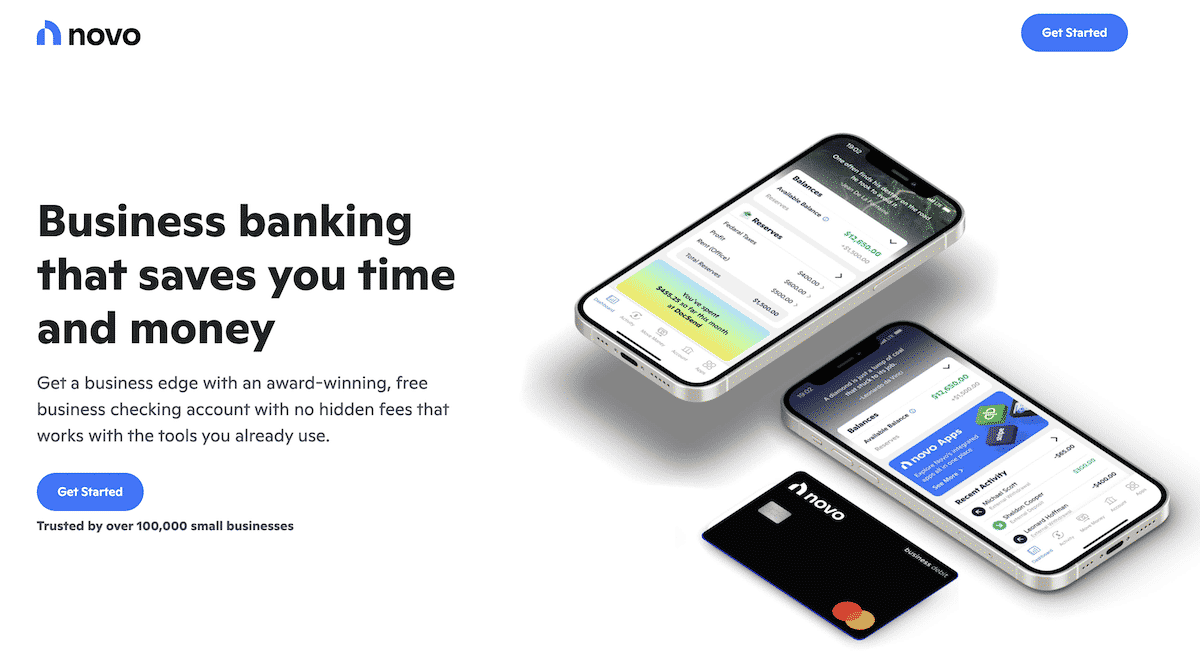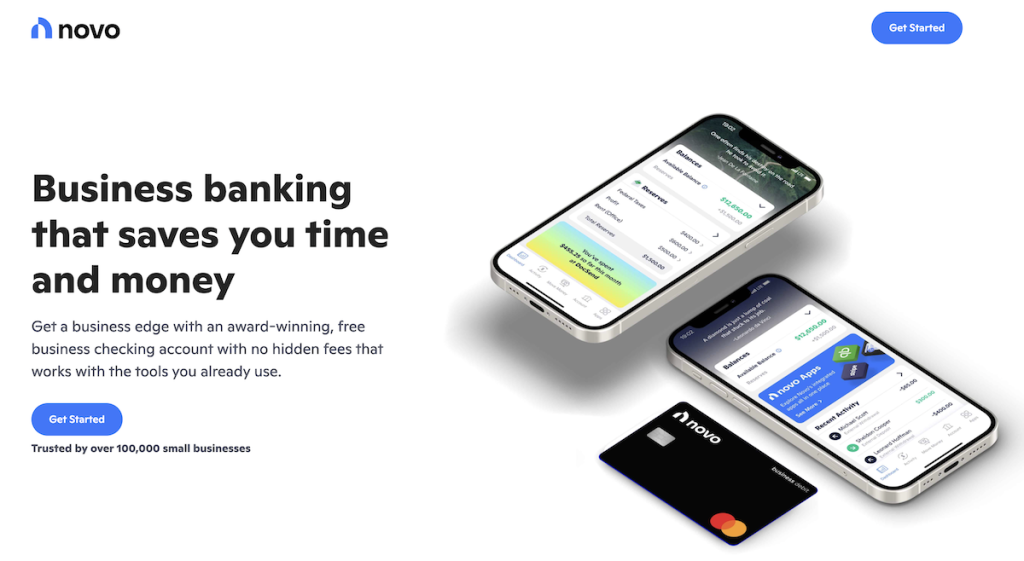 If you're looking for a business checking account that has low fees, Novo could be the right place for you. Unlike some major banks, Novo doesn't charge a monthly service fee and is fee-free. Business accounts at Novo banks are free to open with no monthly minimum balance requirement.
Manage your business finances on the go. Connect Novo to your tools, send invoices, pay, get paid, and much more. Link your other bank accounts to Novo for seamless transfers. A neat feature is Novo Reserves, which allow you to set aside funds for taxes, profit, payroll, and other large business expenses.
And, if you want to withdraw your money for free, there's also an option that lets you do just that. Small businesses and self-employed freelancers alike would benefit from a free business checking account from Novo.
The Chase Business Complete Checking account is another good solution for freelancers with larger businesses that need more advanced banking services.
This account offers unlimited transactions and a free business debit card, online bill pay, and a mobile app to keep up with your expenses.
You'll also get a dedicated banker to help you manage your money so filing taxes is less of a hassle.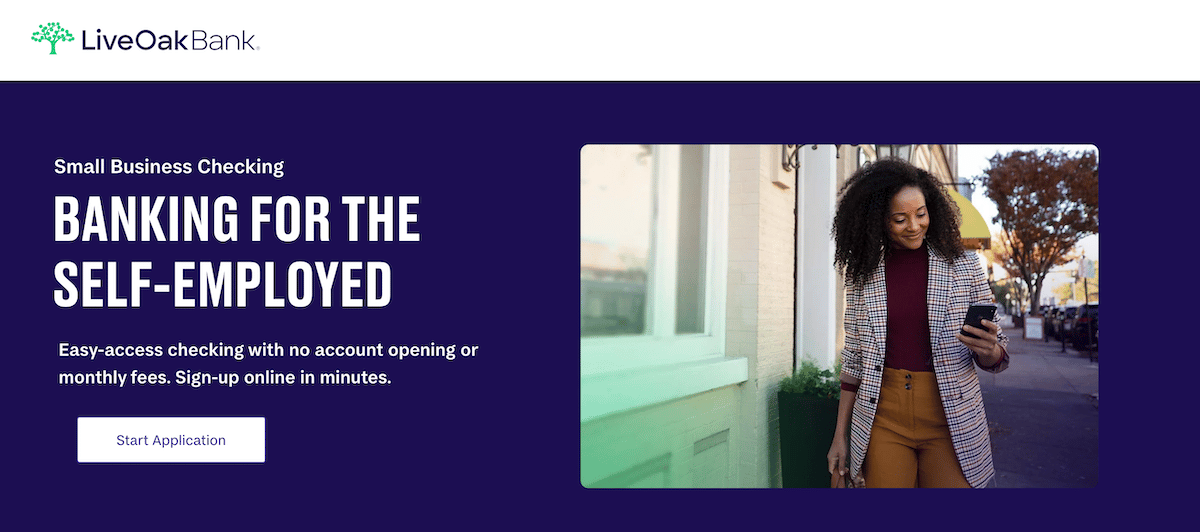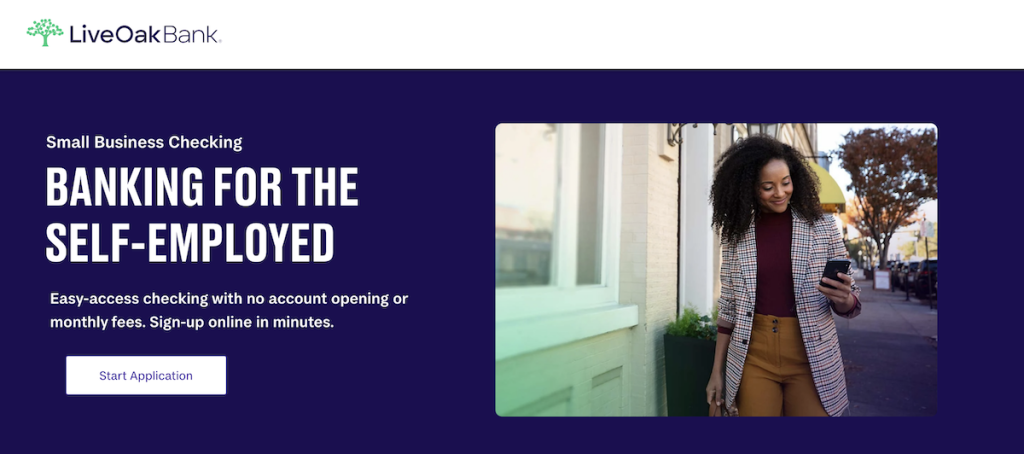 Live Oak's small business checking account has the key components of a business checking account without the unnecessary features and fees found at a typical bank. Designed with simplicity for newly-formed businesses, solopreneurs, gig-workers, freelancers, and side-hustlers.
This account is a good fit for businesses that:
Take payment via Venmo, Square, PayPal or Stripe
Make smaller or limited monthly transactions
The business owner manages the finances
Do not need to make cash deposits
Live Oak also provides one-on-one onboarding guidance to customers to help them transition their business to Live Oak.
In addition to being the nation's top SBA lender, Live Oak offers high-yield business savings accounts and small business checking accounts built for the self-employed. The small business checking account can be opened and managed online for free and provides human-powered customer support. Overall, it's one of the best free business checking accounts available.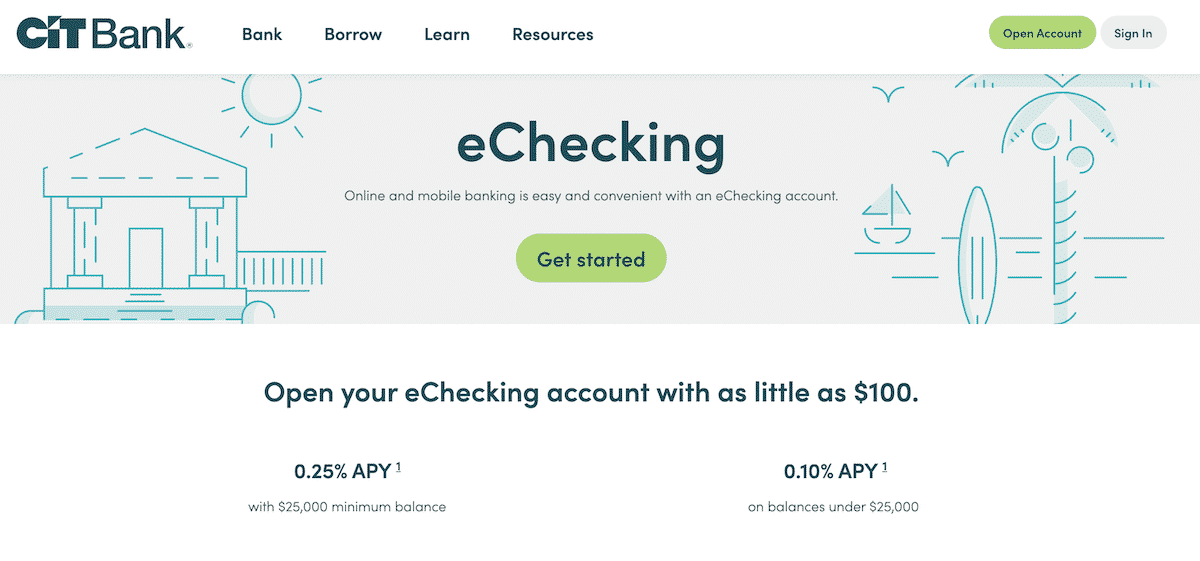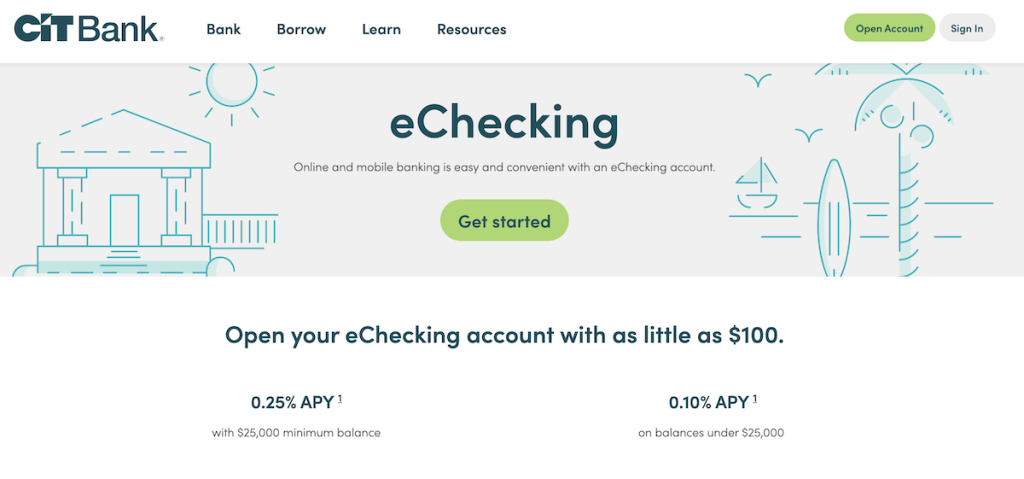 CIT's eChecking account that is one of the best banks for freelancers because they let you open a business checking account with just $100 to get started.
If you don't have your business license yet but don't want to comingle your personal and freelancing finances — CIT eChecking is a great place to start.
Forget about monthly fees or minimum balance requirements when using this bank because there are none – ever! CIT Bank does not charge ATM fees. Get up to $30 in other bank's ATM fees reimbursed per month.
Plus you can deposit checks and make unlimited withdrawal and disbursements with the CIT Bank mobile app. You can also easily set travel alerts or stop/restrict use on your debit card.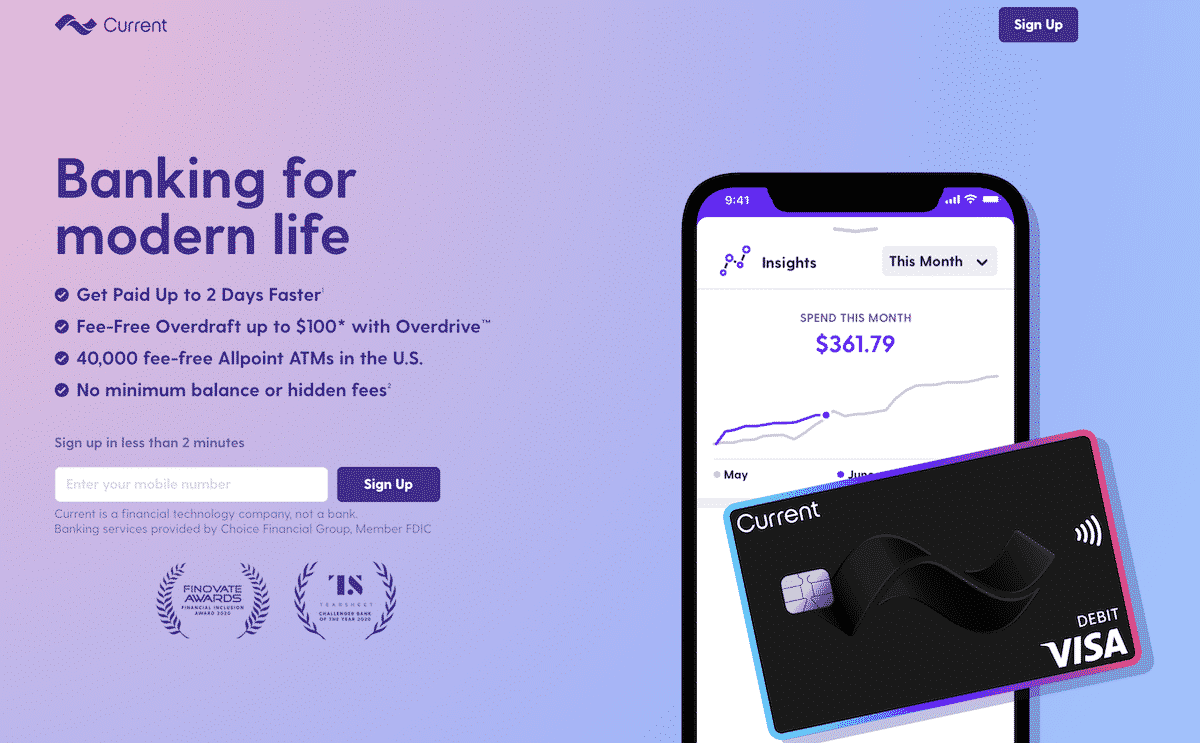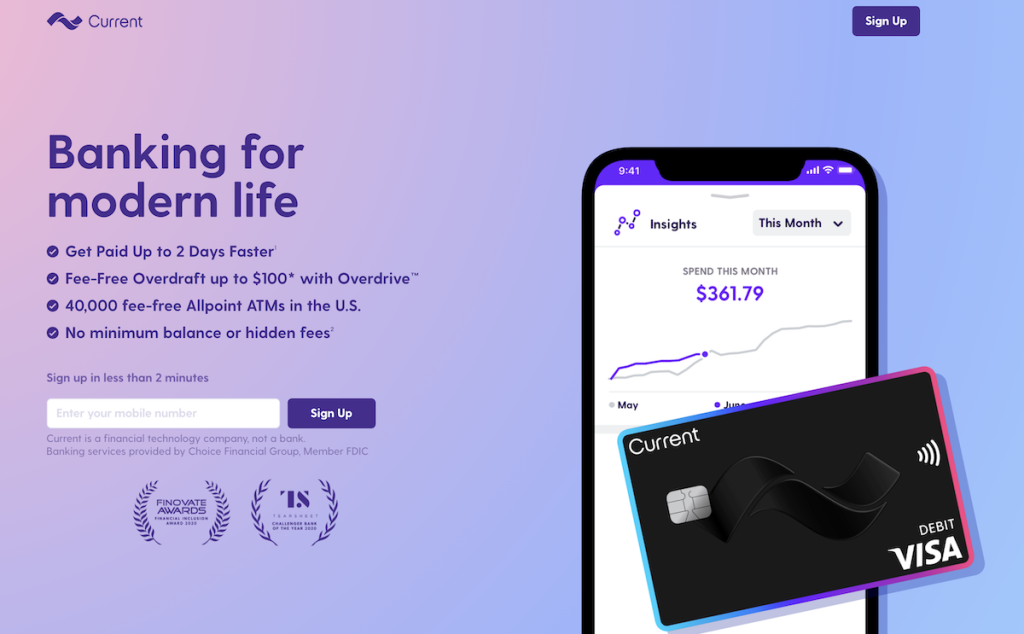 Current offers banking features and is free to open with no monthly fees but it is not specifically a business checking account. It's a good option for those who want the luxuries of a digital-only app in order to separate business and personal spending.
It's worthwhile to consider, as you'll also get access to Overdrive™ which gives qualified premium members up to $200 in fee-free overdrafts with no fees. And you can get paychecks up to two days faster than traditional banks when you sign up for direct deposit with your Current Premium Account.
Current also has mobile banking and online check deposit services so managing your finances is easier than ever before. Get 15x points when you swipe your card at participating merchants, which can be redeemed for cash in your Current Premium account.
There isn't any minimum amount of money required to open or maintain an account and Current does not charge any hidden fees.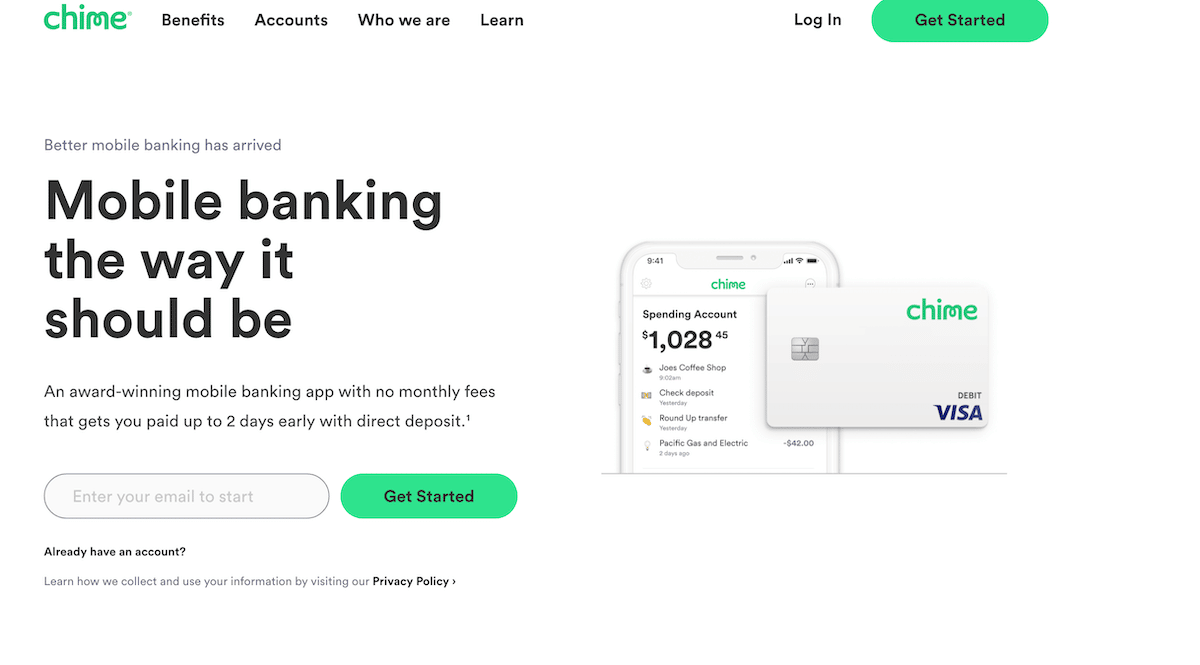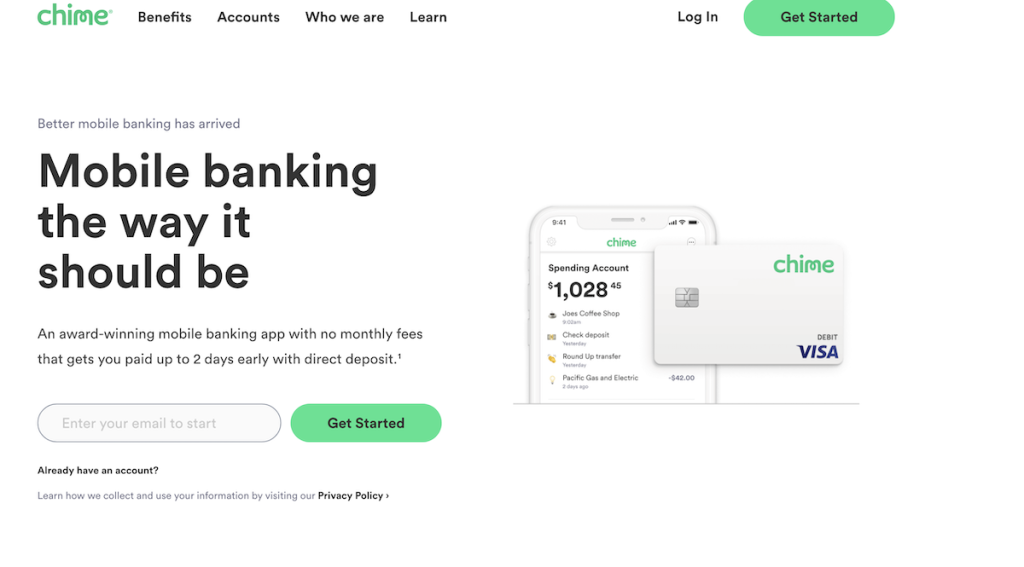 Chime doesn't offer a business banking account but it does offer a free personal checking account. This account is designed specifically for freelancers and entrepreneurs because it comes with no monthly fees or minimum balance limits.
Chime also has an app that lets you manage your money from anywhere you are while earning 2.00% APY on your deposits, through Chime High Yield Savings, or giving you quick access to cash without any withdrawal limits. And it has no-fee ATM access at more than 60,000 ATMs in all of the US1.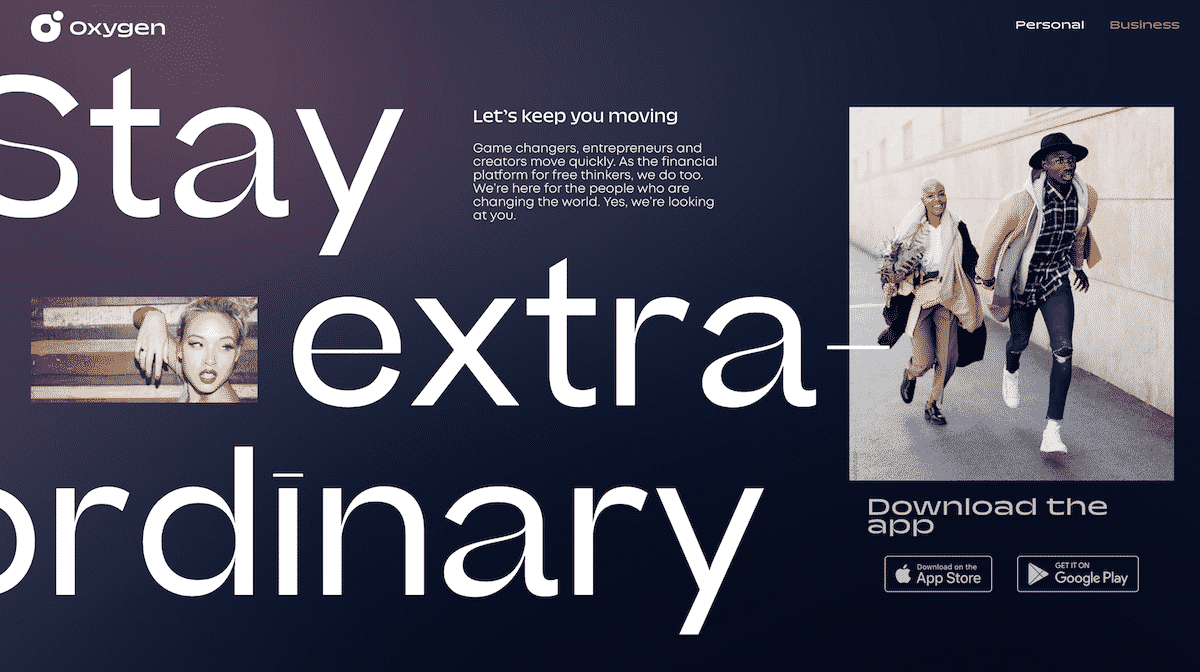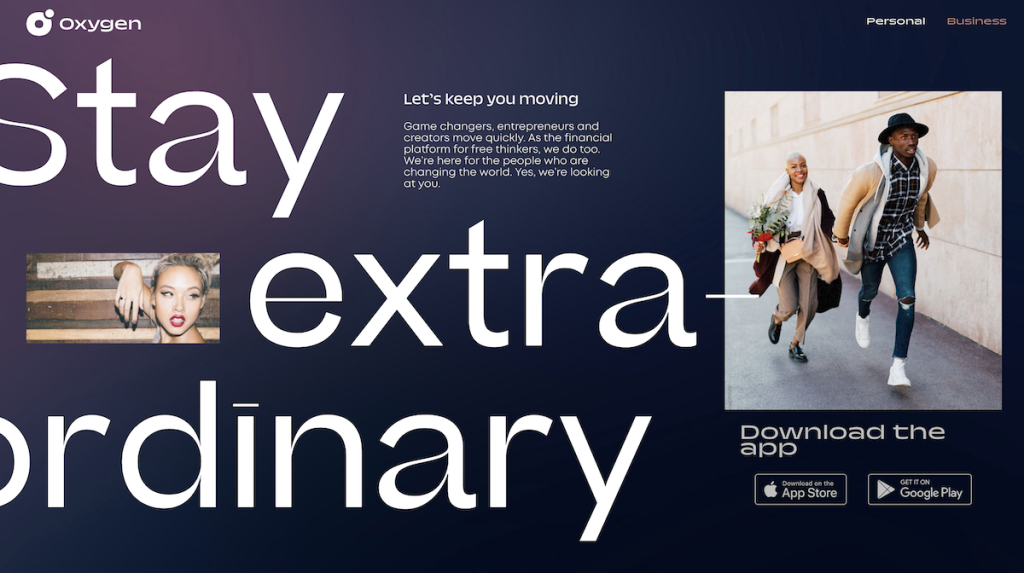 Oxygen is a modern digital banking platform for the 21st-century economy – the free thinkers, rebels, and entrepreneurs.
You can earn 5% cashback on everyday business purchases at approved merchants on things like gas, rideshare, shipping and more. No points and gimmicks. Just real money. With no monthly, minimum balance or ACH fees to hold you back, you can make your business boom.
Oxygen is a great bank for freelancers just starting out, with no minimum opening deposit required to open and no monthly fees. The Oxygen banks app makes it easy to deposit checks and manage your money on the go. If you're looking for a full-service option with checking accounts, savings accounts and educational resources, this might be the right choice for you.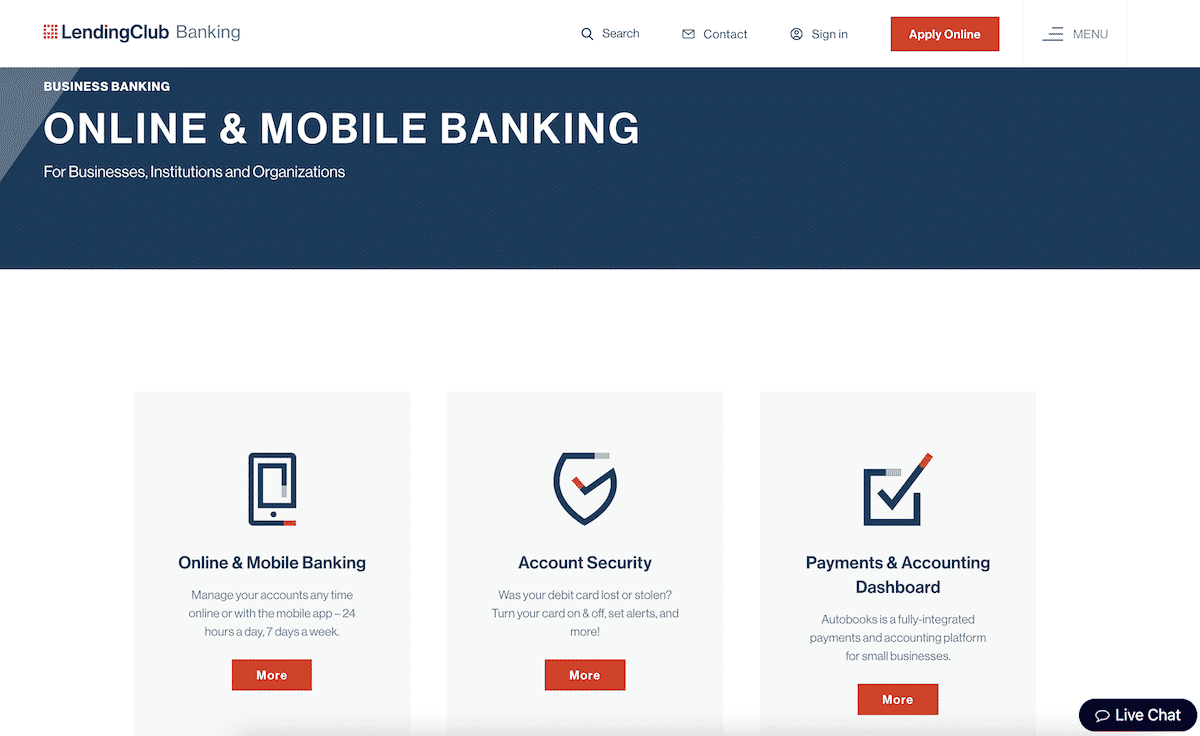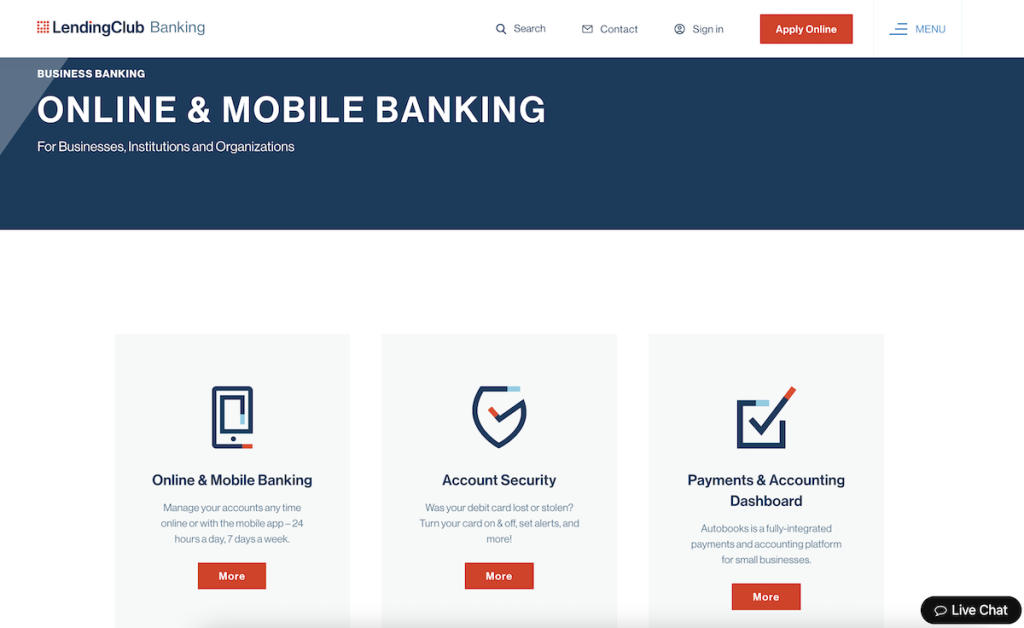 As a business owner, you may have used LendingClub banks as a way to get a startup business loan. In fact, LendingClub has acquired Radius Bank and now has business checking accounts designed specifically for entrepreneurs and freelancers so they can manage their money more effectively.
LendingClub offers you 0.10% APY on balances of $5,000+ on your money and gives you access to your cash without monthly withdrawal limits. And it also has mobile banking and online check deposit services that make it easy for you to manage your money from anywhere.
Other Traditional Banks to Consider
The business checking accounts below are from top national banks and come with hefty fees and minimum requirements. So they aren't best suited for freelancers, but you can take a look and see if they are for you.
Navy Federal Credit Union is a great credit union for small business owners who want to make their money grow. It has no monthly fees, low minimum balances, and you can make cash deposits or withdraw your money for free from any NFCU locations or Allpoint ATMs. If you use any other ATM, you'll face ATM fees. You also get personalized service from the credit union's knowledgeable staff when you open an account. If you're currently a Navy Federal Credit Union member, it's easy to sign up for a free business checking account, and quite convenient.
Related: Credit Unions vs Banks: Which is Best for You?
If you're a freelancer who banks online, check out Capital One's Spark Business Basic Checking. Each month you'll get unlimited transactions included, along with free Overdraft Protection with a linked Capital One small business deposit account. Also, you'll get a business debit card, online bill pay and online and mobile checking at no additional cost. It's the checking account your business can count on for its cash flow management needs.
For freelancers with larger businesses that require more than just an average business checking account, consider applying for Wells Fargo's Initiate Business Checking account. This is designed specifically for ambitious business owners building a foundation. Here you can reinforce your brand by adding your logo to checks and your business debit card. Plus you can convenience of paying vendors, employees, and bills using the full range of payment services. All include enhanced safety and security. The monthly service fee is $10 but is waived with a minimum daily balance of $500 or $1,000 average ledger balance.
Bank of America offers another reliable business checking account traditional features you'll get from most national banks that offer checking accounts. You'll get unlimited check writing and a free Visa debit card to make managing your money easier, in addition to access to 17,000 Bank of America ATMs and 4,300 branch locations across the U.S.
Best Bank Accounts for Entrepreneurs FAQs
Should I have a separate bank account for freelance?
Yes. Even if you only freelance part-time, it's important to keep your businesses separate. This makes it much easier to manage your money and make tax preparations at the end of the year too.
How do banks for freelancers make their money?
Many banks make most of their money by charging customers high transaction fees or monthly minimum balances that prevent a lot of people from using their accounts. Some banks also use overdraft fees and other bank fees to generate extra revenue as well. You can avoid bank fees by using no-fee banks like Lili.
How long does it take to set up a business checking account?
On average, setting up a business checking account takes about 10 minutes for online banks and longer for brick-and-mortar locations. You'll need an employer identification number (EIN) and a list of banks where you currently do business.
What banks for freelancers offer free transactions?
Many banks and credit unions offer free standard transactions, but there are some banks that will charge customers extra fees based on the amount they're using their accounts for. These include overdraft and service fees in the hundreds of dollars every month. In order to keep these types of charges from building up, it's best to find a bank designed specifically for entrepreneurs who need lower rates when making larger transactions.
How does interest work with banks for freelancers?
In general, banks have higher interest rates when you deposit more money in your regular checking account or in a savings account. Some banks also have different tiers which give you access to even higher interests rates on a monthly or daily basis.
How can banks for freelancers help my business?
Banks specifically designed to manage your money have better tools and features that can keep track of your transactions, warn you of overdrafts, and allow you access to funds faster. In addition, some banks offer business banking products such as credit cards tailored specifically for entrepreneurs who make up their own company name instead of using the traditional "incorporated" label.
What banks for freelancers should I avoid?
Some banks are designed with very little customer service or support which will make it difficult to contact them in an emergency situation. It's also best to avoid banks that charge too many transaction fees if you're making multiple purchases.
Best Banks for Freelancers Summary
If you've been struggling with keeping up with all of your expenses while freelancing, these banks offer some great options for managing your money better and streamlining your tax season. Even if you're just starting out, a good business checking account can save you time and headaches in the future.
Freelancers now have more options than ever when it comes to banks where they can manage their money and grow their businesses. And if you're unsure about how much your current bank is charging you for checking accounts, fees or minimum balance requirements it might be time to check out what these banks have to offer instead.
Earn $200 bonus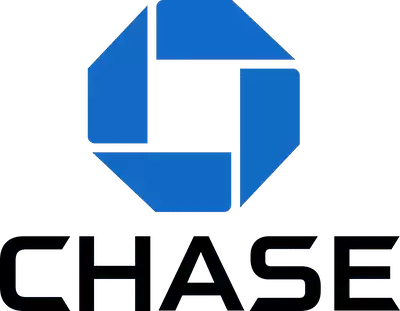 Earn up to $100 today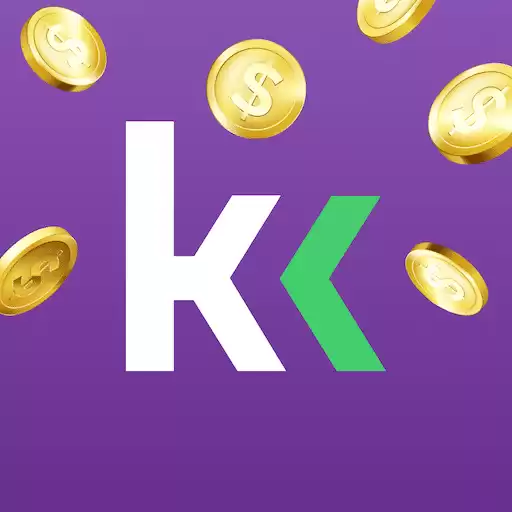 KashKick
Trusted by 2M+ users like you
This site pays you cash to play mobile games, save money, take surveys, and see offers — make $100 today. Over 2 million users agree that KashKick is a fresh and lucrative way to earn money and get paid directly to your PayPal!
SIGN UP & START EARNING NOW