The holiday season is the time of the year when most people, including millennials, could use some extra money for Christmas.
Whether you are traveling to visit friends or family or want some extra cash to help you buy your loved one presents, could you use some extra cash between now and December 25th?
To help you out with making some extra money for X-Mas, I put together a list of 45 ways to make extra money for the holidays. If you could use the extra money for the holidays, here are some ideas that might help: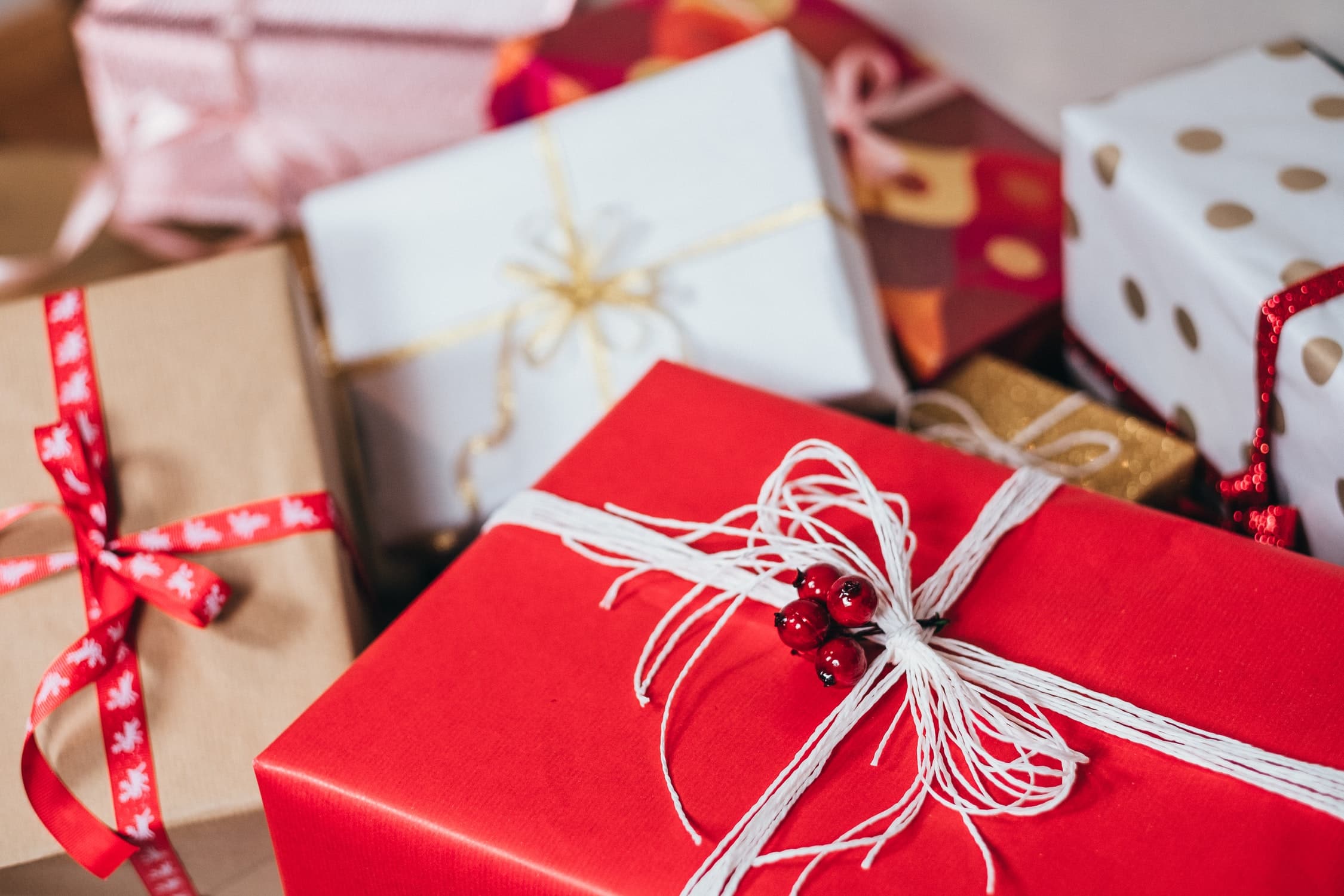 45+ Killer Ways to Make Extra Money Before Christmas
Want free money?
Aspiration: Want to get spotted a $100 for free? Simply sign up for Aspiration, and the free banking app will give you cash for free, you just relax while it gives you $100 just for opening a new debit card. There's no catch, just use your card to make at least $1,000 in cumulative transactions within 60 days of opening an account. This bank account is legit and only takes two minutes to sign up for an account.
Without further ado, here's the list.
Pro Tip: If you wanted some kick ass gift ideas, I recently published an article on the 'coolest' Amazon products I've found that you can purchase for $25 or less. You can read that here.
1. Let Nielsen learn about your internet usage.
Have you heard of Nielsen before? They track TV ratings (Nielsen Ratings) and they now want to track how popular apps and online videos are. They do this by measuring normal activity on user's cell phones and collecting it anonymously.
This company has been around since 1923 and have created a unique app that pays $50 per year just for installing it.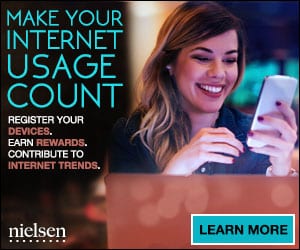 It's simple, non-invasive, and doesn't slow down your device or lower your battery life. So, if you want to install the app and collect $50, you can learn more here.
2. Get paid to walk dogs.
The holidays are coming up fast and if you haven't begun yet, you're going to want to get started on your holiday shopping list soon.
Of course, as much as you want to get everyone something special this year, the budget might not allow it.
Let Rover help!
As the nation's largest network of pet sitters and dog walkers, Rover® offers a ton of different services to help pet owners give their four-legged buddies the attention and care they deserve when they can't. Full of dog lovers, Rover takes pride in their amazing customer care and 5-star sitter rating and are always looking for new sitters in different areas. This could be just what your holiday budget needs.
Rover Sitters can earn up to $100 per week (or more) and don't need to worry about networking and marketing themselves – Rover does it for you. They also offer protection of up to $1,000,000 on your services, an easy-to-use app to manage your dog sitting business, support team, and more. You can even set your own schedule and prices for ultimate control. Check out rover today and start earning some extra cash this holiday season!
3. Earn passive income by renting your spare room.
Like Uber did for Taxis before it, Airbnb is fast revolutionizing the holiday and travel accommodation industry, and you're set to profit from it!
It is an online marketplace for people with space, rooms, or even entire houses to spare, Airbnb lets you list your place for rent just like a hotel or motel.
Maybe you're traveling overseas yourself and want to make the most of your empty place while you're away? Perhaps you have a spare room that currently houses nothing more than empty boxes? With Airbnb, you can turn to fill that empty space in your home, and fill that empty spot in your wallet with more than a little spare change. If you're interested, you can see how much you can earn on Airbnb here.
---
Games that pay you to play. Yes, we're serious.
These 3 apps will pay you to play games on your mobile device:
Mistplay (Android) - If you have an android device, you can download this app and start getting cash rewards for playing new games.
Solitaire Cube (iOS) - Earning money by playing games on your phone sounds like a dream. But this app really pays you for playing solitaire with cash rewards.
Lucktastic (Android) - This free app offers the same daily scratch-off cards that you find at your local convenience store — but here you can play for free and win real money.
---
Alternatives like VRBO and HomeAway are also worth a look. If you're considering you're considering becoming a first-time host be sure to check out our beginner's guide.
4. Paribus will work to get you refunded when gifts come late for the holidays.
Holiday shopping season is nearing its peak and you don't want to overpay for a gift that may end up being cheaper later on. If prices on already purchased items do drop, you can rest assured that Paribus will work to get you refunds effortlessly.
Stores guarantee money back when prices fall. But you have to ask. Let Paribus do it for you, effortlessly. All it takes is a 2-minute sign-up.
Paribus compensates us when you sign up for Paribus using the links we provided.
5. Get some help paying for your Christmas gifts.
Carrying more than one credit card balance can feel a bit like juggling. Just when you think you have one ball under control, you realize you have let a different ball slip away.
Sick of keeping track of multiple credit card and paying high-interest rates?
Tally gives you a lower interest rate and manages the hard work of deciding the optimal card payments at the optimal time. The best part is that you won't have to worry about any more late fees!
Signing up for Tally is easy:
Enter your name and email address to get started.
Start getting help paying your Christmas bills.
You'll be led through a process to scan the cards you want Tally to manage and a soft credit check (which doesn't affect your credit score) to determine if you qualify for a line of credit. Simply download the app, scan in your credit cards to get started.
6. Get paid to lose weight.
HealthyWage offers people the opportunity to earn cash for losing weight. Earn cash for losing weight?
Sounds too good to be true, but you read it right. The company was founded in 2009, and it's HQ is in New York, and part of their mission is to provide ways to have a measurable impact of the growing obesity epidemic in the US. They do this by legitimately offering cash prizes to make weight loss and fitness more fun and effective.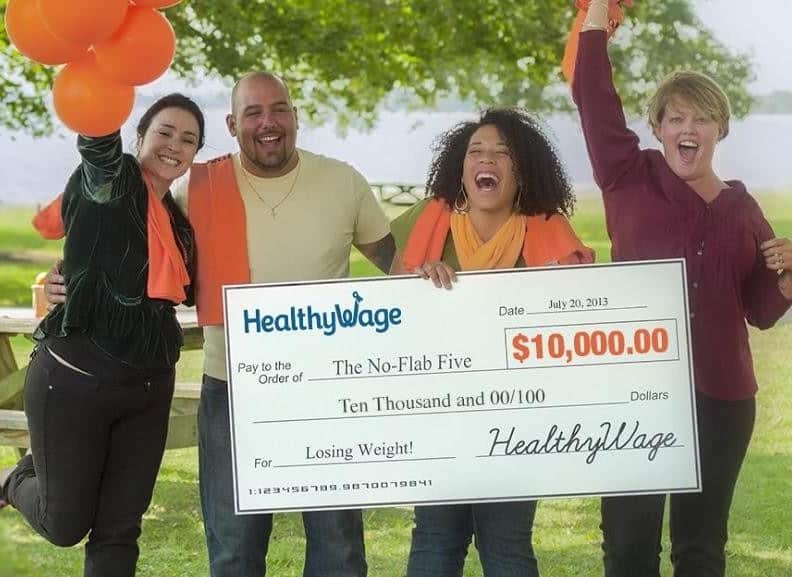 Since HealthyWage was founded they have been featured in literally hundreds of newspapers, magazines, TV shows, blogs and website.
How can you make money with it? You essentially bet on yourself and how much weight you can lose. Since they are promoting ways to be healthy, your winnings depend on how much weight you lose and how much you bet. It's a great way to make money and be healthy at the same time. Click here to learn more about HealthyWage.
7. Get paid to take surveys online.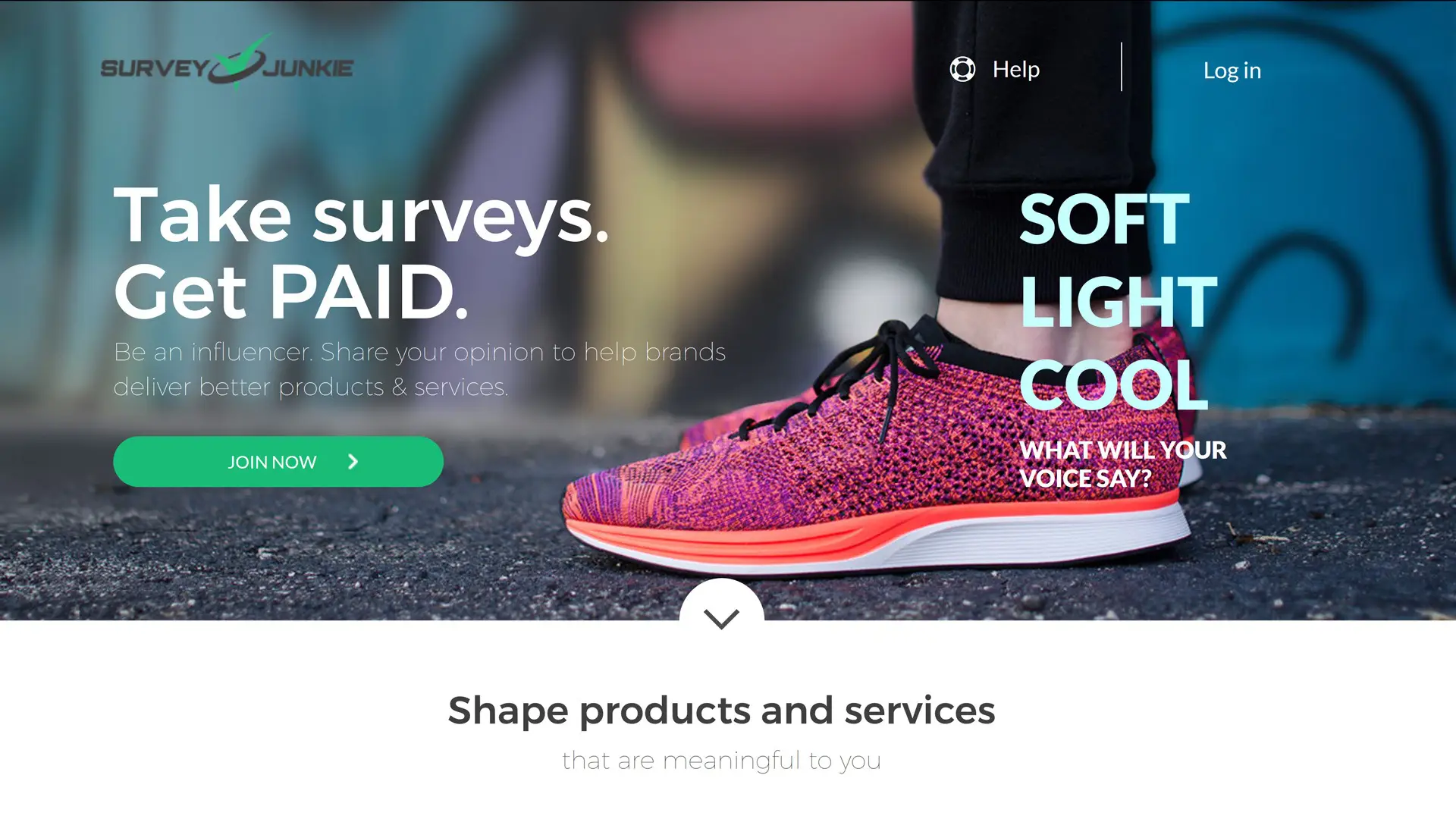 Taking online surveys with Survey Junkie to make extra money for Christmas is a no-brainer!
You definitely won't get rich or make hundreds of dollars per day with surveys alone, but you won't waste much time, and you can make some money the easy way. It is my #1 favorite (and highest paying) survey site:
Survey Junkie: This is a free survey app for your phone that pays you to take online surveys, participate in focus groups, and try new products.
And, I really mean free all around – free to join and they don't charge anything to be a member (they will actually pay you in cash via PayPal).

Welcome Bonus: Get 150 Registration Points here
Potential earnings per month: Up to $200
What it could add up to in a year: $2,400 ?
Additional Referral Earnings: 10% of your referral's earnings
GET ACCESS NOW
Download: iOS | Android | Browser
Join for free through this link and get your free registration bonus.
Here's the good and bad about SurveyJunkie:
| Pros | Cons |
| --- | --- |
| There's absolutely no cost to join. Tip: Never register for a survey site that asks you for cash | Sometimes you'll be a few questions in only to find out that you aren't eligible for a survey, but you still get points |
| Points can be exchanged for both cash to PayPal and for gift cards | Minimum balance of $10 USD needed for Payout |
| Your information will go toward helping companies improve their products and services | Only users from the United States, Canada, and Australia can participate with future plans to expand |
| Answers that you provide are kept completely anonymous | |
| The potential for high earnings (depends on your demographics) | |
| Registration bonus if you go through this link. | |
| If you're not eligible for a survey, you're still given points | |
8. Score a $5 bonus from this company.
Swagbucks is another great survey site to make some extra money in your free time. As a new member, you can earn up to $35 per survey! They are known for giving out fun, top-paying surveys. And you can also get paid to play games and watch TV!
It's similar to Survey Junkie, but there are also a few other ways you can earn money as a member (including a $10 bonus just for signing up).

Swagbucks is conveniently offering a $10 bonus just for signing up through this link, so act fast.
9. Get lower prices on your monthly bills.
Trim boasts that new users are eligible for up to $30 in cash-back deals as soon as they sign up. The free app, Trim, saves you money with automation and within a few days, I saved an extra $100 within the first few days.  I simply linked my accounts and Trim went to work. It found ways to lower my bills and cancel subscriptions, analyzed my spending habits, and more. The app is free and worth the 1-minute download as it can potentially save you hundreds. More people should be using this app.
10. Get paid to play video games.
At Gaming Jobs Online you are able to play video games conveniently at home, work at flexible hours, set your own schedule, spend more time with your family and friends, and get a nice big fat paycheck at the end of the month.
They work with big video game network partners to bring you fresh and creative opportunities to get video game testing and reviewing opportunities. The company has been featured on sites like Joystiq, MSNBC, Yahoo News, Gamespot, and GameTrailers.com, and more. You can learn more here.
11. Earn rental income.
Wouldn't it be great if you could become a landlord of single-family rental properties without dealing with all the hassle of buying, improving, and re-selling real estate?
You don't have to be a millionaire to invest in these types of properties. You can now find your inner property owner with Roofstock.
As with any other rental property, investors earn returns from the rental cash flow and any appreciation in the property value when it's sold, and all without painting a wall or getting your hands dirty.
There is a reason why the number of investors on its platform increased 126% last year, the sector is booming with investors clamoring to get a return outside of stocks and bonds.
If you're interested, I recommend you sign up for more information from Roofstock by clicking here.
12. Get spending money with this savings app
Fetch Rewards is a mobile rewards app that pays you for shopping (from any store).
This is a great way to make money, the easy way, and can add up to a large wad of cash with time.
Here are the steps:
Click here to download Fetch and use referral code C1JAV to get your $2 referral bonus!
Scan any receipt from any stores that you use daily.
Get cash (via PayPal).
Enjoy your free money!
And there is no minimum amount you need to withdraw to your PayPal account either.
Click here to use your $2 Fetch Referral Code!
13. Get paid to watch videos.
The next thing you can do is sign up for InboxDollars which pays you, in cash, to watch fun videos & take surveys and they'll also give you a $5 free bonus just to give it a try. By spending just 5-10 minutes per day on this (either on your lunch break or during TV commercial breaks) you can earn an extra $150/month.
InboxDollars so far paid its members over $40 Million. Watch videos, take surveys, shop and more. Join InboxDollars Now and Get Free $5
More people should be doing this as you can make passive income with no money. If you are interested in taking surveys online, here are our other favorites:
SurveyJunkie: Makeup to $50 per survey in your spare time from home to take online surveys, participating in focus groups and trying new products. Join SurveyJunkie Now
Swagbucks: Watch videos, take surveys, shop and more to earn real money. Join Swagbucks Now to Get $5 Free
14. Join sites that give you free money to invest in stocks.
Yup, it's true!  There are several brokerages out there that will give you free money to invest in stocks. The best offer currently is:

Acorns: CNBC calls it "the new millennial investing strategy." Once you connect the app to a debit or credit card, it rounds up your purchases to the nearest dollar and funnels your digital change into an investment account.
Sign up to try it risk-free with a $5 sign up bonus to start investing and make money while you sleep!
15. Deliver food with your car and earn.
If you're free nights and weekends, you can earn extra money delivering food for fellow citizens around your city. It's easy to deliver food with Uber– if you have a car, it's a perfect way to make a good amount of extra cash whenever it's convenient for you.
A lot of people use this food delivery app full time, so you can imagine that's it definitely possible to do this on the side and make extra money by delivering food with Uber Eats, and be on your own schedule.
16. Get free money from this company.
Looking for how to make extra money on the side?  Then you should learn about Vindale. Vindale is the secure, reliable and free survey site for anyone who wants to earn money online. Vindale asks for information about you so that they can match you with fitting surveys. At up to $50 a pop for some surveys and a free $2 just for signing up, it pays to check in daily to see which ones are available to you. They've already paid out $6,955,991+ to members. You can get access to hundreds of paid surveys at Vindale.  Cashouts are through PayPal.
17. Earn cash for scanning receipts with your phone.
This is one of the easiest side hustles there is (this list has a lot of them). The app you should know about is Ibotta. This cell phone app is available for iOS or Android phones, helps you make money off your grocery receipts. Yup, for real! You use it after you go grocery shopping and use your receipt. It's basically a rebate app, so you can earn anywhere from 50 cents to $5 off everything you buy. It's not brand specific either, you can scan any brand of cheese for 50 cents off, for example. If you do regularly coupon, you can still use the app and get a rebate. You can essentially get grocery items for free if you're really into couponing. It's free and all you have to do is scan your receipt and you'll get free money back. Best part, sign up here and you will receive a $10 cash bonus.
18. Teach English online from your computer.
Still wondering, how to make extra money from home? Well, have you considered teaching English online (pick your own hours too)? All that is required is that you are fluent in English, have a bachelor's degree, and have some tutoring experience. You can see some more detailed VIPKID requirements here. This a great way to earn money from home and already 30,000+ use VIPKID to teach English from home.
You'll make $12-$22 an hour, and Forbes ranked this company #1 on it's 2017 "Top 100 Places Work From Home Companies" Since this is a legitimate way to make extra money, the application process pretty detailed.
With an opportunity to make $650 a month, just from one hour out of your day, may be worth looking it. You can learn more about teaching English online on VIPKID's website.
19. Rent out your car to strangers and earn passive income.
Did you know that you can rent out your car when you're not using it? And that you can bring in a lot of extra cash in your wallet by doing so?
Do you plan on heading on a vacation soon while your car sits unused at your home? Do you sometimes not use your car on the weekends?  If so, renting out your car while you're not using it could be an easy way to make passive income. A well-known company, Turo, which has signed up nearly 5 million users to its website, according to Bloomberg, lets you do just that.
It's also really simple to do (and free). Listing your car is quick and easy and takes less than 10 minutes to set up. According to a recent Turo review, somebody listed their car for 5 days every month and made $3,496 in a year. Sounds pretty good to me. Oh, and they also protect your car against physical damage, so you're fully covered. You can sign up here and start making money with your car.
20. Proofread documents from home to make money.
You can make some extra money this weekend by becoming a proofreader. The need for proofreading is growing exponentially. And how much does a proofreader make? A proofreader named, Caitlin Pyle, does it on the side and made $43,000 last year. She's great and started her own proofreading online course for beginners. The only requirement is that you're pretty skilled with grammar. If you are, then you can really make some big bucks. Have no idea how to get started? Check out this free online course: Learning The Skills You Need to Start Your Own Proofreading Side Hustle. All you need are your grammar skills, a computer, and an Internet connection.
21. Start a podcast and make money through sponsorships.
If you can build an audience for your podcast, then you can make some money through sponsorships, affiliate advertising, and other offerings. Companies regularly pay $250 to $500 for a 30-second advertisement on podcasts. Pssst.. We also have a guide for that: A Guide to Starting Your Podcast: How to Make it, How to Launch it, and How to Profit. There is money to be made with this side hustle. Alternatively, you can also use our guide to start your own blog (in 30 min or less).
22. Teaching courses online.
If you can market or identify yourself as a developer, designer, or online marketer, then chances are you can teach a course to others and get paid. You can test this side hustle by heading on to Udemy or Skillshare, where you can market your skills. As you build your brand and become more successful, I would recommend teaching for higher-visibility online platforms like CreativeLive.
23. Find ways to save on your life insurance.
This one goes hand in hand with making money by saving your money. A penny saved is a penny earned. With Haven Life Insurance, you will be able to find the best life insurance for yourself and your family.
This site offers term life insurance and you can apply for its coverage entirely online and receive a near-immediate decision if you're under the age of 45 and need less than $1 million in coverage. As a millennial nearing his 30's, this is something we have to purchase sooner or later… this company helps make it easy and affordable.
Are you paying too much for your life insurance?
24. Start a low-risk drop shipping business online.
Oberlo allows you to easily import products from AliExpress directly into your Shopify store and ship directly to your customers – in only a few clicks. It's very simple to open a shop on Shopify and drop ship items in order to create a business without too much risk.  You can literally start and set up a drop shipping business without any type of product in one afternoon with minimal risk as Shopify has a 14-day free trial and Oberlo is completely free through this link.
25. Sell your old phone online.
Do you have an old phone lying around? I know most of my friends and family do. They don't really care to try and sell them or are too busy. Not me, I usually upgrade my phone once every two years and sell my old one online. I try not to wait too long after upgrading to sell the old phone because as each year passes, the fair market value of the phone, are losing value. They lose value and can be sold for less as the technology becomes obsolete. Your best bet is to sell it immediately. You can try listing them on eBay or Craiglist, but this can prove to be quite the hassle. You can easily sell it on Gazelle for cash. This is the easiest way to sell it quickly. If you'd like to get an extra 3% bonus on your trade-in, use my Gazelle 3% bonus link by clicking here.
Amazon also has a trade-in program for consumer electronics.  You can access the Amazon trade-in program by clicking here.
Another option is to bring your old phone to Best Buy, Walmart, or your wireless provider, to see what kind of trade-in value they will give you toward a new phone.
26. Take a shot of making money with cryptocurrency.
This is one that a lot of people have already done. I was in my Uber the other day and my driver was talking about Bitcoin. He told me he deposited $50 into Coinbase and it's now at $150 in a few weeks. That's a 33% return! If you wanted to try something this volatile, it's at your own risk but only put up money your willing to lose. The risk is high, but the reward is high too. If you wanted to get in on the action, you can do it with the Coinbase app. If you sign up through this link and invest $100 then Coinbase will deposit $10 in your account – that's 10% right there! Only invest what you can afford to lose.
Tip: Coinbase only has 4 cryptos (Bitcoin, Bitcoin Cash, Litecoin, and Ethereum), if you wanted the most popular exchange that lets you buy all cryptos you want to check out Binance. If you have no idea how to get started, you can refer to this guide: Cryptocurrency 101: The Ultimate Beginner's Guide to Cryptocurrencies
27. Become a freelancer and sell your services.
Fiverr is one of the best sites in the world. The basic premise is "what would you do for $5?" You'll find everything from hilariously weird and useless gags to legitimate and genuinely helpful micro-business tasks.
Lately, I've been experimenting as a seller on Fiverr, and have found it a pretty successful avenue for selling website optimization services, article writing, and proofreading services.
Fiverr can work for you as both a seller and a buyer. It is a great way to make money and also you can find millions of services. Best $5 I've ever spent was using a Resume Revision service and now I receive way more employer call backs now after the revisions. If you want to know which service I used, leave a comment below. If you want to try Fiverr, sign up through here for 20% off your first order at Fiverr.
28. Publish an eBook and earn residual income.
Are you a good writer? You could write an eBook on your topic of choice and sell it on Amazon, Payhip, Lulu, Smashwords, Kobo Writing Life, PubIt! and many other websites that start you out in your side hustle as a published eBook author.
29. Become a driver for a ride-sharing app.
If you're free nights and weekends, you can earn extra cash driving your fellow citizens around. You can earn money by driving with Uber – if you have a car, it's a perfect way to make a good amount of extra cash whenever it's convenient for you. A lot of people do this full time, so you can imagine that's it definitely possible to do this on the side and make extra money and be able to save it. Once you're a driver you can choose to turn the app on or off and drive whenever you have some time to spare. They also have a feature that allows you to select your destination, so if you are leaving work (or any other long commute), you could pick up a ride that was going in the same direction. You can do this 2-4 times a week on your commute and can easily make up to $400 each month and save it all. Click here to Drive for Uber.
Another ride-sharing option that's available to you is Lyft. Uber seems to be more globally known, however, if you're in the United States you probably have heard about Lyft. It's basically the same as Uber, but some argue that you make more as a Lyft driver.
Right now Lyft is offering a $300 sign up bonus for My Millennial Guide Readers!
30. Sell your old electronics online.
Do you have old textbooks from college lying around? You should consider selling them on Amazon. In addition to textbooks, you can probably sell old books, DVDs, cell phones, or other electronics you may have lying around. You would be surprised how much you can get for your unwanted items. I also recommend checking out our recent post on how to earn free Amazon gift cards. 
31. Submit claims for open class action lawsuits.
If you use a product that's involved in a class-action lawsuit, a little online legwork could get you a cash payout. The rules of each settlement are different, but in most cases, you'll have to provide proof of purchase or product use, like a serial number or a receipt. Once you fill out your online claim form, you may have to wait a few weeks or months before receiving your payment.
Psst — I regularly post new class-action settlement information, so check in often to make sure you're not missing a chance to get paid!
31. Flip items on eBay to rake in the dough.
Sell your unwanted items around your household on eBay is a good way to declutter and earn side income. I've been using eBay for about 7 years now and it is very easy to sell things around your home that you no longer use or find items that you can purchase for cheap and then flip them on eBay for a profit. I personally made $1,1379.79 one month by flipping iPhones. Just make sure that you keep the fees in consideration.
32. Refinance to save thousands over time.
This advice cannot be taken lightly. With interest rates continuing to rise and 3 or 4 hikes likely this year, you should look into refinancing your mortgage immediately. The savings and cash you would get can be huge.
This may be the most sound advice any homeowner can hear. Even if you recently refinanced, it might be worth looking into another quote as they take only a few minutes to check. LendingTree could help you refinance your mortgage at a significantly lower interest rate – Let's say your interest rate decreased by 1%, you can save more than $100 a month on a $200,000 mortgage. That comes out to $1,200 in extra cash for you at the end of the year and $6,000 every 5 years!
33. Join a delivery and errand service.
With all of the on-demand apps out there today this one is an easy one. All you need to have is a car or bike, in most cases. Apps like Uber, Lyft, Uber Eats, PostMates, etc are easy to sign up for and start making money. There are always people that are looking for a ride or looking to get something delivered.
Another great part about doing this is that you can pick your hours. If you have 30 minutes between classes you can do a ride or two. If you are only available 8-11 at night then you can work then. It is extremely flexible and you can make good money doing it.
34. Become a coach or consultant.
Becoming an online coach or consultant for others is becoming more valuable as are in the information age. If you are a very savvy at social media or are a fitness expert then selling your time and hopping on a Skype call or Google hangouts is a great hustle. You don't even have to start your own website at first, you can list your services on Fiverr.
35. Start a resume writing company online.
What is one thing that every college student will need towards the end of their college career? A kick-ass resume. Resumes are difficult for many people to write. They are, however, very easy once you know how to write a great one.
Spend some time learning how to write a great resume.
There are a ton of great resources online from very reputable sites. I went from having NO CLUE how to write a resume to be awesome at it. How do I know I was awesome at it? Every human resource or hiring manager that saw my resume commented on it. They asked how a college student with no experience could have such a great resume.
Learning to write a resume is not difficult, it just takes a little bit of time to learn. Once you learn it then you can repeat the same process for each individual resume your write. Then you can start charging for your Resume & Cover Letter writing services on Fiverr
36. Advertise on your car and earn passive money.
This is some seriously passive income. Companies such as Carvertise will pay to put a wrap on your car, and then pay you to simply drive you regular routes with the advertisements on your car. You can get the right to say "no" to a particular ad you're uncomfortable with the content of the ad. Most companies pay you between $100-$400 a month to advertise on your car. Not too bad.
37. Earn generous returns investing in real estate with only $500.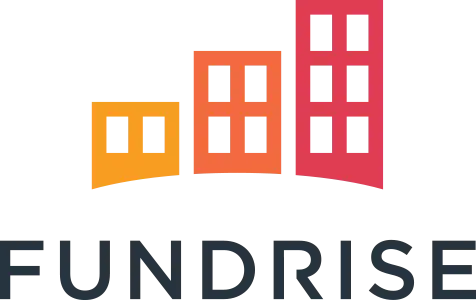 Wouldn't it be great if you could invest in commercial real estate and apartments without dealing with all the hassle of buying, improving, and re-selling real estate?
You don't have to be a millionaire to invest in these types of properties. You can now invest in large-scale real estate for as little as $500 with Fundrise.
Through their real estate investment products, investors earned an average of 8.7 – 12.4 percent on their money last year, and all without painting a wall or dealing with unruly tenants.
There is a reason why they currently have over 200,000+ users, this app really makes you money while you sleep!
If you're interested, I recommend you sign up for more information from Fundrise by clicking here.
| | | |
| --- | --- | --- |
| | Get Started in Real Estate With Just $500 | |
38. Make greater returns (money) out of your 401k.
You should know about blooom if you have a 401k. Blooom will analyze your 401k for free and in under 5 minutes blooom can do all of the below:
Show you how well you are invested
Pick the best funds available in your 401k and give you exact percentages of what to invest where
Show you exact percentages on how many stocks vs. bonds to have
Show how much you are paying in investment fees and how to potentially pay less (average bloom client cuts their fees in half)
For someone who doesn't know how well their 401k is invested or would benefit from professionals analyzing it, it's pretty powerful. You could make
thousands of dollars
easily overthe long term just by getting a
free 401k analysis here
. More people should be doing this
40. Get Sign-up Bonuses
This has to be the easiest way to make money online.  Sign up for a website or app, and collect a sign-up bonus.  Our favorite is the Wealthsimple $50 Sign-Up Bonus exclusive for Finance Blog readers. If you sign up for a new account with at least $100, you'll get a $50 bonus. Wealthsimple is one of our top rated investing apps for 2019 and you'll get a 50% return on your investment right away! Score!
This is a limited time offer… so act fast.
1. Sign up through invite link to open an account.  This is an MMG exclusive that won't last long!
2. Make a deposit of at least $100.
3. $50.00 bonus deposited into your account!
41. Save on your student loans.
Refinance your student loans, like now. Sometimes you can make extra money just by finding new ways to save. A big one that many people fail to remember is that you can save around $300/month just by refinancing your student loan debt.
Interested in refinancing your student loans right now? Below are the top 4 lenders for 2020 (get estimated savings in under 2 minutes):
42. Do research on dividend-paying stocks.
It's been said that the average millionaire has seven streams of income. Dividend stocks are usually always in the mix. Dividend stocks are similar to regular shares of stock, but they pay you a small portion of the companies earnings monthly or quarterly. So it's wise to build a portfolio or dividend paying stocks! If you want to get hip to dividend investing, check out Ally Invest. What I like about Ally Invest is that they make it really easy to invest in stocks, while still having a plenty of features as you get more comfortable with investing.
43. Become an affiliate marketer and earn passively.
If you already have a blog or website you probably have heard about affiliate marketing. You can make money by referring website your visitors and readers to buy products online and earn a small commission on each sale. This can make you rich, as some bloggers make over $5,000 monthly just through affiliate marketing. If you wanted to take a stab at affiliate marketing for your website/blog I would recommend the MaxBounty Affiliate Program that I use for My Millennial Guide and it's been great so far! A perfect way to add affiliate links to your blog or website that doesn't look spammy.
44. Download passive income apps that really pay.
You're not going to get rich by downloading mobile apps that pay you, but you can use these to earn a passive income every month. Money making apps can be a simple way to pad your bank account in your free time.
You probably know these apps aren't my favorite way to make extra money, but I make an exception for it when you're just hanging out — e.g. watching T.V., riding the metro, during your break at work, or in the back of an Uber. Might as well click a few buttons and make some money while you're at it.
Here is our list of the best money making apps for 2019 if you wanted to give them a shot.
45. Earn money by stop paying high-interest debt.
If you're serious about saving money to make extra money, then you should know about balance transfers. If you're paying only monthly minimum each month then you're subject to paying money in interest alone and not even the principal balance.
An example is: If you have $2,000 on your VISA card, and it has an 18% APR, then you'll be paying $400/year in interest alone if you only pay off the monthly minimum each month. That's $400 down the drain.
You can avoid this by signing up for American Express Blue Cash Everyday. AMEX Blue Cash Cash Everyday is a card with no annual fee, and you can transfer your current debt from any type of credit card (all with no fees), and pay 0% interest for 12 months on your current debt amount. With no interest for 12 months, you can steadily pay down your balance with your savings from the other steps, which will save you a great deal of money in most cases
Ready to Make Extra Money For The Holidays? Go Get It!
If you went through this list then you should have found money making ideas that you could probably earn with to help you during the holiday season.
If you wanted more ways to make money online besides these easy side hustles, here's my list of the best online survey sites:
Want free money?
Robinhood is a free investing app for your phone. I really mean free all around – free to join and they don't charge any fees to buy or sell the stock. You can get a share of stock like Apple, Ford, or Sprint for free when you join through this link. The value of the free share may be anywhere between $2.50 and $200 and fluctuates based on market movements. You've got nothing to lose.