Tally is an app that can help you pay off your credit card debt through a low-interest line of credit. If you're eligible, they'll offer you a low-interest line of credit — customized to save you as much money as possible. Just like wholesale retailers (think: Costco), Tally finds the low rates and passes the savings to you.
In this Tally review, you'll learn how Tally works and if you should use it to pay off your credit card debit.
Tally Review
Did you know, the average American holds four credit cards?
Also interesting is that FICO data shows Americans with higher credit scores tend to hold even more cards (FICOs of 800+ have 10 open "revolving" credit accounts, though these accounts encompass all kinds of revolving credit).
When looking in my own wallet, I see five different credit cards. Like many Americans, I originally opened these accounts to take advantage of bank bonuses and benefits.
The bottom line is that Americans are juggling a s-load of credit cards––often at high-interest rates.
The national average APR on credit cards now sits at 18.6%, but that's just the average. Some consumers are battling 20, 25, or even higher APRs on their credit cards.
And all of these high APRs and cards add up to more than $100 billion in interest and fee payments alone.
No wonder American credit card debt is at an all-time high of $887 billion, according to data from LendingTree.
Are you ready for the good news?
If you wanted to pay down your credit card debt faster, there are debt payoff apps like Tally designed to help you do just that.
Tally can help those who want to:
Want to pay down high-interest credit cards.
Don't plan to continue using the cards they're paying off.
Need help sticking to a debt payoff strategy.
If you already know that you want to learn how to pay off debt fast, then you'll want to stick around to see how Tally can potentially help you.
Our Pick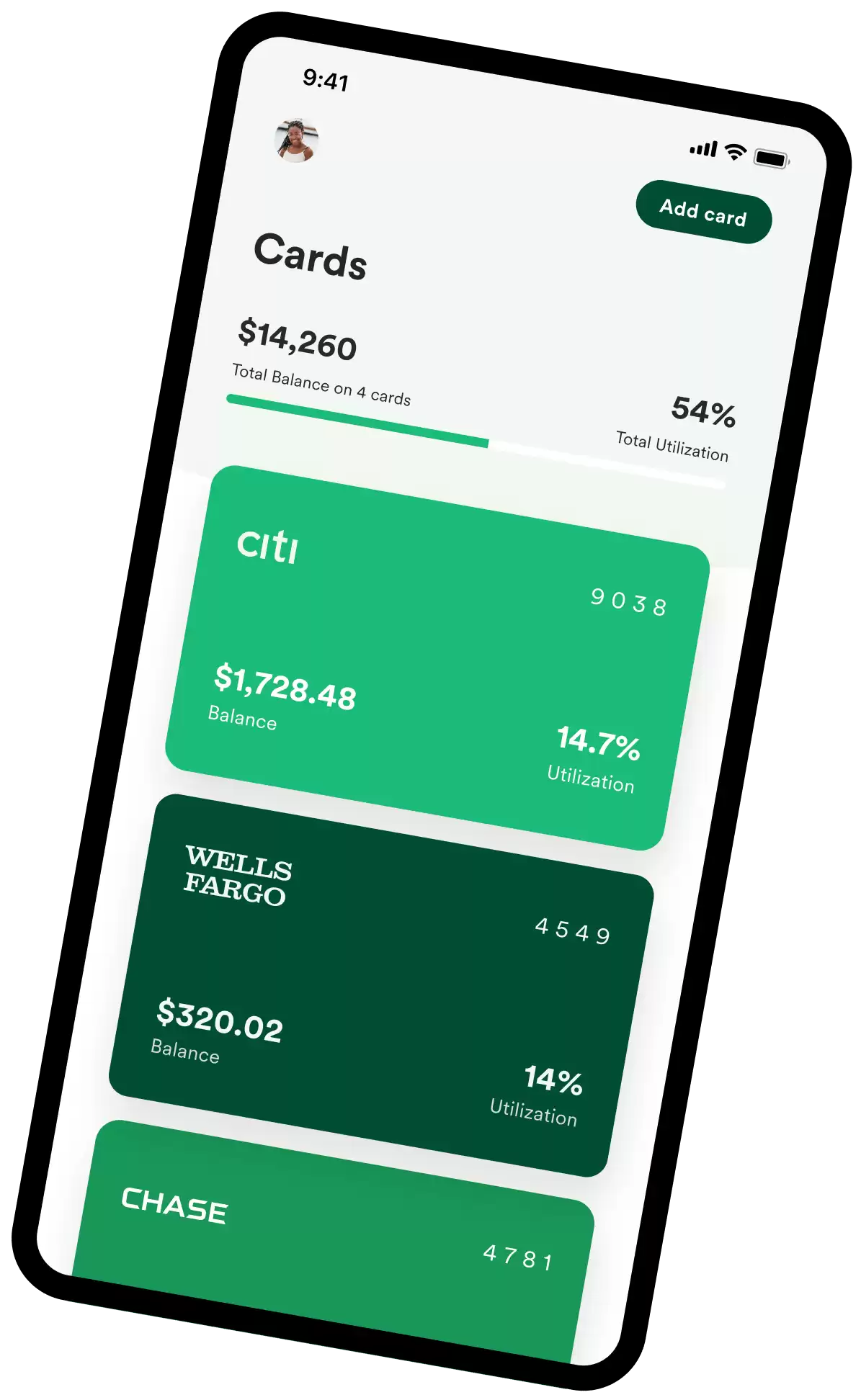 How Does Tally Work?
Tally gives you a lower interest rate and manages the hard work of deciding the optimal card payments at the optimal time. Additionally, you won't have to worry about any more late fees. Tally does this by approving you for a line of credit that can range from $2,000 to $25,000.
The app has three membership levels, each of which provides access to different debt-payoff features. However, as is the case with most consolidation options, Tally's line of credit is only a good choice if it will ultimately lower your interest costs.
Example of how Tally works
Step 1:
Download the app, and securely add your credit cards. Tally will do a credit check, which won't impact your score, to see if you're eligible for the low-interest line of credit. Typically, a 580 FICO score is needed.
Step 2:
If eligible, Tally will offer you a low-interest line of credit — customized to save you as much money as possible.
Step 3:
Once you accept the offer, Tally will immediately pay off your cards with your Tally line of credit, saving you money right away.
Simple enough right?
Let's say you're one of those people who own 5 credit cards (from our example earlier) with 795 FICO score. You carry a total balance of $6,500 on 3 cards but they all have different due dates and an average interest rate of 16%.
So if you're approved for Tally's credit line at, say, a 10% rate*, it will automatically kick in to pay off as much as possible of that $6,500 balance on your higher APRs to maximize your savings each month (savings you can use to pay off your debt faster).
Tally continues to manage your cards month after month as your spending goes up or down.
Importantly, Tally keeps track of all your due dates for the cards you've added. If you pay Tally on time, Tally pays your cards on time.
And to make sure you're not incurring late fees, Tally makes at least the minimum payment to your cards a couple of days before your due date.
Tally Memberships
Tally Basic membership: Users with a credit line have a free Tally Basic membership. Although this option has no fees, you will be charged interest on the credit line.
Tally+ membership: Tally+ offers its members a larger credit line and monthly discounts for making on-time payments. This membership costs $300 per year, which you pay out of your credit line upfront. On average, rates are lowered by 4 percentage points according to Tally's website.
Tally membership: Tally offers a helpful debt management system for people who may not be approved for lines of credit. This features helps users set up automatic payments and reminders to manage their debts. Tally also provides instructions on which strategy would work best for each user's specific situation, whether that is the snowball method, avalanche method, or targeting cards with the highest utilization. As long as there is a linked checking account available, minimum credit card payments can be made through the app to avoid late fees. The only downside is that this service currently costs $4.99 per month and is only available to iOS users at present time.
Should You Use Tally?
Before signing up, you'll want to make sure Tally works for you and your financial situation. Getting a line of credit sounds scary to most people especially when you already have debt.
If you're struggling with high-interest credit card debt, Tally may be a good option for you. Tally can help you pay down your debt and stick to a strategy so that you can get out of debt as quickly as possible.
It would be worth it to sign up and see the interest rate you'll get with their line of credit and see how much you can save. You can view this without a hard credit pull.
Paying back this new line of credit to Tally is easy too. You can also change your payment due date every 6 months. Plus, there are no late or prepayment fees.
However, the credit line isn't available in MT, NV, VT and WV.
Tally is limited to customers who are qualified for and accept a credit line, and qualification is based on your credit profile (ex. FICO score, income, etc.).
To qualify for a Tally line of credit, you'll need a good credit score, a steady income, and manageable existing debts. The average Tally user has a FICO score of 685, earns $71,000 per year, and has a 38% debt-to-income ratio and monthly free cash flow of $3,600. Tally doesn't require a specific minimum income to qualify, but these averages give you an idea of the kinds of users that are successful in securing a line of credit from Tally.
How to Sign up for Tally
Creating an account with Tally is easy and only takes a few minutes. Just go to their website and enter your basic information, including your name, email address, phone number, and date of birth. Once you've created an account, you'll need to provide some additional information so that Tally can determine whether you qualify for a line of credit. This includes information like your income, debts, and credit history.
Tally is a great option for those who are looking for a way to consolidate their debt or finance a large purchase. If you think you might qualify for a Tally line of credit, sign up today and see how much you could save.
You'll be led through a process to scan the cards you want Tally to manage and a soft credit check (which doesn't affect your credit score) to determine if you qualify for a line of credit.
Is Tally Safe?
Tally is a Bay Area company backed by some of the best VCs (including KPCB, Shasta Ventures & Cowboy Ventures). Tally spent years building the tech and banking infrastructure to support a secure, automated debt manager app and is licensed as a lender.
There's also the "safety net" aspect of Tally facilitating payments and saving you from late fees (since late fees can give banks a reason to raise your interest rate and cost you even more money over the course of your balance).
FAQs
How much does Tally cost?
The Tally app is free to download. To get the benefits of a Tally line of credit, you'll need to qualify for and accept a Tally credit line. Depending on your credit history, your APR (which is the same as your interest rate) will be between 7.90% – 29.99% per year. And similar to credit card APRs, it will vary with the market based on the Prime Rate. (This information is accurate as of June 1, 2022.)
Does signing up for Tally affect my credit score?
The credit check they perform to determine your eligibility has no impact on your credit score. If you choose to activate your line of credit, they may report it to the credit bureaus. Once reported, your Tally account will be classified as a line of credit and not as a highly utilized credit card. If your Tally account becomes delinquent, the team is required to report the past due amount and its severity to the credit bureaus.
What's included with a Tally+ membership?
For steeper discounts and access to a larger credit line, you can choose Tally+ membership. Each month you pay your minimum on time, you get money back. This effectively lowers your interest rate by an average of 4%.
Do We Recommend Tally?
Generally speaking, Tally is for anyone who likes their credit cards for the convenience and rewards but dislikes the high APRs, annoying late fees, and hassle of managing multiple cards.
If you're in a Tally-covered state and qualify for a line of credit, we recommend using Tally to take advantage of a lower interest rate to pay down your credit card debt faster.
The path to relief: conquer your debt
Credit card debt can feel like a relentless weight pressing down on your every thought, an invisible force that dictates the choices you make day in and day out. 
This burden is more than just financial; it has a profound emotional and even physical impact, leaving you exhausted and disheartened. 
Despite your commitment to making regular payments, it can feel like you're trapped in a never-ending struggle, with interest gnawing away at your hopes for a debt-free future. 
Unlock financial relief with National Debt Relief.
Their affordable plans are tailored to your needs. Share your situation, and discover your personalized debt relief options today. 
Ready to tackle your debt head-on with National Debt Relief? 
It all starts with a free debt assessment. 
Don't miss this crucial first step – sign up using the button below to get started!