This list includes several free WiFi locations, restaurants, and shops where you can get free WiFi, open WiFi networks and find free WiFi via your provider.
These free WiFi slots are available in almost every city, and once you know where to go, you can enjoy free WiFi at any time. This makes it extremely easy to find a place where you can relax and update yourself on social media or even work a bit.
Even though there are some cheap WiFi plans available, you may be traveling and looking for WiFi. Here are some free WiFi apps to help you.
National Chains with Free Wi-Fi
1. Starbucks
When you're at Starbucks, you can stay connected to your world with Wi-Fi service since they partnered with Google. To log on, simply select "Google Starbucks" Wi-Fi network, and when the Starbucks Wi-Fi landing page loads, complete the fields and click "Accept & Connect." Finding one of the 7,000 Starbucks locations near you shouldn't be an issue but you can use the store locater below to find one in case you're traveling.
Store Locater: https://www.starbucks.com/store-locator
2. Mcdonald's
McDonald's has over 11,500 locations that each offer free wireless access to its customers. Its Wi-Fi speeds are usually faster than other national chains. You can grab a Big Mac or just a coffee and get your work done here by finding a booth in the corner.
Restaurant Locater: https://www.mcdonalds.com/us/en-us/restaurant-locator.html
3. Panera Bread
Panera Bread offers a comfortable location to get connected to the web and have an enjoyable meal (I love the pick 2 menu) or coffee. Even during COVID-19, you can sit down at a table or sofa chair and get high-speed internet for free. Just keep in mind that you might get kicked off the network after 30 minutes during busier hours. You can call your local Panera to confirm how long you are able to stay connected ahead of time by using the locator below.
Cafe Locator: https://www.panerabread.com/en-us/cafe-locator.html
4. Dunkin' Doughnuts
Dunkin' Doughnuts may not be as comfortable to work at like most Starbucks locations, but it still works. You can also grab a reasonably priced doughnut and coffee while you connect the world through its free Wi-Fi access. You can check to see if you have any Dunkin' Doughnuts locations near you below.
Store Locator: https://www.dunkindonuts.com/en/locations
5. Buffalo Wild Wings
I was surprised to learn that the sports bar Buffalo Wild Wings offers reliable high-speed internet access. However, if you want to use it you'll have to order some wings or go during happy hour where the prices are more affordable. But if you are in need of Wi-Fi access, and you have a BWW nearby, give it a go and you can also catch some sports games!
Restaurant Locator: https://www.buffalowildwings.com/en/locations/
6. Apple Store
If you're close to a mall you can usually sit outside an Apple Store and connect to their fast Wi-Fi access. Or if you just need to use the internet for a bit, you can use their Macbooks or iMacs in the store which also are connected to the internet. Alternately, if you're already in the mall, just head to the food court since they should offer free Wi-Fi for all to use.
Store Locator: https://www.apple.com/retail/
7. Marriott Hotels
In case you are traveling and you want to stay at a hotel with reliable internet — then keep your eyes peeled for Marriott Hotels. Marriott locations, including Fairfield Inn and Springs, SpringHill Suites, Residence Inn, and TownPlace offer fast Wi-Fi and a great rewards program for travelers. Most budget-friendly hotels also offer free internet and Wi-Fi so consider those if you're trying to save money.
Hotel Locator: https://www.marriott.com/search/default.mi
8. Whole Foods
The popular organic grocery store chain will also be able to satisfy your quest for free Wi-Fi. Since most Whole Foods are equipped with cafes and dining areas — you can likely get away with using its free internet without spending a dime.
Store Locator: https://www.wholefoodsmarket.com/stores
9. Staples and Office Depot
Often times I can spot a Staples or Office Depot while I'm traveling and they always offer wireless access when I need to upload a video or pop off an email. I usually go to a corner of the store and can I use the internet for as long as I want. Staples employees don't really bother you as they do at Barnes and Noble (weird, right?).
Store Locator: https://stores.staples.com/search
10. Target
If you need to send a quick email or browse the web you can visit your local Target. While shopping, you can connect to the stores free Wi-Fi in order to save on data. Some Target's have Starbucks or Target Cafes which are great for sitting down. Check out your options by using the Target locator below.
Store Locator: https://www.target.com/store-locator/find-stores
11. Barnes & Noble
You can get public Wi-Fi near you if you have a Barnes & Noble around your neighborhood. Most locations have a Starbucks on-site, which offers a place to have coffee and eat with free Wi-Fi. You can also read a book and find a nice corner to yourself and surf the web! Most locations should be fine to use the Wi-Fi uninterrupted, but sometimes, I've been asked to leave after using it for over an hour and not buying anything (your mileage may vary).
Store Locator: https://store-locator.barnesandnoble.com/
12. Best Buy
Got a Best Buy nearby? You can quickly pop in and use the Wi-Fi for a bit or use the computers in the store which all are connected to the net. While you can't write an entire essay in-store, light browsing or sending off an email is possible at Best Buy locations.
Store Locator: https://www.bestbuy.com/site/store-locator
How to Find Places with Free WiFi
1. WiFiMap

WiFiMap is an application which works on smartphones and acts as a database of all of the free WiFi spots on the planet Earth. It operates on most continents, which is great for when you are traveling. The free version of this app is limited to a radius of around 2.5 kilometers, which is probably practical since the range of WiFi is pretty limited.
There is also another feature, which gets you user-provided passwords to some password protected WiFi hotspots in return for you watching some ads on the app. It's not something the WiFi hotspot owners would like, but it's still there just in case you need it.
2. WiFi Free Spot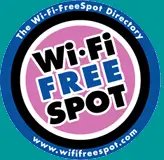 Another option for you is to find locations that offer free WiFi Internet access. You can do this by checking out WiFi Free Spot.
This site makes it easy to find free WiFi locations in any state or country that you're in and shows you a very comprehensive list so you should find one nearby.
These are our top 3 favorite database applications for access points:
3. WiFiMapper
WiFiMapper is a free WiFi map app (try and say that six times in a row) available for iOS and Android phones. It provides you with a WiFi map of local cafes that provide free WiFi near you. This excellent and easy-to-use hotspot database application contains a long list of hotspots and information about it. For each access point, you can view Foursquare and WiFiMapper comments, the type of access point and the exact location. WiFiMapper can even tell you what kind of venue it is, how reliable the connection is and even if they have good coffee!
4. Use a Hotspot database application
The demand for free public access points is such that complete applications are specifically designed to help users find them. The hotspot database applications contain a huge list of WiFi hotspots around the world, and some even have passwords for hotspots that are inaccessible to the public without paying.
5. Visit popular WiFi hotspot locations
There are some places where you will almost certainly find a free WiFi access point. If you've ever wondered how to get free WiFi access at home, you might consider going right next to one of the locations below:
Libraries. The aim of libraries is to promote the education of the local community. Offering free internet access is just one of the ways in which libraries pursue their goal.
Public Spaces. In recent years, cities around the world have begun to cover public squares with free WiFi access points to attract more visitors to local stores.
McDonald's and Starbucks. McDonald's, Starbucks, Ben & Jerry's and other popular fast food chains, ice cream parlors and restaurants have long discovered the power to generate revenue with free WiFi hotspots.
6. Look for Hidden WiFi Networks
Wireless networks are identified by SSIDs (Service Set Identifiers), which essentially serve as network names. Without much work, it's possible to hide a network's SSID and thus create a hidden network that won't be readily visible to various WiFi-enabled devices.
But just because a WiFi network is hidden doesn't mean it can't be discovered. Using a WiFi analyzer app such as NetSpot, it's possible to find all nearby hidden networks.
7. Get Free WiFi Access Through Your ISP
Although it is not a free way to get WiFi, as a paying customer of some ISPs, you can access free WiFi hotspots in the hundreds of thousands of locations in the United States.
You can connect to WiFi networks created by Cox Communications, Optimum and XFINITY that offer free WiFi to their subscribers.
This means that if you are at a place that has a WiFi network by Cox, you can still benefit from your subscription during your trip.
8. Tether your phone
If you have a smartphone, one of the most obvious but still useful options is to connect your 3G or 4G connection to your computer. Keep in mind that they have to be prepared a little in advance. iPhone users must first jailbreak, and Android users need root (but only for sharing WiFi connections, sharing USB connection without root access). The good thing about this is that it works almost everywhere, as long as you prepare your phone, you will never be without a connection. You can see the steps here to learn how to tether your phone.
How to Get Free High-Speed Internet
One thing we can all agree on is that high-speed internet can cost a pretty penny. The average person in 2022 is now paying about $50 a month for an internet connection.
Did you know that 10 years ago that it was only ten bucks?
If you are keen on finding ways to get free WiFi, then you might be interested in simply getting free internet completely so you can use your computer at home. This way you won't have to worry about places with free WiFi near you.
Believe it or not, there are actually a few hacks we've found that can get you free internet.
And, they're all 100% legal ways to do it.
Well, look no further. Here are the best ways you can get free or cheap internet access at your home or while traveling:
9. FreedomPop

This is one of the most generous plans for people who are looking to access the internet legally for free. How does it work? FreedomPop sends you a wireless router which can be used as an access point. When you are looking to use the internet, you turn on the device, and you are able to access the internet, wherever you are.
To get the device, FreedomPop will take a small deposit for it, which is returned to you, if you return the device back in a year. If you decide to keep using their services, however, for longer than a year, they will retain the deposit money, and consider it payment for their wireless router.
They give you 500 megabytes of free data every month, which is pretty generous if you are looking to do some light internet browsing.
If you need more data though, you can subscribe to one of their paid plans, which are still pretty cheap, for the amount of data they give, when compared to other internet service providers.
10. NetZero

If you've still got a phone line, NetZero will help you get on to the internet for free. Although it still uses dial up technology, it is a great way to get connected without having to spill out a whole lot of cash.
What's the catch you say?
Well, NetZero limits your net usage to 10 hours per month, which might be good for some light browsing. If you are not satisfied with the limitations of the free plan, NetZero offers you paid plans, which again, cost pretty less when compared to other Internet Service Providers. Even though dial-up is pretty old technology, with lesser data speeds when compared to today's fiber optic technology, it is still a great way to get connected to the internet for the price of nothing.
11. Check with your current ISP for any free plans
Your ISP might have a low-cost plan for you to access the internet, or a bundle deal, where you get free internet in exchange for phone and TV services. It's not a bad idea to contact them and get details on such offers.
Most of these super low-cost packages and bundle deals are not advertised, and would not be discovered if you do not specifically ask for them.
When Did WiFi Become So Popular?
In this modern era, most homeowners have opted out of the network solution because it is outdated. They prefer to use WiFi because it helps them to go home with their laptop without having to worry connecting any cables. Not only do people use the wireless network solution for personal use, but they also use this new technology if they have their own office or if they hold high positions in a particular organization.
This is just because Ethernet cables give the office a disorganized and cultural appearance. To avoid having too many cables, you can easily get high-speed internet that has WiFi capability through a router or opt for free internet options. To recap, your best option is FreedomPop if you truly wanted free internet in your house.
Good Luck Finding Free WiFi Near You
With all these tips, it is very important to remember that when you connect to a public WiFi network, you open up a lot of your data to the rest of the world. Therefore, when using this policy, you must make every effort to remain safe on public WiFi networks.
The entire process may take a couple of hours, but the effort is well worth your time. Using the above techniques provides you a means to see where your network reaches, determine how you fast your network performs by location, view interference from neighboring networks, and optimize your laptops and smartphones for the best possible performance. Applied properly, these free WiFi tips will make your wireless network fly!
Get Out of $30,000 or More of Credit Card Debt