There are plenty of budgeting tools out there for download, but choosing the right one for your financial situation can be difficult. After all, how do you know which one will guide you in achieving your goals, rather than just waste space on your phone?
In this article, we'll introduce you to Rocket Money and Mint, two popular money savings apps you may have already heard of. Comparing the two apps, we'll discuss the best use of each one, helping you to know which one you should spend time downloading.
At the end, we'll break it all down for you, pointing you towards the app that will help you the most on your financial journey.
Before we get too far into the specifics on Rocket Money and Mint, let's first talk about why you might need these apps in the first place.
Why Should You Use Budgeting Apps
While it might be obvious that budgeting apps are meant to do just that, there are a lot more features that go along with this financial activity than first meets the eye. And it's these aspects that are critical in achieving success with your budget.
For example, part of keeping an eye on your money is figuring out ways to save even more. Part of that is looking out for opportunities for better rates, whether it's your credit cards, car or home loans, or even insurance rates. Bill negotiation plays a part in this as well, because maximizing the services you're already paying for can make your money go that much further.
Budgeting apps are also a great way to put all your finances in one place. While that might seem risky in terms of security breaches, it just helps out visually when it comes to your money. If you know where your money is going each month, you can better direct it when it comes to budgeting for the future.
There are plenty of other benefits when it comes to implementing a budgeting app, many of which we'll discuss as we talk about Rocket Money and Mint. Let's get started.
Rocket Money vs. Mint: What is Better For You
One of the best ways to know if a money saving app is going to work for you is to figure out what services it offers. As you read through the descriptions of Rocket Money and Mint below, mark down those services you feel can really make a difference in the success of your budget. This will help to guide you towards the app that can help you the most.
How Rocket Money Works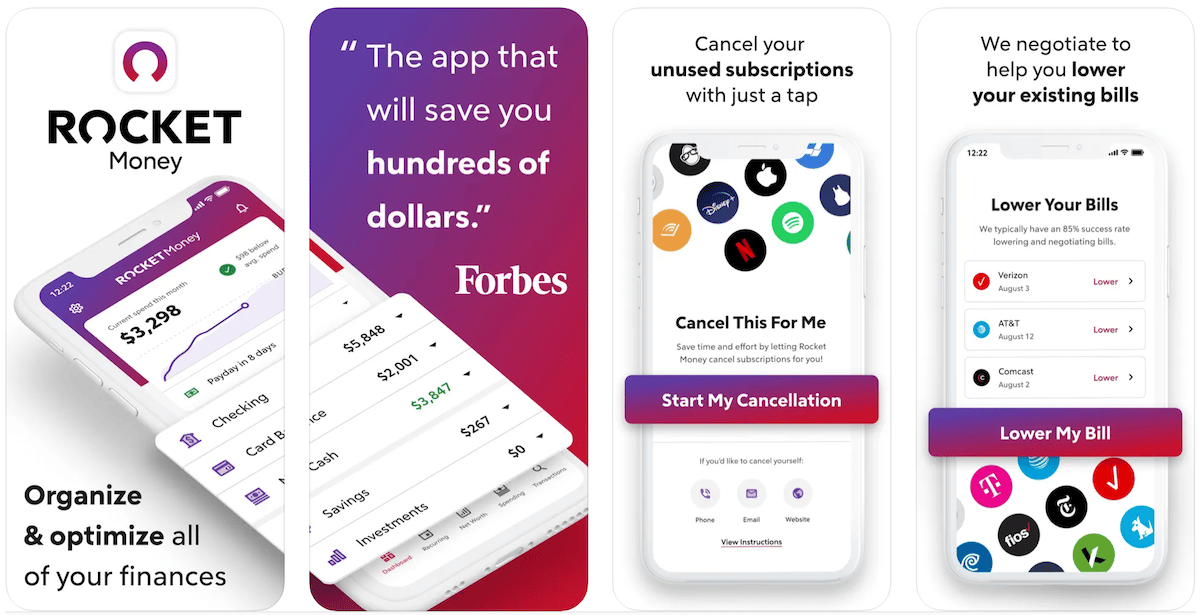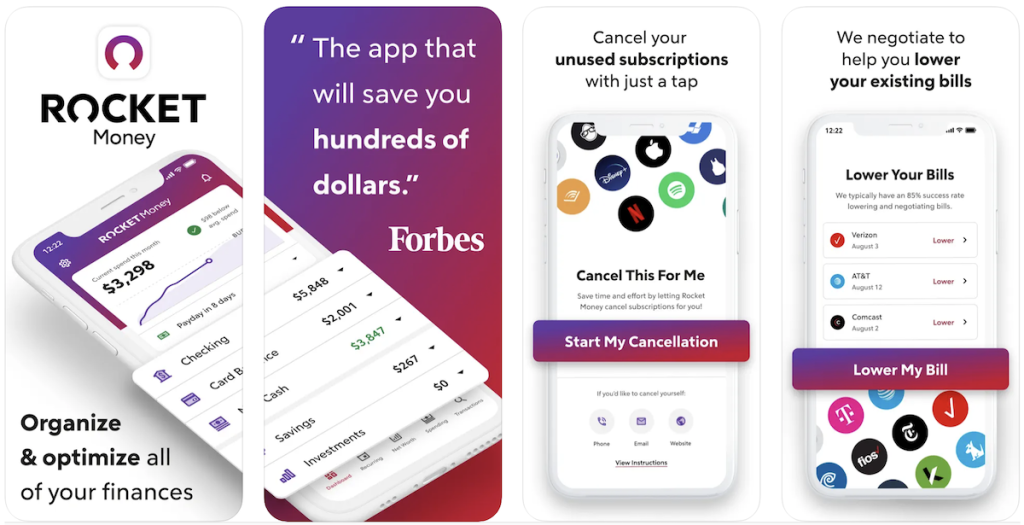 Rocket Money is best known for the bill negotiation service it offers customers. No one wants to sit on the phone with the phone company, the cable company, the internet provider, etc., in order to negotiate a better rate. And not everyone is an expert negotiator, which is why Rocket Money steps in for you.
Available for iOS and Android, Rocket Money has both a mobile app and a web version. The basic account is free, but as with many things, you'll get the most financial assistance with the paid version. Known as Premium, this service costs anywhere from $3-$12 per month (depending on which price you choose), and unlocks various features to help you create and maintain a better financial future.
Some of the most useful services include bill negotiation, of course. This service allows Rocket Money to contact those companies from which you receive bills in order to negotiate a better rate. This could be through discounts for things like military service, and/or specials, promos, etc. They spend the time on the phone so you don't have to. Plus, they only charge you if they do obtain a better rate, to the tune of 30-60% of your annual savings.
In addition to bill negotiation, Rocket Money can also cancel those subscriptions you're no longer using. Other financial assistance features include bill due notifications to avoid overdraft fees, the creation of unlimited budgets, smart savings, and the option to request up to a $120 advance on your paycheck. Keep in mind, these are all features you will have to pay to use which we cover in our Rocket Money review.
Rocket Money can also help you understand and grow your net worth. They offer real-time syncing with your financial accounts via a secure connection through Plaid. Rocket Money also offers premium chat services if you ever have any questions.
#1 Money Saving App

Rocket Money
Rocket Money is free to use
Rocket Money helps 3.4+ million members save hundreds. Get the app and start saving today. Save more, spend less, and take back control of your financial life.
Start Saving Now
Read Review
How Mint Works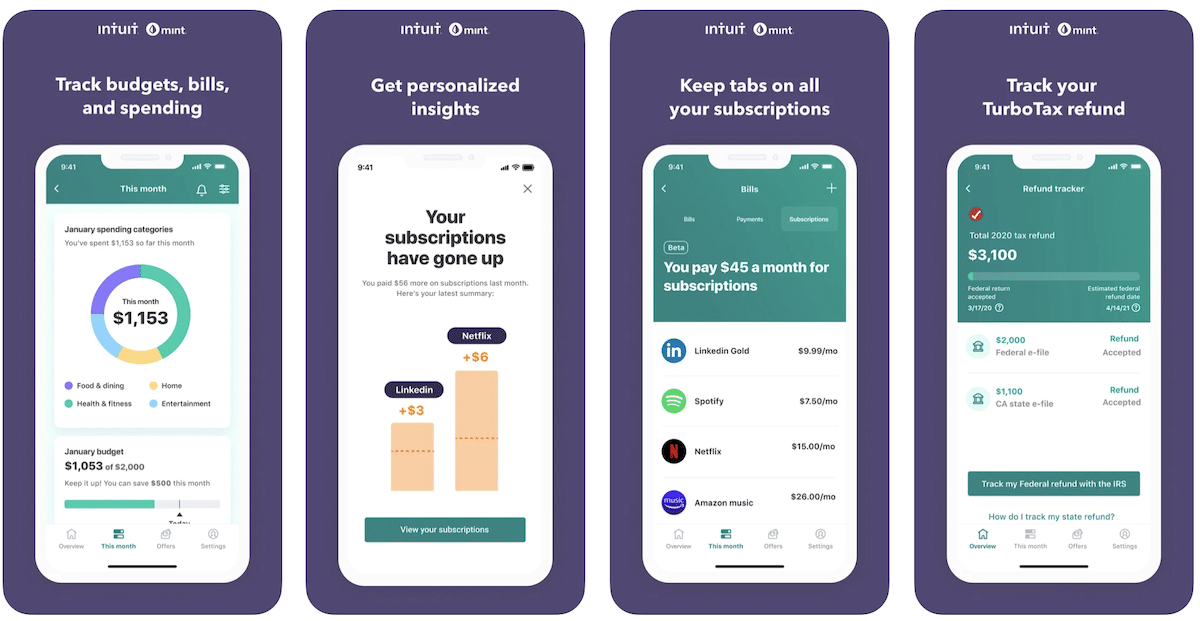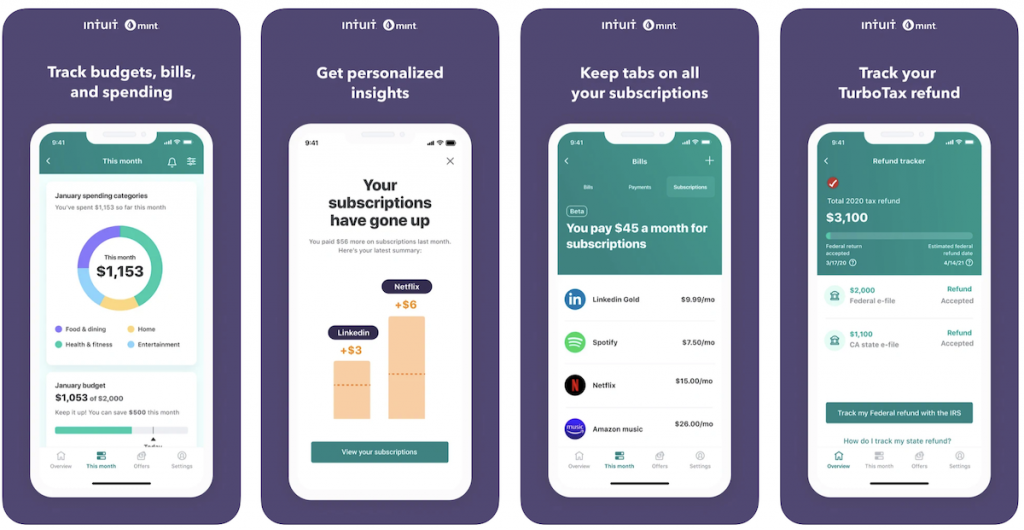 Saving money is the name of the game when it comes to using Mint. This particular app prioritizes your savings habits to prepare for the future, while also providing financial advice to guide your decisions along the way.
Mint is a free service that acts as a dashboard for your finances. You'll be able to see your accounts in one place, from checking and savings to credit cards and loans. Collection of your data comes through VeriSign, so you can be sure it's secure.
One of the standout features Mint prides itself on is the budgeting tools it offers and is one of the best free net worth trackers. Mint has some of the best free tools out there, and in this case, you get quite a bit for what you (don't) pay. Of course, the tradeoff to that comes in the form of advertisement placements, which can be an eyesore for some folks. However, it's the very money source that allows Mint to offer their free services to customers.
When it comes to budgeting, Mint allows you to customize your personal budgets as you see fit. You can categorize expenses according to your habits in a way that makes the most sense to you. Because Mint uses real-time data, you can be sure that charges will show up on your budget within minutes after making them.
In addition to creating a budget, you can also customize your notifications. These alerts can tell you when you're getting close to or over your budget for certain categories, such as groceries or eating out. Again, with Mint's access to your accounts, you'll know as you make purchases how your spending habits are affecting your budgets.
Mint also offers savings advice as well. These suggestions can pinpoint areas in your life that could hold potential savings you might not have thought of before. You also have access to information about credit cards, savings accounts, loans, insurance rates, and more to guide you towards a better decision.
Similar Features of Both Apps
When you boil it down, both Rocket Money and Mint offer ways to budget and save your money. The dashboards on each platform bring your finances into focus, so you can get a better idea of how to create your plan of attack. This is an important first step in any budgeting project.
Rocket Money and Mint also allow you to check your credit score for free. At the same time, many financial institutions are now offering this service as well, but it's nice to have that ability at-hand when you're already in the financial mindset.
Finally, these two platforms also prioritize security. Third-party encryption services protect your personal information, especially given the circumstances of the particularly sensitive credentials you're sharing on these two apps.
4 Important Differences Between Both Apps
There are four main differences between Rocket Money and Mint that should help guide you in choosing the right app for you. Here they are, in no particular order.
Budgeting Tools
Mint trumps Rocket Money in the sense that you won't have to pay for budgeting tools. Plus, there are alerts you can set up in order to keep yourself mindful of how and where you're spending to change habits if necessary.
However, many users have noted that the auto-categorization feature on Rocket Money makes it a more intuitive system. It's one less step to have to tell the algorithm which expenses go in which category, which could save you time to spend elsewhere.
Encryption Services
We mentioned that both Rocket Money and Mint use encryption services to keep security tight. However, Rocket Money uses Plaid and Mint uses VeriSign. So what's the big difference there?
It all lies in your particular financial institution. For example, if you've got a checking account at a bank that VeriSign recognizes but Plaid doesn't, you won't be able to sync it with your Rocket Money account.
While it may seem like a minor detail for an app that you're using to budget and/or save money, it could make or break that app if you're unable to sync all your financial accounts.
Cost
One of the more obvious differences between Mint and Rocket Money is the financial commitment you'll need to make in both cases. Rocket Money is a bit confusing when it comes to pricing, although you are able to choose your monthly rate. However, the savings Rocket Money is able to negotiate for you will come out of your account before you're even able to see those savings accrue.
Mint costs nothing to download or use. At the same time, one could argue that it requires more of your time to set up, which translates in many ways to money. Then again, if you're not subscribing to another service, you won't have to worry about canceling it once you've achieved those better rates. Once you uninstall Mint, it's over. Uninstalling Rocket Money, however, will not unsubscribe you from their paid services.
Available Features
We've talked about Mint and Rocket Money as mobile apps to download to your phone. And in those forms, both excel. However, Rocket Money and Mint also have web-based versions available as well.
Mint mirrors the app to the web version, which can really keep things simple if you're accessing the platform from both devices. You won't have to be on one or the other specifically to gain access to certain features, which helps to streamline things a lot.
Rocket Money, on the other hand, puts all their features on the mobile app, while restricting those on the web. If you're someone who does a lot of business on your phone, this could be inconsequential. But if you like to see your financial dashboard at large, a bigger screen might give you a better glimpse of the bigger picture.
Which One is Right For You
Now that we've talked about the pros and cons of Rocket Money and Mint, let's turn our focus towards how these apps can help you specifically.
Rocket Money
For instance, Rocket Money is best for those who want to manage their subscriptions and keep track of their expenses. While the paid version contains the most benefits when it comes to achieving your financial goals, this is yet another subscription you'll have to manage. After all, you can only negotiate so many bills and so many times before there are no savings to be had.
#1 Money Saving App

Rocket Money
Rocket Money is free to use
Rocket Money helps 3.4+ million members save hundreds. Get the app and start saving today. Save more, spend less, and take back control of your financial life.
Start Saving Now
Read Review
Mint
If you don't want to spend anything but need guidance when it comes to ordering your finances while looking towards the future, Mint is the right tool for you. Once you get past the ads and offers presented in order to bring you these free features, there's a lot of value to be had on the Mint platform. You will have to do more leg work with Mint, but it can be satisfying to effect changes in your finances yourself.
FAQs
How much can Rocket Money lower my bills?
Rocket Money works to negotiate your bills for you, so your savings depends on the amount of bills you have as well as the discounts they're able to (potentially) obtain for you. While Rocket Money can technically not save you any money, they should theoretically obtain enough savings to pay for their monthly fee, which ranges from $3–12.
How does Mint save me money?
Mint itself will not save you money. Rather, you've got to do the leg work in order to make those savings happen. That said, Mint does offer a section of their platform dedicated to savings suggestions, which can open your eyes to new savings opportunities.
Is using Mint and/or Rocket Money safe?
Some people wonder if Rocket Money or is Mint safe? Like anything else on the internet, these apps are only as secure as their encryption services. However, both Mint and Rocket Money use third-party security partners with the same security status as financial institutions use. Every effort is made to protect your personal data.
The Bottom Line
Deciding between Rocket Money and Mint can be difficult. While both offer similar features, each service addresses a different aspect of financial responsibility. That's why we recommend implementing both into your life, rather than just one.
Yes, it might seem redundant, but hear us out. If you create a free Mint account to budget and obtain savings suggestions, you're using that platform to the fullest potential. Adding Rocket Money will help you determine if your monthly bill commitments are optimized to their full potential. Using these services in conjunction can aid you in achieving your financial goals.
The biggest determining factor between Rocket Money and Mint is you. Whether you pay for a service or not, take advantage of the features that will guide you in the right direction. Focus on how that particular app can get you further financially and the answer should become clear.
#1 Money Saving App

Rocket Money
Rocket Money is free to use
Rocket Money helps 3.4+ million members save hundreds. Get the app and start saving today. Save more, spend less, and take back control of your financial life.
Start Saving Now
Read Review
Get Out of $30,000 or More of Credit Card Debt