Looking for an honest Personal Capital app review?
The financial tool you need to learn about is Personal Capital. There are a ton of personal financial management tools available online, but the Personal Capital app is one of the better ones.
Personal Capital is committed to altering the financial management landscape. The company is a useful blend of technology and financial savvy. The Personal Capital app is an excellent example of how good things happen when technology meets finance.
Anyone can download the money management app to help take control of their personal finances – it's 100% free. If you want to track your personal finances on a minute-by-minute basis, using an app is a great place to start. It allows you to manage your spending, monitor investments, and avoid getting into debt.
The app has won tons of awards and scored lots of praise online. CNN voted it as one of the five best apps to manage investments and iTunes App Store staff voted it as one of their "Top Picks". Let's look at whether the Personal Capital app can make your life easier.
---
Want Free Money?
Aspiration: Want to get spotted a $150 for free? Simply sign up for Aspiration, and the free banking app will give you cash for free, you just relax while it gives you $150 just for opening a new debit card. There's no catch. This bank account is legit and only takes two minutes to sign up for an account.
---
Pro tip:
 Surveys are quick, easy, and can pay you cash from the comfort of your home. No wonder they are so popular.
Survey Junkie
,
Branded Surveys
,
Swagbucks
, and
InboxDollars
are just a few of the best survey sites to make money.
What is Personal Capital?
Personal Capital is a smart way to track and manage your financial life. They combine award-winning financial tools that provide unprecedented transparency into your finances with personal attention from registered financial planners.
And as fiduciaries, their advisors are legally bound to act in your best interest so they will never put the companies personal financial gain above yours. The result is a complete transformation in the way you understand, manage and grow your net worth.
With Personal Capital, you can see all of your accounts in one place. Manage your bank accounts, 401k, IRA accounts, investments, and even debt on their dashboard.
Is the Personal Capital App Available on All Platforms?
The best apps work across all platforms and the Personal Capital app is no different. You can download the app from the Apple App Store and Google Play Store.
Use the app on your smartphone, tablet, or smartwatch. The more devices you use, the better able you are to keep track of your financial position.
How Does the Personal Capital App Work?
The Personal Capital app is more than just a budgeting app. You can use the platform to manage all of your accounts, including bank accounts, savings accounts, loan accounts, credit cards, and investment portfolios.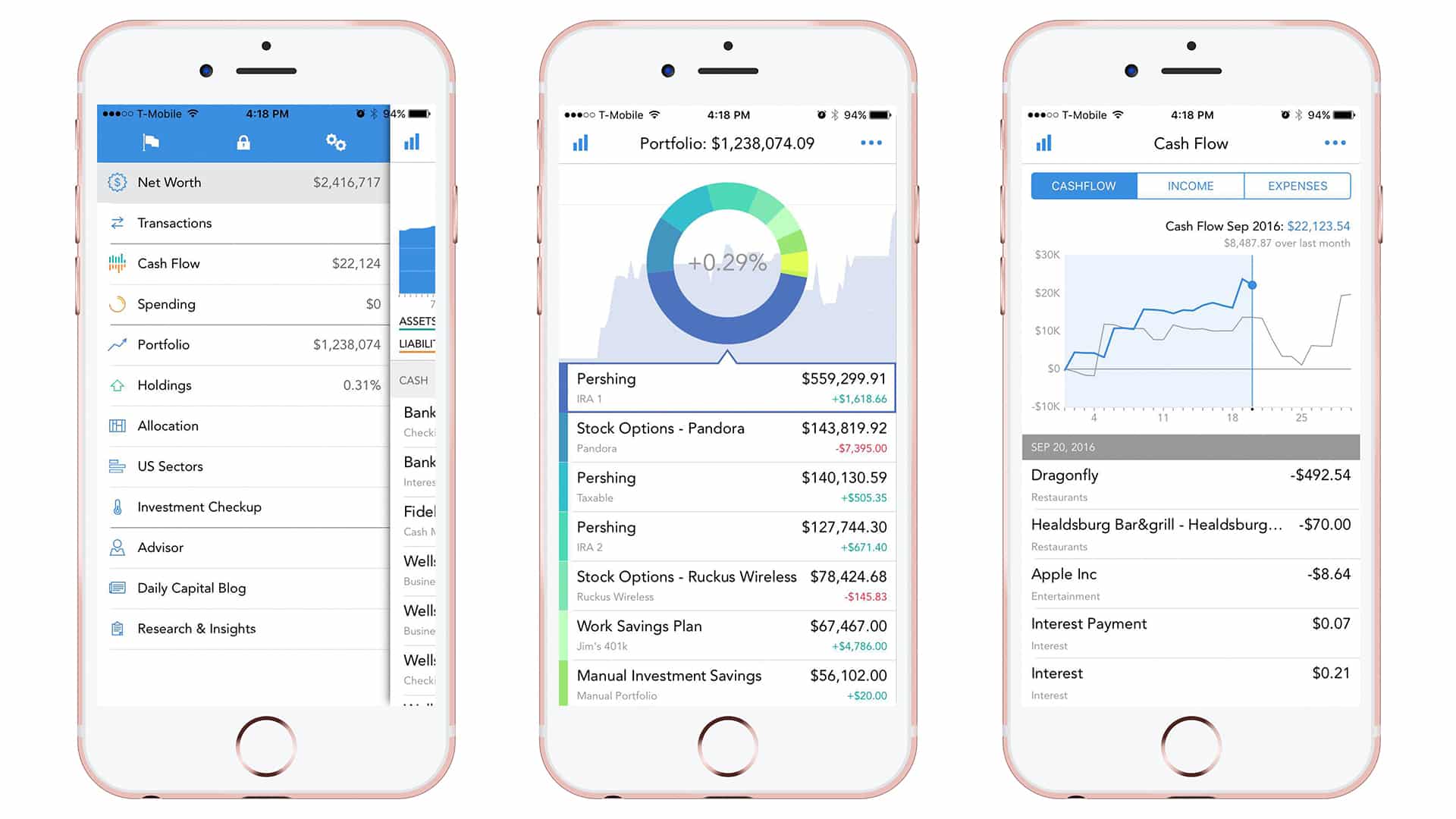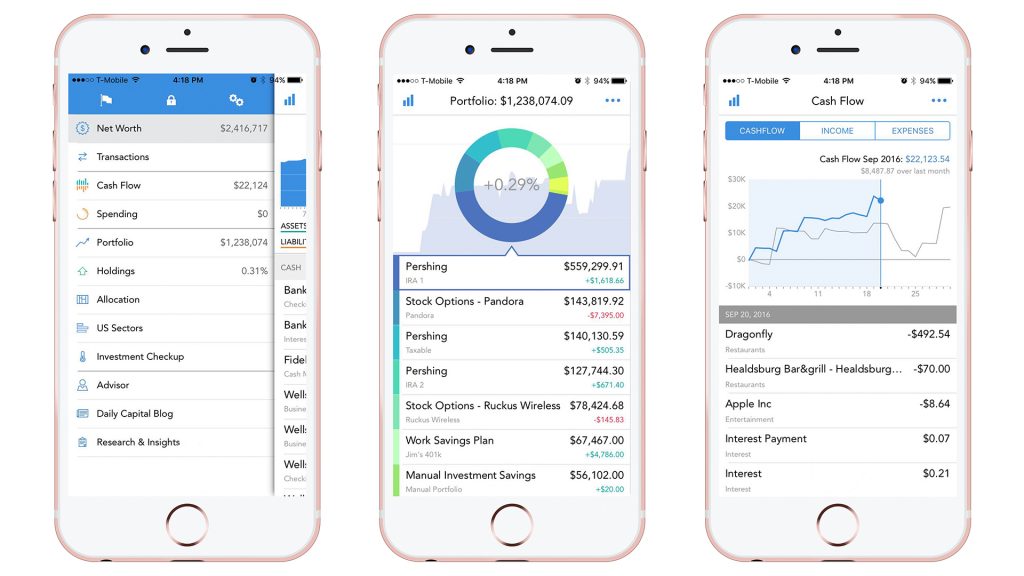 Once you have opened a free Personal Capital account, link your accounts to the app and all transactions and account information is updated in real time. You will know what's happening at any given time, which will help you make the right financial decisions.
Start for Free
With the free Personal Capital app, you can easily and quickly link your accounts. They integrate with over 14,000 financial institutions, including Fidelity, Schwab, Wells Fargo and thousands of local and regional credit unions. You can be up and running in about a minute for a 360° view of your financial life.
Interactive Cash Flow Tools
Create and follow a budget. See if you're spending more than you're making. Monitor credit card balances. See detailed income and spending by category or payee. Review transactions in the last 24 hours with the Recent Transactions Today extension.
Track Your Investments
What's the market doing and how is it affecting your assets? Track the numbers by account, asset class or individual security.
Compare your portfolio against major market benchmarks and stay on track to meet your investing goals.
Install the Holdings Today extension to track the daily market and individual holdings movement.
Personalized Investment Advice
Personal Capital's registered financial advisors provide customized advice tailored specifically to your goals. If you prefer, you can pay for hands-on management service, but this is aimed at high net worth individuals and for the majority of customers, the free app service is sufficient.
Built-In Investment Tools
With Investment Checkup, you can compare your portfolio's allocation to the ideal target allocation and see how well your investments are doing. Uncover opportunities for diversification, minimize risk, and pinpoint hidden fees to fine-tune and improve performance.
Uncover Hidden Fees
Is your portfolio working as hard as it could be? The Allocation Checkup feature could save you thousands on expensive mutual fund fees.
Personal Capital for Apple Watch
Set a spending target and track it on the go. Quickly check your status by day, week, month or year.
Access your spending simply by checking the date.
Voice Activation
You can ask Siri to give a summary of your accounts, check current balance and more.
Manage Your Net Worth
If your main objective is to manage your net worth – no problem – the Personal Capital app is designed to make life easy. Thanks to the app, you have your entire portfolio on your wrist. The app monitors your investment portfolio's performance in real-time. Have you made the right investment decisions? Are your stock holdings on a downward spiral? Find out by checking the app.
Track Your Spending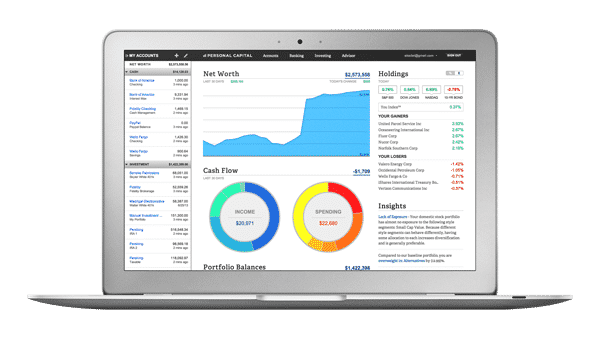 One of the best features is how easy it is to track your spending. It can be difficult to manage several different accounts and credit cards, but once you install the Personal Capital app on your smartphone, you can set a monthly spending target and check whether you are on track.
The app lets you set daily, weekly or monthly spending targets. If you exceed your spending limit, the app tells you it's time to quit spending. Blue means you are good, but red means you should put the shoes down and leave the store immediately.
Is the Personal Capital App Secure?
Security is a big issue with any online finance management app or platform. We need to know our data is secure and our accounts protected. Personal Capital takes cybersecurity seriously and there are numerous layers of protection in place. All credentials are encrypted and stored in a third-party system. Each time you register a new device, you must respond to a telephone call or email to verify it's you.
You can use the free Personal Capital app with confidence. The two-step remote authentication process builds in an extra measure of security to verify your identity and your device, so you can manage your money and finances knowing your data is safe.
Personal Capital Reviews
Here are what some of the best editorial sites on the map have to say about Personal Capital:
Forbes: "Personal Capital's app makes it clear who was in mind when the app was developed. The look and feel are like reporting apps for most brokerage firms such as Etrade, Schwab, and Fidelity."
CNN: "Though Mint is one of the oldest players in the game, there are many other choices when it comes to budgeting software: Dave Ramsey's EveryDollar, Personal Capital and You Need a Budget are some other budgeting tools out there."
Tech Radar: "Personal Capital's primary function is to track your investments, assets and savings, rather than specifically looking after your current accounts."
Summary of the Personal Capital App
Personal Capital is an easy way to manage your personal finances and it's 100% free to use. There are some valuable tools included in the app, such as spending alerts and investment tracking, which are not available in other budgeting apps. You will find the app easy to use and the interface is very intuitive. The only negative is that some users have reported annoying glitches, but from a personal perspective, I have had no issues using the app.
Considering all that Personal Capital has to offer, this is a great financial tool that is well worth checking out. You can set up your free Personal Capital account here.
Do you have any thoughts on the Personal Capital App review? Let us know below!
Go
Description

Want Financial Wellness?
Acorns
Acorns is your guide to financial wellness. They'll help you invest, save and spend smarter starting at just $1 per month. There's no catch. This app is legit and only takes two minutes to sign up for an account.

LEARN MORE


Today's Best Offers
App
At a glance
download
Chime
★★★★★


Chime will spot you up to $200 if you accidentally overdraft. And even better: they won't charge you a dime.

GET SPOTTED $200

Axos
★★★★★


This free savings account delivers on its promise to save you money effortlessly. You can use it to get up to 6x the national average APY. It now pays to stash your cash in a savings account.

GET PAID TO SAVE