Looking for the best budgeting apps for college students that will help you monitor your spending in college?
For most students, learning to live cheap and budgeting is not easy. When you think you've got enough money to last a month, it turns out you will need more before the end of two weeks. Thus, a supplementary budget becomes necessary. However, some students find themselves in such situations due to being unaware of how they're spending money and hard-hitting questions such as: Are you making the right decisions when it comes to personal finance? Are you able to spend wisely without using some of the best budgeting apps?
The truth is that poor spending can throw one's plans into disarray and it gets worse for a student struggling to make ends meet. Whether you need to budget for everyday expenses, college textbooks, a night out with college friends, or a college paper for sale at EduBirdie, these apps will point you in the right direction.
College Budgeting: Apps That Will Help You Spend Wisely
The digital age keeps surprising everyone, and there is no doubt millennials are the luckiest lot. Forget about years gone by where simple accounting required tons of papers stashed in folders. It is a new age where computer and mobile applications take precedence in simplifying tasks such as budgeting.
This post explores the best apps for college students that will help you be in control of personal finances. In particular, it lists the best applications for easy budgeting while emphasizing the exceptional features of each. Take a look.
Mint is one of the best budgeting apps for college students in 2020. With it, you do not only sync expenses to money available in your bank account but also monitor chargeback on your credit card. It also makes it possible for college students to budget for everything they need or do at school such as entertainment, paper for sale and coffee, of course.
If you would like to start investing while still in college, Acorns is the best investing app at this point. It is that time you embraced digital saving of extra coins from shopping and used them to make more money. Acorns tracks your transactions and makes the most of pocket change by helping you invest smartly. If you want to learn more about your investing options, discover the best investing apps ranked and reviewed here.

Personal Capital is not just an application for budgeting, but also one that features powerful functionalities. It tracks your money, analyzes investment fees and tracks expenses. It is the most ideal for a modern student who wants to experience the power of digital assistance since it combines human and robotic financial advice in one platform. In this review, learn how Personal Capital can help you manage your money better.
With Mvelopes, there is never going to be an easier way to be a part of the digital revolution in budgeting. Now, instead of stashing hard cash into physical wallets with a temptation of spending spree hanging over your head, Mvelopes creates a digital expenditure wallet. It means, expenses are not only defined into befitting categories but also tracked. Once an envelope gets depleted, you will have to wait until the following month.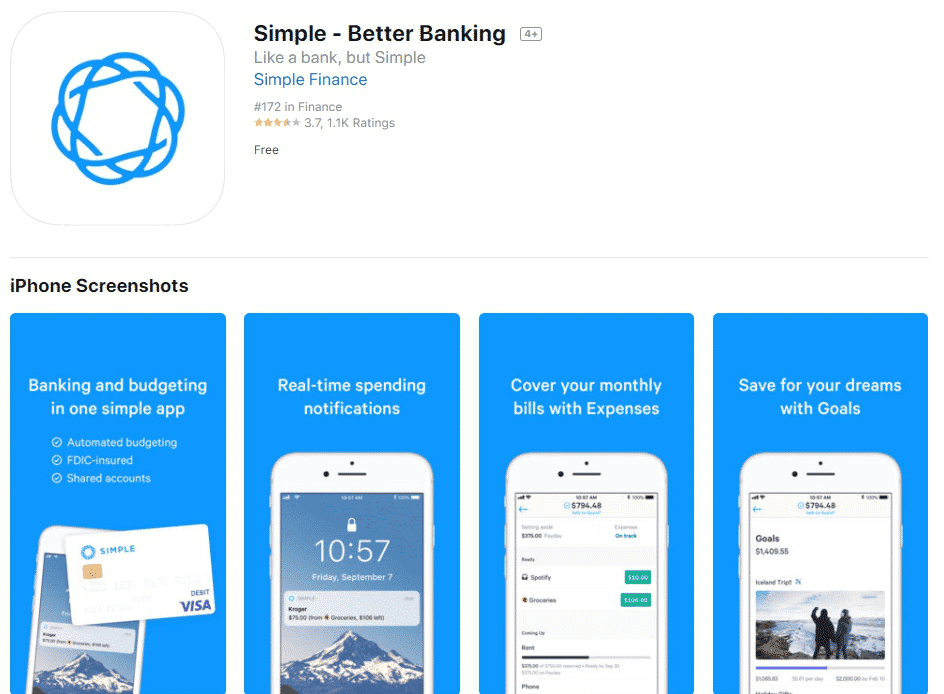 Money management is often a big challenge for most students, but with an app like Simple that syncs your bank account and budgeting tools, it is means you will be doing everything in one platform. It is an entire bank account in one simple app and has quite a few features tied in. Simple helps you track expenses, and with a feature that encourages saving, you can rest assured of staying in control of personal finances. It is free-to-use, and a safe-to-spend feature makes it an outstanding installation for mobile use so that your financial plans remain on track.

YNAB, also referred to as you need a budget, is arguably one of the most popular budgeting apps for college students in the market. It is ideal for those who want to manage finances around their income. With it, you are in control of daily expenses, investments, repayment of debts and savings.  Whether you want to sync it with your bank account, YNAB is compatible with both desktop and smartphones. It is, therefore, a suitable application for students who want to remain in charge of their money goals.
While it may not be the simplest of budgeting apps for college students out there, Wally is ideal for students who want to keep track of expenses, and if you have a side job, it helps with planning based on income level. It supports almost all virtual currencies apart from US dollars, making it a popular budget app among millennials.

Another budgeting app a student will find useful is Pocket Guard. It is not synced with your bank account but also helps you to keep track of income, expenses, and savings. Because it helps with tracking bills such as TV, phone and internet, Pocket Guard is all you need to cut back on unnecessary expenses by finding cheaper options.
Bonus: Spreadsheets
Whether it's Google Sheets or Excel, nothing can beat the classic spreadsheet. True, it may not come with all the bells and whistles that you would expect in a finance tool, but it works well.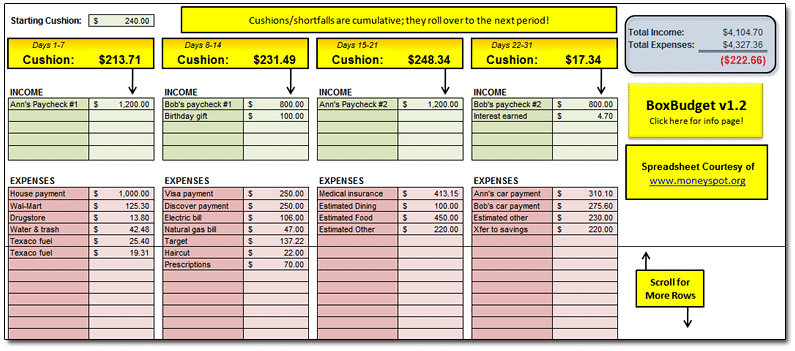 One of the obvious plus-points of using a spreadsheet is users have complete control over how they can track data. Plus, it is a safer option since you don't have to integrate your financial accounts online.
Need help setting up your spreadsheet? Tiller Money automatically imports daily spending, account balances, and transactions into Google Sheets and Microsoft Excel. You can customize the spreadsheet to your liking or they also have free budget templates you can use. Tiller Money keeps you up-to-date on your spending with daily account activity emails.
Tiller Money costs $79 a year. Try it out at no cost with a free 30-day trial.
Wrapping up the Best Budget Apps
You learn tons when you start college, and often one of the most practical— and unspoken—knowledge is learning the best budgeting apps for college students.
Tired of using journals to budget? Other budgeting tools you may want to try can be found here. Like most of the apps explored above, the features of a good budgeting app give you the ability to sync with your bank account thereby take control of personal finances through filing expenses into folders.
Whether it is money spent on groceries, phone bills, eat out, rent or entertainment, these money tools help you plan for what you need to budget for every item in your list of expenses, including repayment of student loans, credit card debt, auto loans and more.