You're in for a treat once you learn about real estate investing platforms like CrowdStreet that allow you to start building your real estate portfolio.
Technology has so many applications nowadays. It's difficult to find an industry that's not influenced by the advancements in technology.
The real estate sector has undergone many changes because of technological progress. It's now common to see buyers browsing the Internet for properties. Realtors utilize social media and online marketing strategies to grow their network and engage clients. Real estate transactions can be initiated and completed without even leaving your home.
Without a doubt, technology has changed the real estate industry in so many ways. CrowdStreet is no exception to this and this Crowdstreet review will explain what they do, how it works, and how it compares to other real estate investing apps.
Best for vetted projects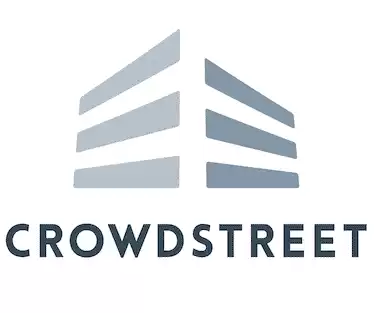 CrowdStreet
Join the nation's largest online private equity real estate investing platform, ranked Best Overall Crowdfunding Site of 2023 by Investopedia. Get unparalleled access to institutional-quality real estate deals online. Register for a free account and start building your real estate portfolio today.
Open Account
What is CrowdStreet?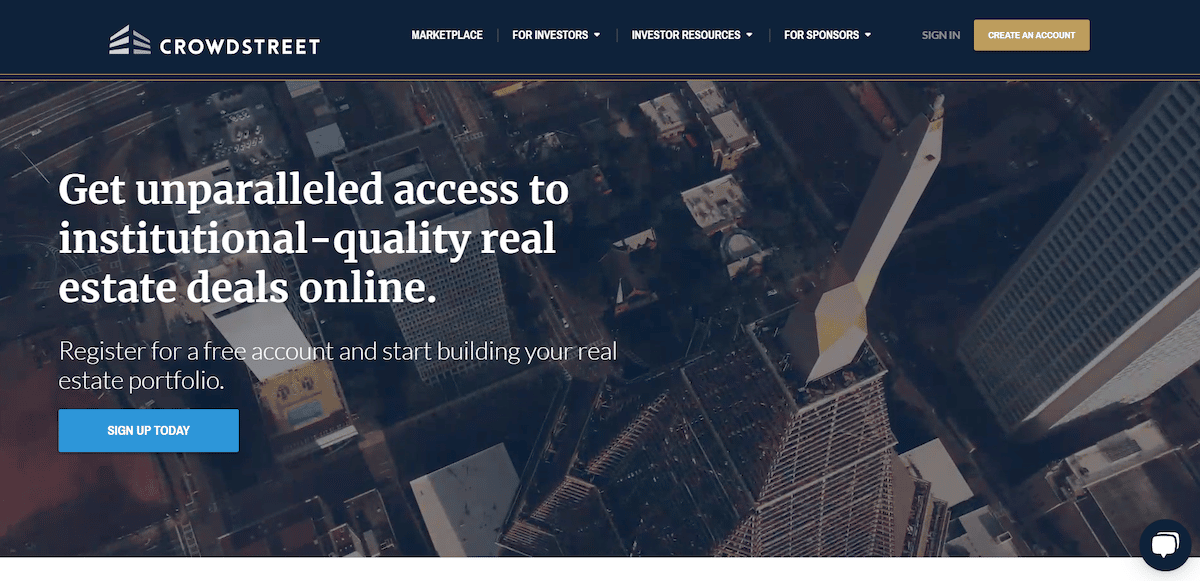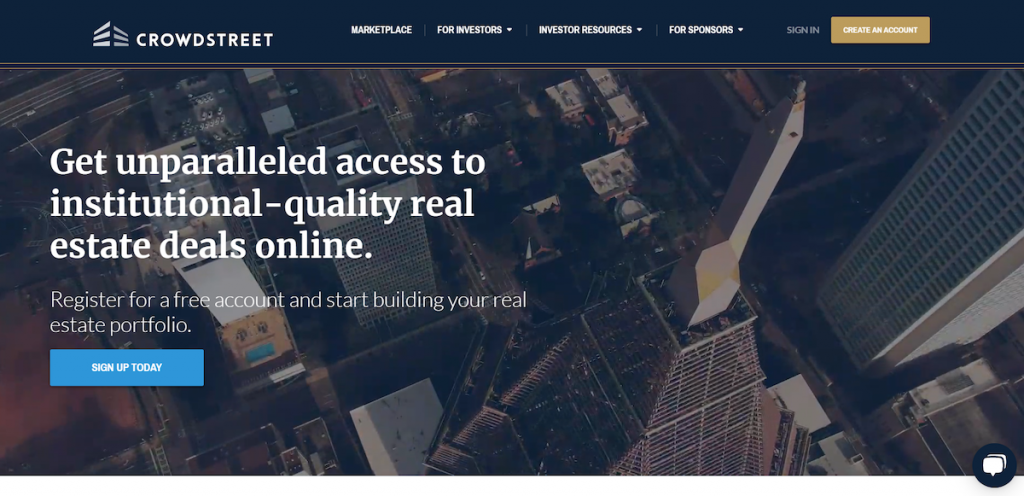 CrowdStreet is a crowdfunding platform that lets regular folks invest in the real estate industry, which was once reserved for wealthy people. Through CrowdStreet's Marketplace, investors have access to dozens of deals across every asset class and risk profile, allowing them to choose the right investment opportunity for them and their portfolio.
CrowdStreet is an online marketplace where you can choose from available real estate investments. It is an excellent platform for investors who want to diversify their portfolio with real estate assets. It offers valuable information to make real estate investments easy to understand.
Each deal undergoes a comprehensive review process for inclusion on the Marketplace and CrowdStreet shares much of the information they gather with investors so they can make more informed investing decisions. CrowdStreet has some of the highest deal flow volume of any online platform, and it's important that investors understand they do so while maintaining its commitment to only presenting them with institutional-quality deals.
Want to get unparalleled access to institutional-quality real estate deals online? Register for a free account and start building your real estate portfolio.
Best For
CrowdStreet is an ideal choice for accredited investors who want less hands-on investing in commercial real estate. If you want a personally managed account, CrowdStreet is also for you. CrowdStreet has a high minimum investment requirement, but this is one of the best ways for accredited investors to diversify their portfolios with commercial real estate.
Pros
Variety of investment options.
Fees can be low for certain projects.
Plenty of marketplace listings at a given time.
Cons
High minimum investment amount.
Is CrowdStreet Legit?
In short, yes CrowdStreet is legit.
Ranked the Best Overall Crowdfunding Site of 2021 by Investopedia, CrowdStreet is the largest online real estate investing marketplace in the U.S.
Since 2014, CrowdStreet has closed more than 540 commercial real estate investment offerings and raised over $2.4 billion for 250+ sponsors from thousands of individual investors.
That's $20.9 billion worth of real estate in 14 asset classes and 24 asset types spread across 39 states.
The average project capitalization has increased almost fourfold from $20 million in 2014 to $78 million in 2021. They have investors in every state and territory across the U.S.
CrowdStreet at a Glance
Investor requirements
Accredited investors only. Offers for nonaccredited investors may be available in the future. Only U.S. citizens and green card holders.
Investment minimum
Can vary depending on offering, but often $25,000 for most marketplace listings
Redemption options
No redemption program.
Fees
– No fee to register for CrowdStreet.
– Individual projects: Varies by project
– CrowdStreet funds: 0.50% to 2.5% of invested capital on an annual basis.
Investment selection
One of the largest online commercial real estate marketplaces. From 5 to 15 private equity investment opportunities live on its marketplace, including both single-asset projects and funds.
Customer support options
Phone, email and chat-bot support. Chat and email 24/7. Phone monitored Monday-Friday, 9 a.m.-5 p.m. Pacific time.
Related: Real Estate Investing in Your 20s
CrowdStreet Features and Benefits
The CrowdStreet Marketplace allows 21st century investors to invest in a 21st century way: online. Everything from reviewing and comparing deals, to signing offering documents, to monitoring the performance of your investments can be done from the comfort of your home.
As the largest online real estate marketplace in the U.S, they have relationships with hundreds of best-in-class sponsors across the country, and bring more institutional-quality deals to investors than any other platform. This affords investors access to a diverse and expansive pool of commercial real estate deals, with the autonomy to choose the deal that best fits their investment strategy. The Marketplace allows investors to filter their search by criteria such as asset type, region, investment profile, and return potential, making it easier to find the right deal for them and their portfolios.
Transparency is paramount at CrowdStreet. Every sponsor and their deal undergoes its deal review process. Out of every 100 deals, approximately five meet its standards for inclusion on the Marketplace and are made public for investors to compare and review.
They also publish the performance details of realized deals, which is updated monthly to reflect the latest metrics. They also encourage transparency and communication between its sponsors and investors. For every deal on the Marketplace, the Investor Relations team hosts an offering webinar with the sponsor to go over the details of the deal and answer any potential questions.
Beyond being the largest online real estate marketplace in the U.S., CrowdStreet is a community of real estate experts, investors, and sponsors. As a member of the investor community, Marketplace investors have access to educational resources such as the Street Beats video series, where they interview industry leaders and its own team on essential topics.
Average Return to Investors
Since 2014, CrowdStreet investors have successfully funded 540 deals, 63 of which have realized (sold). The publicized Amount Invested and Actual Hold Period are calculated based on all 63 realizations to-date.
The Actual Internal Rate of Return ("IRR") and Equity Multiple ("EM") are calculated based on 61 deals, as returns and distributions for some realizations are being finalized.
Therefore, the stated IRR and EM shown on the CrowdStreet website may be lower or higher than quoted until all deals are final. As more deals work through their holding periods, these numbers will be updated to reflect the latest metrics, which are calculated to be net of fees.
To date, CrowdStreet investors have earned more than $240 million in distributions across all deals, as reported by sponsors.
View full Marketplace performance details here.
Related: Real Estate vs. Stock Investing: Which Is Right for You?
Potential Drawbacks
As with any investment, there are no guarantees and there is always the risk of total loss. Investors are encouraged to do their own due diligence prior to placing an investment.
Commercial real estate is an illiquid investment, meaning you can't buy or sell your "shares" when you want. Your capital is locked up until the business plan is fully executed.
Costs
CrowdStreet doesn't charge investors a fee to register for its platform or to make investments in the individual deals and funds offered by our sponsors.
Sponsors pay a fee to CrowdStreet in order to be on the Marketplace and many sponsors pass that fee onto the individual deals and funds (and, indirectly, to the investors in the deal).
Furthermore, sponsors charge fees that vary widely and are dependent on a variety of factors, but those fees are disclosed on the offering detail page and other offering documents.
They also offer investment products and services through its CrowdStreet Advisors and CrowdStreet Investments entities and charge fees on these services and investment products. Those fees generally range from .5% to 2.5% of invested capital on an annual basis.
Why Do Developers Use CrowdStreet?
CrowdStreet has given hundreds of sponsors (real estate firms and developers) a new way to raise capital. By connecting firms with individual investors all over the country, they are changing the way these firms go about raising funds. Especially during times of uncertainty, where institutional capital becomes mired in its inability to make quick decisions, individual investors are willing to fill that equity gap. Private equity capital became a beacon of light during 2020 and the CrowdStreet Marketplace led the way.
After crunching over one million data points from the SEC, Dr. Adam Gower found that crowdfunding (aka online syndication) has grown to represent nearly 25% of all private equity capital raises for commercial real estate in America, with crowdfunded deals reaching an all-time high of $15 billion in 2020 (up from $7 billion in 2019). Notably, Dr. Gower found that traditional, old school, in-person, capital raises dropped by 15% in 2020, but the number of crowdfunded deals actually increased during the pandemic, making up 17% of all real estate projects.
Perhaps most amazing of all, Dr. Gower concludes that,
"…crowdfunding has been growing faster than traditional capital formation methods as the pandemic abates, leading the way out of the pandemic-induced downturn."
As more and more sponsors–over 250 and counting–bring their deals to the CrowdStreet Marketplace, and thousands of individual investors invest over $2.4 billion to fund these projects, the CrowdStreet community is taking an increasing share of the crowdfunded offerings by total amounts being raised.
"The amount being raised using crowdfunding is increasing, and the amount of that being raised by CrowdStreet is rising – so it would seem that CrowdStreet is growing even faster than the industry overall."
Other Real Estate Investment Platforms to Consider
There are a few crowdfunding platforms that real estate investors can use for diversification and capital appreciation. Building your net worth is usually done best through finding ways to create passive income through multiple streams of income.
These residential and commercial real estate investment opportunities are worth a look for long-term investments:
Fundrise vs. CrowdStreet
Summary: With Fundrise, you can invest your money in a portfolio filled with real estate investments with only $500.
Minimum Investment: $500
Fees: 0.85% asset management fee per year
Fundrise is a crowdfunding platform just like CrowdStreet suitable for new real estate investors because of its initial minimum investment of $500. Much less than CrowdStreet's $25,000 requirement and you don't have to be an accredited investor. Similar to other crowdfunding real estate apps, investors pool their money to buy residential and commercial properties.
After a quick signup and filling out your investor profile, you can access and monitor your Fundrise investment account's performance, explore real estate investment options and be updated with the latest real estate developments in your newsfeed.
Fundrise's goal is to build the best real estate investing experience and offers a 90-day money back guarantee, making real estate a smart choice for any investor's portfolio. There are a few Fundrise alternatives on the market, but nobody beats them.
Diversy Fund vs. CrowdStreet
Summary: DiversyFund lets you build your portfolio with tangible private market assets.
Minimum Investment: $500
Fees: No management fees
DiversyFund is a financial technology company specializing in alternative investments. They help everyday people achieve the American dream by giving them access to wealth-building opportunities that have previously been reserved for the 1%. They offer people the chance to invest in apartment complexes prime for improvement from only $500.
At DiversyFund, they make it easy to buy shares in a portfolio of fully vetted, multifamily real estate. With the click of a button, you could own a piece of a real estate investment trust (REIT), across multiple properties, just like CrowdStreet.
DiversyFund provides only one type of investment: The Growth REIT. This real estate investment trust focuses on offering investors income by investing in residential apartment buildings.
Unlike other crowdfunding platforms, DiversyFund invests in commercial properties and owns them outright. This saves the investor from hefty commission fees that come with other crowdfunding sites.
Investors don't have the option of selling their investments and must wait until the company liquidates to make a profit. The investment term may be at least five years in duration. You can learn more here.
Best for long term investors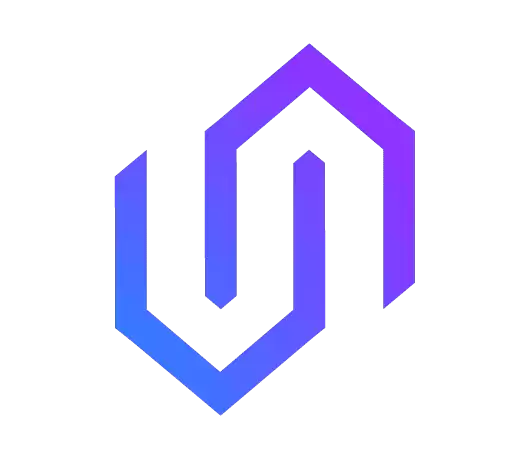 DiversyFund
DiversyFund opens opportunities for the everyday investor to access high value private real estate investing through its non-traded REIT (real estate investment trust).
Open Account
Equity Multiple vs. CrowdStreet
Summary: EquityMultiple is a real estate crowdfunding platform that gives investors access to professionally managed commercial real estate.
Minimum Investment: $5,000
Fees: 0.5% – 1.5%
EquityMultiple makes real estate investing simple for accredited investors ⓘA accredited investor is an individual with a net worth, or joint net worth of over $1 million, or an annual income of over $200,000 ($300,00 with a spouse).. It is a blend of crowdfunding and a more traditional real estate investment approach which means higher returns for investors. The minimum amount required to open an account is $5,000, which is less than CrowdStreet, in comparison. However, you stand to make higher rates of returns (learn more here).
By opening an account you can get access to commercial real estate investments, an easy-to-use website, likely high rates of return. EquityMultiple has returned $39.2 million to investors and stands out from other real estate investing apps by offering equity, preferred equity and senior debt investments.
Best for accredited investors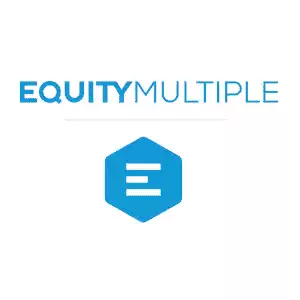 CrowdStreet FAQs
How are CrowdStreet's Investments Sourced
If you are wondering how Crowdstreet works you can the entire deal review process here: https://www.crowdstreet.com/deal-review/
Who is CrowdStreet For
Any U.S.-based, accredited investors can use CrowdStreet to build their real estate portfolio online.
Is CrowdStreet Safe
All investing involves risk, real estate is no different. 
Is CrowdStreet a broker dealer?
No. Not at this time.
What is the minimum investment in CrowdStreet?
inimum investment amounts are set by the sponsor behind the deal and typically start at $25,000.
Do you need to be an accredited investor for CrowdStreet?
Yes. At this time deals on CrowdStreet are only available to accredited investors.
Final Thoughts
Out of all the commercial real estate investing options for accredited investors, CrowdStreet is one of the largest and most flexible.
On CrowdStreet, you can invest in individual deals on commercial real estate properties, and there's usually several properties on this online marketplace. Typically, single-property investments require at least $25,000 to invest.
Alternatively, you can invest in two funds: a single-sponsor fund that's run by one real estate firm or a CrowdStreet fund that invests in a variety of properties. If you want more diversification and someone handling real estate investing for you, this is better than investing in properties on your own.
Project fees typically range from 0.50% to 2.5%. Fund fees can also reach around 3% depending on your investments.
CrowdStreet also has a Private Managed Account service that builds a real estate investment portfolio to match your goals. The advisory service requires a $250,000 minimum balance, and fees vary depending on your investments.
Best for vetted projects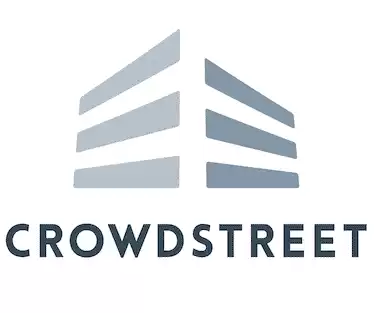 CrowdStreet
Join the nation's largest online private equity real estate investing platform, ranked Best Overall Crowdfunding Site of 2023 by Investopedia. Get unparalleled access to institutional-quality real estate deals online. Register for a free account and start building your real estate portfolio today.
Open Account
Disclosure: This article was written by an employee of CrowdStreet, Inc. ("CrowdStreet") and has been prepared solely for informational purposes. However, the views and statements expressed by the third party, My Millennial Guide, are made solely by the third party and are based solely upon the opinions of (name of third party). CrowdStreet is not a registered broker-dealer or investment adviser. Nothing herein should be construed as an offer, recommendation, or solicitation to buy or sell any security or investment product issued by CrowdStreet or otherwise. This article is not intended to be relied upon as advice to investors or potential investors and does not take into account the investment objectives, financial situation or needs of any investor. All investing involves risk, including the possible loss of money you invest, and past performance does not guarantee future performance. All investors should consider such factors in consultation with a professional advisor of their choosing when deciding if an investment is appropriate.
More Real Estate Investing Reviews
Our Pick