Investing in real estate has long been considered to be one of the most reliable ways to build wealth.
With returns comparable to those of the stock market, but with less inherent risk, real estate investments are an attractive way to diversify your portfolio.
In recent years, passive real estate investing — whether through traditional real estate investment trusts (REITs) or through real estate crowdfunding opportunities — has gained popularity as a way to access real estate's earning power without having to rehab or rent out properties yourself.
But many passive investing options still require high minimums — sometimes thousands of dollars — to get started, making them inaccessible to everyday investors.
Additionally, REITs and other existing real estate investment vehicles often require you to cede control of your principal to a funds manager or invest in a pre-baked portfolio of loans — all while limiting your ability to easily access your money when you need it most.
The result? Low control over your funds, high costs to invest, and uncertain outcomes.
Not so with Groundfloor.
Groundfloor is an innovative financial product that allows non-accredited and accredited investors alike to participate directly in real estate investment loans on a fractional basis, with as little as $10.
It was the first company qualified by the Securities and Exchange Commission to offer real estate debt investments in this way.
Typical loans have returned 11 percent annually on a six- to 12-month term. Groundfloor's investment platform is open to individuals in all 50 states.
For borrowers, Groundfloor works with qualified real estate developers, primarily in the residential fix-and-flip market. They are known for their borrower-friendly terms like a deferred payment option, low rates, and an efficient qualification process.
These terms enable real estate entrepreneurs to focus more on their projects instead of worrying about their mortgage payments.
Groundfloor recently announced that its investments have yielded an average annualized return of 10.42% in 2020 and 10.5% since inception, which is 3-4% higher than 2020 returns publicly reported by leading eREITs.
Fees and "cash drag," the effect of earning zero returns on cash balances held by a fund or an investor awaiting investment, significantly reduce investor returns.  
But is it better than its other real estate investing options like Fundrise? Let's find out.
What is Groundfloor?
Groundfloor was founded in 2013 by Brian Dally and Nick Bhargava.
The company is headquartered in Atlanta, Georgia with a fast-growing team on a mission to open private capital markets to everyone.
How Groundfloor Works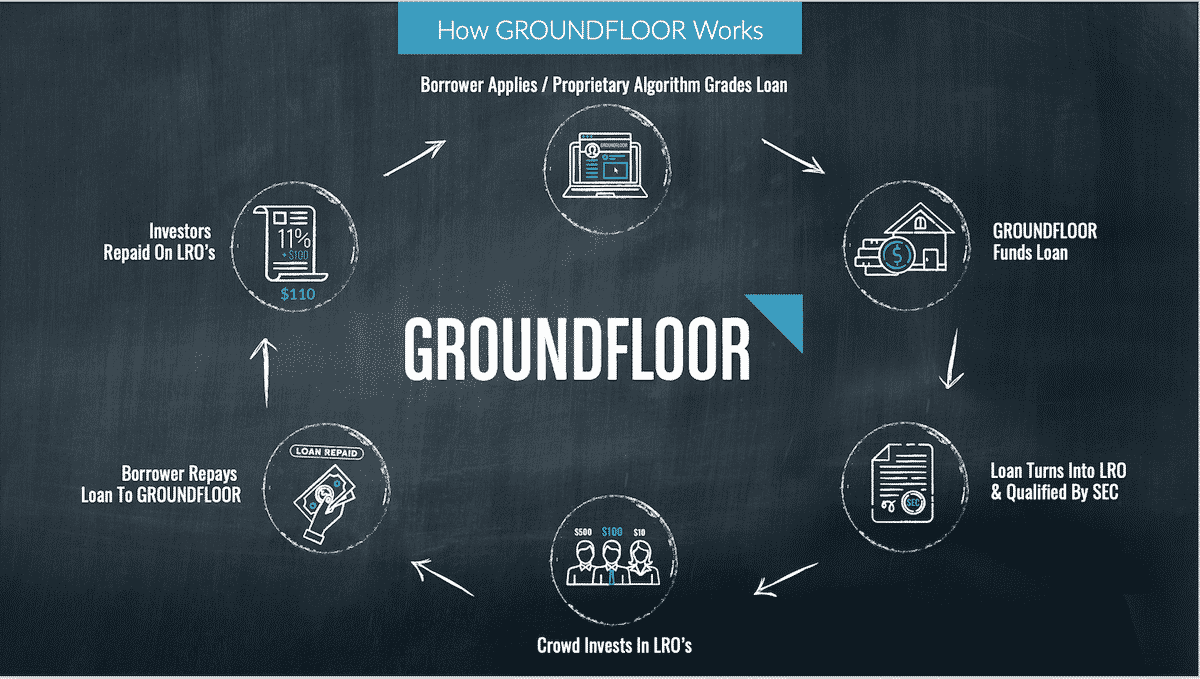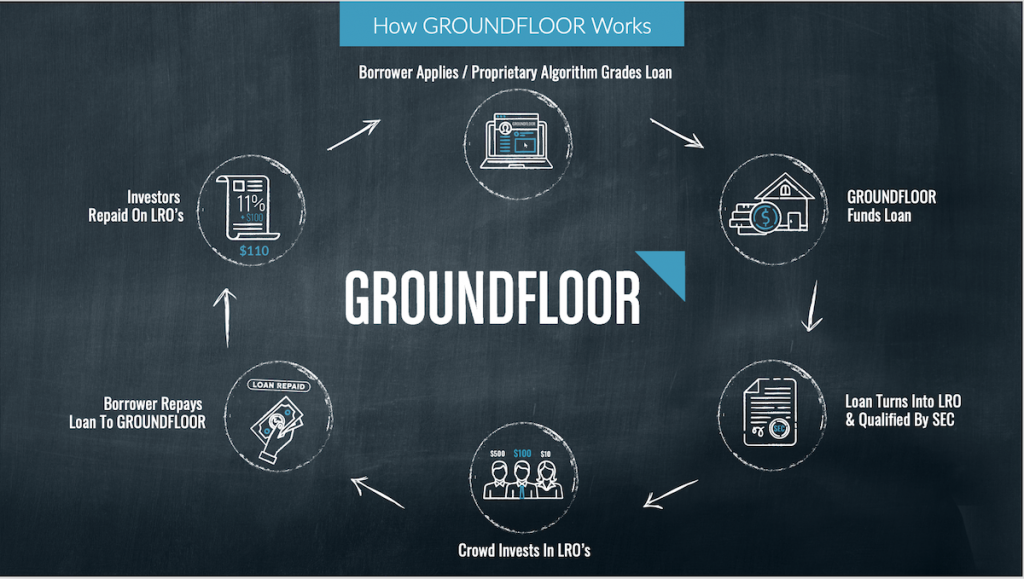 The great thing about Groundfloor is that — unlike most other platforms or eREITS — you can invest with as little as $10.
This means that an initial $100 investment allows you to diversify into 10 different opportunities, and you can easily try out the platform if you're new to real estate investing.
Groundfloor tells us that the average investment per loan on the platform is $316, but one can certainly start off slow and build up from there.
To start investing in Groundfloor, you first link your bank account so you can easily deposit funds and you can move funds back to your bank account should you want to "cash out" after your investments are completed.
Most investors choose to reinvest funds, but it's completely up to the individual. Groundfloor uses bank-level security to make sure your bank and personal information are protected.
Once your account is linked, you can deposit an initial lump sum, and then browse the loans currently funding on the platform.
From there, you select which projects you'd like to invest in and the amount you'd like to invest. Thanks to Groundfloor's batch investing feature, investing in multiple loans at once is much more streamlined.
Groundfloor usually has 10-20 investments available at any one time, and they roll out new investments opportunities about twice a month, so there is a large variety to choose from
When you are investing with Groundfloor, you are investing in a loan that is being given to a borrower working on a specific fix-and-flip.
This is what makes Groundfloor unique.
For other platforms, you usually select one fund that includes a collection of projects and is managed by a portfolio manager.
Typically, you pay a percentage fee to the portfolio manager. Groundfloor believes that individuals can make smart choices all their own, and they provide a bevy of information for each loan opportunity, including details about the borrower and the project.
Groundfloor Loans
Each loan is also graded for risk and yield using color and alphabetical hierarchy from A to G, and with corresponding color indicators that range from Green to Red.
Low risk, lower yield loans are graded A, B, and C while the high risk, higher yield loans are graded D through G.
Most loans offer yields from 7.5 to 14% and terms from 6 to 12 months.
Check out the image below to see how the grading system is represented on the investments page.
Throughout the term of an investment, Groundfloor's Asset Management team regularly shares updates on each loan's progress, so you will always know the status of your investment.
It's important to keep in mind that Groundfloor pre-funds all of its loans, so if you invested in a loan offering a yield of 10%, that is what the payout will be.
When the project is completed, it's time to get paid. Another attribute that makes Groundfloor unique is its short holding period compared to other investments.
Almost all Groundfloor loans have terms less than 12 months, which means you get your money back faster.
Sometimes loans run into issues — either because a term of the loan agreement with the borrower has been violated (a "default") or because extra time will be required to complete renovations and a sale or refinancing (a "workout" or "default past due" — also known as a maturity default).
In these rare cases, the Asset Management team provides regular updates.
Repayment of principal occurs shortly after a borrower sells or refinances the underlying property he or she has rehabbed.
Once Groundfloor has collected, they issue a repayment to investors automatically. You will receive an email notification of repayment at which point you may reinvest in a new loan or withdraw your funds.
What Kinds of Investments Does Groundfloor Offer?
LROs
SEC Qualified Real Estate Debt Investments offering high yield and short term investment opportunities for everyone.
Groundfloor's main investment products are short-term residential real estate debt investments.
Unlike equity investments (which are usually what you own on other real estate investing platforms), debt products are shorter-term and inherently carry less risk.
These investments are backed by secure, collateralized assets — namely, the properties themselves — in a first lien position.
This means that Groundfloor investors will be first in line to be repaid should the property need to be sold as collateral to pay back the loan.
Funded real estate projects are sourced from around the country and vary in size, term length, and risk level.
Groundfloor has built up a solid loan origination pipeline and introduces new investment opportunities on the platform on a weekly basis, ensuring investors always have the option to diversify into new projects.
Notes
Publicly issued, non-traded debt collateralized and secured by underlying real estate assets.
Groundfloor Notes are similar to publicly issued, non-traded secured debt with a set date repayment term. Investors can choose from multiple Notes available on the Groundfloor investor platform, each with different rates, term lengths and minimum investment amounts.
Groundfloor Notes offer investors an opportunity to diversify their portfolio into short-term, stable investments that fund Groundfloor lending capital and typically offer a higher yield than fixed term investment products elsewhere like CDs and bonds. 
All Groundfloor Notes are secured by a pool of loans that we have originated, but have not yet funded as LRO investments on our platform.
The combination of a security interest in a pool of loans, shorter holding period, and fixed repayment date present a lower risk profile than many of our standard LRO offerings.
They typically offer Groundfloor Notes that mature in 30 days, 90 days and 12 months, with the maturity date listed in the Note name.
Interest rates for funding Groundfloor Notes vary by term and may fluctuate based on market conditions (e.g. bond rates) and investor demand. 
Groundfloor Notes are the perfect investing option in a volatile market. With yields several times higher than Treasury Bills, Groundfloor Notes are the perfect way to diversify a portfolio and ensure short-term stability.
However, Groundfloor Notes are not FDIC insured.
IRAs
Self-Directed IRAs allow you to benefit from high returns while saving for retirement with the tax benefits of an IRA.
Groundfloor also offers the ability to set up a self-directed IRA, thereby allowing investors the opportunity to diversify their retirement portfolio with real estate.
However, consumers should learn about which types of IRAs are most beneficial for their situation in order to get the best tax benefit.
What Are Groundfloor Returns and Statistics?
Historically, Groundfloor investors have averaged 10-12% annualized returns, on a 6-18 month timeframe, with no investor fees charged.
According to the company's most recent analysis (May 2020), the average annualized return on Groundfloor portfolios was 10.50%. 
Groundfloor currently has over 75,000 registered users on the platform. The company has originated over 1,000 loans to real estate developers, and investors have invested over $250M into these loans since the company's inception.
Groundfloor is also an award-winning company, with the following distinctions:
Ranked in the top 10% (#402) on Inc. Magazine's 2020 Inc. 5000 List
HousingWire Tech 100 Award
Fintech Breakthrough Award for Best Crowdfunding Platform
Benzinga Global Fintech Awards Finalist
Atlanta Business Chronicle Pacesetter Award
Technology Association of Georgia Top 10 Most Innovative Companies
Technology Association of Georgia's Fintech ADVANCE Award
Atlanta Inno's 50 on Fire Award
TiE Atlanta Entrepreneur of the Year Award
Golden Bridge Award for Startup of the Year
How Do You Get Started?
Setting up an account on Groundfloor takes just a few minutes and is pretty straightforward (but just in case, Groundfloor has a step-by-step guide to setting up an account and making your first investments available on their blog). Groundfloor essentially works like an online brokerage. You deposit the funds you plan to invest via transfer from your linked bank account.
Groundfloor utilizes a trusted third-party processor to process these transfers; once initiated, deposits may take three to five business days to appear in your Investor Account. Deposited funds are held in your name (not Groundfloor's) and are FDIC-insured until invested.
Auto Investing
Auto Investing is now available to all of Groundfloor's registered investors, who need only $10 to begin investing fractionally in the dozens of real estate projects Grounfloor offers each week.
The feature comes as the growth of the wealthtech platform continues to accelerate. In March 2021, Groundfloor set a record for its most loan originations ever as well as closing the month with an 88 percent year-over-year increase in retail investment volume.
Auto Investing enables investors to allocate specific dollar amounts that will automatically fund projects that match their predetermined level of risk.
For example, if an investor allocates $10 toward loans designated Grade A and Grade B (more conservative loans that typically yield 6-9% on an annualized basis), the funds in that investor's account will immediately apply $10 toward each Grade A and Grade B project, until funds are no longer available in their account.
This benefits the investor by ensuring they don't miss out on a relevant investment opportunity, without having to log in and invest manually.
Investors will have an opportunity to cancel investments as they normally would. Furthermore, since Groundfloor's loans typically mature in a 6-12 month timeframe, the investor can rest assured that any principal and interest repaid to their account will be automatically invested into future loans, leading to greater diversification across the quantity and vintages of loans in which they've invested.
The platform is open to accredited investors and non-accredited investors alike. International investors are also accommodated on the platform on a case-by-case basis.
Groundfloor currently supports investing from personal accounts as well as LLCs, trusts, FBOs, and IRAs.
Summary
To chalk it up, Groundfloor is a peer to peer real estate lending platform for fix-and-flip properties open to all investors. The low minimum investment of only $10 opens up direct access to private real estate deals to you — and allows you to spread your risk and make great returns.
Essentially, Groundfloor is a marketplace that brings together real estate developers looking for financing to complete their projects with everyday investors around the country that are looking for ways to invest and build wealth.
Real estate developers start the process by applying for financing through Groundfloor. Their team combines over 100 years of collective real estate experience with a proprietary algorithm to then underwrite and assign a grade to each approved loan.
These loans are converted into investment securities (LROs) and qualified by the Securities and Exchange Commission.

Once qualified, individual investors can invest into any LRO on a fractional basis with as little as $10 and create a fully-diversified, custom portfolio of real estate debt tailored to their personal risk tolerance. This may seem like a lot of regulatory jargon, but the good news with this is that it means there is a lot of oversight provided by the SEC.
As each underlying loan is repaid, individual investors' investments are also repaid, plus interest. Earnings are then able to be withdrawn from the platform at any time with no penalties — allowing you free access to your money whenever you need it most — or reinvested into other loan opportunities currently available on the platform.
On Groundfloor, investors own short-term, high yield, real estate debt investments. Effectively, individual investors are investing in the short-term loans that professional builders and developers need to either rehab a house, build a new house, or provide rent stabilization for one of their properties.
According to Groundfloor, investors don't need to have any prior real estate knowledge to invest. The company has created a standardized way to present all the salient details about each investment opportunity — such as loan amount, term length, loan to ARV, interest rate, and more — and has developed an easy-to-understand proprietary grading algorithm that color-codes and grades loan opportunities A through G, allowing investors to easily gauge the opportunity's relative risk at a glance.
Setting up an investment account only takes a few minutes. Visit www.groundfloor.com to get started. You can also read more about their platform on their blog.
More Real Estate Investing Reviews