Groundfloor is a P2P real estate lending platform that helps you invest in fix-and-flip properties. Learn more in this Groundfloor review.
Groundfloor is an innovative financial product that allows non-accredited and accredited investors alike to participate directly in real estate investment loans on a fractional basis, with as little as $10. It was the first company qualified by the Securities and Exchange Commission to offer real estate debt investments in this way. Typical loans have returned 11 percent annually on a six- to 12-month term. Groundfloor's investment platform is open to individuals in all 50 states.
For borrowers, Groundfloor works with qualified real estate developers, primarily in the residential fix-and-flip market. They are known for their borrower-friendly terms like a deferred payment option, low rates, and an efficient qualification process. These terms enable real estate entrepreneurs to focus more on their projects instead of worrying about their mortgage payments.
What Is Groundfloor?
Groundfloor was founded in 2013 by Brian Dally and Nick Bhargava. The company is headquartered in Atlanta, Georgia with a fast-growing team on a mission to open private capital markets to everyone.
How Groundfloor Works
Want free money?
Aspiration: Want to get spotted a $100 for free? Simply sign up for Aspiration, and the free banking app will give you cash for free, you just relax while it gives you $100 just for opening a new debit card. There's no catch, just use your card to make at least $1,000 in cumulative transactions within 60 days of opening an account. This bank account is legit and only takes two minutes to sign up for an account.
The great thing about Groundfloor is that — unlike most other platforms or eREITS — you can invest with as little as $10. This means that an initial $100 investment allows you to diversify into 10 different opportunities, and you can easily try out the platform if you're new to real estate investing. Groundfloor tells us that the average investment per loan on the platform is $316, but one can certainly start off slow and build up from there.
To start investing in Groundfloor, you first link your bank account so you can easily deposit funds and so you can move funds back to your bank account should you want to "cash out" after your investments are completed. Most investors choose to reinvest funds, but it's completely up to the individual. Groundfloor uses bank-level security to make sure your bank and personal information are protected.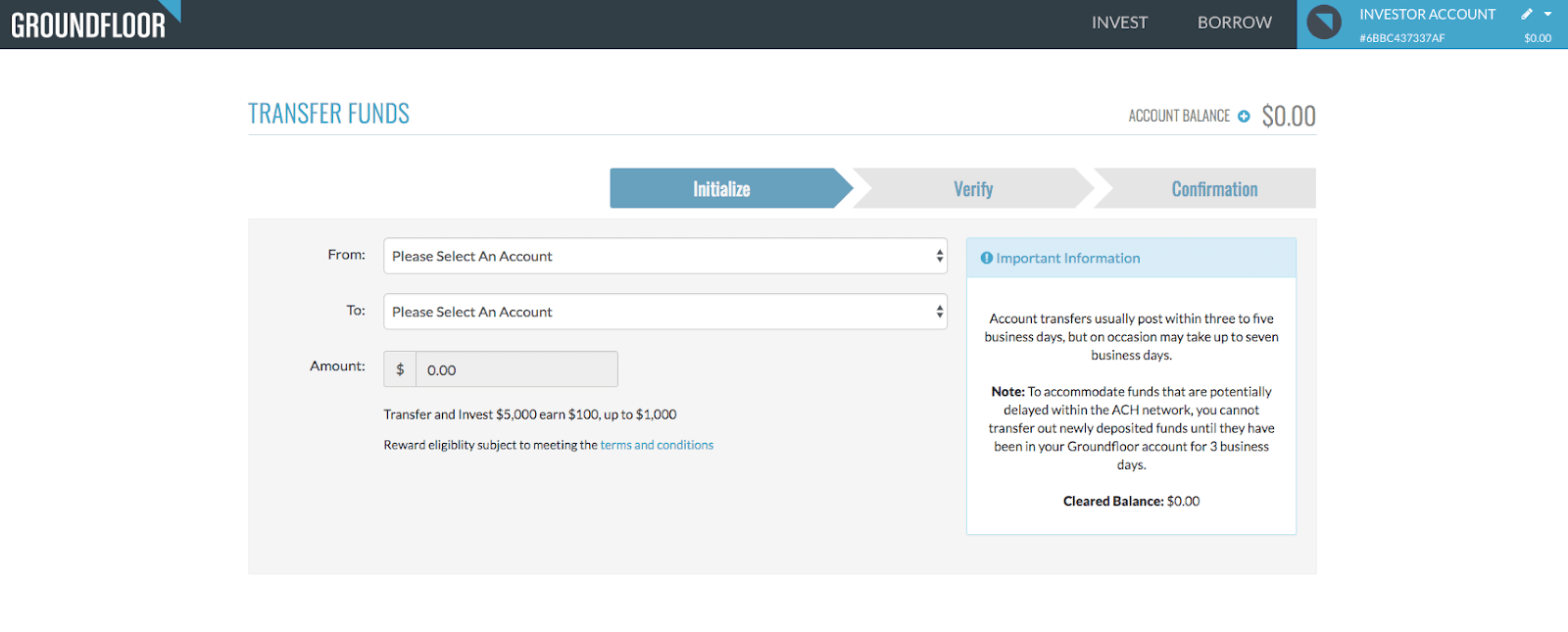 Once your account is linked, you can deposit an initial lump sum, and then browse the loans currently funding on the platform. From there, you select which projects you'd like to invest in and the amount you'd like to invest. Thanks to Groundfloor's batch investing feature, investing in multiple loans at once is much more streamlined. Groundfloor usually has 10-20 investments available at any one time, and they roll out new investments opportunities about twice a month, so there is a large variety to choose from.
When you are investing with Groundfloor, you are investing in a loan that is being given to a borrower working on a specific fix-and-flip. This is what makes Groundfloor unique. For other platforms, you usually select one fund that includes a collection of projects and is managed by a portfolio manager. Typically, you pay a percentage fee to the portfolio manager. Groundfloor believes that individuals can make smart choices all their own, and they provide a bevy of information for each loan opportunity, including details about the borrower and the project.
Groundfloor Loans
Each loan is also graded for risk and yield using color and alphabetical hierarchy from A to G, and with corresponding color indicators that range from Green to Red. Low risk, lower yield loans are graded A, B, and C while the high risk, higher yield loans are graded D through G. Most loans offer yields from 7.5 to 14% and terms from 6 to 12 months. Check out the image below to see how the grading system is represented on the investments page.
Throughout the term of an investment, Groundfloor's Asset Management team regularly shares updates on each loan's progress, so you will always know the status of your investment. It's important to keep in mind that Groundfloor pre-funds all of their loans, so if you invested in a loan offering a yield of 10%, that is what the payout will be.
When the project is completed, it's time to get paid. Another attribute that makes Groundfloor unique is its short holding period compared to other investments. Almost all Groundfloor loans have terms less than 12 months, which means you get your money back faster. Sometimes loans run into issues — either because a term of the loan agreement with the borrower has been violated (a "default") or because extra time will be required to complete renovations and a sale or refinancing (a "workout" or "default past due" — also known as a maturity default). In these rare cases, the Asset Management team provides regular updates.
Repayment of principal occurs shortly after a borrower sells or refinances the underlying property he or she has rehabbed. Once Groundfloor has collected, they issue a repayment to investors automatically. You will receive an email notification of repayment at which point you may reinvest in a new loan or withdraw your funds.
Summary
Groundfloor is a peer to peer real estate lending platform for fix-and-flip properties open to all investors. The low minimum investment of only $10 opens up direct access to private real estate deals to you — and allows you to spread your risk and make great returns.
Setting up an investment account only takes a few minutes. Visit www.groundfloor.com to get started. You can also read more about their platform on their blog.
The Best Investment Apps For Everyday Investors
App Rating

ⓘ

Commissions
Account Mimimum
Learn More

★ 5.0/5 

Free
$0

OPEN ACCOUNT
On Robinhood's website

★ 5.0/5

Free
$100

---

Games that pay you to play. Yes, we're serious.

These 3 apps will pay you to play games on your mobile device:

Mistplay (Android) - If you have an android device, you can download this app and start getting cash rewards for playing new games.
Solitaire Cube (iOS) - Earning money by playing games on your phone sounds like a dream. But this app really pays you for playing solitaire with cash rewards.
Lucktastic (Android) - This free app offers the same daily scratch-off cards that you find at your local convenience store — but here you can play for free and win real money.

---

OPEN ACCOUNT
On M1 Finance's website

★ 5.0/5

0.15%
$500

OPEN ACCOUNT
On Fundrise's website

★ 5.0/5

Free
$0

OPEN ACCOUNT
On Public's website

★ 4.9/5

Free
$0

OPEN ACCOUNT
On Webull's website
Want free money?
Robinhood is a free investing app for your phone. I really mean free all around – free to join and they don't charge any fees to buy or sell the stock. You can get a share of stock like Apple, Ford, or Sprint for free when you join through this link. The value of the free share may be anywhere between $2.50 and $200 and fluctuates based on market movements. You've got nothing to lose.