In a moment of rising inflation and other factors causing economic uncertainty, many investors are looking for alternative assets to help stabilize their portfolios and preserve their wealth.
While many investors are aware of commercial real estate as an option, farmland has historically flown under the radar as an equally viable, and arguably more attractive, real asset that carries the additional bonus of an annual return.
There's a good reason farmland as an investment hasn't been common knowledge, though: it's pretty obscure in that it's hard to find, value, purchase, and manage. For most investors, it's just too opaque a market. After all, most of us aren't farmers.
AcreTrader bridges the gap, bringing investors widespread and easy access to an appealing new asset class, while at the same time helping farmers access new sources of capital to put into their farming businesses.
If you're interested in investing in a long term real asset with low volatility and attractive returns, go ahead and create a free account and start exploring their offerings.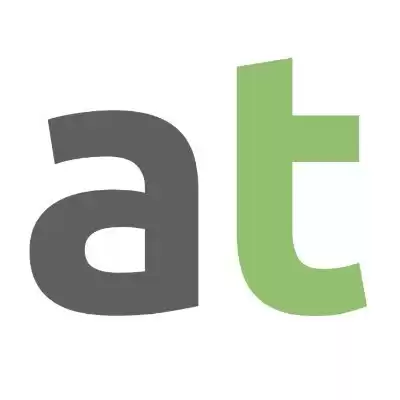 What Is AcreTrader?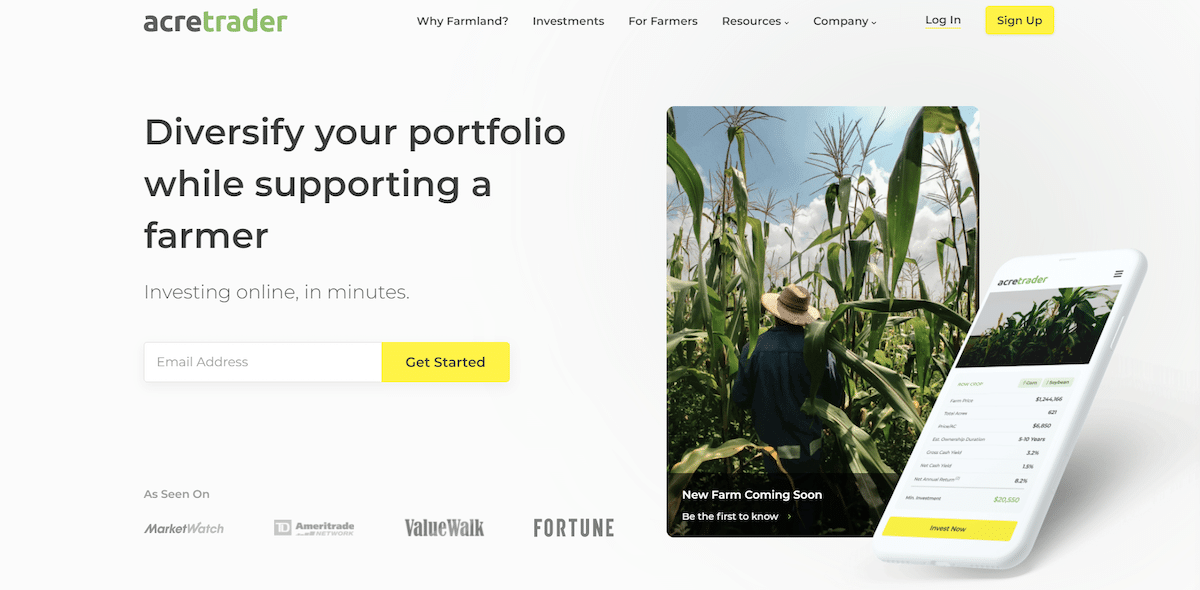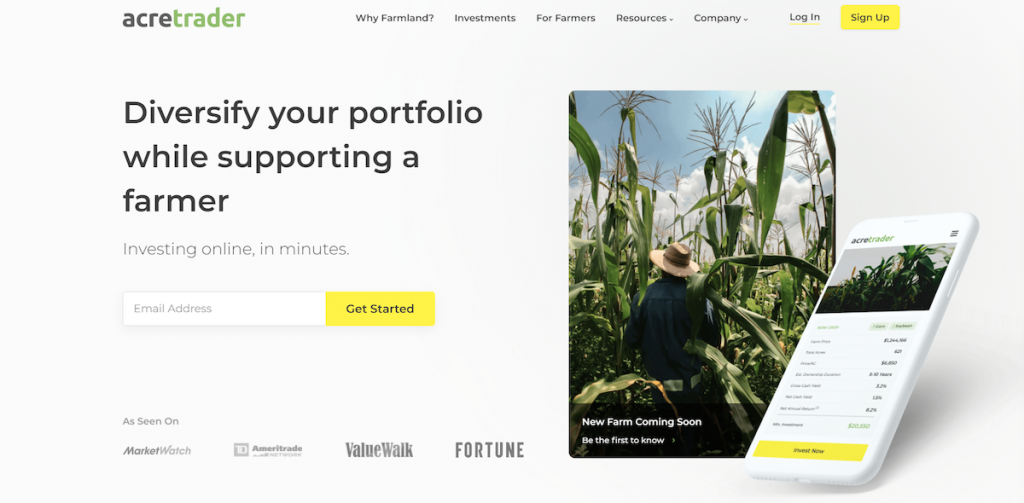 AcreTrader is a real estate investing platform that makes it easy to buy shares of farmland online and earn passive income. Using some aspects of crowdfunding, AcreTrader allows investors to purchase shares in rigorously vetted farmland in the U.S. and abroad. At the same time, AcreTrader helps farmers scale through innovative sales and leasing opportunities.
AcreTrader's mission is to empower customers to buy and sell land smarter with advanced technology, data, and expertise.
Founded by a team of finance and agriculture professionals, AcreTrader brings all the expertise necessary to vet investment-grade farm deals and comprehensively manage agricultural investment properties. They handle all aspects of administration, from accounting and insurance to working with farmers to improve land values and farm sustainability.
Their team of data scientists and software engineers is constantly developing technologies to delve deeper into land analysis, providing landowners, sellers, and buyers with unprecedented insight into the details and value of their land.
AcreTrader broadens access to a previously inaccessible asset class that many investors are finding more appealing the more they learn about it.
Investing In Farmland
Farmland has long been recognized as a high-performing investment with consistent returns and low volatility.
Farmland enjoys highly favorable supply and demand conditions. As the world's population grows, our demand for food grows with it. As the primary source of our food supply, agricultural land only stands to grow in demand in the coming years.
At the same time, it is in limited and even decreasing supply. According to the American Farmland Trust, the U.S. loses roughly three acres of farmland per minute to development. That means that farmland must be preserved in order to preserve our food supply; it also means that farmland is a precious resource that only stands to increase in value.
Farmland makes for an attractive investment for many reasons. It allows landowners to earn income in two ways: first, from annual rent payments from the farmer who operates the land, and second, from appreciation over time, realized at the time of the sale. Together, these two sources of income from farmland have consistently generated average returns upwards of 10% over the past 30 years.
Moreover, farmland investing has shown remarkable stability. It has exhibited positive returns every year since 1990. Using Sharpe ratios to compare risk/return profiles, farmland's score of 0.86 evidences higher returns with lower relative risk than any other common asset class.
Farmland does not discernibly correlate with the stock market, but it does tend to track closely with inflation, which is why many investors have turned to farmland as an inflation hedge.
In short, farmland exhibits many qualities that make it a very attractive addition to a fully diversified investment portfolio. To learn more about these qualities, visit our Complete Guide to Investing in Farmland.
How Does AcreTrader Work?
1. Farm Sourcing and Due Diligence
AcreTrader sources investment-grade farmland deals from across the U.S. and abroad through a vast network of landowners, farmers, brokers, and more. They then apply an incredibly thorough due diligence process to evaluate the quality of the land and the soundness of the deal.

Data points analyzed during this process include soil quality, water availability, weather patterns, local tenant markets, transportation and market access, financial models, comparable sales, and many more. AcreTrader employs advanced proprietary technologies as well as robust local networks to examine every facet of a farm up for consideration.
They ultimately select less than 5% of the parcels they review for offering on their platform. Once a farm has successfully completed this process, it and its legal title are placed into a unique entity (usually an LLC).
2. AcreTrader Investments
The next step is to raise funds to purchase the farm. This happens as an online investment offering through the AcreTrader platform.
Investors purchase shares in the entity that owns the farm. Each entity is divided into shares equivalent to 1/10 of an acre. So, if you buy 20 shares, your ownership represents the equivalent of 2 acres of land and the associated dividends.
3. Farm Operation/Management
For investors, the next step is to sit back and earn annual passive income from their investment, while AcreTrader handles all aspects of administration and property management.
AcreTrader works closely with farmers and external managers to help with best practices, technological improvements, sustainability, and immediate access to capital. Their goal is to improve farmers' lives and ease of doing business in every way possible.
AcreTrader farmers pay cash rent, a highly common relationship between farmers and landowners (nearly 40% of all U.S. farmland is rented or leased).
The unique entity that owns the farm usually receives the rent in advance of planting season, so investors take virtually no crop risk, weather risk, etc. The rent is kept in a unique bank account held by the entity to reserve against any taxes owed or potential capital improvements until distributions are made.
4. Distributions
AcreTrader disburses excess income to investors annually, a cash yield that is in addition to expected annual land value appreciation. They also provide all necessary tax documentation well in advance of tax season.
5. Property Disposition
Investors will generally hold ownership of a farm for 5-10 years. There is no set hold period for AcreTrader farms, but the goal is to benefit from appreciation in the value of the property. The actual hold period depends on market conditions and opportunities at the time of sale.
Upon sale of the land, investors receive their principal and appreciation over the hold period. At the terminal date, the subject farm will be sold and all net proceeds will be distributed. AcreTrader uses their affiliate brokerage, AcrePro, and works with other potential brokerages, funds and farmers to work towards the best outcome for investors in each entity.
Disclaimer About Risk of Loss
Note: All investments carry risks, and those on the AcreTrader platform are no different. No investment process is free of risk; no strategy or risk management technique can guarantee returns or eliminate risk in any market environment. Investing involves risk of loss that investors should be prepared to bear, and there is no guarantee that investments in farmland will be profitable. The value of an investment can fluctuate—in both directions. Past performance is not a guide to future performance. The value of investments, as well as any investment income, is not guaranteed and can fluctuate based on market conditions. Diversification does not assure a profit or protect against loss. Please see additional risk disclosures and the documentation accompanying specific offerings on the AcreTrader website.
AcreTrader Fees
It is completely free to create an account with AcreTrader and browse the marketplace.
When you invest, there are some pass-through closing fees associated with each initial investment, typically 2% of the total offering value. In addition to these standard administrative and legal fees, there is an annual servicing fee of 0.75% of the value of the land paid to its affiliate, AcreTrader Management, LLC. This pays for AcreTrader Management, LLC to manage the land, farmers, accounting, reporting, communications and administration.
AcreTrader's primary revenue source is the fee charged to the seller of the farm, similar to that charged by a real estate broker. This fee is typically charged to the selling farm owner and is expected to be charged at a 5% rate when the entire property is sold during or after the hold period.
Neither AcreTrader nor its affiliates charge a carried interest fee on offerings, as they believe these returns should accrue to the investor. They believe in transparency and keeping fees low; investors can see the specific fee structure for each deal on offering pages on their website.
What are AcreTrader's pros and cons?
Pros
AcreTrader's peerless due diligence process ensures that only the highest quality farmland makes it to their platform for investment.
AcreTrader's seamless online platform allows investors to review potential offerings, sign legal documents online, purchase shares in farmland, and access all their documentation in one place on the investor dashboard.
AcreTrader does all the farm evaluation and management for you, while you collect returns, making your farmland investment a true passive income experience.
An investment in farmland is a long-term investment in a hard asset in which we all have a stake.
In addition to the genuine diversification offered by farmland itself, a relatively uncommon and high-performing asset class, AcreTrader features offerings of many crop types, all over the country, from California almond orchards to Mississippi Delta cotton farms.
Cons
AcreTrader's products are only available to accredited investors at this time. They hope to be able to offer products to all investors in the future.
Investment minimums may be substantial for some investors. AcreTrader minimums generally range from $5,000 to $40,000.
AcreTrader offerings incur a 0.75% annual management fee but are worth the lucrative investment opportunities for investors seeking diversification.
Some investors may require more liquidity than is available with AcreTrader's offerings. Investors should be prepared to hold their investment for at least a year. After that, generally speaking, these shares may be sold to others in a private transaction. AcreTrader is actively working to provide a marketplace for that purpose.
How To Open An Account
AcreTrader invites everyone to open an account so they can enjoy full use of the site, view offering pages, and more.
Once you've opened an account, you have the option to verify your identity and your accreditation status by uploading verification documents, set up your wallet by linking a bank account, and start investing. You can also opt into mailing lists to stay updated on news and offerings.
Is My Money Safe?
AcreTrader typically uses ACH or wire transfers to a reputable bank for escrow, so that AcreTrader never touches your money. For specific transfer instructions, please refer to individual listing documentation.
The staff at AcreTrader never see your personal financial information such as bank account numbers, logins, or accreditation documents. For bank account linking, none of your login information is captured by AcreTrader or its systems. This information is processed by a third-party provider.
All legal documents are sent and signed electronically through their website. This allows for efficient and seamless transfer of documents between you and AcreTrader, while maintaining the authenticity and security of your information.
AcreTrader has taken extensive steps to ensure that all personal data entered into their system is safe and secure. They use 256-bit encryption, the highest level of encryption commercially available, to ensure that every transaction, financial or otherwise is processed securely.

How Does AcreTrader Compare to Alternatives?
AcreTrader uses some aspects of crowdfunding to offer fractional shares in farmland, but there are many other ways to invest in farmland. Some of the most common are:
Direct Purchase
Once the only way most investors could access the asset, direct purchase by individuals still constitutes the vast majority of farmland transactions. Investors who purchase land this way must be prepared to farm it themselves or contract their own operator, and the landowner assumes crop and other types of risk.
Private equity funds
Also called Agricultural Land Funds or farm funds, these private equity pools offer institutional alternative asset investors the ability to invest in land at scale. Farmland has attracted a large amount of investment in private equity in recent years, but this approach often requires high investment minimums.
REITs
Real Estate Investment Trusts (REITs) are a well-established asset class, but only in the past decade or so have agricultural REITs been an investing option. Also known as agriculture stocks, these are publicly traded companies that typically own and operate real estate using debt to pay out dividends. REITs undoubtedly make farmland accessible to the average investor, but they also bring exposure to volatility as they are traded as public stocks.
How does AcreTrader help farmers?
AcreTrader's model allows farmers to expand their acreage and grow their businesses where they otherwise might not be able to. Farmers may want to farm more land without having working capital tied up in land ownership or increasing debt on their balance sheet, or they may want to continue farming leased acreage that their current landlord is selling.
In such cases, AcreTrader may purchase the land with funds raised on the platform and lease it at a fair market rate to the farmer—a very common arrangement in the farming world.
When purchasing farms, AcreTrader investigates opportunities to develop or improve the land including irrigation, drainage, and tree removal, which can help increase productivity and overall land value.
They also work with permanent crop farmers to identify and develop acreage to fruit and nut trees. Such development requires extensive capital, and AcreTrader has helped smooth and expedites that process for many growers.
Finally, AcreTrader assists farmers in sustainable initiatives such as organic transition and works with them to improve soil sustainability and output. They work with organic farmers to expand through the transition of conventional acreage into organic production.
AcreTrader Common Questions
Is AcreTrader only for accredited investors?
Anyone can create an account on AcreTrader to receive updates and learn about investing in farmland. However, their current offerings are only open to accredited investors due to the legal designation under which it operates, specifically SEC Regulation D, 506(c).
AcreTrader is actively working to open the platform to allow investment by all U.S. investors, subject to certain limitations.
Who owns AcreTrader?
The founder and CEO of AcreTrader is Carter Malloy. AcreTrader is now an employee owned company with venture backing as well. To learn more, visit their About Us page.
How long has AcreTrader been around?
AcreTrader was founded in 2018 by Carter Malloy and funded its first farm in early 2019. Since then it has allowed thousands of investors to have unprecedented access to a diversified farmland portfolio, has exceeded $150 million in assets under management, and owns and manages more than 70 farms.
What is the AcreTrader holding period?
Most properties have target hold periods of three, five, 10, or 20 years that have historical average returns of 12.24% per year. These potential gains are on par with other real estate investing apps.
Is AcreTrader legit?
Some people haven't heard of AcreTrader and are wondering if AcreTrader is legit. Our AcreTrader review has revealed that they are a legitimate company. AcreTrader currently has an A+ rating with the Better Business Bureau since March 2019.
What does it take to be an accredited investor?
To qualify as an accredited investor, investors must meet certain thresholds as defined by the Securities and Exchange Commission under rule 501 of Regulation D. Specifically, they must meet one of the following criteria:
Earn an annual income per individual of over $200,000 per year ($300,000 per couple) with the expectation of maintaining such level of income in the future.
Have a net worth of more than $1 million (individually or jointly), excluding the value of a primary residence.
Be a bank, insurance company, registered investment advisor, business development company, or small business investment company.
Be a general partner, executive officer, director or a related combination thereof for the issuer of security being offered.
Be a business in which all the equity owners are accredited investors.
Be an employee benefit plan, a trust, charitable organization, partnership, or company with total assets in excess of $5 million.
Please see also accredited investors on the SEC website for the full text.
Is buying farmland a good investment?
Investing for the first time in farmland, like any real estate crowdfunding platform, returns are never guaranteed. Every investor is different, with different priorities and investment strategies; thus only each individual investor can determine whether farmland is right for their portfolio.
Farmland has historically exhibited consistently higher returns with lower volatility than many common assets like stocks, even during periods of economic turbulence. This is why many investors, both individual and institutional, have chosen to allocate some of their portfolio to farmland.
What happens if you are not an accredited investor?
Unfortunately, AcreTrader does not offer products for non-accredited investors at the moment. AcreTrader is actively working to open the platform to allow investment by all U.S. investors, subject to certain limitations.
Is AcreTrader Right for You?
Real assets like farmland can play multiple important roles in an investment portfolio, from regular income and long-term wealth preservation to resilience in times of economic turbulence. And for the first time, AcreTrader makes this attractive asset class available to the average investor.
If you are an accredited investor looking for an alternative asset with impressive historical performance and true passive income potential, create an account today and start exploring your options in farmland investing.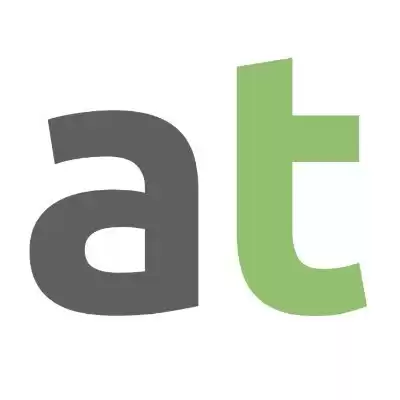 More Real Estate Investing Reviews