When it comes to getting started in real estate investing, where do you begin?
There are so many intricacies to real estate investing that it might make your head spin.
However, I believe that one of the simplest ways to start was to invest in a real estate investment trust (REIT).
As a first-time investor, you'll have far less management and risk.
So, if you're considering investing in real estate for the first time, checking out crowdfunding sites is a smart place to start.
While there are fewer options available to the non-accredited investor, I've put up a list of the finest crowdfunding platforms for non-accredited investors to get you started on your real estate investment adventure.
Before picking the best real estate crowding platform like Fundrise to invest in, define your investing goals, timeframe, and how much capital you have to start with.
From there, you can pick the right crowdfunding site to suit your investing style.
Real Estate Crowdfunding Options for Non-Accredited Investors
The most popular real estate crowdfunding platforms are only open to accredited investors.
However, the government is now permitting far more platforms to provide opportunities for non-accredited investors just like you.
But which platform should you choose if you don't have money to lose, but want to let your money make your money (passive income)?
We've done our due diligence and highlighted the key features of the top investment platforms so you may make an informed decision.
| | | |
| --- | --- | --- |
| | Best for low minimum investment | |
| | | |
| | | |
| | | |
Best for low minimum investment
1. Fundrise: Our Pick for Best Real Estate Crowdfunding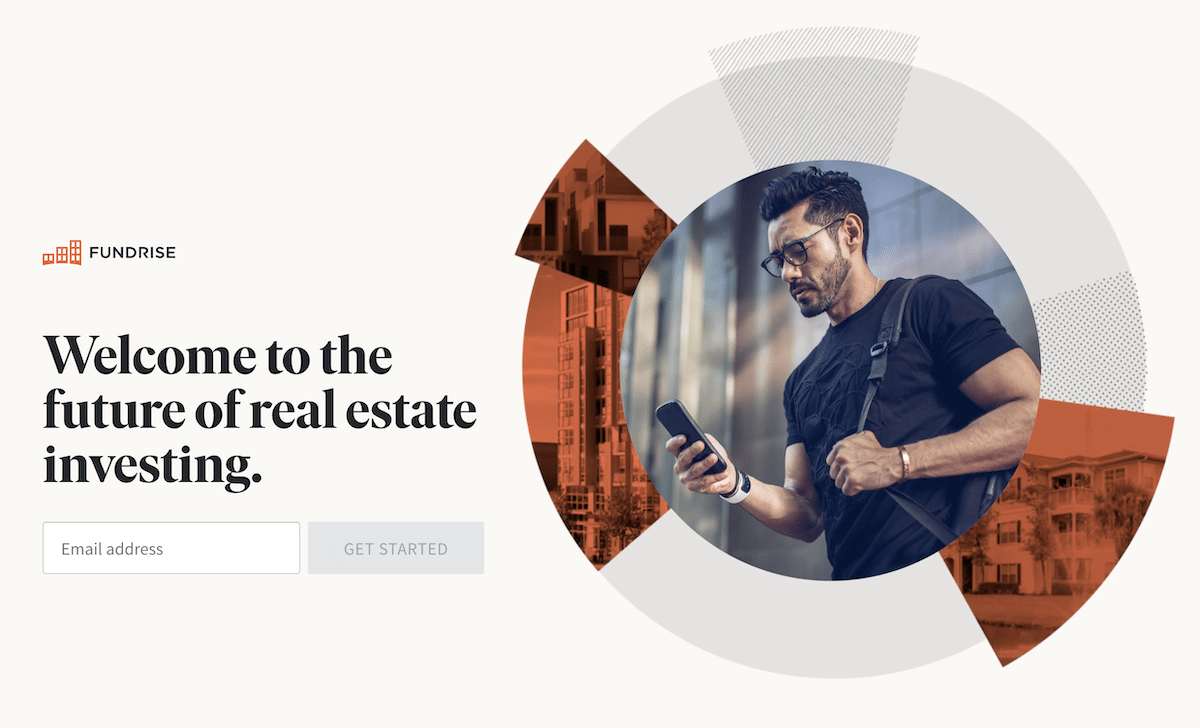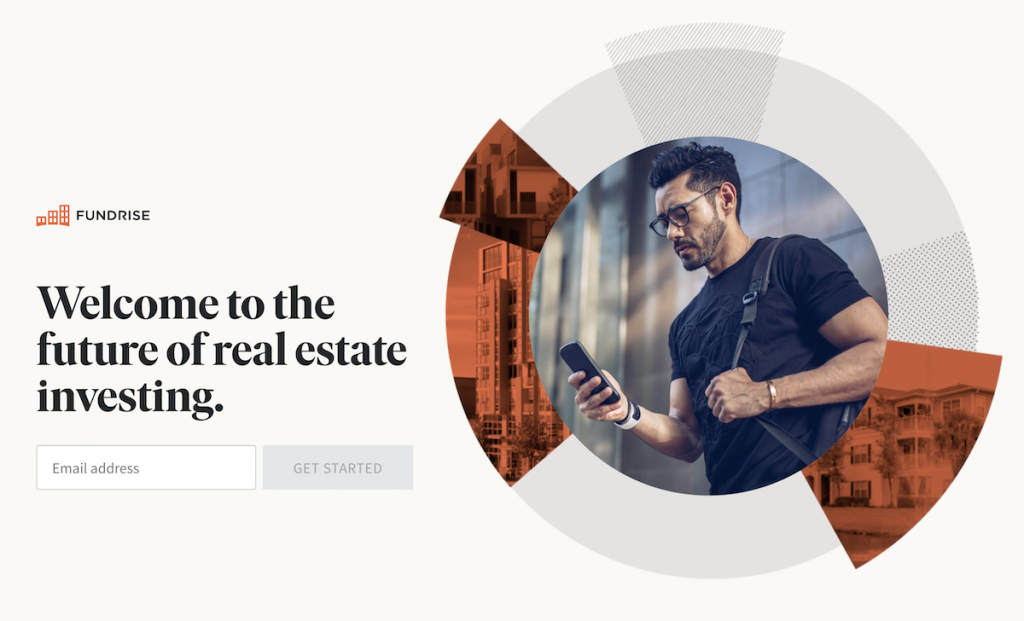 Minimum Investment: $500
Fees: 1%
Fund: eREITs
Fundrise is a wonderful real estate crowdsourcing site for non-accredited investors. And it's especially true if you're a first-time investor seeking to get your feet wet. This is because, as a new investor, Fundrise has various options with very high return on investment.
For example, Fundrise offers eREITs and eFunds, which are electronic REITs and electronic funds. Commercial property is the goal of eREITs, with the aim of generating income for you (and it does a great job of it).
Fundrise is a nice inexpensive alternative for those who are searching for a low-cost, automated platform that offers REITs and other modest real estate investment vehicles.
Fundrise might be the ideal choice for you if you're looking for a low-cost, automated platform that offers REITs and other cheap real estate investments.
The minimum investment amount for getting started with Fundrise is $500, and the management fee is 1% of your invested capital. Quarterly dividends are paid on income-producing funds.
Best for
Fundrise is best for those who want solid returns that are likely guaranteed. Annual returns are usually not revealed with most crowdfunding sites. Most investment platforms, including real estate crowdfunding platforms, are understandably hesitant to offer yearly returns.
But it's not the case with Fundrise.
Depending on the investment, they provide annual returns of 8.7% to 12.4% which is a great return for any investor.
Pros
You can open your account with as little as $500.
Solid track record of yearly returns, that beat the stock market.
It's open to anybody.
Website and app are incredibly simple to use.
IRA accounts available.
Cons
It can be difficult to comprehend fees.
Best for REITs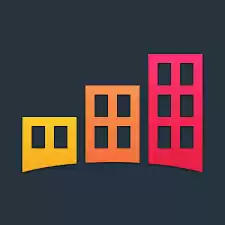 Fundrise
Fundrise is a very easy-to-use app that allows individuals to access crowd-funded real estate investing. This option is best for users who want to make money consistently and let their money make them money.
Open Account
Fundrise Review
2. RealtyMogul: Best for REITs and 1031 Exchange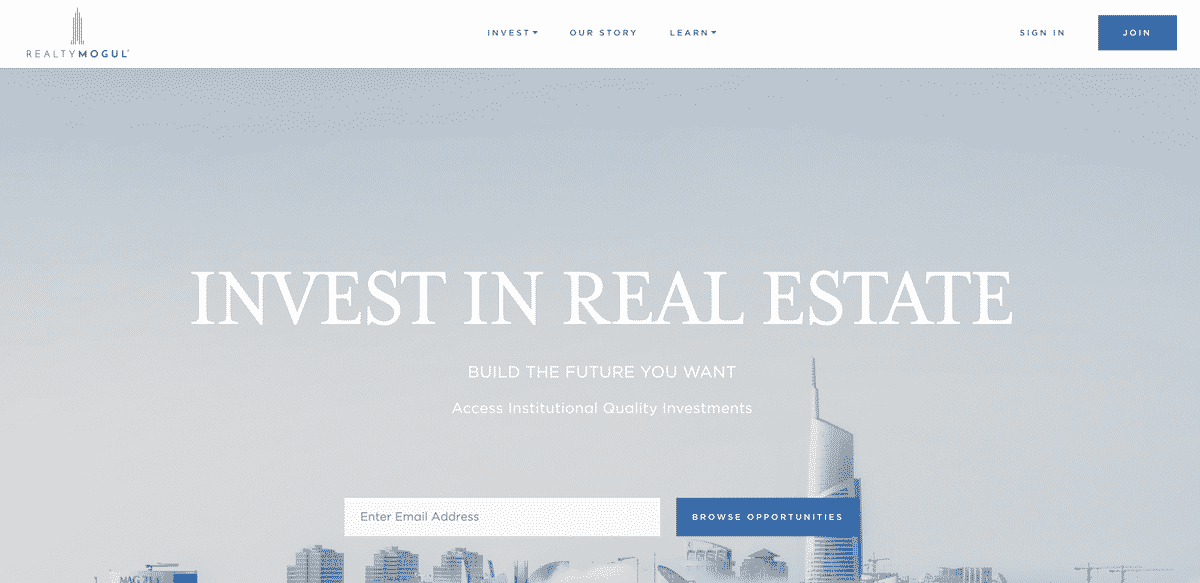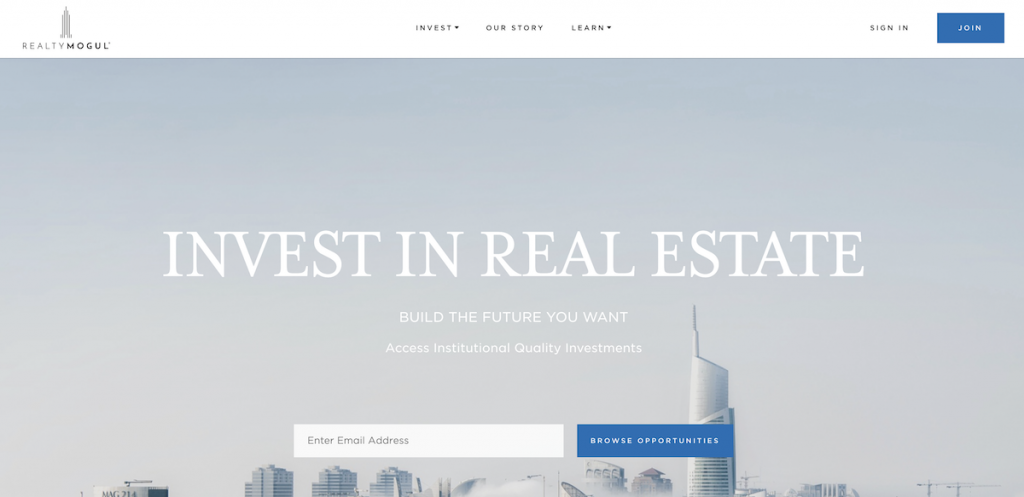 Minimum Investment: $5,000
Fees: 1%
Fund: MogulREIT I and MogulREIT II
RealtyMogul lets you can get access to private market offerings that 128,000+ investors have joined and invested over $650 million.
Both non-accredited and accredited investors can invest in real estate through RealtyMogul.
Non-accredited investors can choose from two different real estate investment trusts (REITs) that invest in a portfolio of properties.
An accredited investor can acquire a single property or take part in a 1031 Exchange, which is the trade of one investment property for another that allows capital gains to be avoided.
The 1031 Exchange is named for Section 1031 of the Internal Revenue Code, which allows you to defer capital gains taxes when you sell personal property and reinvest the proceeds within prescribed time limits in a similar kind and value property or properties.
Best for
RealtyMogul is ideal for investors who want to invest in REITs and 1031 Exchange. With a 1031 exchange, investors can defer capital gains taxes. RealtyMogul enables qualified investors to sell current properties and acquire "like-kind" properties.
Pros
Two REIT options.
Private placements.
1031 exchange.
Cons
REITs require a minimum investment of $5,000.
For the first three years, REITs have an early-redemption penalty.
Getting started with RealtyMogul is a smart option for real estate investors that want a ton of diversification and private placements options. You can gain explore to more deals by signing up, over $3.5 billion in deals have been posted on the platform.
Best for public nontraded REITs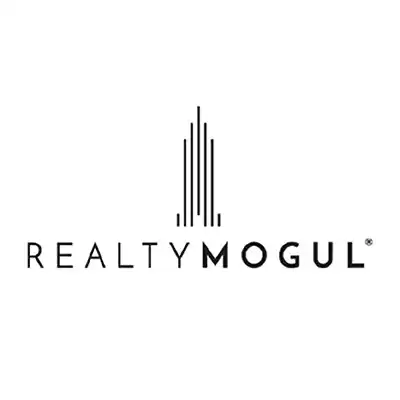 RealtyMogul
Diversify with thoroughly vetted commercial real estate with the potential to generate income and grow in value.
Open Account
3. Groundfloor: Best for Short-Term Debt Investments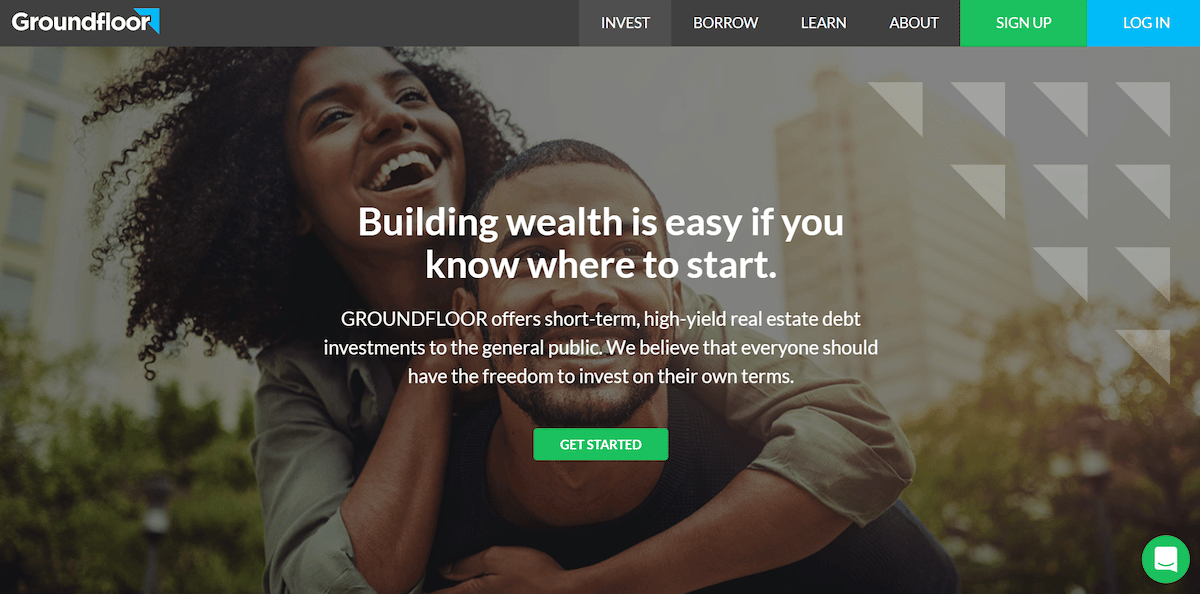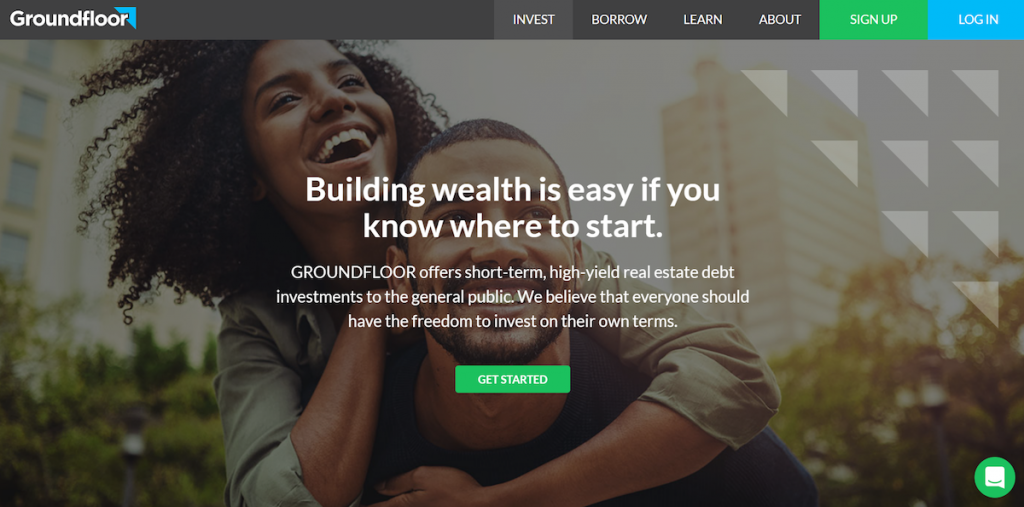 Minimum Investment: $10
Fees: Investors don't pay fees
Fund: Short-term real estate loans
Many Fundrise alternatives let you invest in real estate equity to generate returns. However, this often requires a longer investment period and more starting capital.
With Groundfloor, you invest in short-term, high-yield real estate debt instead of equity investments. There's a $10 investment minimum, and Groundfloor states it's seen 10.5% returns to date.
You can build your own debt-based portfolio as well. Groundfloor lets you browse real estate projects with various loan terms, interest rates, and loan to ARV ratios to suit your risk tolerance and investment timeframe.
Groundfloor investors typically receive payments within six to nine months, and with a $10 minimum, this is one of the most beginner-friendly investment options around.
Best For
Groundfloor is best if you want a shorter-term real estate investment option with a low investment minimum.
Pros
Investors don't pay any fees
$10 minimum initial investment amount
Short-term loans so you get repaid quickly
Cons
Loan defaults are an investment risk
Listings have a decent amount of information, but you can't dig into the nitty gritty details of a loan
Groundfloor has one of the lowest minimum investment requirements on the market and also lets you invest for the short-term.
Best for fractional investment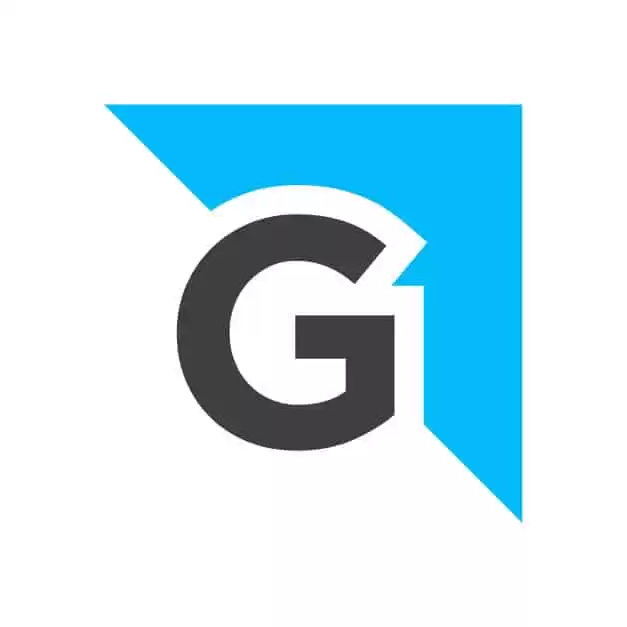 4. Streitwise: Best for Real Estate Dividend Income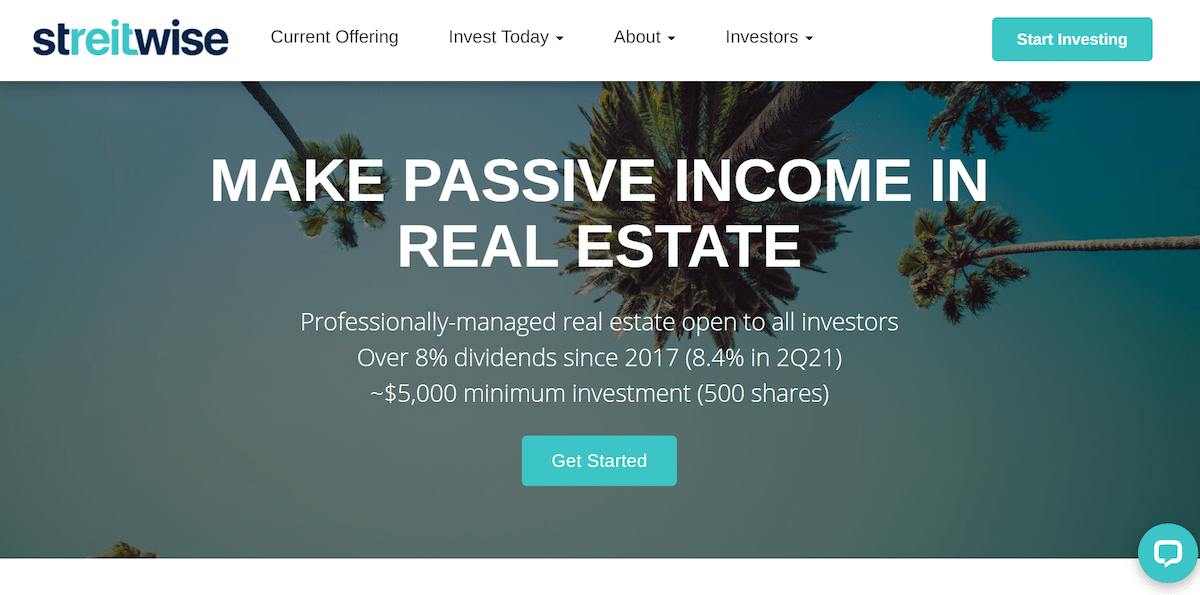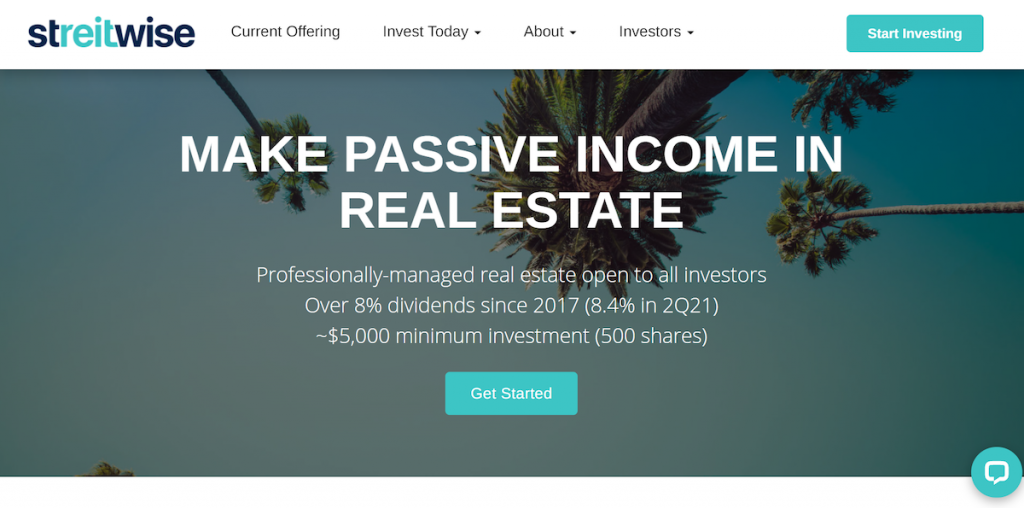 Minimum Investment: $5,000
Fees: 2% annually
Fund: Commercial real estate REIT
While Streitwise requires $5,000 to begin investing, it's one of the best Fundrise alternatives if you're looking for dividend income.
Streitwise still lets you invest in commercial real estate with its REIT. The fund has paid over 8% in dividends since 2017, with the latest dividend being 8.4% in Q2 of 2022.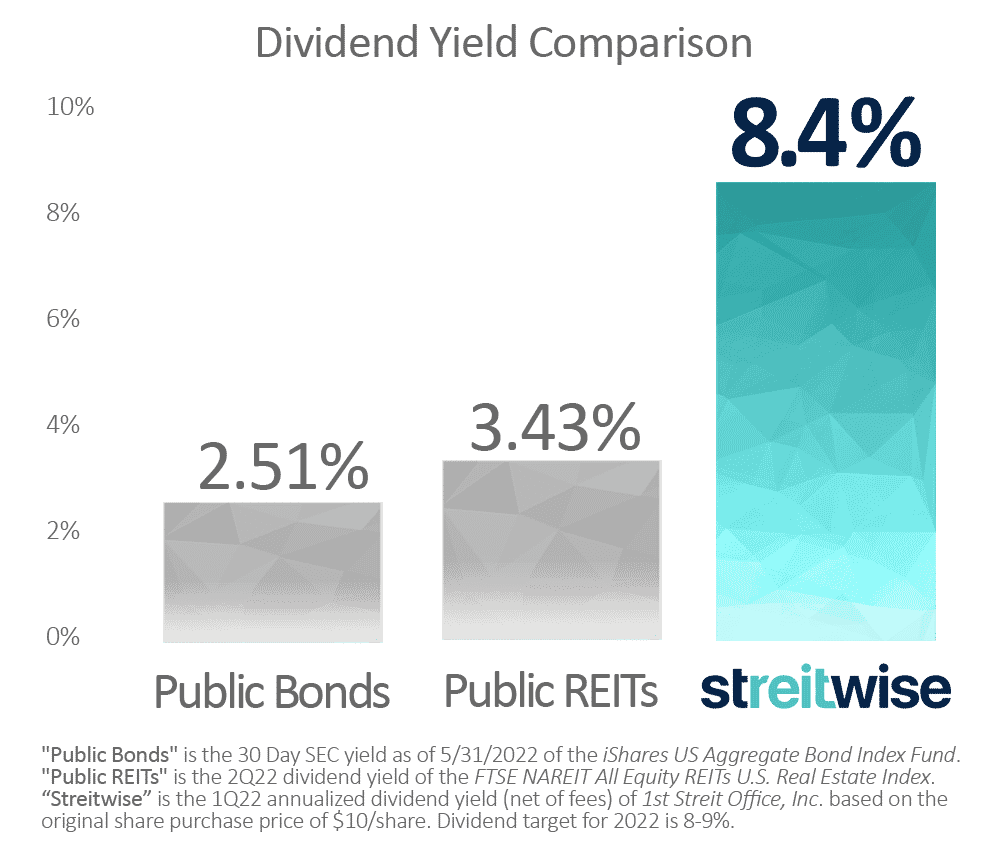 Streitwise typically has one or several investment offerings at a given time. Properties are commercial real estate, meaning the tenants are companies and the properties themselves are usually multi-million dollar office spaces or retail buildings.
For fees, it's simple enough where you simply pay a 2% annual management fee.
Best For
Streitwise has a higher investment minimum than Fundrise, but it boasts a high quarterly dividend to let you earn passive income from real estate.
Pros
Historical dividend payments of 8% or higher
Commercial real estate properties can carry less tenant risk
You can reinvest dividends
Cons
Higher fees compared to Fundrise
Few active listings to invest in
According to Streitwise, the goal is to develop a diversified portfolio of value oriented investments with creditworthy tenants. Ultimately, this allows for a handsome quarterly dividend payment and minimal risk of rental income loss.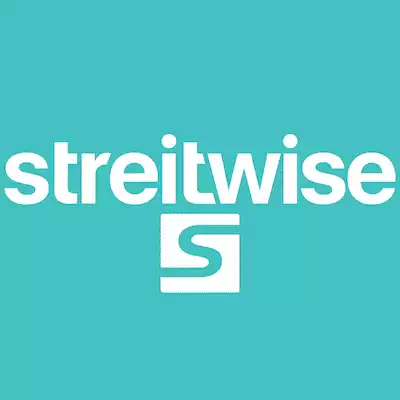 Streitwise – Over 8% Dividends Since 2017
Streitwise is a real estate investing company that enables investors of all wealth levels the ability to own a portion of commercial real estate through an equity REIT. Investors can now access a professionally-managed, tax-advantaged portfolio of real estate assets with over four years of 8%+ returns and earn passive income.
Start Investing →
5. DiversyFund: Best for Long Term Investors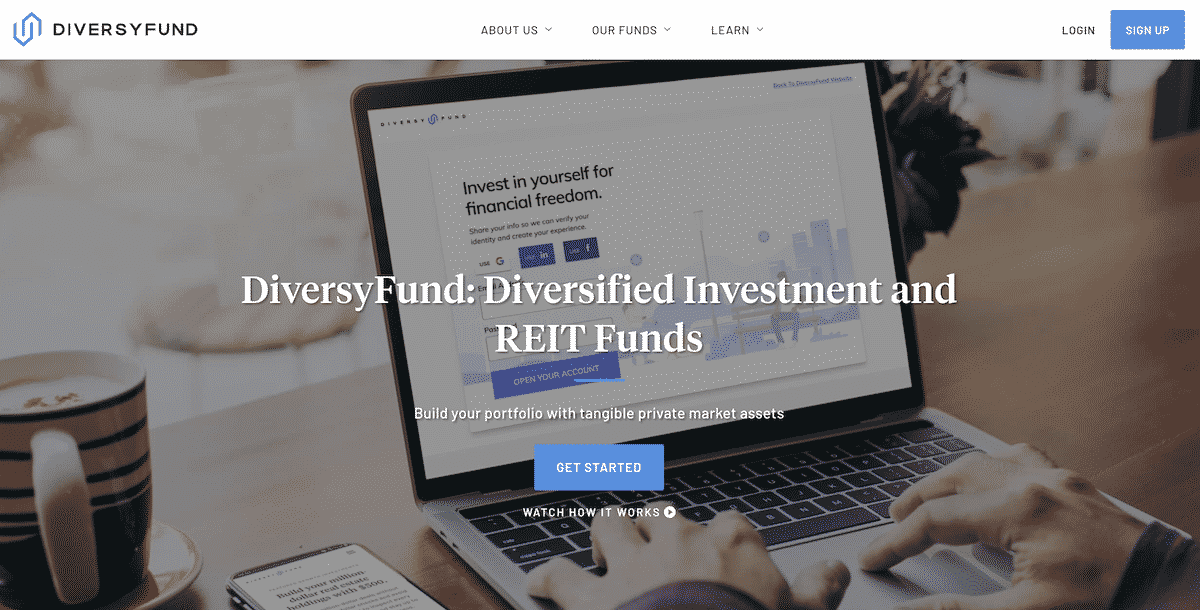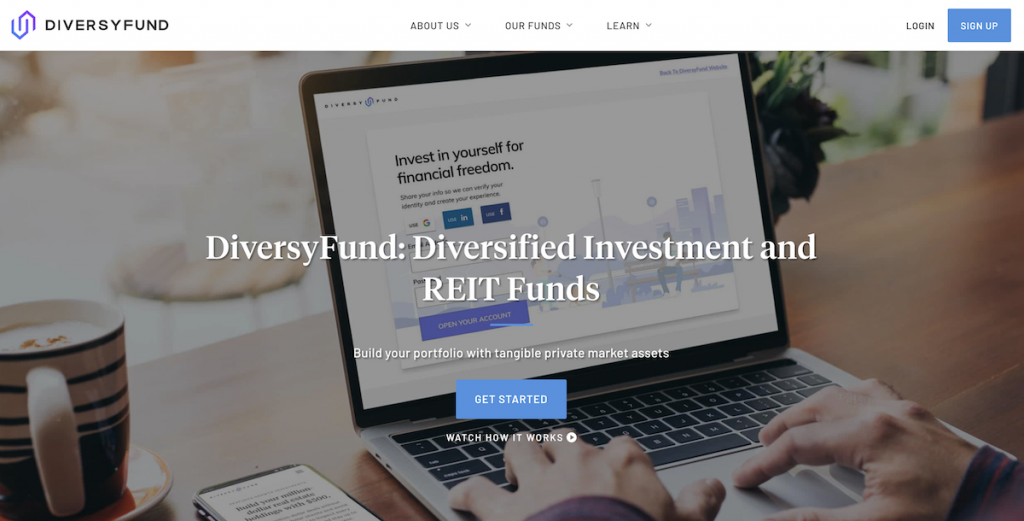 Minimum Investment: $500
Fees: No management fees
Fund: Growth REIT
At DiversyFund, they make it easy to buy shares in a portfolio of fully vetted, multifamily real estate.
With the click of a button, you could own a piece of a real estate investment trust (REIT), across multiple properties, just like Fundrise.
DiversyFund provides only one type of investment: The Growth REIT. This real estate investment trust focuses on offering investors income by investing in residential apartment buildings.
Unlike other crowdfunding platforms, DiversyFund invests in commercial properties and owns them outright. This saves the investor from hefty commission fees that come with other crowdfunding sites.
Investing with DiversyFund is a great alternative to Fundrise. You can get started with just $500 and your small investments can reap big returns. All dividends are reinvested in properties so you don't have to worry about withdrawing gains until your property sells.
Investors don't have the option of selling their investments and must wait until the company liquidates to make a profit. The investment term may be at least five years in duration.
Best for
DiversyFund is an excellent choice for investors who want a more passive way of investing and aren't too worried about liquidity. The low investment minimum of $500 is appealing.
Pros
The minimum investment for Diversity Fund is $500.
Investors see no management fees on their investments.
They own and manage the properties.
Cons
Only one fund to invest in.
Dividends are reinvested.
DiversyFund is an opportunity for new investors to diversify in alternative investments.
Best for long term investors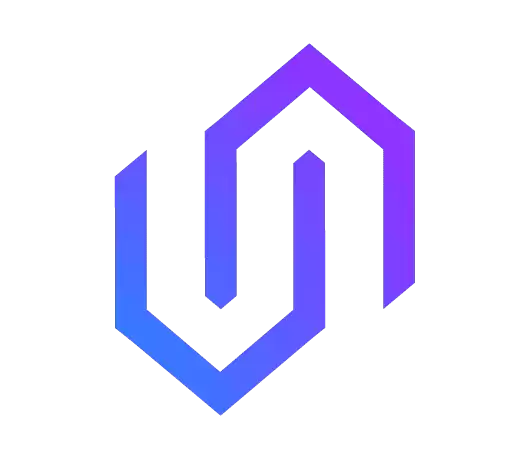 DiversyFund
DiversyFund opens opportunities for the everyday investor to access high value private real estate investing through its non-traded REIT (real estate investment trust).
Open Account
6. Roofstock: Best for Passive Rental Income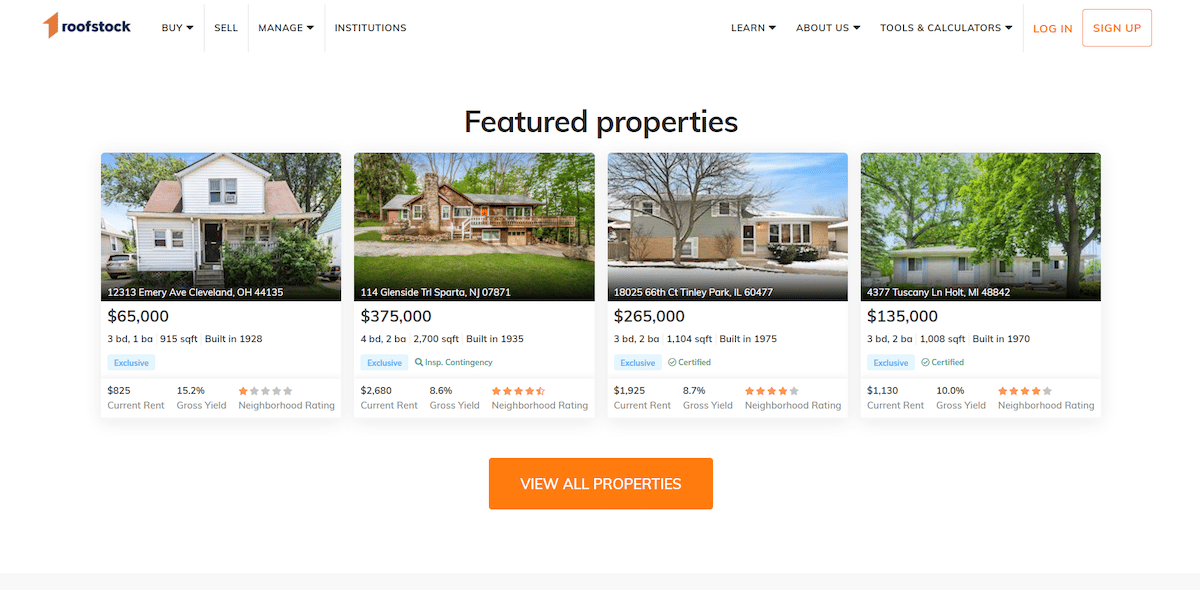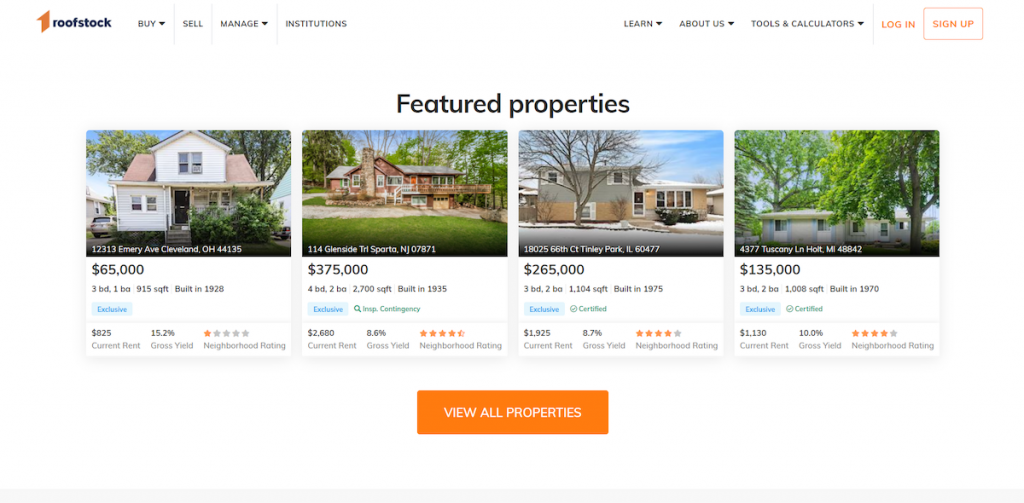 Minimum Investment: You make offers on rental units
Fees: 0.50% or $500 of contract price
Fund: Rental properties
If you want to earn passive income from rental units without having to manage tenants yourself, Roofstock is for you.
With Roofstock, you can buy rental properties across the United States. Listings include comprehensive information on expected annualized returns, appreciation, cash flow, and property taxes. Listings also share the current occupancy status, when leases end, and expected rent and expenses.
There's a healthy variety of rental properties, ranging from sub $100,000 single-family rentals to more expensive multi-family condos. Roofstock also includes information on neighborhood ratings, previous property inspections and valuations, and title report and insurance quotes so you can analyze properties properly.
Making an offer is free, and Roofstock charges a marketplace fee of 0.50% or $500 of the contract price if the offer is accepted. Following closing, Roofstock can connect you with local property managers to handle tenants and property maintenance for you.
Best For
Roofstock is ideal if you want an efficient way to acquire rental properties and outsource property management to keep things passive.
Pros
Variety of listings and home prices
In-depth property metrics
Network of local property managers
Offers IRA investing and a 1031 Exchange
Cons
You generally require significant capital to buy rental properties
Roofstock used to let you invest in rental properties shares, but this feature isn't currently available
If you want to earn passive income from managed rental units, Roofstock is the company for you.
Summary of the Best Crowdfunding Sites for Non-Accredited Investors
Whether you want to earn supplemental income or earn money through capital appreciation, these low-minimum investment crowdfunding sights are worth a second look.
Be sure to do your own due diligence as with any investment, but these are all recommended by our team.
What constitutes a non-accredited investor?
A non-accredited investor is a new investor who, in most cases, does not have the necessary qualifications to invest. You may become an accredited investor if you've been investing for long enough.
However, in order to leap out of the non-accredited investor category, you'll need to meet some financial criteria.
To be eligible for accreditation, you must have earned at least $200,000 in annual income per year for the past two years and be on track to do so or more in the next year.
However, you must have a net worth of at least $1 million. While that may appear to be a high barrier, it is certainly doable. You are still considered a non-accredited investor until then.
This simply implies you fall into a higher risk category as an investor, thus fewer alternatives are available to us. Non-accredited investors also pay somewhat more in fees and have lower ROI's than accredited investors until they become so.
In other words, each of us has to pay our dues. And real estate crowdfunding is a wonderful method to get started with little risk.
What are the most important things to know when choosing a real estate crowdfunding site?
Overall, there are a few things to consider before getting into real estate crowdfunding.
Any individual who invests in a company should ask themselves the following questions:
How much liquid cash do you have to invest?
What is your tolerance for risk?
What is the maximum length of time you can keep your funds invested in a crowdfunding site?
What is the best ROI range for you?
What are some of the fees you'll be willing to pay to invest?
Do you wish to invest in a certain sort of property?
Do you feel more at ease with a typical REIT or would you prefer to pick your own loans?
Do you want to earn quarterly dividends or desire long-term growth?
Once you've figured out what your goals are, it'll be easier to choose which real estate crowdfunding site is ideal for you.
Crowdfunded Real Estate Summary
In the end, there are several various investment opportunities for individuals interested in getting started investing in real estate.
However, one of the finest methods to get started is to utilize a crowdfunding platform, such as the sites listed in this article.
You have a variety of alternatives based on your personality and investing strategy.
Real estate investing is a great way to build wealth, especially if you are looking for some extra cash and want to be your own boss.
Just remember, it's never too late or early to start investing in real estate.
Our Pick