Experts forecast the fine wine market will reach $686 billion in value by the year 2028. That's a lot of expensive wine! 
Many people only purchase a bottle of wine for a special occasion, while others incorporate this alcoholic drink into their daily lives. Like any other passion, fine wines can bring a little something extra to life.
If you are curious about learning how to invest in wine, our Vint review includes everything you need to know. This investment platform connects consumers from all walks of life to fine wines that are projected to gain value over the next decade.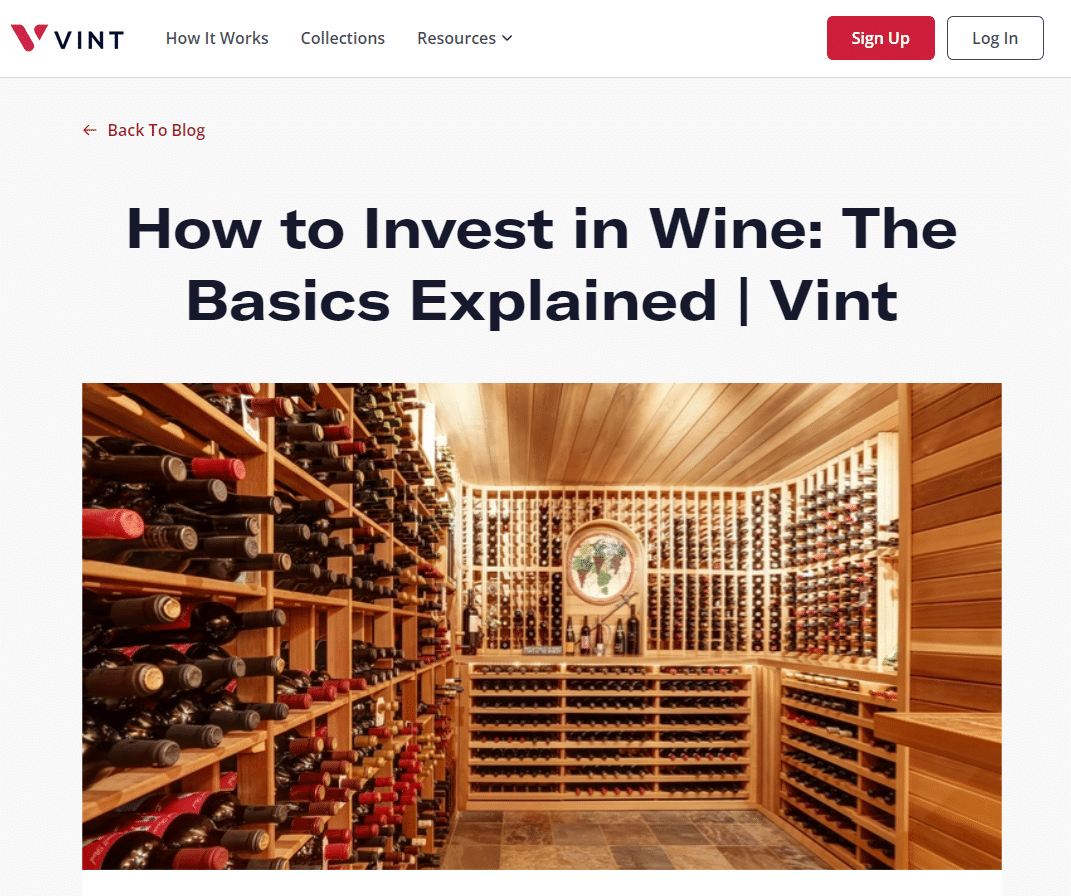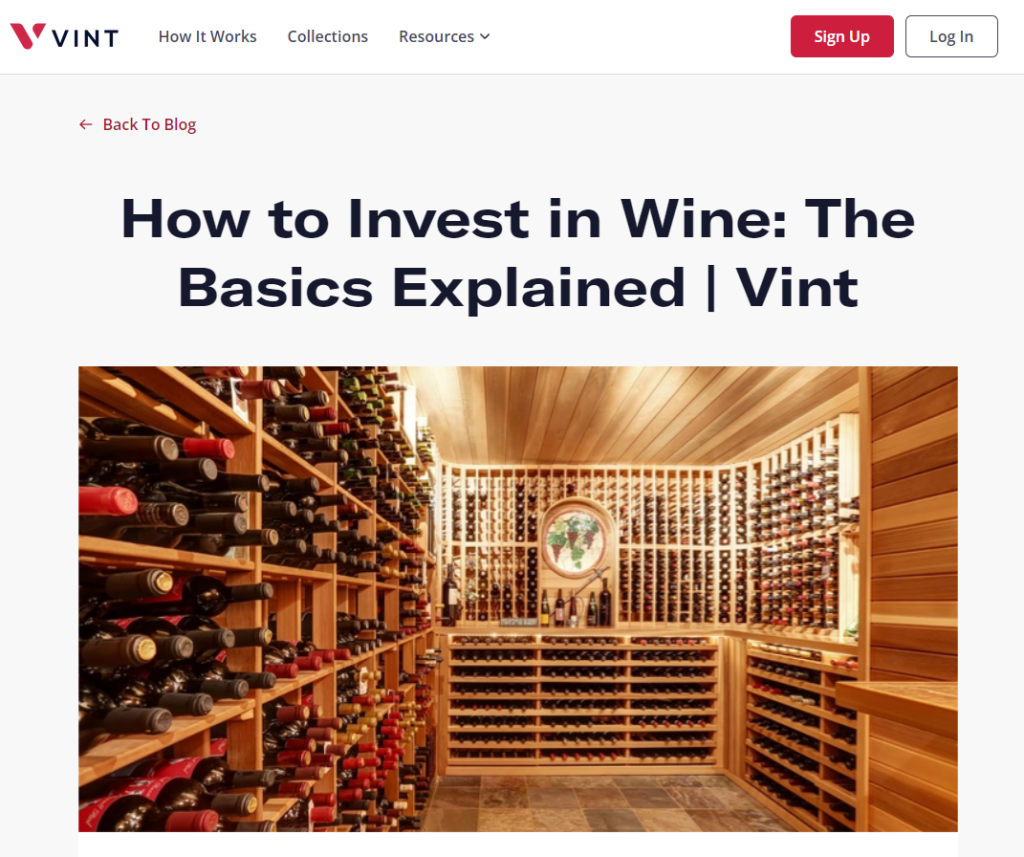 We'll also compare Vint to other wine-investing platforms out there to give your decision some context. You may even find Vint to be superior in several ways.
Vint's premise of fractional wine investments bases itself upon an industry that weathers even the fiercest economic conditions. If you need to add a bit of diversity to your investment portfolio, Vint (and wine) could be the ticket.
Are you ready to dive into our Vint review to learn more? Let's get started!
Our pick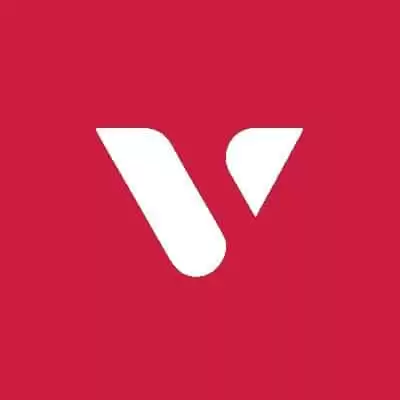 Vint
Vint offers a user-friendly investment platform for purchasing shares in high-quality wines, making it easy to build a diversified portfolio without extensive knowledge of the wine market. It is an ideal choice for newcomers to fine wine investment due to its simplicity and accessible interface.
Open Account
What is Vint
Founded in July 2019, Vint is a wine-investing platform created by Nick King and Patrick Sanders. This company offers alternative ways to invest in a product previously associated with high-net-worth individuals. 
The basic premise of Vint begins with a team of experts researching and acquiring collections of wine and similar spirits. The company then offers fractional shares of that particular collection to non-accredited and accredited investors alike.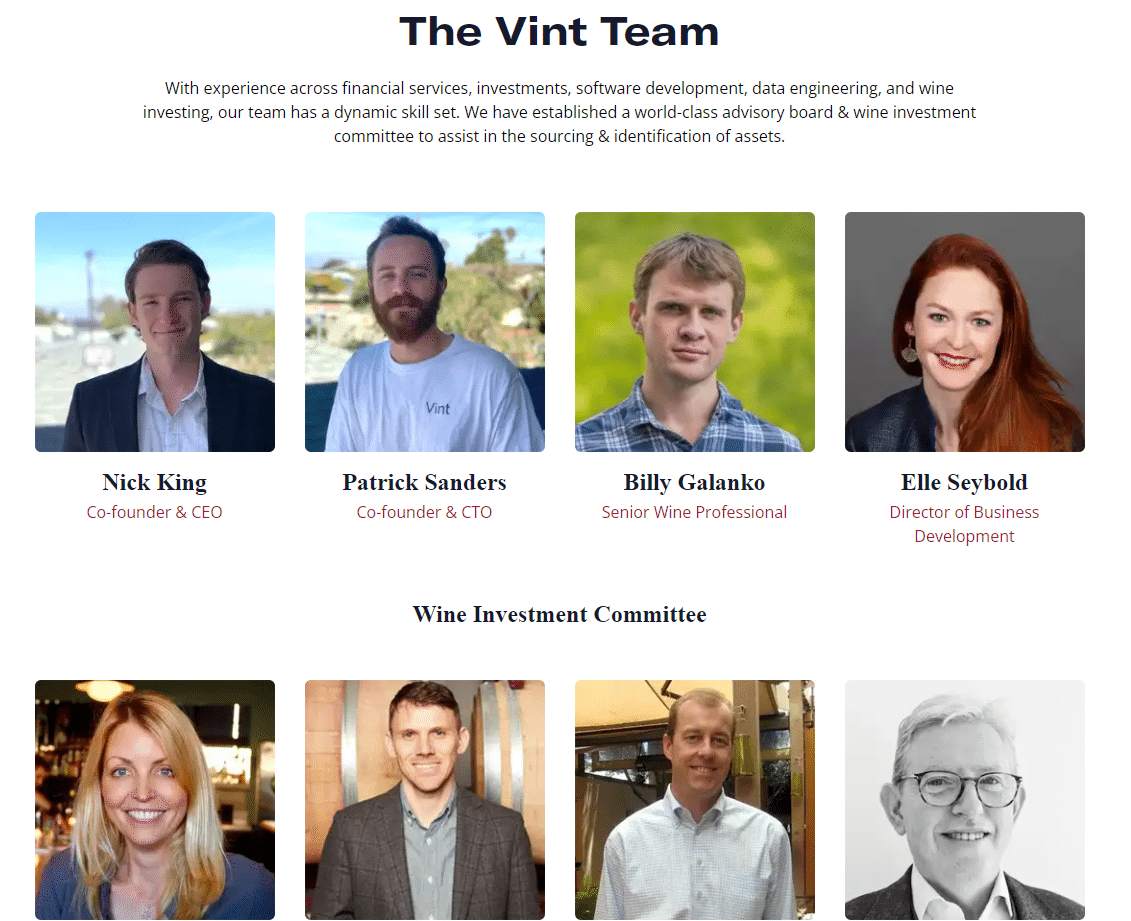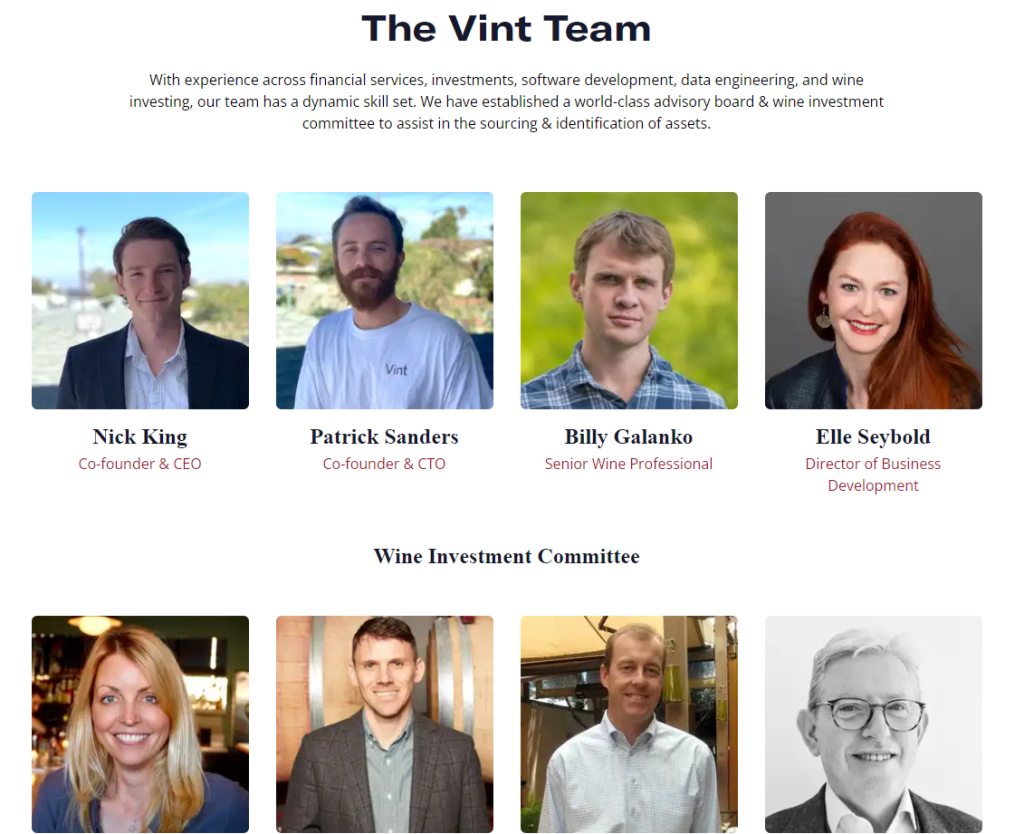 Vint is regulated by both the Securities and Exchange Commission (SEC) and the Financial Industry Regulatory Authority (FINRA). You can find out more about Vint's offering circular on the SEC's website.
Though certainly not the first to introduce wine and spirits as an investment, Vint sets itself apart with a transparent pricing structure, low minimum investments, and the chance to join a passionate community. In fact, Vint actively participates in the wine community by hosting events and talks to build relationships.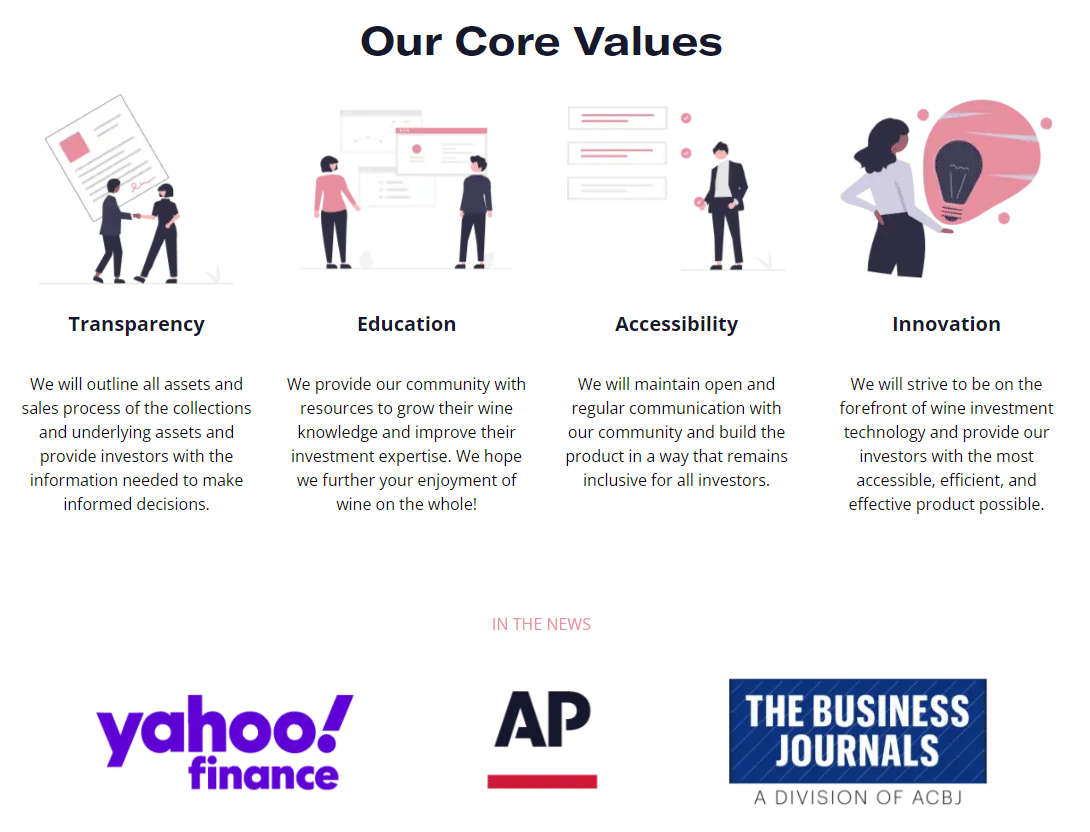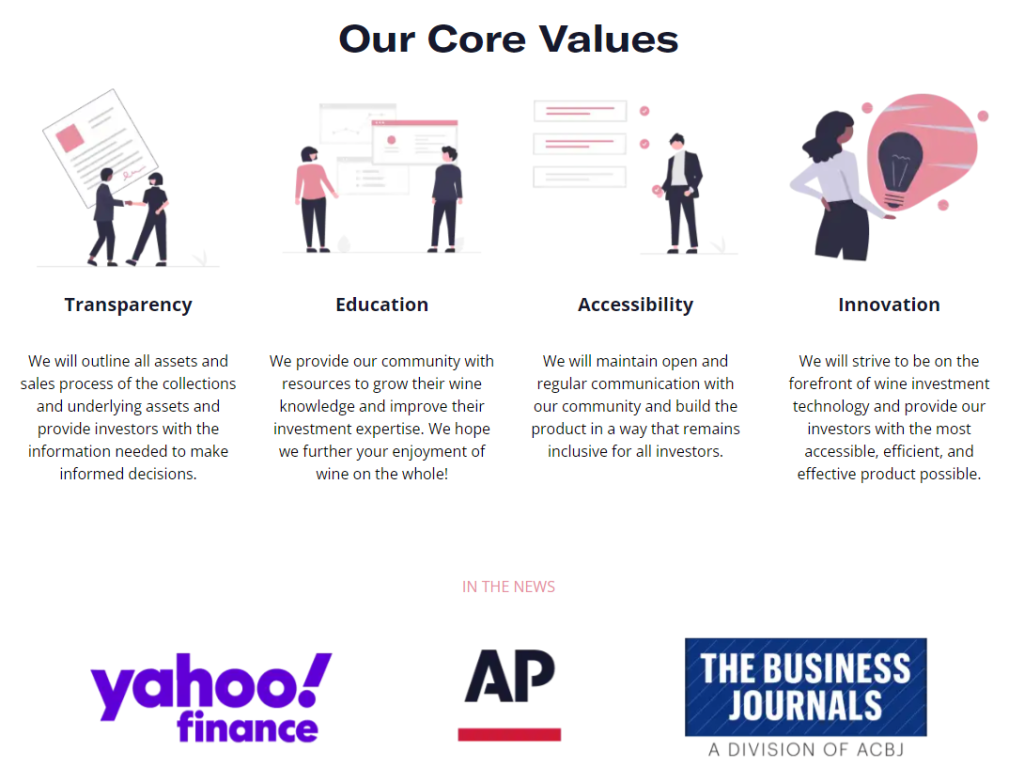 When you invest in wine with Vint, you're joining a process that begins with sourcing fine wine collections, acquiring them, transporting and insuring those bottles, and then selling the entire collection once it reaches its maximum value. All you have to do is contribute capital to the endeavor and wait for your profits.
Vint uses the London International Vintners Exchange, known as Liv-Ex, as a source for trading data to inform both purchases and sales. This platform offered its first collection in 2021 and continues to aim toward offering a new collection every two weeks.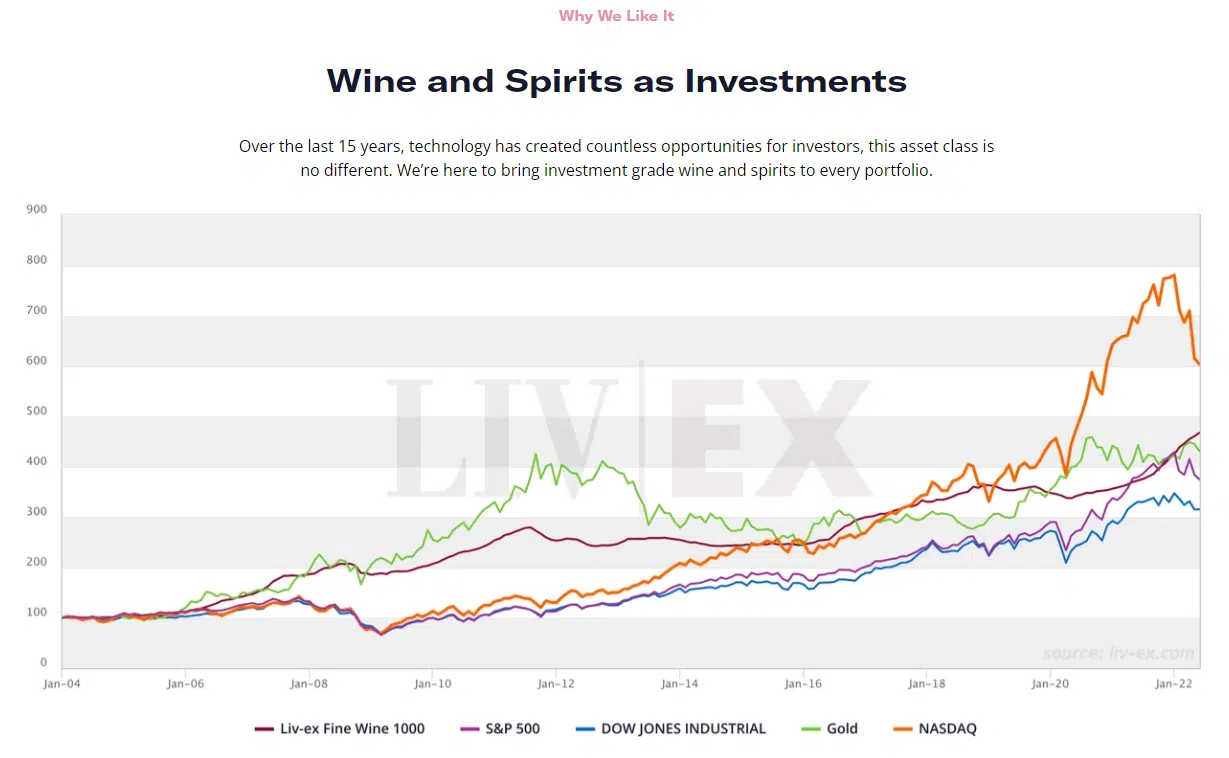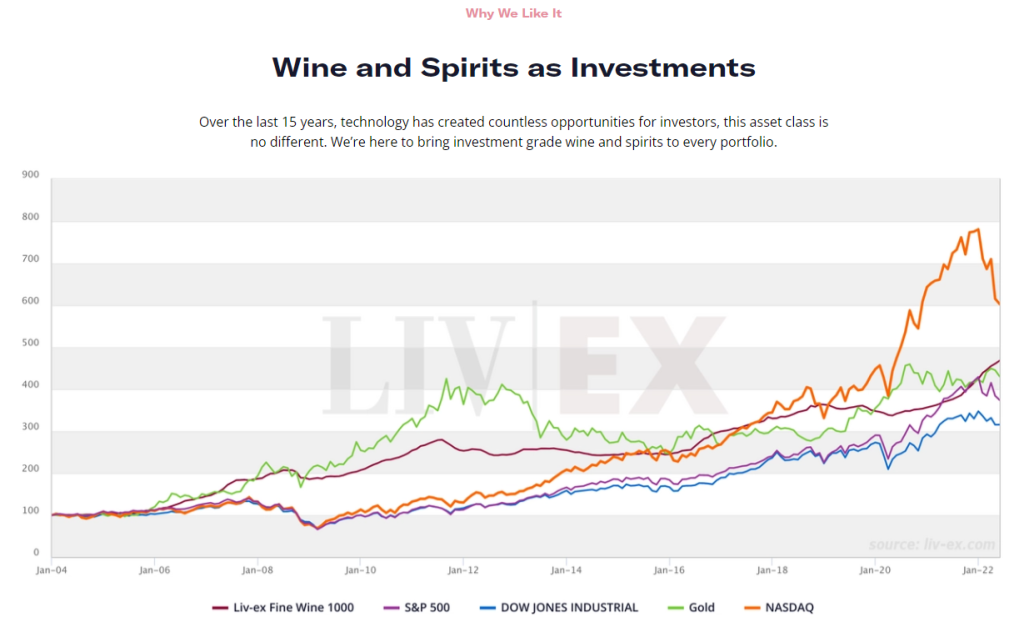 Wine is considered a non-correlated asset, meaning that even in the roughest economic conditions, it remains stable. The industry has historically returned over 9% annually, which rivals many investment types dependent upon the economy.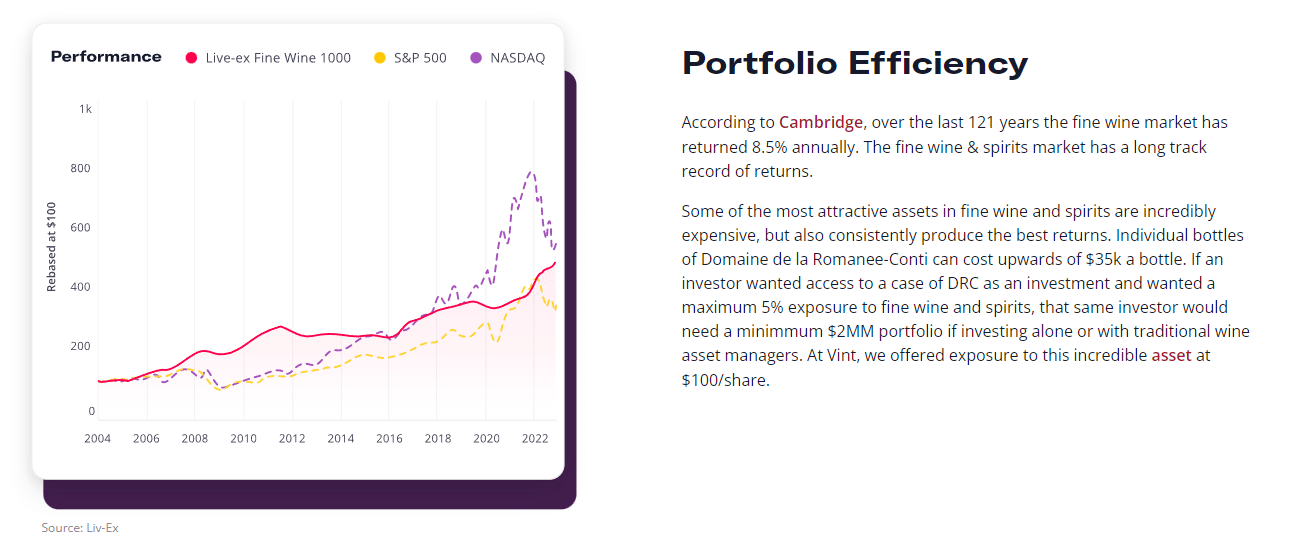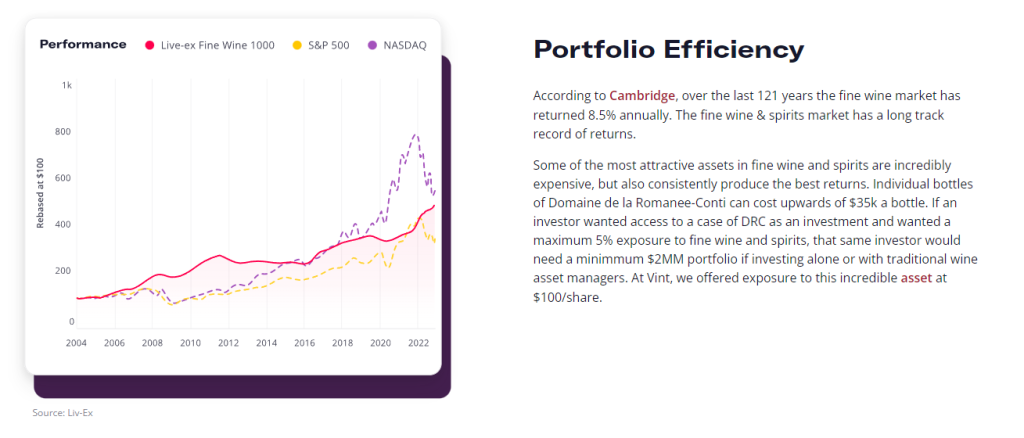 Investor Eligibility Requirements
If you want to start investing with little money, Vint could be your chance to get in on the action in a small way. This wine-investing platform works with both accredited and non-accredited investors who are U.S.-based and at least 18 years of age.
However, Vint does put some restrictions into play. For instance, non-accredited investors can only invest up to 10% of their net worth or annual income into a single offering.
In addition, no investor (accredited or not) can invest more than 20% in a single offering. This gives other investors a greater chance of partaking in this opportunity to avoid monopolization.
Vint also allows investors to use self-directed IRAs or LLCs to invest. If you choose this path, you'll need to get in touch with a Vint representative, but there are no fees associated with this approach.
You will be asked to provide personal information, such as your Social Security Number, during the sign-up process. This information serves to prove your identity as Vint doesn't perform a credit check to qualify you as an investor.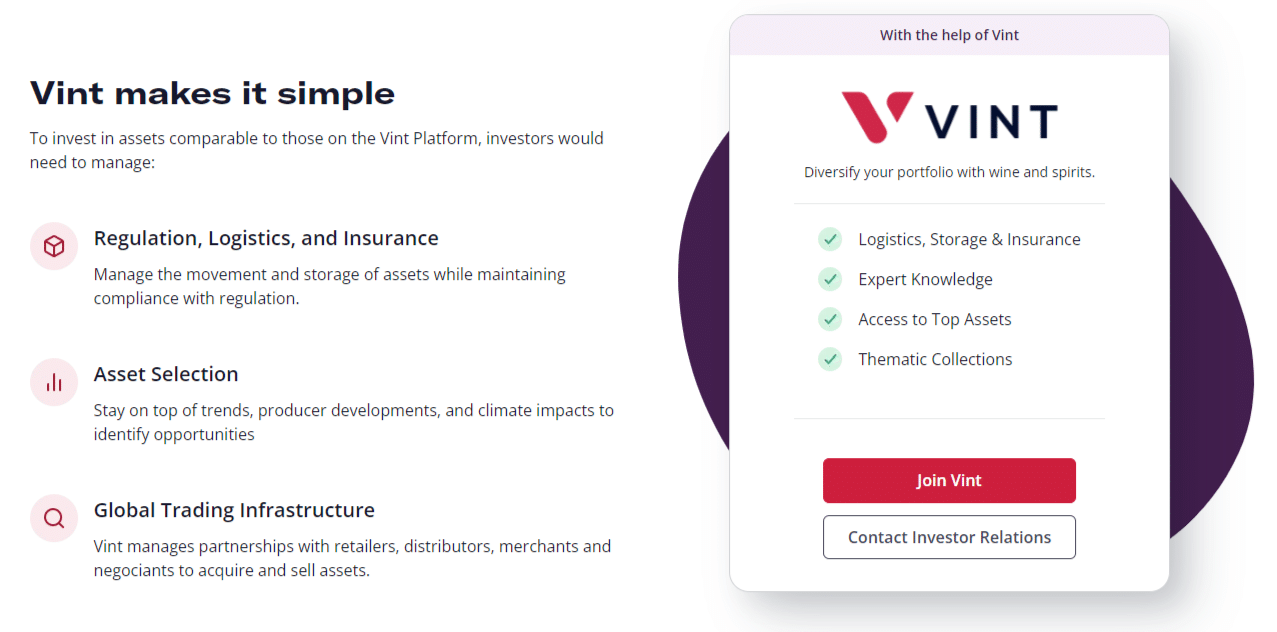 How Does Vint Work
Once you create an account, Vint requires that you link a bank account to fund your investments. However, it's important to note that Vint only accepts ACH payments as you cannot use credit cards or wire transfers to invest.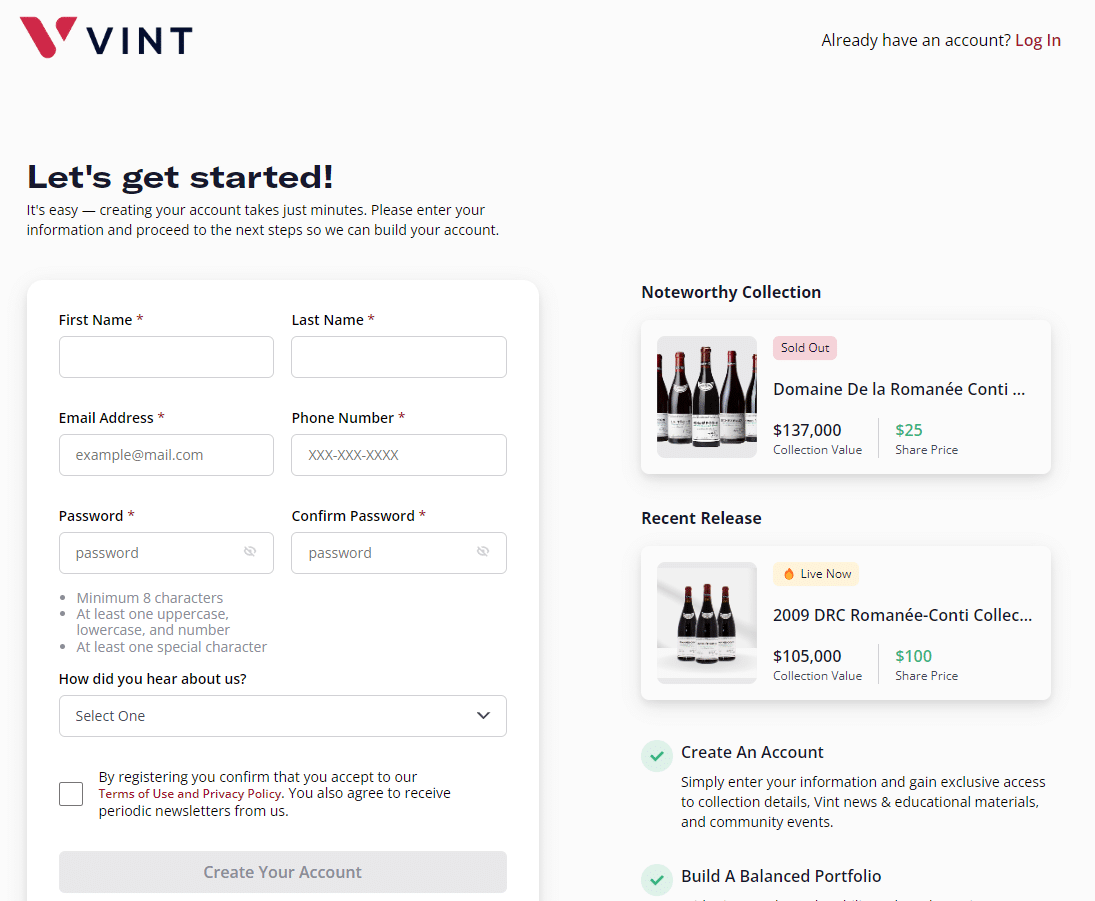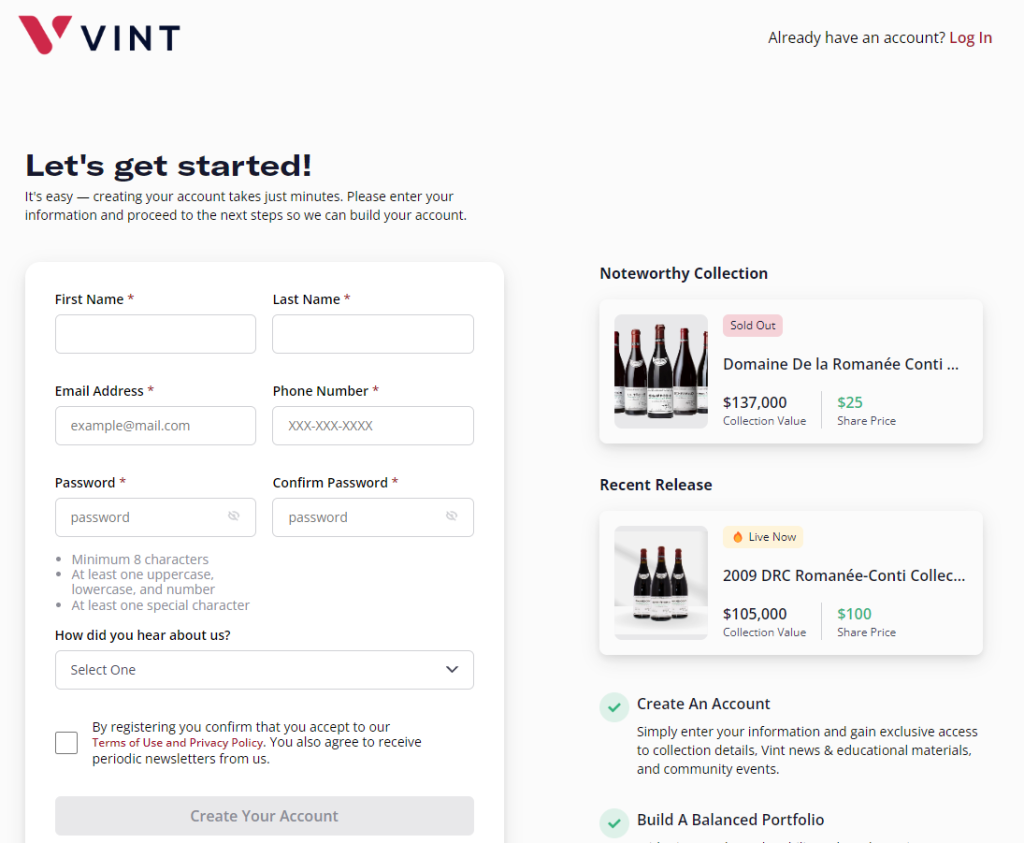 You can also join the email list to be notified of new collections as they are listed. Vint never purchases from private collections but the company does purchase anywhere from 0.5% to 20% of the collections they do offer.
Vint estimates the holding period for these wine collections to be anywhere from three years to up to 10 years at a time. Depending on which collections are available, you can begin your wine-investment career with only $25-$100 invested.
Beginning at procurement and until the wine collections sell, Vint holds these assets in an LLC. When the collection sells, those investors who have purchased fractional shares are paid out accordingly.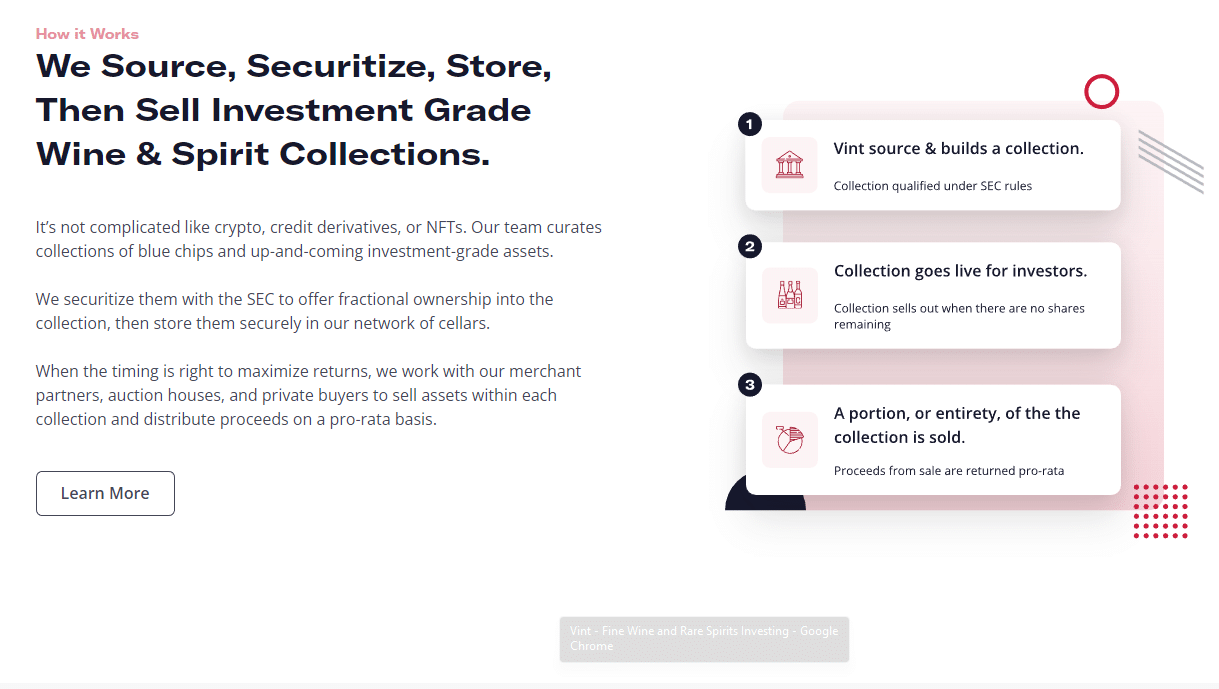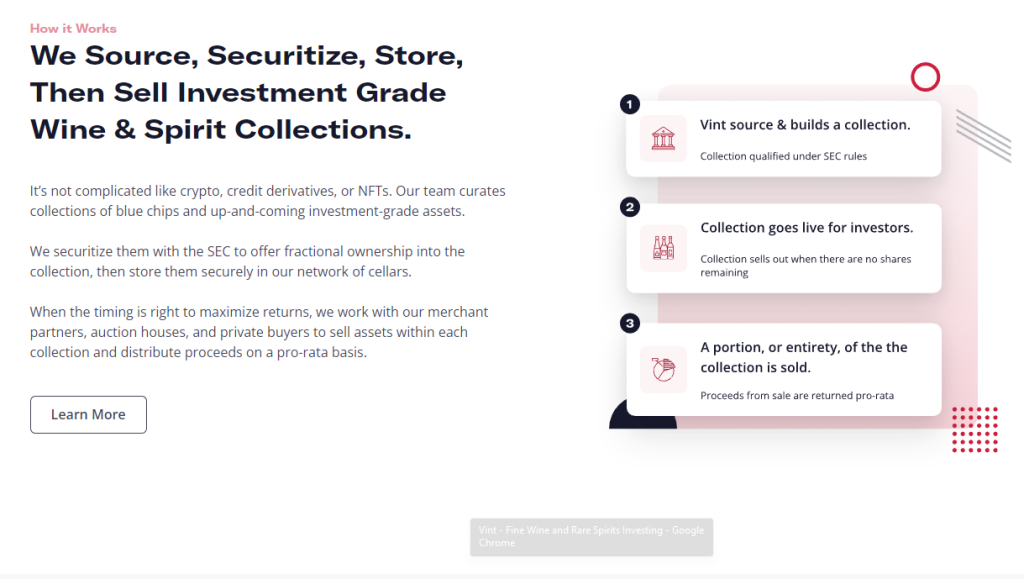 Our pick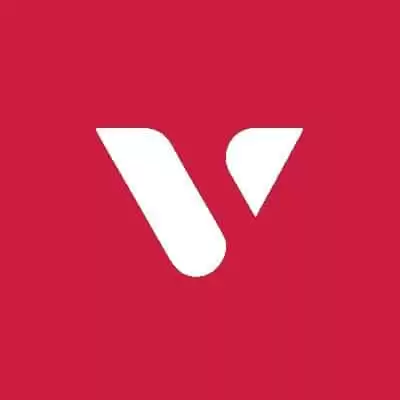 Vint
Vint offers a user-friendly investment platform for purchasing shares in high-quality wines, making it easy to build a diversified portfolio without extensive knowledge of the wine market. It is an ideal choice for newcomers to fine wine investment due to its simplicity and accessible interface.
Open Account
Wine Collections
Vint's wine collections vary from one to the next. The company uses a proprietary data set to select wines appropriate for investment and allows investors to track their performance through the "My Portfolio" portion of the site.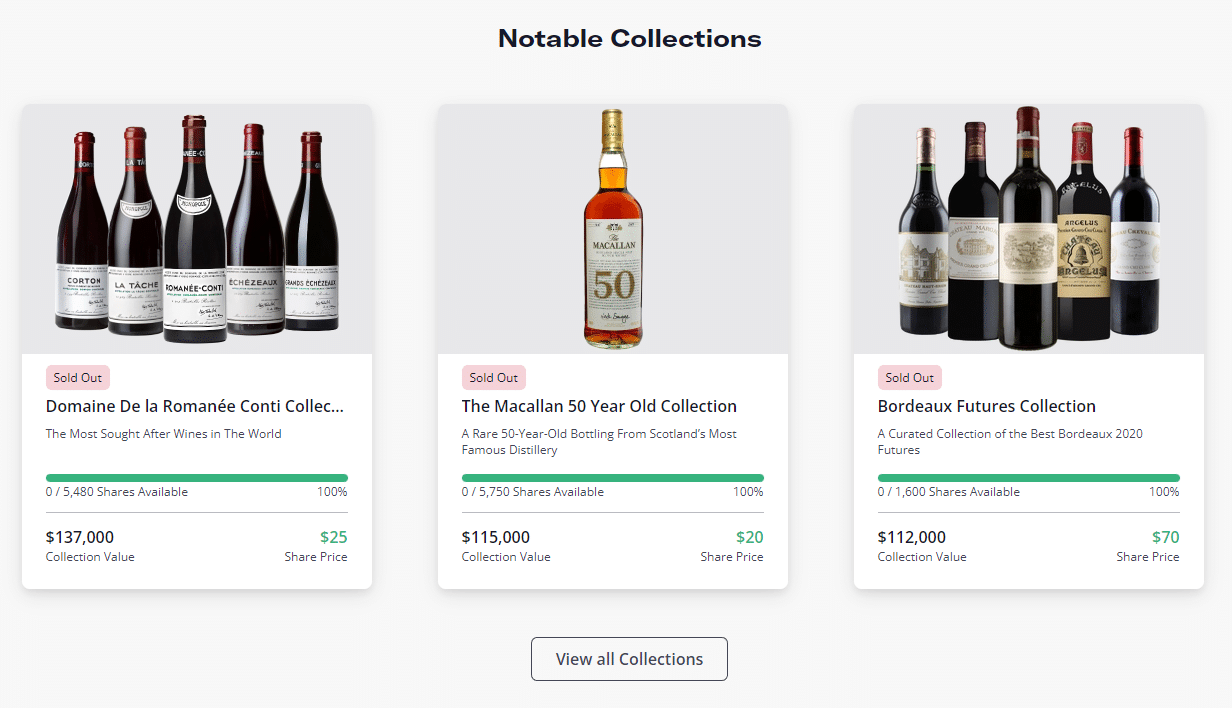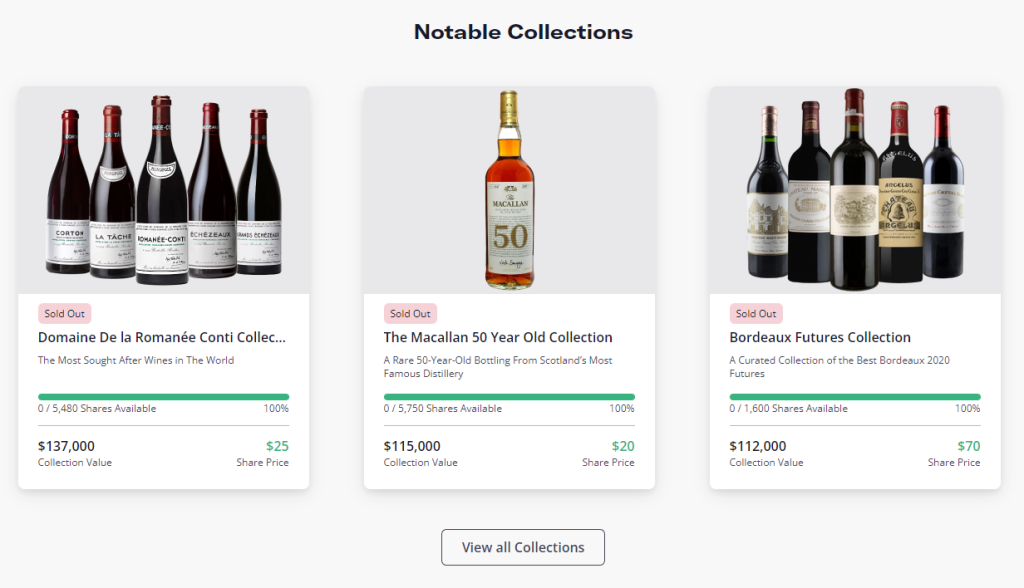 "All of our sourcing partners," claims Vint, "are well-vetted industry experts with a long track record of trust and success." The company only works with "licensed wineries, merchants, auction houses, wholesalers, and exchanges" to ensure authenticity and establish provenance.
Once Vint acquires a wine collection, it is relocated to a partner facility that "stores hundreds of millions of dollars worth of fine wine." These storage facilities, which include Domaine & Octavian, are temperature and humidity controlled to protect your investment.
Should Vint fail to fund all shares for a particular collection, it refunds the appropriate investors. While the information on whether or not a collection has failed to gain full backing is scarce, we imagine Vint is willing to cover at least 20% of the shares itself as demonstrated in an earlier statement.
Fees
Any investor knows that fees can cut into profits in a big way. However, Vint offers a transparent pricing structure that has so far worked to its advantage.
Vint charges a one-time fee for each offering to keep the doors open and the lights on. These fees range from 0-35% of the gross offering proceeds, with the average coming in around 10%.
Unlike other investment platforms, Vint does not charge a monthly or annual fee. However, this pricing structure could change should the platform quickly gain ground.
Secondary Market
As of this writing, Vint does not yet have a secondary market where investors can offload their shares early. Vint's website includes several statements giving the impression that a secondary market could be in the works, but until then, investors should expect to hold their shares for the entire term.
Vint also does not have a mobile app at the current moment. Considering it has only been a few years since the first collection was offered, this company continues to establish itself within the industry and among investors.
Customer Support
If you'd like to contact the Vint team, you can chat on their website or email them at [email protected]. You can also reference their FAQs section and blog for more information. 
Our pick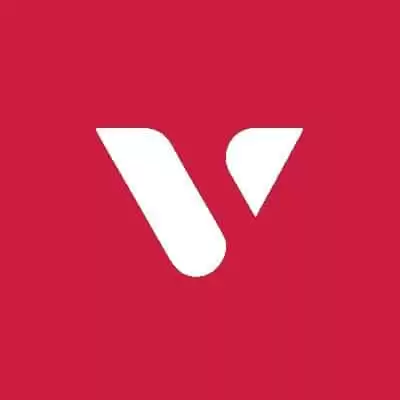 Vint
Vint offers a user-friendly investment platform for purchasing shares in high-quality wines, making it easy to build a diversified portfolio without extensive knowledge of the wine market. It is an ideal choice for newcomers to fine wine investment due to its simplicity and accessible interface.
Open Account
Vint Advantages and Disadvantages
Joining the wine community with Vint can be a great way to learn how to start investing for beginners. Here are some considerations to ponder before you make the call.
Pros:
No monthly or annual fees
No storage fees
Affordable investment minimums
Investors don't have to be accredited
Regulated investment platform
Strong asset class with respectable historical performance
Easy way to start investing
Cons:
Cannot purchase individual bottles
No secondary market (yet)
Capital appreciation only
Terms last at least three years and up to 10 years
No mobile app
The platform is still new and doesn't have an established history of returns
Vint Alternatives
Many investment platforms hold the potential to turn $10K into $100K, including Vinovest, Sommtrust, and Alti Wine Exchange. With each of these wine-investment platforms, you can invest in individual bottles of wine instead of collections.
Sommtrust requires a $1,000 minimum investment and charges an annual fee that's expressed as a percentage of your investment funds. Alti Wine Exchange uses a blockchain-based system but has higher fees than Vint.
Vint vs. Vinovest
When you invest in wine with Vinovest, you'll be able to choose a diversified portfolio based on your individual tastes. Create your account and you can hand-pick individual bottles you want to invest in.
Vinovest also provides storage and insurance services, like Vint. However, you'll need a minimum investment of at least $1,000 to take advantage of Vinovest's comprehensive services.
Unlike Vint, Vinovest does have a secondary market and an annual fee of 2.85%. Nevertheless, you don't have to be accredited to invest in wine with Vinovest.
Vint vs. Cult Wines
This company enjoys a long and profitable history in London and has only recently arrived on American shores. Cult Wines now has offices in New York and offers U.S.-based investors a chance to get in on the action.
Cult Wines was established in 2007 and holds over $300 million in wine investments. Unlike some of the other alternatives on our list, Cult Wines does require a $10,000 minimum investment and charges fees starting at 2.95%.
While that minimum investment threshold caters more to accredited investors or at least those with more capital to play with, Cult Wines may lower those entry fees as the company gains ground on American soil. Until then, $10K is the price of entry.
Vint vs. Vinfolio
If you flinched a bit at the $10,000 required to invest with Cult Wines, Vinfolio might just intensify the sting. This company requires a minimum investment of $25,000 and charges several fees.
For example, you'll pay an annual storage fee of $15 to store individual cases of wine. That's $15 per case, mind you.
In addition, Vinfolio charges a 12% selling fee. While this wine-investment platform caters to the wealthy more than any other, it does offer custom portfolios and a portfolio manager.
If wine isn't really your thing, you can also invest in cattle with Agridime. Masterworks connects you with blue-chip artwork to generate investment funds, while OurCrowd partners with vetted startups to fund the basis of the American dream.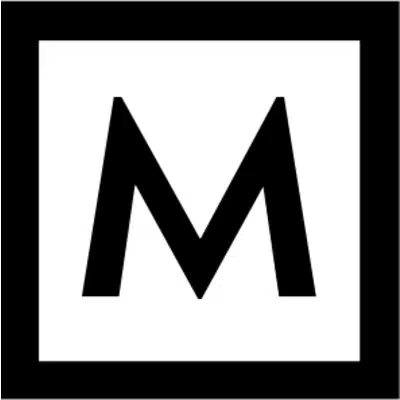 FAQs
Is Vint legitimate?
Yes, Vint is a legitimate way to invest in fine wine. In fact, it's one of many platforms you can use to invest in an alcoholic drink and larger industry that diversifies your investment portfolio. 
Why is wine a good alternative investment? 
Wine is a good alternative investment because its value rises with the rate of inflation. It also provides a unique investment opportunity because of the rich diversity it brings not only to your investment portfolio but also to your palette.
How much do you need to invest with Vint?
You need less than $100 to invest with Vint. Plus, you don't have to be accredited to join the wine-investing community. 
What are the risks associated with investing in wine?
Investing in wine includes several risks, from not selling when the wine has reached peak value to not researching anything about the wine you've invested in. With Vint, all the fine details—such as due diligence, procurement, storage, and sale—are taken care of. 
Invest in the Finer Things with Vint
Alternative investments can add some diversity to an investment portfolio that's already performing. Investing in wine with Vint can provide individuals with an opportunity to put capital towards something they're passionate about and that's performed historically. 
Vint works with investors young and old, inexperienced and experienced, to create both a platform and a community. Plus, with low entry costs and fees, Vint sets itself apart from other wine-investment platforms out there.
We hope you've enjoyed this article on how to invest in wine with Vint. Even if wine isn't quite your cup of tea, you can still earn potential profit from this opportunity.
Now that you've got a bit more knowledge about investing in wine, perhaps you'll do some research on your own. Which wines will you add to your collection? 
Our pick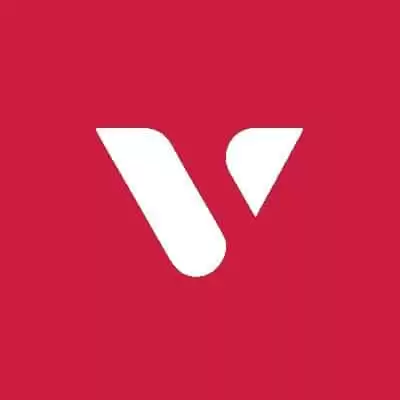 Vint
Vint offers a user-friendly investment platform for purchasing shares in high-quality wines, making it easy to build a diversified portfolio without extensive knowledge of the wine market. It is an ideal choice for newcomers to fine wine investment due to its simplicity and accessible interface.
Open Account