What is beer money?
/r/beermoney is a community on Reddit for people to discuss mostly online money-making opportunities.
They claim, you shouldn't expect to make a living, but it's possible to make extra cash on the side for your habits/needs.
Since I already have a bunch of money making articles on this blog, I wanted to do a spin on this topic of beer money & come at from a different angle.
Want free money?
Aspiration: Want to get spotted a $100 for free? Simply sign up for Aspiration, and the free banking app will give you cash for free, you just relax while it gives you $100 just for opening a new debit card. There's no catch, just use your card to make at least $1,000 in cumulative transactions within 60 days of opening an account. This bank account is legit and only takes two minutes to sign up for an account.
Therefore, this post will revolve around ways to make beer money while you sleep a.k.a ways to create passive income.
You should know that there are four main ways to make passive income:
Investing money (stocks, real estate, crypto)
Investing time (starting a blog, taking surveys, phone farm, etc)
Make beer money by doing things you already do
Make beer money by using your stuff (car, spare space, etc)
Let's begin!
BeerMoney Ideas: If You Have Money
Yes, you've probably heard the phrase before. Let your money make you money.
You can find ways to generate passive income by using your money in your bank account.
How?
Here are my top beer making income ideas for 2020:
1.
Invest in Real Estate (Starting with as Little as $500)
Wouldn't it be great if you could invest in commercial real estate and apartments without dealing with all the hassle of buying, improving, and re-selling real estate?
You don't have to be a millionaire to invest in these types of properties. You can now invest in large-scale real estate for as little as $500 with Fundrise.
Through their real estate investment products, investors earned an average of 8 – 11 percent on their money last year, and all without painting a wall or dealing with unruly tenants.
There is a reason why they currently have over 500,000+ users, this app really pays you!
If you're interested, I recommend you sign up for more information from Fundrise by clicking here.
2. Make Beer Money Investing (& Collect $50)
The app you should know about is SoFi Invest. It's easy, it's fee-free, and it's a bright idea.
Not-so-newsflash: fees are frustrating and they can keep people from investing. It's why SoFi charges $0 in SoFi transaction and management fees. So there's no reason not to start investing.
If you get started with SoFi, they'll give you $50 to start investing.
---
Games that pay you to play. Yes, we're serious.
These 3 apps will pay you to play games on your mobile device:
Mistplay (Android) - If you have an android device, you can download this app and start getting cash rewards for playing new games.
Solitaire Cube (iOS) - Earning money by playing games on your phone sounds like a dream. But this app really pays you for playing solitaire with cash rewards.
Lucktastic (Android) - This free app offers the same daily scratch-off cards that you find at your local convenience store — but here you can play for free and win real money.
---
You don't have to be a pro to invest like one, so get trading. Get $50 when you sign up through this link.
3. Use an Online Tool for Retirement Planning
You can also make beer money by optimizing your 401K, for free.
If you have an employer-sponsored 401K then you might be interested in learning how Blooom can help make your 401K better.
Blooom will analyze your 401k for free and provide you with personalized suggestions on how to better invest your 401K in minutes.
Click here to get a free check-up on your 401K just for being a reader. A little professional tune up right now can make you a whole lotta money in the long run. Remember, it's totally free. More people should be doing this!
4. Earn Rental Income
Wouldn't it be great if you could become a landlord of single-family rental properties without dealing with all the hassle of buying, improving, and re-selling real estate?
You don't have to be a millionaire to invest in these types of properties. You can now find your inner property owner with Roofstock.
As with any other rental property, investors earn returns from the rental cash flow and any appreciation in the property value when it's sold, and all without painting a wall or getting your hands dirty.
There is a reason why the number of investors on its platform increased 126% last year, the sector is booming with investors clamoring to get a return outside of stocks and bonds.
If you're interested, I recommend you sign up for more information from Roofstock by clicking here.
5. Make $100 Fast with Cryptocurrency
This is one that a lot of people have already done. I was in my Uber the other day and my driver was talking about Bitcoin. He told me he deposited $50 into Coinbase and it's now at $150 in a few weeks. That's a 33% return! If you wanted to try something this volatile, it's at your own risk but only put up money your willing to lose.
The risk is high, but the reward is high too. If you wanted to get in on the action, you can do it with the Coinbase app. If you sign up through this link and invest $100 then Coinbase will deposit $10 in your account – that's 10% right there! Only invest what you can afford to lose.
Make BeerMoney: If You Have Time
You need to put in the time to get that beer money.
Passive come doesn't come easy or else everyone would be doing it.
Of course, there are ways to make beer money while you sleep. The trick is putting in the time, and then you will be able to reap the benefits of getting hundreds and even thousands of dollars a month of passive income.
Let's explore your options:
6. Get Paid To Watch Videos
The next thing you can do is sign up for InboxDollars which pays you, in cash, to watch fun videos & take surveys and they'll also give you a $5 free bonus just to give it a try. By spending just 5-10 minutes per day on this (either on your lunch break or during TV commercial breaks) you can earn and save an extra $50/month. More people should be doing this!
You can also check out our article detailing 14 Ways to Make $50 Fast.
7. Start a Money Making Blog
Starting a blog is easy. The hardest part is getting yourself to just do it. Once you create your blog, you'll actively work towards growing it and it'll grow to become a new passion or hobby you have in life and can make you some good beer money. After starting it, there are a ton of helpful sites and articles for new bloggers. You can get started initial setup done in under 20 minutes. It's basically:
Buy Hosting & Register Your Domain ($3.95/mo + free domain if you use this link).
Next, you can do a one-click install of Wordpress, and then start writing away.
Start bringing traffic to your blog by social media and networking.
Once you have some traffic you can put Google ads on your blog and make money.
Continue to build your blog and connect with other bloggers. It's like it's own awesome community.
8. Sell Your Old Stuff
This one is simple. Do you have old textbooks from college lying around?
You should consider selling them on Amazon. In addition to textbooks, you can probably sell old books, DVDs, cell phones, or other electronics you may have lying around.
You would be surprised how much you can get for your unwanted items. Just list your items for sale and you'll start generating sales and making some passive income/beer money.
It's not much of a secret that you can easily get money for those items you have stored in the closet, attic or basement that are just collecting dust. Here are some articles for you to use to get rid of your junk for cold hard cash near you:
9. Score Cash Taking Surveys
So, let me preface by saying I'm not a fan of wasting my time taking boring surveys.
But this one of the best ways to make beer money on your phone, quickly.
Survey Junkie lets you get paid for taking online surveys from brands you use every day.
You can also participate in focus groups, try new products (free stuff, yay!) and get paid to listen to new music.
Rating
Details

Join now

Survey Junkie - Get Paid To Take Surveys

Make up to $50 per survey in your spare time from home to take online surveys, participating in focus groups and trying new products.


✓ Free Sign Up
✓ Get Free Points When You Sign Up
✓ Redeem Points For Cash
10. Get $10 from Swagbucks
Swagbucks is another great survey site to make some extra money. It's similar to Survey Junkie, but there are also a few other ways you can earn money as a member (including a $10 bonus just for signing up).
Overall, we have reviewed dozens of online survey sites, and Swagbucks is one of the best. Offering a variety of ways to earn "Swagbucks," ranging from completing surveys to surfing the web, watching videos, or online shopping — it is a profitable option to make money with your free time. I used it for a few days and earned $10 in no time.
For more details on how to earn money with Swagbucks, check out our complete Swagbucks review.
11. Start your own Podcast
If you can build an audience for your podcast, then you can make some money through sponsorships, affiliate advertising, and other offerings. Companies regularly pay $250 to $500 for a 30-second advertisement on podcasts. Pssst.. We also have a guide for that: A Guide to Starting Your Podcast: How to Make it, How to Launch it, and How to Profit. There is money to be made with this side hustle. Alternatively, you can also use our guide to start your own blog (in 30 min or less).
12. Make Beer Money Playing Trivia
What is the most popular drink in the world that does not contain alcohol? What the official national anthem of the United States of America? What is the Capital of Australia?
If you answered coffee, star-spangled banner, and Canberra, then you may want to look into the new trivia app that pays you huge cash prizes for your smarts.
Today's prize is worth over $1,000! I'll be playing, will you?
Click here to download the free trivia app and start winning cash daily!
13. Get Paid to Scan Receipts
Fetch Rewards works directly with popular brands to bring you everyday savings on thousands of products throughout any grocery store. You can earn points and save without jumping through hoops. Buy what you want, where you want, and save.
They work directly with popular brands to bring you savings on thousands of products every day, no matter where you get your groceries. Just scan your receipts and make beer money fast.
Once you scan your first receipt, you'll get 2,000 points which you can claim for a $2.00 Visa Gift Card. If you want to get cash from a Visa gift card, you may have some options.
For more details on how to earn money with Fetch, check out our complete Fetch Rewards review.
Make Beer Money by Doing Things You Already Do
14. Search with Swagbucks
When you google make beer money from home, you probably won't find this option. The self-proclaimed king of the internet, Google, can now be found on almost every device whether it's a PC or a phone. This is why Swagbucks is now offering you the big bucks – relatively speaking – to use their own search engine: Search with Swagbucks.
How does it work? Simply ditch Google, sign up to Swagbucks, and earn as much as $5-$10 every month as you search which can then be cashed in for gift cards for big sites like Amazon.
15. Get Paid When You Shop (& Collect $10 Now)
Thanks to the internet, there is an endless number of ways to make beer money online (and offline) for free. Did you know that you can get cash-back for items you would have bought anyway? You can do this by shopping online with Rakuten.
Rakuten is my favorite way to get cash back when I shop online and right now they are offering a $10 sign up bonus through this link.
Every time I shop online, I start at Rakuten and then I get cash back deposited into my PayPal account. Hello, free money!
For more details on how to earn money with Rakuten, check out our complete Rakuten review.
16. Download the Nielsen App (& Earn $50)
Have a phone, laptop, or tablet? Then you're eligible to earn $50 fast (per device) by installing an app.
This company will pay you to install its app on your favorite browsing device.
If you wanted to get paid to install an app, click here to learn more.
For more details on how to earn $50 with Nielsen, check out our complete Nielsen review.
17. Let Trim Lower Your Bills
Trim lets you save money with automation and within a few days, I saved an extra $100. I linked my financial accounts and Trim went to work.
It will find ways to lower your bills and cancel subscriptions, negotiate my cable, internet, and cell phone bill and find subscriptions to cancel. It even helps to analyze your spending habits. It can easily find ways to save you money and remember it's 100% free to activate. You'll likely rack up $100 in savings this year by using it.
For more details on how to stop getting ripped off, check out our complete Trim review.
18. Get Paid to Play Games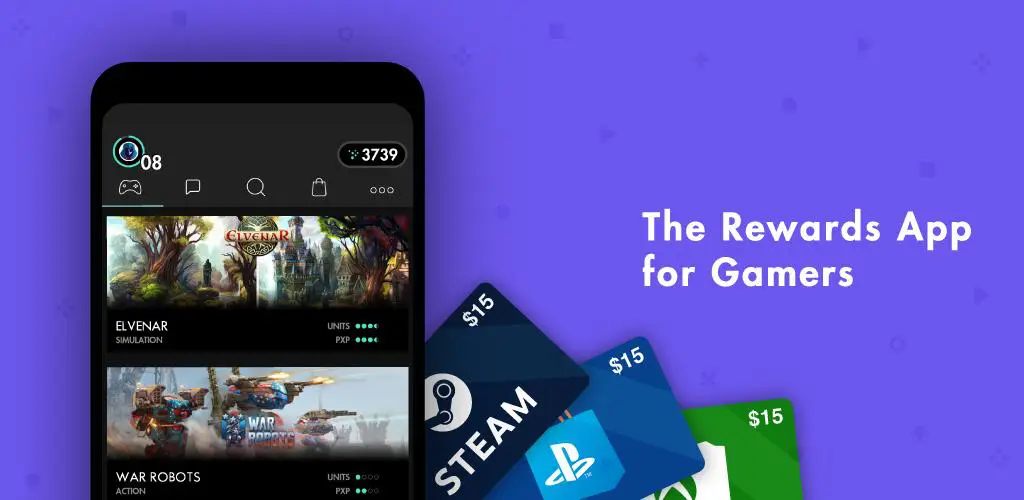 We all heard the old saying "Time is money" right?
Instead of playing games on your phone like everyone else and feeling bad for wasting your time — now you can get paid for it.
Getting paid for playing games sounds like a dream. But if you download a free new app, and then download games from it and play, you earn money.
As you level up you can earn more money for cash rewards or gift cards.
This is a great opportunity for those looking to get paid for something they enjoy, like winning free gift cards and cash for playing games. I use it and it is legit and has over 35,404 positive reviews in the Google Play store.
If you're interested, I recommend you download the app from the Google Play store for free by clicking here.
19. Earn Money Back with Gas Apps
GetUpside saves you money on things you need – like gas & groceries – and restaurants you love.
Getting paid for getting gas sounds like a dream. But this free cash back app for gas is saving users an average of $124 in a year. There is no minimum for cash outs, but a $1 fee will be made on withdrawals under $15.
How does it work?
To score the best gas prices, grocery prices, and restaurant offers with GetUpside, all you need is your phone and your receipt. There's no limit on how much you can earn, and you can even use it with other coupons, discounts, and loyalty programs!
Claim your offer for the best gas price, restaurant or grocery offer
Snap a photo of your receipt or receipts
Profit! Earn cash back, and cash out whenever you want via PayPal, gift card or check. A true way to make beer money fast, if you ever needed one.
20. Link a Card to Dosh and Get a Free $5 Instantly
Looking for easy money? The Dosh app is the free cash back app that finds you money for shopping, dining out, and booking hotels and travel activities with more than 200,000 merchants and brands nationwide.
This company not only allows you to get cash back on everyday purchases, but no receipt scanning required! You can learn more about this app by checking out these Dosh Reviews.
Once you link your first card they'll give you $5 immediately.
Use Your Things To Make Beer Money
If you don't want to invest any money and don't really have the time to invest either…what do you do? Well, you can take a good look at your possessions and see if you can use any of them to make beer money and passive income. Here's how:
21. Get Paid to Let People Borrow Your Car
Did you know that you can rent out your car when you're not using it? And that you can bring in a lot of extra cash in your wallet by doing so?
Create a free listing with a few clicks on Turo. Describe your car, upload some clean photos, and you're ready to go.
You'll get notified when someone requests, or books your car instantly. Confirm or decline the trip as soon as possible, and contact the traveler if you have any questions.
Oh, and they also protect your car against physical damage, so you're fully covered.
Have a spare room? Airbnb can net you over $1,500+ a month just by listing your spare room just a few nights out of the month. Are you interested in seeing what your income potential could be by listing a spare room on Airbnb?
See how much people are making from listings in your area, then make your own!
Here's how you can make beer money with Airbnb:
Sign up for Airbnb here (you just need to give them a name and email address).
List your spare space in under 5 minutes.
You can get paid when somebody books your spare room and you can charge whatever you want when you join through this link.
Remember, is a free room booking app for your phone. I really mean free all around – free to join and they don't charge any fees for you to list your spare room.
Need More BeerMoney Ideas?
If you wanted more ways to make beer money online besides these beer money ideas, here's my list of the best ways to make money:
Want free money?
Robinhood is a free investing app for your phone. I really mean free all around – free to join and they don't charge any fees to buy or sell the stock. You can get a share of stock like Apple, Ford, or Sprint for free when you join through this link. The value of the free share may be anywhere between $2.50 and $200 and fluctuates based on market movements. You've got nothing to lose.