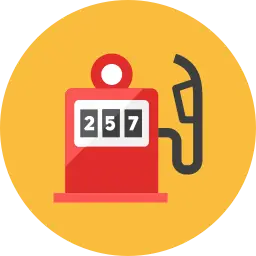 Stuck wondering "how to find cheap gas near me?" These 13 gas apps can give you cash back every time. Learn about how to earn from these cash back apps for gas today!
There are several smartphone apps available that allow you to save money on your purchases. What about the one purchase that everyone has to make – gas?
Thanks to wholesale clubs, branded credit cards and even some retail grocery stores, you can easily lower the prices posted at the pumps.
We have taken it a step farther and discovered some of the best cash back apps for gas.
Never Pay Full Price Again for Gas with These Gas Rebate Apps
If you're trying to find cheap gas near me, these gas apps can help.
---
Want Free Money?
Aspiration: Want to get spotted a $150 for free? Simply sign up for Aspiration, and the free banking app will give you cash for free, you just relax while it gives you $150 just for opening a new debit card. There's no catch. This bank account is legit and only takes two minutes to sign up for an account.
---
Pro tip:
 Surveys are quick, easy, and can pay you cash from the comfort of your home. No wonder they are so popular.
Survey Junkie
,
Branded Surveys
,
Swagbucks
, and
InboxDollars
are just a few of the best survey sites to make money.
1. GetUpside – Best Cash Back App for Gas
GetUpside users have earned more than $100M in cash back as this app provides users with a variety of helpful information. First, you can save up to 25¢/gal at every gas station and never pay the price on the gas station sign. It also shows you the best gas station deals and the cheapest gas. You can also get bonus cash back deals on convenience store items and auto services (car wash, oil change, and more).
GetUpside is easy to use. Just open the app to see cash back offers near you, pay as usual with any credit or debit card and this app will pay you every time you pump gas. You can earn cash back in your account and cash out whenever you want via PayPal, egift card, or direct bank transfer.
GetUpside works with major gas stations like Shell, BP, Exxon and more. You can see gas prices near you at 25,000+ stations and earn real cash back every time you fuel up. This free cash back app for gas is saving users an average of $148 in a year. There is no minimum for cash outs, but a $1 fee will be made on withdrawals under $15. You also get a bonus when you share the app with a friend, and you'll keep earning 1¢/gal from every purchase the friend makes, forever.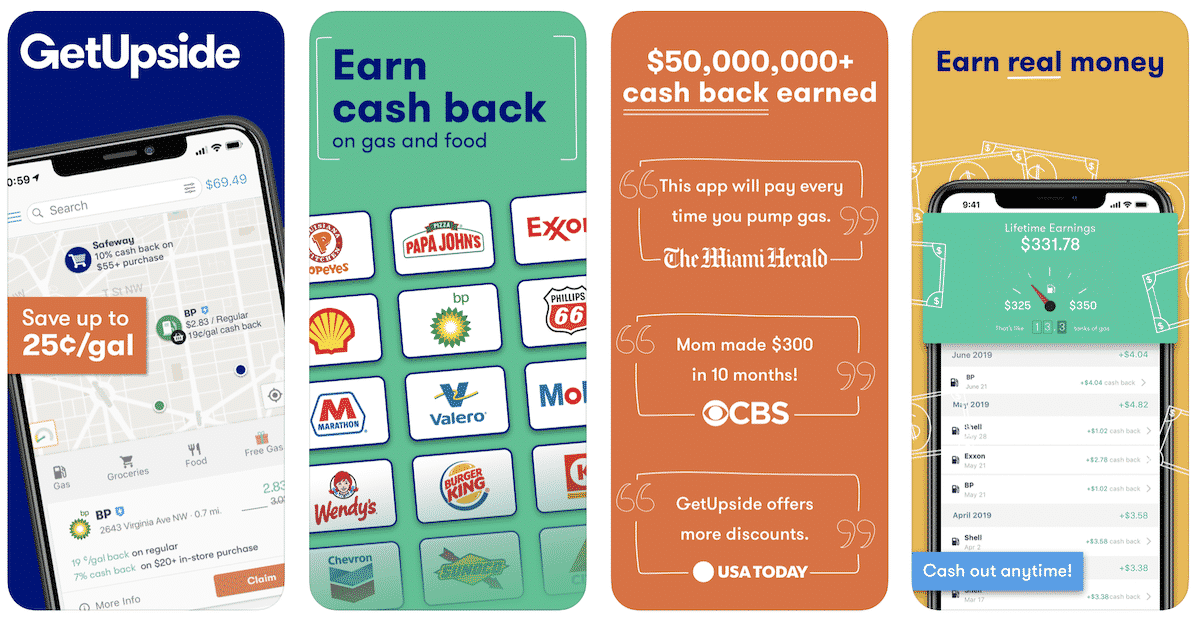 GetUpside Promo Code: GetUpside promo codes here.
2. GasBuddy – Best App to Find the Cheapest Gas
GasBuddy has a 4.5-star rating on both iTunes and Google Play and nearly 70 million users, Gas Buddy functions a lot like most cash back apps for gas, but with more perks.
A seasoned and loyal GasBuddy user can save 15 cents per gallon on their first time using the code "Pay," and 5 cents per gallon forever after that. If you take the time to report prices to the app, you can also earn additional incentives.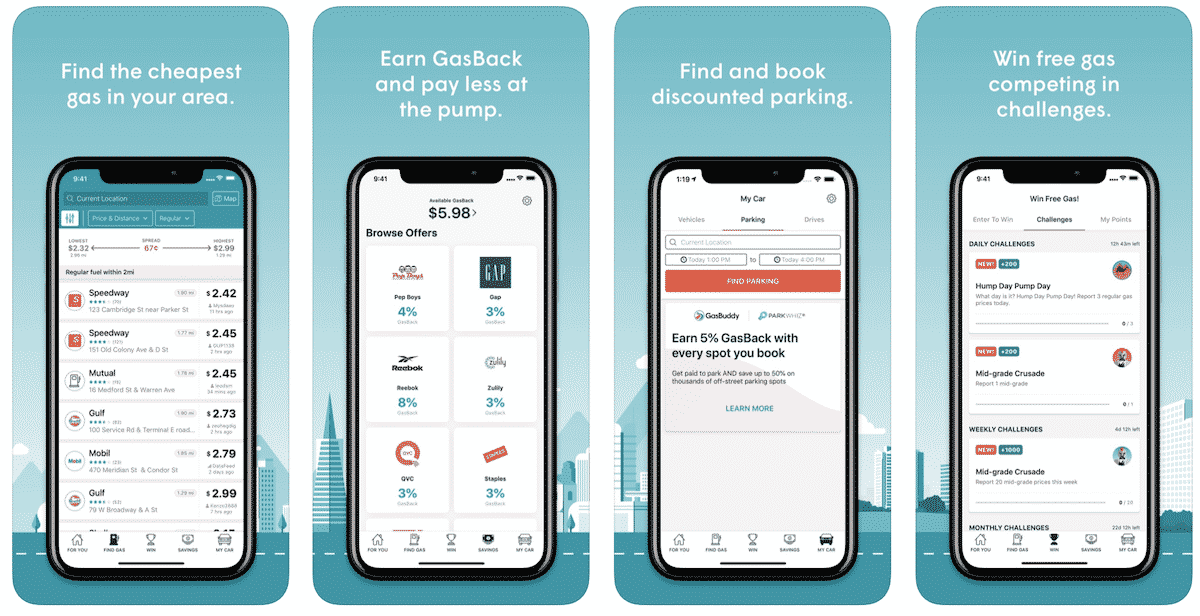 3. BPme Rewards – Best App that Offers Price Matching
BPme Rewards lets you save 5¢/gal on every visit at participating BP or Amoco gas stations. Just open the gas app, check-in at participating BP or Amoco gas stations, select your fuel pump and you can save instantly on every gallon.
In comparson, GetUpside offers a more lucrative 25¢/gal, but BPme Rewards will give members the best gas price by automatically comparing local competitor stations (Exxon, Mobil, Shell, Chevron, and Marathon) to match the best price.
If there is a lower price for the same fuel grade, a cents per gallon savings will automatically be applied to the next BPme Rewards purchase. This offer is optional and is available in the BPme app for a monthly subscription fee of 99 cents. All with the contactless payment (including Apply Pay) from the comfort of your car. No more touching pin pads in bad weather.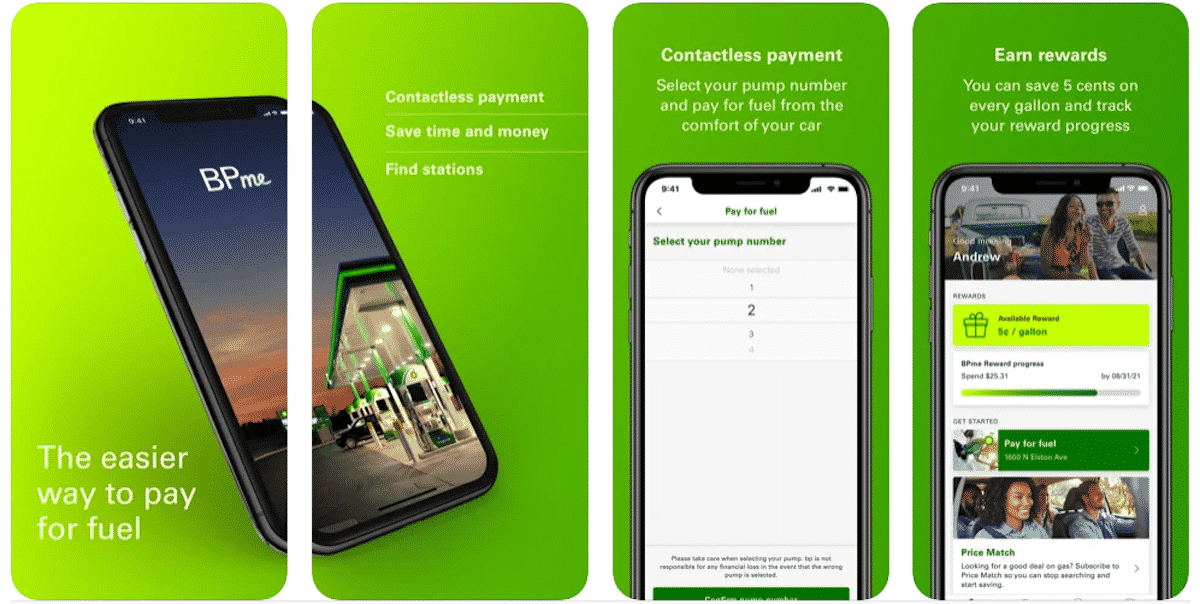 BPme Promo Code: Use SAVINGS1 to receive an introductory one-time 50¢/gallon additional discount on your next fuel up after you complete your first in-app transaction of $10 or more.
4. Ibotta – Best Cash Back App for Gas Station Purchases
Ibotta will not save you money directly on your gas, but it will on gas station purchases. With Ibotta, you can earn real cash back every time you shop online or in-store. Simply check Ibotta before you shop in-store or online, travel, dine out, or make a purchase in your favorite apps, and you can get rewarded with cash back. There are a lot of apps like Ibotta, but this app can save you loads of money when you shop both in-store and online with over 500,000 offers.
Ibotta often runs specials for "any" purchase with 25 cent cash back so it's easy to rack up money quickly. Plus, it can save a good chunk of change on everyday purchases at the gas station.
Every little bit helps!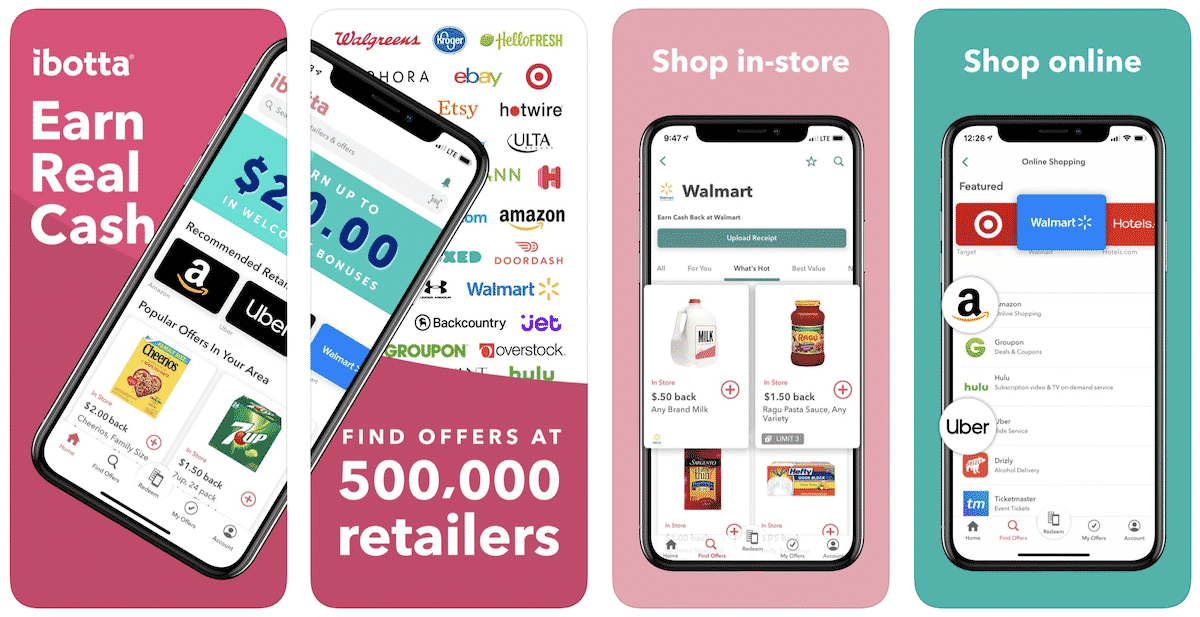 Promo Code: Find latest ibotta referral codes here
5. Trunow – Best Cash Back App for Every Gas Receipt
With Trunow you can view all the best gas prices near you no matter where you are. By downloading this fuel rewards app you can get cash back on every gas station purchase by just taking a picture of your receipt. Use your extra income for gas station purchases or get instant cash. The gas app also gives you personalized deals on your favorite in-store items, so whenever you wanna grab a snack or drink, you save big.
Founded in 2017, Trunow is a free cash back app for gas that will earn you $1 on every gas station receipt you submit. The difference with Trunow is that it accepts every gas station receipt. You can earn cash back on gas and also grocery items in-store. Once you reach $10, you can cash-out or you can keep earning!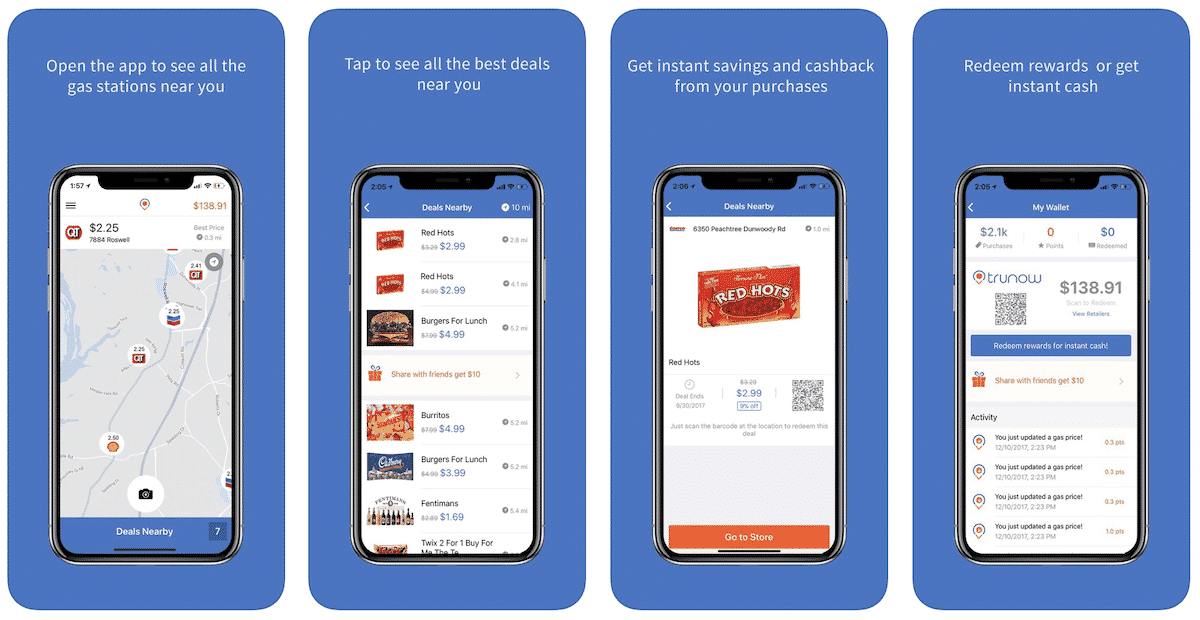 Trunow Promo Code: View the latest Trunow promo codes here
6. Dosh – Overall Best Cash Back App
Looking for gas savings apps? Dosh is the free cash back app that finds you money for gas, shopping, dining out, and booking hotels and travel activities with more than 100,000 merchants and brands nationwide.
You get up to 10% cash back on all your purchases, including gas. Here is how Dosh works:
Connect your card. Securely link your credit and debit cards. Whenever you pay with your linked cards, Dosh gets you cash back.
Shop and dine out. Pay with your linked card at 1,000s of stores and restaurants, and get up to 10% cash back automatically in your Dosh Wallet.
Get paid to refer. Refer your friends to Dosh and get $1 for each one who signs up and links a verified card. Click here to get a $1 sign up bonus now.
Transfer your cash. Do what you want. Transfer your cash to bank accounts, PayPal, or donate to charity from the app.
You can learn more about this gas discount app in our full Dosh Review.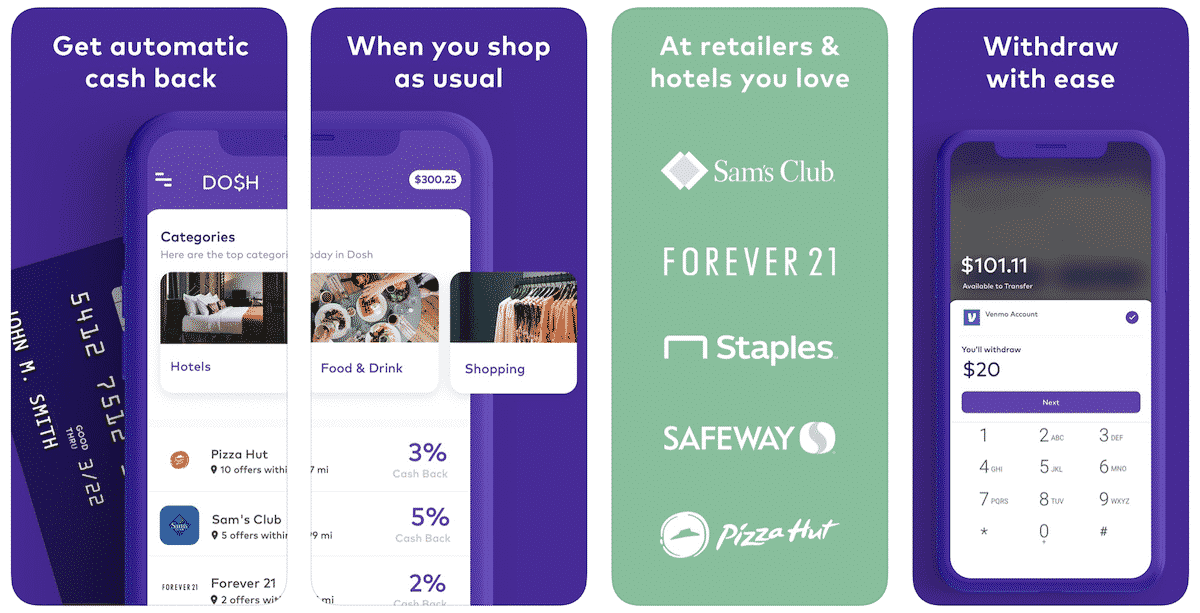 Dosh Referral Code: View the latest Dosh referral codes here
7. Murphy Drive Rewards – Best Gas App to Save at the Pump & In-Store
Murphy Drive Rewards brings you the best app for savings on the road with deals on gas, snacks, drinks and more. Rev up with the following benefits of the Murphy rewards app:
Rack up drive rewards points with games & Murphy purchases
Cash in your points for Rewards – like free snacks or up to $1 off per gallon at the pump!
You can save money with drive deals on snacks, drinks & more
Find nearby Murphy stores & compare gas prices
You can get rack up points and find deals with Murphy Drive Rewards and get rewarded.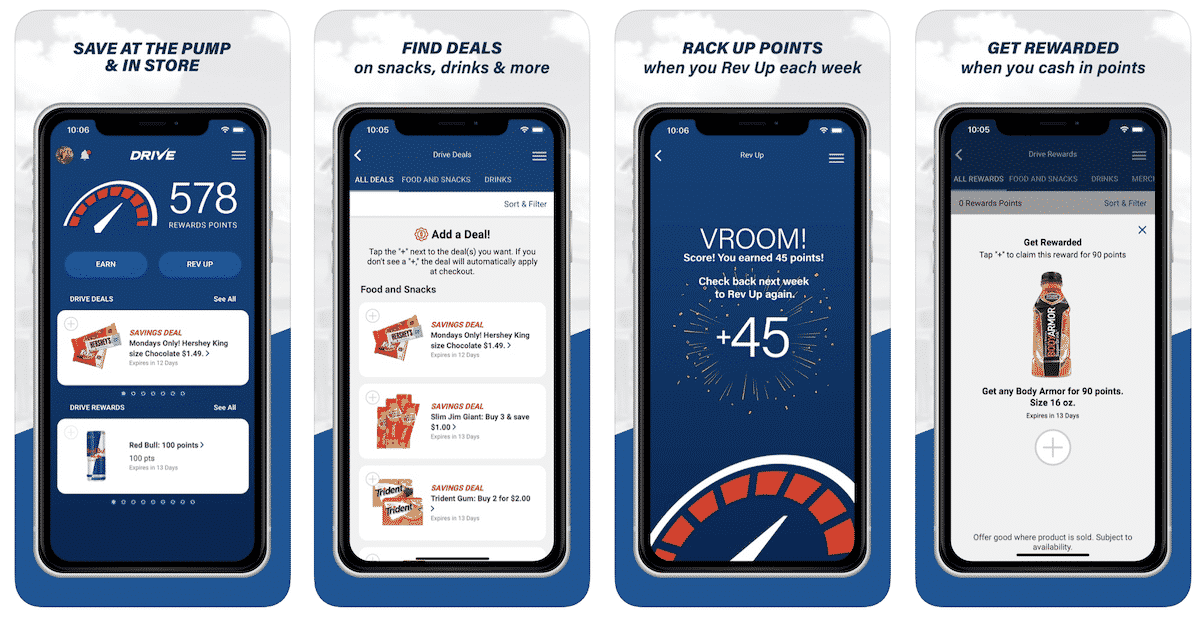 8. Cashbac – Best Cash Back App for Android Users
This gas rewards app is only for Android users, sorry Apple fanboys. With Cashbac, you can get cashback rewards wherever you go – all while you dine, get gas, shop, get beauty treatments or even when you sweat in the gym. With Cashbac, you will automatically earn instant cashback by making a transaction at one over 2,000 affiliated merchants and 20,000 outlets across numerous categories.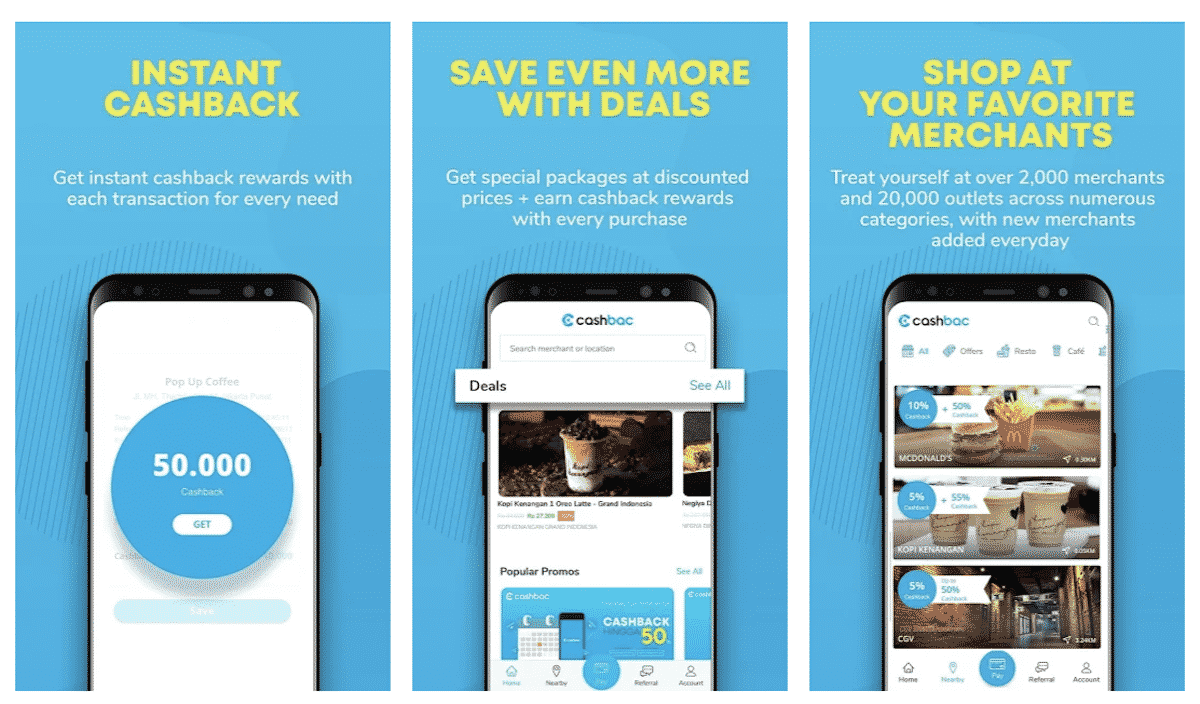 9. Receipt Hog – Best Gas App to Save Receipts
Receipt Hog is a fun and easy way to turn your gas receipts into real cash and rewards. Simply take pictures of your receipts from any gas station, store, restaurant or cafe and earn Receipt Hog rewards like coins, spins at the virtual slot machine, and sweepstakes prizes. When you are ready to cash out your gas rewards you can choose PayPal or Amazon gift cards. Cha-ching! It also allows you to save all your receipts in one secure place.
Receipt Hog is an exclusive opportunity to join a diverse community of people who get paid for uploading pictures of their receipts for market research. This gas rewards app is legit and they have already paid out over $2.5 million to it's users.
You can learn more in our full Receipt Hog Review.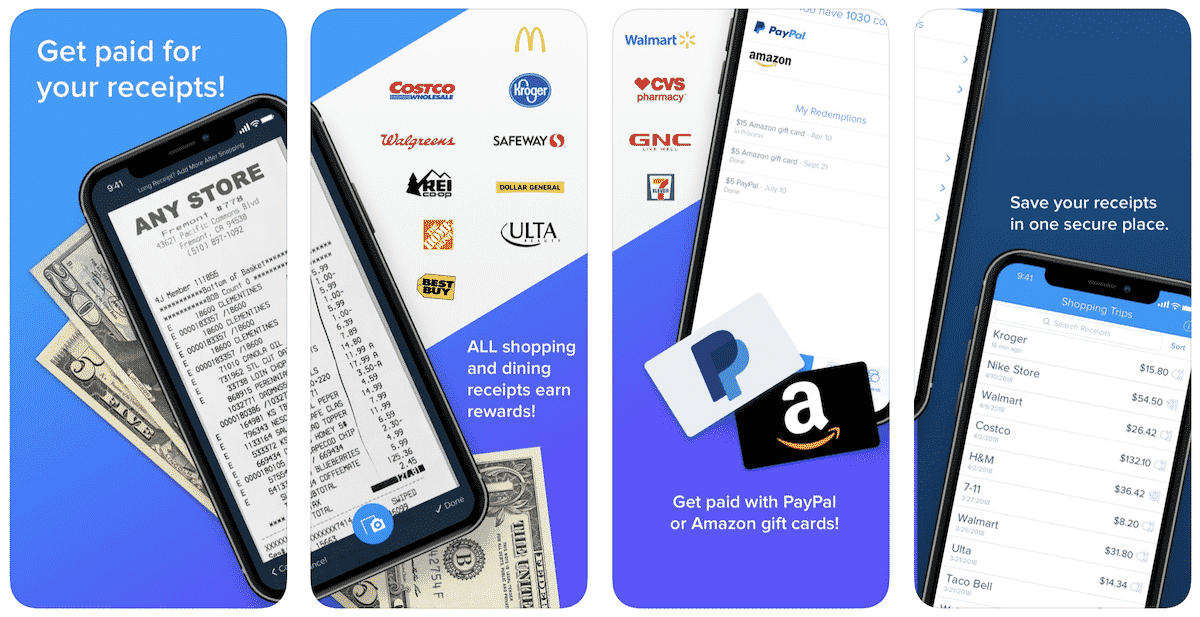 10. Exxon Mobil Speedpass+ – Best App for Paying for Fuel
Speedpass+™ is a mobile payment app that allows you to stay in the comfort of your vehicle while you pay for Synergy™ fuel with your smartphone at participating Exxon and Mobil stations. It is a fast and safe way to earn rewards on every fuel purchase, every day. No more standing outside with your cards or keying in information at the pump.
It is one of the best gas cashback apps to pay for fuel and earn rewards on every purchase. It is simple: just link your preferred payment method, add an Exxon Mobil Rewards+™ card and start earning on your next fuel purchase.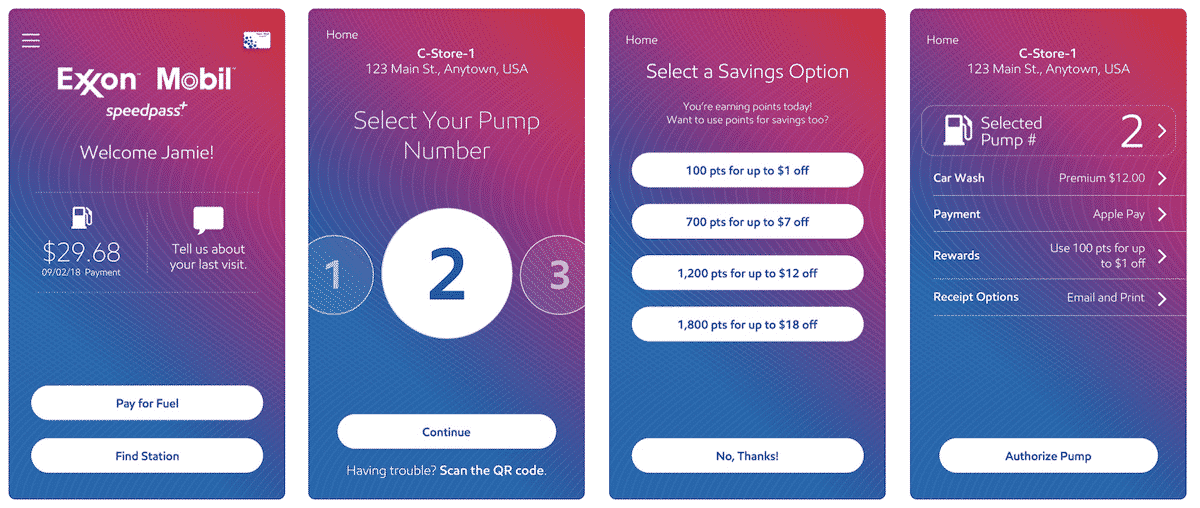 11. Speedway – Best Gas App for Speedy Rewards Members
The Speedway app puts convenience in the palm of your hand. The gas price and store locator feature gives you a hand in finding the closest convenient Speedway with up-to-date gas prices.
Speedy Rewards members can also keep track of points, view club statuses to know when your next free item is coming your way, and keep up on the latest bonus point offers, redemption items, and sweepstakes prizes.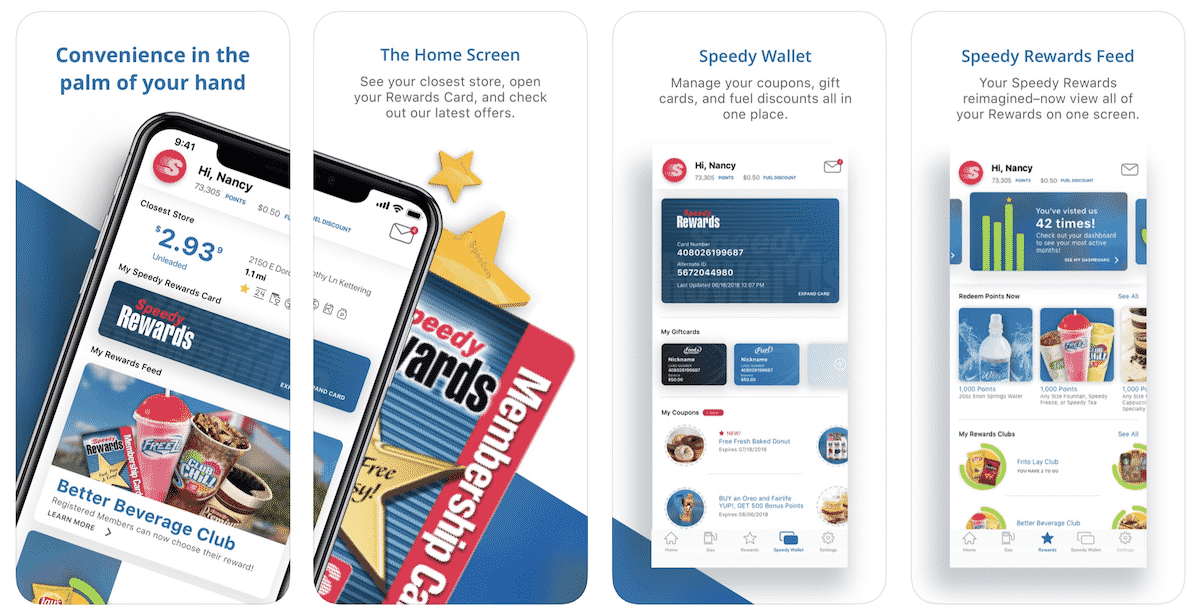 12. Fuel Rewards Program – Best Gas App for Shell Stations
The Fuel Rewards Program is a free loyalty program that helps you save money on fuel at over 11,000 Shell stations, nationwide. Fuel Rewards members with Gold Status save at least 5¢/gal on every fill-up. You can earn additional Fuel Rewards savings when you shop, dine, book travel and more. Rewards are cumulative, and there is no limit to how much you can save. Rewards apply to any fill-up, up to 20 gallons.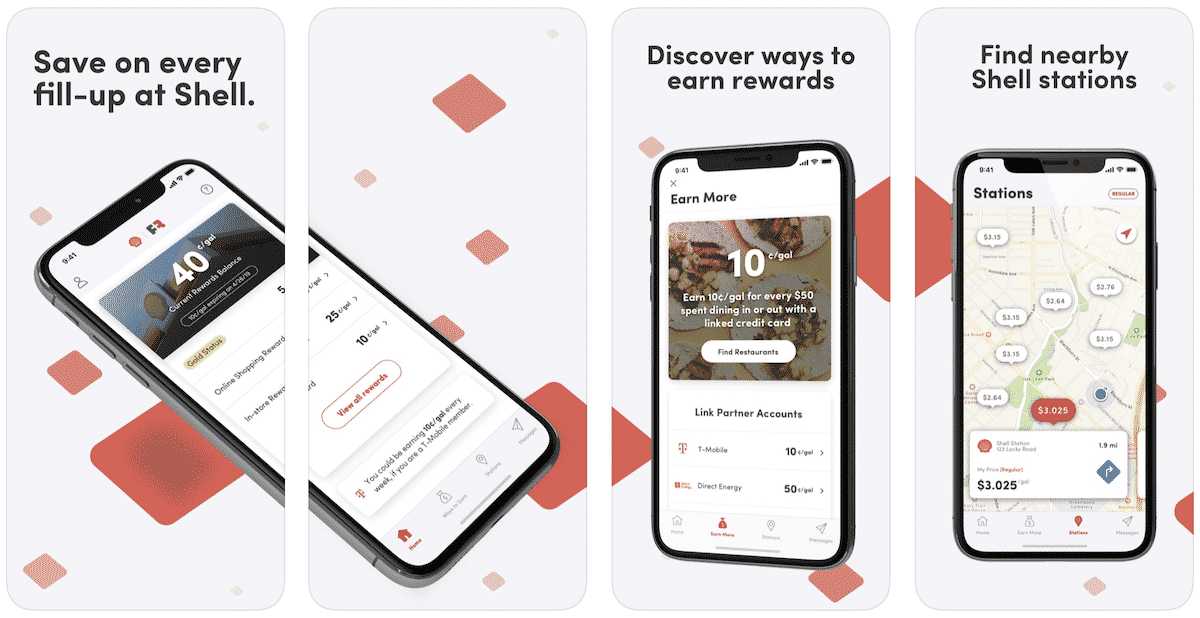 13. Shell US – Best Gas Payment App for Convenience
The Shell app provides you improved speed, convenience, value, and security when you use your mobile device to pay for fuel and convenience store items at participating Shell stations in the United States. Shell Pay & Save eliminates the need to carry multiple cards, reduces the number of prompts you have to answer, and is integrated with the Fuel Rewards® program so you save automatically on every fill-up, every day!
The Best Gas Cash Back App?
The best gas cash back app currently is GetUpside, which actually pays you cash for every gas receipt you submit. You'll get 25 cents back on every gas station receipt in cash back rewards which you can easily cash out via PayPal.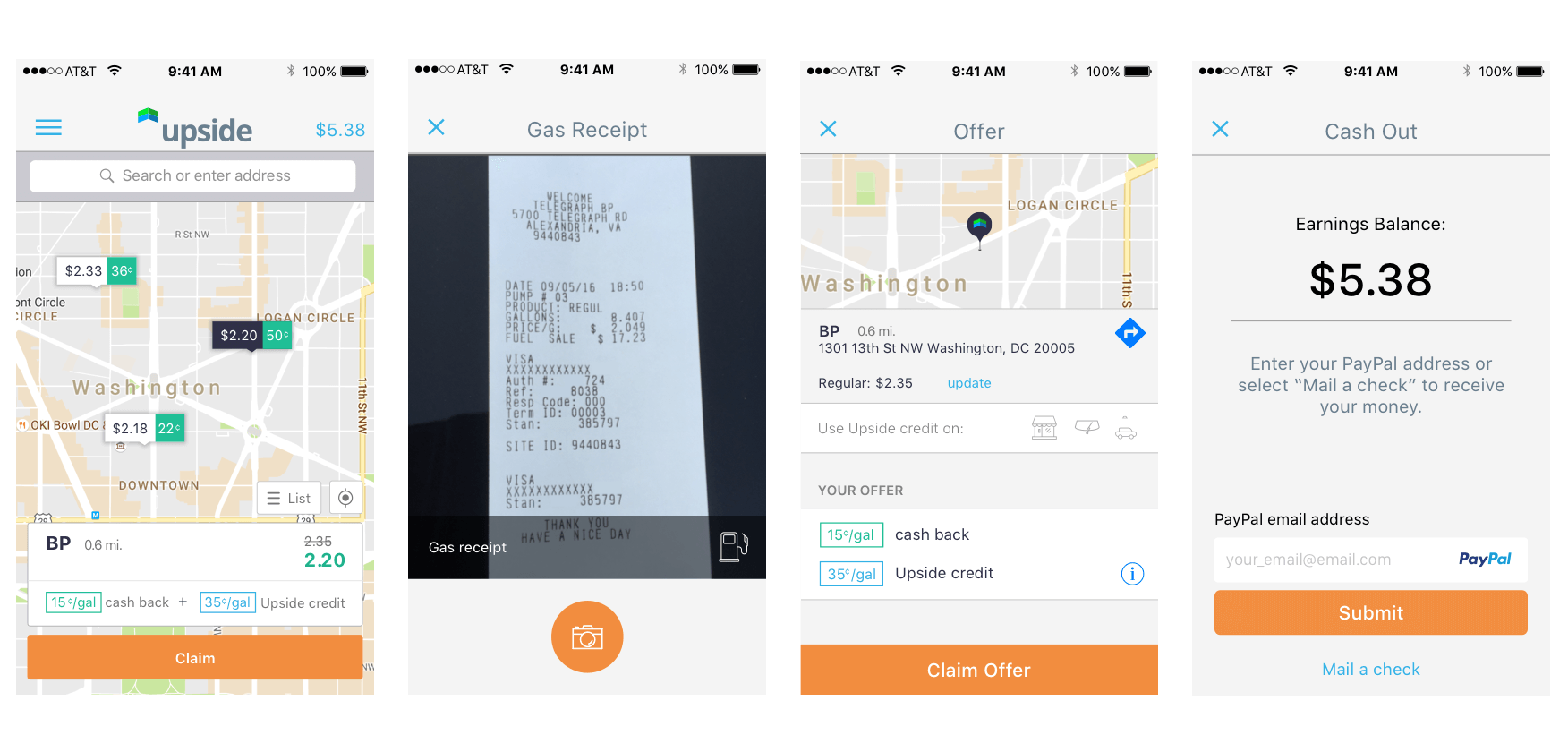 Even if you do not drive a lot, you'll get a 20c/gallon bonus just for using this signup link and the passive income really adds up.
Remember, we said the average millionaire has 7 streams of income, why not add up just by downloading the GetUpside app.
Best Cash Back Apps
We live in a world where prices can fluctuate overnight and as the economy strengthens, gas prices are sure to rise.
Any regular car commuter can benefit from these cash back apps for gas.
The extra money you earn from these cash back apps for gas can easily be secured in an emergency fund for rainy days. Since you love saving money, why not check out our recent post of 24 of the best money hacks to save you money?
Popular Side Hustle Ideas
| Logo | Description | go |
| --- | --- | --- |
| | DoorDash allows you to get paid to deliver food. The great thing is that you get to keep 100% of the delivery fees! DoorDash makes money by charging the restaurants, not you! | |
| | Branded Surveys lets you get paid for answering simple surveys for Fortune 500 companies like Walmart, Apple, FedEx, and more! | |
| | Getting paid to watch viral videos is a real way to earn cash, and you can do it with a company called InboxDollars. | |