Earning rewards for the actions you already take and the money you plan on parting with can help you increase your savings. It's nothing that will pay your $100,000 debt down in two years, but it's certainly just as useful as the rewards from cashback credit cards.
One of the ways you can maximize the potential of your spending is to upload receipts to reward apps that pay you for shopping. Sure, a receipt might only earn you a nickel or a dime, but that's potentially 10 more cents than you just had.
There are many reward apps out there available for download, too many to talk about in this article. However, Fetch Rewards stands out as one of the more lucrative opportunities to earn extra cash for the paper receipts you get already.
Speaking of receipts, did you know that the longest receipt documented online is 57 feet and six inches? We'd hazard a guess it's from CVS, or someone spent a lot of money purchasing hundreds of items.
Your receipt doesn't have to be even a foot long to earn more with Fetch Rewards. We'll show you how you can easily integrate this app into your shopping routine and earn more for the things you already purchase.
Are you ready to dive into our Fetch Rewards review? Let's get started!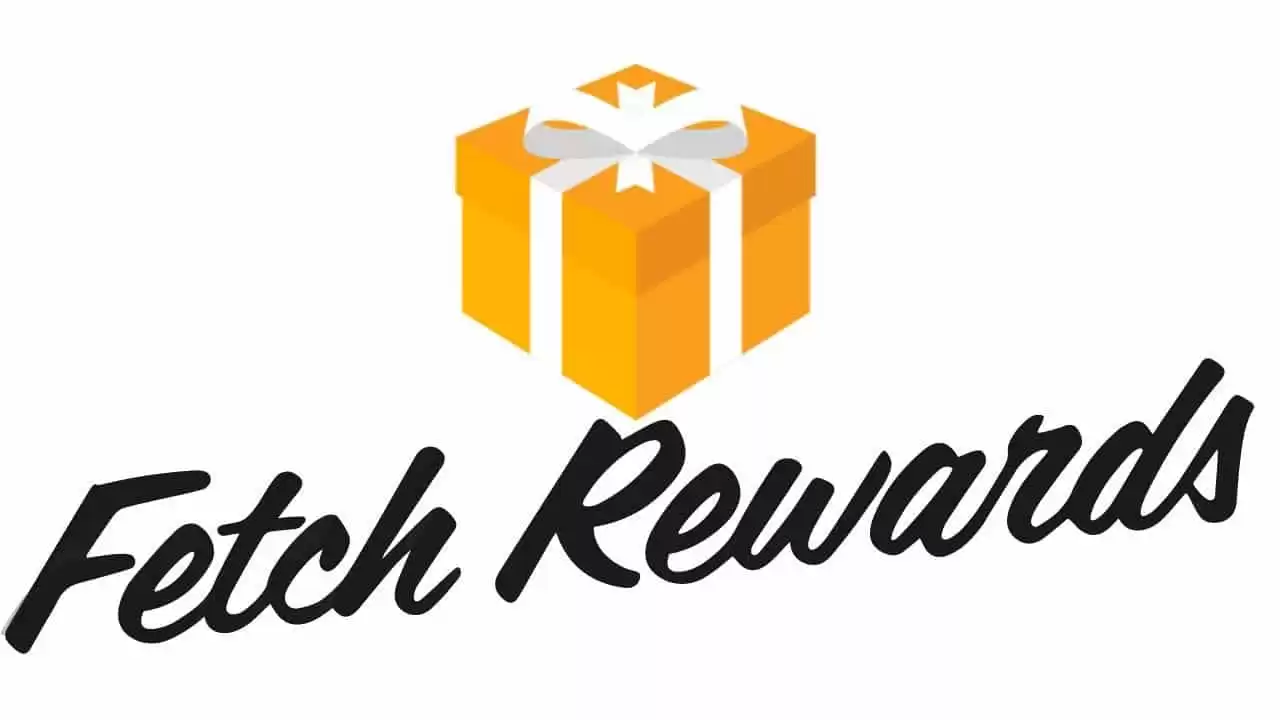 Fetch
Earn free rewards just by scanning your grocery receipts. Scan every grocery receipt after you shop and Fetch Rewards finds you savings.
Start Saving
What is Fetch Rewards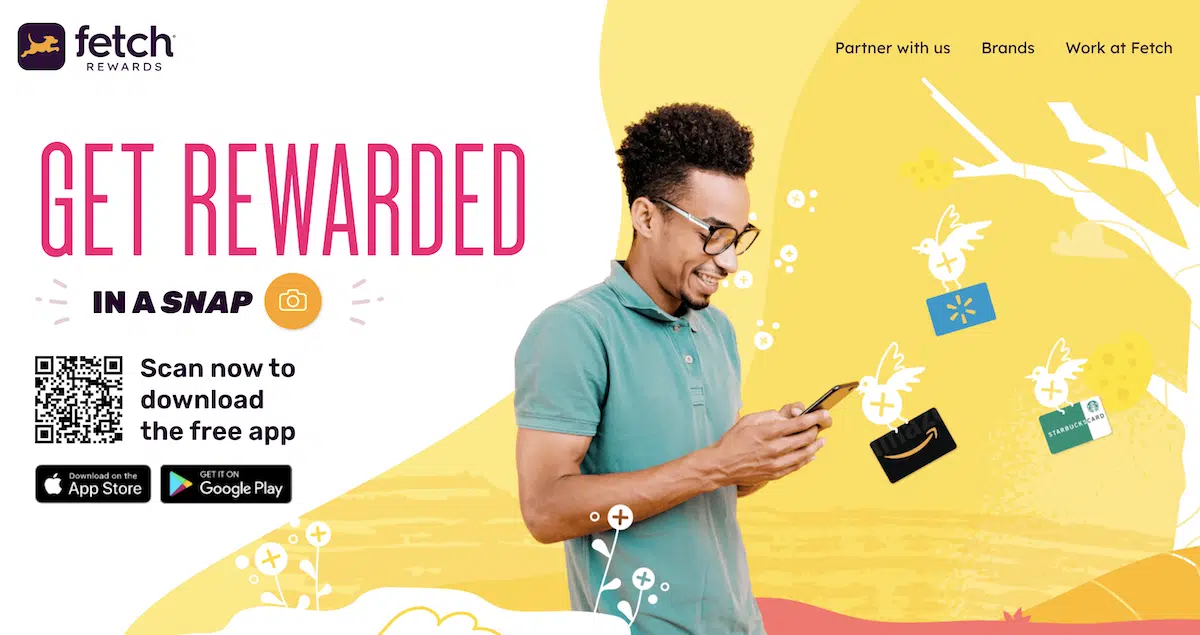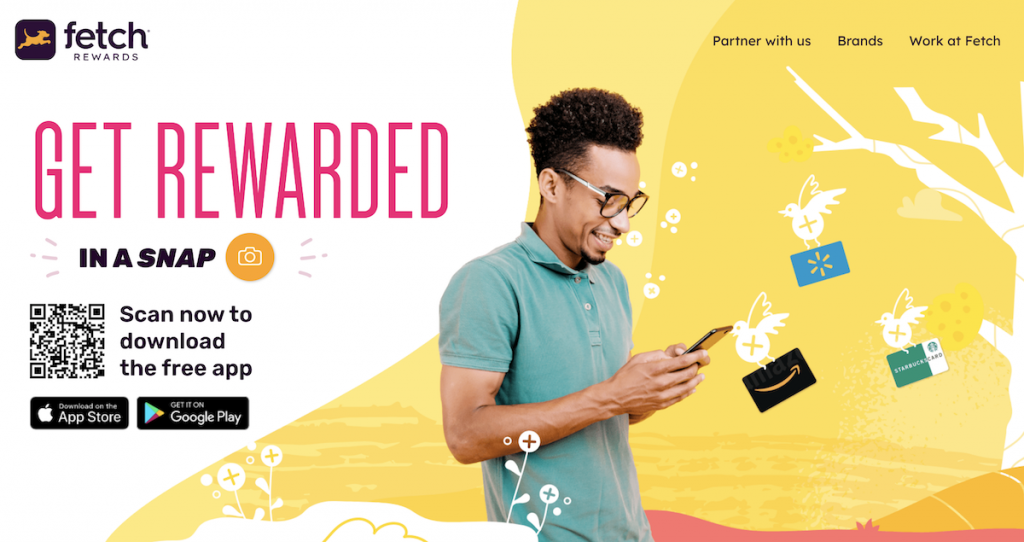 If you're looking for money hacks, Fetch Rewards ranks as one of the best money-saving apps you can use to put some of the money you spend on groceries and gas back in your pocket. It's available for download for both Apple and Android phones.
When you upload photos of the receipts you get after making a purchase, Fetch Rewards pays you accordingly. Some receipts may only earn you a few points while others that include specific products can earn more.
Fetch Rewards partners with over 300 brands to help you make the most of your shopping trip. Plus, you can earn a complimentary GoodRx card you can use to save money on prescriptions and earn points at the same time.
Signing up for Fetch Rewards only requires you to download the app and sign in with an email and a password. It's best for the shoppers of the household who don't want to have to search through coupon books or warn the app what they're going to purchase before they do.
How Does Fetch Rewards Work
Fetch Rewards accepts receipts from in-store and online purchases. You can easily connect your Amazon and email accounts to allow Fetch Rewards to search for online purchases that earn you points.
Your dashboard, or Discover page, is where you'll find special offers you can take advantage of to earn more points. These offers include everything from groceries to over-the-counter medications.
All you have to do to claim the points associated with these deals is follow the instructions and meet the requirements. Once you do, Fetch will automatically reward you for your purchase.
If you refer a friend with your customized Fetch Rewards referral code, you'll both earn between 100 and 4,000 points when they upload their first receipt.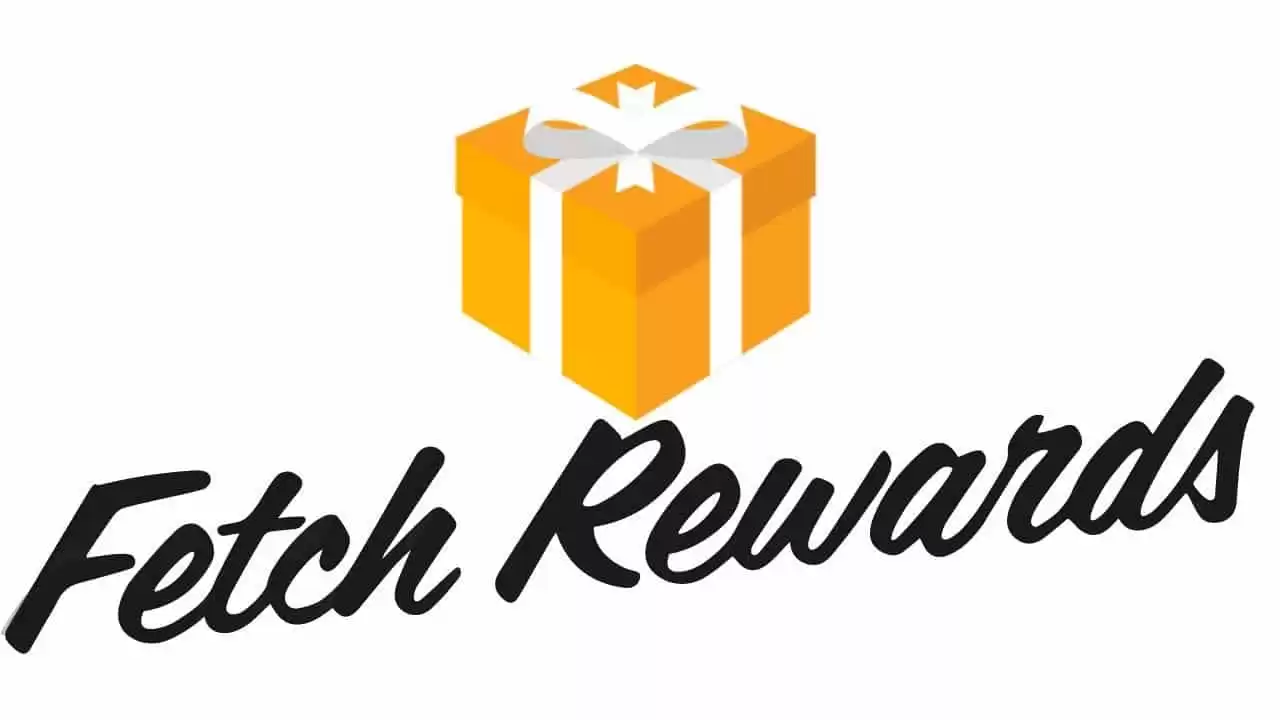 Fetch
Earn free rewards just by scanning your grocery receipts. Scan every grocery receipt after you shop and Fetch Rewards finds you savings.
Start Saving
Receipts
Uploading your receipts to Fetch Rewards is easy. Here's a look at the process:
Open your Fetch Rewards app.
Click on the camera icon highlighted in orange centered at the bottom of the app.
Choose to either upload an eReceipt or snap a photo of a physical one.
Give Fetch Rewards permission to access your pictures and video.
Fetch will automatically open your camera app. Align the receipt according to the instructions and hit the camera button.
You've just uploaded your first receipt!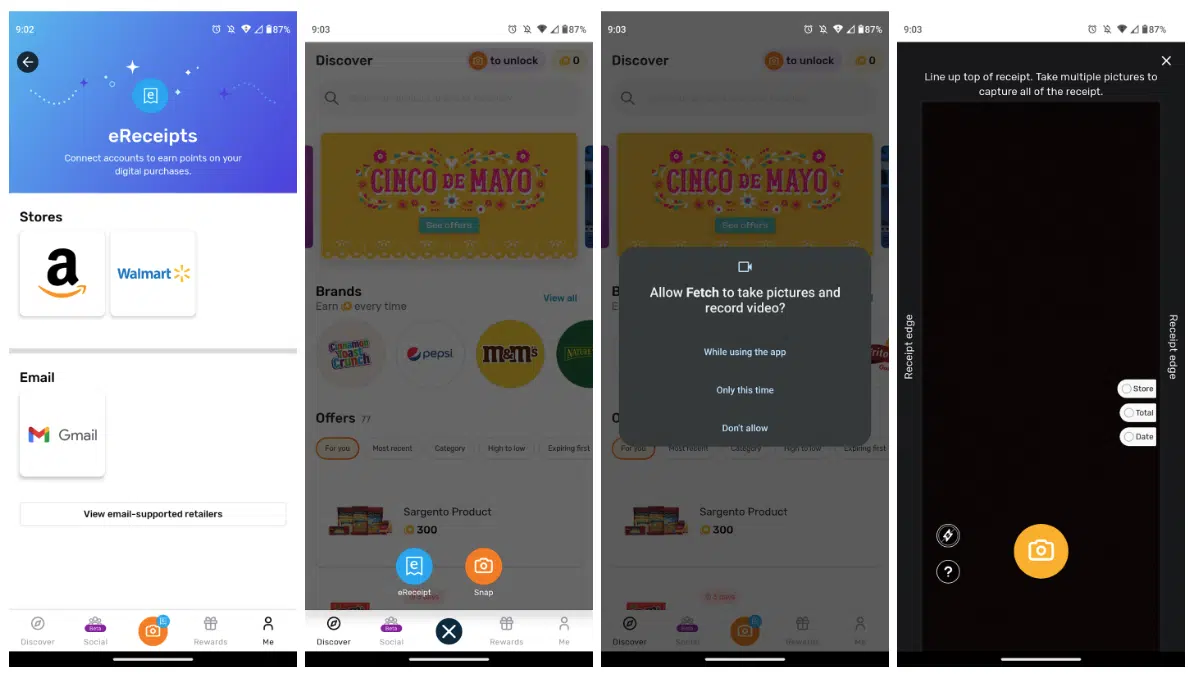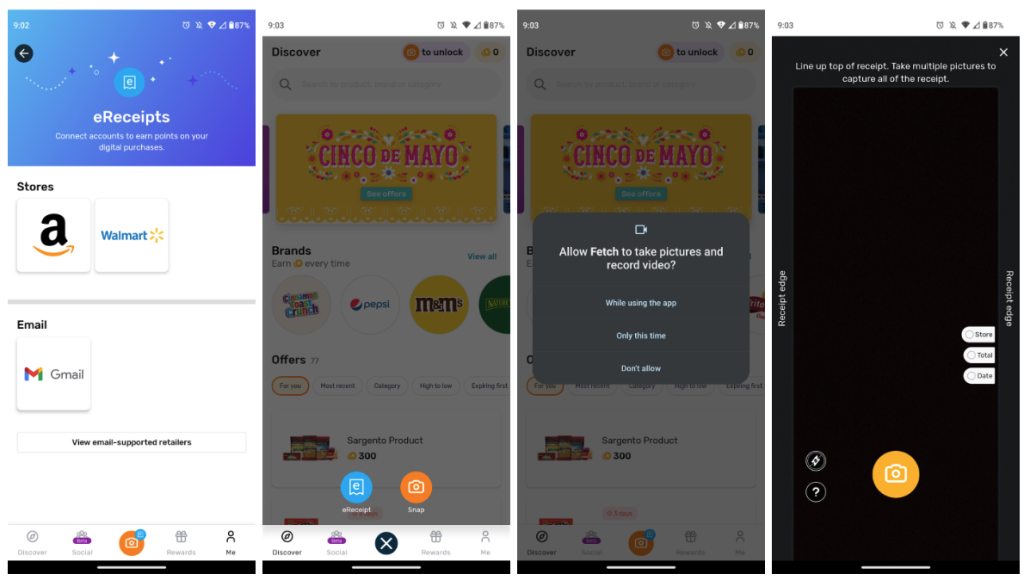 Fetch Rewards gives you 750 points when you scan your first receipt. You can upload up to 35 receipts within seven days, allowing you to earn a minimum of 875 points if they're worth 25 points each.
Fetch gives you a minimum of five points per receipt, but many qualify for 25 points in rewards. Should you complete offers from select retailers, you can earn 50 points or more from your purchases.
Eligible receipts include those from:
Restaurants (including fast food)
Grocery stores
Gas stations
Retail stores
Convenience stores
If you make it a habit to keep your receipts and upload them, Fetch Rewards awards you handsomely. Plus, it's a type of passive income since you really don't have to do much beyond what you already do.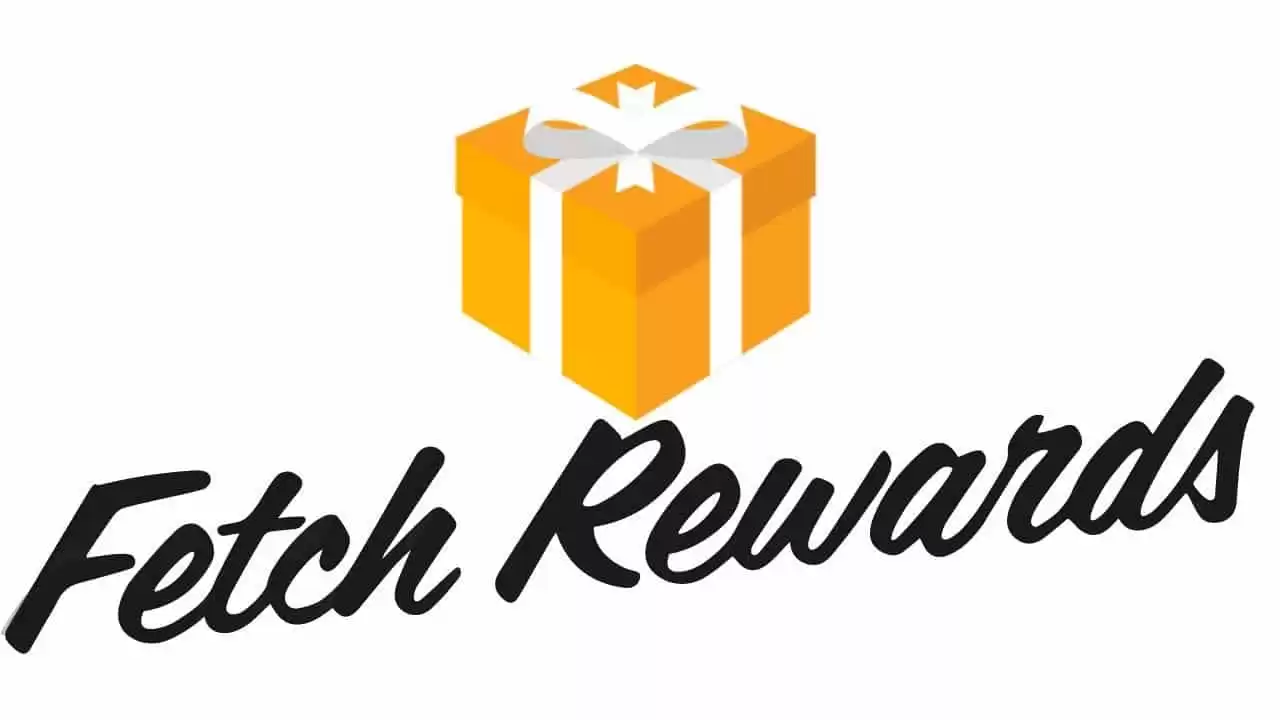 Fetch
Earn free rewards just by scanning your grocery receipts. Scan every grocery receipt after you shop and Fetch Rewards finds you savings.
Start Saving
Redeeming Points
Fetch Rewards lets you check your rewards progress by clicking the "Rewards" icon. Note that if you don't upload a receipt every 90 days, your Fetch Rewards points will expire.
Earning 1,000 Fetch Rewards points is the rough equivalent of $1.00. You'll need at least 3,000 points to cash out for $3 gift cards and 50,000 points to cash out for higher $50 gift cards.
Available gift cards include retailers such as Walmart, Target, Ulta, Starbucks, Amazon, Dunkin', and CVS. You can also make charitable donations with your points if you'd like.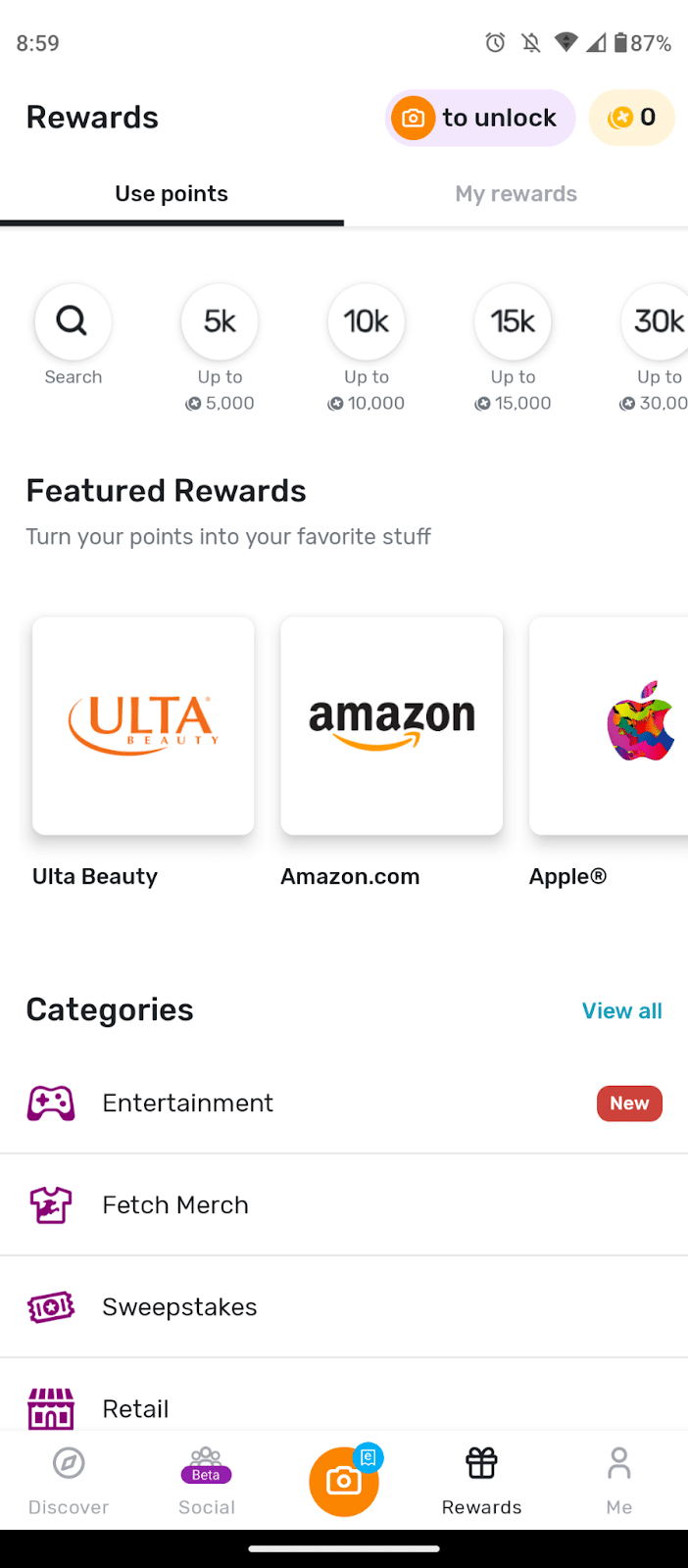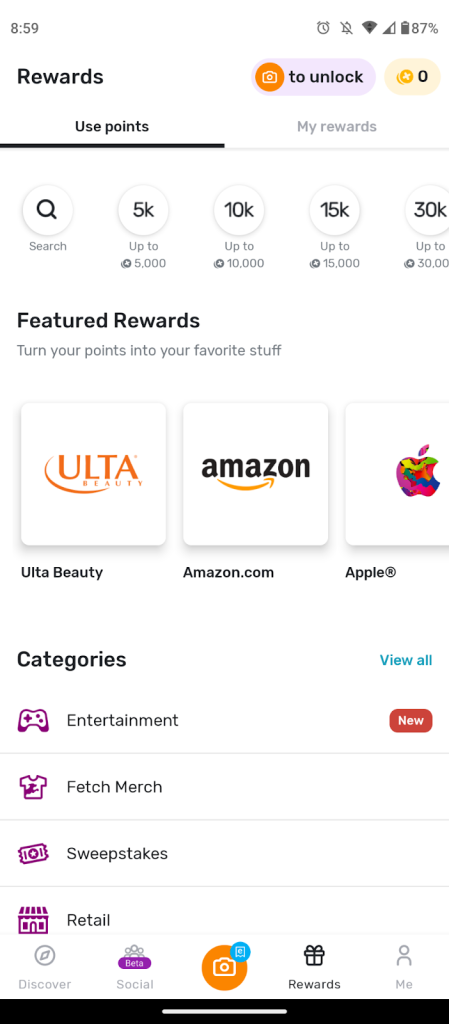 You can also use 100 points to enter the sweepstakes and potentially win a prepaid Visa card of $100 to $500. You can enter the sweepstakes as many times as you like provided you have the points.
How to Maximize Your Shopping with Fetch Rewards
Once you've got the concept of Fetch Rewards down, it's time to think about your strategy. How are you going to make the most of this app to earn you more points and some free gift cards?
If you need a boost in the right direction, here are a few tips you can use to maximize the benefits of Fetch Rewards:
Bundle your savings: Fetch Rewards isn't the only receipt-uploading app out there. Many other apps will let you upload the same receipt as you did on Fetch Rewards and still earn points. Double-dip with these apps to maximize your earning potential.
Schedule your uploading time: Taking five minutes out of your day just isn't possible sometimes. Create a schedule where you upload your receipts on a certain day at a specific time. Just don't forget that you have to upload a receipt every 90 days to keep your points.
Track your progress: Figure out how long you want to test-drive Fetch Rewards to see how much you can make. Create a notebook detailing what receipts you uploaded, how much time you spent, whether or not you actively pursued special offers, and any other details. At the end of your trial period, evaluate your progress to see if Fetch Rewards can make a positive financial impact on your life.
Send out referrals: Fetch Rewards gives you 2,000 points or more for telling your friends and family about this rewarding app. Share your unique referral link as often as possible to get closer to the gift card you've got your eye on.
One of the most important things to remember is to compare how much time you spend using the app and what kind of rewards you receive in return. If you're okay with the balance between the two, Fetch Rewards can help you make a few extra dollars.
Fetch Rewards Pros and Cons
Often it takes weighing the good and the bad to determine if we want to download an app. Check out how Fetch Rewards stacks up and keep reading to see what other receipt-uploading alternatives you can download.
Pros:
No coupons required
Pays you for the shopping you already do
Free to download and use
User-friendly dashboard
Special offers pay you more
Wide range of receipts accepted
Cons:
No app bonus for signing up
Points expire if you don't upload a receipt every 90 days
No option to redeem points for cash
Fewer offers compared to competitors
Low and slow earning potential
Fetch Rewards Alternatives
When it comes to the best rebate apps and figuring out how to get free money, apps like Fetch Rewards and its competitors hold tons of potential.
Even if you download Fetch Rewards and just want to know more about what other receipt-uploading apps exist, the following are common alternatives that pay you for what you're probably already doing.
Paying for gas at the pump can have your wallet weeping alongside you. If you want to earn more for the gas you have to put in your car, download cashback apps for gas like Upside.
With Upside, you can potentially save up to $0.25 per gallon at practically any gas station. That's dollars in savings per gas trip, not just a few pennies here and there.
In addition to saving you money on gas, Upside also shows you the cheapest gas prices in your area. When you buy a car wash or get your oil changed, you can earn points with Upside as well.
Upside is free to download for both Android and Apple users. Start saving on gas and other car services today with Upside.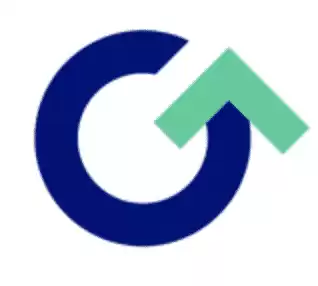 Upside
Are you always looking for cheap gas in your neighborhood — but end up going to the same place every time? You can find gas stations and other participating businesses near you that offer cash back with Upside.
Get Cash Back
Best Gas Apps
Our Dosh app review includes everything you need to know about this rewards app. Dosh connects to your credit card and automatically rewards you for the purchases you make.
When you make purchases at restaurants, hotels, grocery stores, and other retailers, Dosh looks over your shoulder to tally your rewards. You'll need at least $15 to cash out.
Dosh gives you the option of cashing out with a bank transfer. You can also choose to transfer your funds to your Venmo and PayPal accounts.
$1 sign up bonus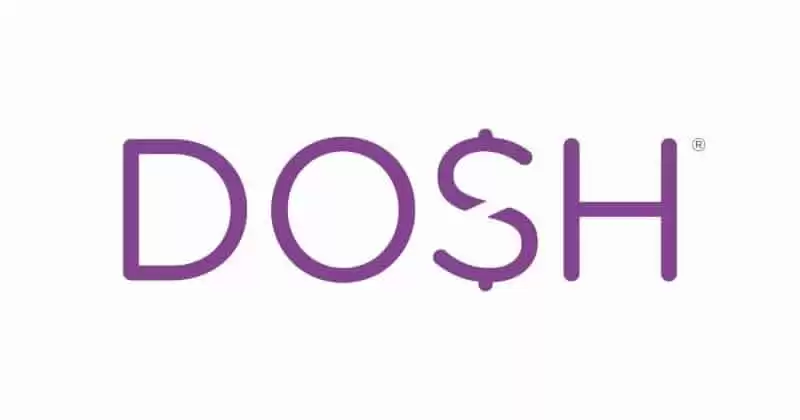 Dosh
Dosh is the easiest cash back app to use because you can just set it and forget it. Just link a debit or credit card and you can start earning cash back today.
Start Saving
Dosh Review
If earning and saving on travel purchases sounds enticing, Rakuten has your back. This app works with over 3,500 retailers to earn you more for your purchases.
In fact, new members can earn $10 for spending at least $25 on eligible purchases within 90 days of signing up. You can also earn a referral bonus of $30, which is competitive compared to Fetch Rewards.
To learn more about how you can use this app to earn rewards from your shopping trips, check out our in-depth Rakuten review.
Like Fetch Rewards, Ibotta rewards you for uploading receipts from retailers and restaurants. However, Ibotta does require that you notify the app of what offers you want to take advantage of before you visit the store.
Apps like Ibotta can be rewarding if you purchase name-brand products. However, you can use the "Any Receipts" function to earn points for just that: any receipt.
If you download Ibotta as well as Fetch Rewards, check out our Ibotta cheats you can use to maximize your potential. You'll need at least $20 to cash out, so it's worth a read if you're struggling to reach that threshold.
FAQs
Is Fetch Rewards Legitimate?
Yes, Fetch Rewards is a legitimate app you can use to earn points for your receipts. You can take advantage of special offers to earn more points and cash out for gift cards. 
How can you earn rewards with Fetch Rewards?
Fetch Rewards pays you to upload receipts from your in-store and online purchases. You can upload receipts from gas stations, restaurants, and grocery stores. 
How long do you have to upload receipts to Fetch Rewards?
You have 14 days from the date on the receipt to upload them to Fetch Rewards and earn points. You don't have to upload your receipts the same day as you made your purchase. 
How many receipts can you upload to Fetch Rewards per day? 
You can upload up to 35 receipts within a seven-day period to Fetch Rewards. The receipts you upload don't have to be from that particular day but they do need to be uploaded within 14 days to qualify for rewards. 
Receipt More with Fetch Rewards
Paper receipts haven't yet gone to the wayside like physical newspapers. In fact, you can earn money from the receipts you upload to apps like Fetch Rewards.
We hope you've found this Fetch Rewards review helpful in figuring out how you can make more from the shopping trips you have to make anyways. Plus, the app is free and easy to use.
Uploading your receipts won't make you rich but they can put more money back in your pocket. All you have to do is snap a pic to earn the chance to win a prepaid Visa, cash out for gift cards, or donate to charity.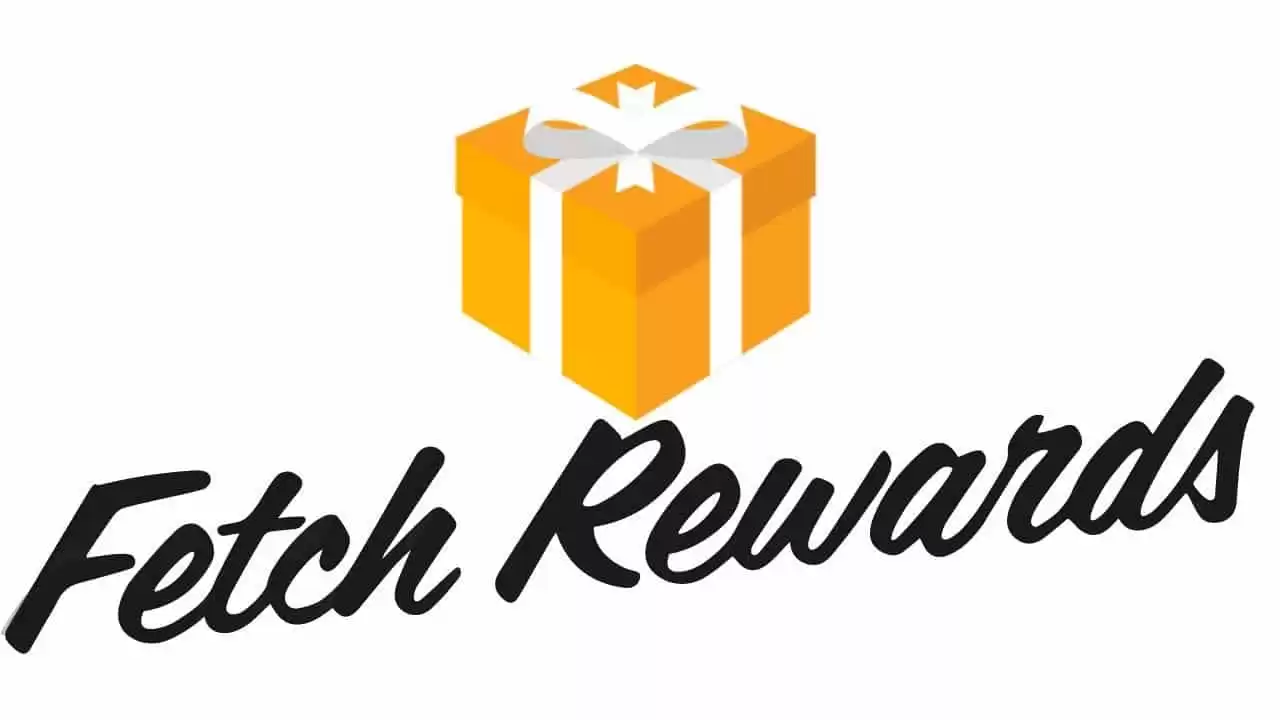 Fetch
Earn free rewards just by scanning your grocery receipts. Scan every grocery receipt after you shop and Fetch Rewards finds you savings.
Start Saving
What other ways can you use your daily routine to make more money? Check out our blog to find more ways to save and earn.
Get Out of $30,000 or More of Credit Card Debt