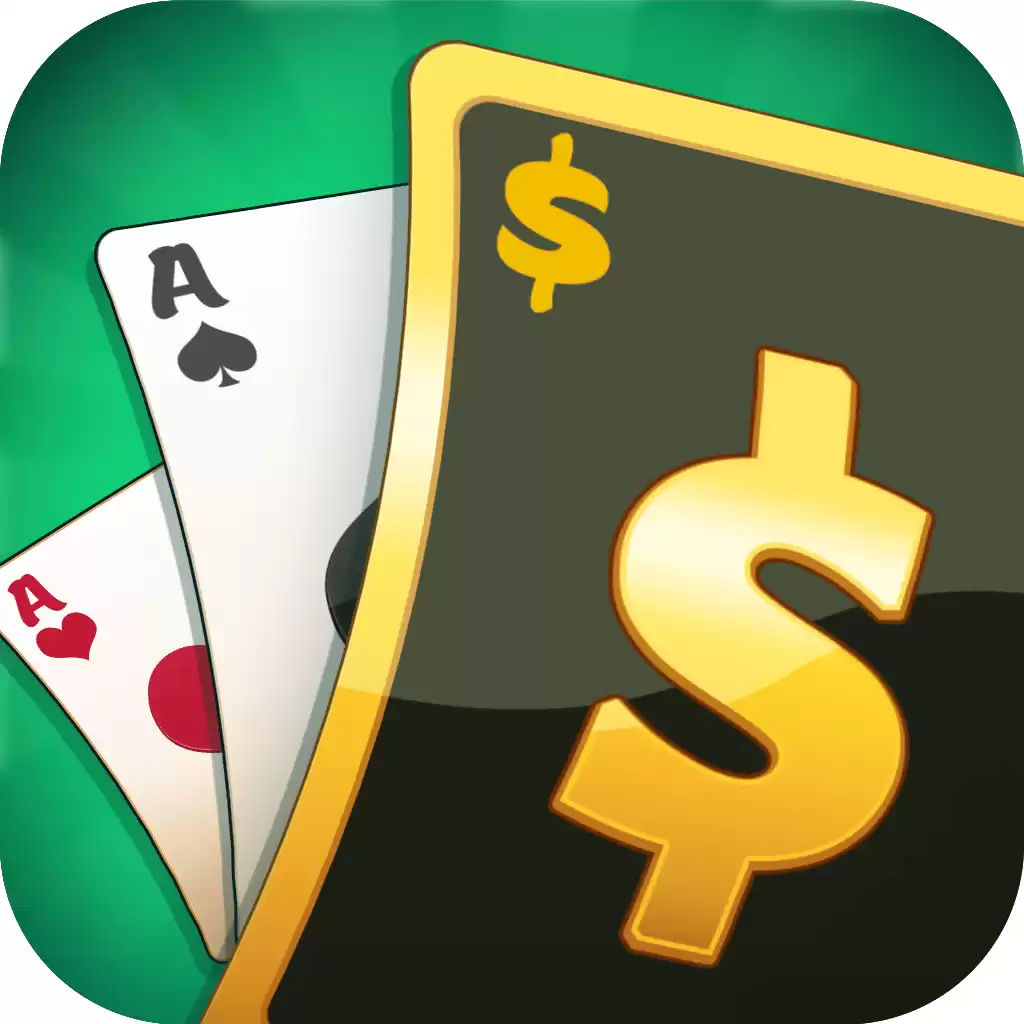 According to experts, each Solitaire game holds an 80% chance that it is winnable. This innovative card game from the 90s continues to entertain us, whether we play with friends or alone.
Recently, Solitaire has gone through a renaissance if you will, joining many other mobile gaming apps on the App Store and Google Play Store rosters. Papaya Gaming took the game of Solitaire to an entirely new level with Solitaire Cash, adding cash incentives to the otherwise simple card game.
Like its Papaya Gaming counterparts, Solitaire Cash monetizes the classic game with a chance to earn money and compete against other players of the same skill level. These winnings can then be cashed out for real-life rewards.
The next question becomes, "How can I earn more with Solitaire Cash?" The answers lie in the strategies players take to complete a round of Solitaire faster than their opponent.
You've heard the rumors of getting 10,000 Solitaire Cash points to cash out big. Whether or not these tips and tricks really get you that many points remains to be seen.
Are you ready to find out more about Solitaire Cash tips and tricks and the best strategy to win? Let's get started!
What is Solitaire Cash and How Do You Play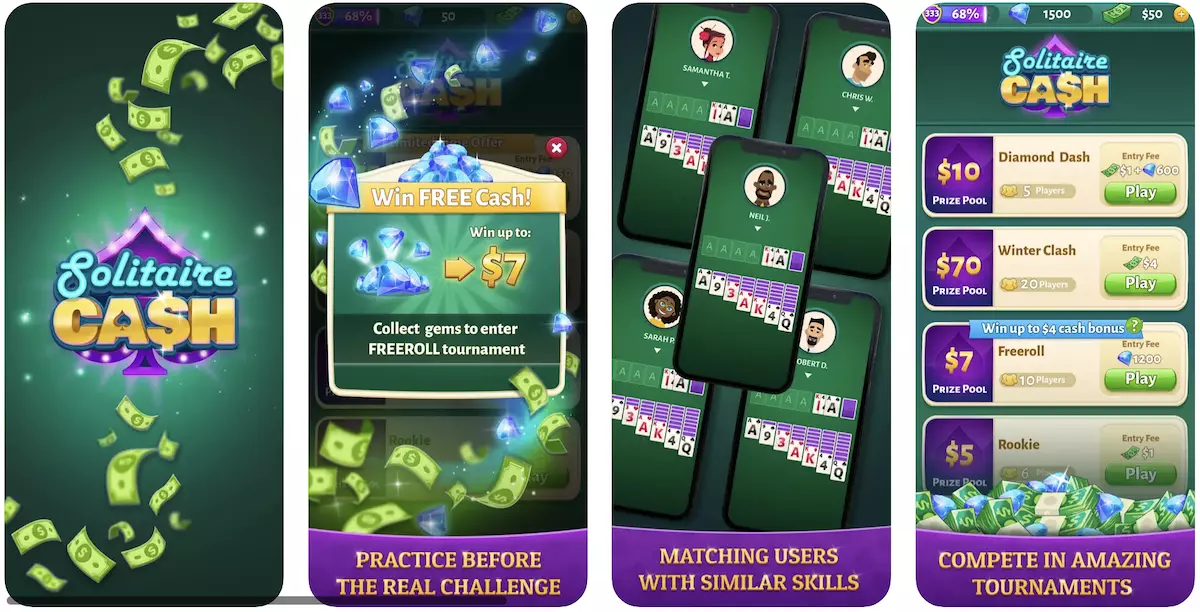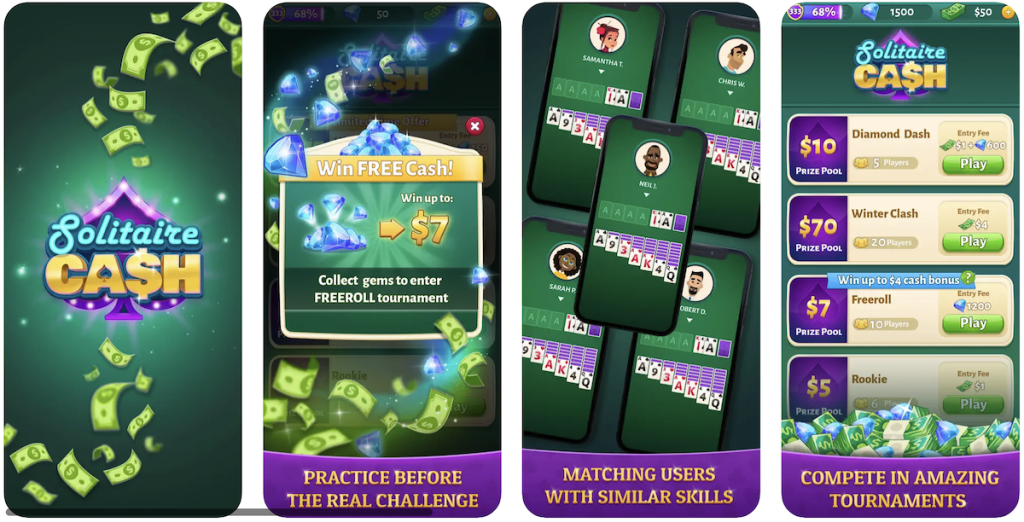 Papaya Gaming developed Solitaire Cash, along with Bubble Cash, 21 Cash, and Bingo Cash. Each of these mobile gaming apps features a simple classic game that requires basic skills to achieve an objective.
Solitaire Cash, for example, requires that you stack cards beginning from the Ace on through to the King. You have four spots on which to stack each colored suit and a deck to draw from.
Historically, Solitaire was played alone with a deck of cards. However, Papaya Gaming now allows players to compete against the clock and one another to earn real cash rewards.
If you'd like to play Solitaire for money, you can download Solitaire Cash from the App Store as well as the Samsung Galaxy Store. The app is not available from the Google Play Store for Android devices.
Solitaire Cash offers free practice rounds as well as tournaments and competitions that require an entry fee. Finish among the top three to win a portion of the funds.
You'll need at least $5 to cash out via PayPal. You can also add funds through PayPal or Apple Pay as well.
Whether you play head-to-head for free or participate in cash tournaments for a chance at the grand prize, Solitaire Cash can be an addicting and exciting game. Plus, you're always matched with those close to your skill level, so the odds aren't necessarily stacked against you.
If you'd like to learn more about how to play, check out our Solitaire Cash review. It includes everything you need to know about this get-paid-to-play Solitaire gaming app.
Solitaire Cash Points Award System
Even the best strategy will fail if you don't know the rules of the game. Here are the ways you can earn points:
Move a card from one row to another to earn 3 points
Gain 5 points for turning a card face-up in a row or moving a card from the deck to a row
Add 10 points to your score for every card you move to a suit stack
These actions will remove points from your score:
For every 10 seconds that pass, you'll lose 2 points
Move a card from a suit stack back to a row and lose 15 points
After four or more passes through the deck, you'll lose 20 points
Lose 100 points when you pass through the deck after one pass
Players are also scored based on the time clock. Should you finish before time runs out, you can claim an additional bonus that's comparable to how much time is left.
6 Solitaire Cash Tips and Tricks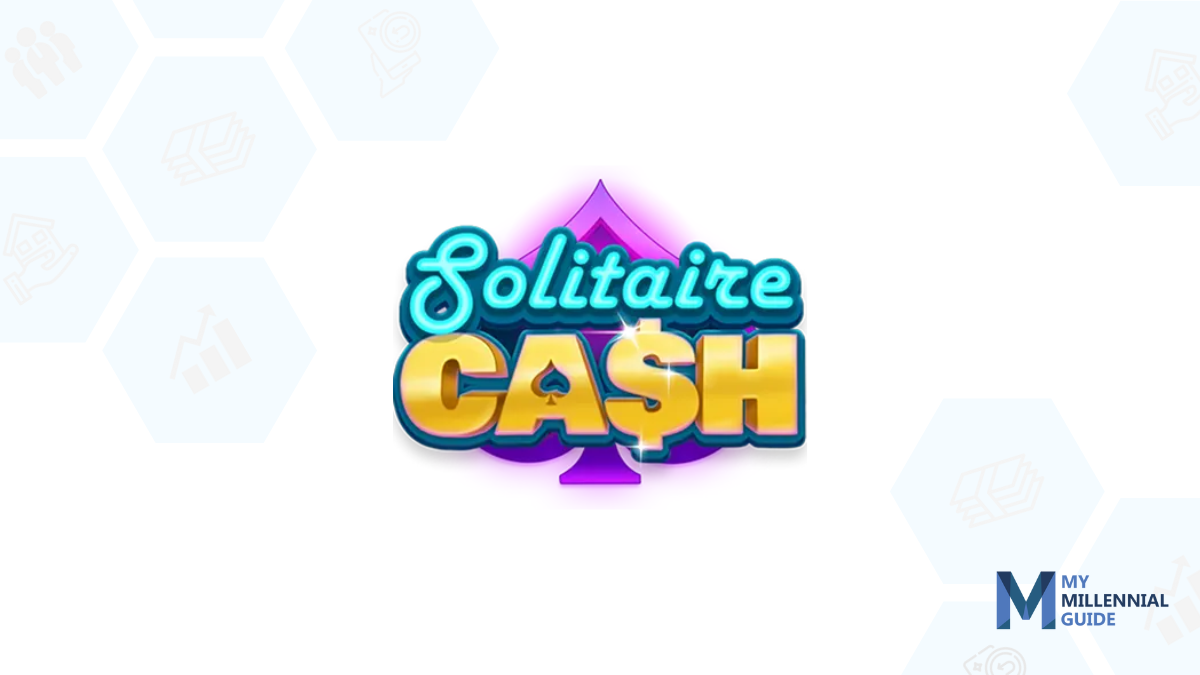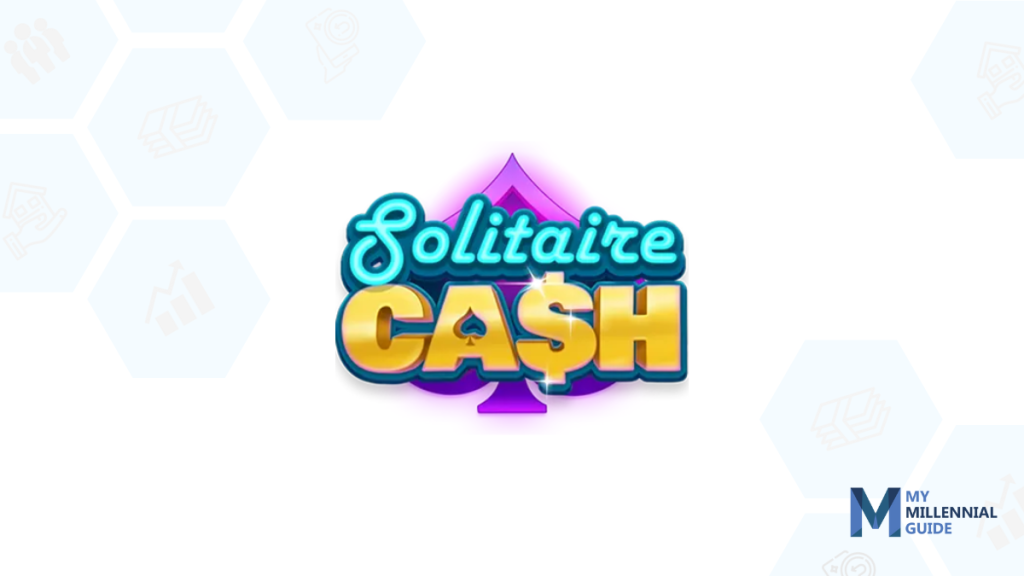 We recommend playing a few free games to get the hang of it before jumping into strategies. Getting a foundation can help contextualize the strategies below.
1. Play Daily
In addition to getting practice, playing Solitaire Cash daily can help you earn daily bonuses when you log in. It's not something that takes a lot of effort and you can complete the task in just a few minutes.
After a few weeks, you may find that you've earned enough points through daily bonuses to cash out already. Continue this practice to cash out for more in the future.
2. Avoid Plays Where You Lose Points
As simple as it sounds, playing Solitaire Cash with the intent to avoid losing points can be easier said than done. However, the strategy of keeping more of the points you've already earned is a solid one when it comes time to cash out.
Review the scoring above to see how you can lose points in Solitaire Cash. Make a mental note to avoid these practices as much as possible.
For example, you can avoid losing points by removing a card from the suit stack and placing it back in a row. Tempting as it may seem to add to the suit stack when you can, a bit of control can help you win faster and potentially earn more points.
Avoiding too many passes through the draw deck can help you keep more points as well. Practice this strategy on free games to implement it to your benefit in cash tournaments later on.
3. Win as Many Games as You Can
Again, this strategy might sound obvious, but it can be hard to follow through with. After all, we did tell you that Solitaire games have an 80% chance that they're winnable.
The premise of this strategy is simple: use proven techniques to win games as much as possible. That doesn't necessarily mean winning them and earning thousands of points but winning is critical.
The more Solitaire Cash games you win, the sooner you can cash out. Practice the strategies on this list and you could find yourself earning quite a few cash rewards.
4. Stay Away from Bad Streaks
As the wise Kenny Rogers once sang, "Know when to fold 'em." We all have bad days now and then but when it comes to gambling and Solitaire Cash, quitting while you're ahead can save you a lot of money and heartache.
Let's say you logged in for your daily bonus (strategy #1!) and played a few games without winning much at all. Do you keep playing to see if your luck will change or call it quits for the day?
This strategy says "quit." If the cards literally aren't in your favor, there's no sense in contributing to your losses.
5. Use Only Two Decks of Cards at a Time
One of the most common strategies in playing Solitaire involves using the space you have to your advantage. For most of us, that means spreading out the cards to increase our chances of winning.
However, using only two decks can help you not only solve the game but take less time doing so. Many players focus on the two stacks with the most cards to place as many cards as possible into play.
This strategy can be hard to put into practice and stick to. However, if you only use two decks of cards at a time, you can potentially finish faster than your opponent to win the prize money.
6. Promo Codes
Now and then, Papaya Gaming will offer a promotional code on its social media pages. You can use these promo codes in the game to earn more points.
Most Solitaire Cash promo codes are listed on Papaya Gaming's Facebook page. Be careful, as some of the Skillz promo codes across various platforms are identical and can only be redeemed once. 
To input a promo code on the Solitaire Cash app, choose the gift box tab and hit "Promo Code." Copy the code here and confirm to earn a free reward.
Papaya Gaming runs promotions throughout the year, so keep an eye on their social media to receive updates. You should also be careful of scams that claim to have tens or hundreds of promo codes available for redemption.
Solitaire Cash Alternatives
When it comes to playing Solitaire, there are a variety of game apps to win real money out there that put a new spin on this classic game. For example, games like Solitaire Cube can help you earn money by playing this simple card game in a new way.
For all the Solitaire apps on the gaming marketplace, there are many other ways to earn extra money and play the games you love. For example, you can play dominoes, pool, bubble shooter games, or even bingo.
When it comes to bingo apps that pay real money, Papaya Gaming's Bingo Cash can help you earn more while playing this addicting and fast-paced game. If you want to stick with card games, 21 Cash makes it easy to play blackjack even if you can't get to a real casino.
Besides playing individual games, apps like Mistplay and Rewarded Play let you download and try new games and get paid. The more games you play, the more points you earn.
With Mistplay, you can earn real cash for completing specific levels or achievements. Games within this app include several types, from card and adventure to action, strategy, and more.
If you want to learn more about Mistplay, check out our in-depth Mistplay review to see how you can play a variety of games and still earn cash rewards. We also cover a similar situation in our Rewarded Play review.
Rewarded Play works in a similar way to Mistplay. With this app, you can earn points for the time you spend playing games, so the more you play, the more you earn.
Some of the best survey sites also offer games you can play to earn site-specific rewards. If you want to maximize your earning potential, downloading and playing games through survey sites can help you find new games and opportunities.
FAQs
Can you actually make money with Solitaire Cash?
Yes, you can actually make money with Solitaire Cash. All you have to do is beat your opponent by solving the deal first. 
How can you cash out with Solitaire Cash?
Solitaire Cash lets you cash out via PayPal once you reach $5 in rewards. You can add money via PayPal as well, in addition to Apple Pay. 
Where can I download Solitaire Cash?
You can download Solitaire Cash from the Samsung Galaxy Store and the App Store. Solitaire Cash is not available to download from the Google Play Store for Android phones. 
What other mobile games can I play for cash?
There are many other mobile games you can play for cash, including Pool Payday, Bingo Cash, 21 Cash, Bubble Cash, Blackout Bingo, and more. Apps like Mistplay and Rewarded Play also offer several games you can download to earn extra money. 
Who Says Solitaire Has to Be Lonely?
Many of us have played Solitaire as a kid, whether it was with a physical card deck or a virtual one on the computer. With new card games for money like Solitaire Cash, those days of arranging cards all alone have been replaced with competitions and the chance to earn real cash. 
Solitaire Cash is also one of many Papaya Gaming apps you can download to earn money. Bubble Cash is a new spin on the bubble shooter game, 21 Cash revolutionizes blackjack, and as for Bingo Cash—well, you get the gist.
We hope this article has helped you to see that you can earn more from Solitaire Cash with the right strategy. Sometimes all it takes is changing your approach to earn more for the time you spend playing cards.
While there are no magic cheat codes to get you 10,000 points on Solitaire Cash, you can use proven strategies to increase your chances of winning. Implement them as you like to see how they can contribute to your winning streak.
Download Solitaire Cash and practice these strategies to earn more for your gaming. What will you spend your earnings on?