It's estimated there were over 14 billion downloads of mobile gaming apps in the first quarter of 2021. You may not remember which games you downloaded, if any, since then, but chances are you've downloaded at least one.
Playing games on your phone is quickly becoming a pastime for many people, but earning money from that time spent can set a mobile gaming app apart. For example, Mistplay is a hugely popular gaming app that pays you for playing its featured games.
Mistplay stands out from other gaming apps because it allows you to play several games within one app and still earn money. With so many different games to choose from, you almost don't need to download any other app.
Our Mistplay review goes in-depth, taking a look at which games you can play, how you can earn money, and how to make the most of your time spent on Mistplay. We'll also highlight other opportunities you can use to play games and make money at the same time.
Are you ready to find out more in our Mistplay review? Let's get started!
How Does Mistplay Work
Mistplay is a free app you can download from Google Play. As of writing this article, the app is not yet available for iOS devices.
As you navigate to download Mistplay on your Android device, you'll see that the app has been downloaded over 20 million times. It's also rewarded players with over $34 million since 2016 when it first appeared on Google Play.
The basic concept behind an app like Mistplay is this: after you download the app, you'll choose among several games to play. As you play these games, you'll earn points, called "units," that you can use towards real cash rewards.
If you're looking for a fun and easy way to get free gift cards, Mistplay should be at the top of your download list. Playing games on Mistplay is just one of many ways to get free Amazon gift cards as well.
100% free, no deposits required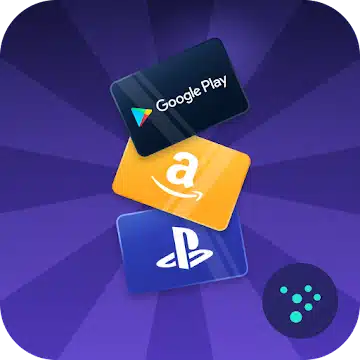 Mistplay (Android Only)
Earning money by playing games on your phone sounds like a dream. But Mistplay really pays you for playing new games with free gift cards. It is 100% free to play and you never have to deposit any money.
Select Your Favorite Game →
List of Mistplay Games You Can Play for Money
Mistplay offers several games you can play, depending on your region. Games are categorized as strategy, single-player, or casino and card games. 
Depending on which region you're in, you might have access to the following games:
Pirate Kings
Yahtzee
Solitaire
King of Avalon: Dragon War
Originals: Interactive Story Series
Slotomania
Who doesn't want to get paid to play games? With Mistplay, earning real cash by playing games couldn't be easier.
How to Earn Money with Mistplay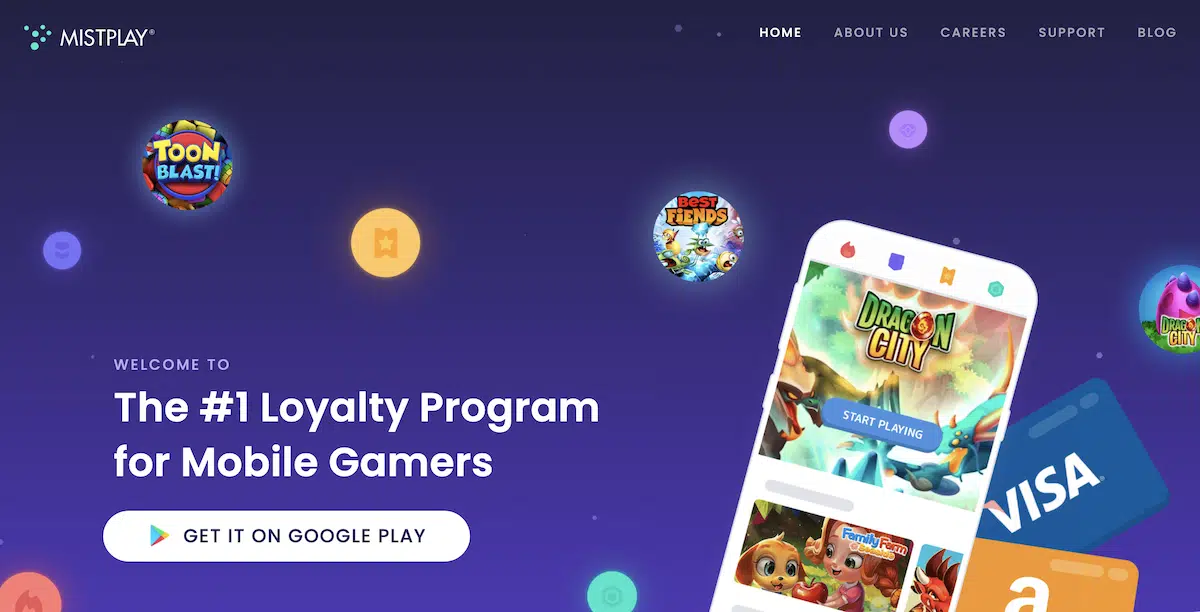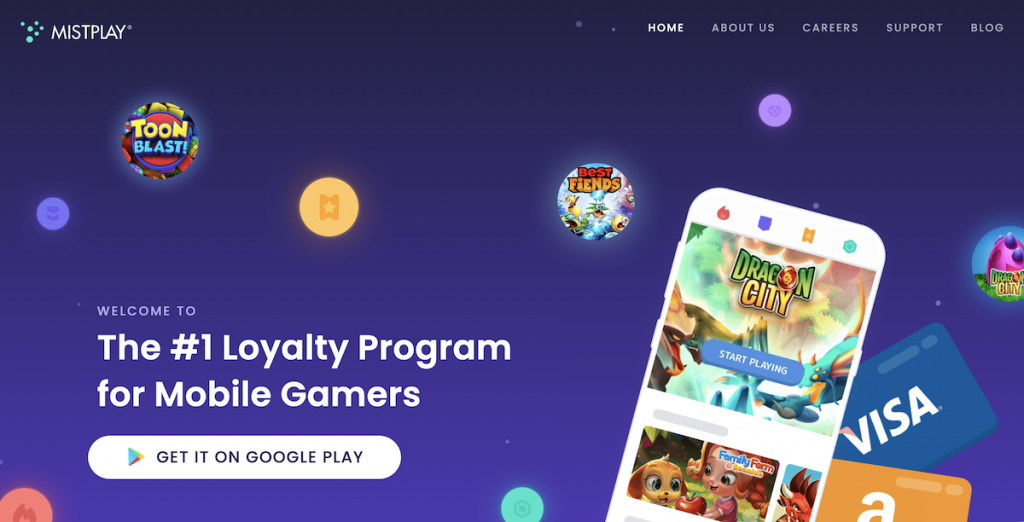 Shortly after you download Mistplay, it will ask permission to monitor when you access certain apps. This tracking software is what reports your gameplay back to Mistplay so you can get rewarded.
Once you allow permission, Mistplay lets you choose among several different games to earn units that you can then trade out for real cash. The more you can do to level up and the longer you play, the more units (and more money) you'll earn.
Mistplay tracks your in-game achievements and rankings to reward you for playing. Each game will have a different amount of units you can earn, based on various requirements within the game.
An example would be getting to a specific level or achieving a certain rank. You might have to reach a certain stage to unlock more rewards or play for a specific amount of time as well.
Once you've racked up enough units, you can exchange them for Amazon gift cards and prepaid Visa gift cards. Each gift card amount will have a unit requirement attached to it that you must meet before you can cash out.
100% free, no deposits required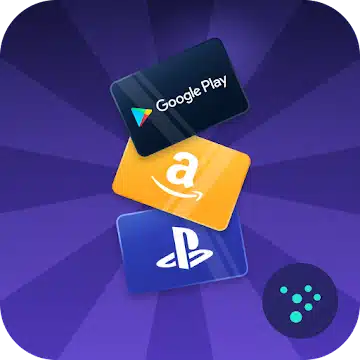 Mistplay (Android Only)
Earning money by playing games on your phone sounds like a dream. But Mistplay really pays you for playing new games with free gift cards. It is 100% free to play and you never have to deposit any money.
Select Your Favorite Game →
4 Ways to earn Money with Mistplay
Mistplay is just one of many win-real-money apps you can download to earn more for playing in your free time. Let's take a closer look at how Mistplay lets you earn money just for playing games.
1. Play Games to Earn Points
As we mentioned, units are the in-game currency that basically act as points. You can redeem these points for gift cards of your choosing as long as you meet the unit requirements.
However, units are not the only determining factor in how much you can earn with Mistplay. There are also game experience points (GXPs) and player experience points (PXPs).
You can earn more units the higher your game experience points. These points specifically track your progress in each game, so the longer you play, the more GXPs you get.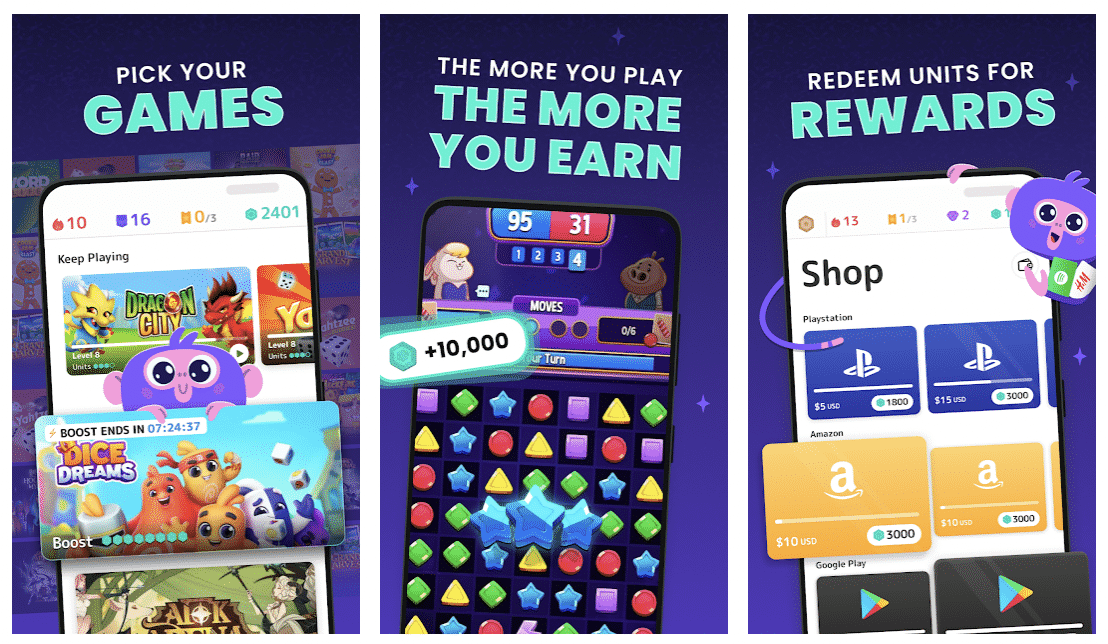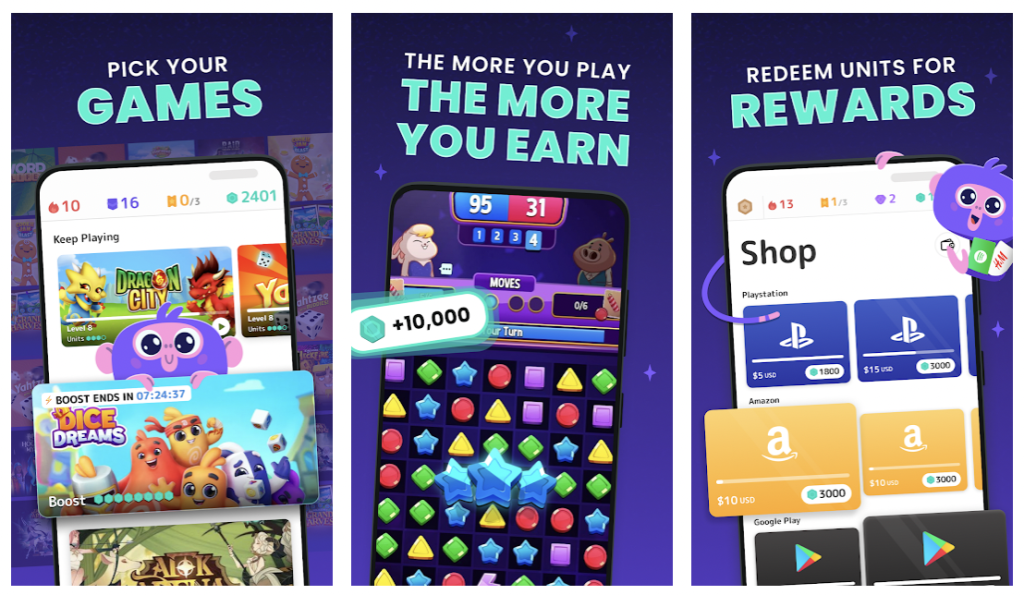 Leveling up can also increase your PXPs, which helps you to get more units as well. Your player experience points will determine your specific player ranking.
Having a higher PXP value not only allows you to earn more GXPs but also increases your unit balance as well. As long as you're making progress in the game, you're earning all the necessary points to cash out for rewards.
However, playing games isn't the only way you can earn cold hard cash with Mistplay. This gaming app offers several other opportunities you can take advantage of.
2. Referrals
One of the best ways to learn how to get free money is to refer your friends. The more friends you invite to Mistplay, the more you'll earn in referral rewards.
Invite a friend to Mistplay and you'll get 100 units once they sign up with your referral link. That's about $0.50 in real currency, but it's 50 cents more than you had before you sent the referral.
If you were to refer 10 friends and family members, you could make $5 just for sending invites. That's not enough to gas up your car but it's almost enough to get you a free coffee as a treat.
The key to how to make money online for beginners isn't necessarily earning a whole bunch of money from one source. Like with Mistplay, it's about getting rewarded for your time from several sources so you can diversify and earn more.
3. Frequent Use
Mistplay allows you to get paid today by using the app each day for seven days after the day you downloaded the app. If you can do that, you'll get a 14-unit bonus.
There are also frequent contests and special promotions you can use to build your unit balance on Mistplay. For example, you can earn a 200-unit welcome bonus just for signing up.
Mistplay commonly releases new games that it features to its members. The app often uses contests to get members to play that game.
For example, a new game might pop onto your dashboard, with a 10,000-unit grand prize available to those who complete a specific task. You might need to reach a certain level to even be considered eligible but the requirements for earning the grand prize vary from one game to the next.
Mistplay also puts out Mistcodes on their social media feeds. These codes can be redeemed for additional units without having to do more than enter a specific string of characters.
If you're looking to earn more Mistplay units, follow them on social media and subscribe to their newsletter. These are the sources of announcements, contests, and Mistcodes that you'll want to take advantage of to earn more on top of playing games in your free time.
4. Status
Finally, Mistplay is rolling out a new status program that actually rewards you for making in-game purchases. Since it is a new feature, not all games are eligible for this type of reward.
Mistplay makes it clear which games are included in the program and which aren't. Chances are if you don't see anything mentioning the status program, that game isn't part of it yet.
The status program has four tiers that increase in earnings as you move up through the ranks. Players will begin at the bronze level and work through the silver and gold tiers to finally reach the platinum top tier.
Bronze-level rewards simply denote that you haven't contributed enough to the game to make it to the silver level. With silver status, you can earn 1.1X units on in-app purchases, putting more rewards in your pocket for spending a few dollars here and there.
Move up to the gold level to earn 1.1X Loyalty Gems. These Gems contribute to your rankings like GXPs and PXPs, just in a different way.
Suffice it to say that Loyalty Gems are more valuable than units. With Loyalty Gems, your ability to earn more units per gameplay increases.
Finally, the platinum level lets you earn 1.25X units for level-ups and daily bonuses, in addition to 1.25X Loyalty Gems. That's a potent mix, especially if you want to increase your earning ability on Mistplay.
This status program is one of the many aspects of Mistplay that set it apart from other gaming apps that pay. The real question is, are these rewards enough to justify you spending real money on Mistplay for better rewards?
100% free, no deposits required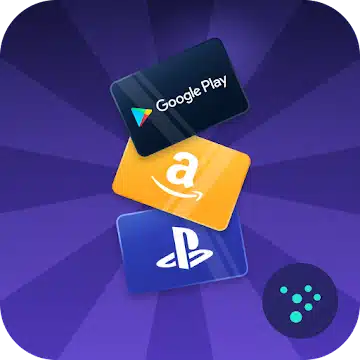 Mistplay (Android Only)
Earning money by playing games on your phone sounds like a dream. But Mistplay really pays you for playing new games with free gift cards. It is 100% free to play and you never have to deposit any money.
Select Your Favorite Game →
Mistplay Rewards: Cashing Out
When you earn enough units on Mistplay, you can cash out for electronic gift card codes as well as avatar upgrades for your profile. Whichever payout method you choose, you'll need to meet the minimum unit requirements for each reward before you can make the exchange.
If you're looking to get an Amazon gift card, the lowest possible redemption balance is 400 units. That will get you about $0.50 off your next Amazon purchase.
Therefore, it can be worth it to hold out for gift cards above $10 to get the most value. However, gift card values can change at any time, so try to earn as many units as you can and cash out when you've got a hefty balance.
Mistplay also gives you the chance to cash out with PayPal for free. You won't pay a fee to use PayPal but you will need at least the equivalent of $10 in units.
In most cases, Mistplay pays out within 48 hours after you request a reward. Transactions may take longer on the weekends but you can always contact support if you have any questions.
How to Make the Most of Mistplay
Games are about strategy, right? So how can you make the most of your gaming on Mistplay?
Here are a few ideas to get you started:
If you're having trouble leveling up, mix it up by playing another game
Add as many games as you can to your Mistplay list to track your rewards
Focus on games with higher rewards to earn more for your time
Play games you already know how to play to increase your unit earnings
Try out new games to see how you can earn more
Don't let your account go inactive, because it will be deleted after 365 days of inactivity
While Mistplay isn't necessarily going to make you $300 fast (unless you win a grand prize jackpot), it's a fun way to get paid for playing games and passing the time.
Mistplay Alternatives
Though Apple users miss out on Mistplay rewards until the app finishes development, there are many other iOS games you can play for money, including bubble shooter games and even bingo apps that pay real money.
Here are a few other gameplay alternatives you can download to earn money while you play:
Check out our reviews of Blackout Bingo, Solitaire Cash, and Bingo Cash to learn more about how you can earn free money just by playing games. We've also highlighted several games that pay instantly to Cash App as well.
Did you know there are even PayPal games that pay real money or that you can play solitaire for money, too? Once you look into getting paid to play games, the possibilities for making a few extra dollars could be more than you first thought.
FAQs
Can you really earn money with Mistplay?
Yes, you can really earn money with Mistplay by playing games and earning units to cash out for gift cards or PayPal cash. All you have to do is let Mistplay track your gameplay and level up to earn cash. 
How long does it take to get paid by Mistplay?
Mistplay pays out in about 48 hours. This can be a lot faster than some other gaming apps out there, especially when it comes to gift cards. 
How much can you earn with Mistplay?
You can earn quite a bit with Mistplay, depending on how much you play each day. Watch out for promotions and contests to increase your chances of winning cold hard cash. 
Cash In on Gaming Apps Like Mistplay
Mistplay offers gamers a chance to win games and earn money for their efforts. With Mistplay, it's all about leveling up and getting paid for play.
We hope you've found this article helpful in figuring out whether or not Mistplay is worth your time. Some gamers might find more lucrative opportunities elsewhere, but if you're looking to dip a toe in the gaming industry, Mistplay is certainly a great place to start.
If you're looking for other ways to get paid for the things you already do, we've always got ways to help you make the most of your time. When time is money, it pays to know where to spend it.
100% free, no deposits required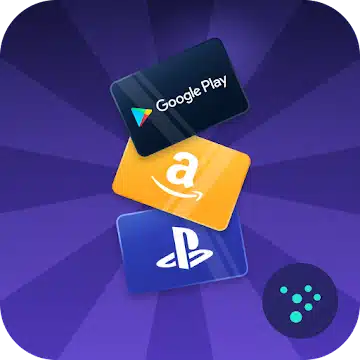 Mistplay (Android Only)
Earning money by playing games on your phone sounds like a dream. But Mistplay really pays you for playing new games with free gift cards. It is 100% free to play and you never have to deposit any money.
Select Your Favorite Game →