While these apps that pay you to play Solitaire won't be earning you enough to quit your day job, they can be a nice way to take a break and earn some extra cash.
New research conducted by British psychologists shows that Millennials use their smartphones roughly twice as much as estimated.
In fact, the preliminary study found that they used their phones an average of 5 hours a day — that's roughly 1/3 of their total waking hours.
We are on our phones a lot, we get it.
Wouldn't it make sense to make money and have fun with your phone and win real money playing Solitaire?
Best Game Apps to Play Solitaire for Money
If you are looking for real ways to make money from your phone for playing solitaire then consider checking out my quick list of the best game apps to make money.
Don't worry, I've personally tested all of the recommended apps and they are all legit and have great user reviews on the App Store and Google Play Store.
Download all or most of these free apps today to increase your odds of winning cash for playing games like Solitaire.
Solitaire Cube is an addicting game where you can play Solitaire on your phone. It's available on the Apple Store and Google Play Store.
It's pretty easy to get started and the game will match you up with other players who have the same level of skills in real-time.
Solitaire Cube includes tournaments and head-to-head competitions with real cash prizes (where available). That's what I was interested in most.
If you deposit money you can enter cash tournaments against other players. Cash outs are through PayPal and I had no issues withdrawing or depositing money.
How to play? Stack cards into piles to sort them by their suit. Sound easy? It is! You can download it for free here.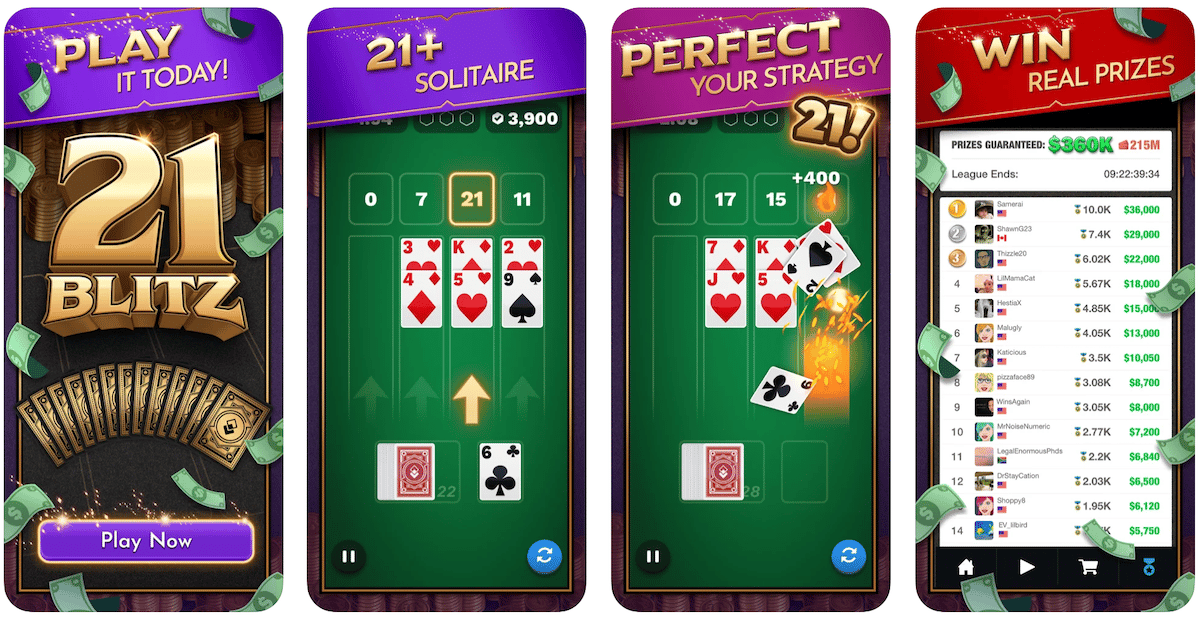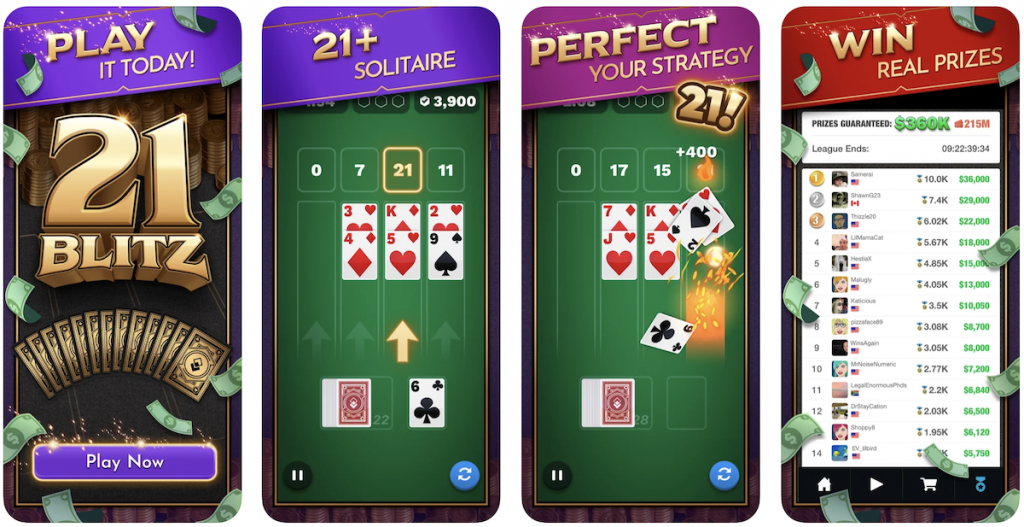 Lots of us already play solitaire games for fun or just to pass the time. Want to see if you can win real money at it?
You can check out an app called 21 Blitz that lets you play for real money. You can get paid up to $82 per win.
There's no catch, you can choose to play in high stakes tournaments or just for fun. Each game, you'll play with 5 other players of equal skills.
With raving reviews and over 33.9K positive ratings in the app store, this is a legit gaming app that pays.
Cash tournaments not available in AZ, AR, CT, DE, IN, LA, ME, MT, SC, SD, and TN but you can still win some amazing prizes!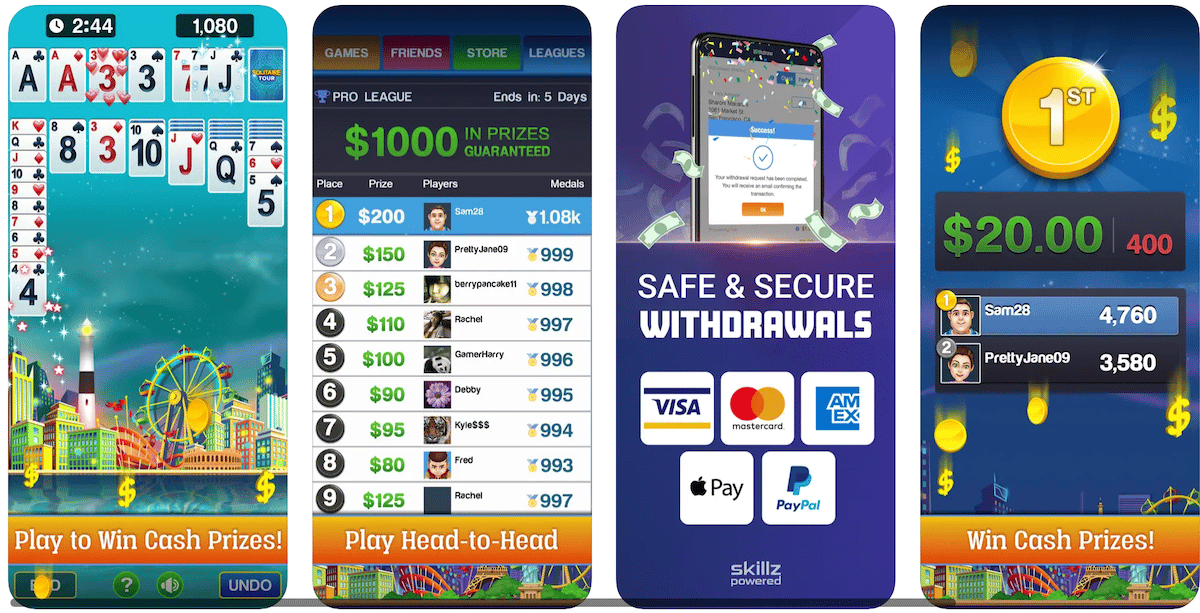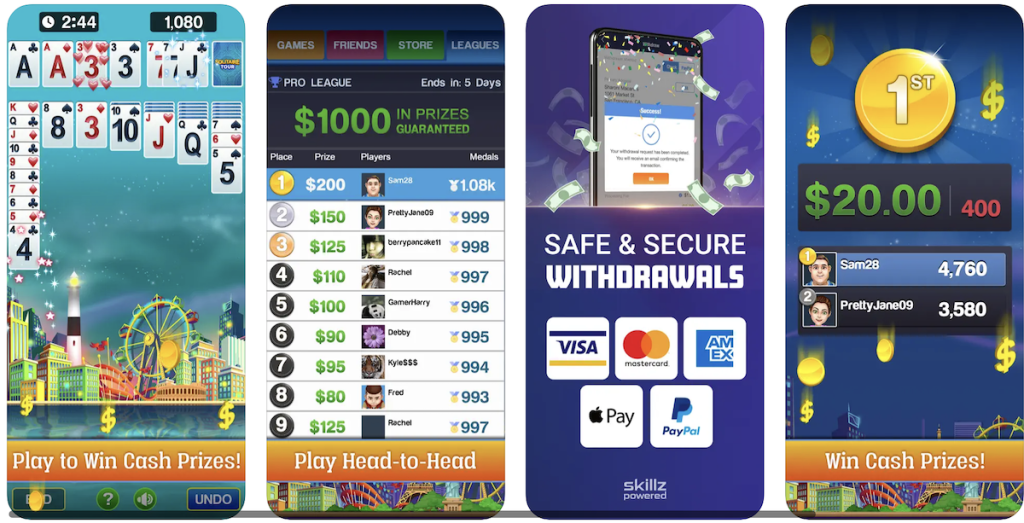 Still looking for online games that pay real money or real money games? Get ready to win some cash by playing klondike solitaire with Solitaire Tour. This solitaire for money app is one of the most popular online games that pay real money.
It is a classic game with some challenging fun twists. You can score big by finishing rounds early and earning bonus points. The smooth touch controls and beautiful graphics make it a great game to play on all devices.
You can challenge people from around the world to win cash prizes. Climb the leaderboard, win cash, and earn many prizes! You'll need to deposit money to play cash games, but that makes it all the more thrilling.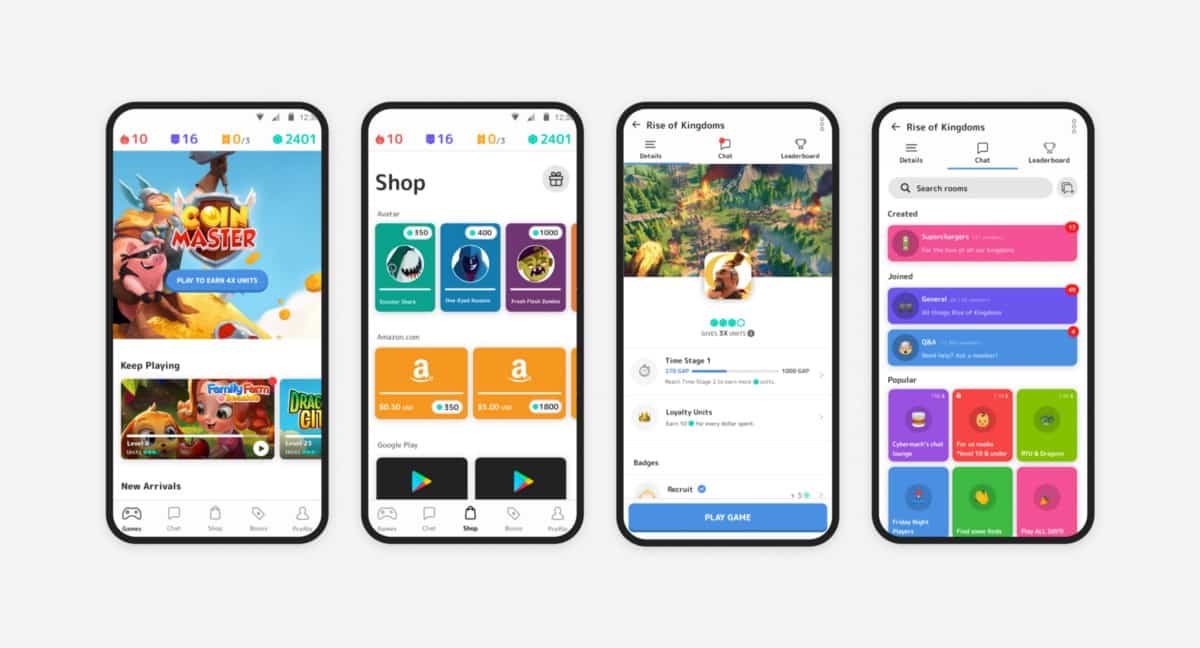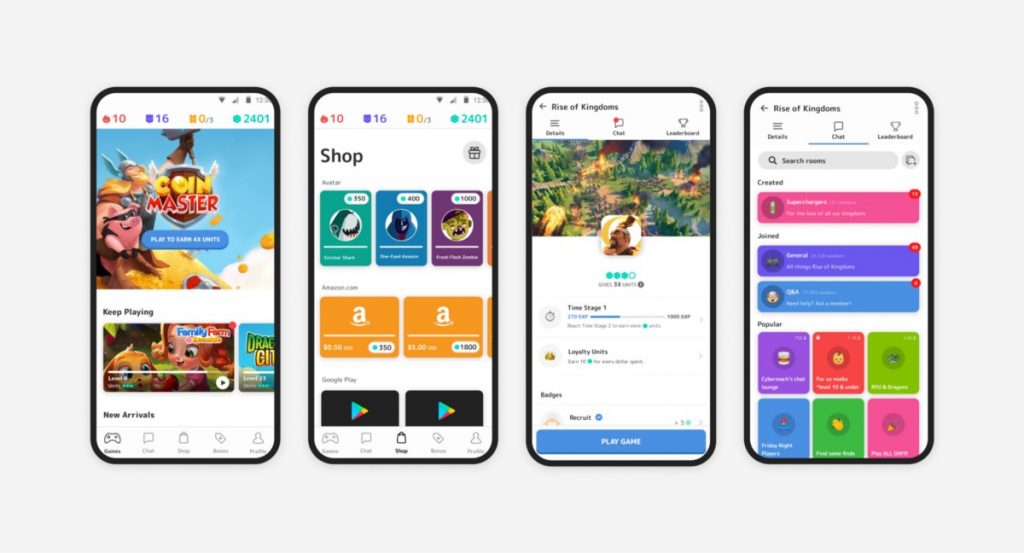 Mistplay pays you to play games like Classic Solitaire and Solitaire DeluxeⓇ 2, no really it does. While earning money playing games sounds like a dream, this app lets you do just that.
How it works:
1. Install a solitaire game in your mixlist.
2. Play that game to start earning units.
3. Redeem your units for free gift cards.
That's it.
To get started you can download the Android app and start playing and earning.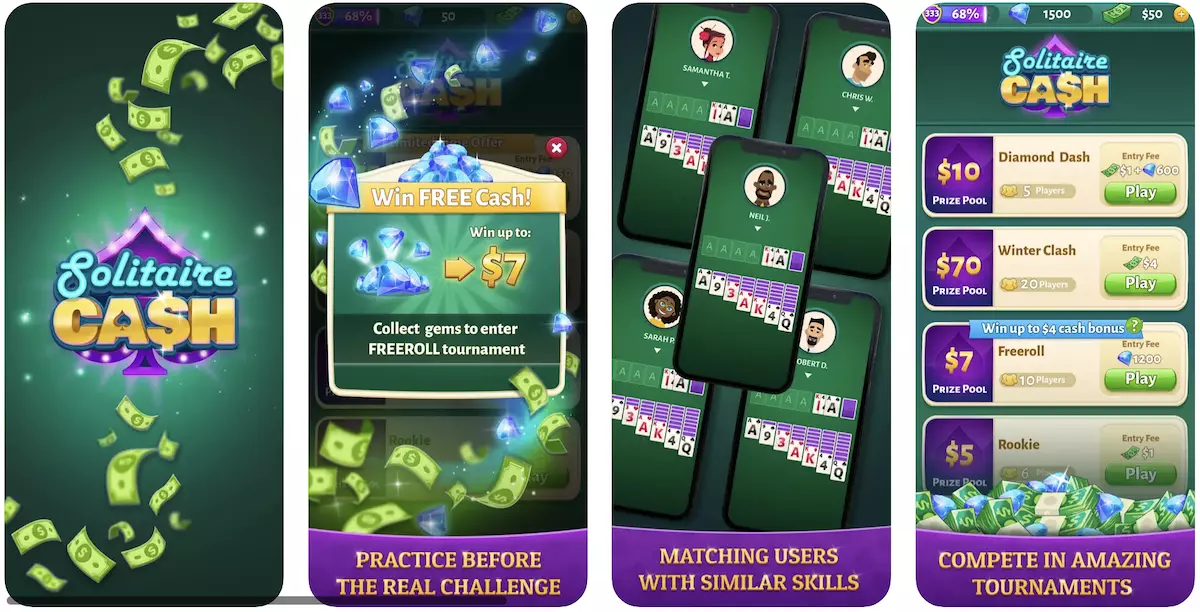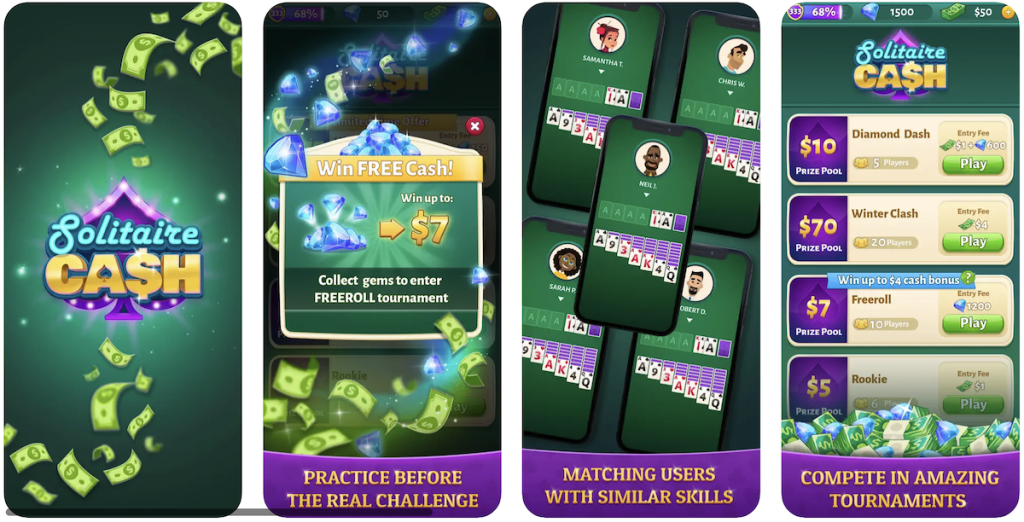 Make up to $83/game playing solitaire!
It may sound strange, but you can actually make money playing solitaire with cash tournaments.
Let's face it: most people enjoy playing games for money. But there are already games with cash prizes that are surprisingly popular.
A free game (Solitaire Cash) allows you to play head-to-head skill-based Solitaire for real money. The winner can win up to $83 per win.
It's free to download, and they've given out a whopping $1.5+ million dollars in prizes so far.
Download it for free and see if you have what it takes to make real money.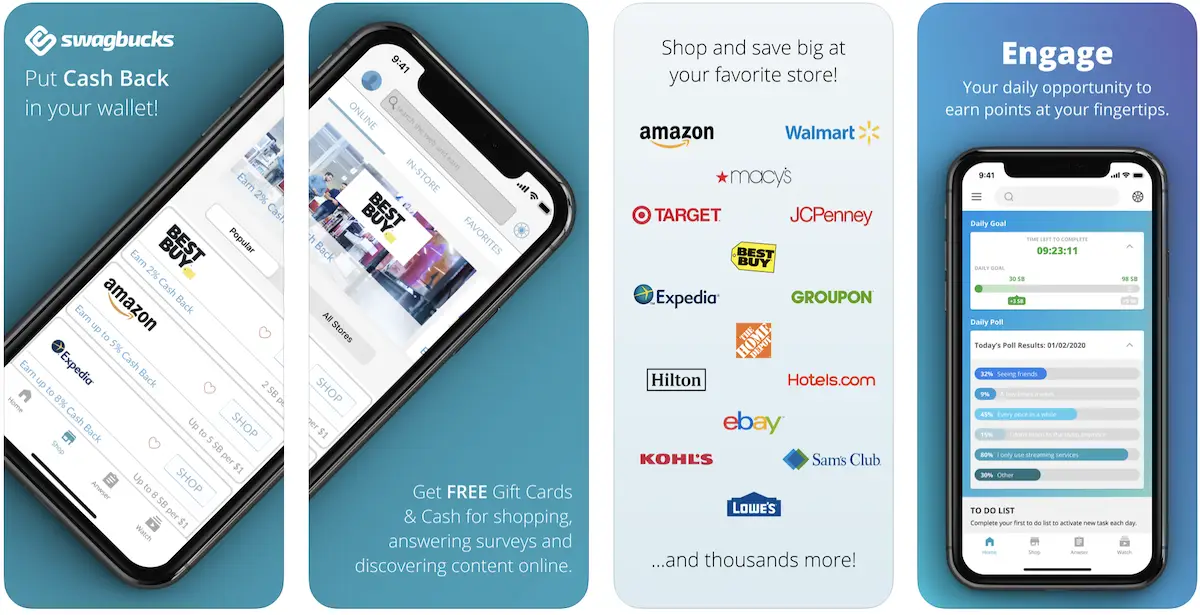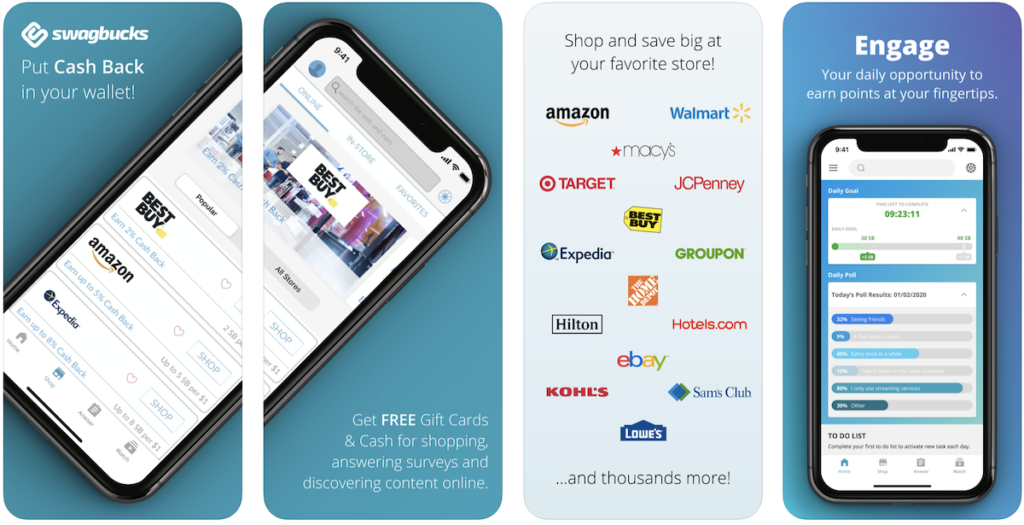 The fourth-best get paid to play solitaire site is Swagbucks. There are a lot of sites like Swagbucks but nothing can beat the king of reward sites.
Here you can earn a special currency called Swagbucks for playing paid games, completing offers, answering surveys and logging online activity.
You can redeem the currency for gift cards or cash rewards once you've accumulated enough.
This is one of the best apps that pays you to play games through PayPal.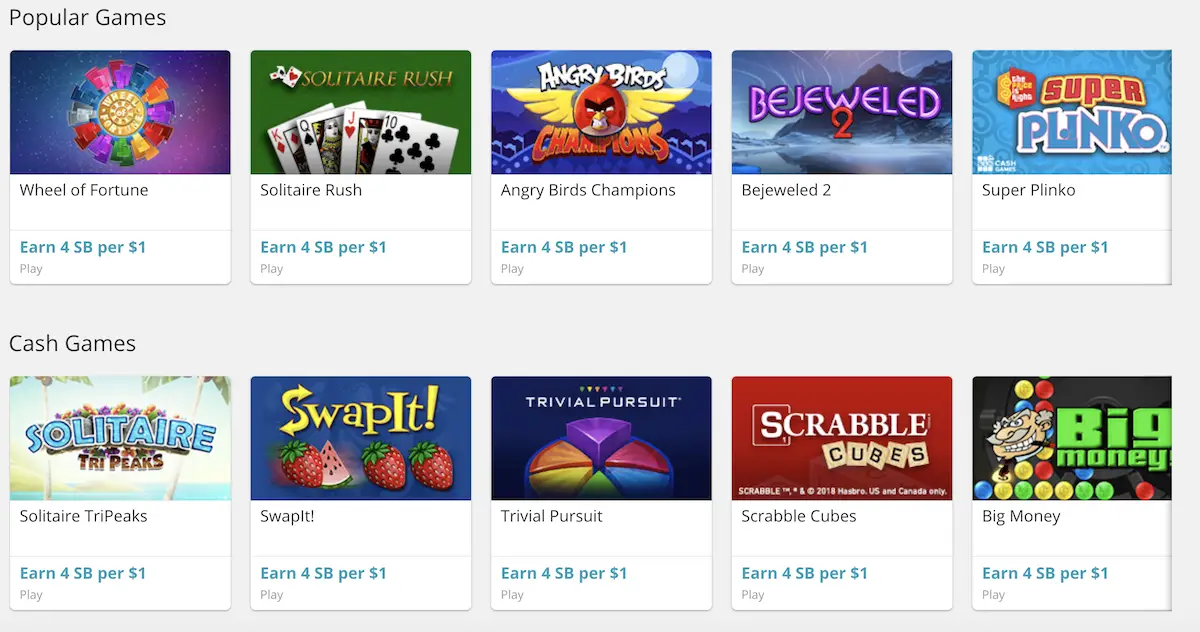 Here you can find games like Solitaire Tri Peaks, Solitaire Cruise, Solitaire Showtime and Solitaire Grand Harvest.
Plus, you can download the Swagbucks app to play fun games whenever you want to kill some time.
My current favorite games to play to earn money are Wheel of Fortune, Solitare Rush, Angry Birds, and Scrabble Cubes.
If you wanted to try it out, be sure to claim a $10 sign up bonus here.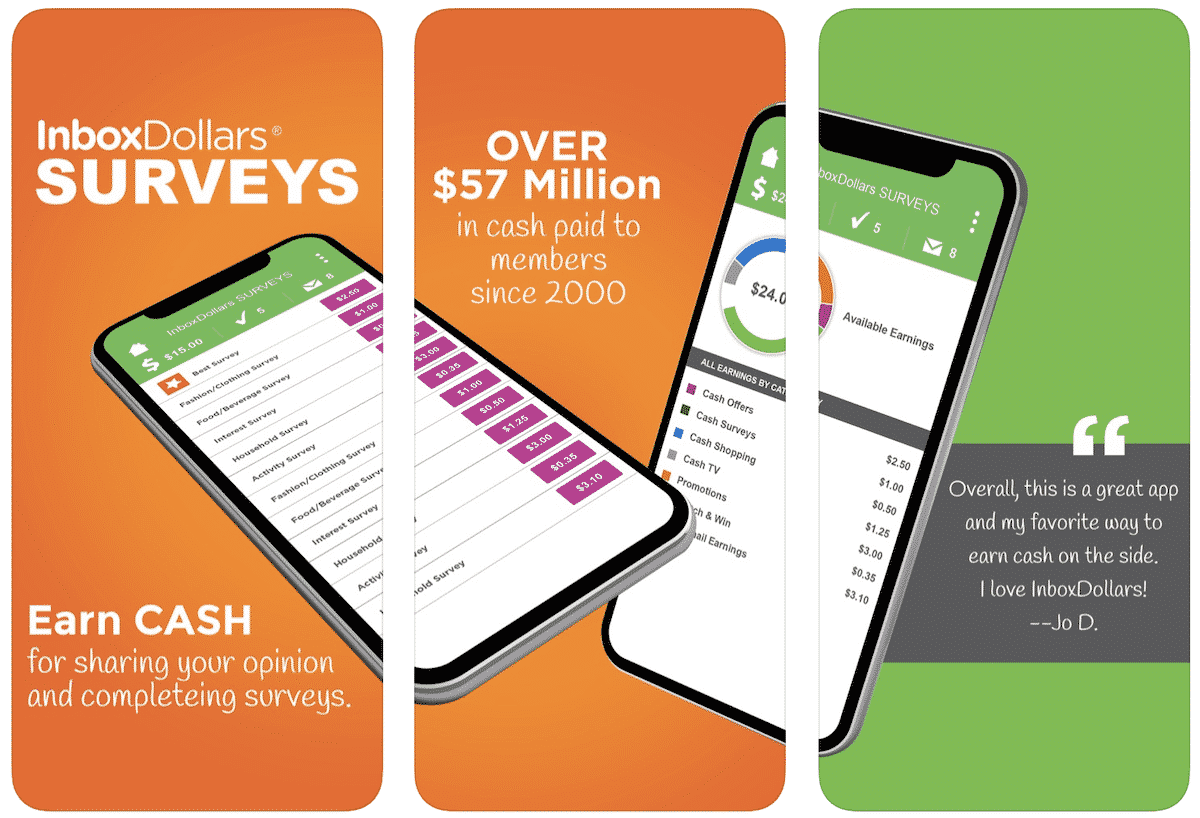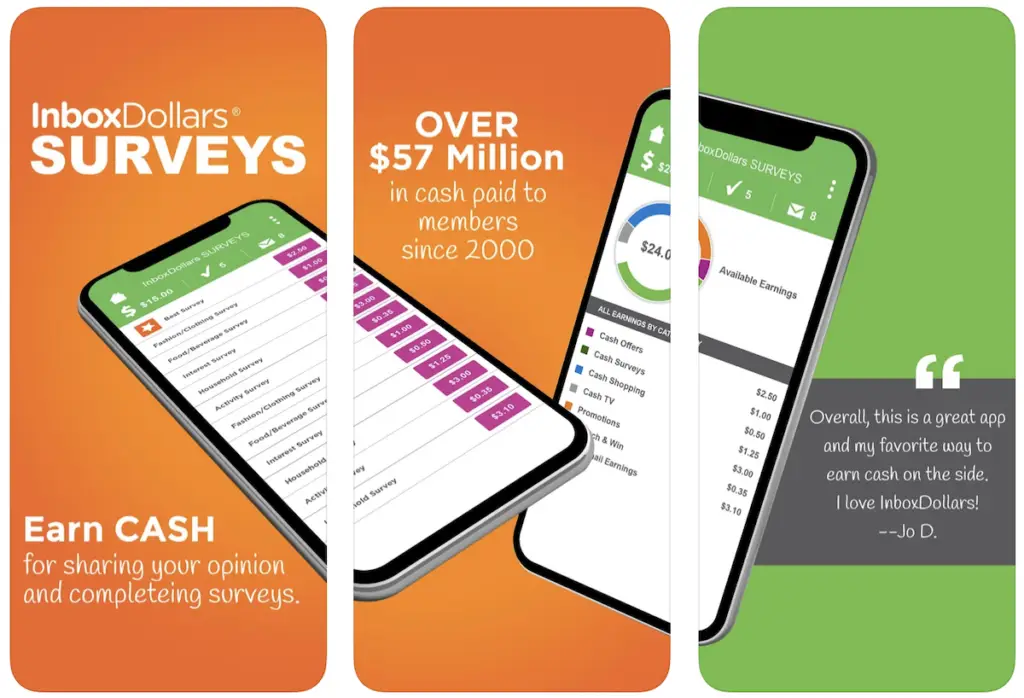 The next thing you can do is sign up for InboxDollars which pays you, in cash, to play games and watch videos.
If you sign up before the end of this month, they also give you a $5 free bonus just to give it a try.
They feature a wide array of games like Pyramid Solitaire, Klondike Solitaire, Monkey Bubble Shooter, Mahjong Dimensions, Pyramid Solitare, WordWipe, PetHop, Outspell, and Candy Jam.
By spending just 5-10 minutes per day on this (either on your lunch break or during TV commercial breaks) you can earn an extra $50/month.
More people should be using this game app to win real money.
8. Cashyy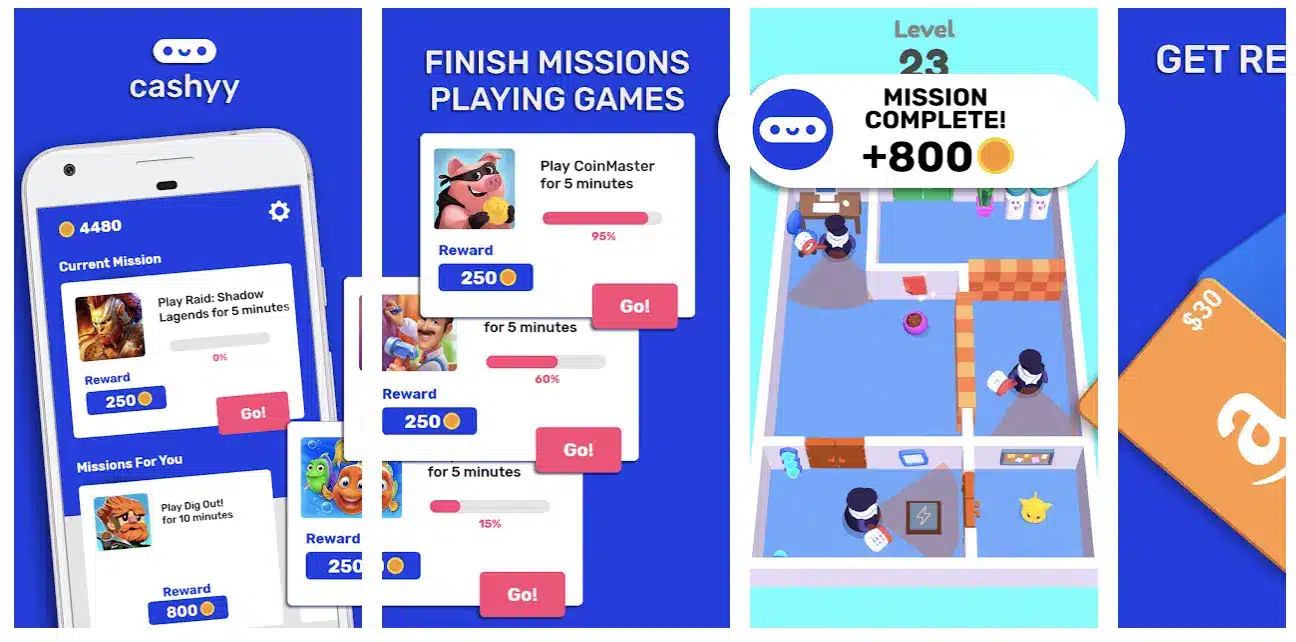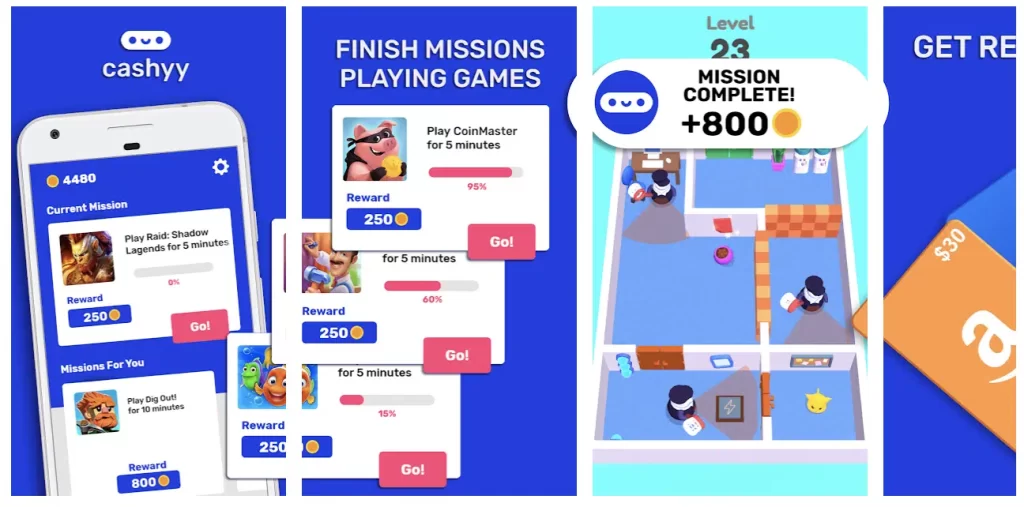 Cashyy is a completely free app that will help you earn free PayPal money into your account. Similar to Mistplay, you can discover free games (including classic solitaire), accomplish missions and win coins to exchange with gift cards.
All you have to do is play, complete missions and you will receive free money. The more you play the more money you earn.
You can always download Cashyy for free and this app doesn't have any advertising, no deposit, no in-app purchases which is nice. In order to get started earning, you can choose a mission and play your favorite game from the list of games.
If you are searching for cash games on Google Play to make extra money while having fun? With Cashyy you can play new mobile games and win gift cards.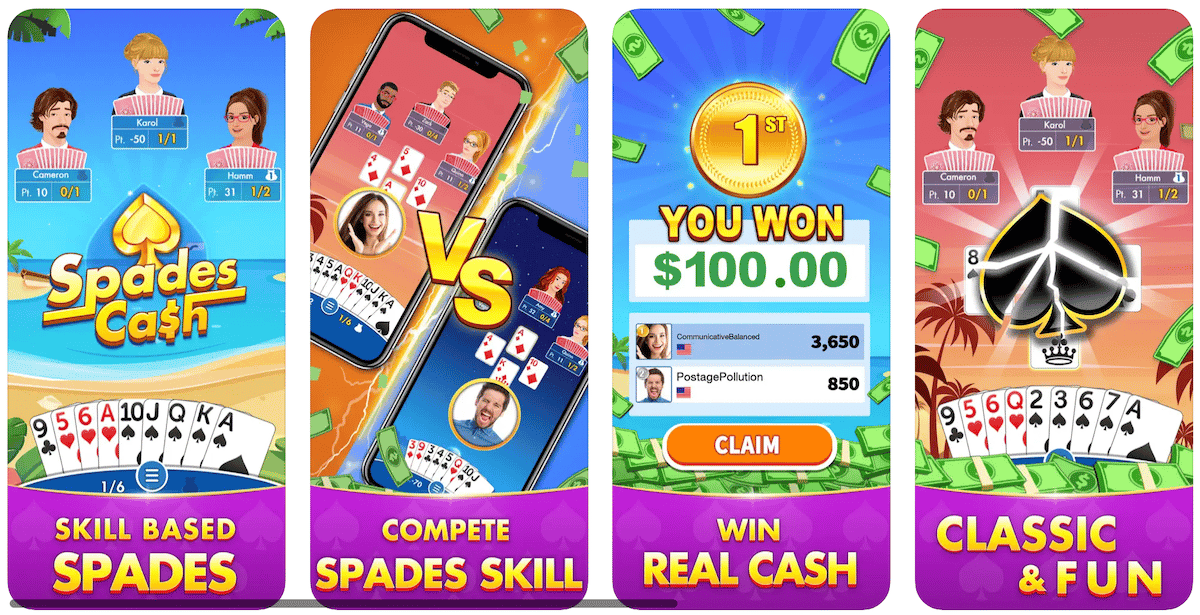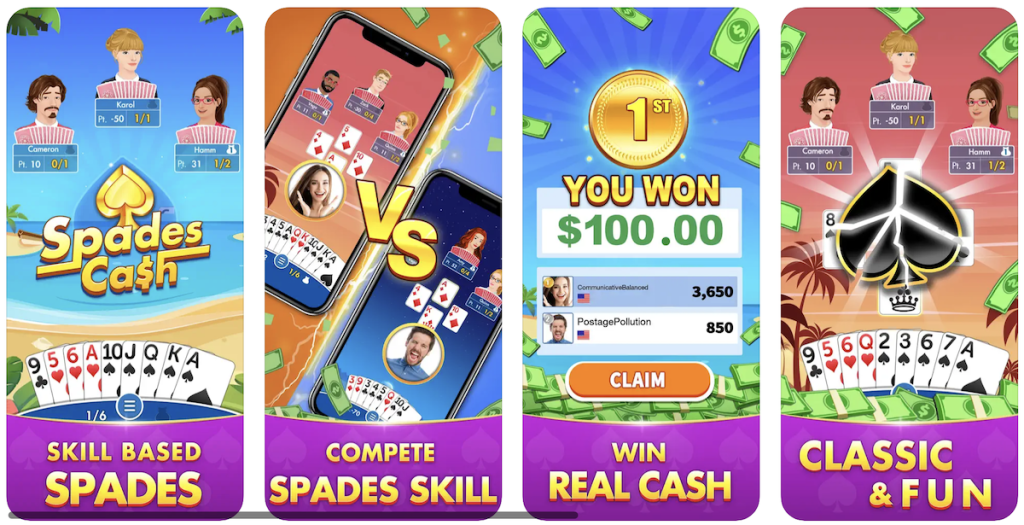 Welcome to Spades Cash, a brand new Spades game where you can win cash and real prizes.
Compete against players from all over the world in a solo version of Spades. Earn as many points as you can against the AI and then have your score compared to a matching player.
You can play solo mode and get your best score against the computer or compete against real opponents and get real rewards. Whether you are a beginner or a pro there is a competitor for you.
Spades Cash is easy to play and to fund your account with a minimum of $2 to start playing Spades for real money. And there are robust tutorials to help new players learn Spades quickly.
Note: Cash tournaments are available in most of the world. Cash tournaments are not enabled in the following states: AZ, AR, CT, DE, IL, IN, LA, ME, MT, SC, SD, and TN. If you don't live in a prize-enabled region, you can still play for free.


Rewarded Play is one of the best apps for those who want to get paid for playing new games.
Earn free gift cards for your favorite stores by playing popular games in the Google Play Store. You can earn Amazon gift cards, Walmart gift cards and more by getting paid to play games on your phone within 48 hours!
It may sound too good to be true, but after reading lots of positive reviews, Rewarded Play is dedicated to low cash-out minimums and always paying on time.
Overall, it is one of the best apps for casual games you'll love to play like Love Solitaire, Mahjong, Wheel of Fortune, Yahtzee, and other similar games. Play these free rewards games and earn points when you start playing, reach certain levels, see rewarded videos and make in-app purchases.
Playing games and earning gift cards really is that easy. Redeem rewards from name brand places and enjoy.
Download Rewarded Play and start earning rewards today.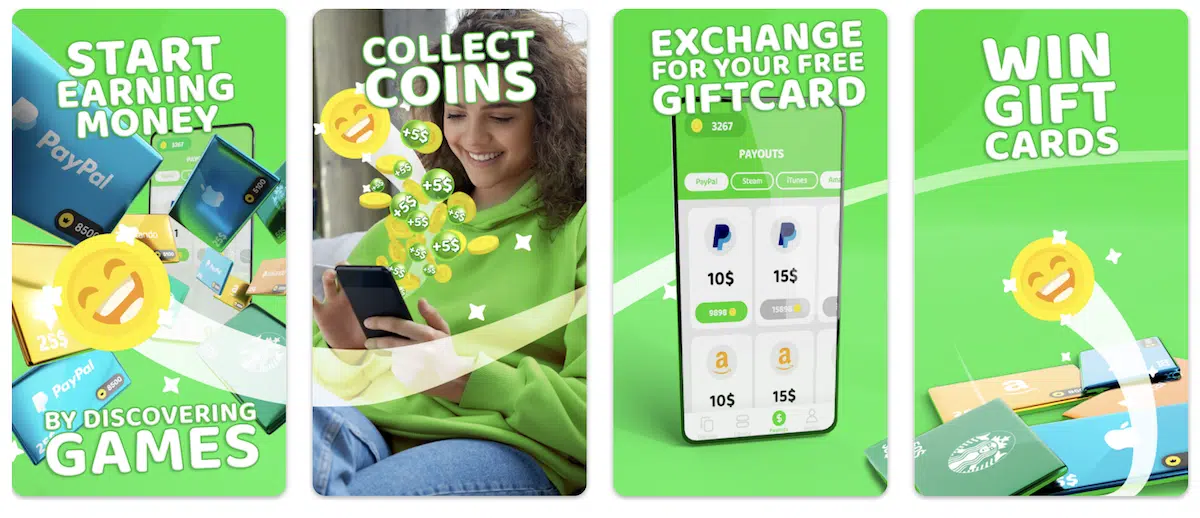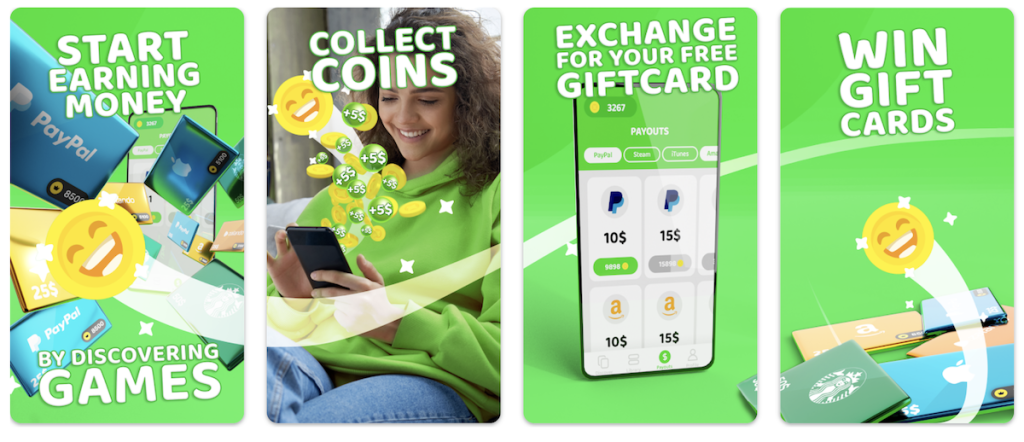 If you're looking for games that pay real money then Cash'em All should be up your alley. Cash'em All is a free app that pays you to play games like solitaire, sports or puzzle games. You can earn coins for every second you play, which can be traded in for gift cards or cash prizes.
There is a huge selection of different game types to choose from, so you're sure to find one that you enjoy. You can also invite friends to join and earn extra cash prizes. Cash'em All is a great way to earn some extra money by doing something you enjoy. Cash'em All is only available on Android through the Google Play store.
Free Solitaire Alternatives
While playing solitaire for money and cash tournaments is thrilling, sometimes people just want to play for fun.
In that case, check out some of the free solitaire alternatives below:
Solitaired.com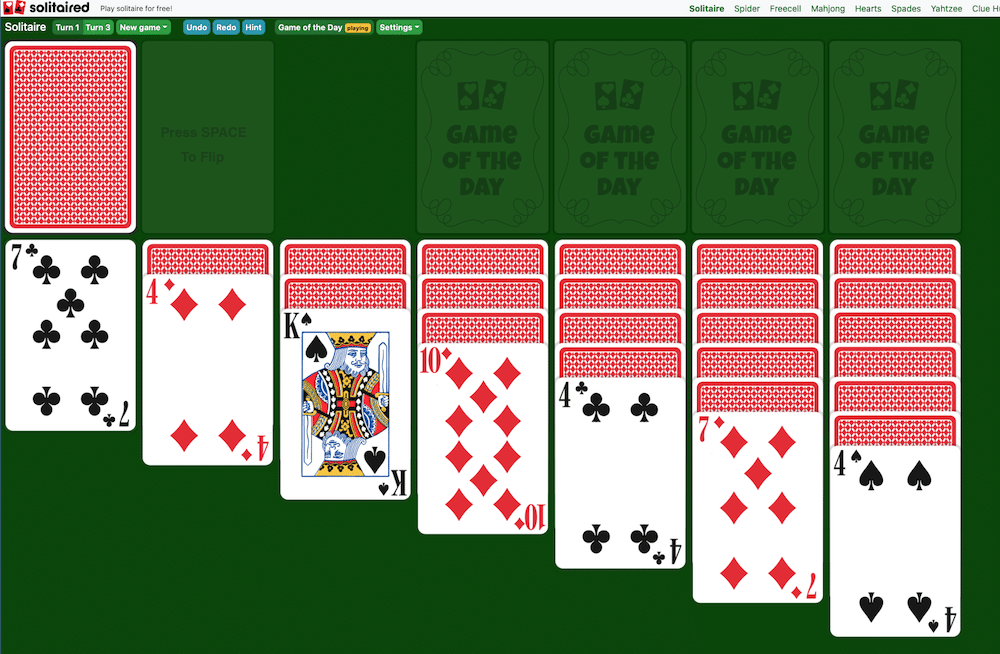 Solitaired has hundreds of games, including classic solitaire, spider solitaire, and other popular variants. You can play online or on the mobile app for free anytime. Challenge other players online to try to land on the daily leaderboards and compete for the top spots.
Solitairebliss.com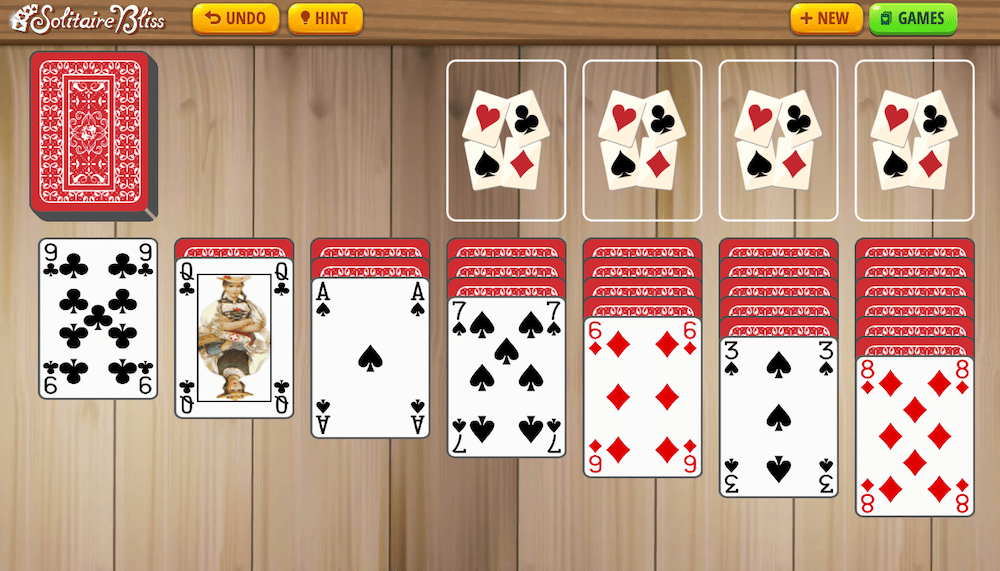 There are ten distinct games that make up the Soltaire Bliss collection and then on top of that there are 28 variants of the game, making this a diverse website. From pyramid to spider solitaire, memory, and more, players can experience all types of games and try to beat their best scores.
Can You Really Win Money Playing Solitaire?
Can you really play solitaire for real money and bonus cash? The answer is yes. Most of these solitaire games are hosted on the Skillz platform.
You may have seen ads online for Skillz games, or even come across their gaming platform on one of your favorite games.
It looks fairly straightforward, like many of the gaming apps out there. The simple concept of playing games and earning some extra money seems harmless after all.
But how can you tell if Skillz is a scam or just another gaming platform that pays you to play games? How legitimate is Skillz anyway?
I was asking myself these question before wasting time and playing solitaire for money.
In this article, I really dig deep into what Skillz is and how you can earn money using their platform by playing games.
I answer your questions about the legitimacy of Skillz, as well as guide you toward how you can make money in other ways when it comes to getting paid to play games on your phone for some extra cash.
Play Solitaire for Real Money Online Today
We are on our phones a lot, right? Wouldn't it make sense to make money and have fun with your phone and get paid to play solitaire? These are the best free solitaire apps or ways to get paid to play solitaire.
Hope you were able to find the best solitaire app to win money that's right for you.
Good luck on your money-making journey. Next, you can check out ways to get free money… there are only 12 steps to collect $1,000+ in instant sign up bonuses from these companies.
Best Game Apps to Win Real Money
Pros:

App Store: 160,448 reviews

Pros:

App Store: ‎75,500 reviews

Pros:

App Store: 47,805 reviews
Our Pick
Pros:
App Store: 160,448 reviews
Pros:
App Store: ‎75,500 reviews
Pros:
App Store: 47,805 reviews