While these free bingo apps that pay real money won't be earning you enough to quit your day job, they can be a nice way to take a break and earn some extra cash.
New research conducted by British psychologists shows that Millennials use their smartphones roughly twice as much as estimated.
In fact, the preliminary study found that they used their phones an average of 5 hours a day — that's roughly 1/3 of their total waking hours.
We are on our phones a lot, we get it.
Wouldn't it make sense to make money and have fun with your phone and win real money?
Can You Really Win Money Playing Bingo?
You may have seen ads on the web for Skillz games, or even come across the Blackout Bingo App on Google Play or App Store. It looks fairly straightforward, like many of the gaming apps out there. The simple concept of playing bingo and earning some extra money seems harmless after all.
These bingo apps are free to download and all you have to do is create an account and you're ready to earn. Simply enter your email and create a username and password. The last step is funding your account in order to participate in tournaments and other activities.
Most of these games are powered on the Skillz gaming platform. Is Skillz legit though? There are many types of games you can choose from on the Skillz Gaming app, some of which we'll highlight in the next section. However, you can choose from genres such as board games, card games, bingo games, puzzles, solitaire games, sports games, word games, action games, and more.
These games are all skill–based as well, so there's no luck involved to put you at a disadvantage for earning real cash.
Best Bingo Apps to Win Money Today
If you are looking for real ways to make money from your phone for free then consider checking out my quick list of the best game apps to make money playing bingo.
Don't worry, I've personally tested all of the recommended bingo apps and they are all legit and have great user reviews on the App Store and Google Play Store.
Download all or most of these free bingo apps today to increase your odds of winning cash for playing games.
Want to play bingo for real money? You can actually win money playing bingo with these bingo cash games: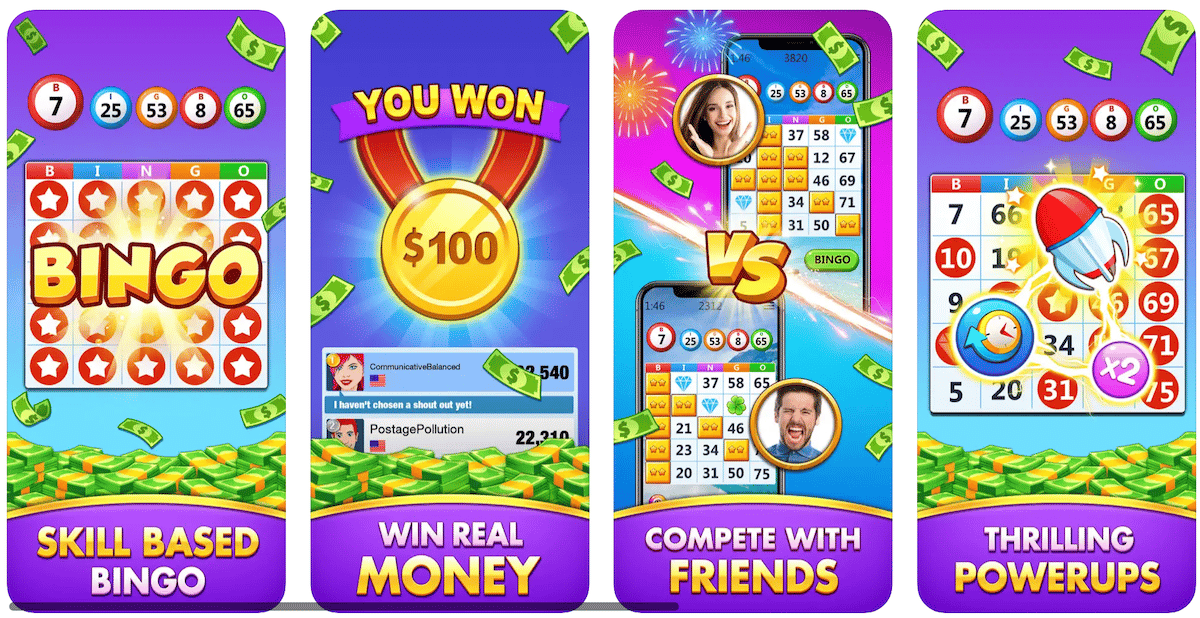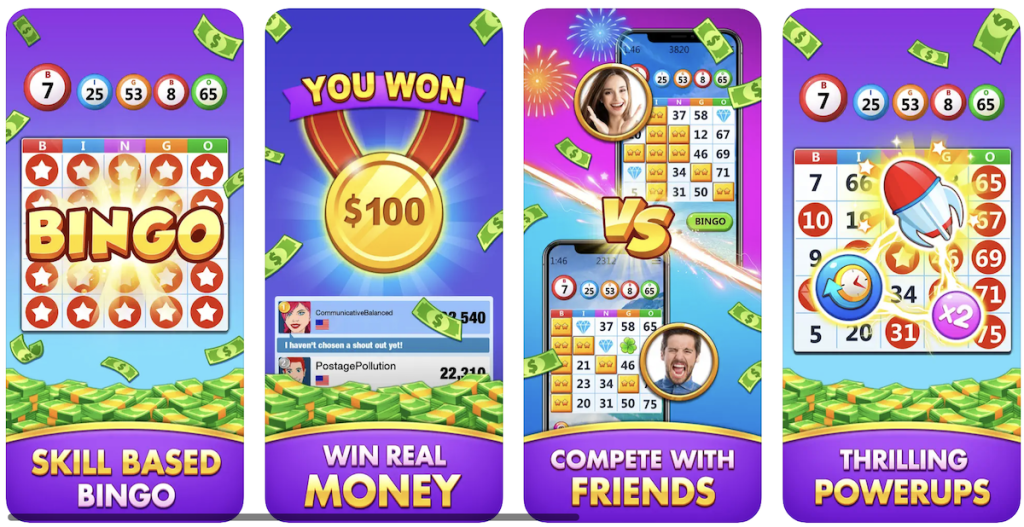 Bingo Win Cash is another skill-based bingo app where you can win real money.
The game is simple. You just have to match the numbers on your card with the numbers that are called out. If you match all the numbers, you win the game and the cash prize.
The great thing about playing Bingo Win Cash is that it's a very social game. You can play with friends and enjoy classic bingo and slots games to put real prizes up for stake and the winner takes all.
At any time, you may withdraw your money using PayPal or Apple Pay. You can always keep an eye on your funds and make a swift withdrawal if necessary!
Cash tournaments are available in most of the world. Cash tournaments are not enabled in the following states: AZ, AR, CT, DE, IL, IN, LA, ME, MT, SC, SD, and TN. If you don't live in a prize-enabled region, you can still play for free.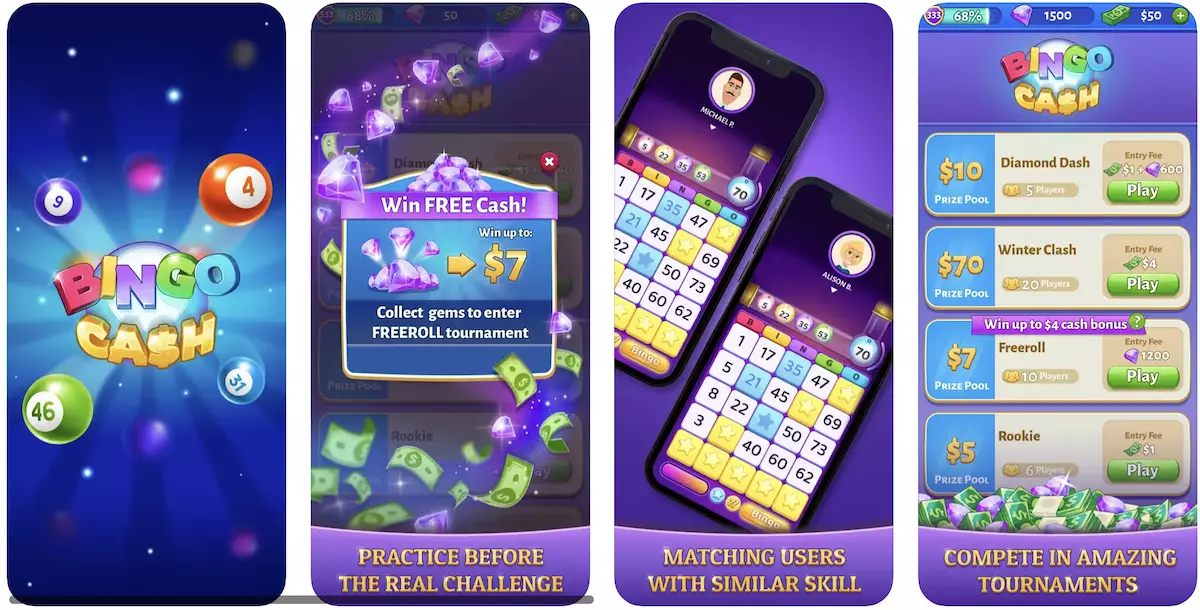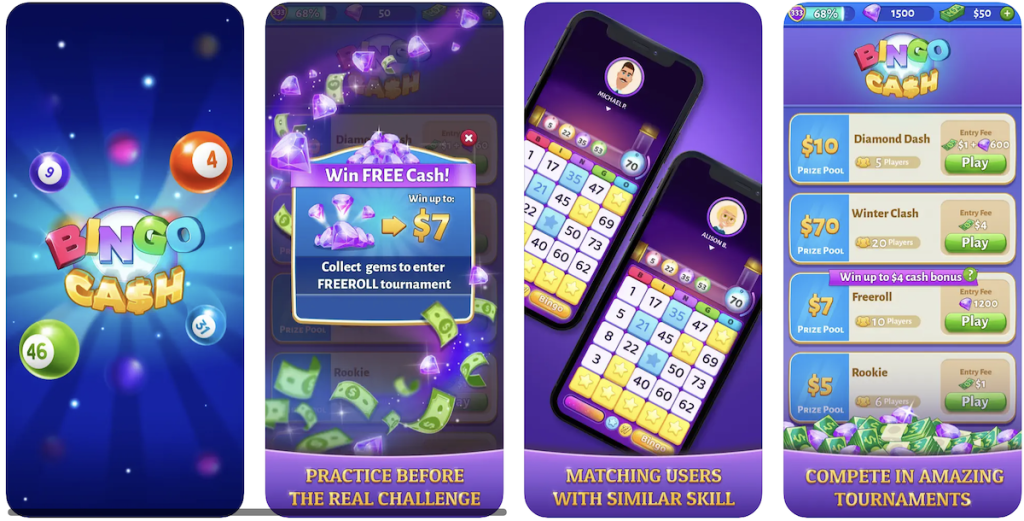 Bingo Cash is a free app that can reward you for playing the classic bingo game. After downloading the game for free, you can start playing regular or cash tournaments and win real money.
You will play against others, that have the same skill level as you, to win cash prizes and win cash for free. However, you'll need to deposit cash in order to compete in the cash tournaments for a chance at larger pots of cash.
Don't expect to get rich overnight, but Bingo Cash is great for casual gamers that want a fun way to make a little money.
With a 4.7 rating and over 40K reviews on the App Store, Bingo Cash is worth the free download to play for a chance to win money.
Cash tournaments not available in: AZ, AR, IN, IA, LA, DE & SC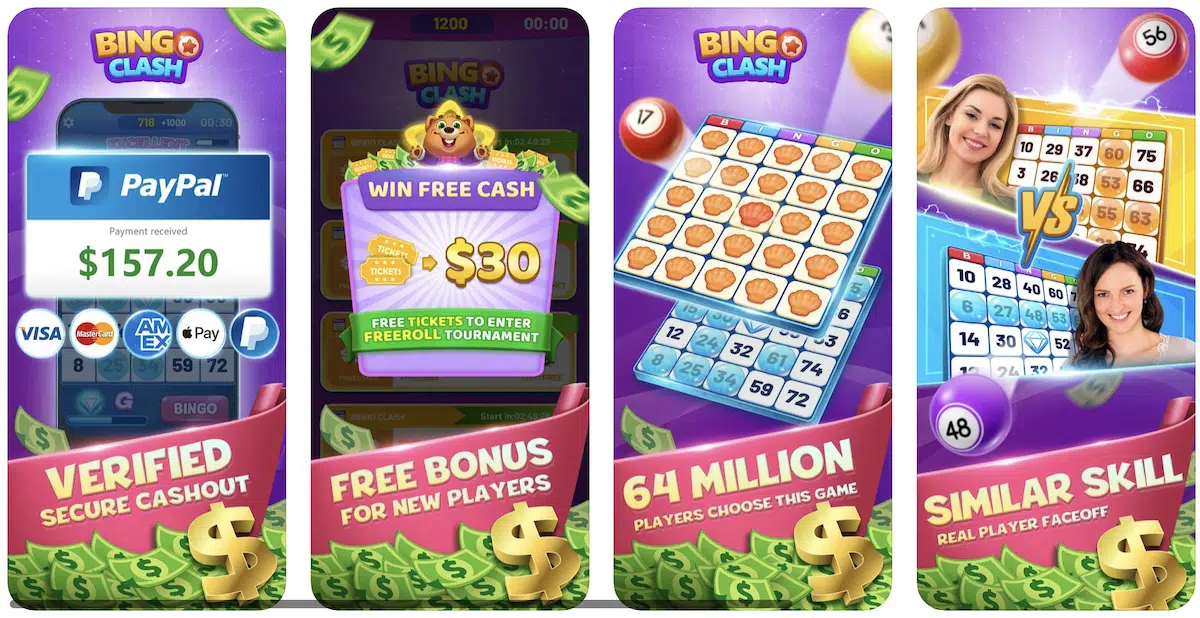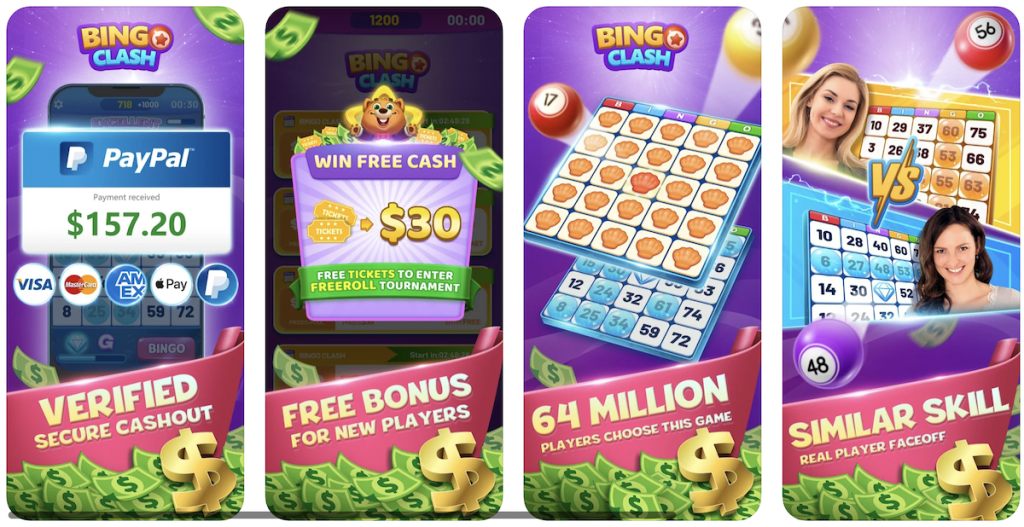 Love Bingo cash games? You can test your skills in Bingo Clash to compete against other players in classic, fast-paced Bingo matches and win great prizes!
Bingo Clash is a free bingo game where you can join other players in real time and play fun bingo games.
Free Bingo games are available at any time.
Get matched with other players of your skill level, play fair and classic Bingo games with fun buffs, and win exciting prizes and rewards.
No ads, uninterrupted gaming experience.
Tournaments, 1v1 competitions and multiplayer games of your choice. Various prize pools to choose from. Practice your skills before playing higher stakes.
The great thing about Bingo Clash is that it offers different modes, which gives you plenty of choice in how to play it. Test out your skills and win great prizes through Lucky Cards, the Fortuity Wheel, and other entertaining features.
There are also plenty of power-ups to help you win, including wild cards and instant bingos. You can also earn tickets as you play, which can be used to buy new power-ups or enter tournaments to win prizes and rewards.
Blackout Bingo is another great free bingo game to play online which is powered by Skillz. It features a similar format to Bingo Clash, with three different modes to choose from.
Welcome to Blackout Bingo a brand new bingo-style game where you can play for free or even win real-world rewards and cash prizes. This game boasts over 78K+ positive reviews in the App Store.
Dive fast and use fun boosts to take the Bingo world by storm. Travel the world and play in amazing and exotic places. A recent player left a Blackout Bingo review saying:
"Are you going to make $700 from this game? No, probably not possible! But the two days I've been playing this I've earned about $34.59! "
It takes concentration, speed, and strategy to become a bingo master. Do you have what it takes? Blackout Bingo is the best bingo app to win real money.
Cash tournaments aren't available in AZ, AR, CT, DE, IN, LA, ME, MT, SC, SD, and TN but residents can still play the free games for swag! You can download it for free here.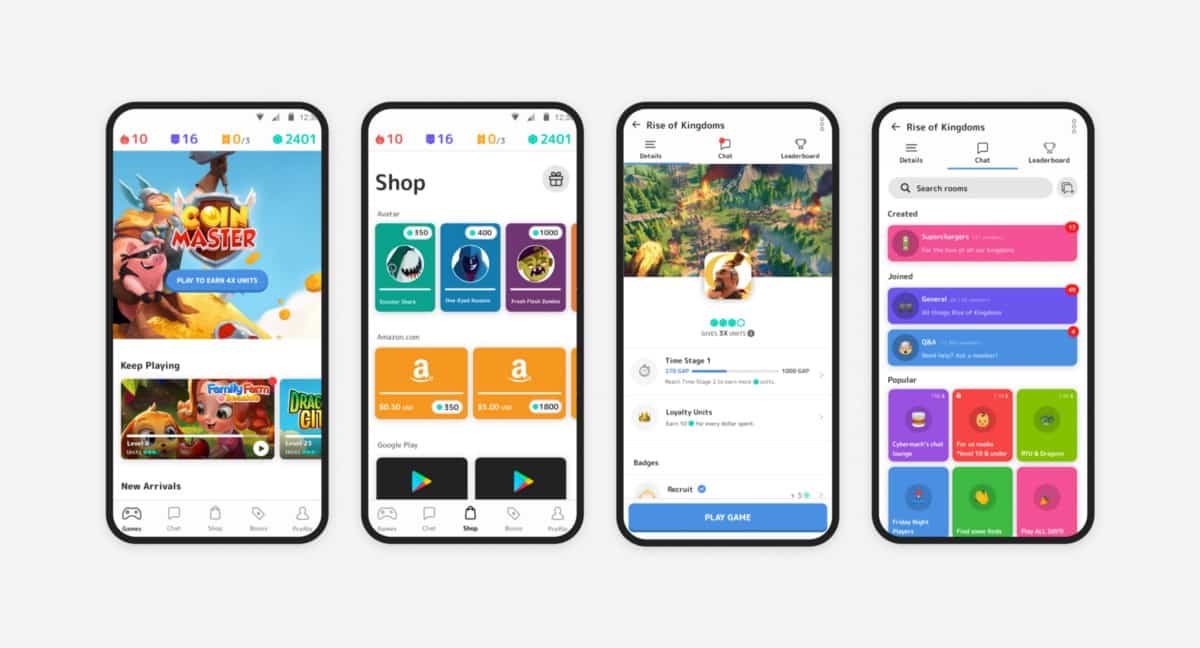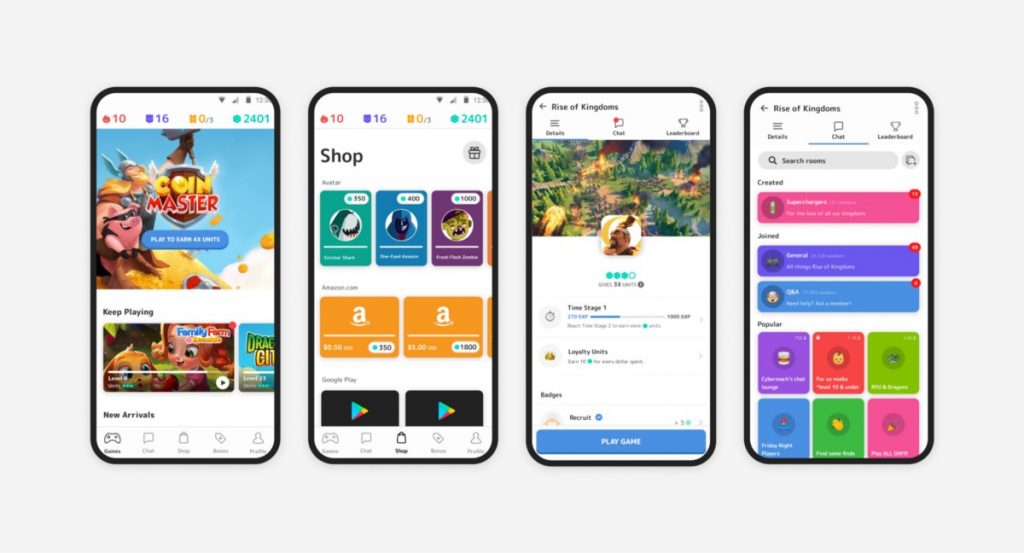 Mistplay pays you to play different games on your phone so you're not just limited to bingo games. While earning money playing games sounds like a dream, this app lets you do just that.
How it works:
1. Install a game in your mixlist.
2. Play that game to start earning units.
3. Redeem your units for free gift cards.
That's it.
To get started you can download the Android app and start playing and earning.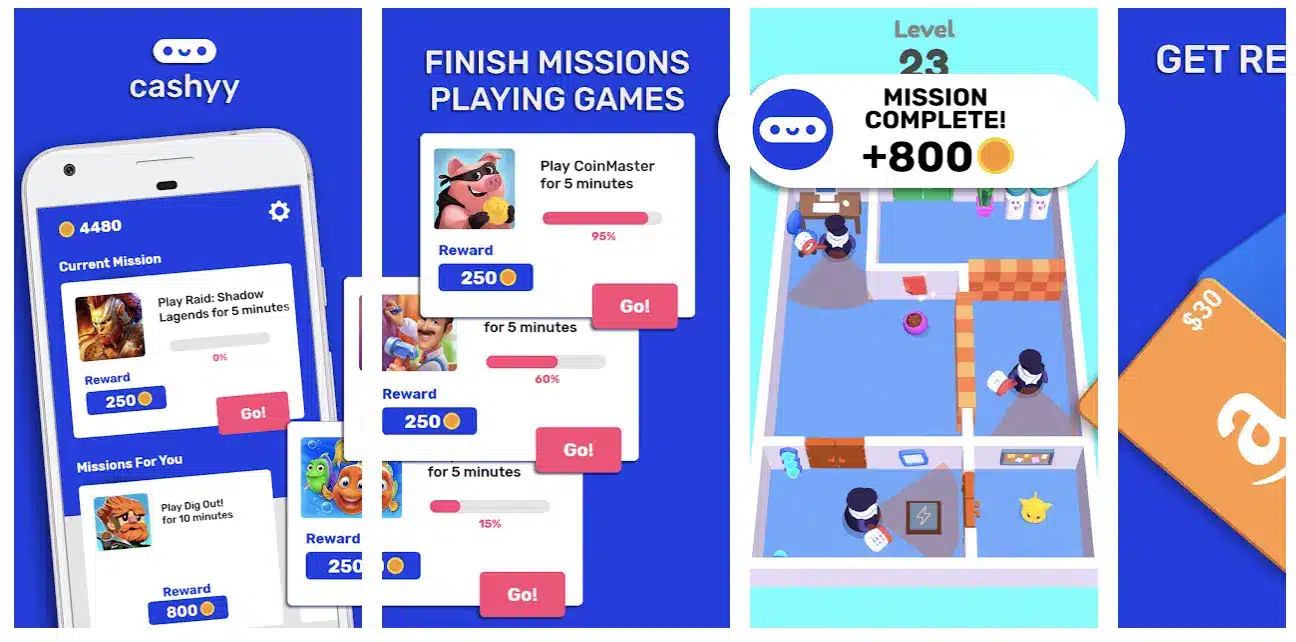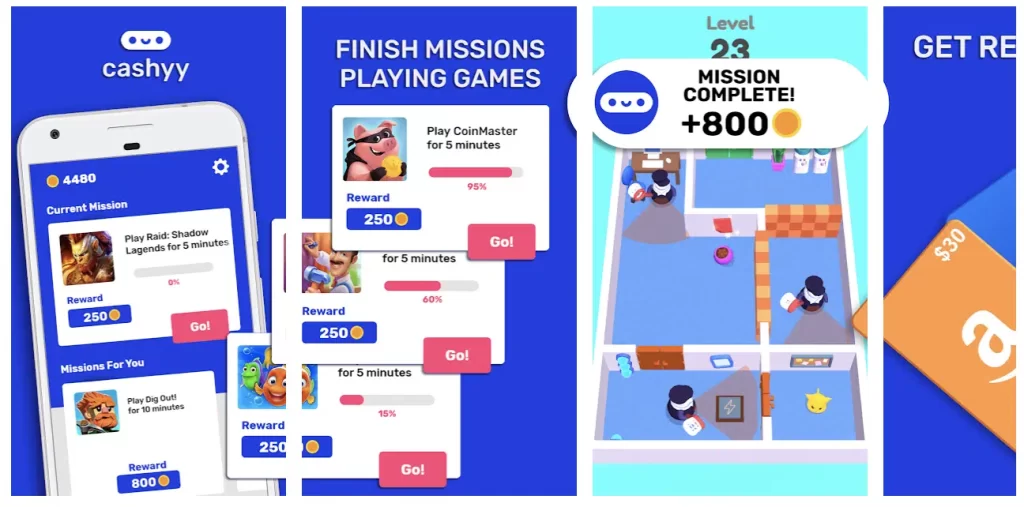 Cashyy is a completely free app that will help you earn free PayPal money into your account. Similar to Mistplay, you can discover free bingo games, accomplish missions and win coins to exchange with gift cards.
All you have to do is play, complete missions and you will receive free money. The more you play the more money you earn.
You can always download Cashyy for free and this app doesn't have any advertising, no deposit, no in-app purchases which is nice. In order to get started earning, you can choose a mission and play your favorite game from the list of games.
If you are searching for cash games on Google Play to make extra money while having fun? With Cashyy you can play new mobile games and win gift cards.
4 Free Bingo Games to Play for Fun
Here are four bingo games to play for free and for fun:
7. Bingo Blitz

Bingo Blitz is a fast-paced bingo game where you can compete against other players from around the world. It's a lot of fun, and there are plenty of chances to win.
The game is played in rounds, and each round has a different theme. For example, one round might be based on a particular holiday, while another might be based on a TV show or movie.
There are also plenty of power-ups to help you win, and you can earn coins as you play. You can use these coins to buy new power-ups or enter tournaments.
8. Bingo Party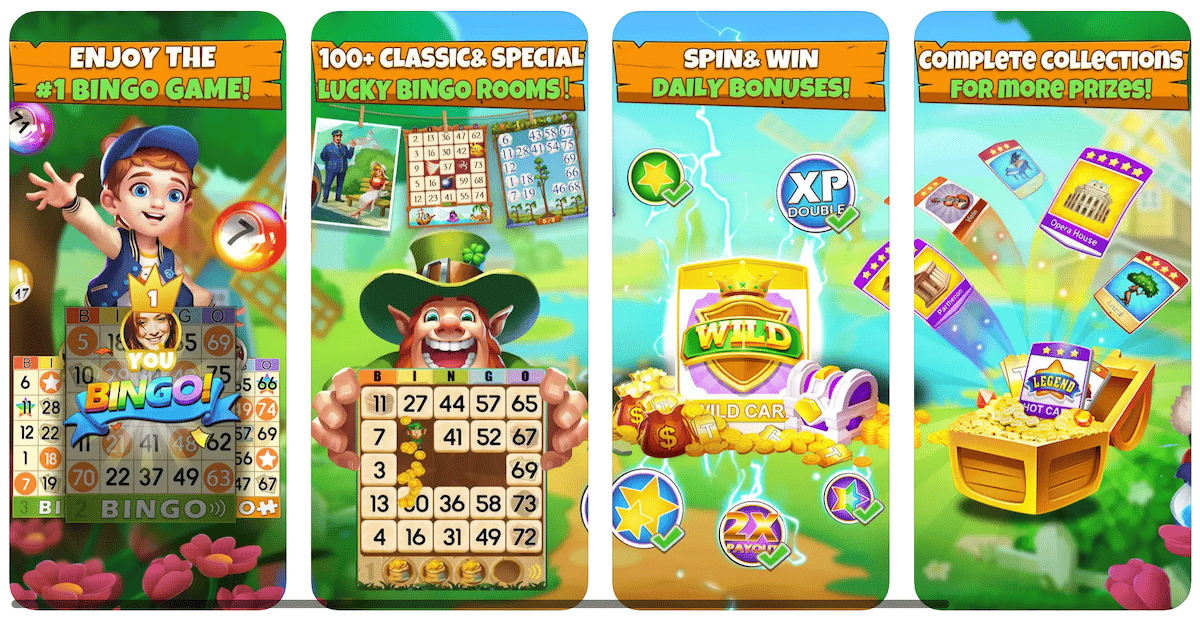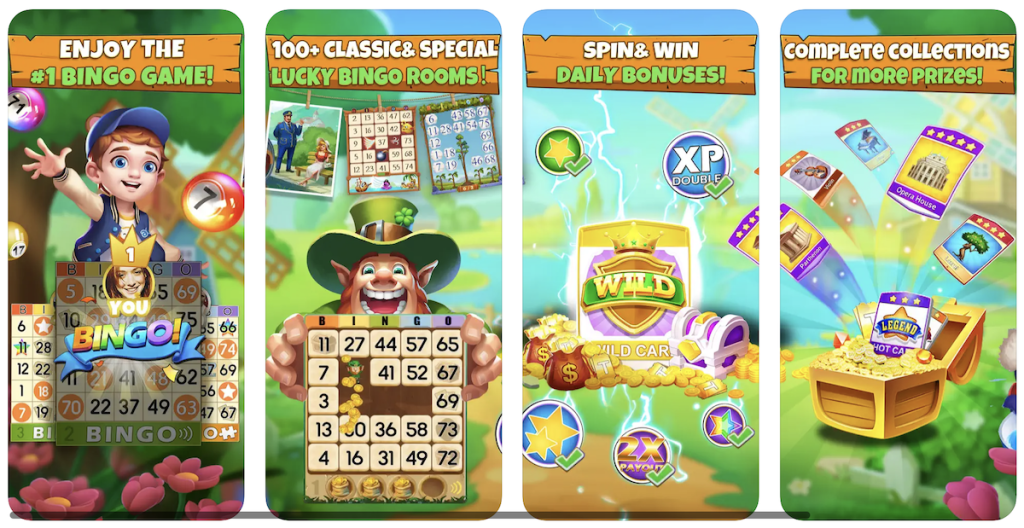 Bingo Party is a popular game on the Avid.ly platform, with over 24 million downloads worldwide. This is one of the most downloaded games on the App Store, having received more than 150,000 reviews and a 4.6 rating from users.
With more than 30 bingo rooms, you may enjoy Elite play with eight cards in over 30 rooms. Achievements and daily tournaments are ideal for free or gambling purposes.
9. Bingo Frenzy

The top-rated free bingo game on Gluon Interactive can be played on Android and Apple devices.
Bingo Frenzy offers free games and competitions with tiny and full games giving free tickets for more free play for youngsters under the age of 12.
For adults, real cash rewards are available in live games, and the app has a 4.8 rating in the App Store.
10. Jackpot Bingo

For bingo that's both casual and completely free, try Zhu Bangqing's Jackpot Bingo. The bingo app has a 4.5 rating on the Apple Store and allows for offline play, multiple card play, and in-game events to earn prizes for additional gameplay, making it suitable for people of all ages.
You can play fun bingo at home, or anywhere, anytime. One bingo card is pretty old-school – play multiple free bingo cards at the same time in!
Bingo for Money FAQs
Can you play bingo for money on your phone?
Yes, you can play bingo on your phone for real money. There are many bingo apps that you can download for free and deposit money to compete in bingo tournaments online. You can also find some great free bingo games to play online. We've listed our top 4 favorites in this article on the best bingo games to play for free.
Is there a bingo app to play with friends?
Yes, there are many bingo apps that you can use to play with friends. Some popular options include Blackout Bingo and Bingo Blitz. These apps allow you to chat with other players in real-time and compete for high scores and special prizes. Additionally, many of these apps also have additional features
Can you really win money playing bingo online?
Yes, you can win real money playing bingo online with Blackout Bingo. This app lets you play bingo for money and you can win $100 today (or lose it).
Is there a free bingo app?
There are many free bingo apps available for download on both the iOS and Android platforms. Some popular options include Bingo Bash, Slots Bingo Fun, and Big Fish Casino. These apps allow you to play a variety of different types of bingo games for free, including classic 90-ball and 80-ball variations as well as more unique games like speed bingo and pattern bingo.
How do you play bingo online?
There are many online bingo sites where you can play for free or for real money. Many of these sites offer a variety of different game types and prize pools, so you can find the perfect game to suit your preferences. To get started, simply create an account at your chosen site and start playing!
Best Bingo Games to Play for Money
These bingo games are a lot of fun and offer plenty of chances to win real money. If you're looking for a great bingo game to play online, definitely give these free options a try!
While there are many different bingo games available to play for free online, the ten listed above are some of the best. With plenty of chances to win and different ways to play, you're sure to find a game that you enjoy. So why not give them a try today?
Get $200 with Overdrive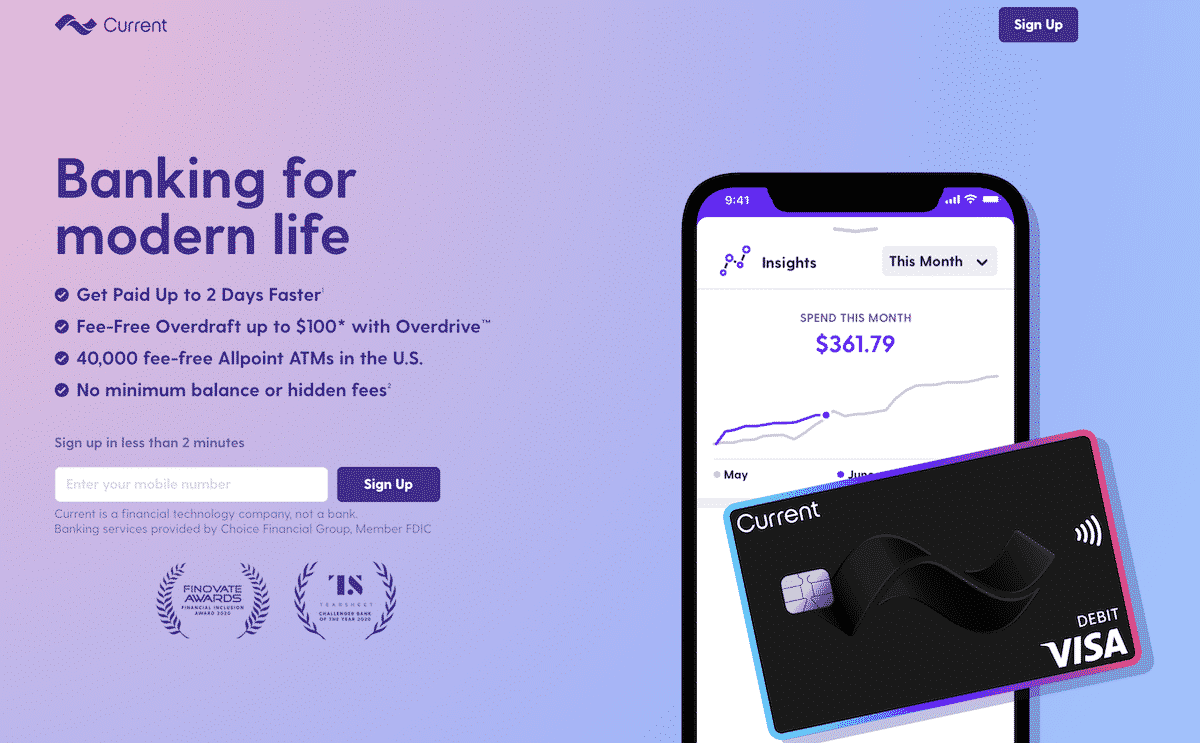 Current
Fee-Free Overdraft up to $200 with Overdrive
Get Paid Up to 2 Days Faster
40,000 fee-free Allpoint ATMs in the U.S.
No minimum balance or hidden fees
GET SPOTTED $200